Drive sales on autopilot with ecommerce-focused features
See Features
did you know
Omnisend customers automate 32% of their email conversions. Are you maximizing sales?
automate my sales
Reading Time:
7
minutes
Whenever a new subscriber joins your email newsletter or other subscription services, you want to help them feel welcome, comfortable, and inspired.
You can easily do this through a welcome email—which is one of the best and most lucrative email marketing examples. Welcome emails allow your business to improve your email marketing metrics by inviting subscribers to get to know your brand and encourage them to make their first purchase.
As your business sends out a welcome, you'll notice these benefits.
Increased click-through rates on your welcome emails
More people visiting your website
Increased overall interactions from your subscribers
It's a good idea to create a new customer welcome email template for your new subscribers so you have a ready-made format that's easy to edit and send. Even if you don't know how to make one, you can always find a premade welcome series email template that suits your needs. This article will provide you with the information necessary to create effective and enticing welcome emails.
Why welcome emails matter
Welcome emails are what make that crucial first impression on your subscribers. After all, they have just signed up to your list and are excited about what you have to offer! Their expectations will be high, so it's important to give new subscribers the reassurance that they've made a great decision and that you are able to meet their needs.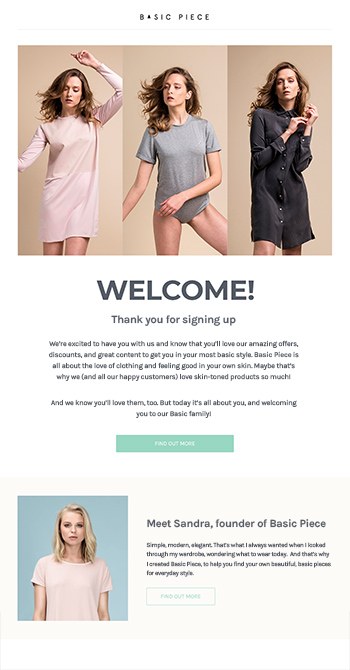 Welcome emails consistently boast the highest conversion rates of all automated emails sent by Omnisend users, achieving an astonishing 52.92% in H1 2021! This is the time when you have your customers' full attention and enthusiasm about your brand, so if you aren't sending these emails to your customers, you're leaving serious money on the table.
Not only do you get the opportunity to share your brand story and invite subscribers to relate personally to your ethics and values, but you can also provide them with important information on how best to interact with your business. This will lead to an increase in your metrics and help them to become consistent customers that make purchases from your website. By starting with a warm and welcoming email, you invite curious subscribers to become valued and loyal customers for years to come.
Welcome email template style and presentation
Many subscribers first interact with your business through a welcome email, so you want it to have a strong presentation and an accurate style. You want the style to reflect your business and the presentation to appear professional, yet inviting.
When you create a welcome email design, you want the email to reflect your company's style. This means that if you take a formal approach to your website, then use a formal style in your welcome email from greeting the subscriber to ending an email. This will maintain brand consistency between your channels, whether you use omnichannel or multichannel marketing.
As for the presentation, you want to write your email and stylize it so that customers can easily read it and notice its appealing design. Make sure to use effective colors consistent with your business's brand. You can also organize your email and use short paragraphs to make it easy to read.
Continue to adjust your style and presentation until you feel that it properly reflects your business.
If you don't want to create your own welcoming email template from scratch, your email marketing platform will offer various welcome email templates for you to customize.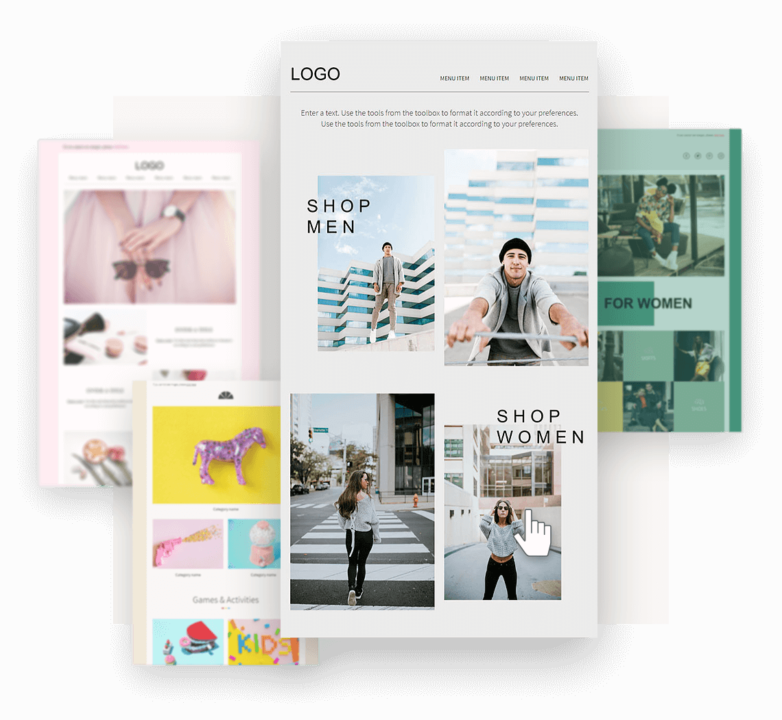 By using these email templates, you can easily craft a welcome email design that will suit your business simply by adding your own text and images.
You can also extend your single welcome email into a series of separate emails, each with its own theme and purpose. With Omnisend data showing that a series of three welcome emails can generate up to 90% more orders than a single email, this is definitely a strategy to consider!
See a good example below: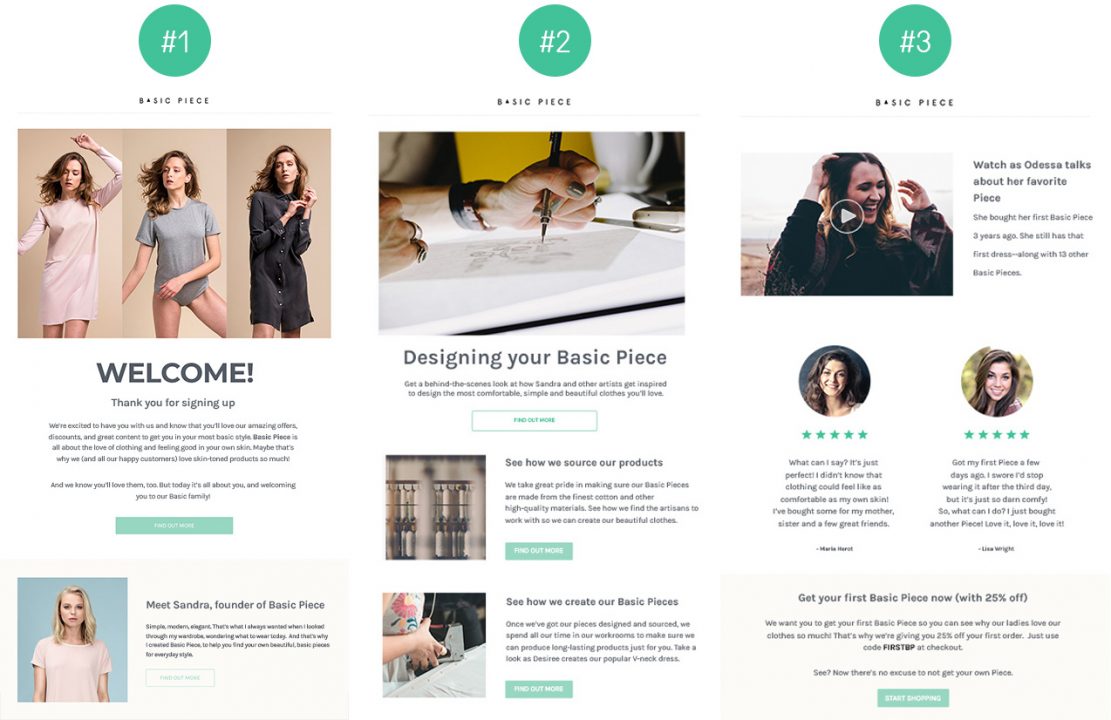 How to create a welcome email template
Welcome email templates have a specific formula that can help customers feel welcomed. After all, your welcome emails exist to encourage subscribers and to introduce them to your business or services. These key points will help you to accomplish this goal.
Thank Them
Provide Incentives
Give Information
CTA
First and foremost, you need to thank your subscribers for subscribing. They didn't have to do it, so you should show appreciation for their interest in your company.
Next, make sure that you provide incentives or deliver on previous incentives. People will join if you give them an offer, but make sure that you deliver on it.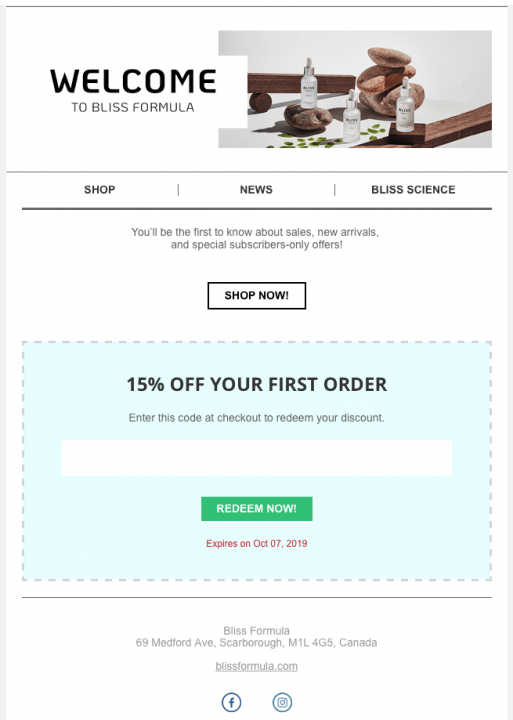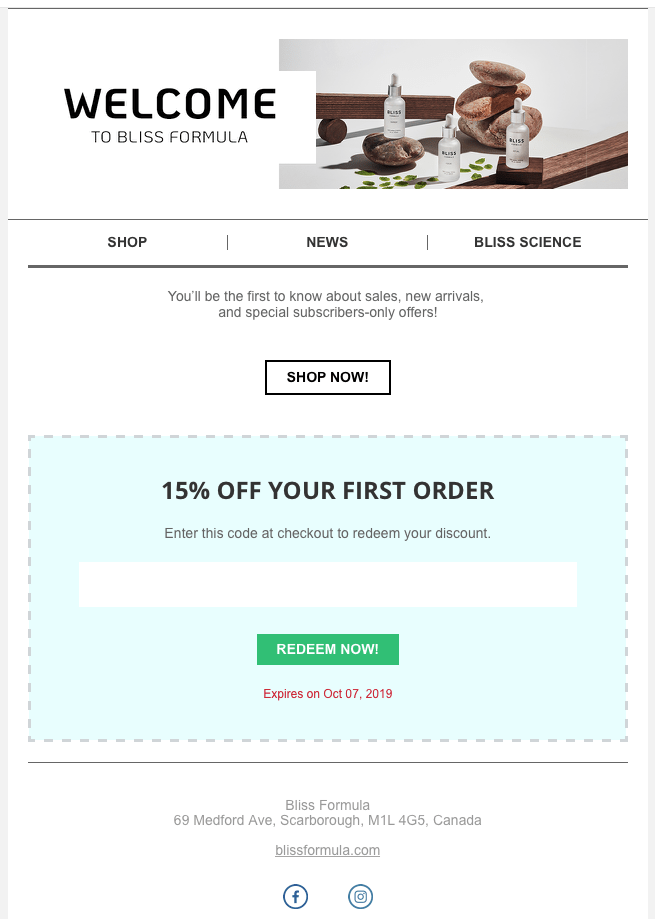 You also need to inform your new subscribers about your service. When people first sign up, they can feel overwhelmed with information and be unsure of what to do next, so it's a good idea to direct them to resources like your blog and FAQs for essential knowledge.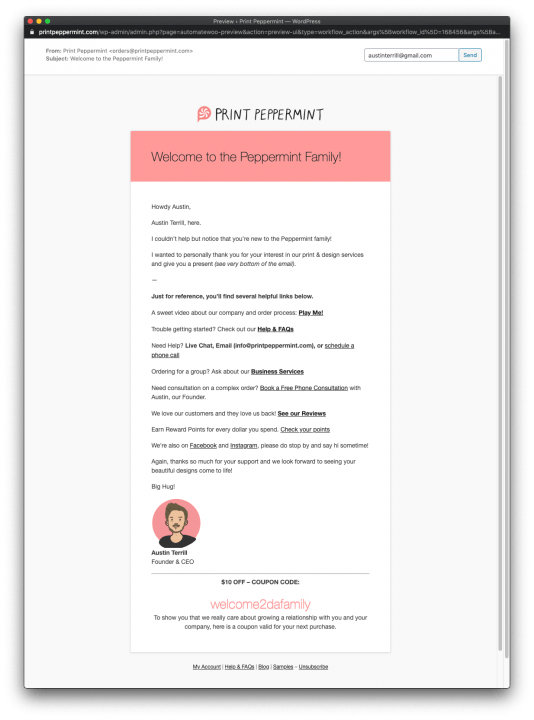 Finally, end with a clear call-to-action (CTA) that makes it easy for the new subscriber to know what their next step should be. Encourage them to click on an easy-to-find link or to make their first purchase with a special and inviting offer.
The following welcome email design by Alastin Skincare does all of these things perfectly: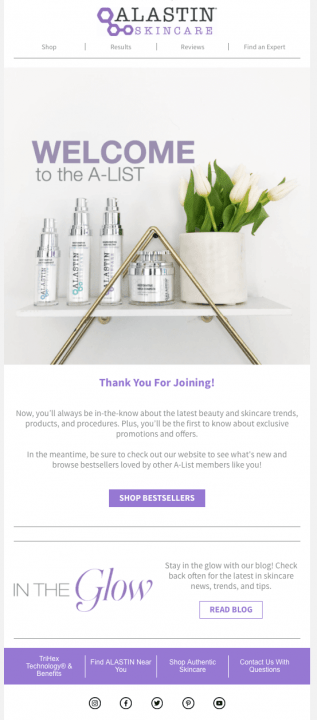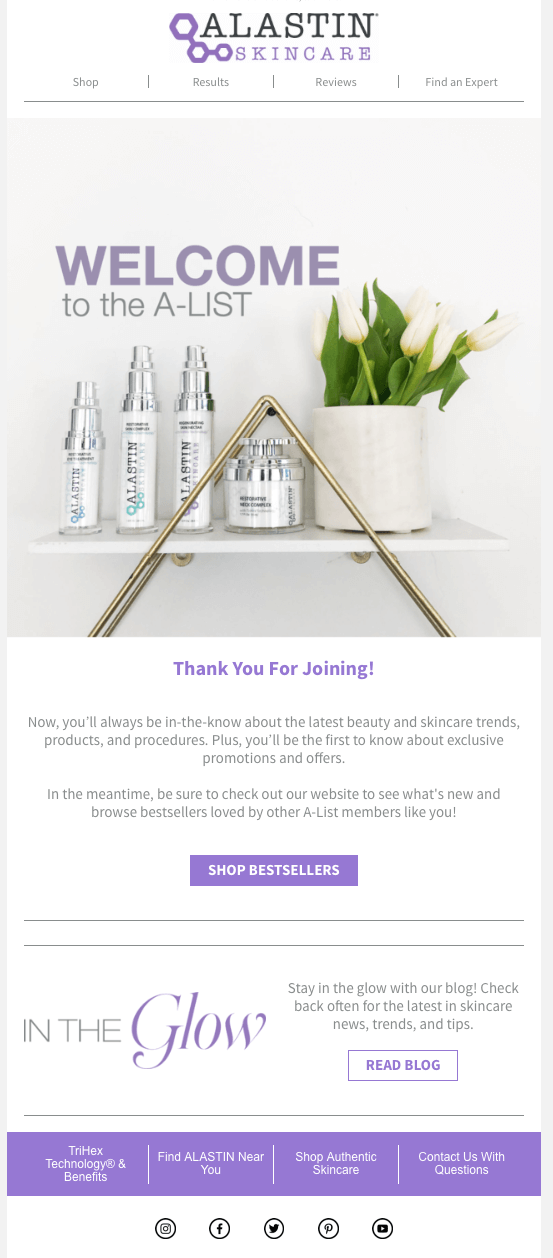 Improve your welcome email template
Once you create a template, you need to see how your subscribers react to it. Ask yourself the following questions to check for any changes you should make to your welcome email template.
Did our click rates increase thanks to the changes? What about our conversion rates?
Have my CTAs lead to more conversions after I applied the template?
What can I change to create a more appealing presentation?
If you ask yourself questions such as these, then you can identify ways to improve your template. Check out different A/B testing techniques to learn how to measure various aspects of your welcome emails, and ensure that your content, design, discount types, and subject lines are fully optimized.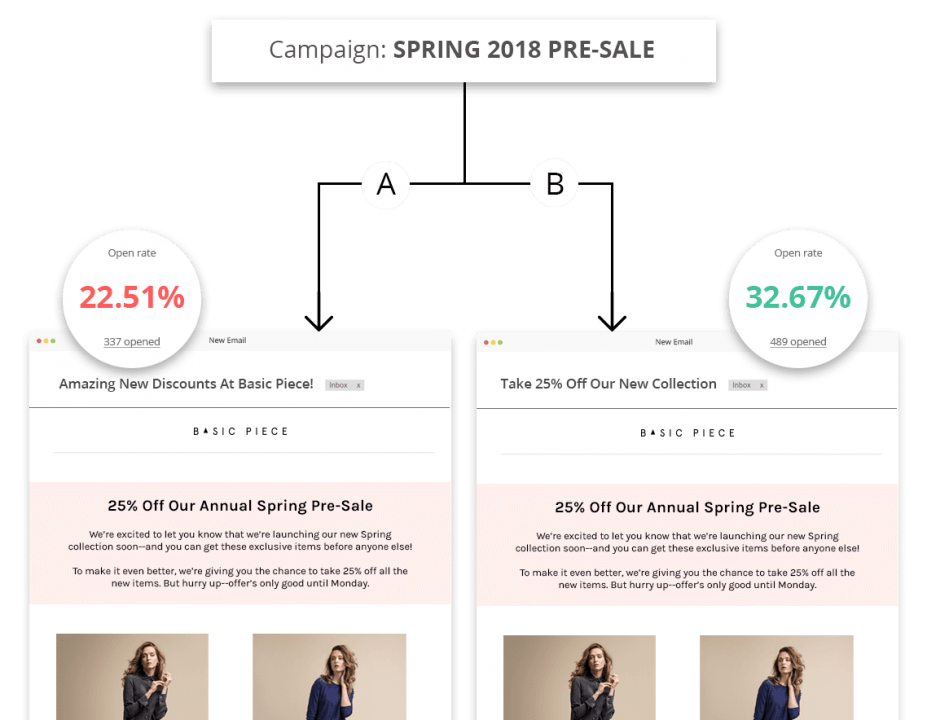 Taking the time to improve your template will also help you to improve your overall email marketing best practices since these same concepts apply to all of your campaigns.
Template for welcome email examples
Let's look at some of the best welcome email templates that you can start using today. Feel free to use these welcome email designs in a series of three emails to make a memorable and engaging first impression!
The 'Thank you for signing up' email
This simple appreciation email thanks subscribers for joining your list, presents your incentive (if you offered one in your sign-up form), and gives basic information on how to get started.
Email Subject Line: Thanks for joining the (brand name) family!
Hi (subscriber name),
Thanks so much for signing up to (brand name)!
Just as we promised, here is how you can get your hands on your (name of incentive).
(CTA)
For useful tips on how to get started, feel free to visit our blog and FAQ pages (link) or visit (website) to learn more about (your product).
You're more than welcome to reply directly to this email if you have any further questions, we'll be happy to help!
Regards,
(name)
The brand story email
This is your chance to share your brand story and form personal connections with your new subscribers. Make your story a personal one, detailing your passions, motivations, and mistakes made along the way. The aim is to be relatable and create connections!
Email Subject line: How (brand name) was born
Hi (subscriber name)!
We hope you're enjoying being part of the (brand name) family! I'm (founder name), founder of (brand name).
To help you get to know us a little better, I'd like to share our story with you.
(Tell your brand story here. What inspired you to start your brand? What are your values and mission? What kind of problems are you ultimately aiming to solve?)
(CTA)
We hope that by joining us at (brand name), you'll be inspired to (achieve something/solve a problem).
We're really happy to have you on board!
Regards,
(founder name)
Check out this great brand story welcome email example by Jiggy Puzzles: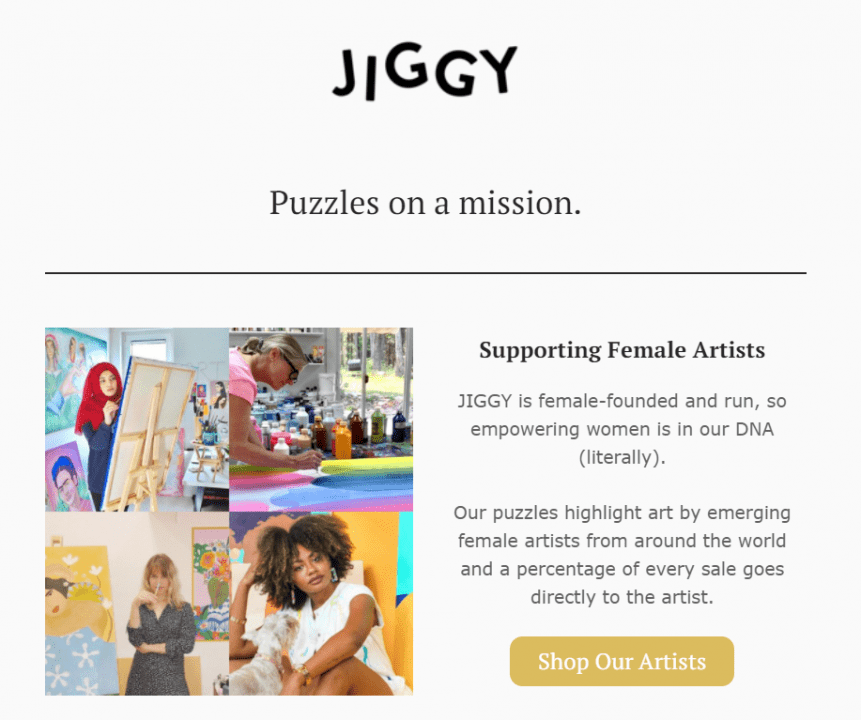 The social proof email
Customers love social proof, as it gives them firm reassurance that other people are trusting and enjoying your brand. This sets the stage nicely for a first purchase, the ultimate aim of your welcome series.
Email Subject line: What people love about (brand name)
Hi (subscriber name),
Check out what others are saying about (brand name)! Our family is growing every day, so we thought it would be nice for you to connect and hear how other members are enjoying (product/service)
(Show social proof here. Unboxing videos, reviews, tutorials… choose a few examples that show your brand in the best light and can help others to make a purchase decision).
(CTA)
We hope you find them useful! Feel free to reach out with your own review here (link) if you enjoyed (product/service) as much as these people did.
As a thank you for joining us, we'd like to offer you a (discount) on your first purchase. Simply insert the following (discount code) into the relevant field when checking out.
Cheers!
(name)
Conclusion
As you create an effective welcome email template, you can present it in a way that encourages your customers to feel valued and inspired by your brand. If you can tell a compelling story that people relate to while helping them to feel at home in your community, you'll quickly turn curious newcomers into loyal customers.
Over time, your welcome email conversion rates will increase to over 50% as you continue to adjust and improve your welcome email design. Use these tips and welcome email examples to provide your subscribers with a warm and personal welcome, and watch your overall ecommerce revenue grow!
Get started with Omnisend today & drive sales on autopilot with pre-built automation workflows
Start Free Today
related features
Want more sales?
Omnisend has everything you need to succeed.
Start free now
No Credit Card needed.