Drive sales on autopilot with ecommerce-focused features
See Features
Reading Time:
9
minutes
Why talk about WooCommerce forms or form plugins?
If you're using WooCommerce to run an ecommerce business, having quality lead capture and customer engagement forms is key to success.
While 91% of marketers say lead generation is their top goal, it is also one of the biggest challenges for 40% of marketers.
This is where WooCommerce forms come in.
From generating leads to gathering feedback, there are multiple benefits of using WooCommerce forms.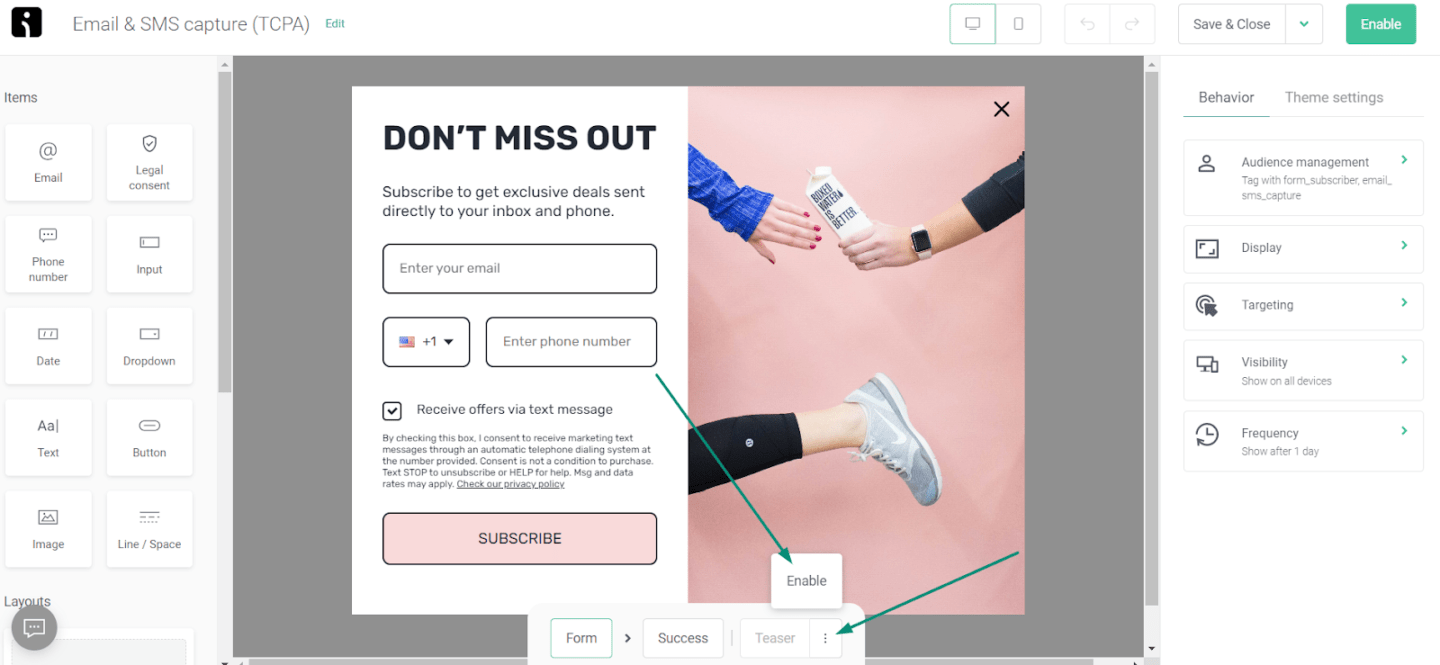 The good news is, you don't have to worry about acquiring coding skills to build WooCommerce forms. There are easy-to-use WooCommerce form builders that will handle the task.
In this article we will take a look at 7 of the best WooCommerce form plugins you can use.
What you should know about form plugins for WooCommerce stores
Before we get into the best plugins, some of the key elements you'll need to understand are what a WooCommerce form builder is, and when to use them.
What is a form builder?
A form builder is a tool that you can integrate with your website to create, design and manage forms. For instance, WooCommerce forms can be used to collect information from website visitors, process transactions, conduct surveys or polls, and much more.
Form builders can integrate with other software such as email marketing platforms or CRM software, which allow you to easily manage and segment your leads and customers.
Boost your WooCommerce store's revenue by up to 85% using our email marketing plugin.
LEARN THE SECRET NOW
When can you use WooCommerce form plugins ?
Here are a few different scenarios where you might want to use a WooCommerce form builder.
For collecting information: Forms are often used to gather information from website visitors, such as contact details, feedback, survey responses, and more.
E-commerce: You can use different types of forms inWooCommerce or other e-commerce websites to capture customer information at checkout, cross-sell products, encourage newsletter subscription, and process payments.
Email marketing: Email capture forms allow you to collect email addresses from your prospects. You can use these to create targeted marketing campaigns and personalized communication. This can help increase sales, customer engagement, and brand loyalty.
Lead generation: One of the most important uses of forms is lead generation. You can build forms with custom fields to capture the information you need from potential customers and create targeted email marketing campaigns.
Contact and support: You can use forms for various customer service tasks such as submitting support tickets, contacting your business, or asking for help.
Event registration: Whether you're hosting a webinar, a conference, or an online event, you can use WooCommerce forms to register attendees.
Surveys and polls: WooCommerce forms allow you to conduct surveys and polls to gather data and feedback from website visitors.
That said, it can be hard to know which WooCommerce form builder is right for you. Go ahead and explore the 7 tools we've listed in the next section.
The best WooCommerce form plugins
These WooCommerce form plugins will make it easier for you to capture leads and increase conversions.
WPForms is a popular WordPress and WooCommerce form builder that allows you to create custom forms and surveys for your website.
Used by over 5,000,000 clients, WPForms allows you to build WooCommerce forms without any coding skills.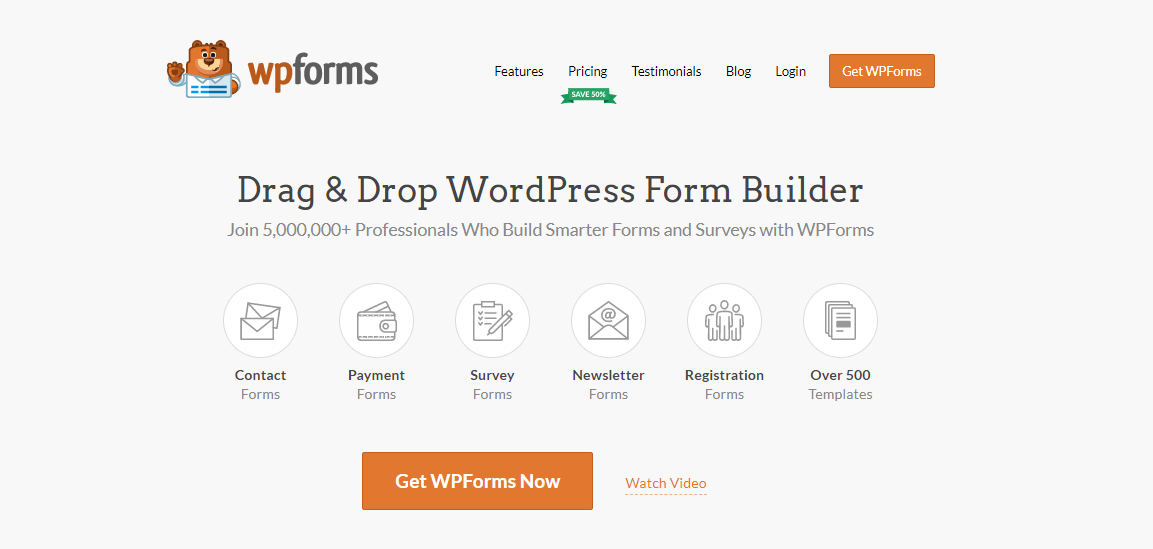 Types of forms
Multi-page forms: These forms are spread over numerous pages to enhance user experience.
Survey forms: Powerful conditional logic to design survey forms based on the respondent's answers.
Newsletter forms: You can create custom newsletter subscription forms with one or more fields.
Payment forms: You can accept payments by building payment forms and integrating payment processors.
Registration forms: You can build custom user registration, login, and password forms for your WooCommerce site.
Other features
Drag and drop WooCommerce form builder.
Smart conditional logic allows the form to change based on user inputs.
A wide range of useful add-ons.
Price
WPForms offers a 14-day money-back guarantee if a user isn't satisfied with their subscription.
Basic: $49.50 per year
Plus: $99.50 per year
Pro: $199.50 per year
Elite: $299.50 per year
User reviews
WPForms has a trust score of 4.9 out of 5 on Trustpilot. Most users appreciate the ease-of-use and the responsive customer support from WPForms.
OptinMonster's powerful WooCommerce form plugin and its easy-to-use drag & drop builder help you create beautiful opt-in forms that are proven to convert.
Plus, the WooCommerce form builder integrates seamlessly with your existing WooCommerce store.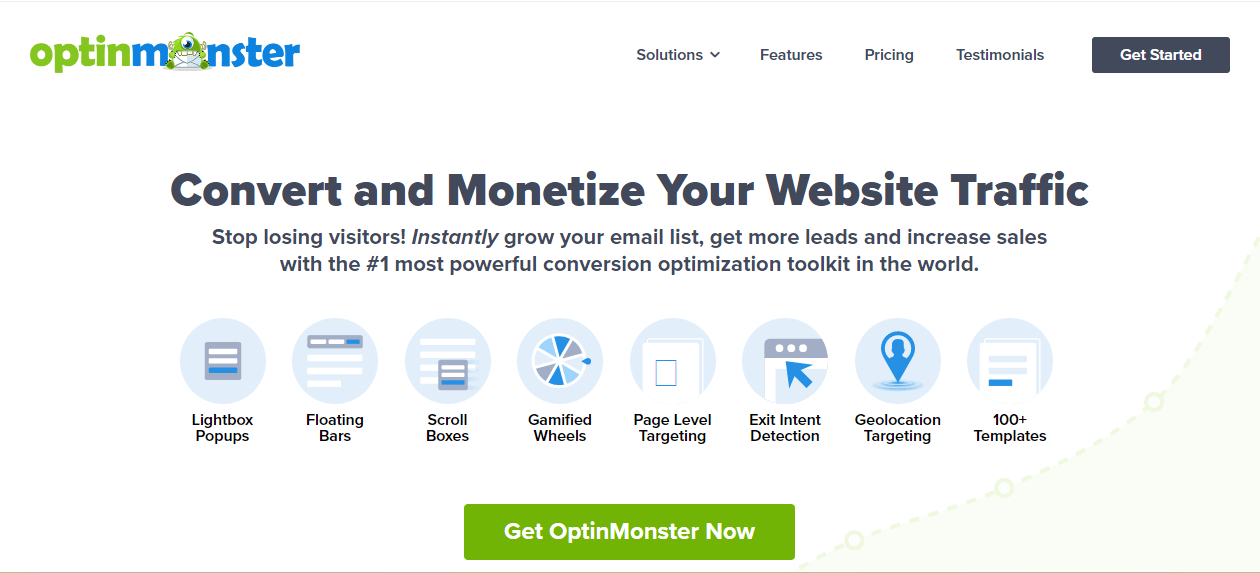 Types of forms
They offer several types of WooCommerce forms including:
Yes/No forms: These multi-step forms help you grab visitors' attention and segment your audience.
Lightbox Popup: You can set several triggers to display pop ups at the perfect time to boost conversions.
Floating Bar: Highly noticeable sticky forms that attach to the top or bottom of the page without disturbing site visitors.
Fullscreen Welcome Mat: Grab your visitors' attention with a splash screen.
Inline and Sidebar Forms: Place your forms within the content or sidebar to boost opt-ins.
Other features
65+ pre-designed form templates
Behavior automation, exit-intent detection, and smart targeting
26+ sound and animation effects
A/B testing
Price
OptinMonster does not offer a free trial or free version.
Basic: $9 per month, billed annually
Plus: $19 per month, billed annually
Pro: $20 per month, billed annually
Growth: $49 per month, billed annually
User reviews
Users have given a rating of 3.8 out of 5 for OptinMonster on TrustPilot. Many users have given a positive review on its robust backend and easy integration with WooCommerce and CRMs.
Omnisend's form builder is one of the most user-friendly and intuitive tools on the market. The sign-up and exit-intent forms are fully customizable, allowing you to maximize lead generation and conversion.
The best part is that you can access all the forms for free with the Free plan.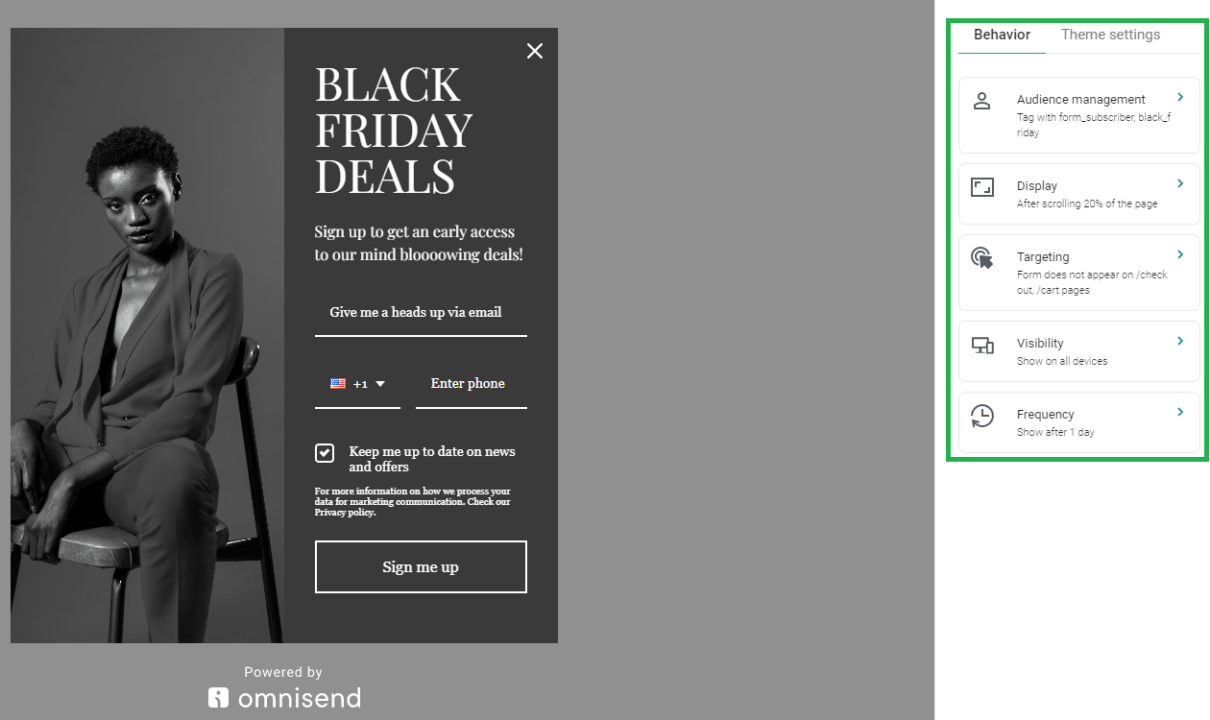 Types of forms
Pop ups: Pre-designed pop ups with beautiful images, high-converting text and great styles.
Landing pages: Build custom, targeted landing pages by aligning the text, images, and colors with each of your online campaigns.
Wheel of fortune: Add an element of fun when capturing information on leads on your WooCommerce site. Users can spin the interactive wheel after giving their email address and get a prize in return (discount, free shipping, etc.)
Sign up forms: Built-in sign up forms that you can integrate with your WooCommerce store.
Teasers: You can use the non-intrusive teaser box to promote offers and deals while allowing visitors to keep on browsing. With just a click, the box opens up where visitors can sign in.
Other features
Email marketing automation that helps you use the data from the forms and build a subscriber list.
A library of templates to create professional emails in minutes.
Pre-built workflows and a drag & drop automation editor.
Ecommerce-tailored subscriber segmentation.
Powerful integrations with ecommerce platforms, CRMs, payment processors, and much more.
Price
Unlike other WooCommerce forms plugins, Omnisend offers a free forever plan that lets you create unlimited forms.
Free
Standard: $16 per month
Pro: $59 per month
User reviews
Customers have given Omnisend a rating of 4.7 out of 5 on Trustpilot. Out of 122 users, 86% have given a 5-star rating.
Excellent customer support, beautiful, responsive templates, and the ease with which you can set up automated workflows are some of the features of Omnisend that are highly appreciated.
Gravity Forms is a powerful form builder that makes it easy to create, edit, and manage a wide variety of WooCommerce forms. With its add-on, you can seamlessly integrate your forms with your WooCommerce store.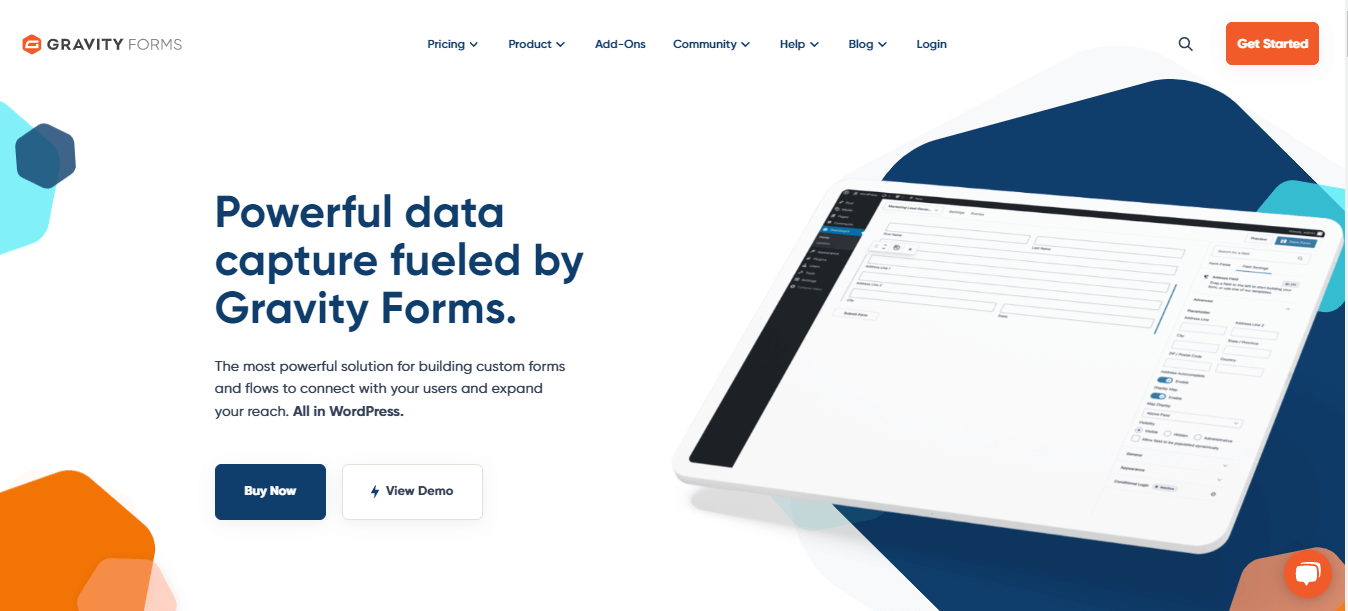 Types of forms
Contact forms: Simple and customizable contact forms that integrate with WooCommerce seamlessly.
Surveys and polls: Polls add-on helps you add a poll, gather responses, and show the results.
Order forms: Pre-built form fields for order forms including quantity, shipping, product, and total price.
Quizzes and assessments: You can integrate a quiz with any form with quiz add-on.
Scheduling and appointment forms: Multiple booking rules, holiday calendar, and Google Calendar integration.
Other features
Drag and drop WooCommerce form builder
Form import and export
Integrations with CRM, payment processors, and email marketing tools
Supports digital signatures
Price
Like other WooCommerce forms plugins, Gravity Forms also does not offer a free trial or free version.
Basic License: $59 per year
Elite License: $159 per year
Pro License: $259 per year
User reviews
Gravity Forms has earned a rating of 4.6 out of 5 on review sites such as GetApp and G2. One of the most talked about features of the WooCommerce form plugin is the seamless process of creating sign-up forms.
Pabbly Form Builder is an online tool that lets you easily create custom forms without any programming knowledge. You can use it to create contact forms, order forms, surveys, or any other type of form.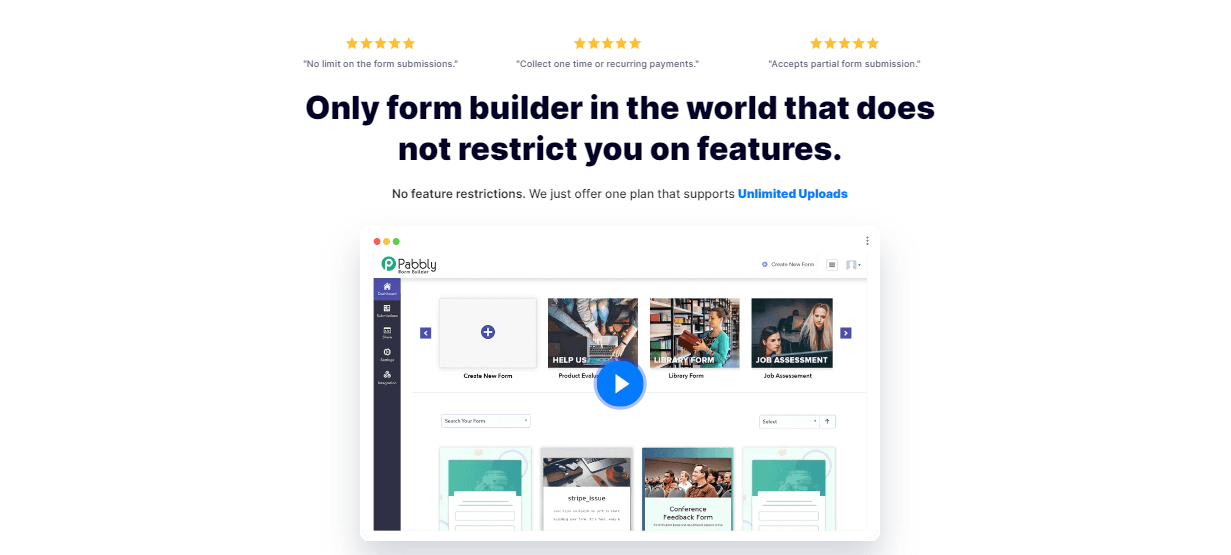 Types of forms
Pabbly Form Builder supports creation of various forms such as sliding forms, pop-up forms, and full forms.
Over 260 pre-built templates, including registration form, booking form, order form, payment form, application form, and more.
Other features
Drag and drop editor
Unlimited submissions and file uploads
Form analytics to track the performance of your forms
Price
Pabbly offers a 7-day free trial that allows you to create one form.
Free trial: For 7 days
Standard: $10 per month (1 form)
Pro: $26 per month (3 forms)
Ultimate: $70 per month (10 forms)
User reviews
This WooCommerce form builder has a rating of 4.5 out of 5 on G2 from 3 users. The positive points users mention include quick integration and the wide-range of pre-built templates.
FormCraft comes with a drag-and-drop interface, making it easy to create your forms.
You can add various field types, including text fields, checkboxes, dropdowns, and more. FormCraft also supports file uploads and math formulas.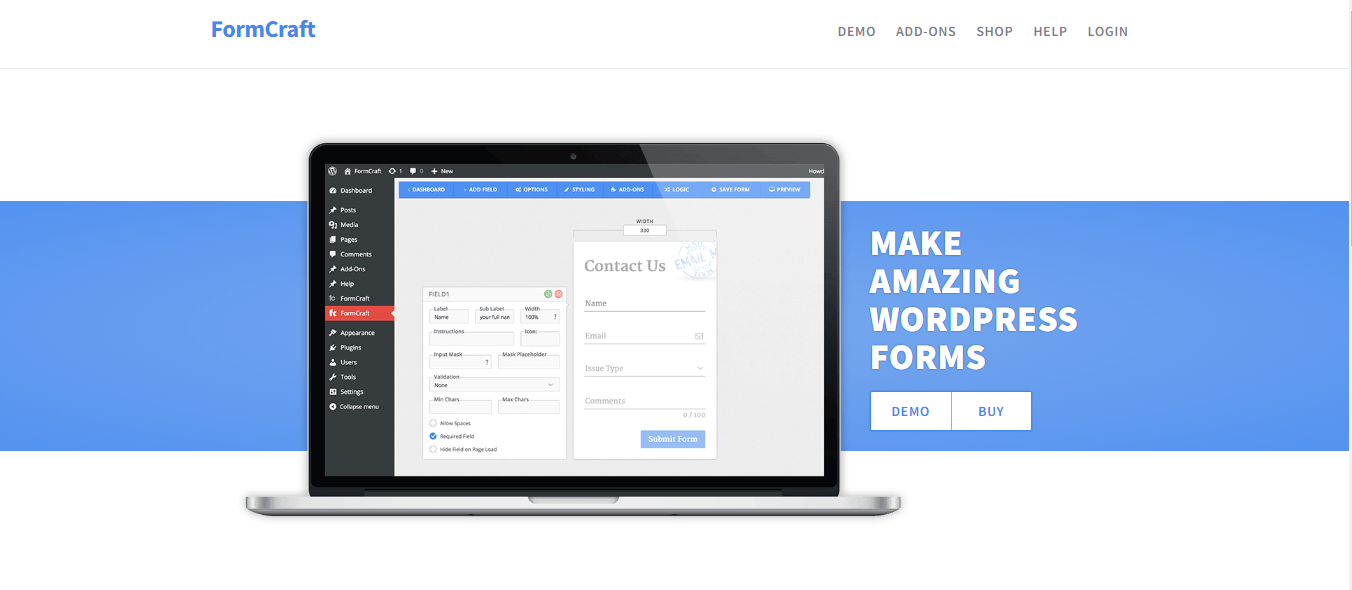 Types of forms
Math formulas: You can create booking or order forms with date fields, payment add-ons, and math expressions.
Survey forms: Supports creation of surveys with star rating field, thumb rating, and choice matrix fields.
Multi-page forms: Spread your forms over multiple pages to avoid overloading users with too many fields at once.
Pop up and slide-in forms: You can trigger these forms to appear based on custom criteria.
Other features
Pre-built templates
A wide range of add-ons including email and payment processors
Detailed tutorials and help topics
Analytics and field insights
Price
FormCraft does not offer a free trial or free plan.
Basics bundle: $49
Growth bundle: $89
Everything bundle: $129
User reviews
On G2, 7 reviewers have given a rating of 4.5 out of 5 for FormCraft. Some users appreciate the slick and easy-to-use WooCommerce form plugin.
Formidable Forms makes it easy to create custom WooCommerce forms. With its drag-and-drop interface, you can easily add or remove fields, change field types, and rearrange fields.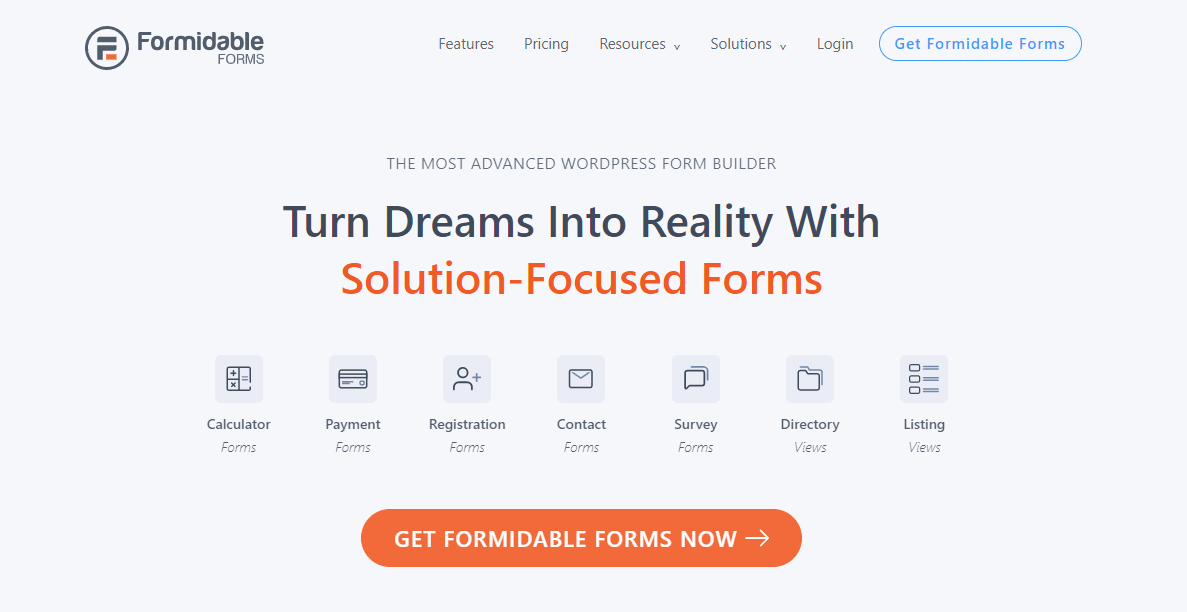 Types of forms
Calculator forms: WooCommerce Product Configurator, T-shirt order form, Credit Card Repayment Calculator, and more.
Payment forms: Credit card payment forms, gift card order form, etc.
Contact forms: Diverse forms, including B2B quote request, emergency contact, vendor contact forms, etc.
Registration forms: Vendor registration form, online event/webinar registration form, and membership forms.
Survey forms: There are forms to create polls, customer satisfaction surveys, and brand awareness surveys.
Other features
Flexible layouts and customizable colors
Helps create landing pages in quick time
You can add custom fields to your WooCommerce product forms
Price
While there is no free trial or free plan, Formidable Forms offers a 14-day money-back guarantee.
Basic : $39.50 per year
Plus: $99.50 per year
Business: $199.50 per year
Elite: $299.50 per year
User reviews
Formidable Forms has a 4.3 out of 5 rating on Trustpilot with 92% of users giving it a 5-star rating. Clients like the WooCommerce form plugin's features such as easy setup, customizable forms, and conditional formatting options.
Ready to build WooCommerce forms to maximize leads and conversions?
WooCommerce forms are vital for the success of any online store built on the platform. To get the most out of your WooCommerce forms, it is important to choose a plugin that meets all your requirements in terms of features and usability.
We have outlined seven must-have WooCommerce form plugins that can help boost leads and conversions for your ecommerce business. With these powerful tools in hand, you can make sure every customer interaction with your store leaves a lasting impression!
And if you're in need of a free and reliable plugin that does it all, choose Omnisend.
related features
Want more sales?
Omnisend has everything you need to succeed.
Start free now
No Credit Card needed.