Drive sales on autopilot with ecommerce-focused features
See Features
Reading Time:
9
minutes
There's a common misconception that WooCommerce cart abandonment is just a normal part of ecommerce you can do nothing about. In fact, some people think that since it's inevitable, it's not worth worrying about.
The reality is that cart abandonment causes major revenue loss, with seven out of ten carts abandoned on average. Recovering even some of these lost WooCommerce sales can significantly boost your bottom line.
This guide will uncover the main reasons for WooCommerce cart abandonment, as well as strategies to recapture abandoned carts. These include tips for creating a WooCommerce cart abandonment email, the tools and incentives you could use, and more.
With the help of WooCommerce plugins like Omnisend, you can easily set up automated workflows for WooCommerce abandoned cart recovery and win back lost sales.
Ready to learn more? Let's dive in.
Boost your WooCommerce store's revenue by up to 85% using our email marketing plugin.
LEARN THE SECRET NOW
The main reasons for WooCommerce cart abandonment
There are seven primary reasons why potential customers abandon their shopping carts. Ecommerce store research from the Baymard Institute, Statista, and SaleCycle all show the following causes in descending order:
Extra costs added at checkout
Having to create an account during the checkout process
The user was carrying out research to buy later
Security worries
The user couldn't find a coupon code
There wasn't an express shipping option
A poor returns policy
As you can see, WooCommerce cart abandonment happens for a variety of reasons. We'll look at which strategies can help you recapture lost sales and what you can do to prevent or reduce your WooCommerce cart abandonment rate.
WooCommerce cart abandonment: strategies and best practices
Now we've covered some of the most common reasons for cart abandonment, here are a few tips for recovering your WooCommerce abandoned carts:
Describe your incentive in the subject line of your WooCommerce cart abandonment email
Use a series of automated messages to periodically remind your customers to complete their order
Use the right channel(s) for your audience (SMS, push, or email notification)
Segment your cart abandoners to engage them with the content most relevant to them
That said, don't assume that you should always offer WooCommerce cart abandonment incentives like discounts or contests, especially if these don't complement your brand's image. For example, if you're selling high-end products, offering any kind of discount could cheapen your brand. Nor should you send an incentive discount if it's the first time a customer has quit their checkout page. If you do, you may attract bargain hunters who are never willing to pay full price.
Now that we've worked on recapturing lost sales, it's time to turn our attention to preventing cart abandonment altogether. Here are some specific tactics you can employ to increase your WooCommerce abandoned cart recovery.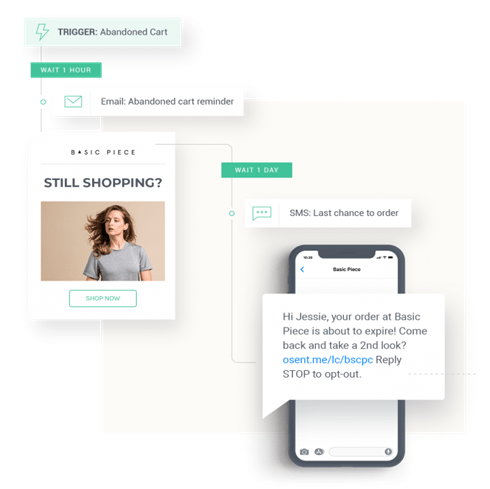 Now it's time to turn our attention to preventing cart abandonment altogether. Here are some specific tactics you can employ to increase your WooCommerce abandoned cart recovery.
1. Minimize shipping woes
Ninety percent of customers say free shipping is their number one incentive for buying—so be sure to capitalize on this. If you can't offer free shipping outright, factor shipping costs into the overall product price so no extra expenses lurk for customers when they go to check out.
While we're on the subject of shipping, ensure all of your shipping costs (if you need to charge for it) and taxes are made clear when the customer views their cart. Customers don't want a nasty surprise to pop up while they're in the checkout process. An easy way to achieve this is by adding a calculator on your cart page where the customer can add their zip code and calculate how much shipping will cost.
2. Remove the need for user accounts
We've already mentioned how shoppers dislike going through (the sometimes lengthy) process of creating a customer account before buying. This goes double for customers checking out on mobile.
Make it simple; use a guest cart and just ask for their email address to send an automated purchase confirmation email. Alternatively, use a one-click social login instead.
3. Sell your brand
Use your brand's unique selling proposition and its story to make shoppers feel like they're part of your mission and ethos. When customers feel they're a part of something bigger than themselves, you're far more likely to inspire loyalty. This is key to ensuring your WooCommerce store stands out above the rest. As a result, your brand also becomes another valuable incentive for customers to stay with you.
4. Emphasize quality
In some cases, the quality of your products and brand might have caused customers to turn away. So, it never hurts to address this issue in your product checkout pages. You could achieve this by nudging customers in the direction of some of your glowing product reviews. You could also emphasize the quality of your customer service by encouraging recipients to get in touch to have their questions answered. Just make sure you can make good on that promise!
WooCommerce cart abandonment: which plugin to choose?
For many WooCommerce merchants, the built-in cart abandonment feature is too limited.
Thankfully, there are great WooCommerce plugins that can help you recover more abandoned shopping carts. We've rounded up the top three that vastly expand on the default feature.
1. Omnisend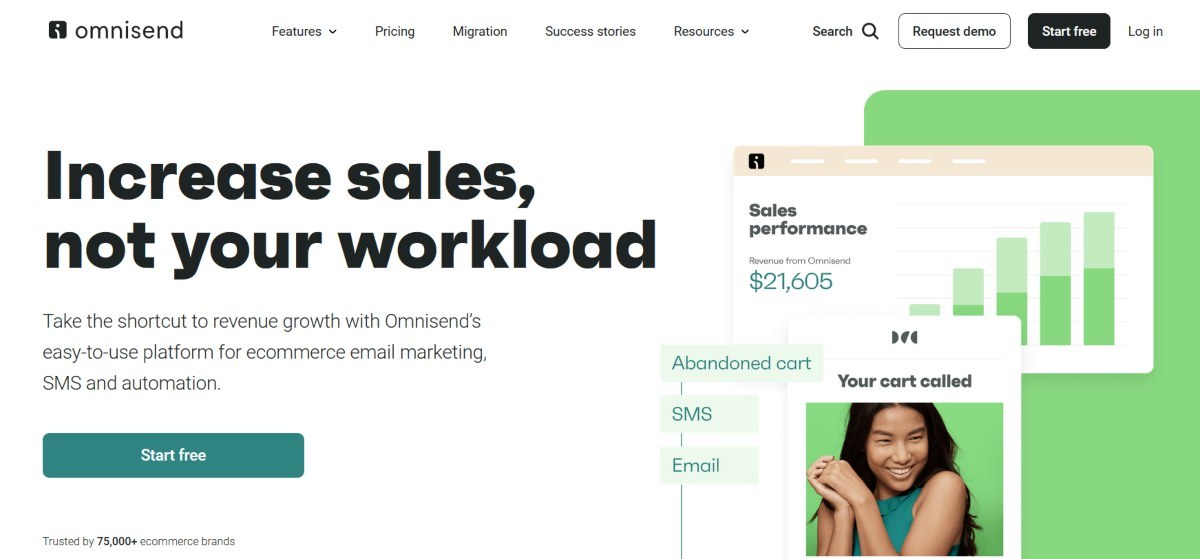 Omnisend is an omnichannel marketing automation plugin that helps ecommerce businesses grow their sales. By adding Omnisend to your marketing arsenal, you're better equipping yourself (and your team) to nurture your brand's relationship with your customer base via WooCommerce follow-up emails, SMS, push notifications, and more.
When you combine Omnisend's omnichannel features with its pre-built automations, you have the winning recipe for re-engaging customers after they've abandoned their ecommerce shopping cart—and well before and after. Omnisend's email templates make it easy to craft any lifecycle email including post-purchase emails, welcome emails, lapsed-purchaser emails, standard promotional campaigns, and more.
2. Retainful

Retainful is a simple tool that automatically sends recovery cart recovery emails to customers in a specified time sequence until they complete their order. The plugin lets you create cart recovery automations with a drag & drop editor, as well as track your abandoned or recovered carts alongside revenue in real-time.
On top of that, Retainful can do more than just basic WooCommerce cart abandonment. It can also help you motivate your customers to buy using add-to-cart popups, exit intent popups, or a countdown timer.
The tool easily integrates with WooCommerce, as well as other email marketing platforms.
3. WooCommerce Recover Abandoned Cart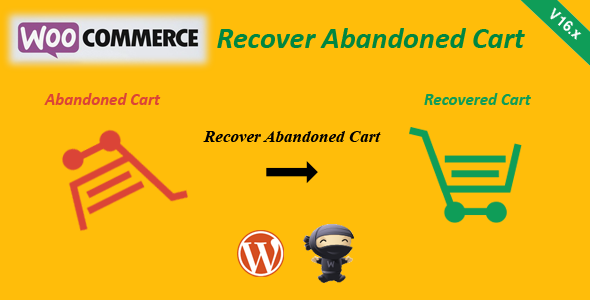 This little plugin can help you boost your sales by tracking abandoned carts on your WooCommerce store and reminding both your registered customers and visitors to complete their purchases. The WooCommerce Recover Abandoned Cart plugin also features a selection of ready-to-use email templates and offers basic click analytics to help you see which templates work best.
Recovering WooCommerce abandoned carts with Omnisend
Omnisend is the magic bullet for WooCommerce cart abandonment issues because it synchronizes directly with your WooCommerce store data. This allows you to automate every stage of the customer journey—including abandoned carts.
When you integrate Omnisend with your WooCommerce store you'll unlock the power of Omnisend's marketing automation workflows. When WooCommerce detects that a shopper leaves their cart, Omnisend can automatically send an email reminder with a link to the checkout page to encourage them to return to their purchase.
And because Omnisend is an omnichannel marketing platform, you're not limited to just sending a WooCommerce abandoned cart email. You can also make effective use of abandoned cart SMS and web push notifications. There are many examples of how other brands send push notifications to recover abandoned carts.
How to sync Omnisend with your WooCommerce store
Synchronizing WooCommerce with Ominsend takes just three simple steps:
Register an Omnisend account
Select the 'Plugins' tab on your WordPress Dashboard and search for the 'Omnisend for WooCommerce' plugin to install it
Link your Omnisend account with the WooCommerce plugin

For an in-depth guide to the setup process of integrating Omnisend with WooCommerce, click here.
Once Omnisend is installed and integrated with your WooCommerce store, Omnisend automatically syncs all your store's data—including details about your products, contacts, and orders. Depending on the size of your store, this can take up to 24 hours, but usually, it only takes a few.
How to set up a WooCommerce abandoned cart workflow on Omnisend
Before you can create your abandoned cart workflow, you'll need to verify your sender's email address. To do this, log into your Omnisend account. Then head to the 'Automations' tab in your dashboard, click the 'New workflow' option, check 'Cart Abandonment', followed by the 'Customize workflow' button. Omnisend has a range of abandoned cart recovery email templates to help you get started, and there's a full guide on how to configure the WooCommerce Abandoned Cart Workflow here.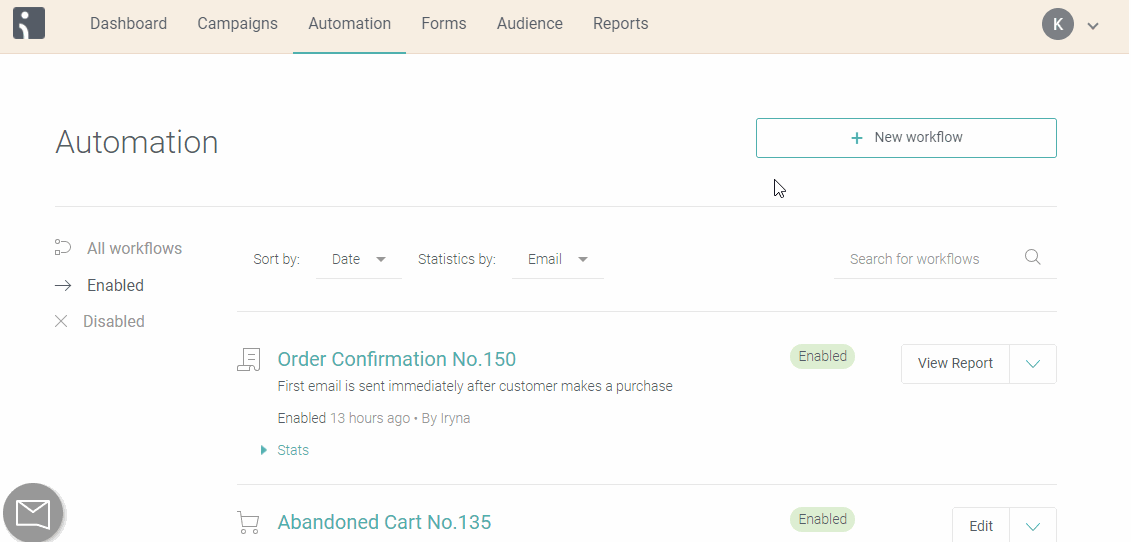 You can also retarget cart abandoners via Google and Facebook ads. You can create a segment of abandoners for your abandoned cart retargeting campaigns based on shopping behavior, campaign engagement, and more.
Once you've created and saved an audience 'segment' for customers that abandoned their carts, you can sync it to a 'Facebook Custom Audience' or 'Google Ads Customer Match.' From then on, the segment automatically updates, so you don't have to add cart abandoners manually. This means you'll always have a fully updated, real-time list of cart abandoners to work with at the convenience of your fingertips.
Best incentives for WooCommerce cart abandonment
There are multiple incentives you could use to increase the success of your WooCommerce cart abandonment recovery campaigns.
Keeping in mind that there is a multitude of reasons shoppers abandon their carts, let's take a look at a few solutions that directly address those problems:
1. Monetary discounts
A widespread incentive for enticing customers to come back is a discount coupon––with either a percentage or a fixed amount. However, try to take a strategic approach to your pricing so you're not losing out financially. This tactic only works if you're still retaining a healthy profit margin on discounted recovered carts.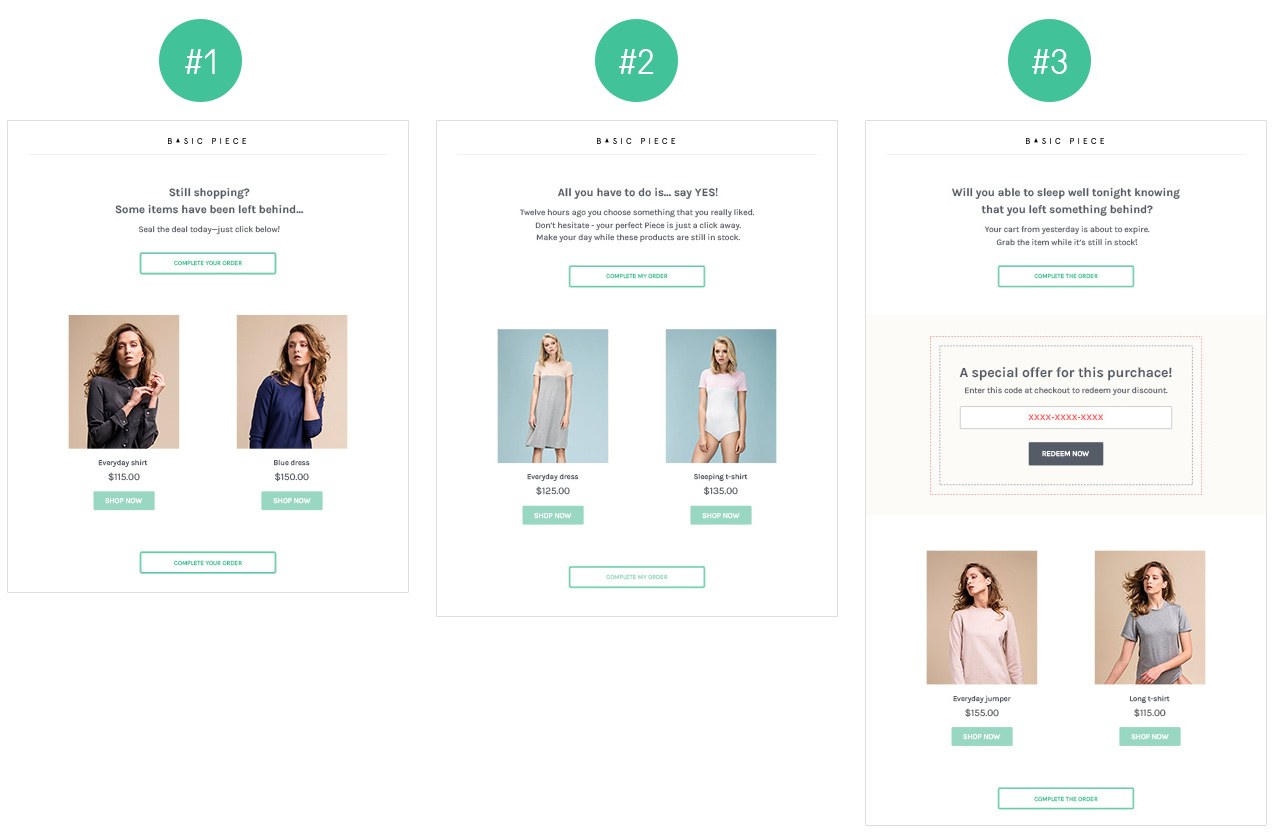 Top tip: When offering a monetary discount, align it with the value of the order. For instance, you could set a minimum spend threshold to ensure you never give away too large a discount for a smaller transaction.
Shipping incentives
We live in a world of instant gratification, and the expectations of contemporary shoppers mirror this. Consider the popularity of Amazon Prime's next-day delivery service. While you might not be able to match this, you may be able to offer discounted or free shipping in an attempt to win them back.
Rewarding loyalty
Another popular method of tempting customers back is to offer shoppers loyalty points and the opportunity to use them. This is where a solution like Omnisend comes in handy for automating what otherwise would be a complicated process.
For instance, you could let customers know the number of points they stand to gain if they complete their transactions. Omnisend can send a reminder WooCommerce abandoned cart email with a subject line like: "$10 off your next order" or "You're almost there! Earn 100 points with your next purchase."

Alternatively, you could allow customers to 'cash-in' their existing points to operate as a discount. For example, if each $1 spent equals 100 points, you could send an automated email reminding the customer they have [X] points to use. Explain that putting these points towards the order they've abandoned would result in [X] discount.
Simple, right?
4. Free gifts with orders
Try offering a gift if a customer spends over a certain amount. If they abandon their ecommerce shopping cart, send an automated email telling them they're entitled to a freebie if they complete their purchase. You could also create an automated email informing customers they're "really close to your free gift if you spend another X dollars."
5. Run contests
A simple way to engage customers through the checkout cart is to run a contest. For instance, customers who complete their purchases could be entitled to more entries into the contest. Just be sure to include a cut-off time in the WooCommerce cart abandonment recovery email to increase urgency!
Wrap-up
There isn't an overnight solution to the perennial WooCommerce cart abandonment problem. However, the better you understand why customers are leaving their carts, the better positioned you are to design a campaign to win them back.
related features
Want more sales?
Omnisend has everything you need to succeed.
Start free now
No Credit Card needed.