Drive sales on autopilot with ecommerce-focused features
See Features
Reading Time:
9
minutes
There's a common misconception that upselling is merely about persuading customers to spend more by suggesting pricier products.
The reality is that upselling is an intricate strategy that calls for the right product, placement, and timing. Most importantly, it benefits both you and your customers.
Every WooCommerce store wants existing clients to purchase more and remain loyal. An upsell plugin for WooCommerce makes it easier to do this, boosting revenues in the process.
However, effective upselling isn't about pushing customers to buy pricier items. It's about understanding their needs and suggesting better solutions or complementary products.
The best upsell plugin for WooCommerce tailors recommendations using customer data and displays them at opportune moments like checkout. This way, it helps turn one-time buyers into repeat customers.
In this article, we'll show you the ultimate upsell plugins for WooCommerce, like the Omnisend plugin, to delight your customers and grow your business.
Boost your WooCommerce store's revenue by up to 85% using our email marketing plugin.
LEARN THE SECRET NOW
What do you need to know about upselling on WooCommerce?
Upselling is often confused with cross-selling. They may have the same result, but they're different practices.
Upselling involves offering your client upgrades or better versions of the same product that cost more. However, with cross-selling, you offer the client additional products related to their purchase.
Now that that's out of the way, what are some of the best practices for upselling?
Some of the best ways to upsell in WooCommerce include:
Making viable suggestions during shopping.
Offering checkout add-ons.
Making offers to customers post-purchase.
Upselling when the customer is checking their cart.
Let's look at it all in detail.
WooCommerce upsell best practices
Make every upsell you suggest to the client relevant to their previous purchases.
Your WooCommerce upsell suggestions should be appealing. Your customers will only be convinced to spend more if they see value in buying the costlier product that you've suggested. You can do this by showing good reviews, displaying it as a "most ordered item," or showing it among recommended products.
For instance, Amazon tags its best products with comments such as "Amazon's Choice" or "#1 Best Seller."
Additionally, on every product page, it shows similar and costlier items for upselling as you can see below.
Your upsell must cater to a specific need of the customer. They should see value in spending that extra amount compared to the product or service they're currently considering.
You can offer a discount on the costlier upsell product or service to woo the customers to spend higher for it.
Highlight them as limited products or premium services to create urgency in the customer. If you have a limited number of products in stock, highlighting that makes the customer want to purchase them even more.
WooCommerce upselling tools
Giving your customers relevant product options when upselling will reward you with more sales.
Using the right WooCommerce upselling tools will make that possible for you.
But the tools also have to be used at the right stage in the client's shopping process.
Here is what works and when.
Display products as an upsell on the cart page
You can display products as an upsell when the client is shopping. This could be done on either the Product, Category, or Cart pages.
Upselling products or services on the cart page is a great way to reduce abandoned carts. Suggesting the right products at this stage may motivate them to proceed to checkout.
One WooCommerce upsell plugin suitable for this is the Cart Upsell for WooCommerce tool.
This plugin operates on conditions that are based on product, product category, and cart total. You can pick any or all of these conditions depending on how you want to go about your upselling process.
You can also add specific conditions related to these three categories for WooCommerce cart upsell.
For instance, let's say you base your upsell product on cart totals and item category. Say the item category you pick is kitchenware, with cart totals above $50.
If the client buys utensils and kitchen gadgets worth more than $50, an upsell product will be suggested to them.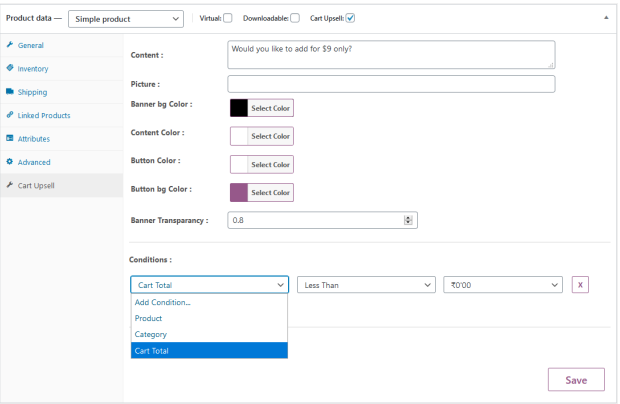 Cart Upsell is customizable too. You can make your upsell product appear on your customer's page even if you don't set conditions.
This plugin costs $29 annually.
Another useful plugin for upselling on the cart page is WooCommerce Checkout Add-ons. With this plugin, you can add offers to the cart page during checkout. These offers could be paid or free.
These WooCommerce upsell add-ons could include:
Necessary accompaniments like gift wrappings if the client is purchasing a gift or custom gift messages
After-sales services like shipping insurance
You can add tip options based on the percentage of total cost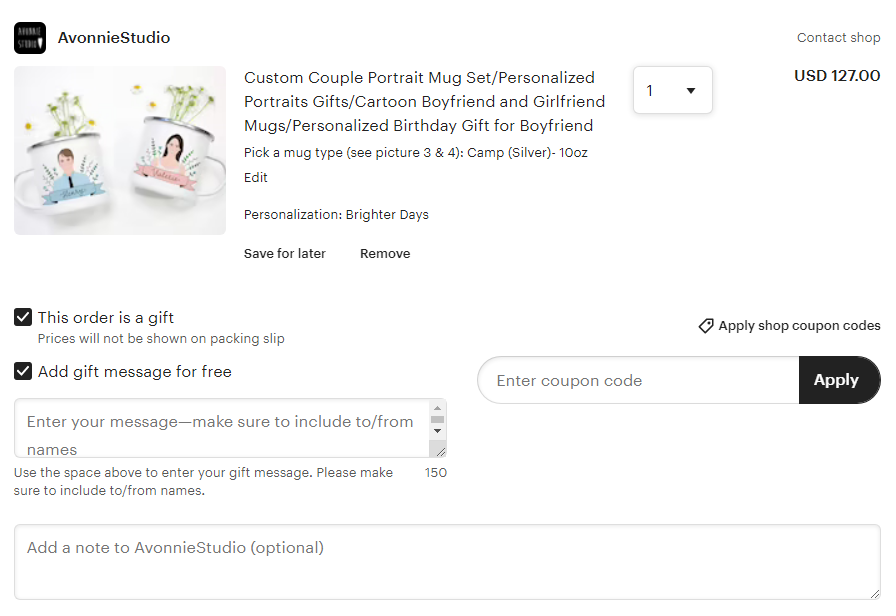 The WooCommerce Checkout Add-on plugin has features such as:
Customizable fields for customers to input additional conditions
Ability to add fixed or percentage-based charges on extra costs
Options to change conditions based on items such as category and cart totals
The option to have add-ons and upsells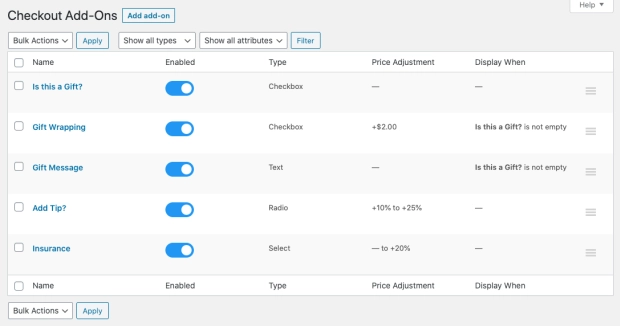 All these are for an annual fee of $79.
Getting started with this plugin is easy. All you need to do is install it on your WooCommerce site and add your desired fields.
Display products after checkout is done
Another way to make an upsell during the order process is after the completion of the sale.
With this WooCommerce upsell plugin, customers can purchase the upsell product in a single click without re-entering the payment details.
This greatly increases the chances of conversion as the buying process is simplified. Additionally, it increases customer success & reduces your churn rate.
Other features of this WordPress upsell plugin include:
You can have unlimited offers as it allows you to create many funnels
You can easily track the performance of each upsell you create using Google Analytics and Facebook Pixel
The plugin shows your client more useful offers if they skip existing ones
It allows you to offer upgrades of the same product to your customers
You can create exclusive offers for your clients based on their orders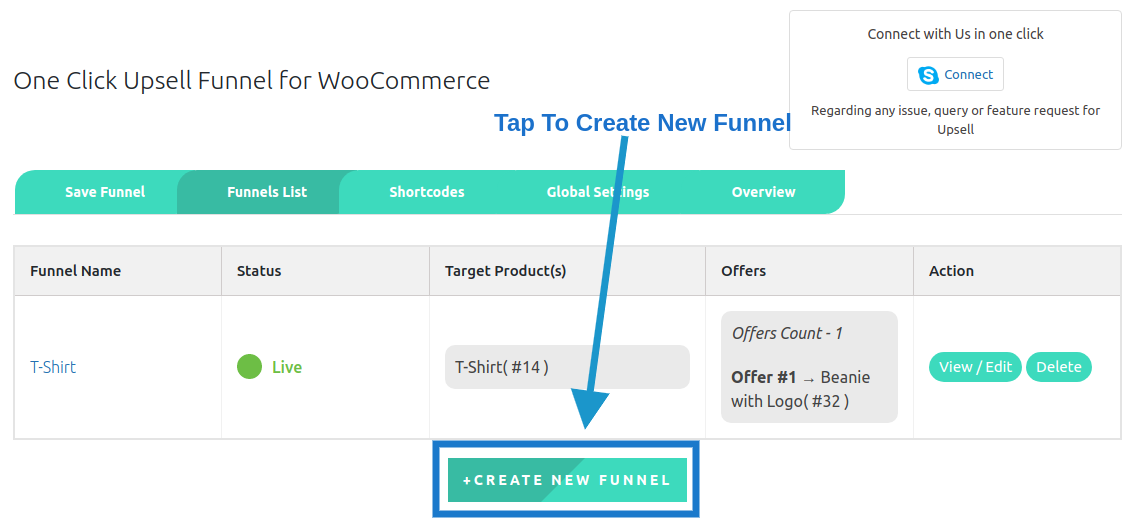 This WooCommerce upsell plugin comes in different premium versions: the 1 site plan, 5 site plan, and 10 site plan. These cost $59, $149, and $289 per year respectively.
There's also a free version but with limited features and payment options.
Another helpful WooCommerce upsell plugin is the Product Recommendations plugin. This plugin uses human and artificial intelligence to offer upsell recommendations to clients.
As a result, the upsell product your customers get will be more relevant to them. It also displays these suggestions at spots where the customers will most likely see them.
This add-on also has the option to track the performance of your upsell suggestions using analytics.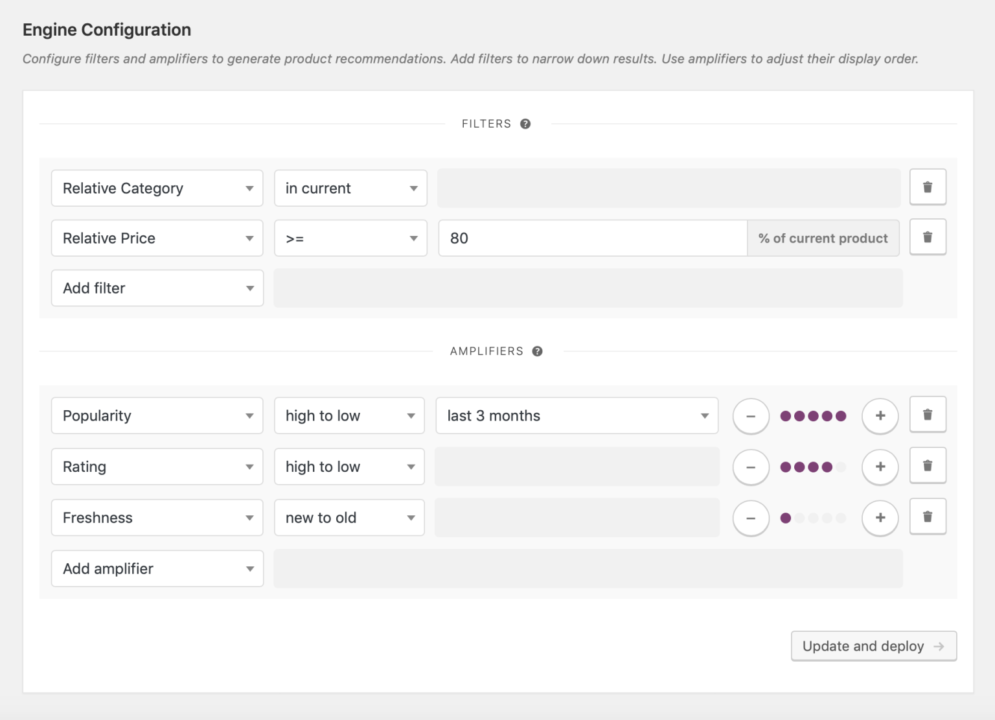 You only pay $99 for this plugin annually.
Here's how you can benefit from this plugin:
It can recognize product relationships and make meaningful suggestions
Lets you add both upsell and cross-sell products to every item or category faster. It has amplifiers and smart filters that let you do this in bulk.
Uses historical data, such as items recently viewed by the customer, to recommend the perfect product to them.
Allows you to recommend upsells on different pages of your store.
You can use the filters, visibility settings, and amplifiers to customize your upsell recommendations.
For instance, you can offer incentives for products that cost more than a certain price.
Another thing would be to display popular products when upselling to convince your clients to make a purchase.
Using proof, such as reviews from other buyers, is also a way to customize your upsell suggestions.
Here's an example of a customized upsell: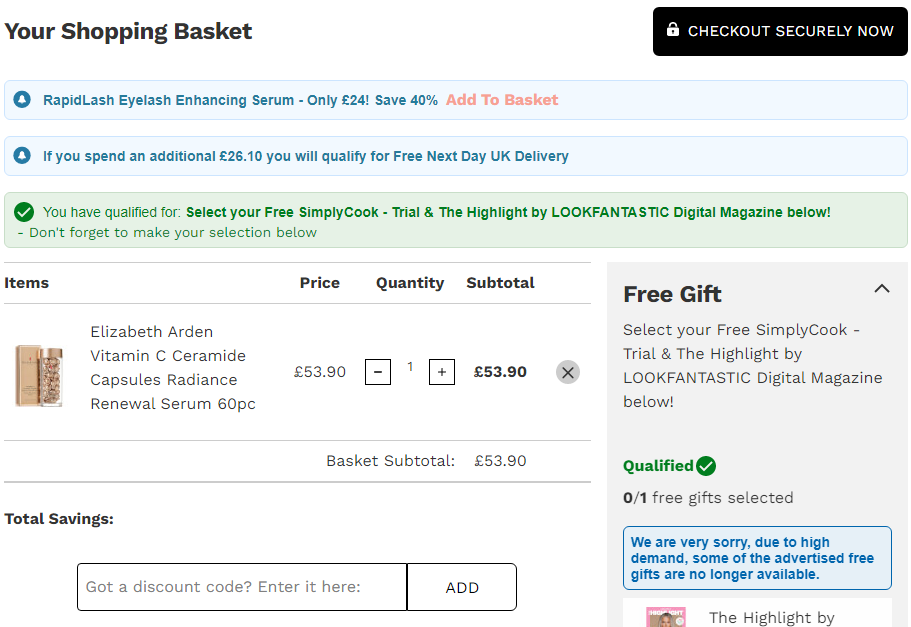 Display frequently bought together products while people are still browsing
Suggesting items that previous customers bought together is an excellent way to upsell. Successful companies like Amazon use this practice often to boost sales.
Here's an illustration: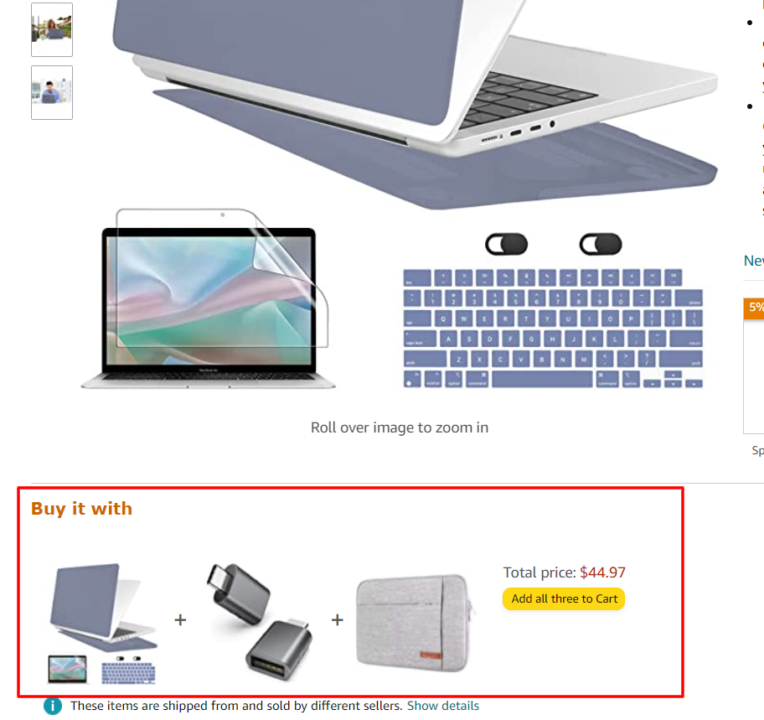 Here is a plugin that can help you achieve this:
This plugin can help you add frequently bought together products to your ecommerce store.
This can potentially give a boost to your average order value as the customers might end up purchasing more products in the same order.
It's likely that your client was probably already thinking of buying the additional product anyway, and you just made it easier for them.
This WooCommerce upsell plugin also lets you add related items you think may be useful to your customer manually. This customization can lead to further relevance between the products and can increase the chances of upsells and cross-sells.
The YITH dashboard gives you options to use the products as upsells, cross-sells, or related products, as shown below.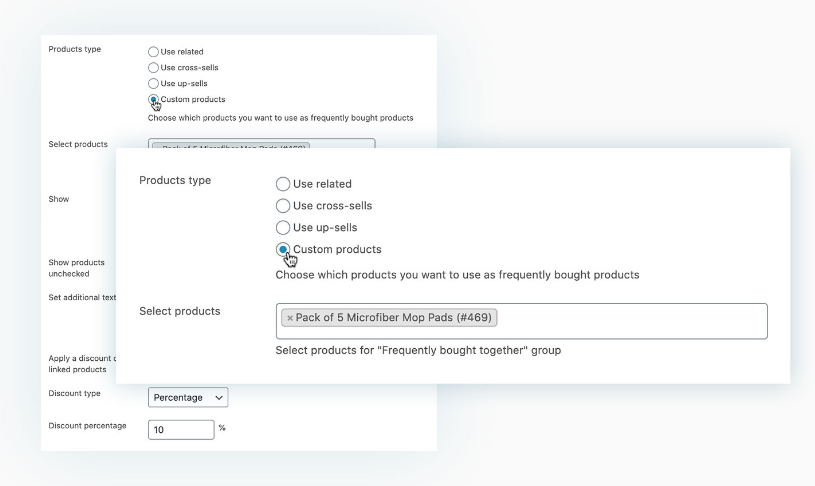 Here are some features of this plugin:
It lets you customize the number of related products to display and how randomly you display them
The customized image size feature lets you set the size of your accessorized product to match the main product
You can choose where to position your upsell product
The discount feature lets you set percentage discounts on related products to encourage purchase
It lets you customize the text on the frequently bought together items
This product is easy to use and easily integrates with your WooCommerce wishlist.
The premium version of this plugin costs $79.99. There's also a free version, but it only has three features:
Set unlimited upsell products
Customize the Frequently Bought Together title
Change the text and colors of the Add to Cart button in the Frequently Bought Together section
Group products together
Another way of going about WooCommerce upsell is by grouping similar products together to sell as a single unit.
The Force Sells plugin allows you to combine products and add them to the cart together. There are two types of force sells on this plugin.
Normal force sell: Products added alongside the main product in the cart are in similar quantities. You can remove these products or change their quantity.
Synced force sell: Here your main product is linked to the synced ones. The quantity of your main product changes together with that of the added products.
You can't remove the additional products or change their quantity independently. If you remove the main product, the synced products go as well.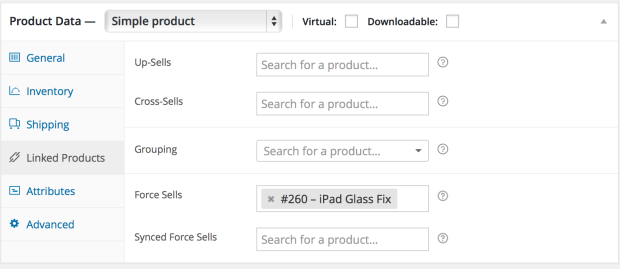 This plugin costs $49 annually.
Another similar plugin is Chained Products for WooCommerce. With this plugin, you can create product groupings, free giveaways, offers, force sells or any product combinations.
There are no limits on the number of products you can chain up with the main product.
This plugin allows you to price products as a bundle or individually depending on your preference.

It gives you multiple bundling options and is not only limited to force sell. Besides upselling, this plugin is suitable for stock clearance too.
It's appealing to clients especially when you price products as a group. This is because it's hard to tell what costs how much and the overall price ends up seeming fair.
You, as a store owner, will also have flexibility in deciding which products to bundle up with this plugin.
Chained Products costs $79 billed annually.
Display products as an upsell in emails
Email marketing is a great way to drive sales for your ecommerce store. And it's one of the best strategies for upselling too.
The Omnisend WooCommerce upsell plugin is an email marketing platform that boosts your sales through WooCommerce emails and SMS.
Omnisend automates the upsell emails and SMS you send to your clients. These include your transactional emails, post-purchase emails, and cart abandonment messages.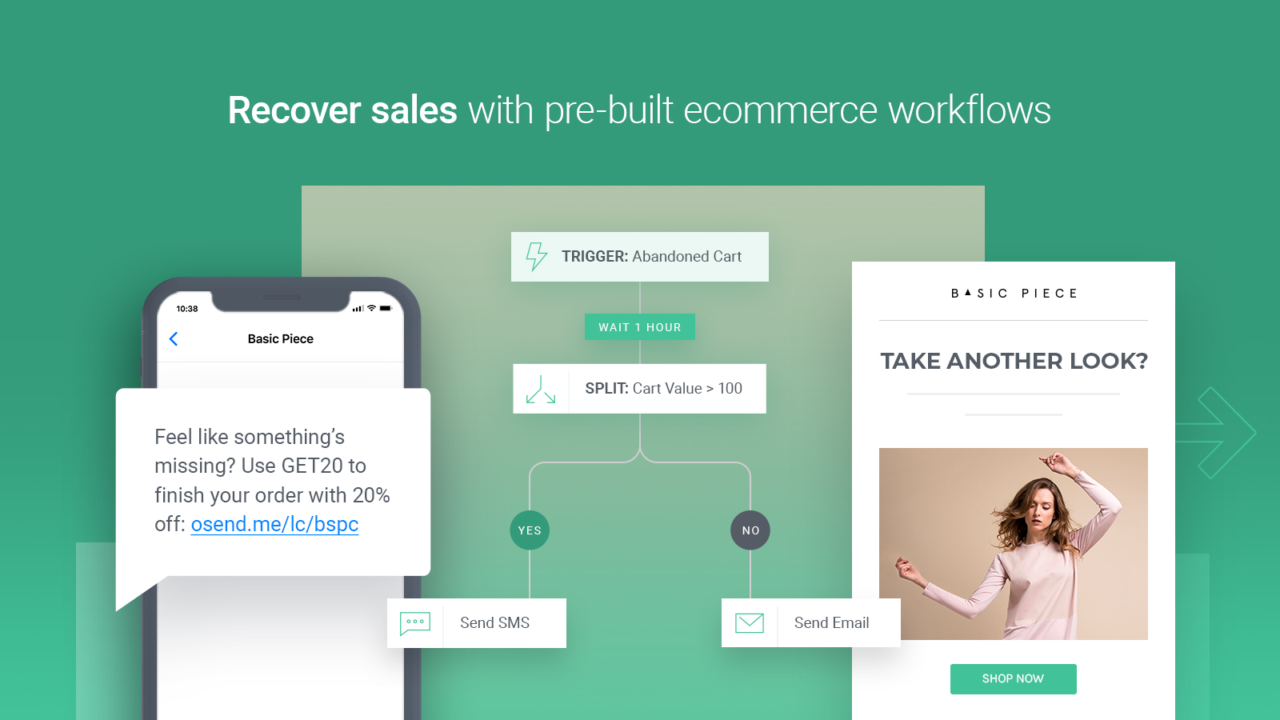 This plugin fully integrates with WooCommerce.
Here are some of its features:
Auto generated email templates for welcome emails, confirmation emails, etc.
Automated workflow emails such as shipment updates, cart recovery, and order follow-up
Integrated email and SMS functionality
Autogenerated discount codes
You can automate your upsell options using the Omnisend automation trigger setting, as shown below: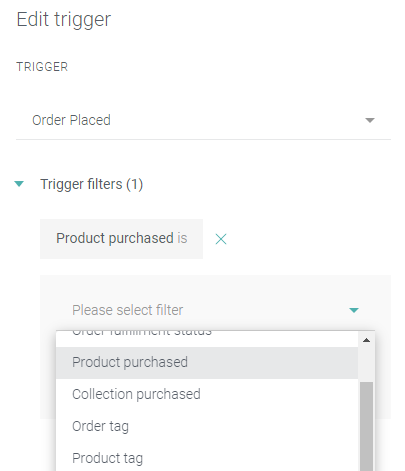 This plugin is free, but you can always upgrade to the paid version starting from $16/month to send out more emails.
Wrap up
WooCommerce upsell is one of the best strategies to boost your online store's revenue. When you leverage the best WooCommerce upsell plugins for it, your job of implementing it becomes simpler too.
Take the Omnisend plugin for instance.
With this automated marketing platform, you can easily upsell and cross-sell seamlessly to your clients without making them feel spammed.
The automated cart recovery emails, shipping updates function, and automated discount codes do more than just boost revenue. They boost your customer experience and loyalty.
Are you ready to explore upselling on your WooCommerce store? Here's how you can get started for free.
related features
Want more sales?
Omnisend has everything you need to succeed.
Start free now
No Credit Card needed.