Drive sales on autopilot with ecommerce-focused features
See Features
Reading Time:
7
minutes
Today, we're going to take a look at the 7 best WooCommerce abandoned cart plugins.
As you're probably aware, having an abandoned cart plugin for your store is crucial for having great sales.
That's because nearly 70% of customers abandon carts, and if you don't take a proactive approach to that, you can lose those sales.
WooCommerce abandoned cart: How they were chosen
When it comes to WooCommece abandoned cart plugins, we had a few important requirements.
First, obviously, was that the Woocommerce plugin provides full support for stores using WooCommerce.
Boost your WooCommerce store's revenue by up to 85% using our email marketing plugin.
LEARN THE SECRET NOW
Although this sounds basic, it means that users on WooCommerce can enjoy the full functionality of the plugin for those apps that weren't made specifically for WooCommerce stores.
Secondly, the WooCommerce abandoned cart plugin needs to be updated regularly.
If a plugin has not been updated within the last 6 months, then it was removed from the list. This is because updated plugins are important for feature and security purposes.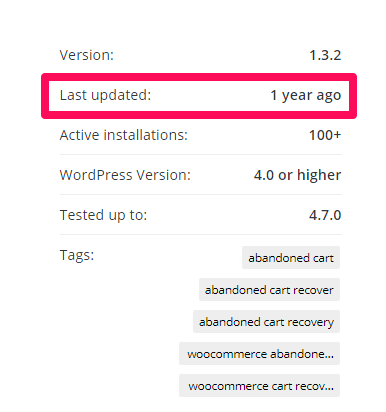 That being said, let's dive into what the best WooCommerce abandoned cart plugins are to help your online store recover lost sales.
| | | | | | | |
| --- | --- | --- | --- | --- | --- | --- |
| | Visual workflows | Templates | Automation splits | Can add channels? | Reporting | Price |
| Omnisend | yes | yes | yes | email, SMS, push | Advanced workflow & sales reporting | Standard $16/ month |
| Mailchimp | yes | yes | yes | no | basic | Essentials $9.99/ month |
| Jilt | no | yes | no | no | basic | Growth $29/ month |
| CM Commerce | yes | yes | yes | no | basic | Starter $9/month |
| Abandoned Cart Lite | no | 1 template | no | no | basic | Free |
| Metrilo | no | no | no | no | Advanced reporting | Premium $299/ month |
| Abandoned Carts Reports | no | yes | no | no | basic | Personal $15/ year |
1. Omnisend for WooCommerce
Omnisend for WooCommerce is an all-in-one marketing automation platform dedicated to ecommerce. It's focused on helping growing businesses graduate past the generic email marketing tools out there.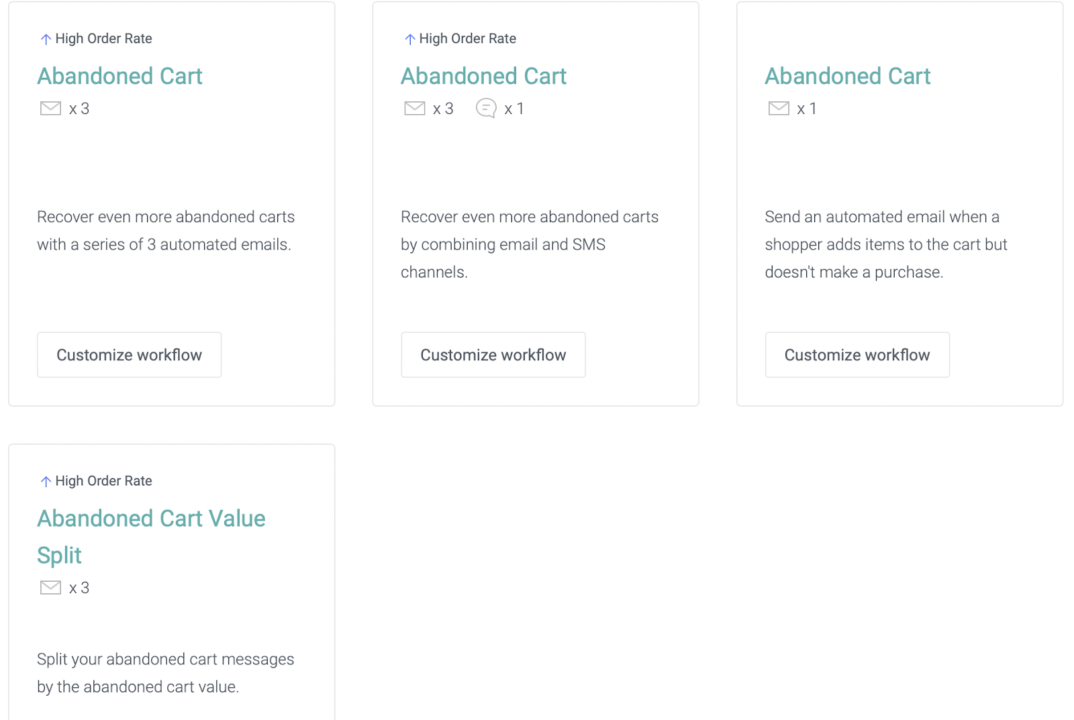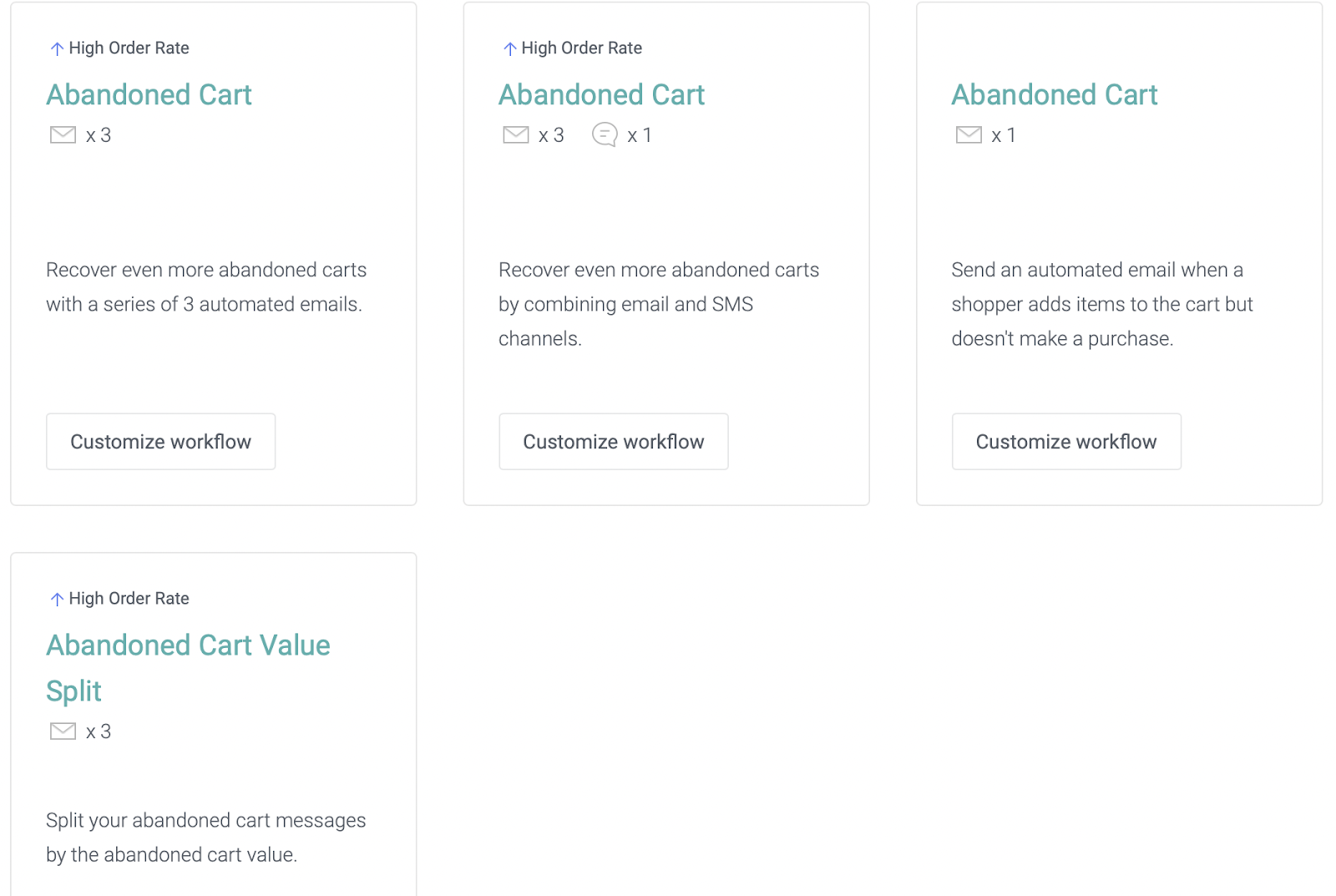 Pros:
When it comes to automated emails, such as abandoned cart automated emails, Omnsiend offers a lot of functions and flexibility.
You can set up an unlimited amount of emails in your abandoned cart workflow, although most marketers use either 1 or a series of 3 emails.
You can also:
track cart abandons every time
capture more abandons with Browse Abandonment and Product Abandonment workflows
track the most important pages, and peak abandons, with Live View website tracking
use predefined, prefilled cart abandonment templates, or create your own
use segmentation with advanced filters to supertarget visitors and customers
use follow-up and order confirmation emails
Omnisend is not just focused on abandoned cart, so it has a lot of other features that you'll probably find useful: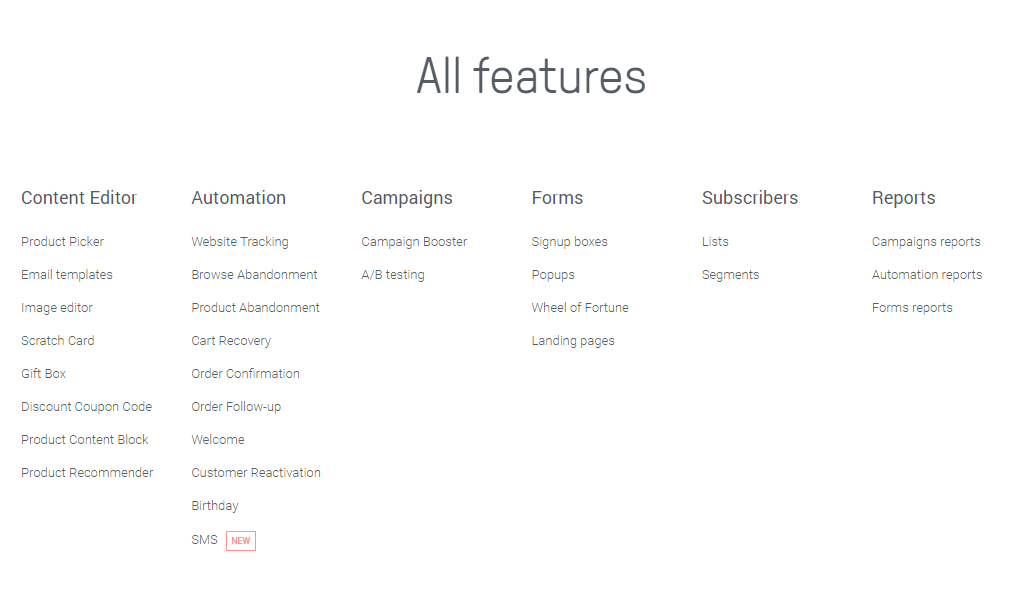 And that's perhaps the biggest pro: it allows you to cut down on the amount of separate apps you'll need, since it's an all-in-one solution for:
welcome emails
cart abandonment
website tracking
popups and signup forms
landing pages
newsletter builder

Cons:
One of the drawbacks of the platform is that there are limitations based on the plan that you're on.
Also, you're not able to copy automated emails if you want to create another cart abandonment workflow based on a specific segment, for example.
Free plan: Yes
Paid plans: starting from $16
Drive sales on autopilot with abandoned cart automation at Omnisend!
Start free today
2. MailChimp for WooCommerce
One of the bigger names in email marketing is MailChimp.
For many new ecommerce marketers, this is one of the first apps that they try for abandoned cart recovery, and that's also true for WooCommerce stores.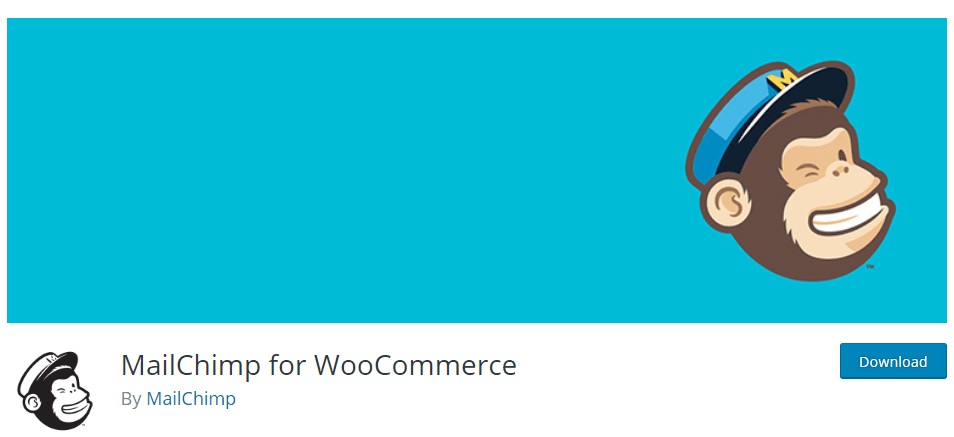 Pros:
The MailChimp for WooCommerce email marketing plugin comes with a lot of functions, such as:
syncing your lists and purchase data
tracking and segmenting customers
showcasing product recommendations
adding popups
standard marketing automation features, including, of course, abandoned cart recovery
These are all pretty great.
Cons:
Based on current and past user experiences, the MailChimp plugin doesn't seem to be the best abandoned cart plugin for WooCommerce stores: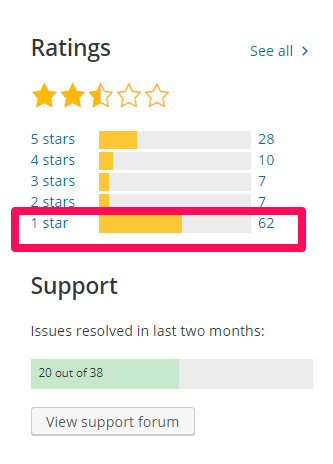 Out of 114 ratings (at the time of writing), more than 54% are 1-star, and only 24% are 5-star ratings.
Secondly, there are certain limitations for WooCommerce marketers. Specifically, they state that:
"Synchronization of product categories from WooCommerce to MailChimp is not supported."
Free plan: Yes
Paid plans: starting from $9.99
3. Jilt for WooCommerce
Jilt is a WooCommerce plugin focused on abandoned cart recovery, with features supporting welcome and post-purchase emails as well.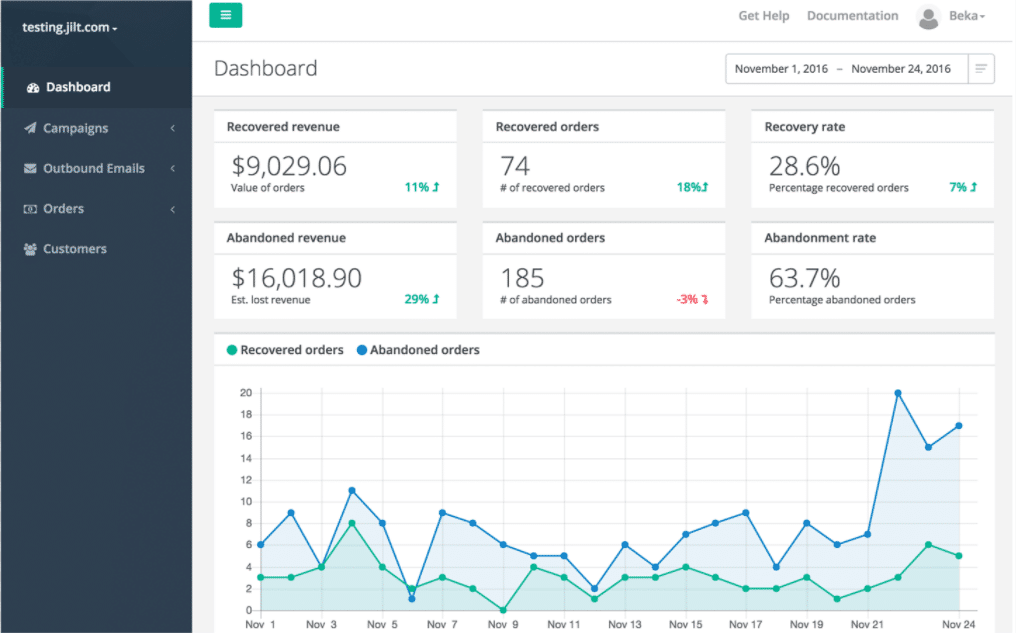 Pros:
It's pretty good that all of the work (details on orders and abandoned carts) happens on the Jilt app's servers, rather than on your own website.
This is important for site speed, a crucial factor for both user experience and SEO.
Based on user comments, they also have some great customer support.
Lastly, Jilt also allows you to set up post-purchase follow up emails for WooCommerce, so that after you've won back your abandoned cart sales, you can continue building up connections with your customers.
Cons:
The only major problem with Jilt is its pricing.
It can get pretty expensive, especially with its "MCE" calculations.
According to their site, MCEs are Monthly Customers Engaged. This simply means that they charge you for unique customers, which is a pretty standard practice.
Beyond that, however, after you get more than 50 MCEs, you'll end up having to pay at least $29, and at least $100 per month if you have more than 1,000 subscribers.
Free plan: Yes
Paid plans: starting from $29
4. CM Commerce for WooCommerce
Previously known as Receiptful, then Conversio, CM Commerce markets itself as an all-in-one marketing dashboard to help WooCommerce stores communicate with and sell to their customers.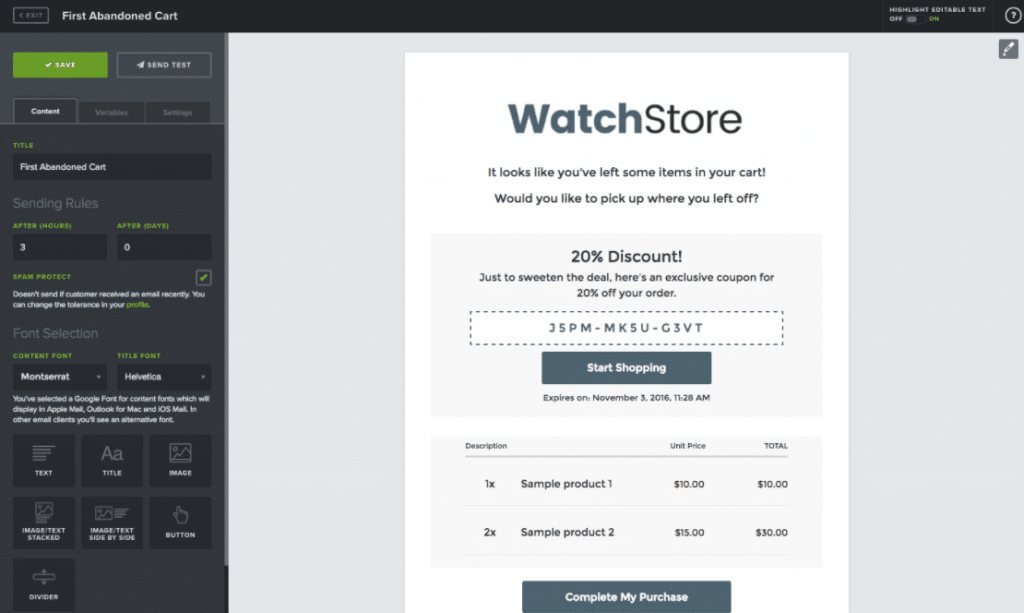 Pros:
Since it's labeled as an all-in-one solution, you won't just get cart abandonment features with this WooCommerce plugin.
Their suite of features includes:
automated emails including not just abandoned cart, but also follow-up, receipts and newsletters
upsell and cross-sell features
product reviews and feedback
They also charge per customer, not per subscriber, so you only get charged for paying customers.
Cons:
Again, there's a unique angle here with the pricing.
Since CM Commerce charges per customer, that means that even if no one has bought from you, you'll still be charged the same $20.
Also, since everyone starts on their 30-day free trial, you'll get charged immediately once the trial ends, unless you cancel manually.
So—since there is no free tier—if you were underwhelmed by the plugin but forgot to cancel it, you'd be automatically charged.
Free plan: No
Paid plans: starting from $9
5. Abandoned Cart Lite for WooCommerce

This WooCommerce abandoned cart plugin can track and send out automated emails to subscriber and guest accounts that have abandoned their shopping carts.
Pros:
The biggest pro is that it's free, and it's hard to resist that kind of offer.
Besides that, since it's the Lite version, it's pretty easy on your website's load speed.
That is also balanced with the fact that the lite version doesn't cut down on basic functionality, which is crucial for your WooCommerce marketing needs.
Those basic functions include:
ability to have customer recover abandoned carts with one click
ability to capture abandoned guest carts
ability to personalize emails with customer data
Cons:
Since it's free, it misses quite a lot of features that growing businesses will need.
This includes:
no tracking of sent emails, including opens and clicks
no dashboard
no tracking codes used or status of codes
no segmenting customers at all
no revenue reports on abandoned cart sales
no choice of email templates to use
Nonetheless, since it's free, it's a good place to start if you're an absolute beginner.
Free plan: Yes
Paid plan: for the Pro version for a single store is $119 yearly
6. Metrilo WooCommerce Marketing Platform
Marketed as a specialist ecommerce marketing platform for online stores, Metrilo doesn't just track and send abandoned cart emails, but makes all customer data usable via email to optimize the entire process.

Pros:
Because of this added layer, Metrilo has some great features:
correctly adjusting for cancelled, returned or fraudulent orders
track visitors and create detailed customer profiles
enable customer segmentation and tagging
unlimited emails and list size
The app goes beyond just abandoned cart features, providing important functions that will help you in your customer management, email marketing and analytics.
On review sites like Capterra and G2Crowd customers seem to be quite satisfied with the app.
Cons:
Pricing is based on the features included so if you're looking for just abandoned cart and general email marketing, you have one option, the Premium plan at $299. This is the largest plan with all features, which you might not need if your business is too small.
The other plans available are Essential at $119 and Pro at $199 but they don't include email, only analytics, customer database and retention analysis.
Free plan: No
Paid plans for abandoned cart: starting from $299
Well, that's our list of the best WooCommerce abandoned cart plugins. Have you tried any of them out? We believe that by choosing one you will shortly see the growth of your Woocommerce sales.
related features
Want more sales?
Omnisend has everything you need to succeed.
Start free now
No Credit Card needed.