Drive sales on autopilot with ecommerce-focused features
See Features
4th of July email subject lines: 40+ ideas to inspire your next campaign
Reading Time:
6
minutes
These 4th of July email subject lines will help your online store have successful campaigns, since the research is based on real, high-converting emails.
But we know that researching these by yourself can take a lot of time. Which is why we did it for you—40+ high-converting 4th of July subject lines that you can use today.
(If you're still unsure how to proceed, read about how to craft the best email subject lines.)
Perhaps because it falls right near the middle of summer, the 4th of July (Independence Day) is a great patriotic celebration. Compared to other countries, where it can be a more somber affair, the American Independence Day is a time for fun, sun, barbecues and cocktails.
However, it isn't always necessary to use patriotic themes (US flag, historical figures, etc.). Instead, you can focus on the fun aspect and make sure the products you're selling are aimed at helping people have a great time for their Independence Day celebrations.
Create emails that get opens, clicks, and sales (all for free)
Start free
Top 5 best performing 4th of July subject lines (based on Omnisend research)
We analyzed more than 10,000 of our bigger brands' 4th of July email campaigns to find out what the best, highest-performing subject lines related to 4th of July (Independence Day) are.
When looking at the data, we see that 'Independence Day/4th of July' as a term performed almost as well as the other regular subject line phrases, which include:
holiday
sale off
%
free
now
soon
save
don't miss
last
Since we're looking specifically at subject lines, we're focusing mainly on open rates. After all, that's the main benefit of having appealing subject lines.
Then, we're also looking at the click rates for each Independence Day subject line.
#1 4th of July email subject line: "Independence Day Special"
Open rate: 30.3%
Click rate: 11.6%
#2 4th of July email subject line: "Independence Day Weekend Special: Free Shipping Over $75, Coupon, and New Africa Twin Items!"
Open rate: 27.3%
Click rate: 3.5%
#3 4th of July email subject line: "LAST DAY Independence Day Sale | up to 70% Off"
Open rate: 23%
Click rate: 10.3%
#4 4th of July email subject line: "Independence Day Bead Deals, up to 70% Off!"
Open rate: 22.9%
Click rate: 12.3%
#5 4th of July email subject line: "INDEPENDENCE DAY SALE!"
Open rate: 21.4%
Click rate: 4.2%
Here's all the data in one image that you can save and use later: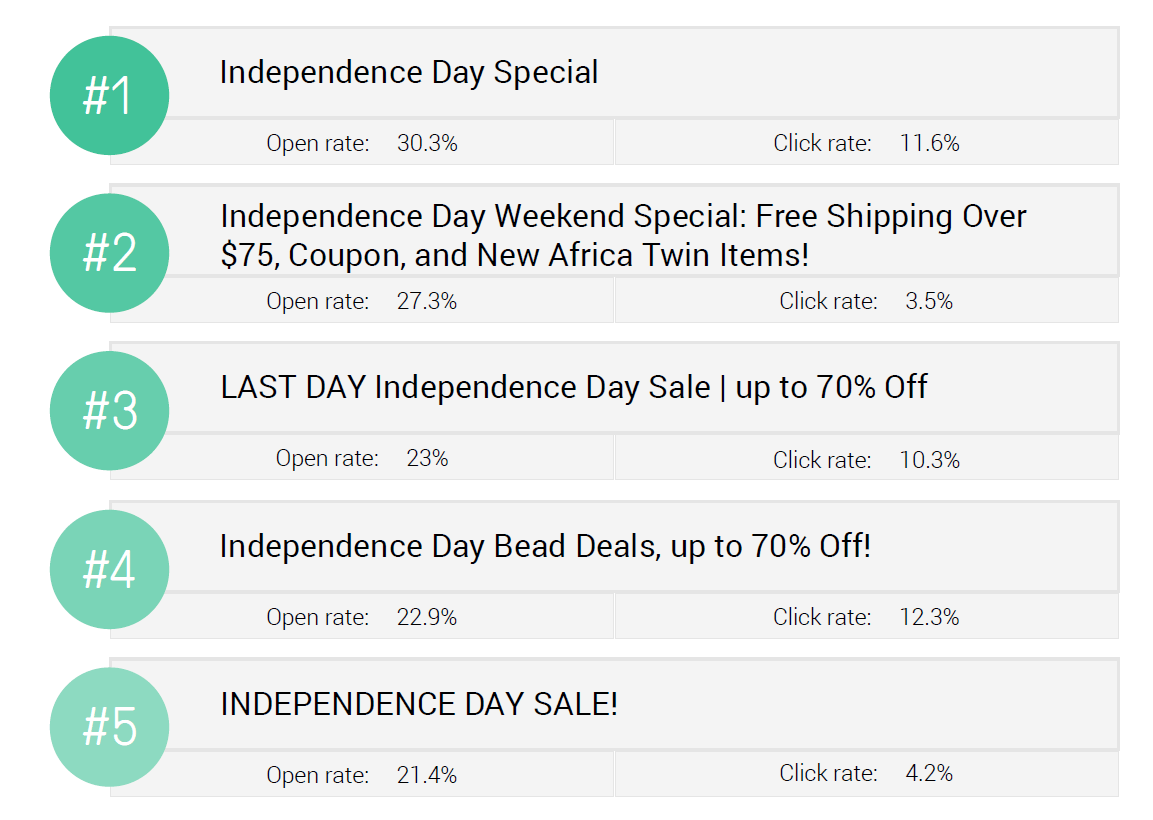 The first thing you notice immediately is that, compared to the other summer email subject lines, the Independence day email subject lines have some pretty great open rates.
Three out of the top 5 have click rates above 10%. You'll also notice that the #2 subject line is quite long.
Therefore, remember ABT (Always Be Testing) to make sure you're giving your customers and subscribers what they actually want.
When you're creating 4th of July email subject lines, don't hesitate to try out many different things and see what works.
Not sure which of these subject lines to pick for your next campaign? How about sending out two at the same time?
Omnisend allows online marketers to send emails with A/B testing with two different subject lines. A/B testing allows you to send out two subject lines or two different sender's names to a small percentage of your recipients so you can see which one worked best.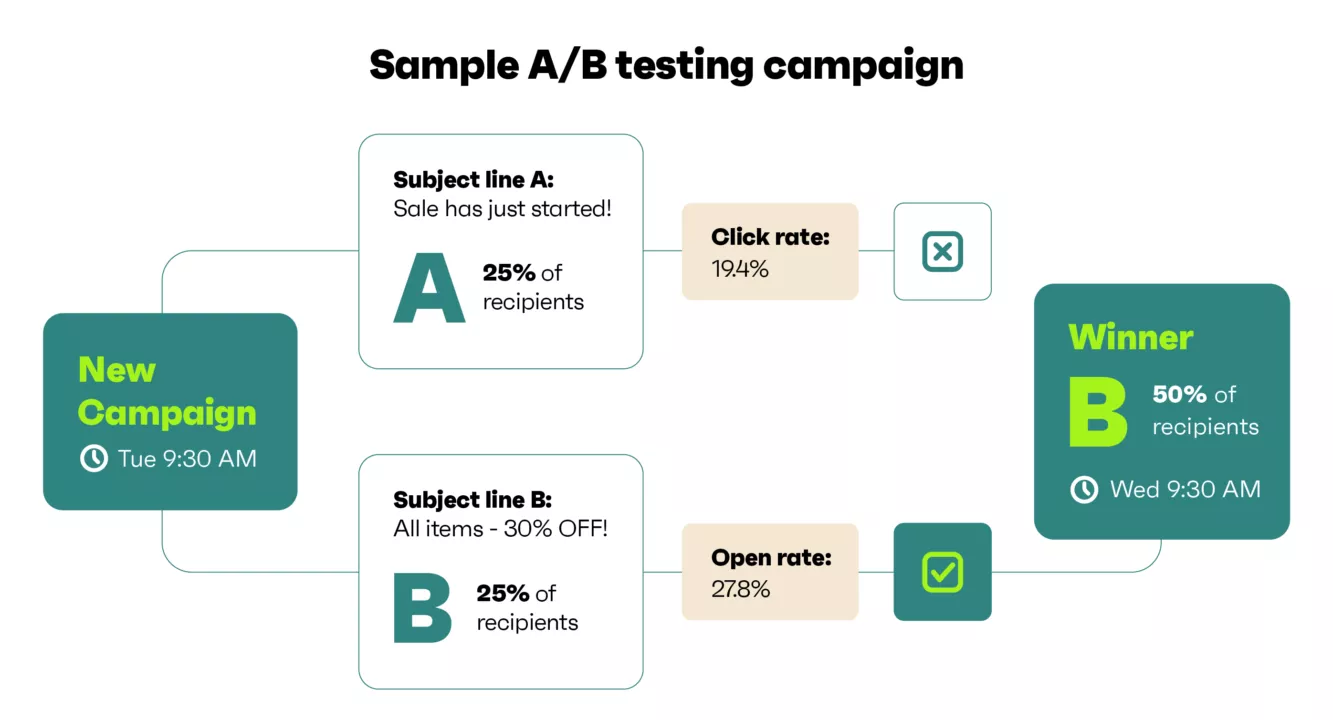 The one with the highest open rate then gets sent automatically to the rest of your recipients.
👉Click here to get your FREE copy of '515 High Converting Subject Lines for Any Campaign'
👉Click here to check July newsletter ideas to spruce up your next campaigns
4th of July email examples
If you're on the lookout for not only high-converting Independence Day subject lines, but also email inspiration, look no further.
Check out some of the best 4th of July email examples we've seen.
BOA
BOA's 4th of July email is bold yet stylishly straightforward. It highlights only one product, with colors emphasizing the holiday, plus some of their other popular products.
Notice they don't mention the 4th of July or Independence Day, yet it's crystal clear what holiday they're celebrating.

Koa
Our next 4th of July email, from KOA, really hits the nail on the head with festive images of friends and family grilling together on a perfect summer evening. Two great CTAs: one two book now (essentially a sales CTA),a nd another is a CTA leading to educational content for party food ideas.

Rifle Paper Co.
In contrast to the traditional and bold red-white-and-blue of the above Independence Day email examples, this email from Rifle Paper Co. celebrates American history with calmer pastel colors that still invoke the feeling of summer.
What's great is that they added a nice discount (up to 20% off); what's not so great is that the CTA button is pretty underwhelming (it's near the bottom). May have worked better to switch the colors (peach as the background and white as the button font).

Cotton Bureau
This t-shirt company went with a strong (though simple) image, plus some personality-laden text. They've also decided to include nearly 15 t-shirts related to the US or specifically Independence Day.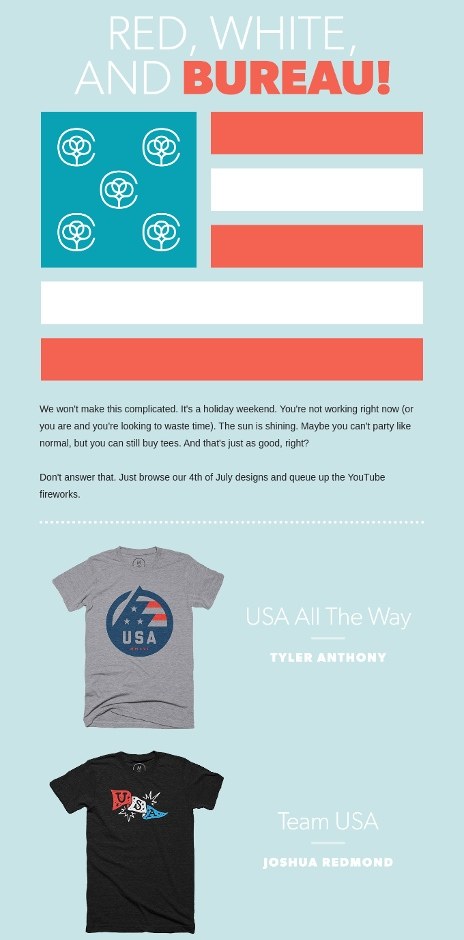 35+ extra 4th of July subject line ideas you should try out
Here's a whole bunch of other subject lines for 4th of July you should consider. For your convenience, we've split them into subcategories:
4th of July email subject lines with patriotic elements
These Independence Day email subject lines are related to the flag, the anthem, patriotism, the US, and American traditions.
Enjoy your freedom
Celebrate freedom with products that don't depend on a large budget
Positively patriotic
Happy Birthday USA
Go Fourth in Red, White, & Shoes
Oh Say Can You Eat
America's Pastime on the 4th of July
By the dawn's early light, these awesome sales are starting!
Show your pride by shopping all things red, white and blue!
We salute you … for saving money with these 4th of July sales
The land of the free and the home of this sale: Don't miss out
Red, white, and cool
Click here to get your FREE copy of '515 High Converting Subject Lines for Any Campaign'
4th of July subject lines with 'celebrate'
Everyone loves a good celebration. Get them in the mood by actually saying the word in your subject lines.
Our Savings celebration is a blast
Get beach ready to celebrate the 4th of July
Let's celebrate independence
Celebrate freedom with products that don't depend on a large budget
Celebrate Independence Day with free shipping on all orders
4th of July subject lines with sales
These 4th of July subject lines contain the usual promotional words about sales, discounts, savings, etc.
The biggest bang for your buck: 4th of July-inspired outfits, 50% off
4th of July Sale: Go! Go!…
Shop our 4th of July sale
4th of July sale this week only
Open this email if you like 1) Hot dogs 2) Baseball 3) Savings
Miss Independen[ce Day]: The sale you need
4th of July getaways every American should take! Plus: don't miss these summer travel sales…
4 deals that save time and money, so that you're free to spend time with your people
Flag this: $6 styles + EXTRA 50% off
Other 4th of July subject lines
Our flaming-hot guide to the 4th of July will compete with your fireworks
Create a spark with these new products
Enjoy the long weekend without ending up short on cash
We saved our best sales for a free day
Be independent: 3 things to do if you're spending the 4th alone
To grill or not to grill? 9 simple recipes to help you host without missing out on the fun
Bring on the fireworks: This deal will have you fired up
The Perfect 4th of July Weekend
6 Big-Batch Cocktail Recipes for the Fourth of July
Grilling Secrets from the Pros – 4th of July party menu
Looking for more email subject line ideas?
I hope you got a lot of great value from this list of 4th of July subject lines. With this list of subject lines and inspiring 4th of July example emails, you'll be pretty much set for your next few years' worth of Independence Day campaigns!
If you're looking for further subject line ideas, download our ultimate list of 515+ high-converting subject lines for any day throughout the year.

Start creating better emails that sell more and keep your customers happy
Start Free Today
related features
Want more sales?
Omnisend has everything you need to succeed.
Start free now
No Credit Card needed.