Drive sales on autopilot with ecommerce-focused features
See Features
Emojis for Email Subject Lines: Pros, Cons, and Tips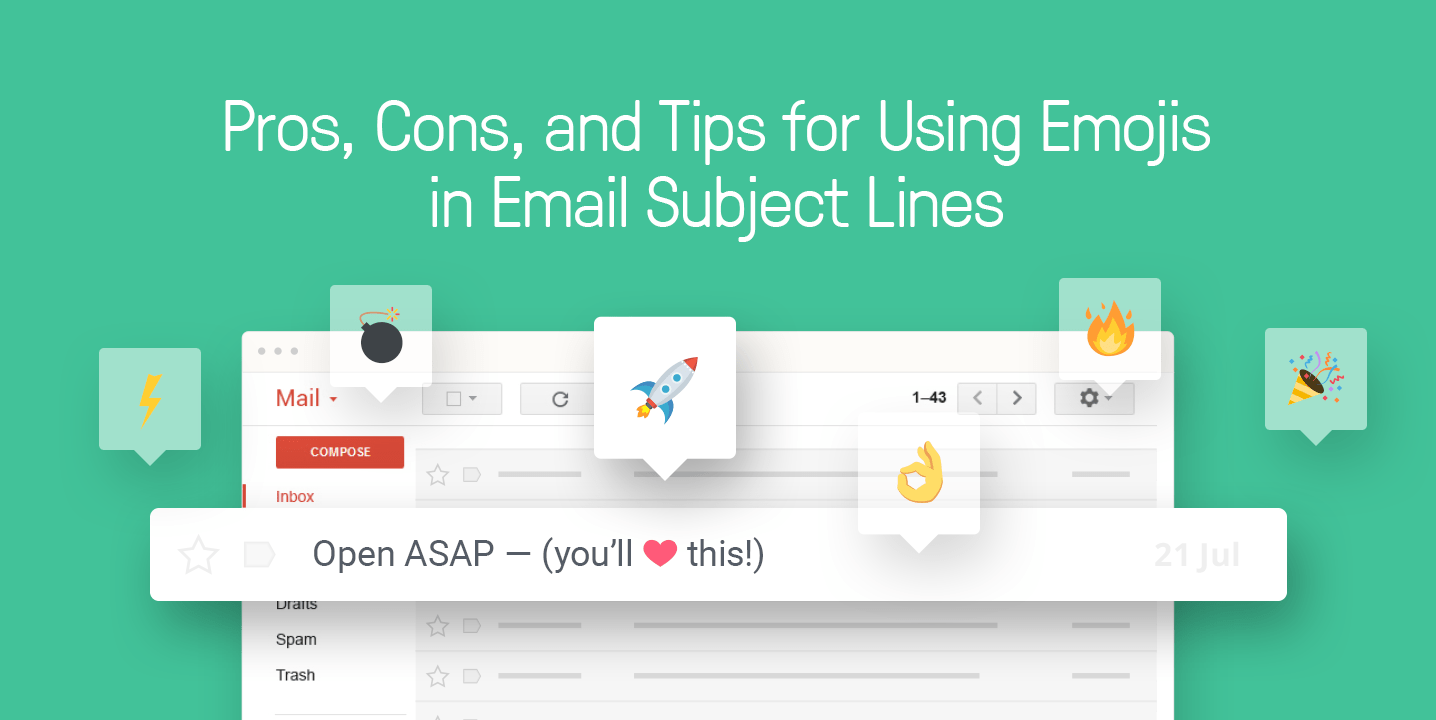 Reading Time:
7
minutes
With the rise of instant messages, emojis have taken roots in our lives. Be it a message to your mom or office chat on Slack – emojis have taken quite a significant part in our everyday communication.
By January 2021, more than 3300 different emojis have been released, and the number keeps increasing. Emojis initially represented emotions, but the collection of small icons, as well as their use-cases, is continuously expanding.
By January 2021, more than 3300 different emojis have been released, and the number keeps increasing. Emojis initially represented emotions, but the collection of small icons is continuously expanding and so is the use of emojis.
With good reason: emojis play on a visual way for people to quickly understand and interpret messages online. That's why they've become more and more popular for brands to use with their customers.
Let's take a look at emoji pros and cons and how beneficial it can be to start using emojis in creating awesome email subject lines and preheaders.
1. The Benefits Of Using Emojis for Email Subject Lines
First of all, take a look at my inbox from the ordinary day in October. Which of these subject lines grabs your attention first?
Am I wrong in saying that the one with pumpkins? Maybe that could be the first of the benefits of utilizing emojis.
Now let's get deeper into the benefits of using emojis.
Benefit #1. Increases Email Open Rate
Using emojis in email is a great way to make its subject line stand out in a subscriber's inbox. The better a reader sees your email subject line, the bigger the chance it will be opened. According to Experian, 56% of brands that use emojis in subject lines see increased open rates.
Though this data was announced some time ago, the positive results of using email emoticons have also been noticed in later, independent tests. Swiftpage, for example, says their newsletter has a 3.29% higher open rate when there is an emoji in the subject line.
Emojis and their vibrant colors and whimsy look make your subject line pop out. In fact, research reveals that email subject lines receive up to 45% better opening rates. The fact is that your readers get bored easily. And when it comes to email, you have less than a second to catch their attention. Shorten your subject lines and enthrall readers by adding emojis in your subject line.
These statistics make it obvious that adding emojis in your subject line is a great way to captivate readers.
Also, you may find handy this monthly guide to emojis by ReturnPath. These guys are strong emojis for email advocates and provide some great insights. See below what they have for December.
Benefit #2. Email Emoticon Symbols Help Increase Your Brand Awareness
Believe it or not, being noticed in an inbox can also increase brand awareness. This is true even if the email is not opened. AlchemyWorx studied the impact of unopened emails on sales.
According to their research, it is the Nudge Effect: "Sending an email communication featuring your brand name, and a subject line[…] can still influence a purchase decision."
This means that adding emojis in your email can help boost brand awareness and reach.
I highly recommend reading the entire article: How to create emails that sell – even unopened.
Benefit #3. Emojis in Subject Lines Save Space
Currently, more than half of all emails are being opened on mobile devices. The subject lines usually don't fit on the mobile screen entirely: only the first 50 characters can be seen.
Although the main words of your subject lines shouldn't be replaced with emojis, they definitely can help you be more informative and deliver the right emotion. See the example below.
2. How to Effectively Use Emojis In Email Marketing
Every stick has two ends, so don't dash headlong into the emoji world and use them everywhere. First, consider the following.
#1. Do Emojis Fit Your Brand?
Emojis don't fit every brand due to several factors: customer age and attitude, your communication tone, and the way you approach your customers.
Emojis are fun, cute, playful, youthful. If your brand is nothing like this, they are probably not for you.
For example, if you sell luxurious leather cases and your customers are middle-aged businessmen, it is contrary to your brand identity to use emojis in your emails. Using funny emojis can even damage your image in this case.
On the other hand, if you sell mostly to millennials and Gen Z, and you think emojis fit your tone and would be something your customers will enjoy, go for it.
The right way of validating whether the use of emojis for email will have a positive impact on your results is to test them.
2. Don't Overdose With Email Subject Icons
Placing emojis in your subject line can have a direct benefit on open rates and overall campaign engagement. However, you can also overdose on it—fast.
The goal of using email friendly emojis is to stand out in the inbox, but that doesn't mean screaming symbols in the email after email. Use them only when it makes sense or enhances the subject line's impact.
#3. Displaying Emojis on Different Devices
Will all of your subscribers be able to see emojis in your email equally?
The short answer is NO. One disadvantage of using emojis is that email-safe emojis/totally email-friendly emojis don't exist.
All email clients (Gmail, iOS Mail, Outlook, etc.) show emojis slightly differently. In addition to this, some emojis are not supported in Outlook old versions and are rendered as a blank square ▢, or just the word 'emoji' instead of your intended icon. In some older articles, you may find it written that iPhone/iPad had issues with rendering emojis, but after major iOS updates in 2019, that issue is already outdated.
Outlook 2003 does not support emojis. However, this Outlook version is really old. Additionally, according to Litmus, in 2021 Outlook makes 8% of the total market share. And only less than 1% of those users still use Outlook 2003.
That's a small fraction of your intended audience, so I don't think that should stop you from using emojis. But make sure that your subject line still makes sense if the email client doesn't happen to support the emoji display.
What else you should know and be ready for when using emojis is a different style of the same emojis on different devices. Although all emojis have their codes, different platforms display them slightly differently. Thus, when it comes to contemplating the pros and cons of emojis it's critical that you consider how it shows up on your reader's mobile devices.
For what to expect, look at the example below:
3. A Holiday Emoji List For Email Subject Lines
Although one of the most popular emojis are ❤️ , ?, ?, ?, ?, during the holiday season, emojis significantly change to more holiday-oriented icons.
During November-December of 2018, 18% of all promotional emails sent via Omnisend had one or more emojis included. From that number, most of the emojis were the following:
4. Tips on Using Emojis
Tip #1. ? Always test emojis.
We have already discussed the issues that might happen with emojis on different email clients. So without saying more, it's crucial to test before sending your bulk campaign.
Make sure that your subject line makes sense even if the email client doesn't support the emoji display.
Tip #2. ? Don't replace an actual word with an emoji.
Since some Outlook users cannot see the emojis the same way other email client users can, I would suggest putting emojis in addition to the subject line, without replacing critical words with emoji email symbols.
That way, it won't be a big deal if the emoji doesn't show up or if it doesn't render correctly. Don't take the risk that a fancy-looking subject line would sacrifice its readability.
Tip #3. ? Use the emoji at the beginning of the subject line.
How subscribers see your email subject line depends on their devices: desktop or mobile. Sometimes they see only the first 45 characters of the subject line.
So putting your emoji at the beginning helps you avoid the inbox cutting it off.
Tip #4. ? Use popular options.
According to Econsultancy, it matters which symbols you are using for your campaigns. Some just perform better than others do.
For more info, check out the table below:
However, trying out different emojis is the only way to understand which work best for your brand.
Tip #5. ?Keep emojis relevant, and don't overuse them.
These small funny icons work best when they are closely related to your subject line.
Again, I'll repeat—you shouldn't overuse them. Remember that your subject line should be informative, inviting to click on, and even intriguing.
5. How to Add Emoji to Email Subject Lines
How you put an emoji in an email depends on ESP features. If the tool you use for your emails has in-house emojis, you don't have to look any further. If it doesn't, you should use emojipedia.com or getemoji.com to copy emojis from there.
At Omnisend, you can find emojis in the campaign settings, on the right of the subject line field. The entire library of cute faces and symbols is ready for your use.
Wrap Up
Consider all the pros and cons of using emojis and include them wisely. These small funny email subject line symbols will spice up your emails and help to get more attention from your subscribers.
Also consider combining your use of emoji in email with using it in social media posts to boost sales and brand awareness.