Shopify Abandoned Cart: 3 Examples Of Winning Back Your Sales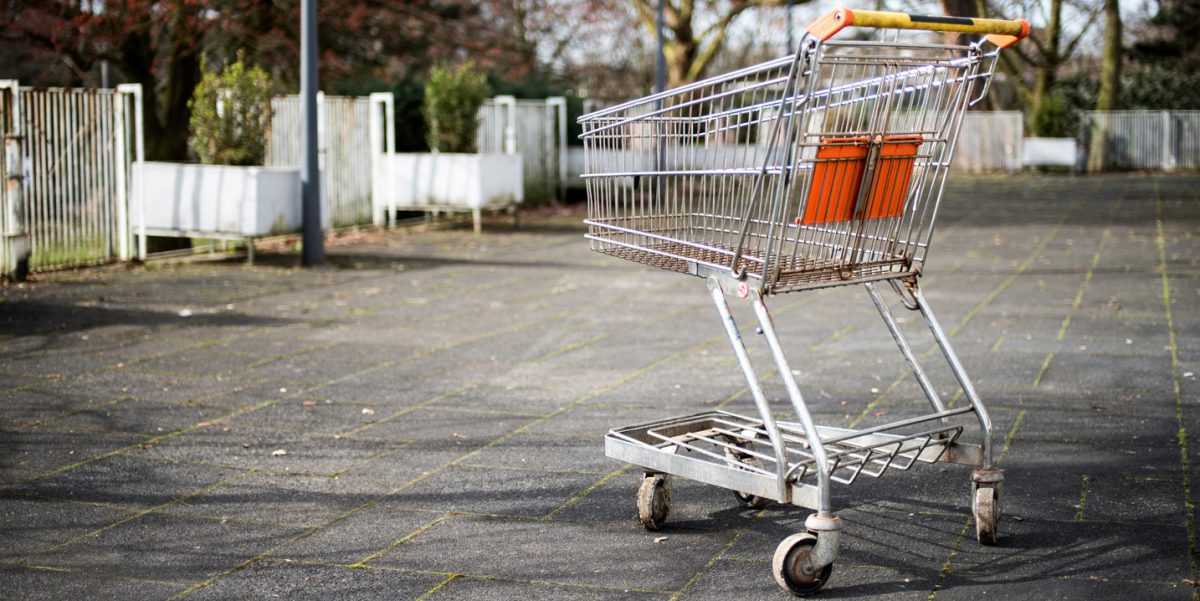 Reading Time:
8
minutes
55% of customers indicate doubts and indecisiveness as the main reasons why they have discontinued purchases when shopping online. If they change their minds once while buying, why can't they change their minds again and complete their purchase?
Abandoned carts are some of the most painful things for online retailers. Some just moan about it and do nothing.
Others, meanwhile, actively organize cart recovery campaigns, sending out the abandoned cart email to retain customers, re-engage with them and encourage them to carry out their purchases.
So, let's take a look at what an abandoned cart email is, how it works in Shopify, some great cart recovery emails, and 3 successful examples.
Shopify abandoned cart email: what is an abandoned cart email?
The goal of the abandoned cart email is to show up the abandoned items and encourage the online store's visitor to complete the order.
The data for abandoned carts is being fetched from an online store when the visitor has logged in or has entered his/her email address at the checkout. In the case of Omnisend, the cookies in the visitor's browser is an additional source for this kind of information.
After the online store's visitor has abandoned the shopping cart, a cart recovery tool sets up the consumer's order, packs it into the email and sends it ready-made to the client as a friendly reminder to proceed with the purchase.
This kind of automated emails is highly effective. This is just one of the examples: the average conversion rate of a promotional newsletter is 0.17%. Meanwhile, abandoned cart emails enjoy a rate of 4.64%.
The revenue of abandoned cart email can reach even $5.46 per email! Find out more data about this!
One more interesting thing is that only 20% of retailers take action to win back lost customers. So sending this kind of emails can be your commercial advantage in front of your competitors.]
When should you send an abandoned cart email?
There tends to be a lot of debate about what the best timing is for sending your abandoned cart email.
Obviously, if you wait too long then the shopper may either forget about you, or the motivation to buy will have faded already.
But, if you send it too quickly, whatever caused the shopper to abandon their cart in the first place may still be there.
That means your success rate will be low.
Here at Omnisend, we have best practices for when to send an abandoned cart email.
But it isn't about just sending one email.
For Shopify abandoned carts, it's best if you send a series of three abandoned cart emails.
The timing here is still important. We recommend the following:
The first email goes out 1 hour after the customer abandons their cart
The second email goes out 12 hours after the customer abandons their cart
The third email goes out 24 hours after the customer abandons their cart

That way, you can make sure your shoppers receive your abandoned cart emails at a great time, and still have enough space to decide to buy.
How to set up and edit your Shopify abandoned cart email
It's pretty easy to set up and edit your Shopify abandoned cart email.
We'll go through it step-by-step to help you through the process.
First, in your dashboard, click on 'Settings' in the bottom-right corner. Then, click on 'Notifications.'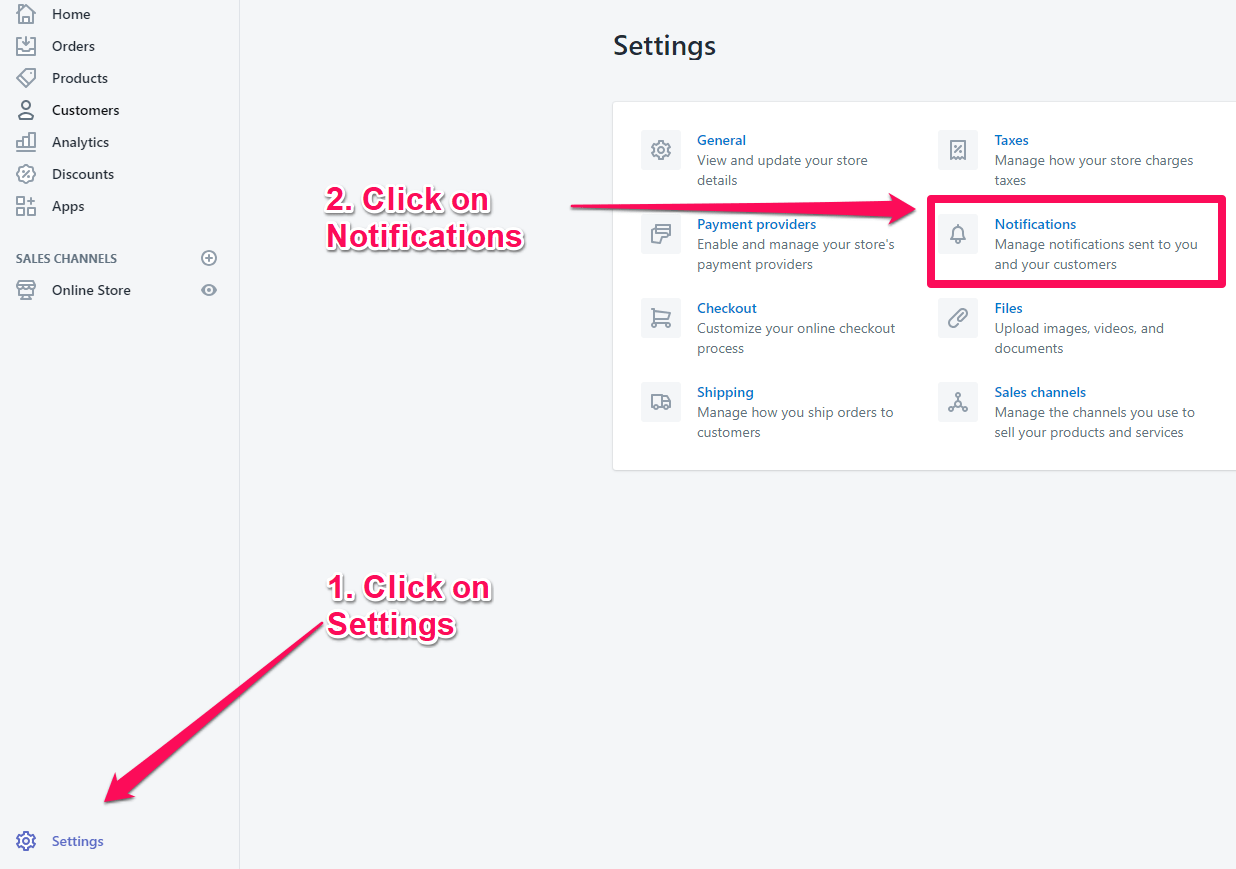 Next, click on 'Abandoned Checkout' to view and edit that email.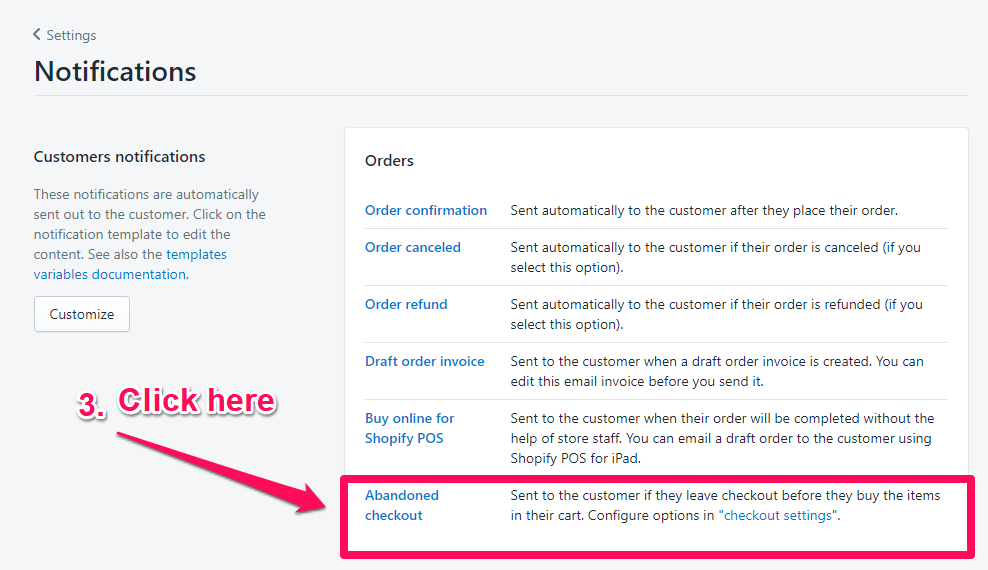 Finally, you'll get to the email. Although it looks like a bunch of…code…you can hit 'Preview' to see how it looks.
Then you can find and change the subject line and messages you'd like (or just leave it as it is).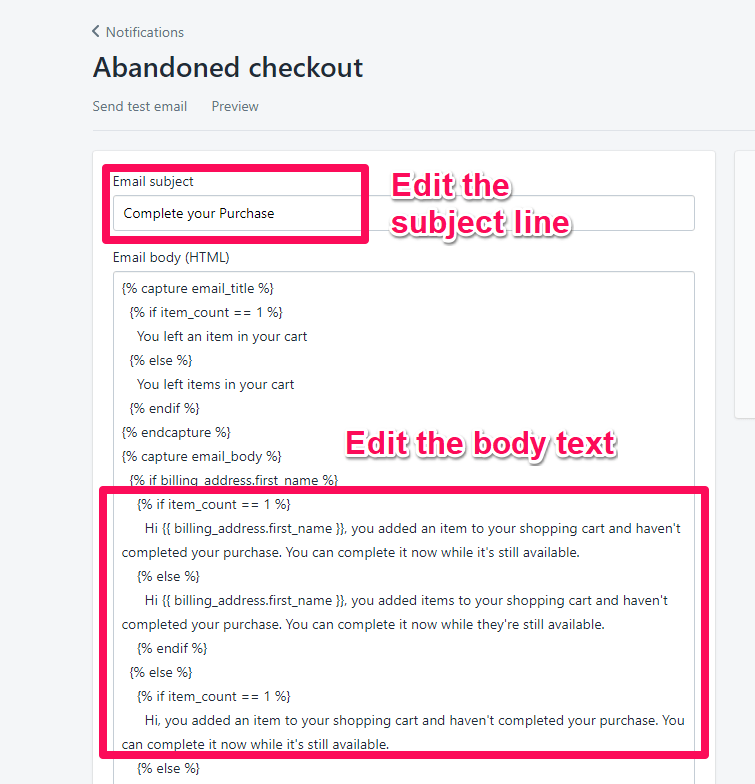 And that's it! With more knowledge (or just playing around), you can customize the email as you'd like.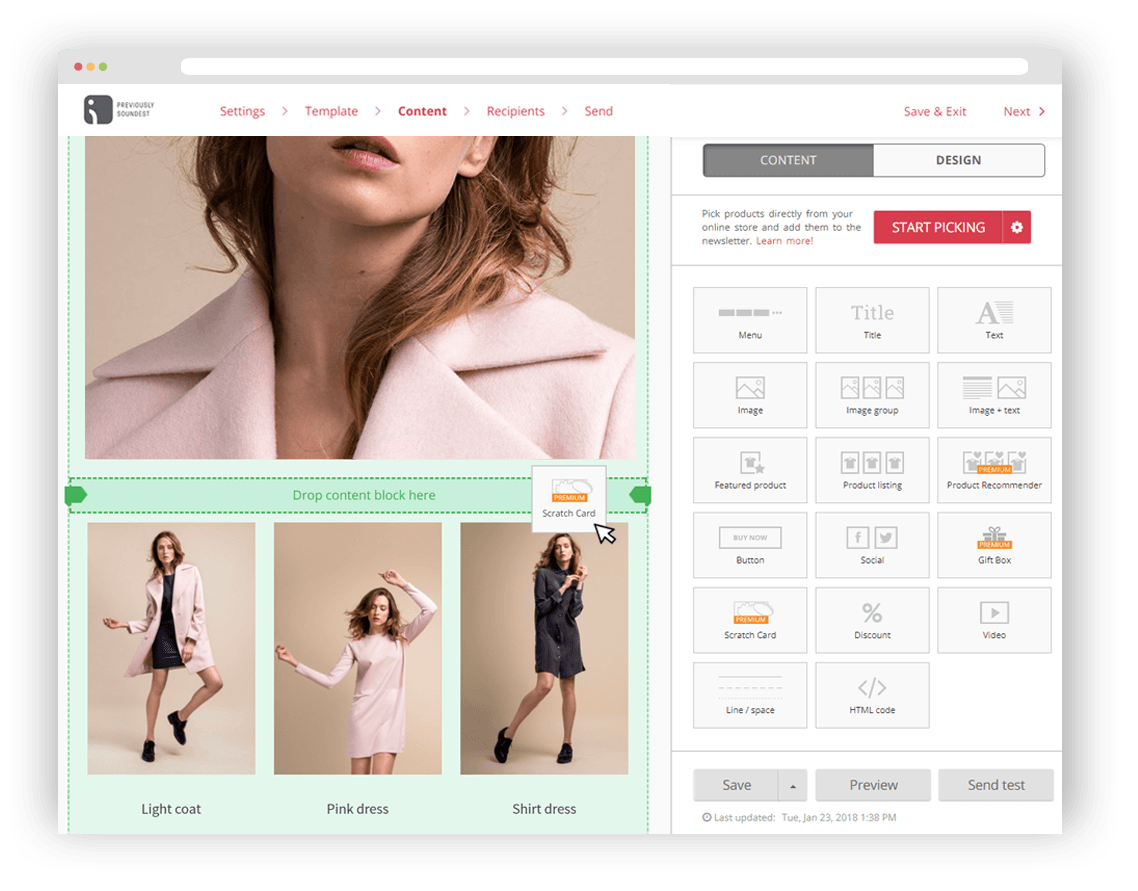 And that's it! It's pretty easy to edit and update your Shopify abandoned cart email.
Shopify abandoned cart email tool alternatives
There is more than one cart recovery tool available on Shopify. You can use either a native Shopify feature to recover abandoned carts or try out many apps that provide this service.
But why would you choose an abandoned cart email tool alternative?
Well, the reason here is pretty simple: Shopify's abandoned cart email is very simple and very limited. You just can't do a lot with it.
And seeing as they're so important for recovering sales, you'll want to experiment a lot with branding, colors, text, and, most importantly, timing.
With Shopify's default abandoned cart email feature, you just can't do that.
To choose the best service provider, you should pay attention to which visitors receive the abandoned cart email. Most of the services are able to recover only those visitors who have reached the checkout stage and have entered their email addresses.
On the other hand, Omnisend is able to recover much more visitors and send them abandoned cart emails at any time and in any way you want.
Cart recovery email template
When you're using third-party cart abandonment or cart recovery tools, you have more flexibility.
That means that you have a greater opportunity to create great-looking cart recovery emails that your shoppers will love (and convince them to buy).
Here is a simple cart recovery email template. This is the layout: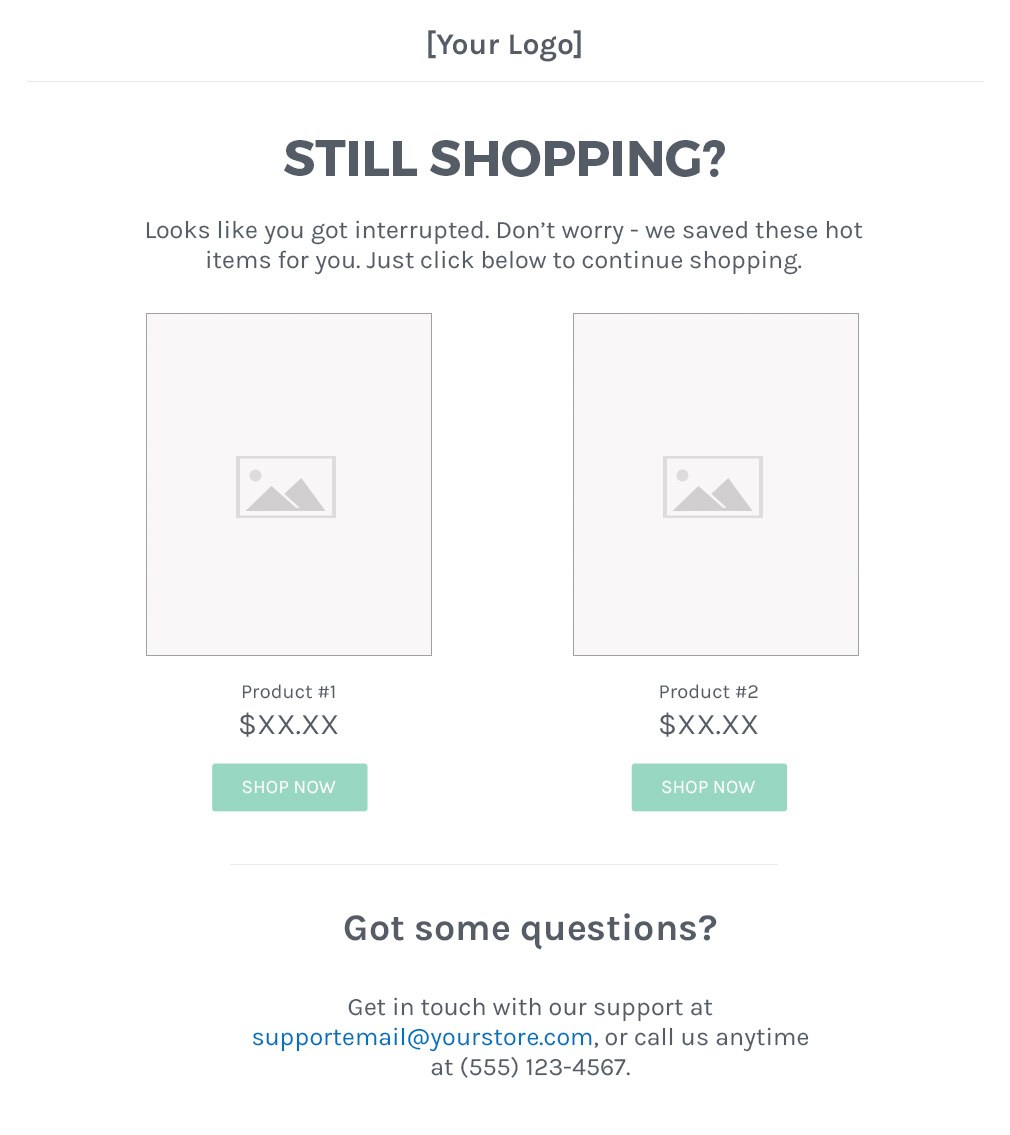 And here you can see an example of the finished email: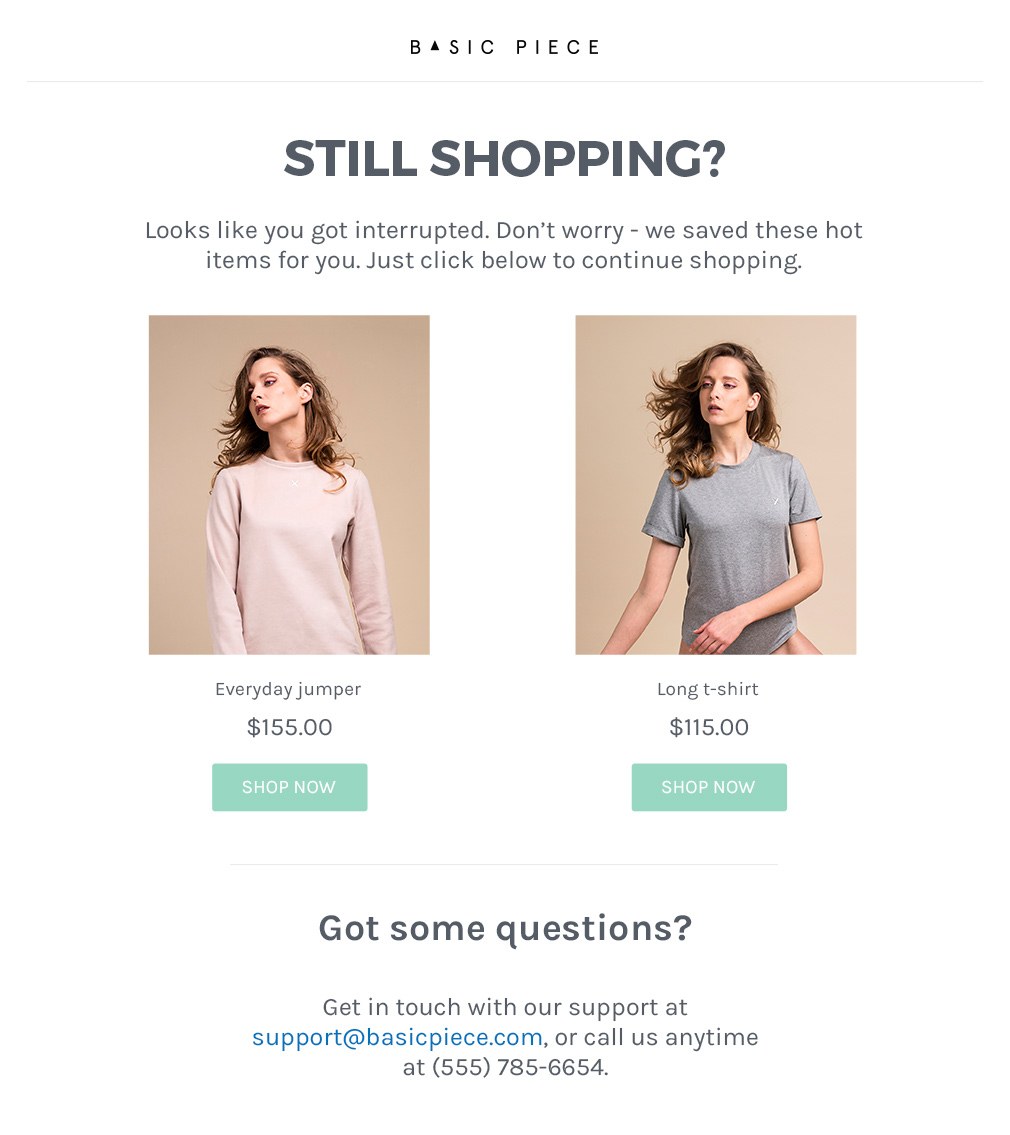 However, you may want to offer an incentive to your shoppers to make your email even more persuasive.
As we mentioned before, this can be an offer for free shipping, or some dollar amount or percentage amount off their cart total price.
In this email layout, we're going with a discount code (if you use Omnisend, you can just drag and drop in a unique discount code like the one below). Just remember to add an expiration date: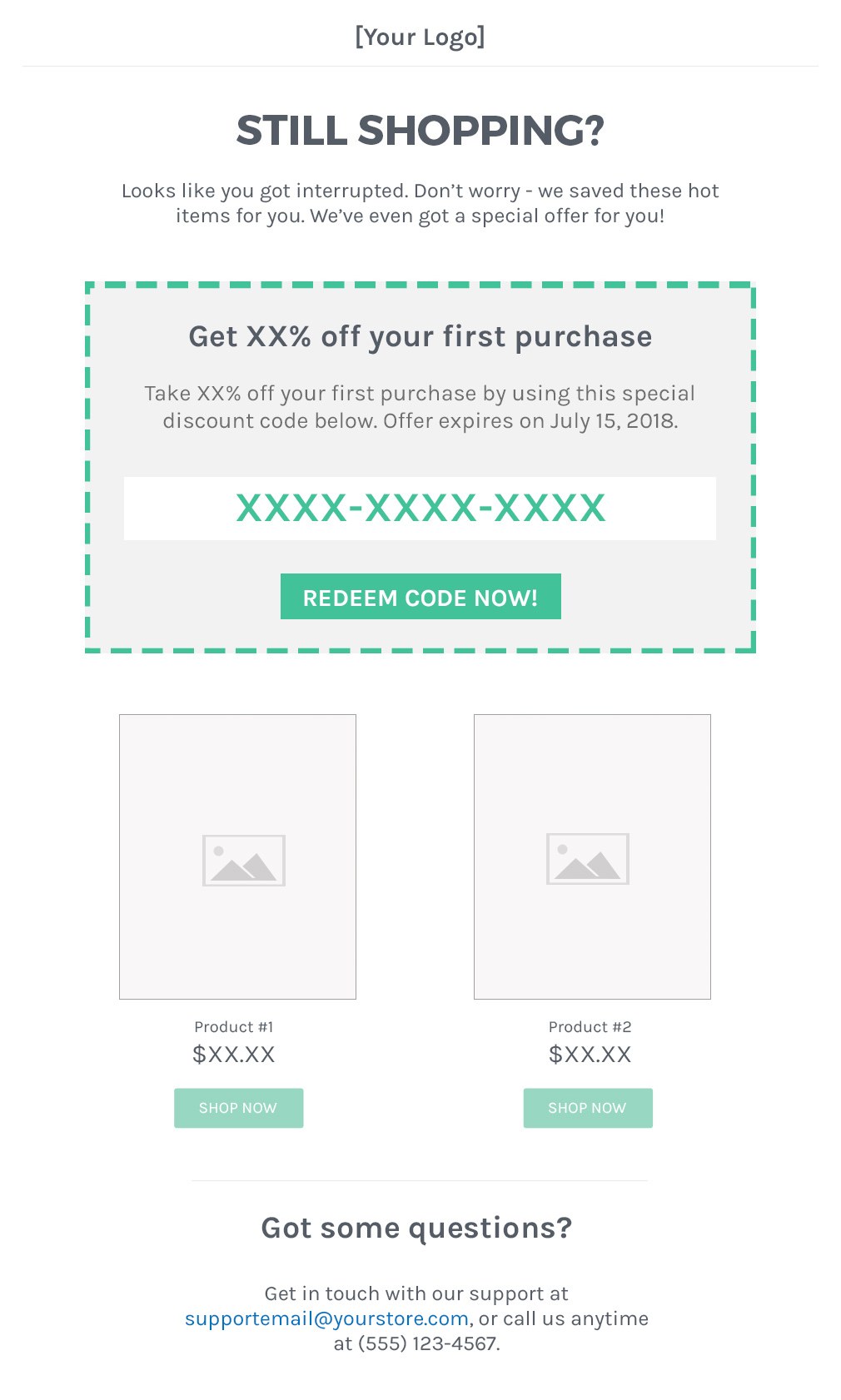 Here is how the email looks, using our example store: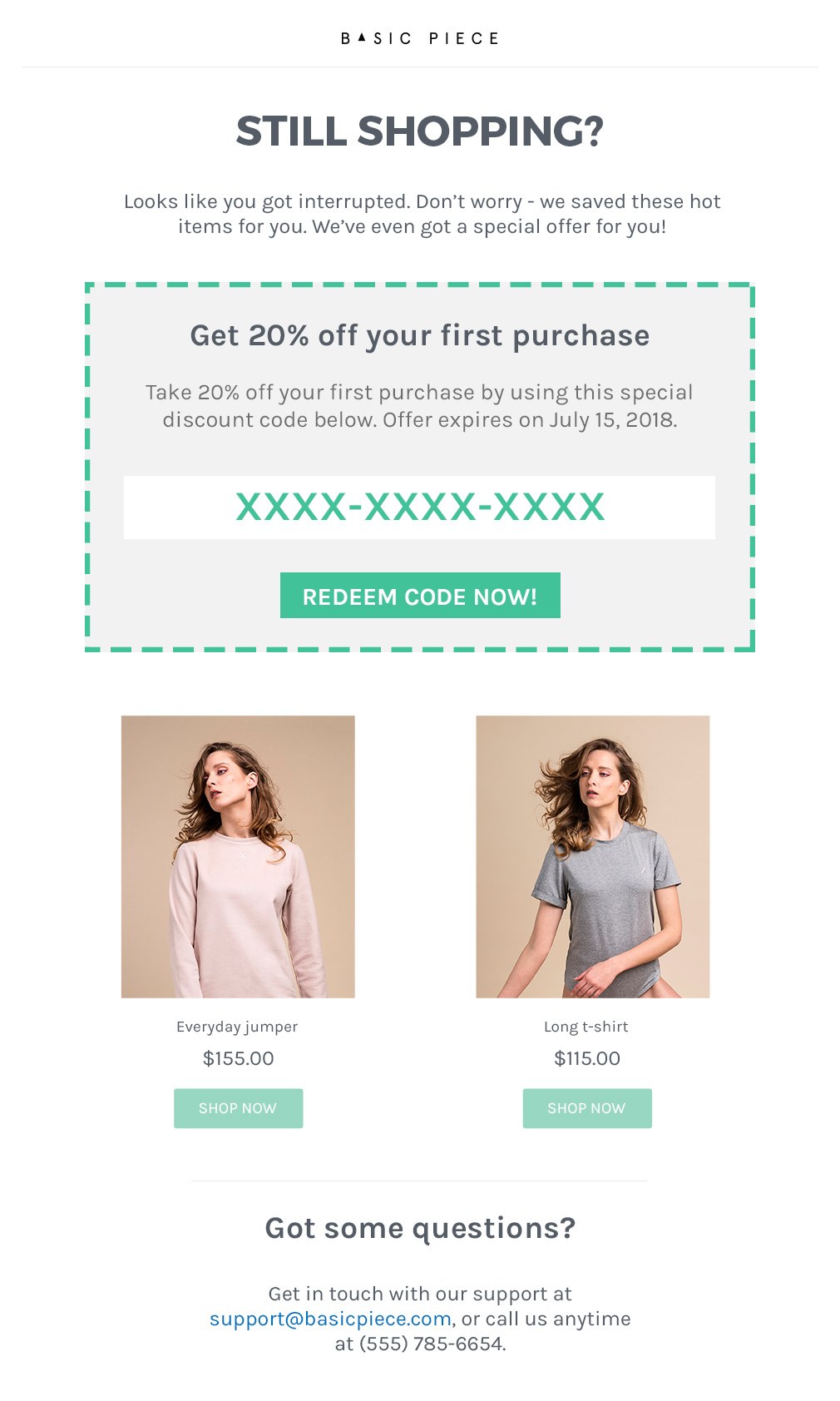 These emails are pretty straightforward, but they give your shoppers everything they need (great branding and good incentive) to complete their purchase.
3 case studies of successfully recovered abandoned carts on Shopify
1. Monabello
Monabello.com sells accessories for smartphones. This brand uses a series of three abandoned cart emails. The subject lines of Cart Recovery Series:
Still Shopping? You have items left in your cart

Don't miss out! Your chosen items are selling out very quickly

Final reminder: what about the items in your cart?
The Open Rate: 43.31%
Conversion rate: 1.8%
Range of subscribers: 5000-10000
In April – October period, a Cart Recovery feature has brought 29.5% growth for all orders through Omnisend channel and 26,5% in revenue.
The first email is sent one hour after the cart was abandoned.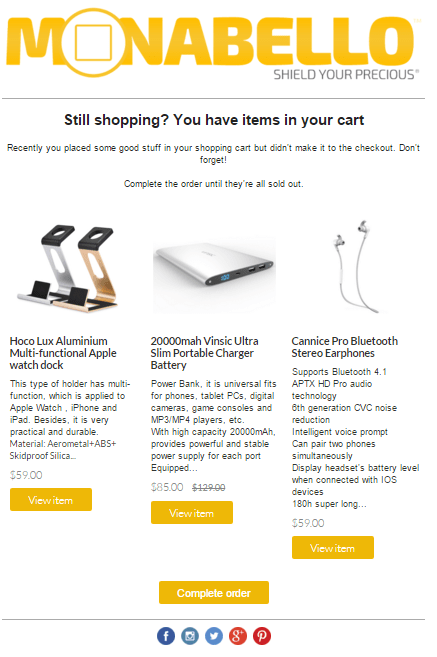 The second email is sent 12 hours after the abandonment.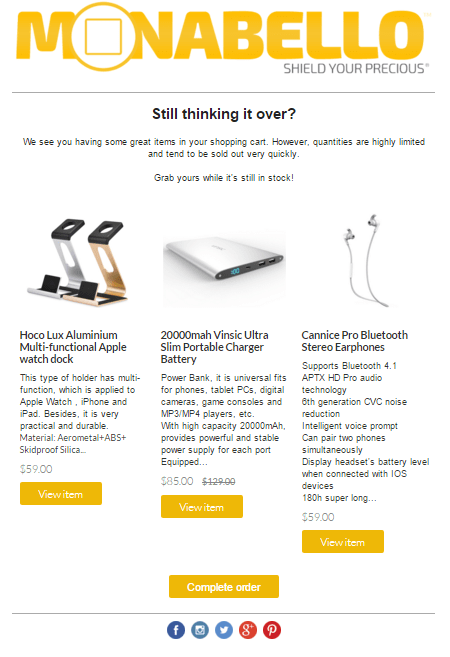 The third email is sent 24 hours after the abandonment. It offers 15% discount as an incentive to buy. In case of Monabello, this email is most effective of the entire series.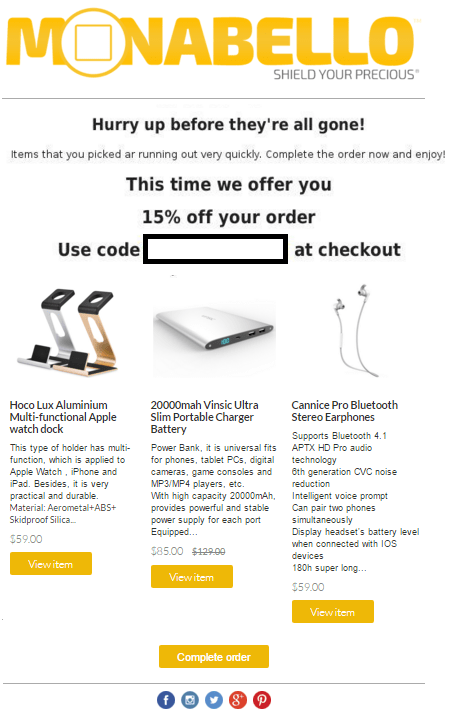 2. Case of Mine
The subject lines:
Still shopping? Your favorites have left behind…

All you have to do is – say YES!

Sleep well while something left behind?
The Open Rate: 1st email — 47.22%; 2nd email — 45.49%; 3rd email — 41.07%
Conversion rate: 1st email — 4.5%; 2nd email — 3.4%; 3rd email — 2.1%
Range of subscribers: 10000-25000
The brand Case of mine sells accessories for mobile devices, cars, home, etc. Six months ago, the brand launched a series of abandoned cart emails. The conversion rate of the 1st email is impressive – 4.5%! The further – the better. Thanks to the particular series of follow-up emails, 23.15% of abandoners came back to the store and 9.7% of all abandoners purchased.
Let's look at how they do that.
This brand has enabled cart recovery series with default Omnisend copywriting and does not use any of incentives. The emails are minimalistic: contain short copy encouraging to finish the purchase, products, and bright call-to-action buttons. Pay attention, how nicely the products are highlighted. You can see automatically generated big photos, short descriptions, and easy-to-see buttons.
The first email is being sent one hour after the cart was abandoned.
Click on the image to enlarge it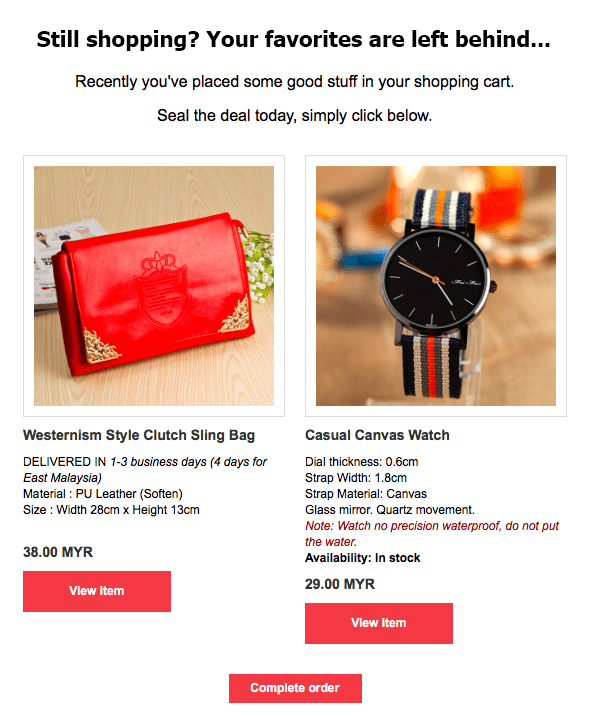 The second email is being sent 12 hours after the abandonment.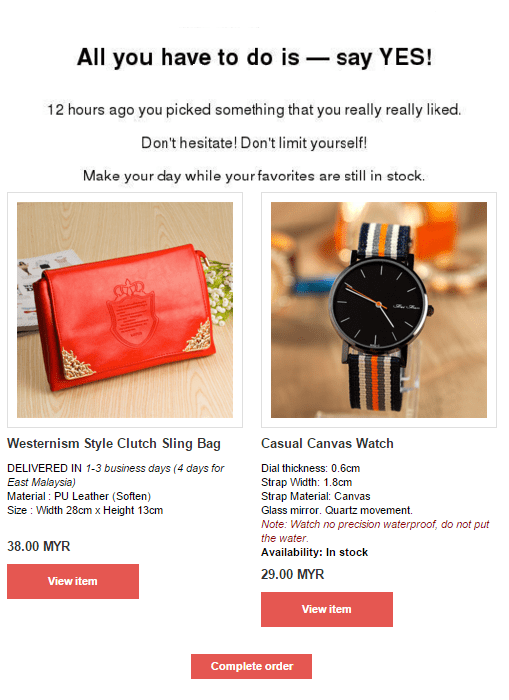 The third email is being sent 24 hours after the abandonment. We can see that any discount is being offered even in the last email.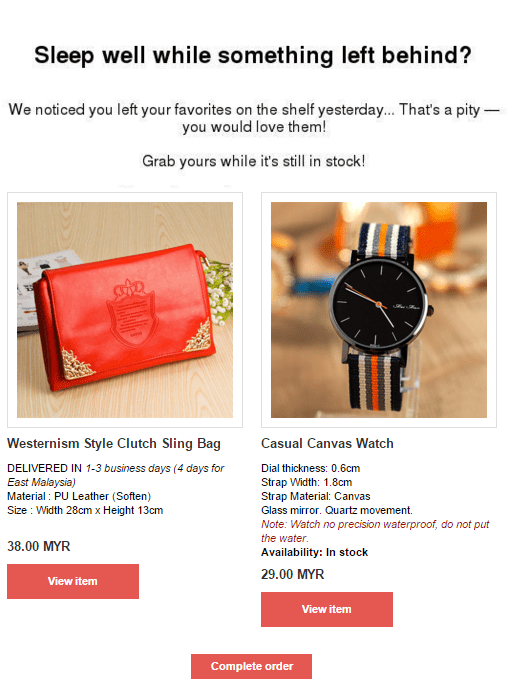 3. Mostly Music
MostlyMusic.com is the first online and the biggest Jewish music retailer in the world. Next to the music records, the online store sells Jewish books, music accessories, etc.
This brand implements active eCommerce marketing: every month it launches 12 promotional emails campaigns, and supplement them with email automation emails – welcome, cart recovery and customer re-activation emails.
I personally like this brand because of the experiments it does in email marketing activities. One of them – sending a single cart recovery email vs. cart recovery series. Like in the previous example, the appearance of these emails is the default of Omnisend emails, without any additional customization.
Let's see the results.
Range of Subscribers: 50 000 – 75 000
Cart Recovery Email vs. Cart Recovery Series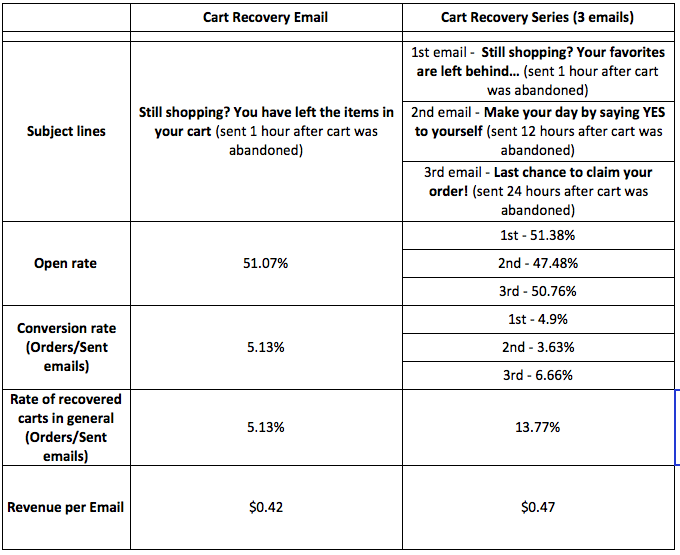 Their single Cart Recovery email looks like this: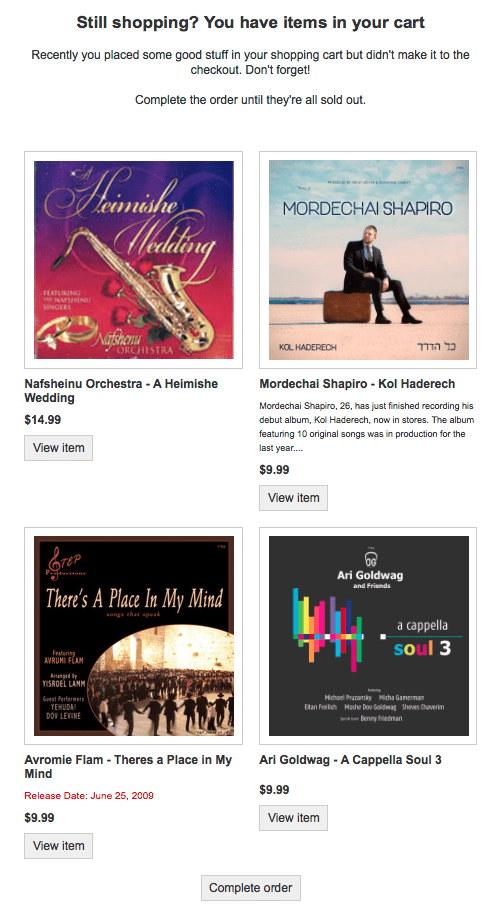 In the email we see:
A reminder about browsing the store and adding the favourite items to the cart.

Photos and a short description of the abandoned items (these are added automatically from the store)

Clear call-to-action buttons
I would even advise the owners to add a brand logo and customize the colors of the email – to make it look branded.
Cart Recovery Series emails look the same, with similar copywriting. The only additional thing which boosts the sales in the third email is 5% discount for the particular order.
For more examples check our Cart abandonment: How to recover a customer to purchase
What's the point of abandoned cart emails?
Let's look at it from the customer's perspective. When they receive an abandoned cart Shopify email, they get it from a retailer who they've already shown an interest in – they've browsed the online store and even picked out the products they like.
However, they couldn't decide on the color or size of the item, or if they really wanted it at all. They probably just closed the browser and went back to work. Some decisions require some extra time.
The cart recovery email gives the customer just that – it encourages them to think again about the items they liked after a while (an hour, 12 or 24 hours). This makes life easier, doesn't it?
Find out how Omnisend's abandoned cart email feature can take your business to the next level.
Start a free 14-day trial & drive sales on autopilot with pre-built automation workflows at Omnisend!
Start My Free Trial