Drive sales on autopilot with ecommerce-focused features
See Features
5 Best Shopify Abandoned Cart Apps for Winning Back Your Sales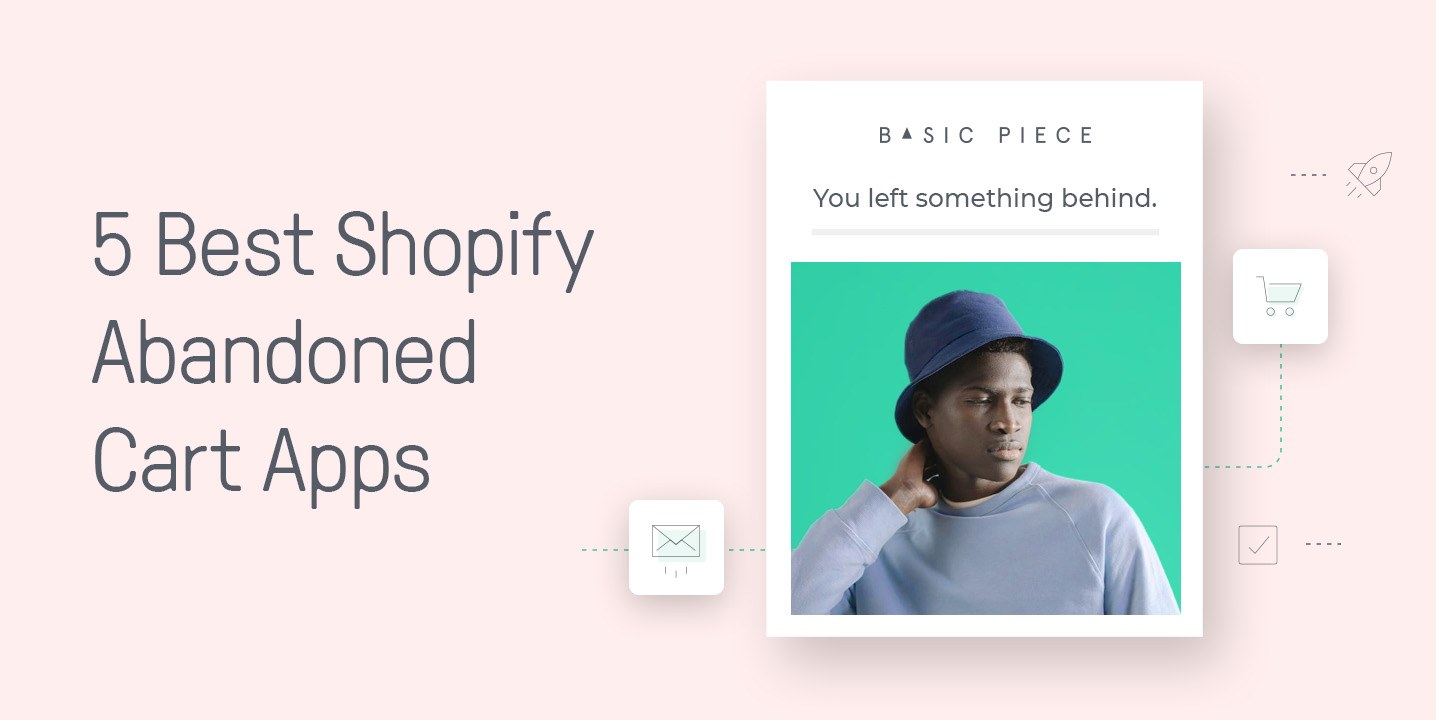 Reading Time:
11
minutes
It's 2021 and the simple truth remains: abandoned carts are one of the most painful and costly issues for online retailers, and they are scarily common. In fact, a whopping 70% of all carts are abandoned.
Some merchants on their Shopify store, one of the best ecommerce platforms, simply curse their bad luck and do nothing. Other more proactive sellers recognize the potential of these near-purchases, leveraging their clear interest in a product by sending out automated abandoned cart recovery messages to re-engage them and encourage them to complete their purchases.
Which side are you on? If it's not the latter, you're missing out on a huge amount of potential revenue.
In this article, we will take a closer look at what abandoned cart messages are, some best practices to follow to create great abandoned cart recovery campaigns, and some fantastic apps to help you optimize your abandoned cart game.
What Is an Abandoned Cart Message?
An abandoned cart message's primary goal is to remind customers of the items they left behind and encourage them to complete the order. This is usually done via email, but SMS is becoming an increasingly popular and effective tool.
Soon after a visitor to your online store has done an abandoned checkout, an abandoned cart recovery tool automatically sends a ready-made abandoned cart email to the customer.
Follow-up abandoned cart emails are usually sent at predetermined intervals if no action has been taken, creating an abandoned cart email series of three or more messages. This encourages abandoned cart recovery, where a user decides to buy something they'd initially left behind.
Sounds simple, right? It is, and it's also very effective. According to Omnisend's 2020 ecommerce statistics report, abandoned cart emails saw a staggering 34% conversion rate, second only to the incentive-packed welcome emails (52%).
With open and click rates also performing impressively at 30% and 21%, it's no wonder that merchants are turning to them in droves.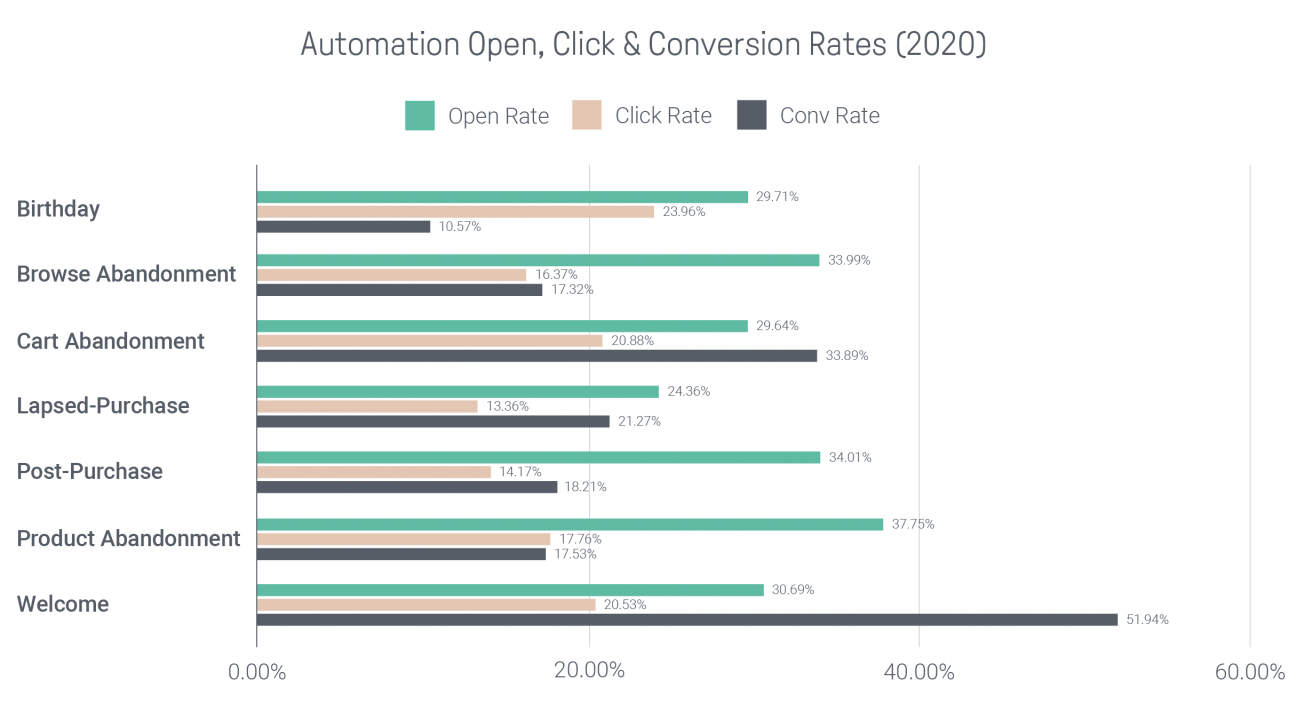 To send an abandoned cart email, you'll need the user's email address, so make sure you've optimized your sign-up and email list building process. Advanced marketing automation platforms like Omnisend also allow you to send abandoned cart messages via SMS, so start collecting those phone numbers too!
Shopify Abandoned Cart Reasons
There are many reasons a viewer may add items to their shopping cart without reaching the checkout page. Some of these are as follows:
Cart abandonment or abandoned checkout may be the result of users adding items to the shopping cart with the intent of purchasing but getting distracted right before filling the checkout page
Your viewer may add items to their shopping cart to figure out the total costs in addition to shipping and tax
In some instances, a consumer may abandon their carts in hopes of receiving an abandoned cart email. This way, they can get a discount to save money on items they want
Why Focus on Abandoned Cart Recovery?
Solving cart abandonment and abandonment at checkout issues poses a plethora of benefits to you and your business. For starters, it's an excellent way to boost sales. Simply sending an abandoned cart email to promote abandoned cart recovery can expedite your store's revenue and profit by ensuring customers complete the purchasing process.
The fact is that driving a customer already in your sales funnel is considerably cheaper than seeking new customers to market and advertise to. A retargeting ad is a lot more affordable, which is why using abandoned cart emails to encourage customers to move to the checkout page helps spike sales.
At the same time, abandoned cart recovery or abandoned checkout recovery allows you to determine the factors resulting in lower sales. For instance, if a discount effectively reverses the cart abandonment, your items are likely priced way too high for the average buyer.
On the flip side, if customers from a particular region or country continuously abandon their cart, chances are you've priced shipping costs too high. A good idea is to offer free shipping or lower the costs to make your products more affordable to a diverse and broader customer base.
By focusing on checkout recovery, you can easily spot areas of improvement. In turn, you can enhance your business and optimize it to boost sales and lower the need to send recovery emails.
Keep in mind that you're at a benefit here since the customer adding products in their shopping cart means they're interested. Abandoned cart emails are an excellent way of increasing conversion rates and, in turn, boosting your business. However, a better idea is understanding the core reason behind why customers often abandon their cart.
Abandoned Cart Best Practices
While automation tools make things easier, there are still a few things to consider when setting up your abandoned cart messages. Let's check out a few best practices that we've found to increase your chances of success.
1. Upgrade from Shopify's native abandoned cart feature
The basic Shopify store does offer a basic cart abandonment tool such as a Shopify abandoned cart email template as part of its service, but it is very simple and limited in its capabilities. For such an important and effective way of recovering lost sales, you'll want to maximize the potential of your cart abandonment strategy, and that means getting the must have Shopify apps and third-party integrations.
A good abandoned cart app will:
offer a variety of templates for easy email building.
allow you to track abandoned carts not only after they've entered their email addresses but also from cookies in the shopper's browser.
Integrate other channels, like SMS and push, into a single workflow.
let you experiment with things like colors, branding, and timing.
We'll check out some great Shopify abandoned cart apps later in this article.
That way, you can make sure your shoppers receive your abandoned cart emails at a great time, and still have enough space to decide to buy.
2. Highlight the abandoned product
It might sound obvious, but the abandoned product needs to be the star of your messaging. Feature a large and prominent image of the product, persuasive and time-sensitive text, and an easy, one-click CTA that takes the customer directly back to the checkout page, ready to complete the purchase.
You can also include recommendations of similar products, or the same product in different sizes, models, or colors, just in case the customer's first choice wasn't quite right.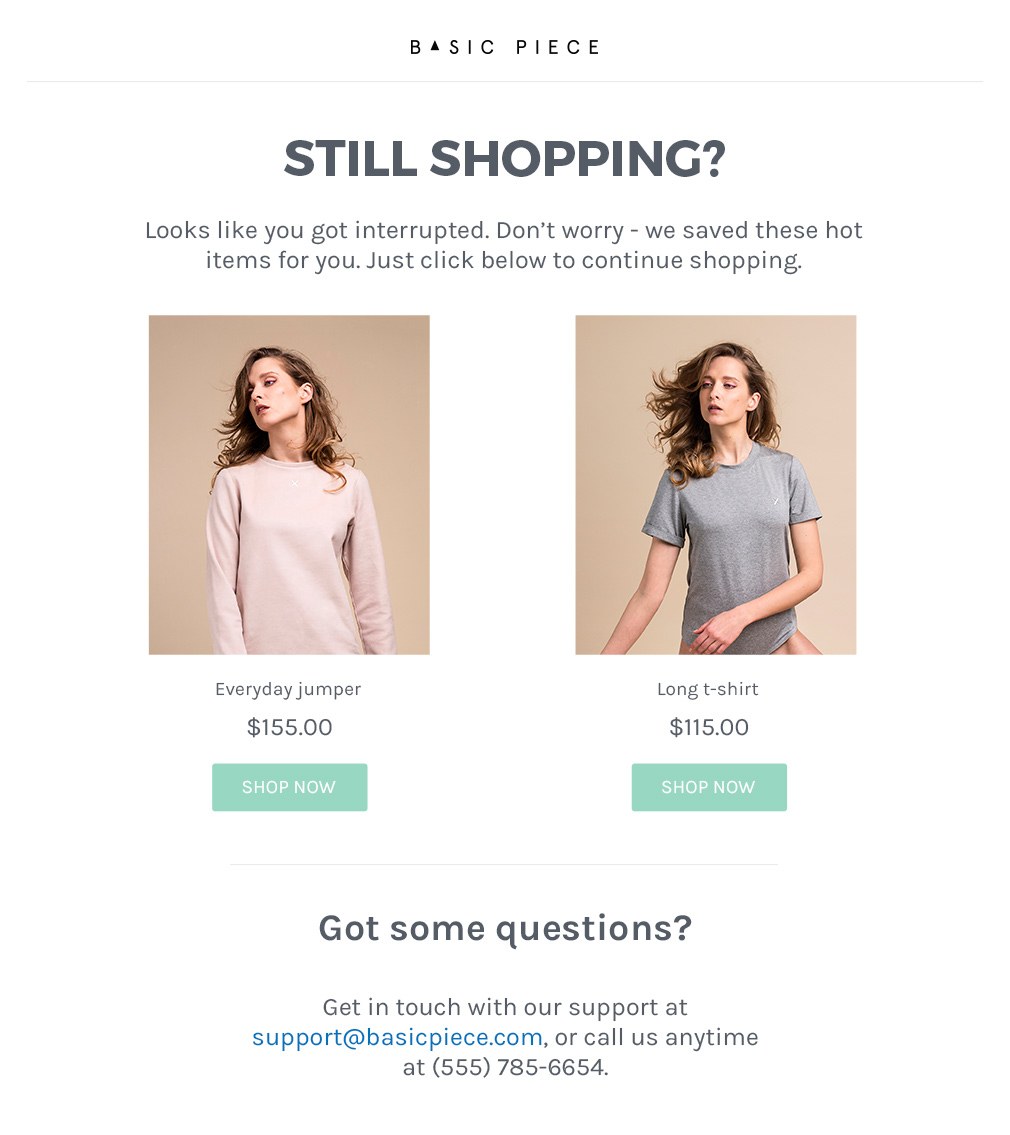 Omnisend features a handy personalized product recommender that's just perfect for cart abandonment emails.
3. Timing is everything
Abandoned cart messages are most effective when sent in a carefully-timed series. Marketers that use a series of three cart abandonment emails gain 69% more orders on average than those who send only one, and it's important that you get the timing right on each of them.
If you wait too long to send, your customer's original motivation to buy might have already passed. But if you send too quickly, the reasons why they abandoned their cart in the first place might still be present. Here at Omnisend, our experience shows us the following email-only sequence delivers the best results:
The first abandoned cart message is sent one hour after the customer abandons their cart
The second message is sent 12 hours after the customer abandons their shopping cart
The third goes out 24 hours after the customer abandons their cart

4. Test your subject lines
Use A/B testing to find the highest converting subject lines for your emails. Here is where you can put your persuasive words and incentives front and center, with things like, "Your items are selling fast," "Free shipping," or "Discount Inside."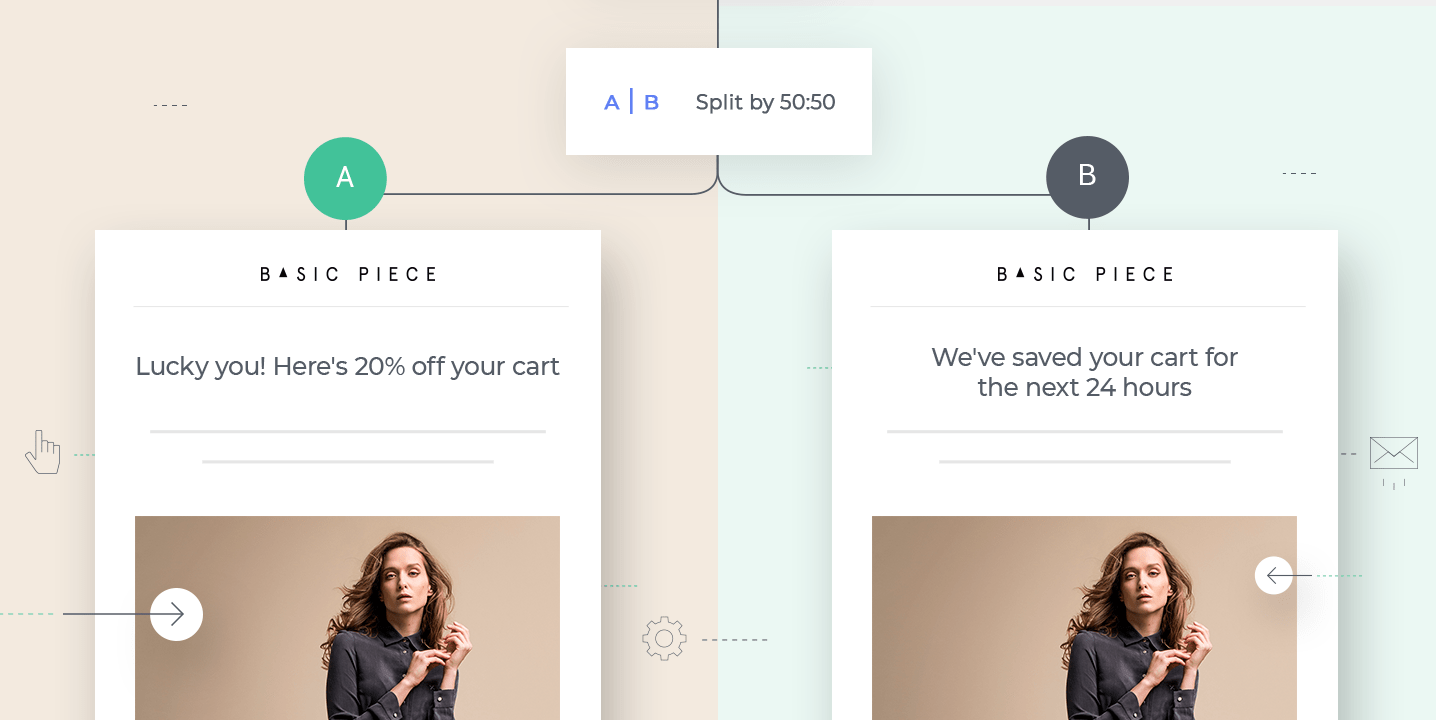 Use your incentives wisely though, as some customers simply abandon their shopping carts on purpose and wait for the discounts to come. We recommend that you hold off on the incentives on your first abandoned cart message—save them for the second and third.
With A/B testing, you can find which subject lines and incentives get the highest open rates. Your cart abandonment app should have an easy testing feature that automatically finds the most popular subject line and sends it to your subscribers.
5. Use other channels to complement your emails
As we mentioned, emails are the best weapon in your abandoned cart arsenal. They are cost-effective, easy to send, and provide the space and scope needed to add images, info, product recommendations, etc. Despite these advantages, however, emails can get lost in cluttered inboxes.
A good way to cut through the noise and increase your conversions is by adopting an omnichannel approach. SMS is the perfect channel for this—text messages are almost guaranteed to get in front of eyeballs with an incredible 98% open rate, and deliver short, sharp, time-sensitive reminders.
Consider sending an SMS in place of your second or third abandonment recovery email or to extend your series beyond three emails. SMS abandoned cart messages can be a perfect friendly but urgency-inducing nudge that something requires the customer's attention. Perhaps you can include a nice discount code here too.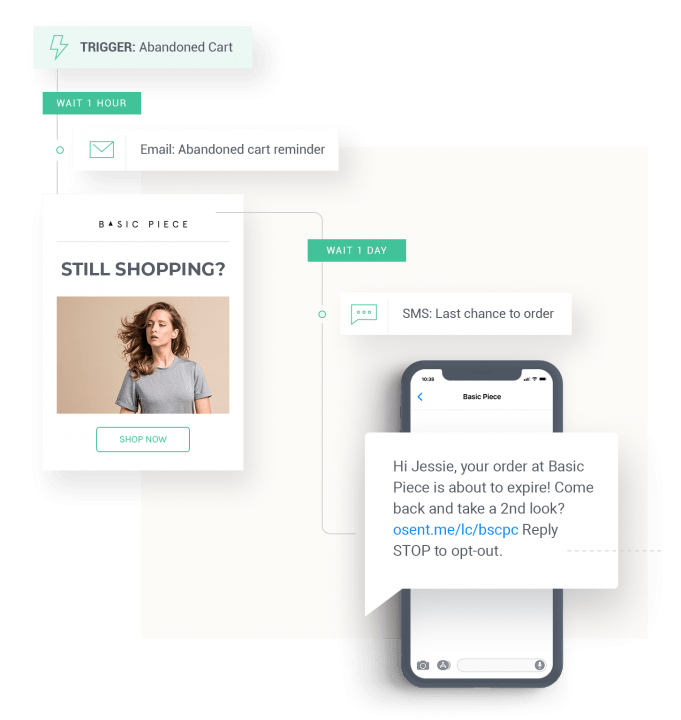 Here's how to integrate cart abandonment SMS into your cart abandonment strategy.
Other channels you could consider are push notifications, which can deliver a triggered reminder as soon as the shopping cart is abandoned or soon after. One company that employs this tactic earns $48 for every abandoned cart push message sent. As a last resort, you can add the more expensive option of retargeting with Facebook ads to your omnichannel strategy—making our omnichannel abandoned cart flow could look something like this: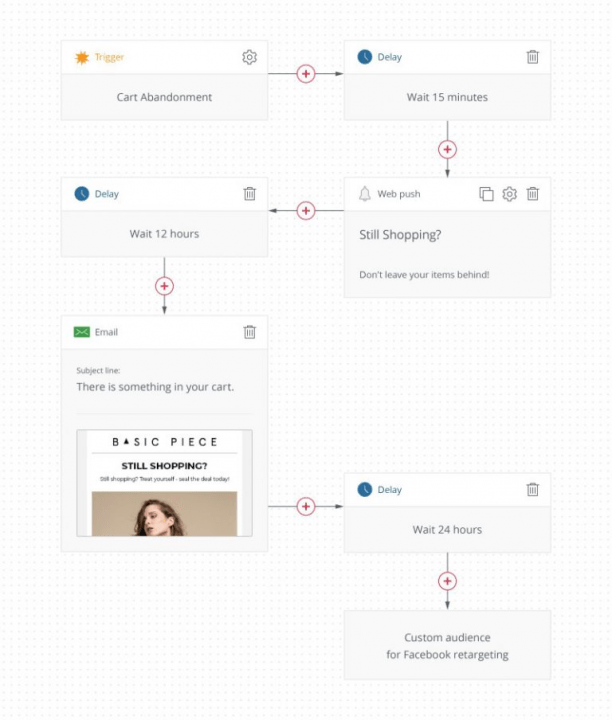 Experiment with the channels that your abandoned cart app offers to find the right mix for your business.
6. Optimize your checkout process
The best way to reduce your abandoned cart rate is to prevent them from happening in the first place. You'll never completely eliminate the problem—some customers are merely browsing and like to use the shopping cart as a kind of 'wishlist.'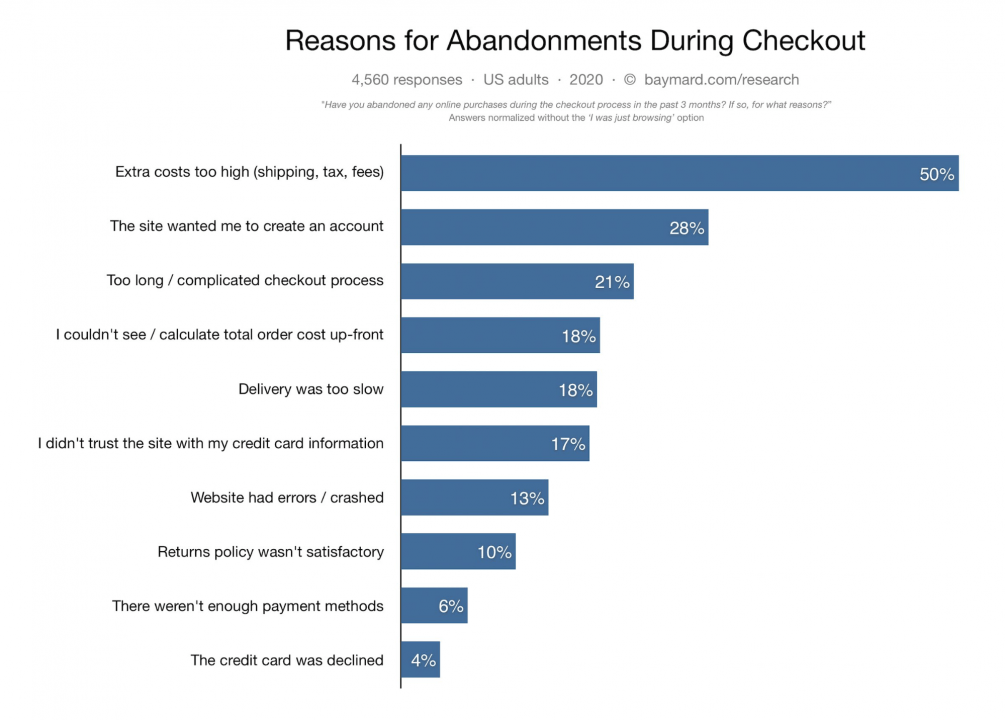 However, the most commonly-cited reasons for cart abandonment are unexpected costs and checkout-related issues. If you can address the following, you'll have a much lower cart abandonment rate to start with:
Mention additional charges in advance: Integrate a shipping and tax calculator into your product pages so customers know the total costs before going to checkout. No nasty surprises!
Make checkout navigation as smooth as possible: Of course, adding customers to your email list is super important, but don't be obtrusive here. Keep your checkout to a simple email, card details, and a 'remember me' option to make it even easier in the future—no added steps needed.
Offer as many payment and shipping methods as you can: Think about your typical customer and the kind of payments they would expect. New methods are appearing all the time, from PayPal to cryptocurrencies. The same goes for shipping—offer everything from same-day delivery to slower, more affordable options.
Make it easy to get in touch: Some customers need very little prompting to abandon their purchase, so you need to offer rapid solutions to any problems. Give the option of a telephone number, email address, or live chat to contact you easily. This builds trust and can go some way to recreating the 'in-store' shop assistant experience.
Questions to Ask about Abandoned Cart Emails
Here are a couple of must-ask questions you need to keep in your mind when discussing abandoned cart recovery email:
Does your recovery email boast a catchy subject line?
What is the best way to reach abandoned cart customers on Shopify stores?
How do you send abandoned cart emails via Shopify stores? Can you automate recovery emails?
5 Best Shopify Abandoned Cart Apps
So you've got a good idea about how to optimize your abandoned cart strategy, now you need the right app to bring it all together. Let's check five of the very best.
As a truly ecommerce-focused email and SMS marketing platform, Omnisend was developed with merchants' needs in mind. This is evident with the cart abandonment feature, where everything is centered around boosting conversions with the least amount of time and resources.
For example, you have access to pre-built templates that are custom-made for winning back carts, simply drag and drop your own info and brand designs into them. Personalized product recommendations are automatically generated, and your subject lines are optimized through A/B testing. You can even split your automation based on abandon variables, such as the cart total or purchase history of the abandoner—allowing you to deliver a truly personalized experience.
Building your abandoned cart sequence is just as intuitive—you choose your audience segment, triggers, timing, and channels, all of which are dragged and dropped into a single workflow. As the name suggests, Omnisend is big on Omnichannel marketing, so you can easily incorporate SMS, push notifications, Facebook retargeting, and more channels into your abandoned cart campaigns.
Any serious all-in-one ecommerce marketing platform will provide comprehensive abandoned cart solutions, but Omnisend really goes above and beyond to ensure you can count on abandoned cart recovery. They give you all the tools you need to attack this costly issue from many different directions, maximizing your chances of winning back carts, increasing your revenue, and retaining more customers in the long term.
Recart specializes in Messenger marketing, recognizing the potential of Facebook Messenger, a channel that so many of us use but has yet to become a focus of ecommerce marketing.
Like email, you'll need to ask for permission to message customers on Facebook Messenger, but the process is a simple one-click yes or no. This makes list building easier, with people more likely to give consent than actively sign up.
You can create attractive abandoned cart reminders that feature a product image and pre-written reminders, with an easy, one-click link directly back to your Shopify checkout. Choose to either build your own customized sequences or simply choose the default, three-message campaign, and Recart does the rest. It is a simple yet effective tool that doesn't have a great range of options and channels to choose from, but it's very good at what it does.
Recart makes a great option for businesses looking to take advantage of a widely-used but under-appreciated channel for ecommerce marketing, and it can become a value-added tool in your abandoned cart toolbox.
PushOwl is all about push notifications, with the major advantage being that it doesn't require any sign-ups, consents, or personal information about your site visitor.
With PushOwl, you can create custom abandoned cart push notifications that include an image of the product and can be set for a time of your choosing. You can easily personalize the title, information, and button text on each notification, and add your brand logo too if you wish.
Their abandoned cart recovery feature allows you to send a sequence of up to three abandoned cart reminders, with smart delays to maximize your chances of conversion. Each notification is created differently to encourage urgency and bring back the shopper to complete their purchase.
With off-site notifications also available, as well as smart delivery at peak times of a user's most active hours, it's easy to see why push notifications are becoming more popular. PushOwl is ideal for businesses that want to focus their cart abandonment on this growing channel.
Abandoned Cart Recovery Hero is a plugin that sends browser notifications to abandoners, bringing customers back to their abandoned carts—with no email or phone number required. Browser notifications are a marketing channel that has been seeing an increased performance, racking up a 28% conversion rate in 2020, and this app can be a good option for experimenting with it.
With the Abandoned Cart Recovery Hero app, you can customize your message to best suit your brand, and there is no coding required. Combined with the ability to instantly turn the app on and off, the ease of use is front and center.
Tidio is a live chat, chatbot, and email marketing Shopify app that is designed for small and medium-sized businesses. It has an abandoned carts tool that sends reminders with its intuitive chatbot acting like a customer assistant to shoppers.
As well as the smart live chat and chatbot features that distinguish Tidio from the competition, they also offer email marketing services. Offering attractive templates and a do-it-yourself email builder, Tidio can also segment your contacts for personalized messaging and offer free email validation.
Tidio is great for businesses looking to combine the immediacy and helpfulness of chatbots and live chat, with the timeless functionality and great results that email marketing can bring.
Wrap up
If you can win back just a small percentage of your Shopify abandoned carts, you're going to give your overall revenue a significant boost! That's why it's so important to nail the best practices for abandoned cart recovery we've described in this article, and choose a specialized app that's up to the task in this vital source of lost sales.
Different apps offer different advantages—many of those listed here are best at a certain channel or feature. But for all-around performance and excellence in every aspect of cart abandonment, it's hard to beat Omnisend.
Get started with Omnisend today & drive sales on autopilot with pre-built automation workflows at Omnisend
Start Free Today