Drive sales on autopilot with ecommerce-focused features
See Features
The Best Day to Send Email Marketing Campaign [Omnisend Research 2016]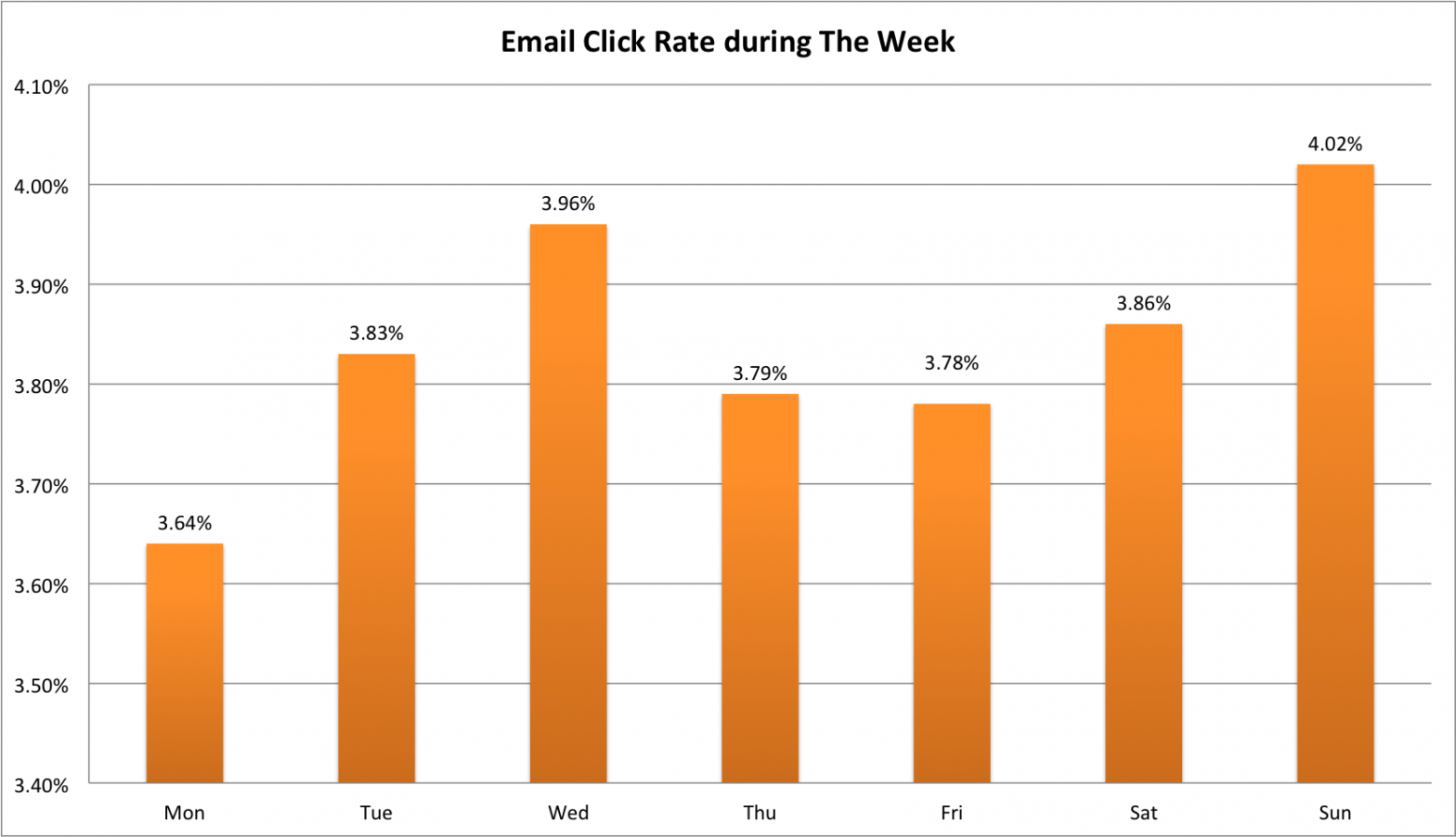 Reading Time:
5
minutes
Is there a best day of the year to send an email marketing campaign? If yes, what is it? Can we predict if a campaign will be successful because of when it's sent?
Have the seasons an impact on campaign results?
The answers to these questions always depend on many factors. However, there are some patterns worth knowing and sharing (based on our own ecommerce email marketing statistics).
The Data Source
Recently Omnisend provided ecommerce email marketing research based on our customer data for the period March 2015 – April 2016. In this research, we analyzed the email marketing behavior of 15,000 active online stores from 130 countries. The majority of clients are based in the United States, United Kingdom, Canada, Australia and India. These stores mainly sell apparel, accessories, books and small electronic devices.
The insights into email marketing frequency, best email campaign size and effectiveness of automated ecommerce workflows will be published in the coming weeks. For now, let's look at the right timing for your email campaign.
The Best Day of the Week to Send Promotional Emails
There are tons of tips on the Internet about when you should send your campaign. Most of them say "it depends, but try Tuesday". My tip for you would be to pay attention to what industry they represent. There is a big difference if you do business-to-business (B2B) or business-to-customer (B2C). The behavior of these email recipients differs tremendously.
Omnisend clients are small- and medium-sized businesses that sell products online (B2C). So the data reflects this kind of customer behavior.
According to research, Omnisend customers send their email campaigns on all days of the week, but mostly on Fridays. See the chart below.
Bear in mind that the majority of email campaigns are sent on Friday. Let's now analyze customer behavior regarding the days customers are more likely to open promotional emails and click to buy.
Though there is not such a big difference, we can see that open rates are best on Wednesday and Sunday. These numbers correlate with the Click Rate – the days when people are most likely to click on your newsletters are also Wednesday and Sunday.

Email open rate during the week in different countries
The previous data was obtained analyzing 15,000 stores from several countries. The results from our main countries are slightly different.
In the United States the best days are Wednesday and Saturday.

In Canada and the United Kingdom – Wednesday and Thursday.

In Australia – Tuesday and Saturday.

In India – Sunday and Wednesday.
This data suggests in fact that Wednesday is the best day to send email marketing campaign . Of course, if you are from Australia and email your customers on Tuesdays, do not be in a hurry to change your habits. Tuesday in Australia is still the best day.
The Best Day of the Month to Send an Email
Since the day of the week is clear, let's look at what influence the day of the month has on your email marketing efforts. This data is valuable for planning your email campaign calendar.
If we look at the open rates, we see that people are mostly interested in promotional emails in the beginning of month and two weeks from then – in the middle of month. That can be related to paydays. In most countries, including the US, people get paid either twice per month (semi-monthly), every other week (bi-weekly), weekly or monthly.
Therefore, in the chart we can see the biggest peak in that particular days.
However, the chart of conversion rate reveals that people more tend to buy in the second half of month.
While planning your email campaign calendar, do not forget to include occasional emails. Exclusive campaigns might modify this data.
The Best Month to Send Emails
If I was to ask when do merchants send most emails, you will probably say November. This is no big secret and Omnisend research has confirmed this once again. March and December are also very active months for email marketers.
Why these months? March is famous for Spring Cleaning campaigns, new Spring/Summer Collections, St. Patrick Day, etc. Meanwhile, December is known as Christmas fever time – everyone buys gifts. So during this period email marketers work hard and send the majority of their email campaigns.
However, the activity of merchants and customers does not have to match perfectly. Thousands of merchants send their email campaigns during Black Friday. Customers are waiting for these offers but the competition to be noticed in the customer's inbox is huge. On the other hand, there are months when the situation is the opposite – customers are mostly on holidays, they receive few promotional emails and have time to look at them and shop.
So which months bring the best results?
In the chart we can see the mismatch between active email marketing months and the months when Open Rates are the highest. In August and May, customers are more likely to open emails. Take advantage of this – surprise your customers with interactive emails and attract them to your shop.
The Click Rate correlates directly with the Open Rate. The Conversion Rate correlates as well. However, the biggest conversion rate is in November and then follow May and August.
To sum up the Open Rate data, the best day to send newsletter in 2016 is Wednesday, August 17! 🙂
According to Click Rate, the best day in 2016 was Friday, May 6.
Would you like to learn about how frequent email campaigns engage customers best? Does the phase of the moon influence customer behavior and decision-making? Don't forget to subscribe to our newsletter and we will share our results very soon!