Drive sales on autopilot with ecommerce-focused features
See Features
Reading Time:
12
minutes
Email marketing is an uncomplicated way to communicate with your customers that has a great return. In fact, email marketing has an ROI hovering around 400%—this means that for every single dollar you spend, you stand to make $40.
Omnisend's Ecommerce Statistics Research shows that email marketing, including manual one-off campaigns and automated emails, had conversion rates anywhere from 6.82% all the way up to 52.92%.
Yes, with a conversion rate higher than 50%, that means that more than half of all recipients of welcome messages ended up buying something. That is impressive.
Today, we'll show you 10 of our favorite email marketing examples. Plus, we'll explain why we love them so much and how you can use them in your own email marketing sequences.
But first, let's take a look at what an email marketing campaign actually is.
Drive more sales with email marketing campaigns using Omnisend's features for free!
Start Free Today
What is an email marketing campaign
An email marketing campaign is a sequence of emails sent from a business to current customers or prospects. Businesses send email marketing campaigns in order to:
Attract new customers
Retain current customers
Build brand awareness
Nurture leads
Win (back) sales
A successful email marketing campaign will help you get customers and generate sales by getting the recipients to take action and engage with your business.
How to execute an email marketing campaign: Top tips
Email is one of the best marketing channels, but that doesn't mean that executing a great email marketing campaign will be a breeze every time.
In fact, due to how easy it is to create and send out email campaigns, you'll need to make sure that your emails stand out amongst your competitors' emails in your subscribers' inboxes.
With that said, here are our seven top tips for executing your next email marketing campaign successfully.
1. Set your goals
Before you set out to create your perfect ecommerce email marketing campaign, you'll want to figure out what goal you want it to achieve. For example, you might want to:
Promote your products
Boost engagement with your business
Welcome your new customers
Reengage your inactive customers
Once you have your goals figured out, you can then focus on the targets you want to hit in order to determine if your campaign was a success after it's over.
2. Know your audience
If you're a veteran marketer, you probably already know who your target audience is.
If you're just starting out with ecommerce email marketing, though, you'll have to make some educated guesses about who you want to target with your upcoming campaign. Your best bet is to put yourself into your customers' shoes and ask yourself:
Why did they choose your business?
What makes them buy your product?
What would make them buy more?
Once you have the answers, you can use email segmentation to split up your subscribers into smaller, more targeted lists based on demographics, location, or purchase behavior to meet the goals of your marketing campaign.
3. Make a clear plan
With your goals and target audience set up, it's time to plan your campaign. Usually, it's a good idea to decide on:
The action you want your audience to take (this might include buying a product, liking your page on social media, or attending your webinar)
A rough outline for the content of your emails
Campaign schedule
The frequency of your emails
In most cases, you'll want your email marketing campaign to consist of multiple emails and follow-ups, with each email serving a single purpose.
With that said, don't overwhelm your customers by emailing them too often. That will make them hit the Unsubscribe button in seconds. To avoid such email marketing pitfalls and maximize the power of your campaign, make sure you're following these email marketing best practices.
4. Write attention-grabbing subject lines
Once you've outlined your email marketing campaign plan, coming up with a catchy subject line is the next step.
A good email subject line will get people to open your emails and go further. On the other hand, a bad subject line can kill your campaign. In fact, research done by Oracle shows that nearly 70% of email leads mark messages as spam because of bad subject lines.
Make sure to keep your subject lines short and to the point. Ideally, they should be up to 50 characters long. To get the ball rolling, here are a few ideas about what you can try first:
Subject lines that indicate a limited-time offer
Personalization that includes the subscriber's first name
Subject lines with and without a discount
Subject lines with emojis
5. Write the copy
With a set of outstanding subject lines in your pocket, you can move on to writing your email marketing copy.
Here are some basic tips:
Make your email copy short and easily scannable: It's easier to absorb information when it's provided in smaller bites and clearly structured.
Personalize your emails: Addressing your customers by name and adding personalized offers makes your emails more targeted and more likely to generate sales.
Include a short and clear call to action (CTA): A powerful CTA should reflect the main action you want your readers to take. It's a good idea to include a CTA near the start, in the middle, and near the end of the email.
6. Brand your emails
Similar to copy, email design & branding can make or break an ecommerce email marketing campaign. An email that looks unprofessionally designed will reflect poorly on your brand and can lead to people marking your emails as spam.
When it comes to visuals, consistency is your biggest asset. A good idea is to use an email template builder so that you don't have to start your designs from scratch every time you want to send something.
With the right email builder, you can create, tweak, and personalize your own email campaigns in minutes, without the need for any technical knowledge or graphic design experience. Or, if you like to have more freedom to create, you can use these newsletter examples for inspiration.
7. Test and learn what works best
Sending out your email marketing campaign is just the first step. To ensure it's not just a one-off success, you'll have to make data-driven decisions to improve the performance of your future campaigns.
That means you should test everything, including your:
Audience segments
Subject lines
Email copy
CTAs
Design and layout
It's also a good idea to regularly keep an eye on your campaign reports and analyticsprovided by your email marketing platform. This includes things like clicks, opens, forwards, and unsubscribes.
This data will let you learn what works best and optimize every part for your next ecommerce email marketing campaign.
The types of marketing emails used in ecommerce
There are many different email types that you can send to your customers.
Marketers group these in different ways, but here are some key email types journey that stand out as the most important for email marketing campaigns:
Want to keep your emails flowing with perfect timing? Make sure to set up an automated schedule.
Still with us? Great. Because now's the fun part. Let's see the best email marketing examples, talk about why they're great, and how you can use them, too.
Get ready to be inspired.
Our favorite email marketing examples
1. Adobe: Product promo with a two-product comparison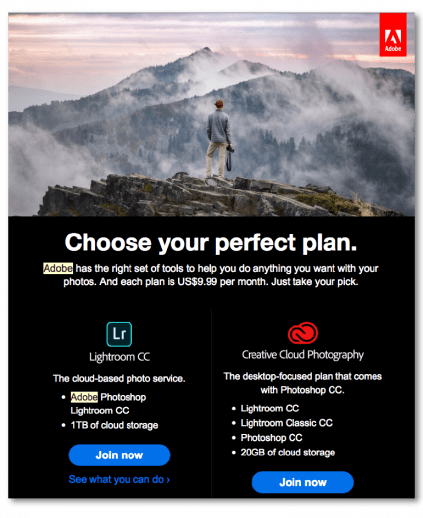 What it is: A product promo using a comparison of two similar but different products with a captivating image and straight-to-the-point content. Same price point, and a special deal, with two CTA's.
Why we like it: Adobe used a segmentation method to target two types of customers in the same email.
It allowed them to throw the net a little wider and cover two sets of needs with one message. It also has the added benefit of giving them more info about their target customers. More importantly, based on who clicked what.
When and how you should use it: Use this method when you're promoting two very similar products at the same price point. Or you can use it when you're trying to refine and retarget a certain customer segment.
Make it as easy as possible to compare the two items, and include two clear CTA buttons for each choice.
Take your email campaigns to the next level with Omnisend's pre-built automations
Start Free Today
2. Birchbox: "Mistake" email and co-marketing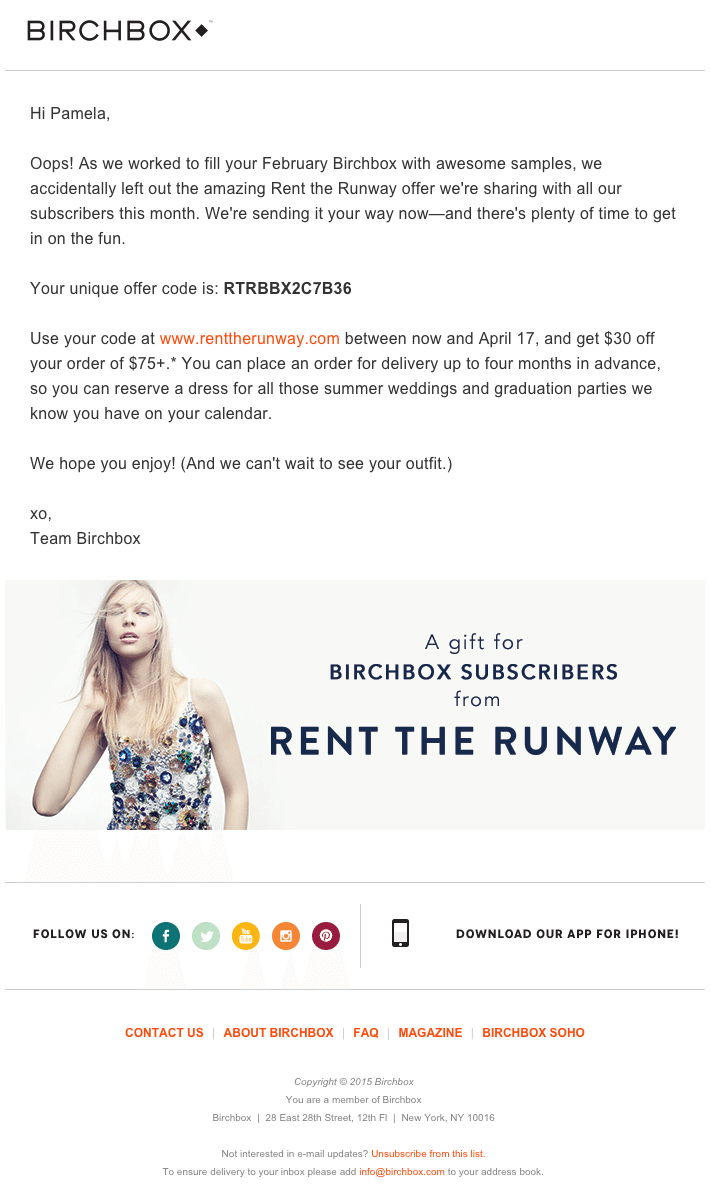 What it is: A promo for a product at a partner company cleverly disguised as a "forgotten" discount in the customer's email.
Why we like it: The catchy wording of the subject line read: "We Forgot Something in Your February Box!" is a sure way to pique the customer's interest.
It also makes the email feel personal and makes the brand more human. And on top of that, it's a great email marketing example of two businesses cross-selling each other on a co-marketing campaign.
Here, the image isn't particularly captivating, but since it's text-focused content, that works out well.
When and how you should use it: First of all, while it is a clever little hack, we'd suggest using this method sparingly. Your customers will start to notice the repetition.
The biggest takeaway here is the way Birchbox makes its brand appear human and relatable. That's something you should always try to emulate through your email copy.
3. Sephora: 'Happy birthday' gift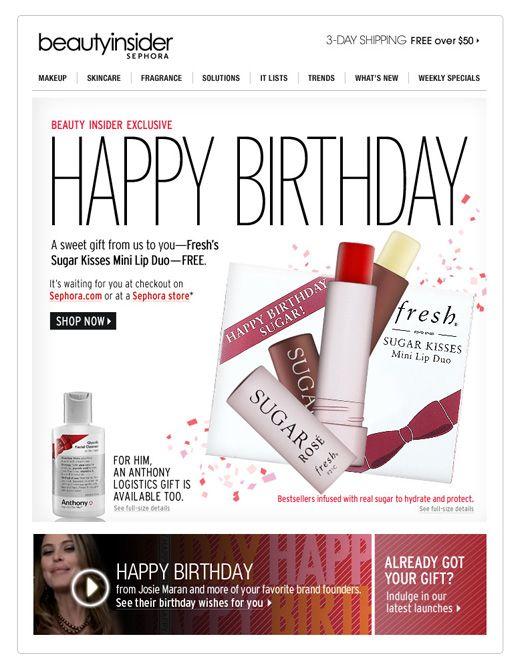 What it is: An image-heavy email to brighten up your customers' day with a free gift for their birthday as the focus of the content.
Why we like it: Studies show that businesses that use 'birthday' emails have a 324% higher revenue in comparison to their other email campaigns. You can't beat that – and the reason is simple.
Plus, everyone likes to feel 'special' on their birthday. Reaching out to your customers on that day is a perfectly effective way to personalize your product and get them in your store.
When and how you should use it: The benefits of a birthday email marketing campaign are astounding.
Set aside a low-cost, high-margin product in your shop just for birthdays and free giveaways. On your subscriber sign-up form, don't be afraid to ask for the customer's birthday.
On the form, make sure you say that you'll send them a gift—and it'll guarantee they put in the info. If you didn't get their birthday, you can also do this with something else exclusive to that customer, such as the anniversary of their sign-up with you.
4. Fab: Cart abandonment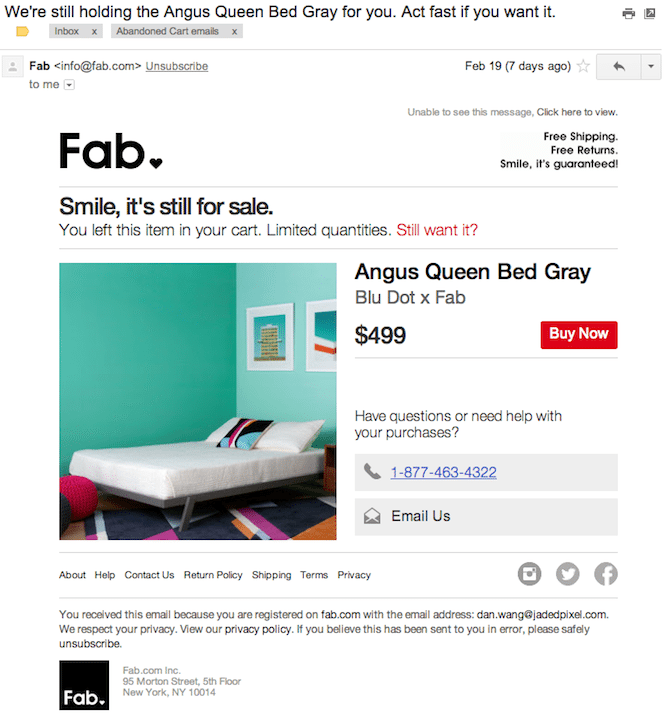 What it is: An email with content created to lure back a customer that was nearly there at the checkout but ended up abandoning their cart. The email features the name, description, and image of the product that was abandoned. This is what is called a win-back email campaign.
Why we like it: Business Insider found out some interesting results. They found out, on average, when you send a cart abandonment email within three hours after the cart abandonment you can expect a 40% open rate and a 20% click-through rate. You can't beat an opportunity like that.
When and how you should use it: Don't waste that precious three-hour mark after the customer abandons their cart. Setup these automatically with a message to encourage them to come back. Be sure to include more details or a scarcity incentive like Fab did here, by saying things like "It's still for sale" or "Limited Quantities. Still want it?".
5. ProFlowers: Cart abandonment and remarketing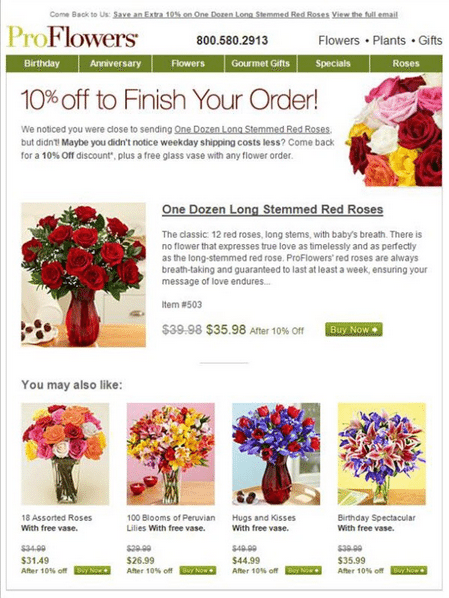 What it is: Another attempt to re-engage a customer that took steps to buy something within your store and then abandoned their cart. Here, not only are the product descriptions and images of the main abandoned product, but the email content also shows related products.
Why we like it: There are tons of reasons why a customer might abandon their cart.
This email marketing campaign focuses on the idea that perhaps the product wasn't exactly what the customer was looking for. So instead of sending an email to nudge them back in for the same thing, ProFlowers gives them more options to choose from – based on their user data.
It can't get more targeted than that.
When and how you should use it: First of all, make sure you're tracking user on-site behavior, and addressing it accordingly in your follow-up email.
Each email should be highly personalized for each customer's purchasing triggers – and adding a little bonus (10% off when you complete your order!) is a very effective incentive.
6. HireVue: Re-engagement and goodbye letter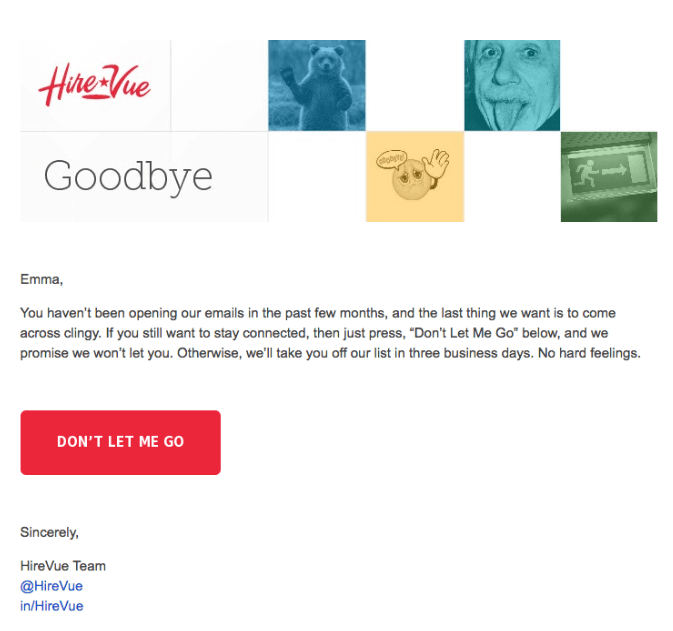 What it is: An attempt to re-engage your customers that haven't been opening your emails for a while.
Why we like it: First of all, it's not a bad idea to eliminate the customers who aren't engaging with your emails. Especially if you have a high number of subscribers.
Having more subscribers is never a bad thing. However, it could heavily influence your split tests if you have a lot of dead-weight (i.e. customers who aren't opening) within your subscriber list.
Second, this isn't just goodbye. The CTA here is actually to stick around, and the button copy is perfect for this, as well as being consistent with the brand's voice.
When and how you should use it: Track your customers' engagement. And just like HireVue did, when you pick up that the customer hasn't opened your emails in a while, make an attempt to bring them back in.
If they don't respond, then it's time to cut your losses and say goodbye – which is in your best interest.
7. Humble Bundle: Product promo and 'reminder'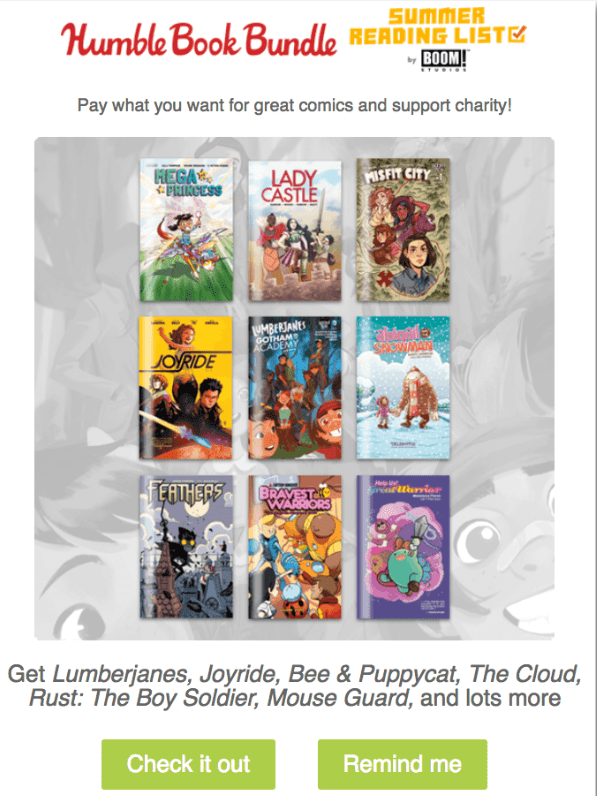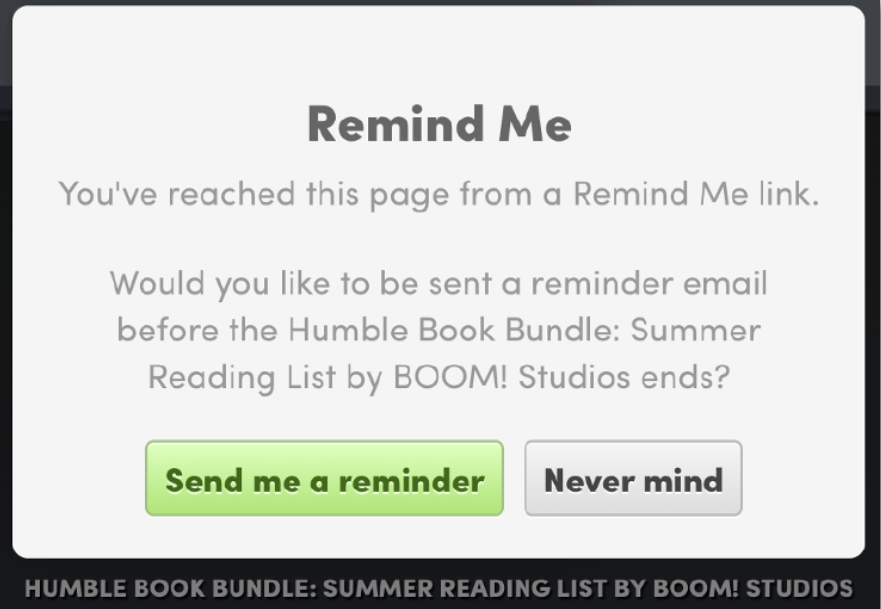 What it is: A product promo with two CTAs: one to check out the product, and one to set up a reminder to get it when it's available.
Why we like it: This is a great way to ease the pressure a customer feels to act right away. Sometimes they can't act right now and that's not a reason for you to totally lose the lead.
In terms of the content, the product reminder here is a simple, no-strings-attached solution that keeps them within range.
Note that both CTAs lead to the same landing page. The only difference is this: When you click on the reminder button the landing page opens with a small popup. The popup confirms their request for a reminder email as shown in the second photo.
When and how you should use it: This particular email marketing example was used for a regular product promo. It also works especially well around the holidays. Such as a Valentine's Day product promo with the reminder feature at the end of January.
This also works well if you want to generate excitement with a new product roll-out.
8. Kate Spade New York: Welcome 'thank you' letter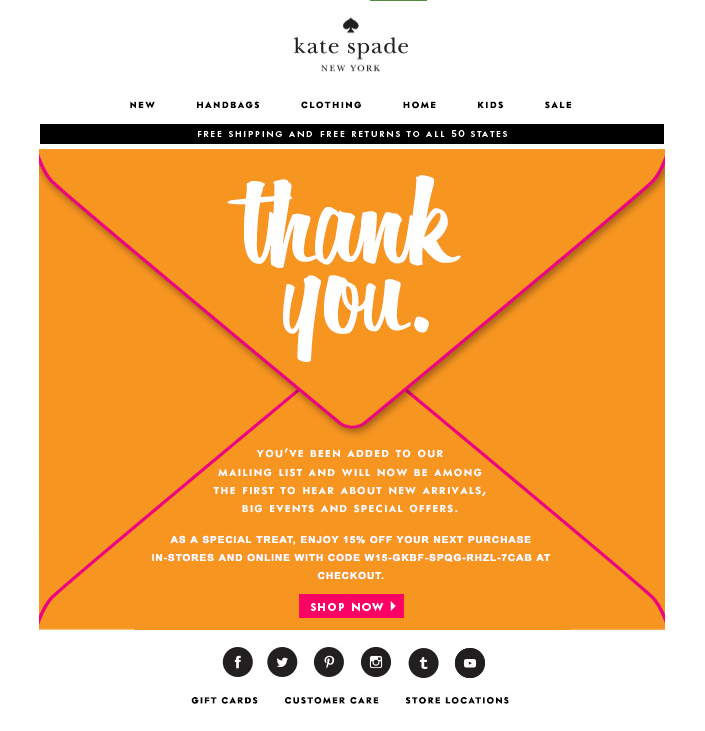 What it is: A simple 'thank you' note after a customer signs up for your email list.
Why we like it: As we point out in our article on the welcome email series, 74.4% of customers expect a welcome email. Those same emails generate 3x higher open and click rates, and 5x higher revenue. You can see why you don't want to skip on these.
When and how you should use it: Automate your mailing system to send these out as soon as a customer signs up for your email list. They've taken a crucial step to confirm that they're an interested prospect. Don't lose the golden opportunity to show your appreciation and get them in your store.
Notice the content in this email marketing example. It reminds the customer of the benefits they get for signing up ("You will now be among the to hear about…") which reaffirms their decision.
There's also a valuable offer and a clear CTA to start taking advantage of their offers now.
9. REI: Order confirmation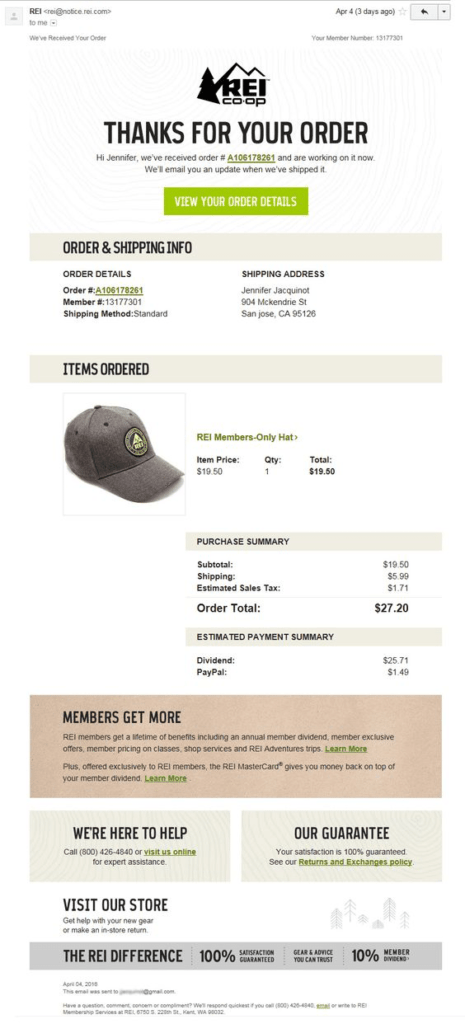 What it is: A confirmation of sale that goes way beyond a simple notice of purchase and appreciation for the sale.
Why we like it: Sending out a confirmation reinforces the customer's choice to buy the product. It also gives you an opportunity to upsell/cross-sell something in the content, as REI does here with their membership offer.
When and how you should use it: This email should be sent out immediately after a sale is made. Look for ways to include additional information or opportunities. Notice the customer service link (useful) and the membership option (cross-sell) in this email marketing example.
This is also a great time to take advantage of the user data and promote similar products to contacts in your email list, like in the previous example number 5 (ProFlowers)
10. Rapha: Customer survey/feedback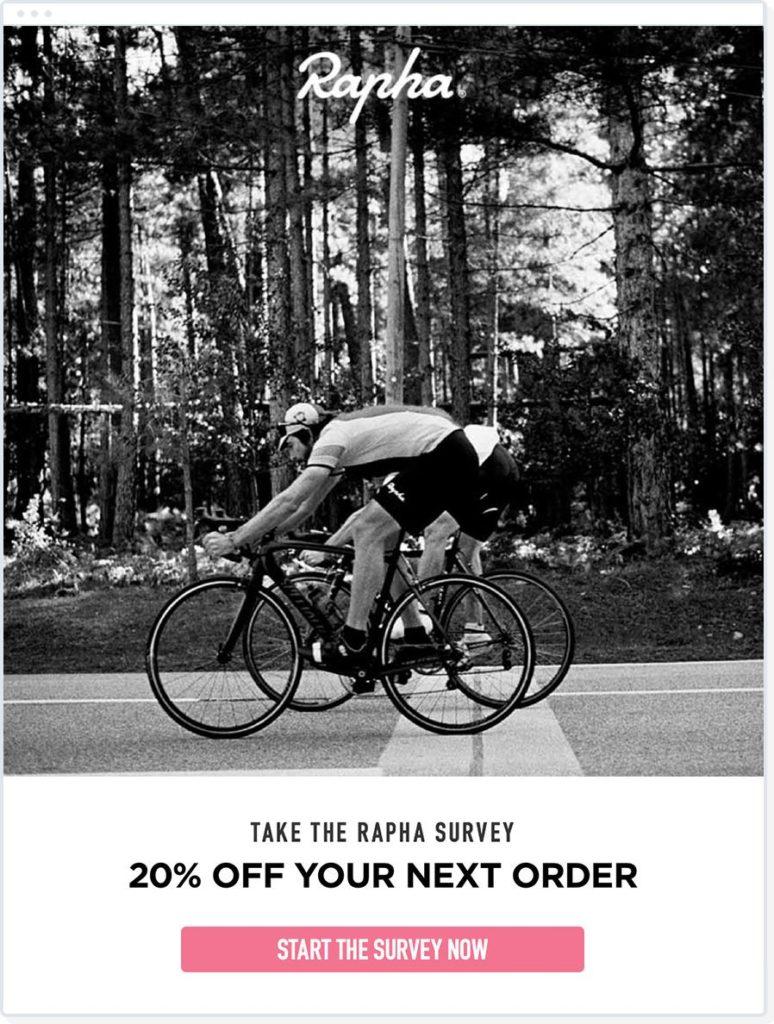 What it is: A message encouraging the customer to provide feedback to the company after a recent purchase.
Why we like it: This is an ideal opportunity for you to gain market insights. The content also presents your customers with a small gift (20% off in this example) for their next purchase as thanks for shopping with you – which is an incentive to return.
When and how you should use it: You can send out a survey request at any time after a sale, really. But it is most effective immediately after the customer receives their product when the experience is fresh in their minds.
Don't forget to include some incentives for doing the survey. It's pretty hard to say 'no' to answering a few simple questions for a freebie.
Wrap up
This is the bottom line: email marketing isn't going anywhere. If you're not optimizing it within your business, you're simply not optimizing your sales.
While creating effective email campaigns isn't necessarily a walk in the park, there are lots of resources to ensure you get there. This includes using a template that fits your brand (or a few different templates), or the examples (including images and content) that we showed in our 10 favorite email marketing examples.
About the author:
Austin Kelly is an ecommerce copywriter specializing in email marketing campaigns that increase conversions, win back abandoned carts, and make more sales for his clients.

Drive more sales with email marketing campaigns using Omnisend's features for free!
Start Free Today