Drive sales on autopilot with ecommerce-focused features
See Features
10+ effective email marketing examples for 2023 [inspiration + tips]
Reading Time:
9
minutes
Email marketing is an art that every business owner should master to avoid leaving money on the table. It's a reliable way to build close relationships with customers and leads, maintain that connection, and improve your overall customer experience.
But, just as with any good marketing resource, efficient email marketing requires a strong strategy. It's not only about writing a deceptive email subject line and inserting a link to your store in the body: you need to craft eye-catching content that promises, delivers accordingly, and makes your users excited to see your name in their inbox.
In this article, I will share with you 10 email marketing examples and what makes them great, so that you can start creating your effective email marketing strategy.
1. Grammarly
Type: B2B upsell email campaign
Goal: Convince free users to upgrade to a premium subscription
Subject line: 👋 Just until tonight: $75 for a year of Premium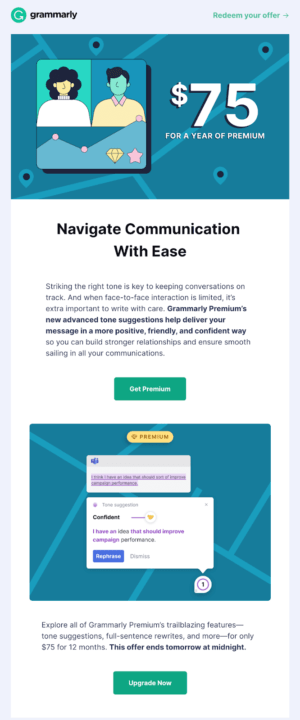 What's great about this email marketing example:
Grammarly has a history of well-executed marketing efforts, and this email campaign is not an exception. The main goal here is to inspire free users to buy a premium subscription by showing a clear breakdown of its advantages, and adding a limited offer that invites subscribers to consider the opportunity.
With a concise copy and simple design, this email makes it easier for users to acknowledge the advantages of purchasing a premium and act accordingly.
How you can do better:
When presenting a limited offer, you have to make sure that you are showing the regular price as well.
Without comparing the prices directly, people will not understand exactly how much they can save by clicking on the buy now button.
2. Pipcorn Heirloom Snacks
Type: Product launch
Goal: Get subscribers to check out and buy the new product
Subject line: We've brought a NEW Twist to the snack game!
What's great about this email marketing example:
This Pipcorn email presents a strong visual approach that will catch any user's attention. It also breaks down all the characteristics of this new product in an engaging way that's easy to understand.
How you can do better:
Add calls to action after each specific section, especially at the end of the email. You want people to have the link to your product at the tip of their fingers once they have already read all the information.
3. Omnisend
Type: New service
Goal: Educate users on this new service and invite them to try it
Subject line: Promote new products, run special events or pre-sale campaigns with Landing Pages!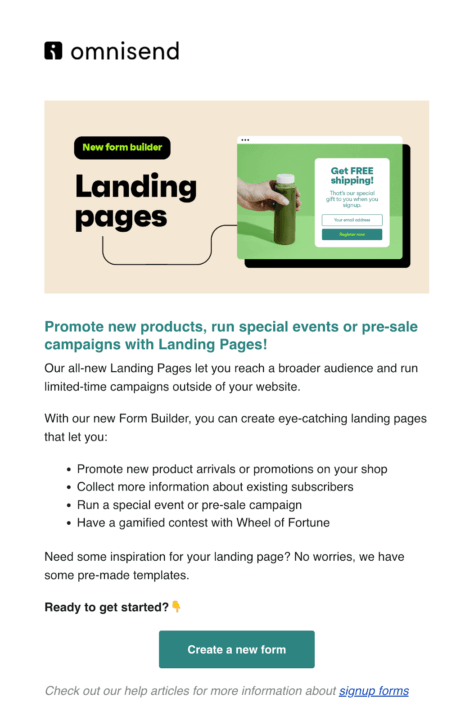 What's great about this email marketing example:
Omnisend has a clean design approach that helps users scan important information without needing to read huge paragraphs. The bulleted list of pros helps target customers' pain points and talk directly to their needs.
It also provides extra value by adding a link with additional resources at the bottom of the page.
How you can do better:
The subject line in this email is long and it doesn't include a keyword at the very beginning. This can make users lose the whole point of the content and not know if it was something they could benefit from.
Get ready-made email templates to cover every successful campaign and automation
Start Free Today
4. Taylor Stitch
Type: Product launch (limited edition)
Goal: Showcase a new product and let customers know they have limited time to purchase
Subject line: Knit By Hand, Built To Last
What's great about this sample of email marketing:
With a strong visual impact and a good distribution of images, text and calls to action, this email is what users love reading.
Providing such a clear design approach for any email campaign gives you a higher chance of conversion.
How you can do better:
The subject line should include the fact that this product is a limited edition, as this can be a good incentive for people to open the email to take advantage of a time-sensitive opportunity.
5. Baking Steel
Type: Welcome email
Goal: Brand awareness and lead nurturing
Subject line: 🤔 Does it live up to the hype?

What's great about this example of email marketing:
Efficient email marketing requires timing, and Baking Steel mastered this with its welcome email. By reaching out to new subscribers with a clear explanation of what they do and how that can benefit them, they are not only sharing a brief introduction but also selling from the very beginning.
How you can do better:
The subject line is intriguing, but it lacks clarity. Make sure that you include clear terms so your users know why they need to click on that email.
👉 How to create a welcome email [with a template]
6. Shopify
Type: Informational newsletter
Goal: Share valuable information with existing subscribers
Subject line: Ready to start a t-shirt business?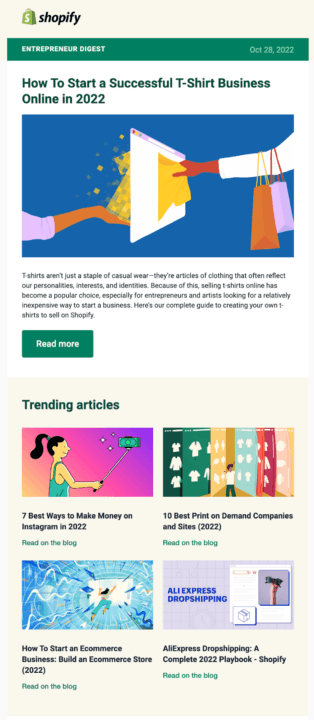 What's great about this newsletter marketing example:
Shopify is a multipurpose platform that ecommerce brands love, and it isn't hard to see why. In this email they share a business idea and a handful of different resources that can help subscribers explore the possibility and even start right away.
How you can do better:
When putting together an informational email, it's important to stay on topic. The article recommendations on the button should include only ecommerce and print-on-demand resources, avoiding other marketing projects like making money on Instagram.
Another detail that can not be overlooked is the CTA design. When including a CTA, make sure that it's always a clear button that stands out from the surrounding text so people know how to reach it intuitively.
7. Starbucks
Type: Premium promotion email
Goal: Let people know the benefits of their current plan
Subject line: Psst…🙋‍♀️Pumpkin Spice Latte is available exclusively for Starbucks Rewards members! 🍂🍁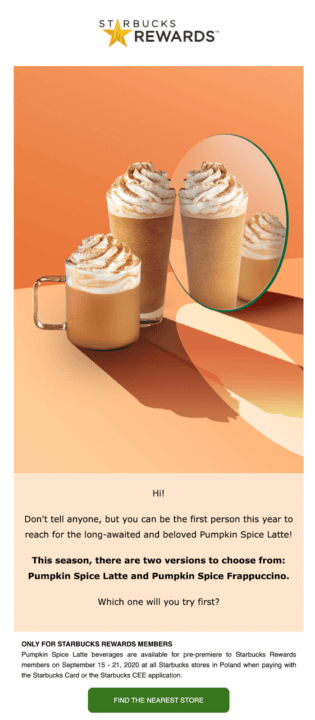 What's great about this email marketing example:
By focusing on a product that has all their customers waiting in line, Starbucks crafted a great benefit that its rewards program members will appreciate.
It also serves as a way to both promote and provide exclusivity to a new product that will be launching soon.
How you can do better:
The design could be better, especially the last paragraph, which includes an important item: the call to action. Adding some white space and making the call to action bigger can make a great difference.
8. Accor Hotels
Type: Special discount offer
Goal: Make customers take advantage of a current sale or discount available at your business
Subject line: Alex, plan ahead when booking your next trip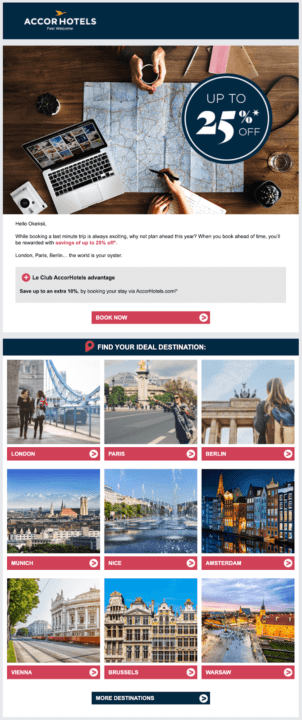 What's great about this email marketing example:
With its visually appealing newsletter template, personalized introduction and a clear breakdown of what the offer is about, this email is a convincing one for any avid traveler.
Also, all the pictures at the bottom serve as an inspiration for any subscriber who is considering the offer, but also having second thoughts. By looking at all those beautiful places, it's hard to find reasons to not jump right into that discount.
How you can do better:
Mentioning the offer in the subject line is a must. If people don't know that they might find an opportunity to save money just by opening that email, they are less likely to click.
9. Stumptown Coffee Roasters
Type: Product update and brand awareness
Goal: Let subscribers know more about the production process and brand values
Subject line: Behind the coffee: Huye Mountain

What's great about this email marketing example:
With a clear focus on storytelling and transparency, this email shows how content is not only about selling, but also about building a strong relationship with your audience.
The narrative tone combined with the images gives users the right idea about what's behind this product and what motives they might have to support this cause.
How you can do better:
Break down big pieces of text into smaller ones and use images as a way to divide paragraphs. This will help users enjoy the story even more.
10. edX
Type: Recommendations
Goal: Highlight certain products and get people to purchase them
Subject line: Your program recommendations are here

What's great about this example of email marketing:
Edx is a great educational platform that provides different certifications to fit all students' needs. In this email, they communicate exactly what they can offer for anyone looking to level up their career, and they encourage you to find out more about these options.
This email has the right combination of a motivational approach and a sales strategy that every student will appreciate.
How you can do better:
Include clear buttons with calls to action so people feel the need to check out each program that catches their attention.
11. Holo Taco
Type: Lead nurturing
Goal: Retain current customers and nurture relationships
Subject line: Want a Free Gift on Your Birthday? 👀🎁💅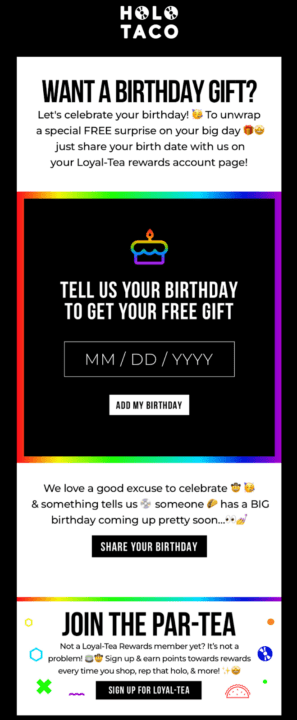 What's great about this email marketing example:
Making customers and leads feel important is a priceless resource, and Holo Taco understands this. By asking for their birthday and promising a special gift, they provide a personalized communication dynamic that any user would appreciate.
Also, who doesn't love a gift? This definitely hits the right spot.
How you can do better:
Make sure that you are formatting the email in a way that makes it easy to read, including white spaces, short paragraphs, and bullet points.
12. Highway Robery
Type: Product update
Goal: Update users on new products available and invite them to purchase
Subject line: Return of the Robi

What's great about this email marketing example:
Highway Robery plays with creativity and humor, which leads to a genuine connection that not every brand can achieve. By incorporating memes, jokes, and a conversational tone, this email feels like getting back in contact with an old friend.
How you can do better:
The subject line is creative, but it can also be a bit confusing. When sharing updates regarding a product, you should include which product you'll be talking about in a way that even new subscribers will understand.
How to create an email marketing campaign
So, now you have an idea of what efficient marketing should look like. But, how can you start building an email that will leave your audience speechless?
Well, in this section I'll share with you some actionable steps that will take you from a blank page to an engaging email with no hustle. This quick tutorial can help you get started, but if you want a more detailed guide, feel free to check out our step-by-step guide on How to create a simple email campaign in Omnisend
Step 1: Get an app
So, in order to create a great email, you'll need software that's up to those expectations. If you don't have any in mind, I recommend you check this post where you can find 10 email software tools with their main features to help you make an informed decision based on:
Your budget
What industry you're in
Your technical background
The current stage of your business
However, if you want a quick and free option suitable for ecommerce stores, you can sign up with Omnisend and get started in just a few minutes.
Step 2: Create an email
Now it's time to get to work! You can create an email from scratch if you want to control the entire design process, but you can also find a lot of pre-made templates that can help with this.
To send your first email, you just need to:
Go to "campaign"
Choose the "email" option
Craft the best subject line
Add your brand details and a brief of what your email will look like
Choose a template and start creating!
If you want a more detailed tutorial, check out this video where we show you how to create and send your first email on Omnisend.
Step 3: Save and schedule your email
Now that you have your email ready to go, it's time to send it. Add your contact list and then choose which recipients you want to contact with this email. If you don't have a preferred audience for this campaign specifically, just choose to send it to all the users within your audience.
After you have all the contact information sorted, you will have the option to send the email right away or schedule it for later.
Sounds easy, right?
Your next steps
Now that you know what you need to build an effective marketing campaign, and you also know how to start this ambitious process in Omnisend, now's the time to give it a try. It's as easy as signing up for a free account and building your first email with all the tips I shared with you above.
Remember, you want to send emails people can't avoid opening and enjoy reading from start to finish. This requires not only strong copy, but also a user-friendly design approach and the ability to measure and understand your performance.
When you sign up for Omnisend, you'll get access to engaging email templates to simplify the design process, a complete toolkit to manage everything including order confirmation emails, newsletters, welcome email sequences and more. And, last but not least, accurate data that will help you analyze email marketing metrics.
If you take advantage of all the resources we have on our platform, you'll be sending emails like a pro in a matter of days. Are you ready to get started?
Get started with Omnisend today & drive sales on autopilot with pre-built automation workflows
Start Free Today
related features
Want more sales?
Omnisend has everything you need to succeed.
Start free now
No Credit Card needed.