Drive sales on autopilot with ecommerce-focused features
See Features
How to collect more subscriber information with multi-step forms [+ walkthrough]
Reading Time:
7
minutes
Do you wish you knew more about your subscribers than their first name and email address, but worry you'll scare them away by asking too many questions on your signup forms?
With a multi-step form, you can collect more information and avoid overwhelming your visitors—it's a win-win!
There's a persistent myth that a single-step form is more effective because it's shorter. However, a single-step form that asks visitors to answer a lot of questions might overwhelm them. A multi-step form breaks it down into shorter stages, which is more appealing and can even increase conversion rates.
In this article, we'll cover:
What are multi-step forms?
A multi-step form breaks a signup form down into two steps, allowing you to request more information from a visitor without overwhelming them.
If you want to collect more information than just a name and email address—such as product preferences, location, birthday, or phone number—it can look intimidating on a single-step form. The visitor immediately sees various boxes that need their attention, prompting them to ignore it entirely.
A multi-step form helps to avoid this problem by offering manageable chunks instead. So the first step of the form can simply ask for their name and email address, and they're only shown the second step asking for additional information when they submit the first one.
What are the benefits of using multi-step forms?
The more you know about your audience, the more you can tailor your messaging to them. Multi-step forms help in the following ways:
They're customer-friendly: People are busy and don't want to spend a lot of time answering questions. A multi-step form is less mentally taxing and means you can only send messages that are highly relevant to each subscriber.
Easily gather more subscriber data: Multi-step forms enable you to ask for more information from your subscribers, without overwhelming them.
Collect more phone numbers: Omnichannel marketing campaigns that include SMS are 47.7% more likely to end in conversion. By requesting the phone number on the second form page, your visitors won't have to provide both details simultaneously.
Personalize your messages: You face a lot of competition in the inbox, but personalization is an effective way to stand out. By sending emails and SMS that speak directly to your audience, they're more likely to want to read them. Depending on your business, you might want to ask them their birthday, gender, favorite season or sport, where they live, their main interests—or anything else!
In a nutshell, multi-step forms allow you to ask the questions that will give your subscribers a better experience with you, while making it easy for them to complete.
Whether a multi-step form is right for you depends on your business and what you need from customers. If you only need their name and email address then you can continue using a single-step form—both are effective and the best signup forms for high conversions will come down to your specific business and marketing tactics.
How to build multi-step forms
There are two ways to build multi-step forms in Omnisend. You can either add an additional step to any existing form you have, or use our multi-step form templates.
To use one of our templates, log into your Omnisend account, go to Forms, and click "+ Create form." You'll be taken to the template library, where you can select "Multi-step" in the left pane: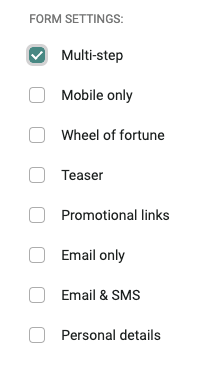 This will filter the templates so you only see multi-step forms. Then, simply select your favorite: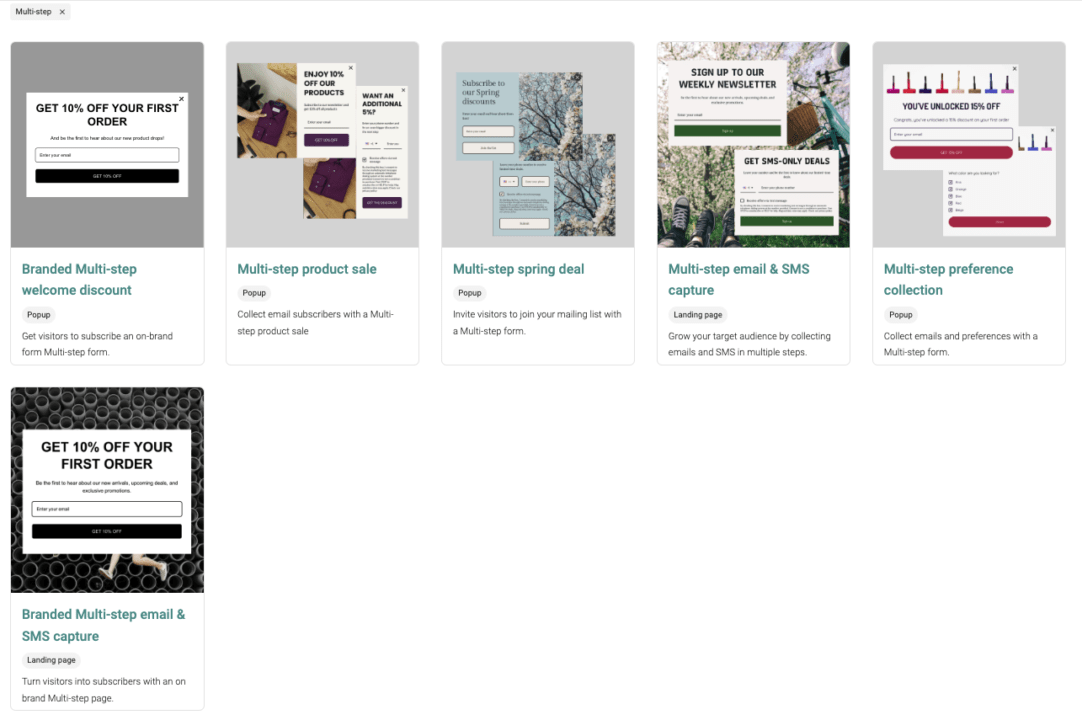 Once you've chosen your template, you'll be taken to the usual Form Builder where you can customize the form to your liking.
As always, you can change your text, font, colors, and design. The difference with the multi-step forms is you now have two steps, allowing you to change the appearance and fields in both.
The following image shows Step 1, with the main CTA and a field for an email address. Beneath the form are options for Step 1, Step 2, and Success: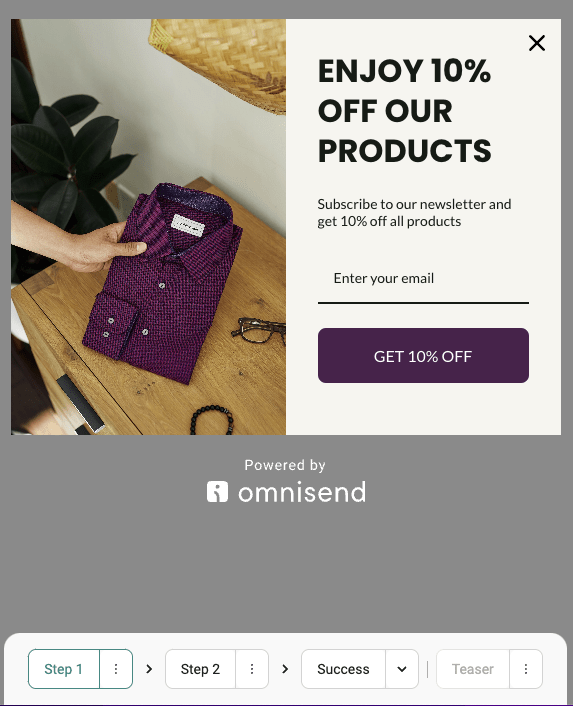 Once the Step 1 form is to your liking, click Step 2 and you'll be able to edit the second part of the form. In this template, it offers an extra 5% and requests a phone number and a checkbox to receive text messages: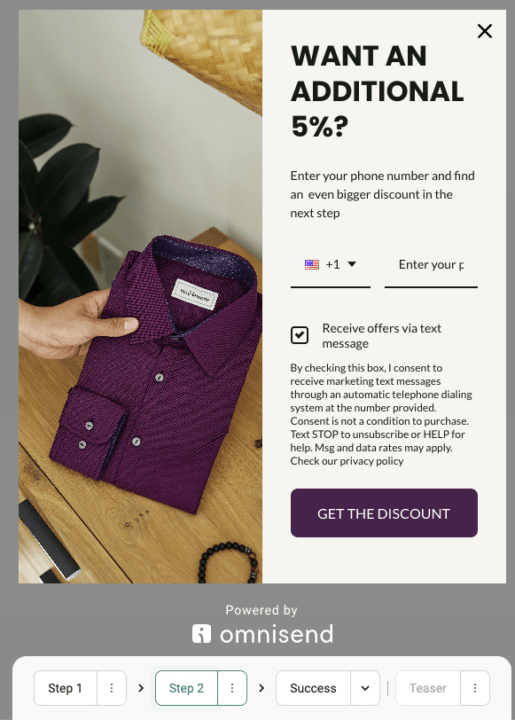 That's all there is to it! It's exactly the same as building your other forms, just with additional options.
You can watch a full walkthrough video of the setup process here:
Types of data you can collect
The above example showed how you can collect email addresses and phone numbers, but those aren't your only options. You can ask for any of the following—just be mindful not to ask for too many details. Try to limit it to only the data that would genuinely benefit your subscribers:
Address: If your business requires knowing their address, or you run location-based promotions
Preferences: Find out their favorite colors, styles, size, or other details that help you personalize their experience
Referral source: Discover which of your marketing channels are most effective by asking visitors how they found you
Feedback: Learn how well you're doing by including a survey or feedback form
Interests: Personalize your marketing messages by asking about their interests
Demographics: Learning your subscribers' age, gender, or other demographic information can help you segment your audience
Company information: If you're running a B2B business, you may want to collect more information about the companies filling out the form, such as industry, size, or location
Purchase intent: You could ask the person filling out the form about their purchase intent, such as when they plan to buy, what they're interested in purchasing, or their budget
Event registration: If you're promoting an event, you could ask about ticket type, dietary restrictions, or preferred session tracks.
This list isn't exhaustive. Think about what details your business should collect to provide a better experience for your audience—just remember to not ask for too much information.
Micro-yes popups: Add Yes/No buttons to improve signups
Omnisend lets you take multi-step forms a step further by incorporating different button actions into your form. This can be easier to get customers to commit, by giving them smaller conversions.
You'll see the Micro-yes forms as part of our new Multi-step forms: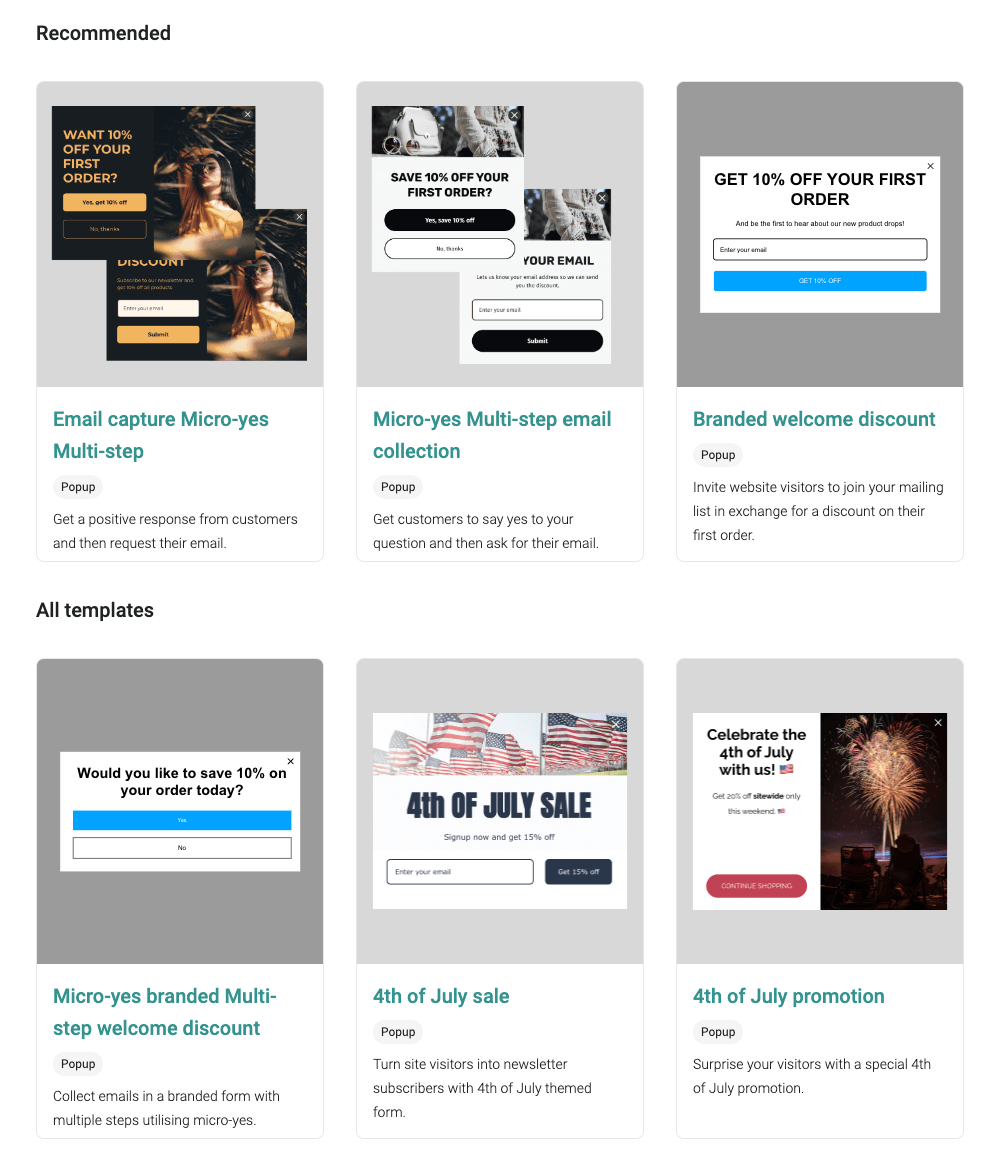 When you create your Micro-yes forms, it's very important to capture your customers' attention so that you can increase the likelihood of positive responses.
You can do this by Incorporating questions that your customers are likely to answer positively. These questions are micro-commitments that can make it easier for them to sign up to your newsletter.
Some questions you can ask include:
Ready to join our community and receive insider updates?
Want to stay up to date on our latest releases and product launches?
Want to get special offers and surprises throughout the year?
Want to be part of our VIP list for priority access and exclusive perks?
Want to save 10% off your first order? Subscribe now!
Ready to unlock exclusive discounts and promotions?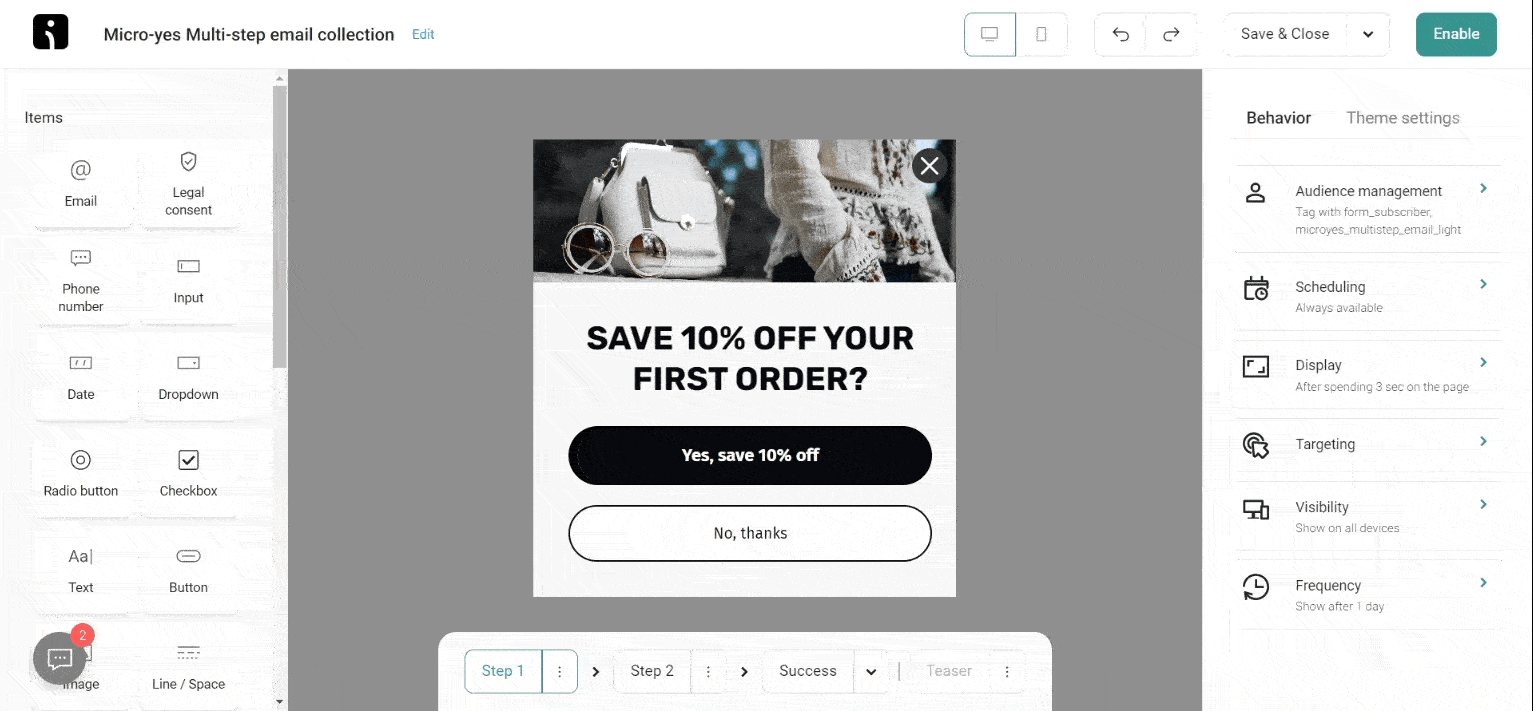 So what happens when a customer clicks on "Yes" or "No"?
That's up to you. You can assign buttons to different actions in each step of the form. Just select the button and adjust its action and the text.
Here are the available button actions:
Go to next step: This guides the customers to the next step but doesn't submit the form. This works best for when customers click on "Yes."
Close form: This closes the form when a button is clicked, and best for when customers click on "No" option.
Link form: Once a customer clicks on either "Yes" or "No," you can send them to a landing page or other URL
Submit form: Once a customer clicks on "Yes," you can submit the form.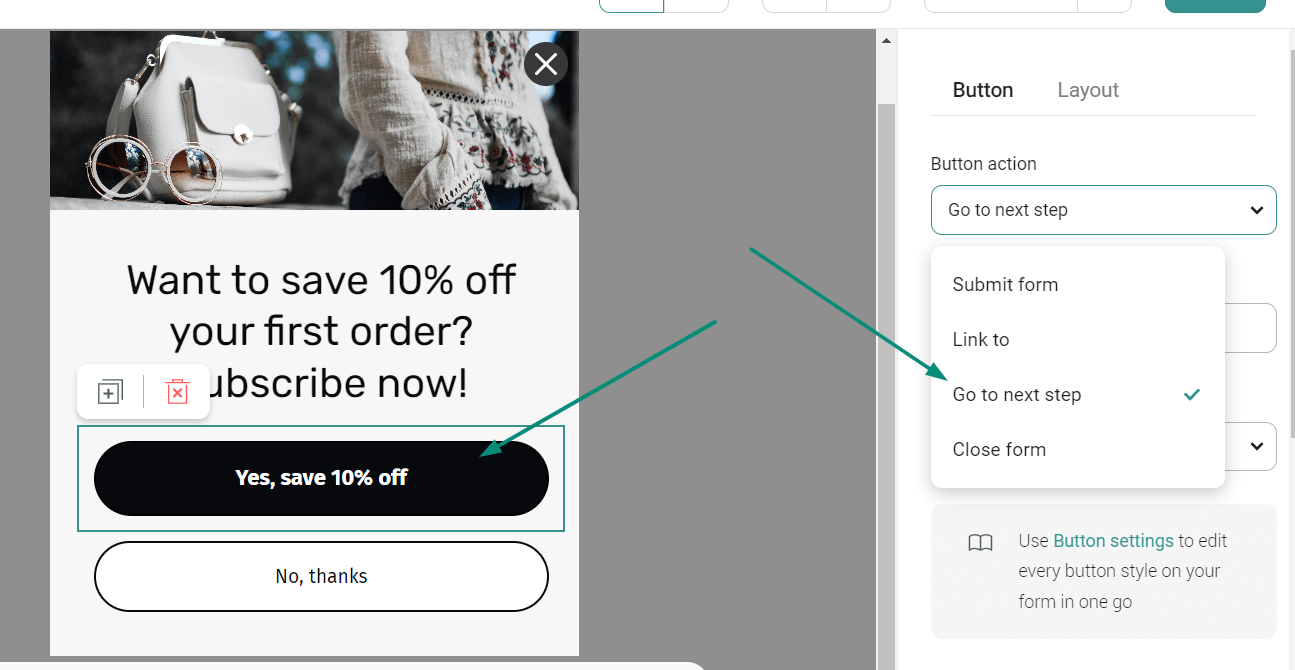 Ask for more information on the second step
If your customer clicked "Yes" and the button action was "Go to next step," you can ask for different information like email, SMS, or anything else.
If you started with a form preset, you will already have some fields added. You can also add more fields to the same step. This allows you to gather more specific customer information, providing insights into their needs and preferences.
By looking at different interactions and form completion rates, you'll get valuable insights into the effectiveness of your form. Experiment with different types of questions and field combinations to optimize your form's performance.
Remember, your form's effectiveness lies in the ability to create a seamless user experience while gathering the information you need.
Welcoming your new subscribers
With your multi-step forms in place, you'll want to appropriately welcome your new subscribers. By using an automated welcome series you ensure that all of your subscribers have the exact same experience and can share any necessary details with them.
The welcome email is powerful: about 80% of customers expect to receive one and they enjoy an open rate of 30.45%.
You can either send a single email or create a longer workflow, which can keep you in your subscribers' minds for longer and gives you the opportunity to drip-feed important information. Your first email could include a discount code and your second one your brand story, for example.
We generally recommend a series of 3-5 emails and you can see real examples with tips and templates right here.
Wrap up
Signup forms are a powerful way to grow your email list, and multi-step forms allow you to collect more relevant information from your subscribers.
This can lead to a larger list, highly personalized campaigns, higher engagement rates, and more revenue. Use Omnisend's templates and Form Builder to get started, and delight your subscribers with targeted messages.
related features
Want more sales?
Omnisend has everything you need to succeed.
Start free now
No Credit Card needed.