Drive sales on autopilot with ecommerce-focused features
See Features
Reading Time:
13
minutes
The best brands are built on a strong foundation of customer trust and mutually beneficial engagement. A prime way of reaching this crossroad is with customer engagement marketing and customer engagement strategies.
Customer engagement is part of every strong ecommerce marketing plan, and comes in many forms — contests on social media, customer feedback, and even personalized DMs. This organic style of marketing thrives from word of mouth, quickly building customer relationships that exponentially increase your brand equity.
To explain what customer engagement marketing is, you first need to understand what customer engagement provides for a business. It creates a beneficial customer experience whereby the consumer is loyal to and engages with a brand.
Of course, that's easier said than done.
We're diving into everything you should know about customer engagement, from how-tos and definitions to some winning customer engagement marketing examples.
Let's get started.
What is customer engagement marketing?
How to start with customer engagement marketing?
Customer engagement marketing strategies
Customer engagement examples
Enable your customer engagement with Omnisend
Take customer engagement to the next level with Omnisend's easy-to-use email & SMS marketing
Start Free Today
What is customer engagement marketing?
Before we dive into customer engagement marketing, it would help to define our terms — starting with customer engagement itself.
Customer engagement is the process of cultivating genuine relationships between customers and brands. This usually involves two-way interactions on social media platforms, emails, community platforms, and other owned channels.
Customer engagement marketing, then, is marketing to customers in a way that encourages interaction and engagement. Unlike other forms of advertising, customer engagement marketing is heavily focused on personalization and genuine conversations, all of which humanizes your brand and delights your audience before, during, and after a sale.
How to start with customer engagement marketing
A good customer engagement strategy ultimately aims to improve relationships with customers. This includes increasing your overall customers, conversion rate, or retention KPIs.
To do so, we must consider methods of improving your brand and customer engagement simultaneously.
Here's how to improve customer engagement using simple steps and actions.
Set up your customer engagement marketing goals
At the end of the day, marketing is all about metrics.
And if you don't know your numbers, you don't know your business — much less the success of your engagement marketing strategy.
Various methods and strategies will form the foundation of your customer engagement goals. However, there are a few tried-and-true metrics that take center stage.
Some of the most important are:
Engagement rates: This is a measure of how engaged customers are with your brand. Engagement is usually measured with likes, comments, and shares, although click-through rates and watch rates can also be helpful.
Repeat purchase rates: This measures how often existing customers re-purchase products from your brand. The more repeat purchases your customers make, the more likely they are to be engaged with your brand.
Average order value: Higher cart values indicate higher customer values, which could merit VIP status or special attention. Order value is also a great indication of your customer engagement marketing success.
Conversion rates: As you're likely already aware, conversion rates measure the transition between onlooker and active participant. Ecommerce brands typically measure the conversion rates of active carts, email signups, popups, and more.
Return rates: Unlike repeat purchases, return rates measure how often customers return products to your store. There's no way to eliminate store returns completely, but higher than average numbers could point to latent issues.
Feel free to use each of these (or just a few) to measure customer engagement and your marketing success. Do you want to get more likes and shares on social media platforms? Are you trying to boost profits with fewer returns and greater repeat purchases? Mix and match the metrics as necessary.
But of course, customer engagement shouldn't be centered around KPIs and conversions alone. At its core, customer engagement marketing is all about personalization — including your customer's pain points.
Resolving customer pain points
With definitions out of the way, we're free to explore customer engagement marketing through a more practical lens — starting with pain points.
Pain points are problems that your target customers are experiencing, and ones that your brand should strive to resolve. This includes prematurely solving them before they actually become problems, or even just lessening the pain to some degree.
Streamlining your customer experience will resolve pain points before you know it. From advertising to the point of purchase, and even to re-targeting customers, ensure your customer can get from points A to B with little to no resistance.
Generally speaking, there are four primary pain points:
Financial pain points: Are your customers overspending elsewhere? You should aim to offer better value, lower prices, or greater deals on products or services.
Productivity pain points: Are your customers spending too much time during the customer experience on other websites? Build an easy-to-navigate website. .
Process pain points: Can your customers easily make use of your user applications? Strive for non-complicated profile and account systems, as well as tools like live chat and intuitive user interface (UI), such as interactive toolbars.
Support pain points: Can you cater to all of your audience? Provide different language options, methods of contacting you, and ways to help if they get halted at any point of the customer journey.
Identifying these pain points and how they affect your customers is vital. You can opt to be more formal, such as conducting customer and sales research, or rely on more casual feedback like social media posts.
While no two customer problems are the same, there are some universal issues to keep in mind. You can solve some of the most basic customer pain points by:
Utilize omnichannel marketing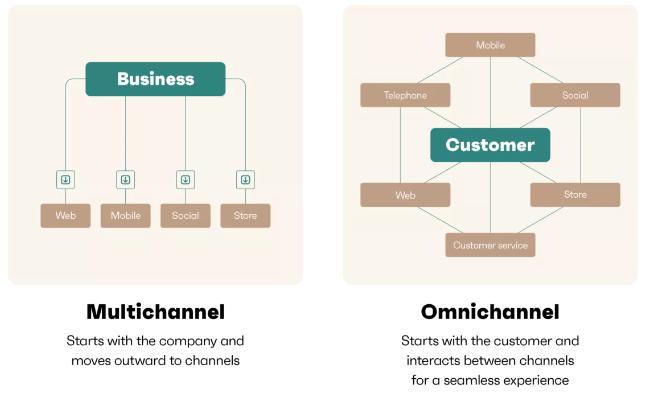 Owning multiple marketing channels is one of the most important and obvious tactics that used for customer engagement marketing.
This isn't just some nice-to-have addition to your pre-existing strategy — it's downright necessary to success. And the sooner you get on the bandwagon, the sooner you'll see results.
While engaging with omnichannel marketing, you should always strive to put your best foot forward. Positive messaging and open communication helps here, with a vital part of omnichannel marketing being the ever-important welcome email.
You should always check if you have missed any opportunities with omnichannel marketing. Other than email marketing, making sure you have lines of communication with your audience is the key to customer engagement. This can range from the aforementioned social media to having live chat available on your website.
The purpose of omnichannel marketing is to answer the question: "how can we enhance the customer's experience?" This is true whether it's strictly a shopping experience, if you're trying to cater to your customers everywhere, or if you're aiming to improve the experience in real-time.
With Omnisend, you can create and manage a five channel marketing strategy in just minutes. From sending personalized emails to automating your SMS, you can yield better customer engagement without ever lifting a finger.
We offer:
Automated email and newsletters with no-code builders
SMS and MMS workflows to hundreds of countries worldwide
Web push notifications that instantly retarget your shoppers
Facebook custom audiences for extra reach and awareness
Native integration with the Google Ads network
Plus, Omnisend was built for ecommerce brands alone. Whether you're using all five channels or just one or two, our infrastructure was built for B2C companies at any stage of growth.
Kick your omnichannel customer engagement strategy into high gear with Omnisend's email & SMS marketing
Increase your engagement
Request feedback
Feedback is a major contributor to successful engagement marketing.
One of the best ways to obtain feedback is with a dedicated channel or specific listening center. This includes pages on your website or buttons in your emails to collect feedback from across the spectrum — both rave reviews and critical remarks. Even if a complaint is less-than polite, it's still necessary for audiences to see.
Don't forget that your response to customer criticism is extremely important. Digital audiences are always watching, and now that one in two customers expect a response to criticism within 24 hours or less, the onus is on you to make things right fast.
Tell your customers when you have improved your website or service because of their feedback. Write about it on your blog, spread it on social media, and get the word out about your new improvements. Both customers and potential customers will see the results of your labor, and understand that you're willing to adapt to what they want.
Focus on great storytelling
If there's one thing we all share in common, it's the love of a good story. And when it comes to brand-building through ecommerce engagement marketing, storytelling is an absolutely must.
Thankfully, the art of crafting a branded story is much simpler than you'd think. For example, storytelling can come from:
Writing about your employees
Exploring a case study
Discussing recent events
Examining highs and lows
Asking customers to share their stories
Take an idea and run with it, or implement weekly or monthly themes across all of your channels. Customers will appreciate the congruencey, especially your more active buyers.
Remember: to build trust with your branding, stories must be genuine, authentic, and human-centric. Don't try to lie or hyperbole your way into a customer's line of sight. You might attract their minds, but you certainly won't capture their hearts.
Learn from others
Never settle for your current level of customer engagement. Always strive to improve — even just 1% every day.
This is where the likes of conferences and summits come into play. There will always be places, whether physical or digital, that act as a gathering spot for companies and mentors.
Alternatively, bring the learning to you by inviting industry specialists to speak to your employees.
Customer engagement marketing strategies
Once you understand that engaging with customers isn't strictly about buying and selling, you're ready to consider the best means for establishing a connection.
Here are some simple ways to bring your customer engagement strategy to life.
Set up your brand voice
These days, brands are bigger than businesses. They're an embodiment of your products, your mission, and your vision of the future.
It's time you started sounding like it.
Simply put, your brand voice is the way your company sounds — on paper, in an email, or on its primary website. There are many ways to curate a brand voice, although the only caveat is that it must sound like you and you alone.
For example, perhaps your brand uses bold font, emojis, and lots of exclamation marks. On the other hand, your brand could sound more formal, use more commas, and follow a strict set of guidelines.
Some great examples of brand voice include:
Coca-Cola: Fun, friendly, and polite.
Apple: Innovative, groundbreaking, and forward-thinking.
Harley-Davidson: Rebellious, wild, and free.
Once you have a general idea of your brand voice, record it in a bible or a guidelines document. This will be extremely helpful as your company grows, and help the rest of your marketing team align with your tone.
Make good use of social media
Engaging with customers over social media and listening to feedback improves your brand. To succeed, you need to have your finger firmly on the pulse. Today, reports show that over half of the world population uses social media.
To truly make the most of audience engagement, you need to understand where they are. Is it Facebook? Instagram? Some other social channel? A little research on your competition can help if you're unsure where to begin.
No matter which networks you decide to use, don't just connect — engage with your customers.
Open lines of communication by engaging with people who interact with your posts or page. This opens a direct way to promptly reply to questions while boosting your brand image.
Of course, don't jump in without due caution. Always understand your audience and their expectations (spoken and unspoken) regarding your brand.
For example, it would be perfectly acceptable for an ecommerce bookstore to share stories about new bestsellers. However, it wouldn't make sense for them to start sharing content related to events outside their locus of control.
One of the most popular ways to engage customers is through advertising. It's worth considering what tools can be used to target specific customers. At Omnisend, we help brands seamlessly retarget social media ads on platforms like Facebook and Google. This is one of the best ways to maximize advertising to business audiences and engage customers at scale.
Personalized customer experience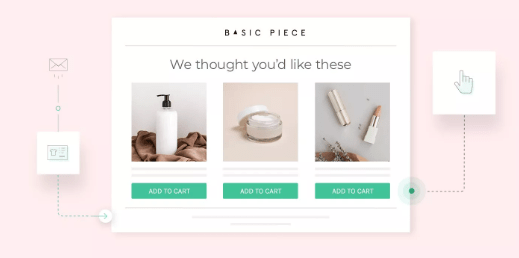 Personalized content can extend to engaging with customers when selling to them. Creating relevant product recommendations also engages with your audience as it helps them find other products that they're likely to want.
You can gently nudge customers at almost any point during their journey on your website. For example, at the top or the bottom of the page of your home page.
You can also use 'recommended products' in category pages, or pursue cross-selling opportunities on individual product pages themselves. Either of these options show customers that you understand what they're looking for, with accompanying products that can improve upon or pair well with their primary purchase.
Just as a side note, your readers and customers aren't going to want product personalization alone. Personalization should be evident throughout every channel owned by your business, including emails, website visits, and social media.
Only then will you have a truly engaging omnichannel presence.
Loyalty systems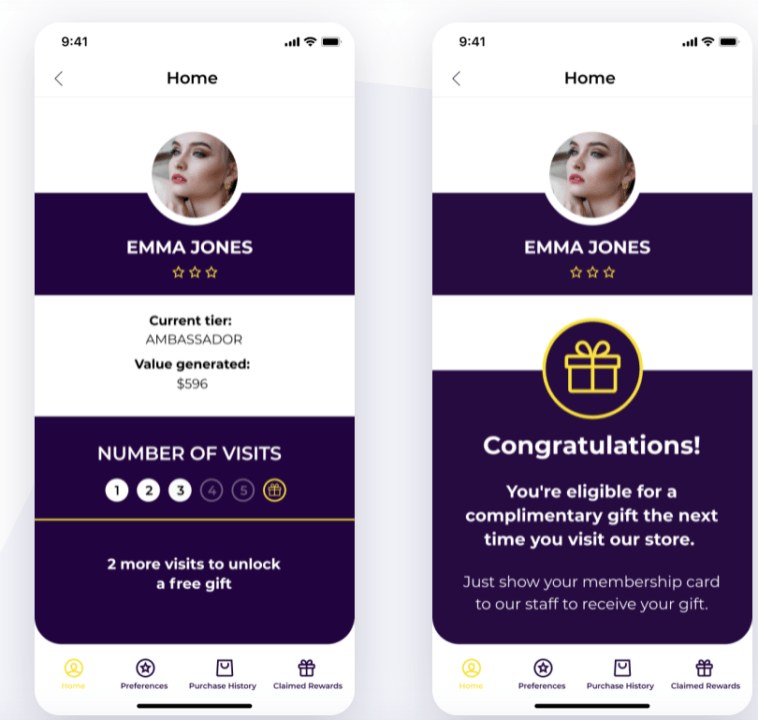 Brand loyalty is vital to any marketing strategy. Customer loyalty programs are proven to boost sales while you stay in customers' good graces.
One prime example of rewarding your customers is by offering a loyalty points system. This involves assigning points to specific interactions, such as creating an account with your website or making purchases, and then providing incentives for using those points. This can include discounts on purchases or free gifts.
Another great way to improve customer loyalty is with unforgettable experiences. Whether it's the brand packaging or something you send to your customers, unboxing experiences reinforce your brand and make it memorable.
Stay in touch with your VIPs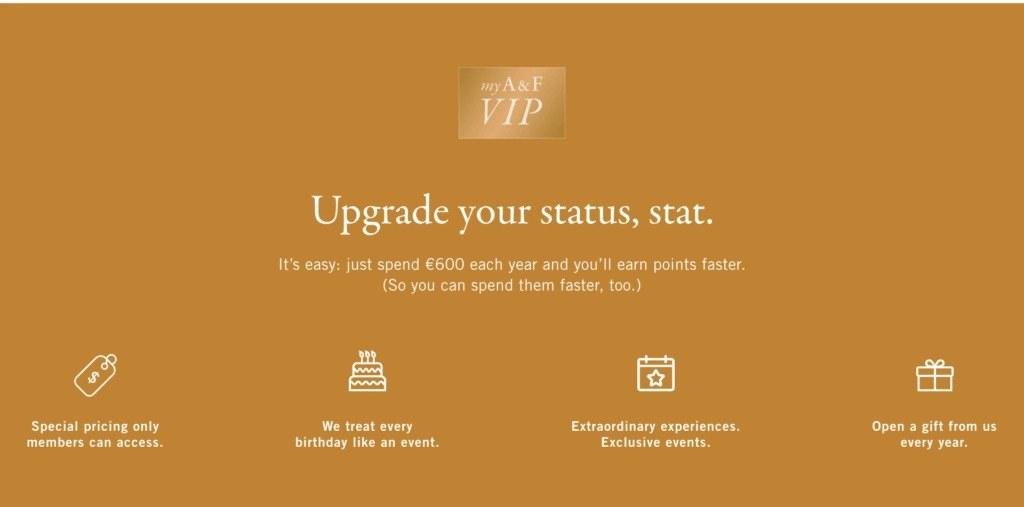 Value the customer who values you with a special VIP treatment. Depending on your brand, this could mean special promotions, unique products, or invitations to exclusive events.
VIP customers don't necessarily mean high-spenders. In fact, VIPs are often long-timers who buy from you frequently.
There are two kinds:
Community-based: Those who promote your brand across multiple platforms
Liberal-based: Those who spend more than others and do so more frequently
It's worth knowing how to approach each type.
For example, community-based customers respond more positively to unique experiences or public engagement. Liberal-based customers respond better to specific promotions and unique items.
However you decide to approach your customers, ensure that you communicate with them effectively. You may want to use smart segmentation to ensure you're checking the right boxes.
Gamification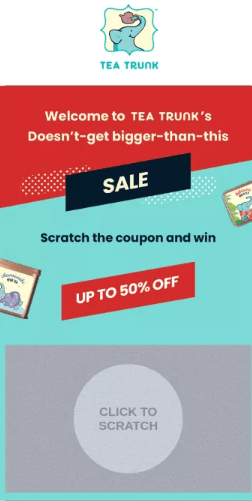 Any brand can engage in conventional marketing, but those that add some fun to the marketing experience are the ones that truly succeed.
Hence, gamification.
Gamification can take on a variety of forms, such as scratch cards or "wheel of fortune" mechanisms. The goal of gamification is to produce joyful marketing interactions, leading to engagement that is more organic-feeling and rewarding.
The gifts you give away could be practically anything. It could be a deal, a discount, or even a free gift. Just make sure that it's generously valuable.
Gamification is a fantastic way to playfully engage with your audience. It provides customers with something that they want, and gives them an opportunity to close the gap first.
It's certainly worth the effort, given that gamification can lead to 74% higher engagement rates.
Customer engagement examples
Once you have a winning strategy in place, you can begin to craft engagement campaigns that cater to specific customers and engage with certain demographics.
Let's examine some good examples of customer engagement below.
Hawthorne.co
Hawthorne is an ecommerce site that provides a wealth of personal care products. Mostly known for its fragrances, Hawthorne kicks off its customer experience with an interactive quiz. It's the first major tab of its website and the primary focus of many marketing campaigns, the likes of which are often heard on podcasts geared to young adults.
It's a fun way for customers to find the right product for them. In fact, the result feels like a custom fit.
Hawthorne's brand engagement strategy manages to blend benefits to both customers and the company, making them a great customer-friendly example.
The Paramount Sonic movie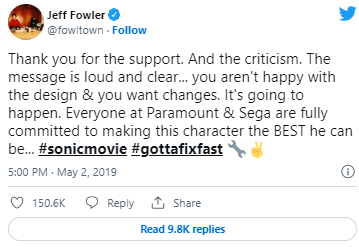 The 2020 Sonic the Hedgehog movie is a lesson in humility, foresight, and embracing feedback.
Criticism was sparked with the release of a silhouette of the character, which exploded during the first trailer reveal.
The internet's voice came across loud and clear — it was one of shock, horror, confusion, and mockery. Director Jeff Fowler announced he would take the character's design back to the drawing board.
This was a complete success. Upon release, Sonic The Hedgehog made $300 million in profits and became the highest-grossing video game film adaptation of all time in North America.
Listening to his audience, Fowler reaped the benefits of customer engagement in a very unique way.
Honey – Joinhoney.com
The greatest customer engagement programs work so seamlessly that they're designed to work in the background.
Take Honey.com for example. This browser add-on acts as an online coupon finder for users, becoming an accompaniment to any domain on the web.
Honey's ability to instantly find discount codes makes it a tantalizing prospect for virtually everyone. Best of all, it's free.
Currently boasting 17 million users, Honey teaches a valuable lesson about how ecommerce sites can improve website customer experiences.
Heineken.com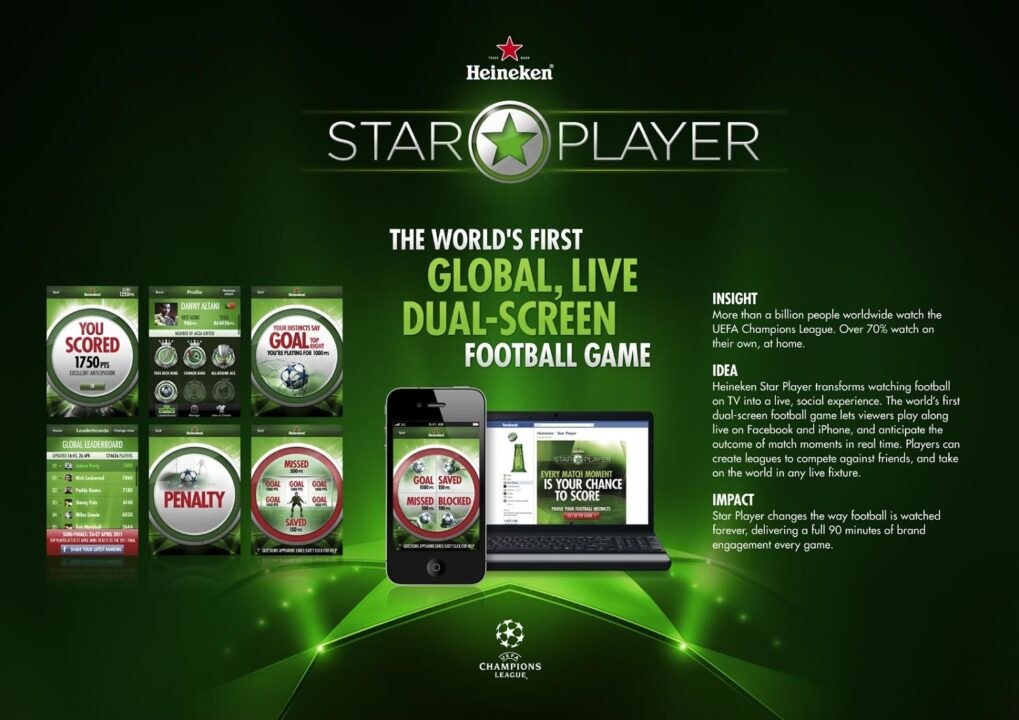 Different businesses and industries require different customer engagement strategies. However, some strategies are universally useful to consider, especially when looking at major players.
The Heineken Star Player app is a great example of this. Developed in 2011, the goal of the app was to gamify user's predictions of football games as they happened. Users could compete against friends, play while watching live games, and ultimately stay engaged with Heineken's brand for a full 90 minutes.
Case in point: gamification is one of the few ways to make your ecommerce company stand out. Don't rule out taking ideas and strategies from other industries, and lean into innovation whenever possible.
Enable your customer engagement with Omnisend
No matter your audience or industry, the effective use of a customer engagement marketing strategy will catapult you from basic business to beloved brand.
Omnisend's services and features help you build and maintain great customer engagement in various ways, with different channels for reaching your audience, new avenues for targeting customers with marketing campaigns, and tools for improving customer experience processes on your website.
Increase customer engagement and boost your brand equity by signing up with Omnisend today. Go ahead — it's free.
Join the 75,000+ ecommerce brands that are growing with Omnisend every single day.
Start Free Today
related features
Want more sales?
Omnisend has everything you need to succeed.
Start free now
No Credit Card needed.