Customer Reactivation Marketing: Why and How to Do It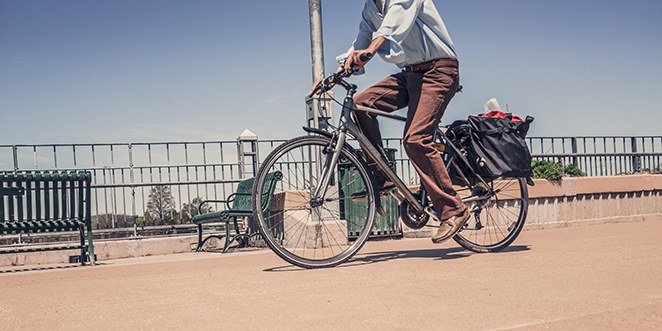 Reading Time:
7
minutes
"Every customer matters to us" is a common statement for all marketers. It's not only a dull phrase but also a working principle for most marketers—and one that drives great customer retention strategies.
Still, many customers don't feel that they are valuable and believe that they are just a number in a Customer Relationship Management (CRM) system.
The marketers are frustrated that they don't get the expected results when doing everything possible to foster a relationship with their customers.
On the other hand, customers believe that marketers tricked them into buying a product or service and don't listen to their concerns. Who is the liar and who's telling the truth?
Oddly enough, no one has lied!
The marketers in this situation just didn't choose the proper mindset, channels, and messages to interact with. Customers' needs evolve, and marketers should know what customers want. There are tools to manage complete databases of clients, but none of them gives you the perfect solution to satisfy all of your clients.
So how should marketers adopt the right mindset to be on the same side as their customers?
Marketers focus all of their endeavors on acquiring new customers, but this is a huge mistake. Securing new customers is in vain if you can't retain them and keep them loyal.
Also, sleeping customers could be reactivated to generate new sales. Instead of having a single customer acquisition strategy, you'll want to cover the complete customer journey. An experienced marketer should "fight" on three fronts: acquisition, retention, and reactivation.
This is the proper mindset to generate more revenue and boost customer satisfaction.
Marketers and bloggers share many strategies for acquiring clients, and there are some good guides about retention and fostering customer loyalty.
Unfortunately, there is significantly less knowledge being shared about how to reactivate customers. But, you are in luck! Here is a short and applicable strategy for reactivating customers.

Get your free copy of 120+ Email Marketing Resources
Advantages of Customer Reactivation Marketing
The idea is simple—it's cheaper to retain and reactivate a customer than it is to acquire a new one. This engaging infographic reveals that acquiring a client costs five times as much as retaining one.

On average, 20–25% of all your clients are lapsed existing customers. It's an important percentage, and you should take action to re-engage them. You know some of their preferences and what they bought from you. Most importantly, you can communicate with them by email.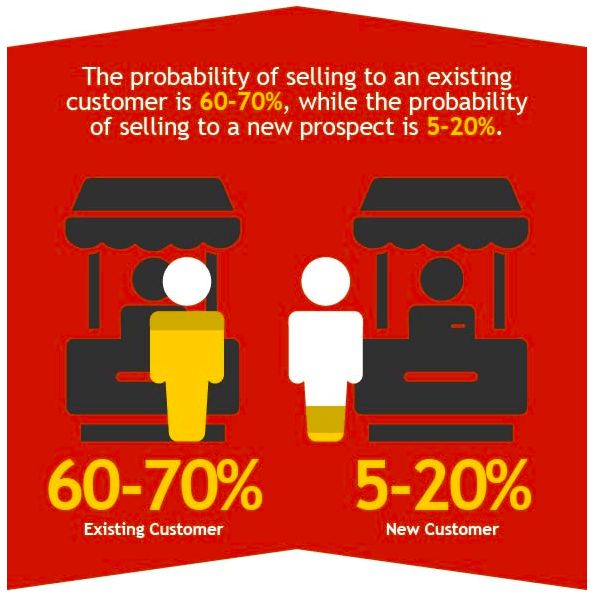 A Marketing metrics study revealed that the probability of selling to an existing customer is 60–70% while the probability of selling to a new customer is only 5–20%.
Did you realize how much money you left on the table by ignoring sleeping clients? But winning back lapsed customers isn't a simple job, and there is no set-in-stone method to achieve this goal. You can try to re-engage dormant customers using multiple channels, but good old email offers the best results.
Reactivate Customers via Email
According to the same Customer Acquisition vs. Retention infographic, email is the most effective reactivation marketing tactic to retain customers. In addition to that, there are many other benefits of email marketing, and email is an invaluable tool to reactivate your dormant customers.
Here are the steps to follow in this regard:
Identify the Dormant Customers
Customer reactivation is challenging because there are no widely used and tested patterns. It relies on the marketer's flair and experience. The first step is, in fact, the first issue—identify the dormant customers and the inactivity window.
Determining dormant customers is dependent on the business profile and the cadence of your emails. The inactivity window of a client buying seasonal products is different from a customer buying clothes. On average, the inactivity timeframe might be 90 days, but in some cases, it might even be 12 months.
To realize how many of them does your business has, you can create a segment of inactive users.
Prepare Your Messages
At this stage, you have a few groups of email recipients who have lost engagement with you. Some of them have been dormant for a long time. If that is so, the win-back rate is pretty low, and only a huge discount might capture their attention.
Another idea is to ask if they are still interested in your brand. The feeling of an ultimatum, your regret, and a huge discount may convince people to buy again from you.
Another segment is represented by individuals who often bought from you and suddenly became inactive. Write an email informing them about your appreciation and that you are wondering if you can do anything for them.
For instance, you could send an NPS survey and give a discount for completing it. It is hard to track direct results, but you interact with lapsed customers in a natural way—you ask for a small contribution and reward the participants with a discount. It's a deal advantageous for both sides. The win-back rate is high for this segment, so you pay close attention to these customers.
You may organize occasional customer retention campaigns. However, the smarter way to retain customers continuously is to set up automated customer reactivation series of three emails. It is an automated workflow, which you launch once and forget for a while.
Automated emails are being sent to customers when they become dormant. In this way, you save your time and you don't have to build new retention campaigns every time you recall about it.
Test, Test, Test
Someone once said that testing is the best friend of a marketer, and I couldn't agree more. Dormant customers are relentless and will sanction any mistake. Check all your messages before starting the win-back marketing campaign. This step is ignored by many marketers, but you shouldn't skip it. This is about fine-tuning your work; don't forget that the devil is in the detail. Also, you can test your website from different countries by using VPN.
Tips for Reactivation Emails
Over time, marketers noticed that some techniques work great in reactivation emails. Keep in mind these best practices when writing your email copy:
– The subject line should be short and obvious. This is why subject lines with expressions such as "We Miss You" or "Come Back" achieved almost a 13% read rate. An uninspired email subject line may ruin an entire campaign; it is what the recipients see first.
– Return Path research shows that people prefer "$ discounts" more than "% discounts." Customers are pragmatic and want to see effective cuts; it's better to write "Grab your $30 gift ticket" than "30% off every item you buy."
– Combining an expression such as "Come Back" and a "$ Discount" is the winning formula for a subject line. An Experian study found that a subject line like "Come Back and Receive a $10 Coupon" is associated with a 66% revenue growth.
– Write a personalized copy and convince people that you genuinely want to connect with them. Refer to their past purchases and recall your relationship. Your message should be emotional and informal.
– A single email isn't enough; a reactivation series of three emails is proven to be more efficient. The inbox of your dormant customers is as full of offers as yours is, and there is a high chance that your email wasn't noticed or was even deleted by mistake. A series of three emails is enough to be sure that your message was delivered and read.
Customer Reactivation Email Examples
As you can see, it's not rocket science to reactivate dormant customers. It's all about hard work and a spark of creativity when sending reactivation emails. Even brands with tons of followers and email subscribers don't allow the luxury of wasting lapsed clients. Check out these examples.
Doggyloot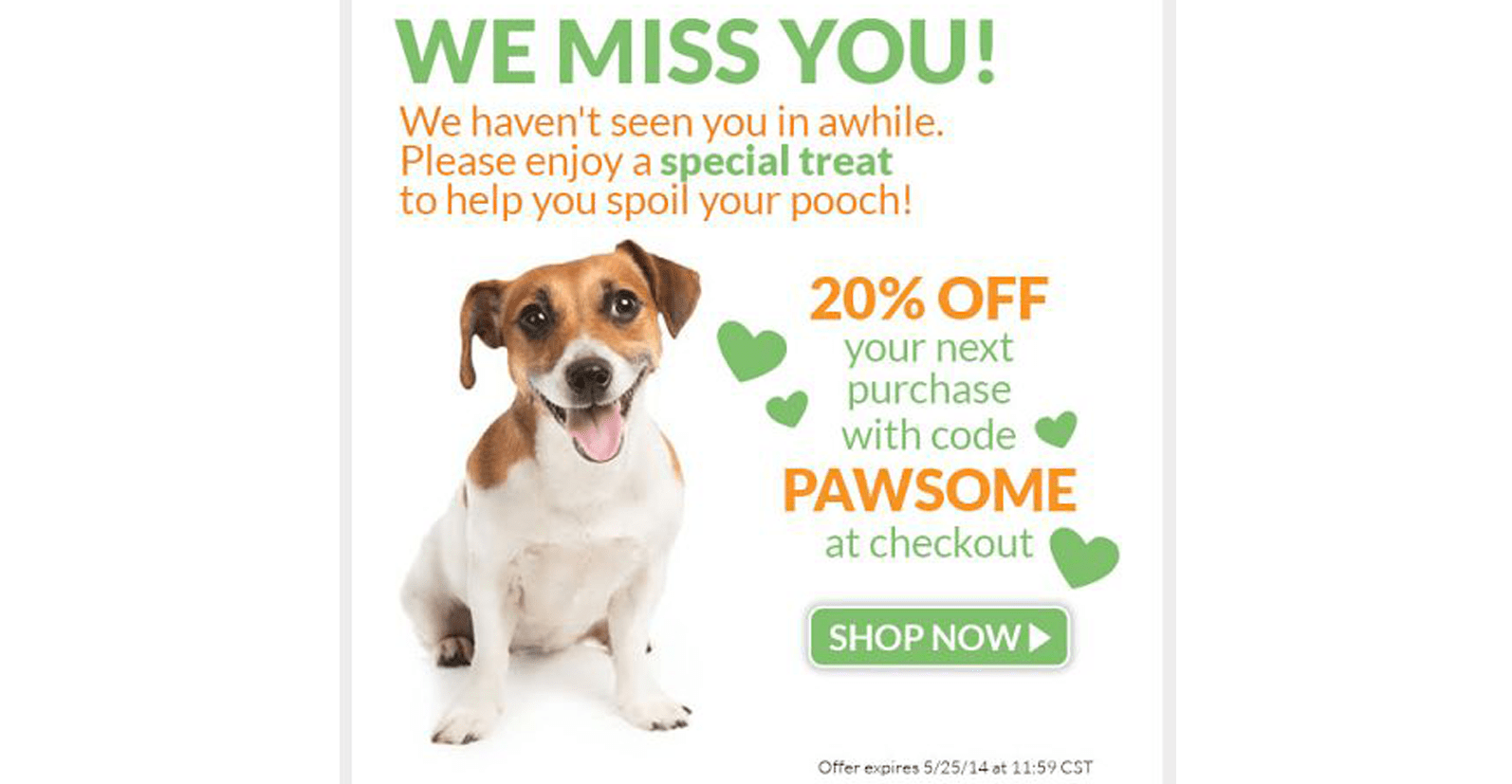 This email is simple and charming; the lovely dog plays a capital role by staring at you. Could you be so heartless to ignore his smile? In this way, the sender is sure that the receiver pays attention to the message—that is, of course, if the email is opened. Another plus of this email is the color combination.
JetBlue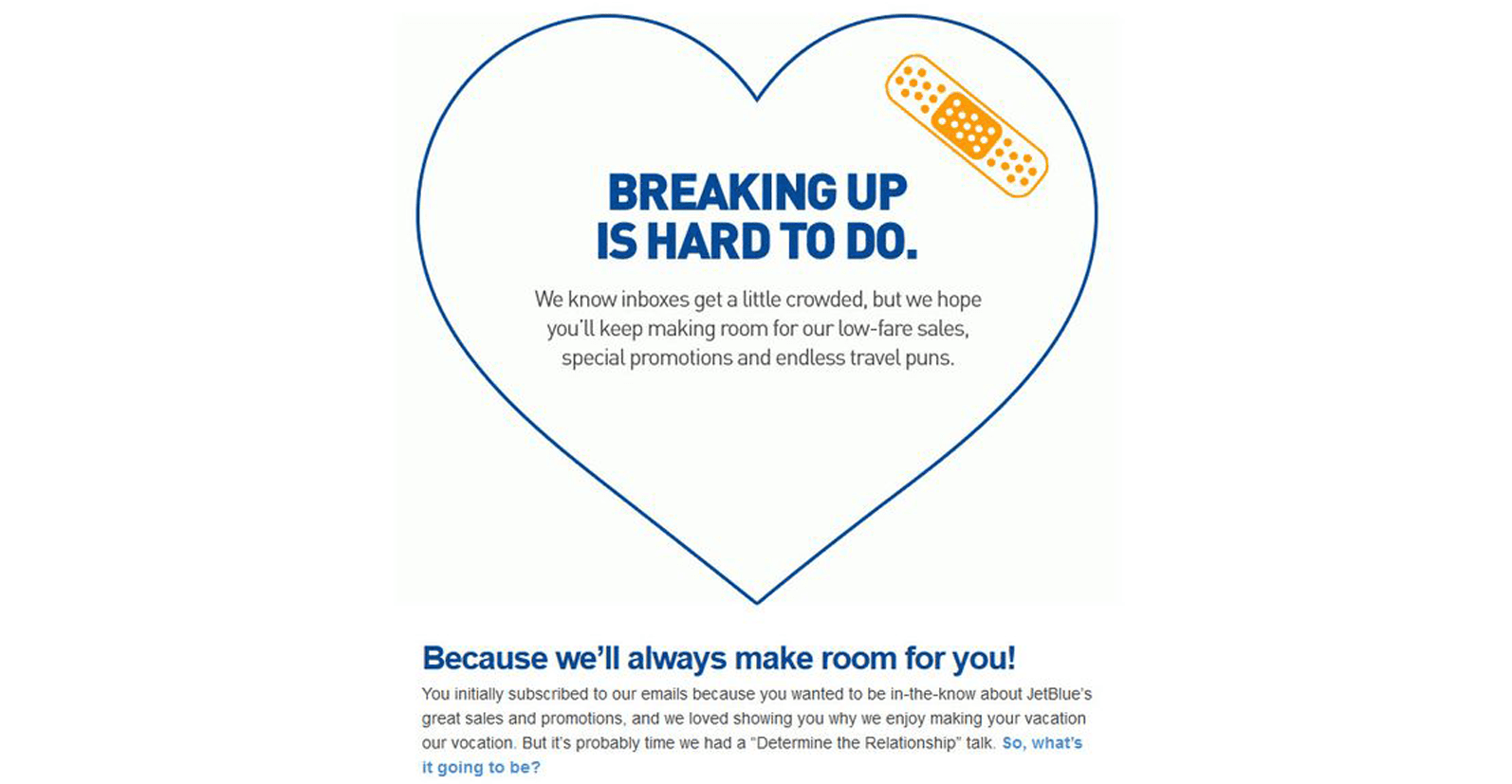 JetBlue did a great job with this email. Instead of a boring message such as, "are you still interested in receiving our messages?" it uses a playful approach. The dormant relationship customer-brand is associated with a couple on the verge of breaking up.
The receiver has three solutions: "let's stay together," which means to keep on being a subscriber; "it's complicated," which means change email preferences' and "we're on a break," which means unsubscribing.
Certainly, this email gets the highest mark for originality.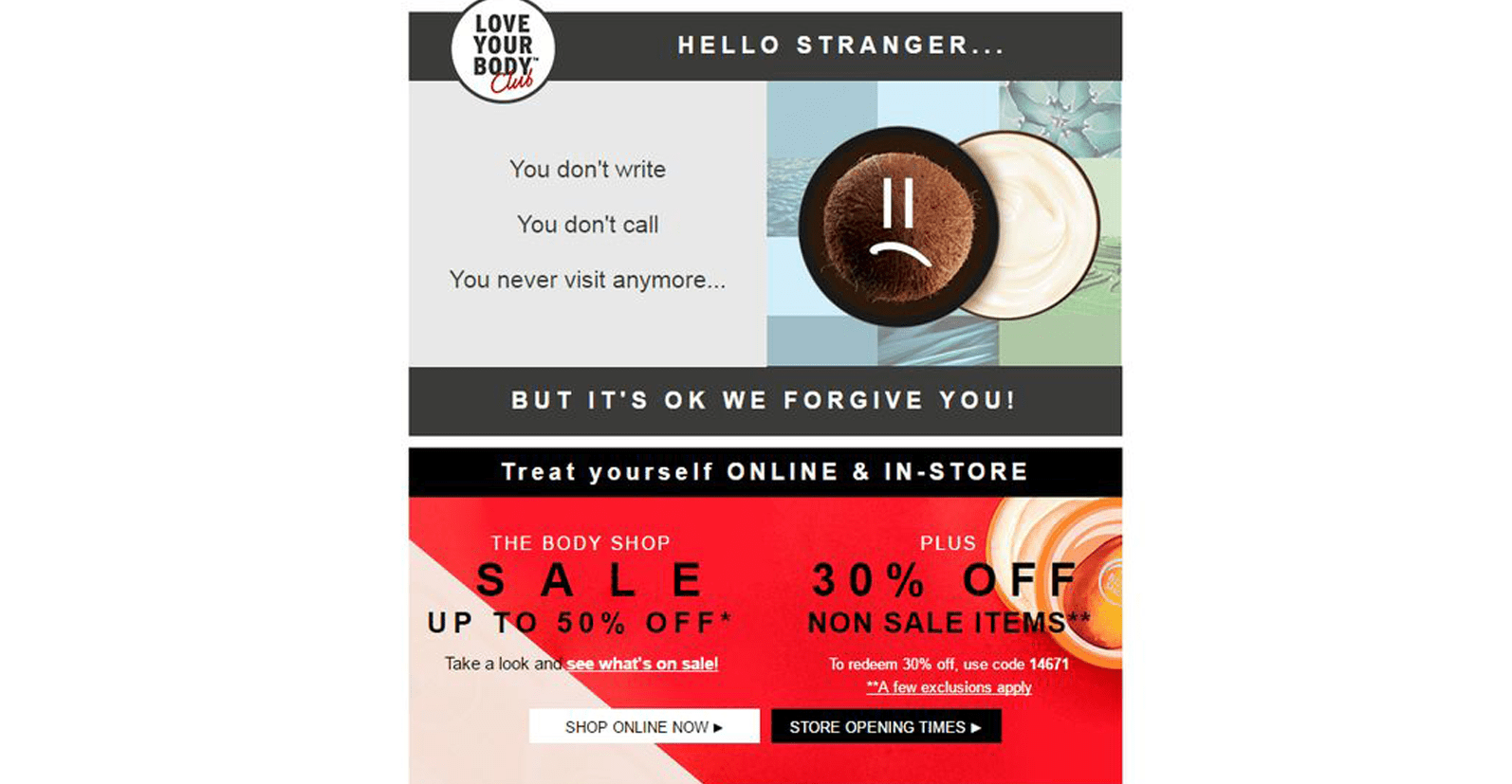 While the design of this email isn't top-notch, the audacious copy deserves being featured here. It's an email that reminds receivers about their great relationship with the company.
On top of that, the company forgives the receivers for their inactivity. I like this approach; if I were the receiver, I would buy again from them. Do you agree with me?
The Bottom Line
Get your hands dirty with reactivation marketing. You have no excuse to turn a blind eye to your lapsed subscribers. Don't forget to try out Omnisend's email templating tool and get ahead of the competition.
I wish you good luck in your attempts to win back lost or inactive customers through reactivation marketing. If you have already run a similar campaign, please share your results with us!

About the Author:
Roland Pokornyik is the CEO of Chamaileon.io and EDMdesigner.com. His company helps people to create mobile-friendly email templates without writing a single line of code.
Get a personal 1-on-1 Omnisend demo that will supercharge your next campaign!
Get My Demo