Drive sales on autopilot with ecommerce-focused features
See Features
Email list cleaning best practices to save money & increase engagement
Reading Time:
13
minutes
You might be increasingly concerned by your plummeting deliverability.
Or maybe you're sitting on a huge email database that hasn't been touched in years—you got so distracted seeing the number of subscribers go up, you forgot to check which are legitimate or null—and end up with a mess of invalid, fake, or outdated email addresses.
Now, the mess is so big it seems impossible to clean up.
It's now time to face the music, whether you're being proactive or reactive to addressing spam responses, sender reputation damage, and wasting money on null contacts.
If dirty data is hurting the performance of your campaigns, it's time to clean your lists—and it's never too late.
Email list cleaning can seem like a daunting task, though. It takes a lot of time and resources to work through thousands of contacts to spot and remove typos, duplicates, and bad email addresses. And what's the best way to go about it? Download everything into a spreadsheet? Track metrics like bounce rates? Or are there tools that can speed up the job?
Read on to learn:
What email list cleaning is
Why you need to scrub email lists
When, how, and how often to perform email list cleanup
What tools to use
Which email list cleaning best practices we recommend
Let's get into it.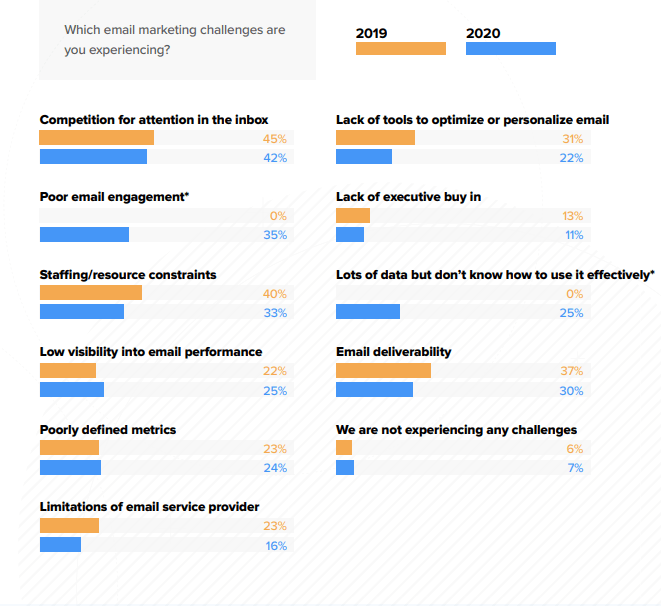 *The following response choices were added to the 2020 survey: Poor email engagement, Lots of data but don't know how to use it effectively
Want better results from your ecommerce marketing campaigns?

Omnisend cleans your email lists and helps you send emails that convert at scale.

Book a demo.
What is email list cleaning?
Email list cleaning or "scrubbing" is the process of regularly updating your email lists by removing fake, duplicate, or invalid email addresses and unengaged or inactive subscribers, and honoring unsubscribe requests.
Email list cleaning is part of email list management best practices and helps ensure you're working with standardized, coherent, usable, and trustworthy data.
What dirty data is costing your company
Your database is one of your most important assets, so maintaining a healthy email list is vital to helping you tap into that pot of gold.
Dirty data hurts your business because:
It affects your sender reputation
Internet service providers are getting better at keeping unwanted emails out of inboxes. If a high percentage of your emails are going to spam folders, that affects your sender reputation and email deliverability rate.
Your sender reputation is affected by factors like:
How many subscribers open your emails or click on your links.
The number of emails that aren't delivered because the recipient's email address is invalid, incorrect, or non-existent (aka hard email bounces).
The number of emails that are deleted or labeled as spam.
Whether you're sending to spam traps (invalid emails hidden on websites to trap anyone scraping them).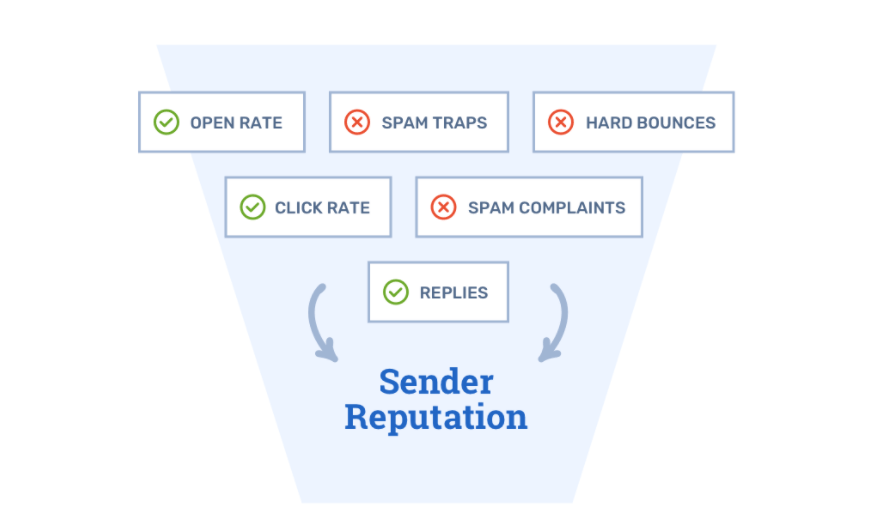 It costs you money
Omnisend removes invalid subscribers after the first try, but many other email marketing platforms charge by the number of subscribers and only remove soft bounces after several tries. So if you're emailing disengaged or invalid subscribers, you're paying unnecessarily. We even ban users with really high bounce rates.
Performing an email list cleanse sounds time-consuming, but it saves you hours further down the line dissecting campaigns to see why they didn't work—not to mention having to put other projects on hold while lists are cleaned.
It causes system-wide errors
If your database is shared across multiple sales and marketing tools, any errors are duplicated. This hampers sales and marketing efforts and causes problems throughout the customer journey, right through to product dispatch.
It leaves business on the table
If you're failing to reach high potential subscribers because of mistakes like typos, you're missing out on revenue creation opportunities. And if a hot lead subscribes but makes a mistake in their details that you can't easily identify, they could go cold by the time you spot it, if you ever do.

It affects your ability to understand engagement
Dirty data makes it very difficult to understand your subscribers' engagement and personalize content for them. Personalization is increasingly important in ecommerce marketing and, according to the 2021 Email Benchmark Report, can significantly boost inbox placement rates.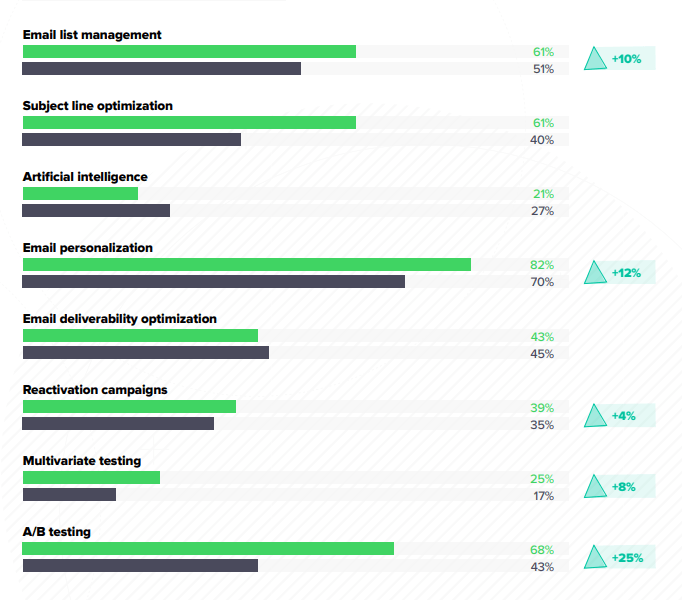 Why less is more when it comes to clean email lists
With email marketing campaigns, people often assume big is best. The larger your list and the more emails you send, the more likely something sticks, right?
Wrong.
A big reason why your email metrics might not be hitting benchmarks is that your list has too many illegitimate or invalid emails, which:
Cause bounce rate havoc
Don't land in recipients' inboxes, so don't generate clicks or opens
It's better to have a smaller list full of engaged subscribers than a large one with low open and click-through rates. Cleaning your list is like creating a big segment of good email addresses.
In our 2020 Marketing Automation report, segmented campaigns outperformed non-segmented by between 52% and 110% in terms of open and click-through rates, and orders.
Imagine that on your entire list.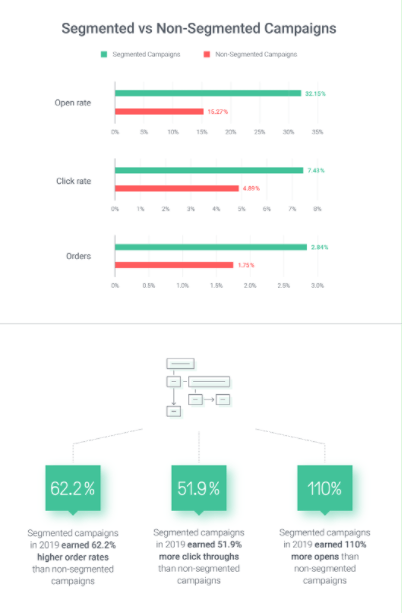 How do email lists get dirty anyway?
The quality of email lists is affected by:
Using bought lists that include spam traps and people who didn't opt in or aren't your target market, which means you could fall foul of data protection legislation like the GDPR and/or be reported as spam.

People switching email providers or failing to update changes in their contact and personal details.
What are the benefits of email list cleaning?
Practice email list hygiene and you should see improved results thanks to:
Better deliverability, email open rates, click-throughs, engagement, and conversions.
Lower bounce rates and fewer spam complaints.
Most importantly, it reduces the campaign costs and boosts ROI.
List management best practices like validating email addresses, organic list building, and honoring opt-outs are also associated with inbox placement rates of 90% or more.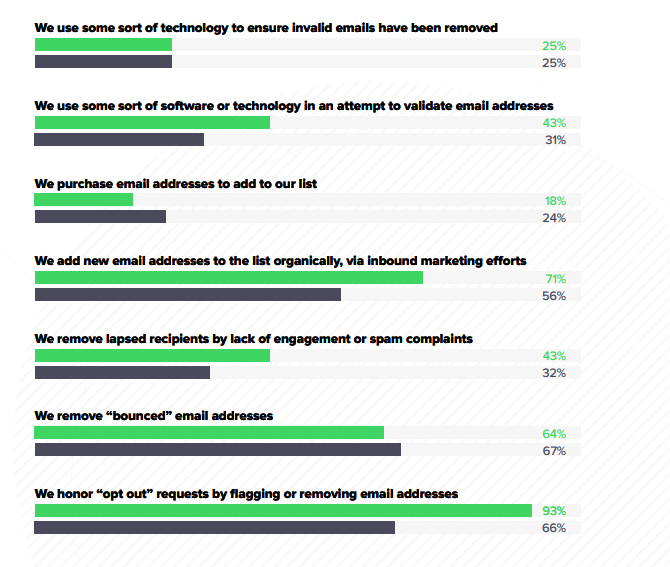 If you're using an email list cleaning tool, it also:
Saves hours manually checking lists to detect invalid or fake emails and fix errors
Performs bulk email verification
How to clean up your email list and keep it clean?
Audit your campaigns
Start by analyzing your campaign metrics and comparing with industry benchmarks to see if you have higher-than-average hard bounce rates and/or low engagement.
If you're using Omnisend, you also get detailed sales tracking and attribution and a 360o overview of engagement, ROI, and performance.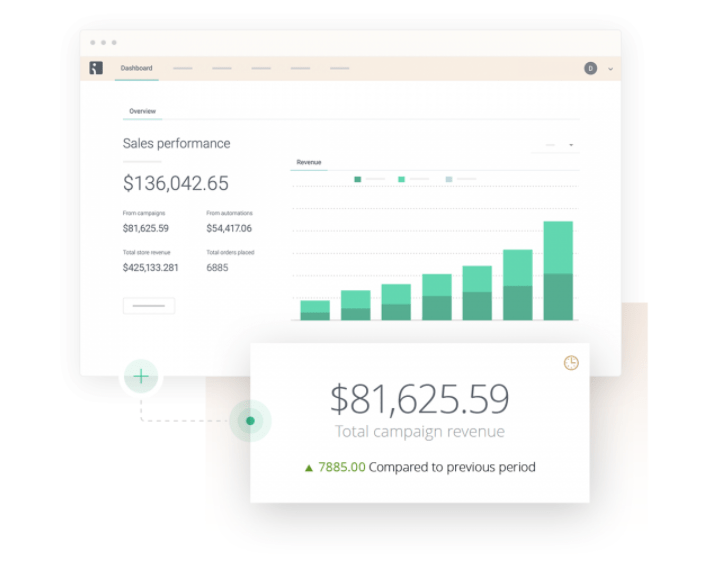 Run a re-engagement campaign
Send out re-engagement emails to try and salvage disengaged subscribers. No threats, no gimmicks, just engaging, automated "Still want to hear from us?" win-back emails, with follow-up a few days later for non-responders. You'll be amazed how many decide to stay.
If they're still not engaging after that, it's time to let them go.

Clean your lists
Scrub your lists using bulk email verification and list cleaning services or dedicated tools like Mailgun to weed out risky or invalid emails (like [email protected]), spam emails, typos, and catch-alls. Catch-alls are email servers that accept any emails that share a domain, even if they have typos or don't exist.
You can usually upload lists as a CSV or similar, or connect tools directly to your ESP, CRM, or email platform via APIs or Zapier integrations.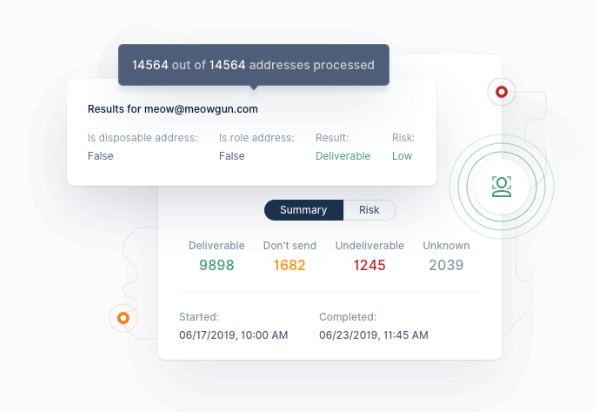 Validate catch-alls by sending emails from "disposable" addresses. For example, an account set up using a public domain like Gmail rather than your own.
Decide whether to keep or delete emails with older domains whose users may have moved on by now.
Check your domain health
Use tools like MX Lookup to check you're not on any blacklists. This is especially important if you're sending from a shared IP so that others' bad email marketing practices don't affect your reputation. If you're sending through Omnisend's shared domain, it's easy to check your sender reputation.
Start running segmented campaigns with your new lists
Limit sending to validated and/or engaged users for a while to boost your sender reputation and deliverability, and don't send to lower-quality lists until they are verified.
Use Omnisend segments to identify your most engaged subscribers and target them with engaging content.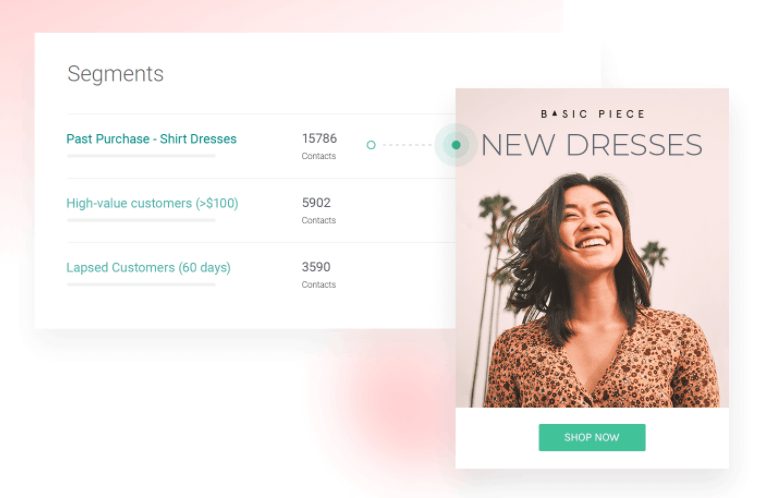 Ongoing maintenance
Establish what counts as a disengaged subscriber. For example, if they didn't engage with content in the past 3 months. Then, set up rules and triggers in your email platform to automatically identify and unsubscribe them from your most active lists. Don't delete them altogether, though, to avoid them being added to your list again in the future.
Depending on your marketing platform, you may need to set up rules to remove hard bounces immediately (in Omnisend this happens automatically, so you don't need to do anything) and determine when to remove soft bounces. Remember, some platforms charge per send, so if emails are repeatedly not getting thorough, the cost can rack up.
Practice "email sunsetting" to let go of inactive contacts.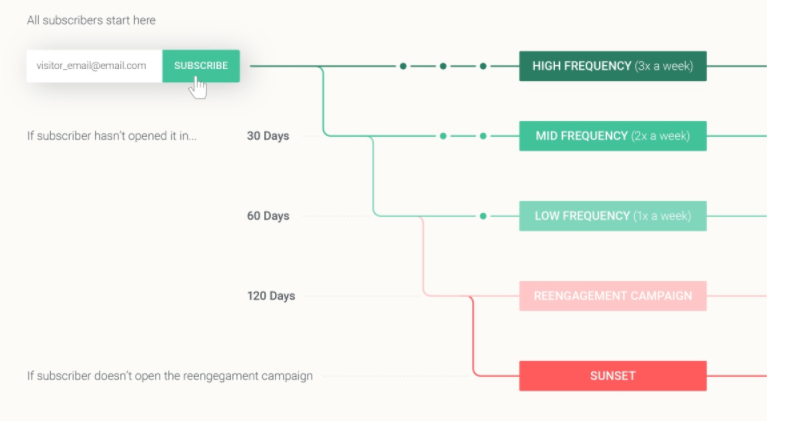 Keep lists clean by integrating your email verification and list cleaning tool with online forms, webpages, ESP, CRM, or marketing automation software to perform regular checks on your database.

Run regular manual spot checks to pick up anything the tech missed. It's also possible to remove duplicates manually by checking them in a spreadsheet pivot table.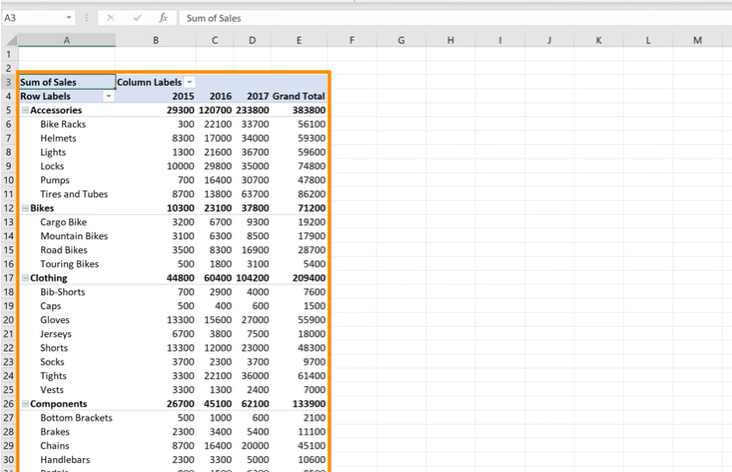 Email list cleaning best practices
Here are the email list cleaning best practices experts recommend:
Make email list cleaning a habit
Establish a regular schedule for checking and cleaning your lists, starting with your most frequently used ones.
Clean your lists when switching platforms
Always scrub your list when changing your ESP or CRM to protect your sender reputation and deliverability.
Use the right tools
Use email verification and validation tools to remove spam traps, inactive email addresses and typos, and email list cleaning tools to keep lists clean.
Know when it's time to let people go
Monitor your metrics and establish what counts as a disengaged subscriber. Remove them when they have not opened your email campaigns for 3 months.
And, remember, prevention is often better than cure:
Only use the best data sources
Never buy lists; follow email marketing best practices like building permission-based lists organically through engaging content, well-placed forms, pop-ups, and landing pages to attract the right kind of subscriber.
Never send to catch-alls unless you have other ways to validate or can closely monitor delivery.
Use the right email platform
Use an email platform that only accepts permission-based lists, and deploy Omisend's customizable TCPA and GDPR compliant forms, to ensure you don't fall foul of data protection legislation. Be aware, too, that it's not enough just to protect data: GDPR obliges you to delete any incomplete or inaccurate records.
You also want a platform that automatically unsubscribes or suppresses hard bounces and has features that facilitate segmentation.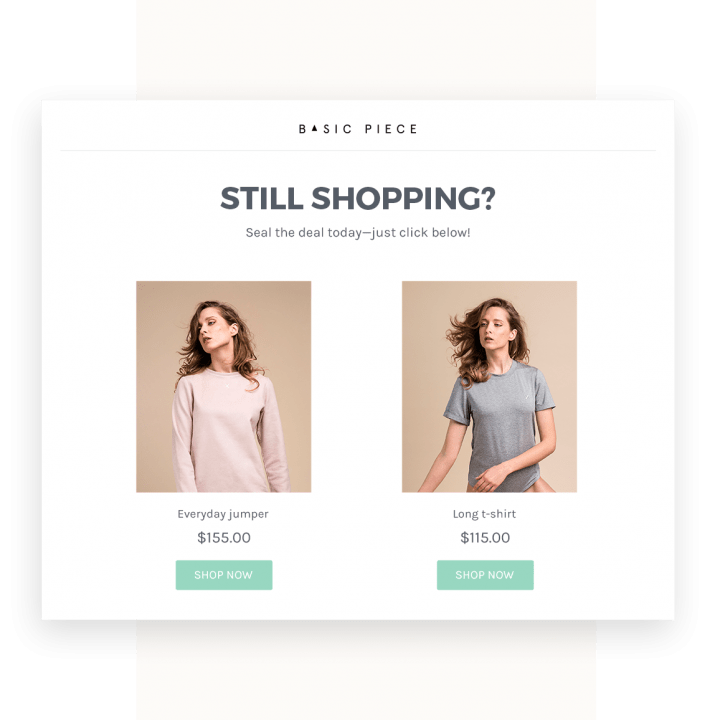 Prevent errors on sign-up
Use captchas and send automated double-opt-in emails to prevent typos and bot sign-ups, and ask new subscribers to validate their email addresses.
These help manage expectations and weed out potential unsubscribers as early as possible. Remember, though, automated doesn't mean impersonal: use Omnisend's customizable templates to personalize communications based on sign-up insights.
See our ultimate guide to email marketing for ecommerce for more on automation.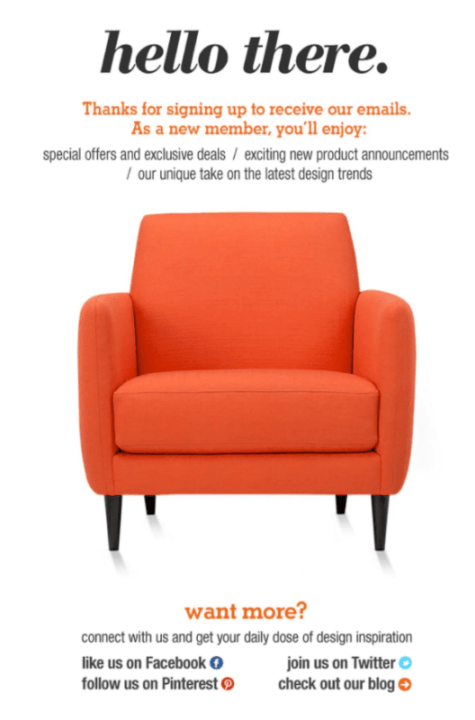 Make it easy to opt out
Allow subscribers to manage their preferences or opt out by including visible links. Hiding the link in your footer or, worse, making it impossible to find, will trigger spam complaints.
Collect the right data
Know what and how much information you need to collect on your customers, and don't ask for anything irrelevant. This varies by business but, as a rule, get first name, last name, email, and cell phone (so you can opt them into SMS). If you want to email on their birthday, you'll need that too, and brands like Betty Crocker or Disney will also want to know whether subscribers have kids.
Classify subscribers on sign-up by setting up the right fields and choices on web forms. Beware of drop-down forms that offer too much or too little choice, though, to avoid everyone just picking the first option or "other."
Use a preference center for customers to self-identify so you can segment and keep them engaged, which, in turn, will motivate them to keep their details updated.
Understanding customer demographics, needs, and behavior is key to clean, engaged lists. Plus, it helps determine what makes a disengaged customer, so you know when it's time to let go.
Deliver the right content
Personalize and deliver relevant content to boost conversion rates and keep subscribers engaged. Use Omnisend features like customizable templates, rules, filters, and e-commerce integrations to leverage detailed profiles, buying behavior, and engagement data, and outperform non-segmented campaigns by over 60% on order rates.
Use dynamic targeting to tailor content to different customer segments. So, let's say you're selling workout equipment: you should switch out the images and messaging to target what your customers care about and their goals, which will vary with their age, gender, and motivations. A 30-something first-time mother will respond to different messaging compared to an over-50s divorced man trying to get back in shape.
Never email customers without a reason or providing value, and time re-engagement campaigns according to buyer behavior and purchase size: Businesses like Ticketmaster may only run these every 18 months, Porsche every few years, and Amazon every couple of months.
Look after your sender reputation
Marketers who monitor their sender reputation enjoy higher click-through rates, so check you're not blacklisted regularly and "warm up" dedicated IPs by gradually ramping up email volume.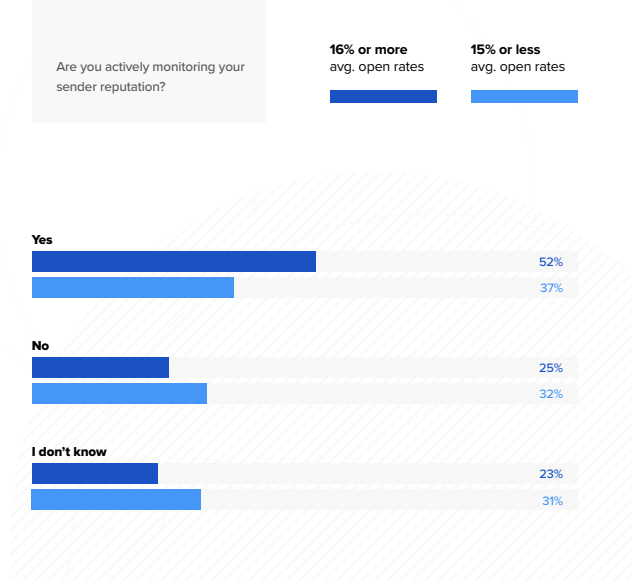 When and how often should you clean your email list?
Depending on who you ask, you'll get different answers to this question. We think once a quarter is a good rule of thumb. However, others recommend anything from once a month to every 6 months, depending on the size of your database, how fast it's growing, and whether it's isolated on a single system or shared across multiple tools. Others even recommend pulling new data for each campaign and assuming anything over a few months is invalid.
It also depends on your industry and metrics. If there are no red flags, cleaning once every few months should be fine. But if you see a spike in unsubscribes, hard bounces, or spam complaints, and plummeting open rates and click-throughs, it's time for a spring clean.
You should also clean when you inherit a list, change CRM, ESP, or email marketing platform, and before a big campaign.
Best email list cleaning services
Omnisend's recently launched email cleaning service features a free list health check to establish the percentage of risky contacts, and uses sending and delivery data from Mailgun to perform bulk validation and grammar checks on email domains across databases of billions of emails. List cleaning is generally recommended for lists with over 4% poor-quality contacts or over 10% medium-quality contacts.
Pricing: $0.20 cents per 100 contacts.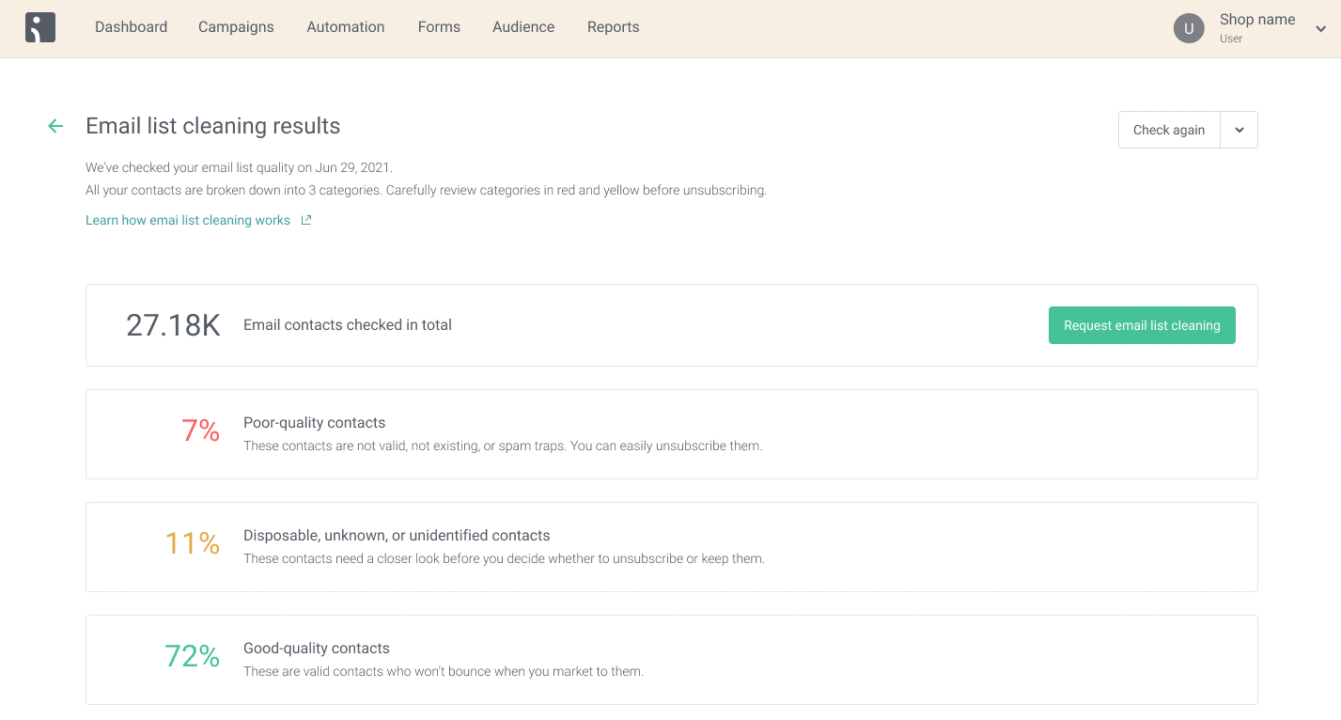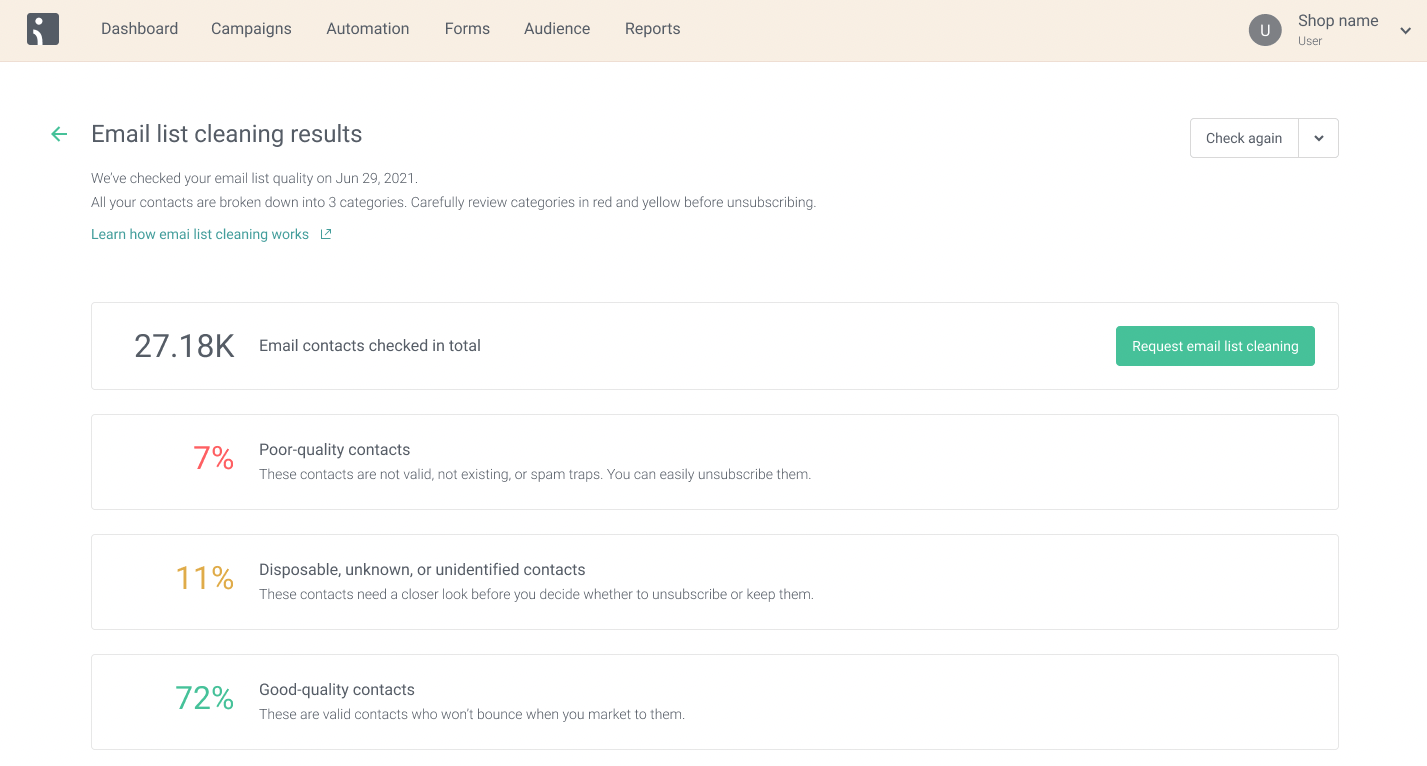 Want better results from your ecommerce marketing campaigns?

Omnisend cleans your email lists and helps you send emails that convert at scale.

Book a demo.
Does exactly what it promises by rapidly verifying contact lists imported from your ESP, computer, or via the API. Also performs real-time validation of emails incoming from marketing platforms, online forms, etc., and automated list cleaning.
Pricing:
Pay-as-you-go: starts at $4 for 500 emails.
Per-day: starts at $25 for 500 emails, billed monthly.
Free trial.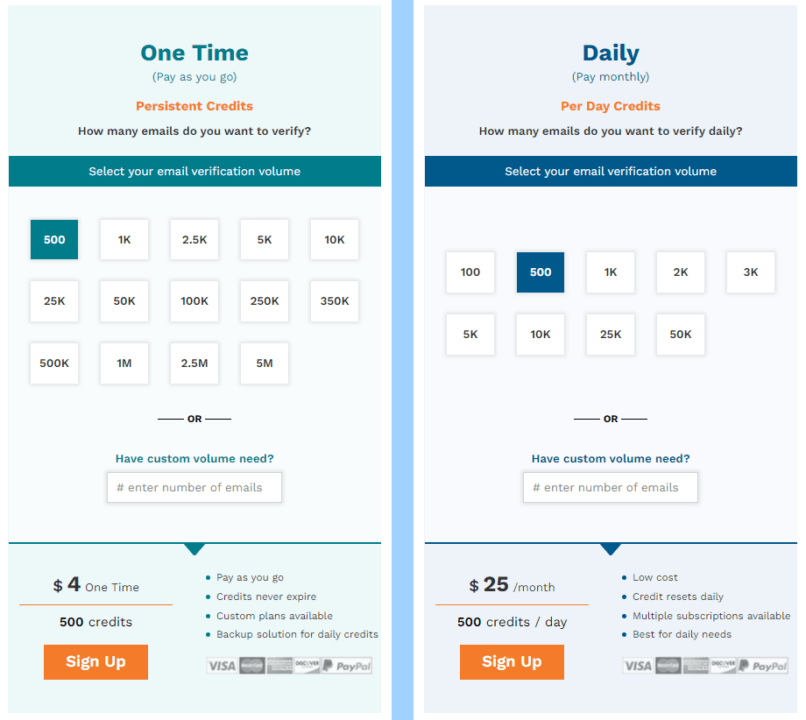 Signing off
Dirty data damages your reputation, deliverability, and conversion rates, but the right tools, techniques, and best practices can help keep your email lists clean so you can achieve better results from your ecommerce campaigns.
Get off to a good start by using an email cleaning service, and an omnichannel marketing platform like Omnisend. This ensures you're always working with reliable data and insights and can send tailored, relevant messaging to the right audience, at the right time, over the right channel.
All of this helps create a unique, engaging ecommerce experience that will keep them coming back for more.
Want better results from your ecommerce marketing campaigns?

Omnisend cleans your email lists and helps you send emails that convert at scale.

Book a demo.
Huge thanks to all those who provided insights:
Frequently asked questions about email list cleaning
What is the difference between email verification and list cleaning?
Email verification is the process of confirming that an email address is live and corresponds to a real person who could be interested in receiving communications from you. Email list cleaning means tidying up your email lists by removing fake, invalid, or duplicate email addresses.
Should you purge your email list?
If your email marketing campaigns have high bounce rates and low engagement rates, you should purge your email lists to remove inactive or invalid emails, protect your sender reputation, and improve your results.
How do you keep a healthy email list?
You can keep an email list healthy by using email verification tools to validate emails at point of sign-up, and list cleaning tools to identify and remove invalid, erroneous, unengaged, or risky emails from your databases. Email marketing best practices like segmentation and personalization will also help keep your lists healthy.
What is the best way to clean an email list?
The best way to clean an email list is to use an email list cleaning tool to identify invalid or risky email addresses and errors and identify unengaged subscribers.
How do you know your email list is clean?
You'll know if your email list is clean when your subscribers are engaged, and metrics like open, click-throughs, and conversions are high, while bounce rates remain low.
related features
Want more sales?
Omnisend has everything you need to succeed.
Start free now
No Credit Card needed.