Drive sales on autopilot with ecommerce-focused features
See Features
Reading Time:
5
minutes
For most nimble ecommerce marketing teams, personalized retention marketing might seem like something 'we're gonna take care of tomorrow'. We all realize its value, but there's only so much you can do with a lean team on a daily basis.
Omnisend's newly introduced customer lifecycle stages were purposefully built to take any guesswork out of customer retention marketing and make it easier. In short, lifecycle stages help you to:
Clearly see who & why you need to re-engage;
Prioritize your retention tactics to start from those with the highest impact;
Choose the right type of retention strategy for each of your customers.
Customer lifecycle marketing
Customer lifecycle marketing means personalizing your marketing messages and tactics as your customers move throughout the different stages of their lifecycle. And there's one main goal in doing so – to nurture and engage your customers at the right time in order to increase their repeat purchases and customer lifetime value.
In order to build timely, relevant re-engagement messages you need to take into consideration two core customer behavior variables that define their lifecycle stage:
Customer value, which is a calculated metric based on their shopping frequency and spend (average order value);
Recency of their shopping activity, which is defined by how recent their latest purchase was.
You can surely implement personalized retention strategies with just one of these variables, however, a true, lifecycle-based marketing strategy can only be built when the two are combined.
At Omnisend, we calculate and combine these two purchase behavior variables to group all your customers into eight lifecycle stages. You can see the customer value and the shopping recency represented on the vertical and horizontal Lifecycle Map axes, and all eight stages are mapped accordingly:

Lifecycle-based retention strategies
The Lifecycle Stages Map is a good starting point to plan your retention strategy and prioritize the tactics. One easy way to get started is to split it by 4 different strategy goals: Cherish – Nurture – Reactivate – Deprioritize.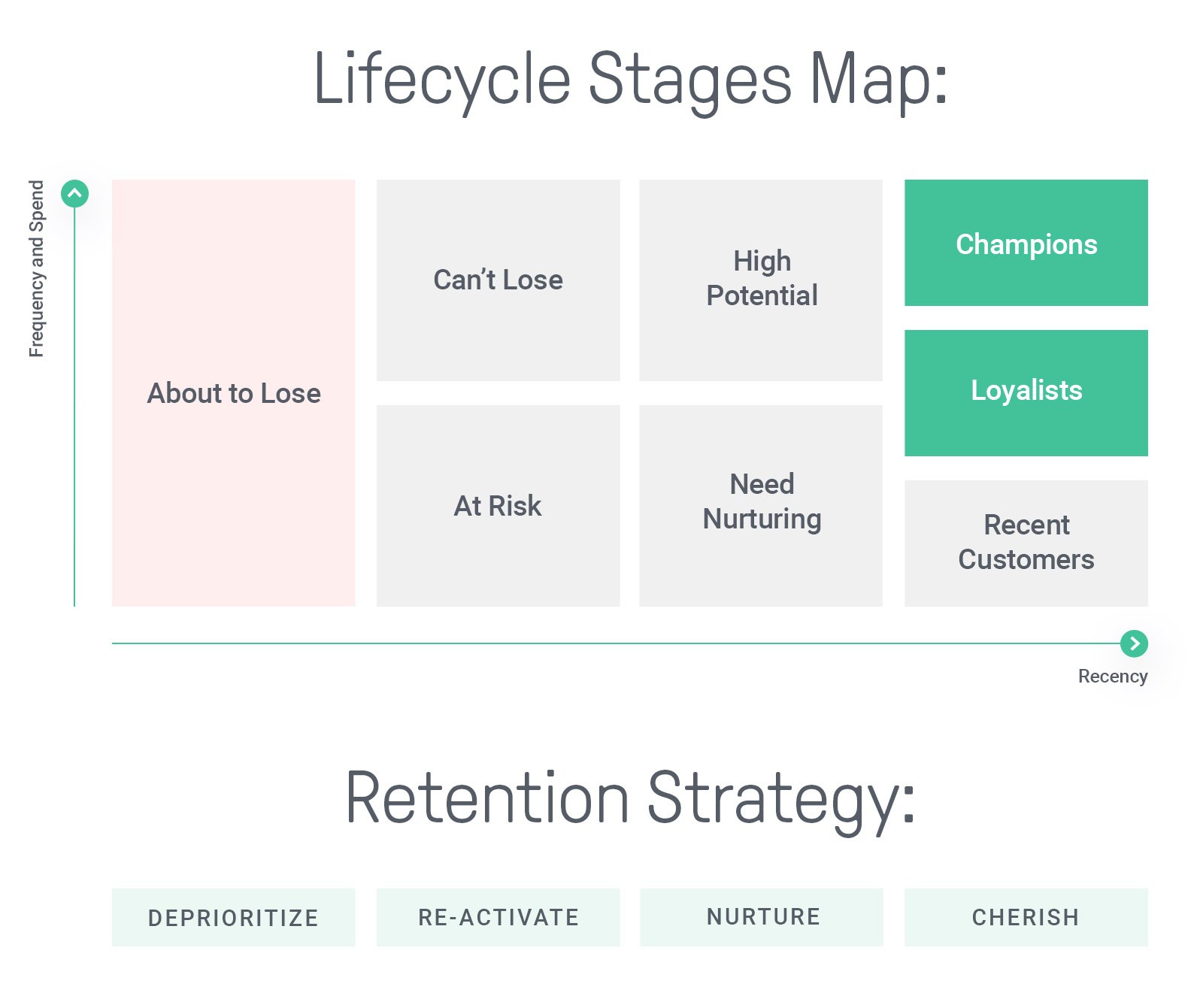 Cherish strategy
This strategy type applies to all customers who have bought something from your store most recently (Recent Customers, Loyalists, Champions). Your main goal should be to provide a positive post-purchase experience to all of these customers. However, you should aim to go the extra mile by rewarding your most valuable repeat customers (Champions and Loyalists) to make them feel special.
Nurture strategy
This strategy type is targeted towards all of your customers who fall between the most recent shoppers (in the Cherish strategy) and those who are already getting rather 'cold' and require reactivation. Your main goal with High Potential and Need Nurturing customers is to keep your brand top of mind and try to nudge them into buying again.
Reactivate strategy
Can't lose and At Risk customers need to be reactivated before they fall into the last, 'coldest' lifecycle stage. Your re-activation tactics should take into consideration the customer value: Can't lose customers used to be your most frequent shoppers and/or used to spend more, whereas At Risk shoppers have just tried your products. In your reactivation messages, keep in mind to signal that you're genuinely missing the customer and you're making an effort (giving a discount, sending a letter from the founder, reminding them of the value of your products) to get them back.
Deprioritize strategy
The last strategy is targeted towards the remaining customers who haven't shopped at your store for the longest time. As the strategy type suggests, depending on the length of your to-do list, it's fair not to spend much time crafting special initiatives towards these shoppers as they are likely already 'too cold.' Your gains will probably be higher by prioritizing the customers in the other lifecycle stages.
Examples of lifecycle-based campaigns and automations
The eight-stage lifecycle map doesn't mean you have to build out 8 types of retention campaigns straight away. Instead, we suggest using it as a guide for prioritizing where you can drive the most impact. To help you get started, here are three actionable lifecycle-based tactics you can easily implement today:
#1 Set up a re-activation workflow for Can't Lose customers
The Can't lose lifecycle stage is assigned to your most valuable customers who used to shop more often and/or spend more than your other customers, but haven't purchased anything for a while. The easiest way to try and reactivate them is to set up a segment-entry-based workflow including a series of messages.
A few tips for setting this workflow up for success:
In your tone & messaging, acknowledge that you've missed the customer. These emails shouldn't sound like promotional campaigns – personalize the subject lines and messages to recognize that the customer hasn't shopped in a while and you have something special to offer to make them come back.
Include a special discount or free shipping incentive (or test which works better) to strengthen the nudge.
Add personalized product recommendations – customers are 2.6x more likely to convert when presented purchase-history based recommendations!
Use multiple channels, including SMS and/or push notifications to increase your reach potential. Be mindful that subtlety is key as you don't want to put off any customers with one-for-all types of blasts.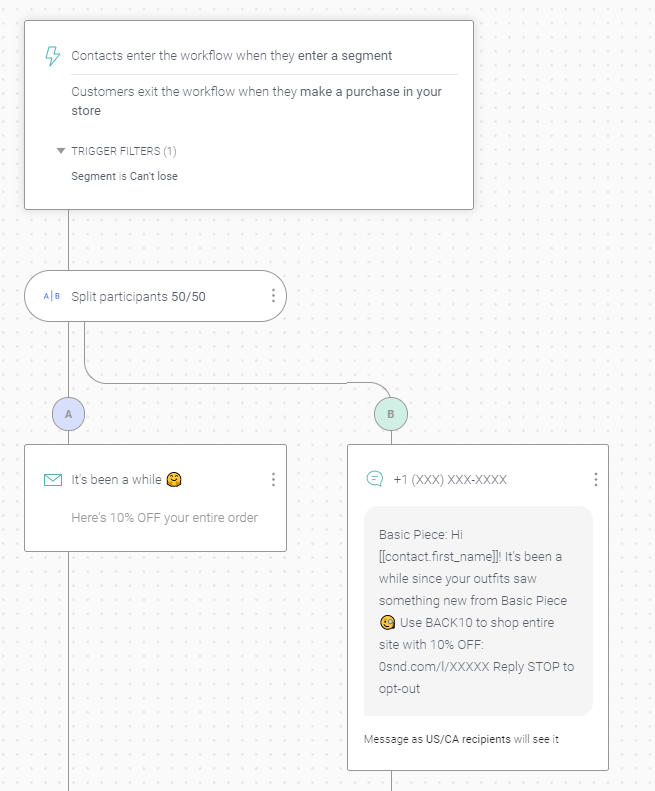 #2 Cherish your Champion customers with exclusive campaigns
Your Champion customers deserve to be rewarded – these are the most active, valuable, and recent shoppers in your customer base. Here are a few campaign ideas to make them feel special :
a campaign to promote early access to your new collections or products
a campaign to promote early access to your online sale
a campaign to promote special V.I.P. club offers

#3 Improve your paid targeting by syncing your most valuable customers
Customer lifecycle stages can also be used to help you build consistent customer messaging on paid channels like Facebook and Google. Here are the two highest-impact strategies to leverage Omnisend's audience sync and customer lifecycle stages:
Sync the Can't Lose (and/or At Risk, depending on your customer breakdown) segment with Facebook and/or Google to increase your reach and reactivation potential with retargeting ads.
Sync your most valuable customers in the Champion, Loyalist, High Potential, and Can't Lose segments to build lookalike audiences and optimize your paid targeting to reach more similar shoppers.
Improve your retention with customer lifecycle stages
Customer lifecycle stages are available to all Omnisend users – including those on free and paid plans. Not an Omnisend customer yet? Connect your store today to see your customer breakdown by different stages to start reactivating them right away.
Get started with Omnisend today & drive sales on autopilot with pre-built automation workflows
Start Free Today
related features
Want more sales?
Omnisend has everything you need to succeed.
Start free now
No Credit Card needed.