Do you spend endless hours polishing your emails but still get questionable results?
Implementing email marketing isn't an easy task. It might be that you lack very little to start achieving your goals. But the devil is in the details.
Check out on these best practices that we've learned by watching and consulting our clients everyday, as well as helping them perform better.
Hopefully, it will help you reveal that particular missing part of your success.
1. Find Email Marketing Tool That Meets Your Current Needs
No matter whether you have 50 or 50 000 subscribers on your mailing list, you still need an email service provider (ESP) for your professional email marketing implementation.
To pick one service of more than a few hundred alternatives might be tricky. Try to name your current business needs:
Do you need a variety of signup forms and their performance tracking?
Are you going to use customer segmentation for your campaigns?
Are you going to send automated emails based on your customer behavior?
Are you going to approach your customers only via email or expand your uninterrupted communication flow to more channels?
Finally, what kind of tool can you afford yourself to use at this stage?
By answering these questions, you will narrow down your search and choosing the right tool will be easier.
And of course, don't forget to check out what Omnisend offers to fulfill your ecommerce email marketing needs.
2. Keep Your Email List Clean and Up-to-Date
30% of subscribers change their email addresses every year. With that in mind, you should keep your email list up-to-date.
If a customer behind the email address hasn't opened your emails for more than six months, delete that contact. There is no point in collecting stale, not active emails. The only thing they do is make your campaigns metrics inaccurate.
Keeping your list clean means that you approach only those subscribers who are signed up for your newsletter and are still engaged with your brand. Only these customers are worth working with.
So clean up your emails list at least once per year.
3. Consider Using Interactive Signup Forms
One of the most challenging tasks in an email marketing strategy is email list building. It always takes time and requires some testing to be done.
At Omnisend we see from all signup forms that our marketers use, an interactive Wheel of Fortune performs best. It generates a 12.74% success rate when common popups bring 4.22%.
Why is that?
There are a few reasons:
An interactive, gamified signup form is still something that's not very common, so it gets extra attention from the customers;
It's fun;
That's a great chance to get a discount for a product that the customer desires.
So launching an interactive signup form might be a great help for you to collect an email list faster and carry on further email marketing activities.

For more ideas on the signup forms, checkout out 30 Exit-Intent Popup Examples & Best Practices for Small Online Businesses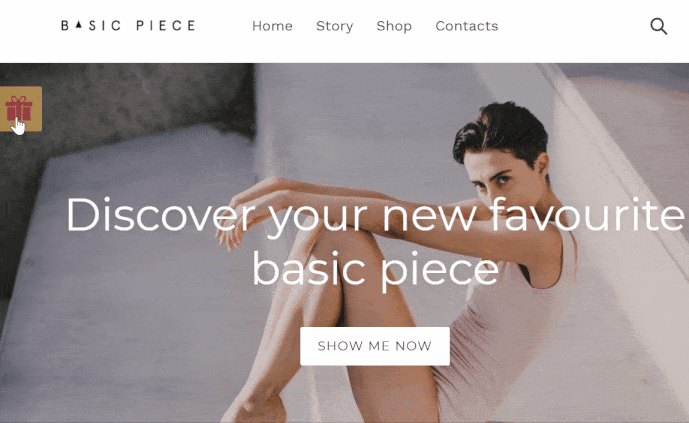 4. Send Welcome Emails
Nowadays perhaps all marketers know that sending an automated welcome message to a new subscriber is a must. 8 out of 10 customers expect this message so this is definitely not a place to mess up.
But do you know that sending a series of three welcome emails brings significantly better results in terms of both engagement and conversion rates?
Introducing a brand within three emails brings marketers, on average, three times higher open and click rates — as well as five times higher revenue.
Sending a few onboarding emails has even more perks than extra sales. With these emails you can:
confirm a new registration and decently welcome a new community member
show up as a trustworthy ecommerce business
tell your brand story
highlight the best customer reviews
invite new subscribers to follow you on social media, etc.
See the example of three welcome messages below: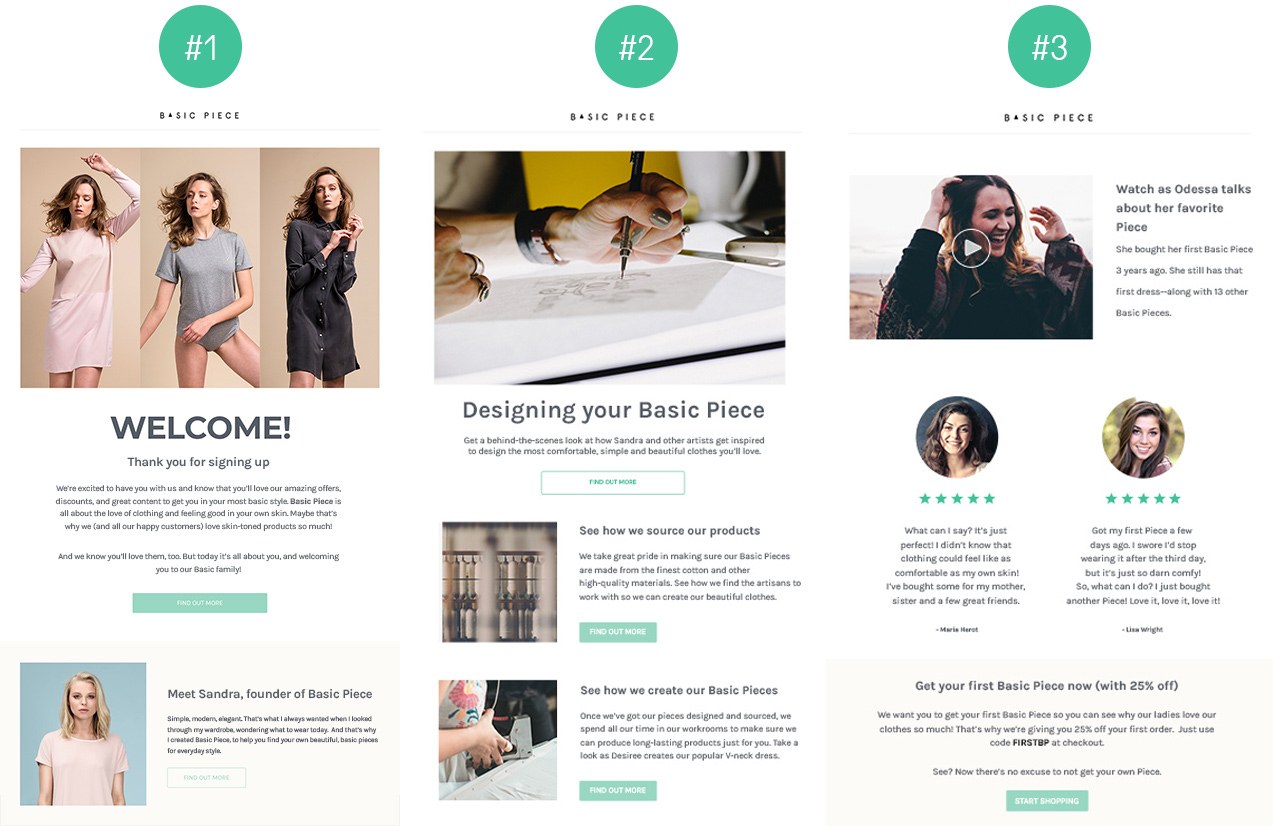 As you can see from the example, by approaching your customers with more welcome emails you can do a great customer warm-up as well as tell your unique, engaging story. Which is, by the way, one of the most effective marketing approaches. Brand storytelling in emails is the next best practice on this list.
5. Use Storytelling
A fascinating narrative about your products and the origin of your business can become the trump card of any business.
As a matter of fact, many businesses use this card and tell stories that millions of customers fall in love with and want to be a part of it. How else would you explain people lining up overnight next to the Apple Store?
Although all media channels should be your brand story advocates, email is one of the most convenient channels to execute that.
It doesn't mean that you have to write novels in your emails. You can tell your story by using particular elements in your messages, such as images, videos, quotes.
For example:
Show what's happening "behind the scene", how your products are being crafted (best for D2C businesses)
Use high-quality images of your products in their natural habitat
Use images of happy people using your products
Include reviews with customers' faces
Include the CEO's photo with his/her quote
Introduce a video about your brand, etc.
Columbia provides us with a great example of storytelling. Let's see how they use a welcome email to introduce themselves.

The brand has a history and experience which is highlighted in the first paragraph.
The second part tells the story and reveals an approach to their products.
The third part of email introduces the loyalty program and its perks.
All in all, this email makes you feel that you've joined the V.I.P. community that uses a gear of the highest quality and savors exclusive offers of Columbia. This email makes you feel that you've done the right decision by joining the list.
Your emails can be as good as this example or even better. But you need to highlight your advantages and find an attractive manner to convey them to your customers.
6. Use Social Proof
I won't lie, good customer reviews take huge credit for online sales. They help to build your business credibility for newcomers. They help when people are choosing from a few alternatives. They help every time someone is considering whether to buy from you or not.
So you should definitely pick a few eloquent reviews and include them in your emails.
However, what really improves email engagement rate is a video. Take advantage of this. People find unboxing or simple video reviews extremely useful. Live product reviews are more informative and, as a matter of fact, they make a bigger emotional impact on customers to accomplish their purchase.
Even knowing that, I watch video reviews every time I buy something online. No matter what I'm looking for – a dishwasher, a stroller for my son, or a new product for fixing my hair – video reviews help me to make my final decision.
Take a look at unboxing video below, where a young lady Camille unboxes the Glossier package. She's telling us about how nicely the brand sends its packages with extra presents included, a small pink package for the products, and the "wow" products, etc. This video makes us want to receive such a package and have the same great experience.
If you have video reviews about your products, use them in your email communication. They will boost your click-through rate as well as strongly promote your products.
7. Keep Your Email Copy Short and Simple
Even if we recommend to tell your brand story via email, this channel is not a place for long narrative. Tell things by using rich imagery and some short paragraphs only.
The sentences should be neat.
And limiting call-to-action buttons is another good practice when designing your email. If you include too much of them, it will be unclear what you want your reader to do.
The main idea of your email and the main CTA should fit above the fold. So the reader could understand your email purpose without scrolling it down to the bottom.
See how Asos.com uses this best practice to their advantage.

8. Tailor Your Emails According To Subscriber Activity
The most effective emails are the ones that reach us at the right time with the right message. So tailoring your communication according to your subscriber activity is something worth trying.
For accomplishing this best practice you might need some marketing automation features as well as customer segmentation. Make sure your email service provider offers them.
Here are a few ideas on how you can adopt this practice in your email communication flow:
Send a welcome email series when a subscriber signs up
Send a cart abandonment email when a subscriber abandons the checkout
Send a thank you email to loyal customers when they buy from you repeatedly, for example, after the 3rd, 8th, 15th orders. Include a small gift voucher or something else to please them
Send a reactivation email if your subscribers don't open your emails for a while.
Annual Omnisend report reveals that this kind of messages drives from three to five times higher email engagement results. As well as up to 10 times better email conversion.
See below how Uniqlo.com approaches its customers that have abandoned their shopping cart.

9. Stick To Simple Email Design
People seldom read (promotional) emails nowadays. Usually, they skim them. A clear structure and highlight the most important things help us to employ fast-reading.
You should design your email messages with this in mind.
Also, the content itself leads us to the overall layout.
Our practice shows that for short, focused messages in a single column layout works best. However, if you want to reveal a variety of content (items from a new collection or particular items on sale), choose a multi-column one. For both ways, your email template has to be mobile-friendly.
Also pay attention to the following good practices when designing your email:
Only emails of up to three columns look good on mobile devices
Limit your content. Keep emails short. Otherwise, your newsletter will be endless for mobile readers, as all the content lays down into one narrow column. No-one will bother to scroll your email to get to the end.
Avoid asymmetric designs. In most of the cases, they are not mobile-friendly.
If your email highlights different types of content, clearly define sections by using spacing and lines. So it would be easier to skim it.
For more tips on email design, check out our article A Checklist to the Bullet-Proof Email Marketing Strategy
10. Dedicate Time To Subject Lines
Be honest, how much time do you spend on writing a subject line?
Usually, marketers dedicate their energy to email design, engaging content, sometimes, to defining the segments of recipients… But seldom to subject lines.
The thing is that your entire email campaign depends on this small, often underestimated detail. The more engaging subject line, the more subscribers will open the email to see what you offer.
There is no strict recipe for effective subject lines, only some guidelines worth following.
However, one of the best practices should definitely be mentioned in this article – A/B testing for subject lines.
What really motivates A/B testing? You immediately start getting better results.
See the chart below how A/B testing for subject lines works on Omnisend: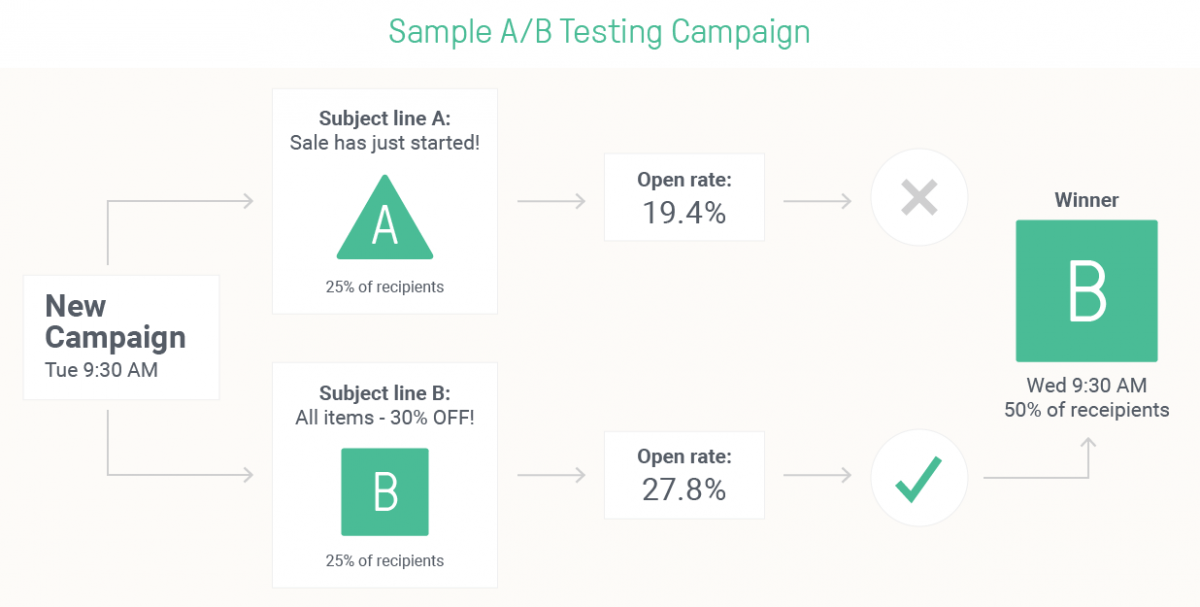 These are a few ideas about what you can test first:
Test the subject lines with a discount and without.
Test different signs of discounts – % and $ – to know which one works better.
Test the subject lines with emojis and without them.
Test if personalization including subscriber's name works for you.
Test different versions of subject lines, ones indicating the limited time offer and ones without it.
11. Use a Right Sender's Name
Did you know that 43% of email recipients mark messages as spam based on the 'from' address and sender name?
So the sender's name, as well as email address, is also an important part in the overall email performance.
The best practice says that the sender's email address and the sender's name have to match, at least, the domain.
What you should test by yourself is the sender's name in particular. For some people, it's better to get an email from Joan from The Shoe Store, rather than just The Shoe Store. Both ways are right but which one works better for your audience, only you can figure out.
12. Establish a Consistent Email Cadence
The best email frequency might vary among different ecommerce fields. It mostly depends on the customer buying cycle and your capacity to provide new, high-quality content.
If you sell apparel, the buying cycle is short and you may approach your customers again and again. Big players like SportsDirect.com have enough resources to send emails twice per day. If customers don't buy that often, they, at least, browse the new offers and enjoy exploring new outfits.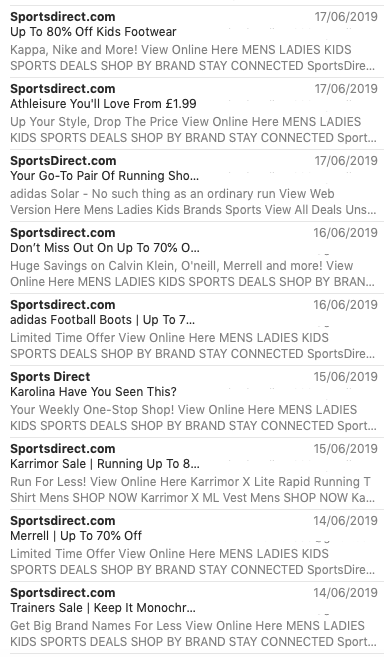 If at the current stage you have a capacity for two emails per month that's totally fine.
The most important, you should be consistent with your email frequency and keep the same pace. Avoid popping out of the blue, stick to your email cadence.
13. Automate What You Can Automate
I would say that this best practice is the best of all best practices in email marketing. Why?
You don't need to think much about what to say in your messages. Every automated workflow has a clear goal which helps to define the copy and the content itself.
Moreover, that content is always relevant because it's personalized. Customers always find the information they expect from you.
You don't need to guess what time is the best to send your emails. Automated emails have the best timing possible because it's individual.
You save a lot of time. You spend time only for setting up the workflows and then they work for you 24/7 until the next time you want them to update. There is no need for spending endless hours every week preparing your top-notch emails.
BONUS: Include Interactive Content
Research says that 65% of email marketers choose dynamic content as the most effective personalization tactics in email marketing. As it turns out, they were onto something.
Interactive content is content that requires the direct engagement of the users. Marketers embed interactive content in their emails because it is known to have increased engagement. In fact, 66% of marketers have reported greater audience engagement after using interactive content. But how exactly does it achieve that?
Interactive content provides real value to your prospects and users. They get something in return in exchange for providing their valuable information. Take this example. for instance.
Let's assume you own an e-commerce store. Say, you want to specifically target people who have visited the sunglasses section of your store but not yet bought the product. You can create an effortless quiz.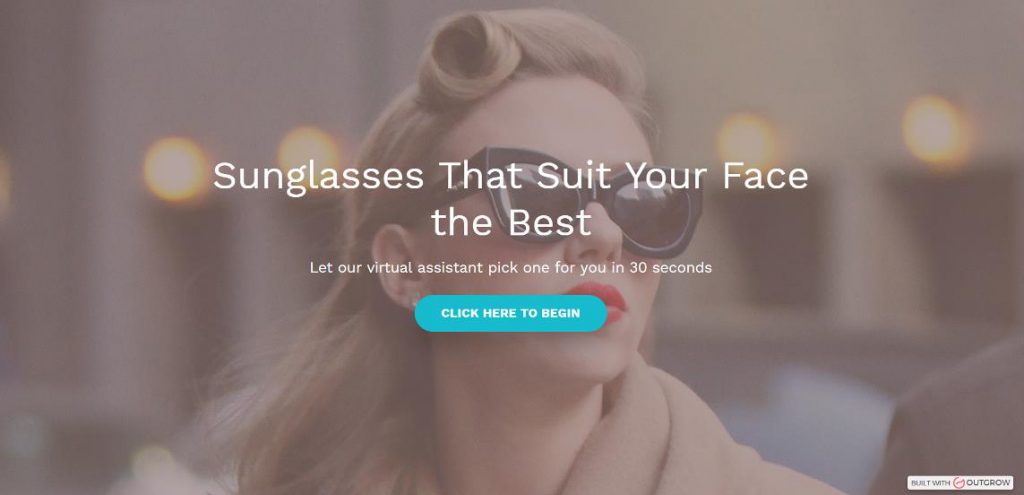 Thereafter, you can embed this quiz in your email: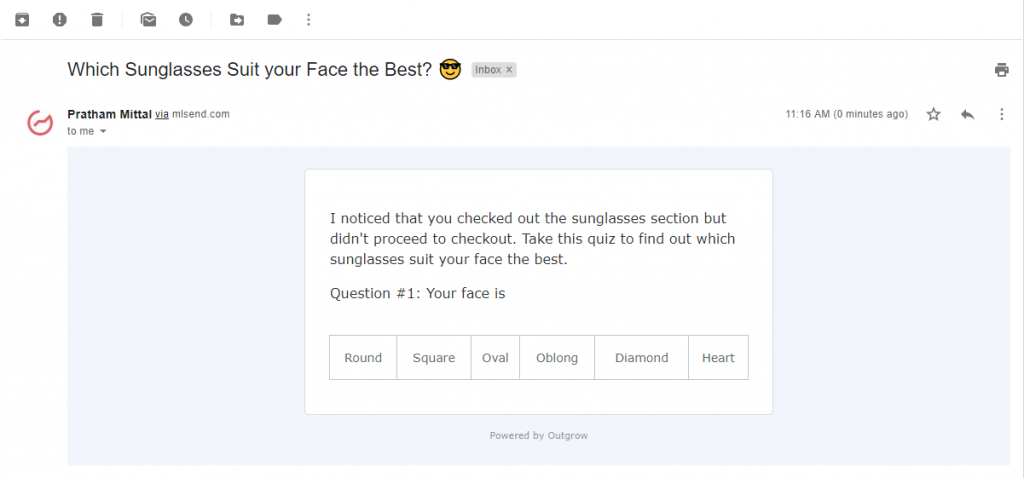 The users get their perfect fit without scrolling through the products. In return, they provide valuable information like their face cut, preferred color, budget, etc. You can use this information to create a detailed buyer persona and personalize your future communication.
Voila! Interactive marketing is achieved! Just as you have achieved a higher engagement and conversion rate on your emails!
The occasional emails and newsletters don't have to be automated. They are different by nature.
However, new customer on-boarding, cart abandonment, birthday, reactivation emails, some other messages defined by customer behavior have a huge unrevealed potential.
_____________________
Today's marketing tools provide all the necessary features to reach your customers the best way you can. Employ your knowledge, employ the tools to your advantage, and build a strong, sustainable business.
Get a personal 1-on-1 demo (that will superpower your next campaign)!