Drive sales on autopilot with ecommerce-focused features
See Features
Reading Time:
9
minutes
Marketers these days are abuzz with all kinds of new and interesting channels and methods, and for good reason! Innovative automation software can now offer advanced segmentation, personalization, and omnichannel messaging options, harnessing the power of things like social media and mobile notifications to drive ever-higher ROI.
However, amongst the hubbub and excitement of novelty, one shining example of good, old fashioned reliability still stands — the humble email. While many are prematurely proclaiming that 'email is dead,' email marketing continues to produce $44 for every $1 spent — the best ROI of any channel — with 73% of marketers rating it as an 'excellent' medium on which to do business.
Clearly, email is still as relevant as ever and shouldn't be neglected. To ensure that you're maximizing the power of this often under-valued resource, we've put together a short list of best practices, honed and perfected over many years of helping and consulting with our clients.
1. Find email marketing tool that best meets your current needs
Whether you have 50 or 50,000 subscribers on your mailing list, you're going to need an effective email service provider (ESP) for professional email marketing implementation.
However, with hundreds of options on the market, each offering different and unique features and pricing structures, choosing the right fit for you is no easy task. The best place to start is by listing the precise needs of your business:
Do you need customer email segmentation for your campaigns?
Are you planning to send automated emails based on customer behavior or in other words drip campaigns?
Will you communicate by email only, or would you prefer to use other channels as well?
What is your budget?
Answering these simple questions will greatly narrow down your search!
Ask the right questions, choose the right ESP. Check out our whitepaper:
5 Critical Questions to Ask When Choosing a New Email Provider
!
Read more
2. Keep your email list clean and up-to-date
If an email address hasn't opened your emails for more than six months, it's time to bite the bullet and delete the contact. Because while losing hard-earned contacts may seem counterintuitive in the short term, those stale, inactive emails bring no benefit to your business and only serve to make your campaign metrics inaccurate.
Keeping your list clean means that you approach only those subscribers who are signed up for your newsletter and are still engaged with your brand — these are the people who bring community and value! Email finder can help to identify the wrong adressess.
3. Consider using interactive signup forms
Here at Omnisend we've noticed that from all sign-up forms that our marketers use, an interactive Wheel of Fortune performs best. It generates a 12.74% success rate, whereas common popups bring just 4.22%.
Why is that? Well, there are a few reasons why you should consider launching an interactive sign-up form when collecting your email list:
Interactive, gamified sign-up forms are still quite uncommon, so they attract extra attention.
They are eye-catching and fun.
They give a chance for discounts on products that the customer desires.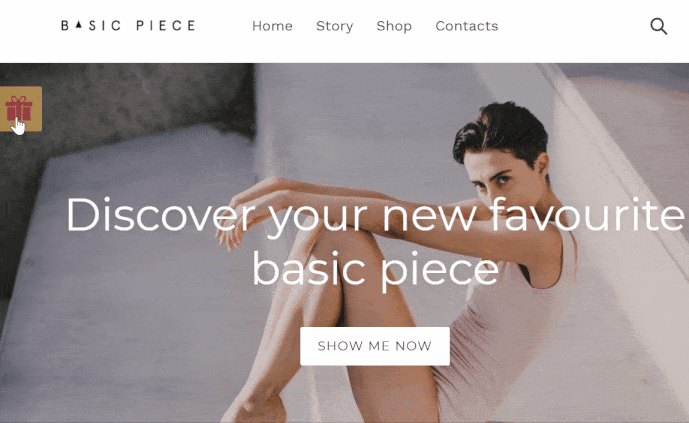 4. Send welcome emails
With 8 out of 10 customers now coming to expect a welcome message, making a great first impression has never been so important.
However, sending the right welcome emails goes far beyond a simple "hello." By crafting a series of three welcome emails, you can expect significantly better results in terms of both engagement and conversion rates while showcasing the following:
Confirming new registrations and personally welcoming new community members.
Presenting yourself as a trustworthy ecommerce business.
Telling your brand story.
Highlighting your best customer reviews.
Invite new subscribers to follow you on social media.
Check out some examples of welcome messages below: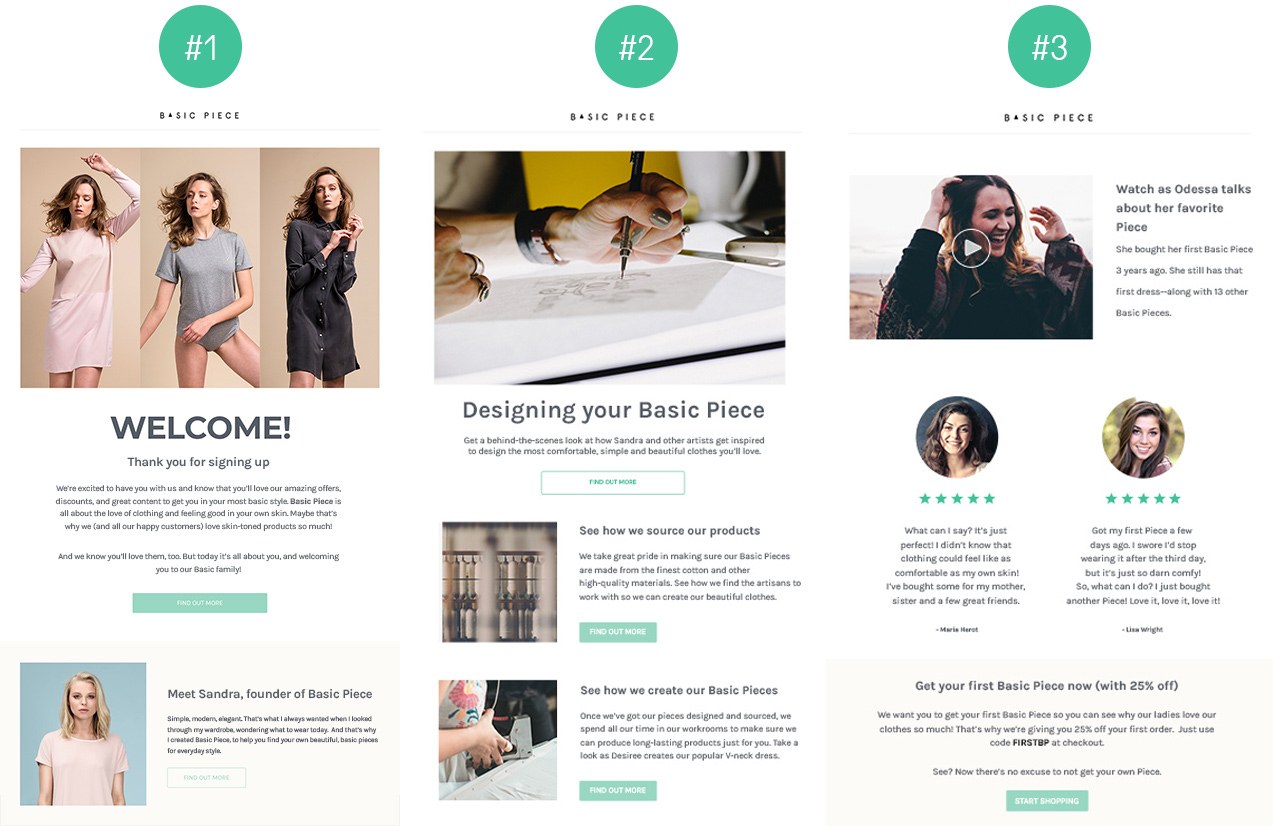 5. Use storytelling
An interesting, engaging narrative about your products and the origin of your business can create an emotional attachment with your customers and imbue real meaning to your brand. Do you have a story to tell?
Email — with its room for expression and creative visual design — is one of your best places for this. For example, you can:
Show what's happening "behind the scene", how your products are being crafted (best for D2C businesses)
Use high-quality images of your products in their natural habitat
Use images of happy people using your products
Include reviews with customers' faces
Include the CEO's photo with his/her quote
Introduce a video about your brand, etc.
The sky is the limit when it comes to your own creativity — think outside of the box and take advantage of the many advantages that email offers in this regard.
6. Use social proof
The classic means of social proofing are ratings and reviews. When was the last time you bought something online without checking the reviews first? It has become so ingrained in our shopping culture, that we couldn't imagine a time without them. The more ratings and reviews you can attract, the better. Obviously, you'd prefer these to be as positive as possible!
To encourage social activity around your brand, you can respond to reviews and interact with your customers — encourage a community feeling by sharing photos, memes, comments, and yes, even the odd joke. People feel safe in a community, and will buy from you with confidence.
However, what really improves email engagement rate is video reviews. People find unboxing or simple video reviews extremely useful, informative, and confidence-building.
Check out the unboxing video below as an example. A young lady unboxes her Glossier package, along with praise for the packaging and little unexpected extras that customers would otherwise not know about.
If you have video reviews about your products, use them in your email communication. They will boost your click-through rate as well as attractively promote your products.
7. Keep your email copy short and simple
Email is a versatile medium, but it's not the place for long, narrative prose. Capture people's attention and keep it by using short, concise paragraphs only.
Essentially, the primary focus of your email and your CTA should fit above the fold, so the reader can quickly get the message without scrolling down to the bottom.
See how Asos.com uses this best practice to their advantage.

8. Tailor your emails according to subscriber activity
The most effective emails are those that reach out to the right person at the right time and with the right message even for your email blasts.
Therefore, tailoring your communication according to subscriber activity is essential if you want to maximize your ecommerce marketing activities.
Here are a few ideas on how you can adopt this practice in your email communication flow:
Send a welcome email series when a subscriber signs up
Send a cart abandonment email when a subscriber abandons the checkout
Send a thank you email to loyal customers when they buy from you repeatedly, for example, after the 3rd, 8th, 15th orders. Include a small gift voucher or something else to please them
Send a reactivation email if your subscribers don't open your emails for a while.
See below how Uniqlo.com approaches its customers that have abandoned their shopping cart.


9. Stick to simple email design
People seldom read promotional emails nowadays, who has the time? Usually, we quickly skim them for clear signs of interest, before clicking away. With this in mind, a clear email structure that highlights your most vital information is important for getting your message across.
Our best practices show that short, focused messages in a single-column layout work best. Whichever method you choose, your email template has to be mobile-friendly.
Pay attention to the following best practices when designing your email:
Only emails of up to three columns look good on mobile devices
Limit your content. Keep emails short. Otherwise, your newsletter will be endless for mobile readers, as all the content lays down into one narrow column. No-one will bother to scroll your email to get to the end.
Avoid asymmetric designs. In most of the cases, they are not mobile-friendly.
If your email highlights different types of content, clearly define sections by using spacing and lines. So it would be easier to skim it.
10. Dedicate time to subject lines
There is no strict recipe for effective subject lines, but our experience has shown time and again that A/B testing for subject lines is a best practice that all serious email marketers and email marketing agencies should be undertaking.
See the chart below how A/B testing for subject lines works on Omnisend: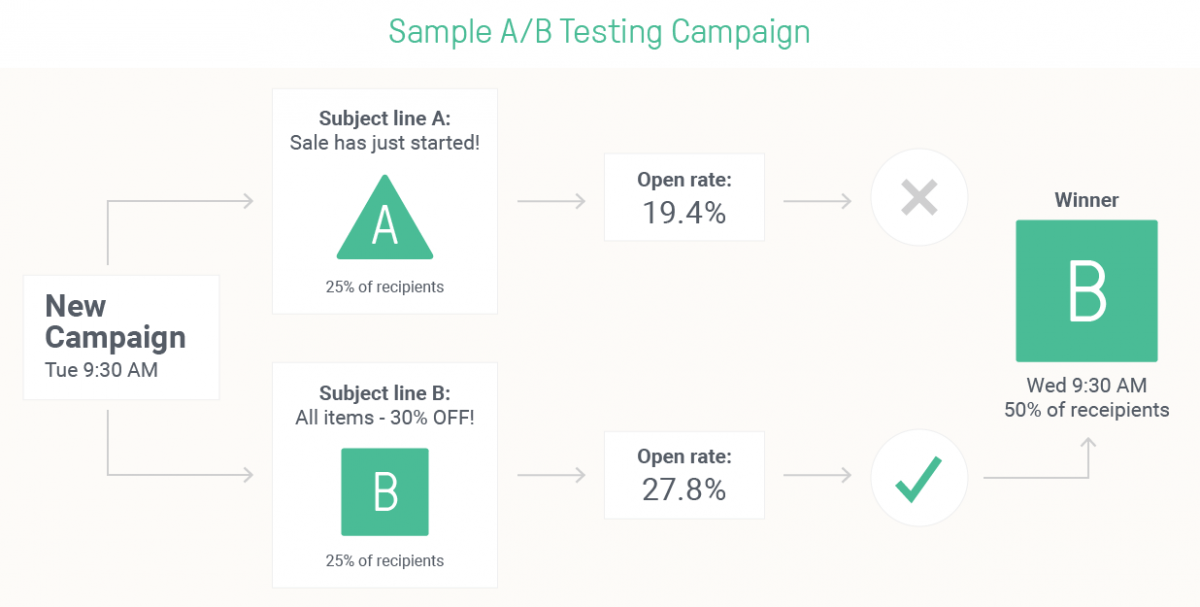 To get the ball rolling, here are a few ideas about what you can test first:
Subject lines with and without a discount added.
Different types of discount — % and $ — to know which one works better.
Subject lines with emojis.
Personalization that includes the subscriber's first name.
Subject lines that indicate a limited time offer.
11. …But don't neglect your sender name and email address
Did you know that 43% of email recipients mark messages as spam based on the 'from' address and sender name?
This makes your sender's name, together with the email address itself, important elements in the overall email performance.
Our best practices show that the sender's email address and name have to match the domain, at the very least.
12. Establish a consistent email cadence
The optimum email frequency can vary among different e-commerce fields. It mostly depends on the customer buying cycle and your capacity to write new, high-quality content.
If you sell apparel, the buying cycle is short and you can approach your customers again and again. Big players like SportsDirect.com have enough resources to send emails twice per day. Even though customers rarely buy that often, they can at least browse any new offers and enjoy exploring new outfits.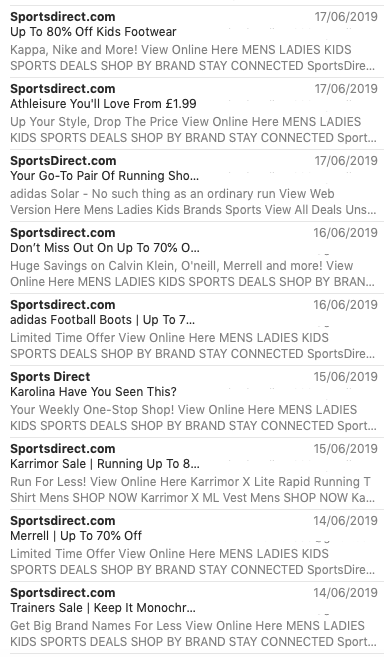 If at this stage, you only have the capacity for two emails per month, that's completely fine.
The most important aspect of email cadence is consistency — you should stick with a regular email frequency and keep the same pace.
Customers who are comfortable with you and know what to expect are more likely to stick around, so avoid popping up out of the blue and stick to a solid email rhythm.
13. Automate what you can automate
Automation is a must for any serious marketer in this day and age, for many reasons. Here are a few:
You don't need to think too much about what to say in your messages. Every automated workflow has a clear goal which helps to define the copy and the content itself.
Moreover, that content is always relevant because it's personalized. Customers always find the information they expect from you.
You don't need to guess what's the best time to send your emails. Automated emails have the best timing possible based on complex algorithms.
You save a lot of time. You only need to set up the workflows, then they'll do the work for you, 24 hours a day.
14. Include interactive content
Marketers embed interactive content in their emails because it is known to have increased engagement. In fact, 66% of marketers have reported greater audience engagement after using interactive content.
Interactive content provides real value to your prospects and users. They get something in return in exchange for providing their valuable information. Take this example. for instance.
Let's assume you own an ecommerce store. Say, you want to specifically target people who have visited the sunglasses section of your store but not yet bought the product. You can create an effortless quiz.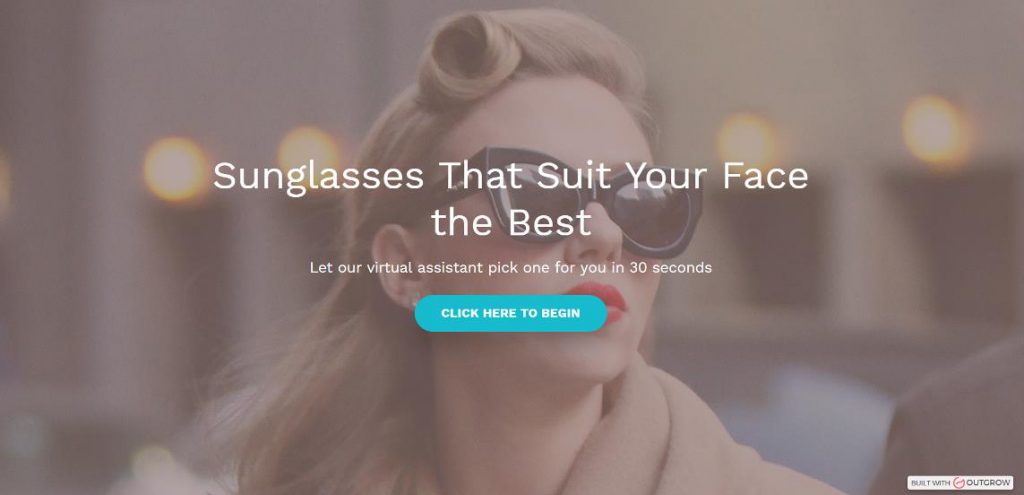 Thereafter, you can embed this quiz in your email: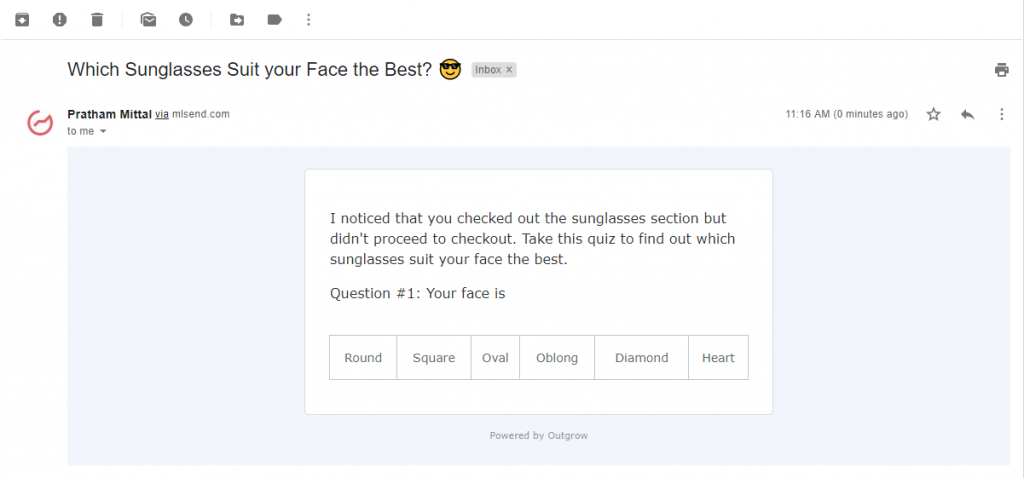 The users get their perfect fit without scrolling through the products. In return, they provide valuable information like their face cut, preferred color, budget, etc. You can use this information to create a detailed buyer persona and personalize your future communication.
Voila! Interactive marketing is achieved! Just as you have achieved a higher engagement and conversion rate on your emails!
The occasional emails and newsletters don't have to be automated. They are different by nature.
However, new customer on-boarding, cart abandonment, birthday, reactivation emails, some other messages defined by customer behavior have a huge unrevealed potential.
15. Deliverability — Make your hard work count
So you've gotten this far — crafted engaging emails with an eye-catching, yet easily navigated design and a killer subject line. But what's the point if they're not getting through in the way that you had planned?
Emails can display differently depending on the recipient's device, browser, inbox provider, and other factors. The only way to be sure that your emails are presenting properly across all options is to test, test, and test again!
When switching Email Service Providers (ESPs), be sure to have a progressive IP warming plan in place to ensure that your email deliverability remains stable, especially if you have a large subscriber list.
Send your emails to yourself over different Mass Email Service Providers (ESPs). Send them to friends or colleagues using a variety of devices and browsers, and make sure that your call-to-action is clearly visible. Because nothing is more off-putting to a customer than receiving a message that is barely readable, or not seen at all.
Conclusion
Today's marketing tools provide all the necessary features to reach your customers the best way you can. Employ your knowledge (for example, check email marketing courses), employ the tools to your advantage, and build a strong, sustainable business.
Use these best practices to make your emails stand out from the crowd -—you want clear, concise, and attractively presented content delivered to the right people at the right time.
It may seem daunting at first, but with a carefully-thought-out checklist and the right email marketing platform to help you along, you'll be effectively reaching out to new and established customers in no time. Email is not dead yet!
Get started with Omnisend today & drive sales on autopilot with pre-built automation workflows at Omnisend!
Start Free
related features
Want more sales?
Omnisend has everything you need to succeed.
Start free now
No Credit Card needed.