Drive sales on autopilot with ecommerce-focused features
See Features
Email marketing trends for 2023
Reading Time:
6
minutes
While the digital marketing landscape changes dramatically every year, email has continued to be one of the most effective channels for ecommerce marketers.
In fact, recent data indicates that each dollar spent on email leads to an average of 4200% ROI. Whether you're a fledgling startup or a major enterprise, you probably already rely on email to stay in touch with leads and move them through your sales funnel.
In this article, we'll examine some of the most important 2023 email marketing trends to be aware of in this year and beyond. We'll also take a look at the industry's long-term trajectory in order to give you an idea of the future of email marketing.
7 key trends for email marketing
Here at Omnisend, we make an effort to stay on top of recent email marketing trends as well as advertising on other channels. Our latest data indicates that automated messages continue to dominate the email landscape, leading to 32% of all email orders despite making up just 2.4% of email sends.
With that in mind, we recommend making automation a centerpiece of your email marketing practices. Email automation workflows like welcome emails, abandoned cart messages, and re-engagement sequences will keep your audience interested without requiring you to spend time writing out messages to each unique lead.
User-generated content
While most emails should focus on your own content, you should also consider implementing more user-generated content for a number of reasons. First, it gives you the chance to integrate different perspectives and spice up your messages.
User-generated content also shows subscribers that you're interested in their satisfaction. For example, you might send out an email with pictures of happy customers using your products. This also comes with built-in social proof by demonstrating the experience readers can expect if they buy from your brand.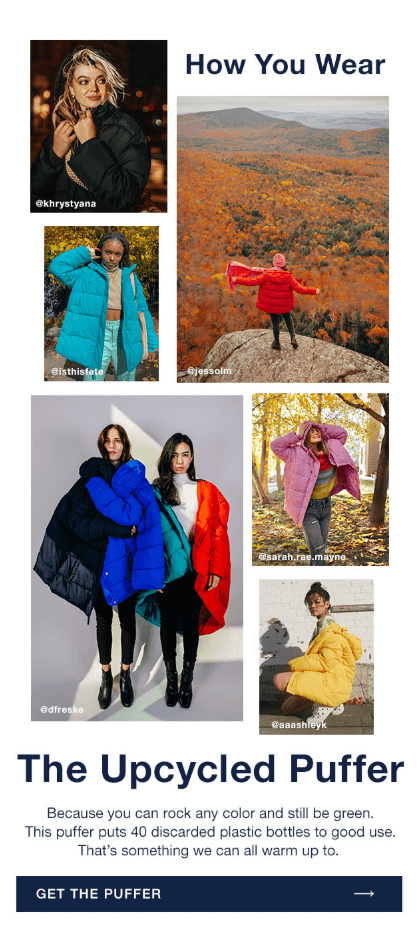 This is a perfect example of effective user-generated content. The email shows different colors and highlights different outfits the jacket can go with while giving readers an idea of how it looks in real life. While there's a quick note about the recycling process at the bottom, it's short enough to be scanned in just a few seconds.
Hyper-segmentation and personalization
The days of sending out a single weekly email blast to your entire subscriber list are over. Segmentation and personalization are all about sending the right content to the right users at the right times.
If a customer typically makes purchases around 6 PM, for example, your best bet is to send them promotional emails at that specific time. The more you personalize emails to the needs of each subscriber, the more likely they are to be interested in your content.
Of course, audience segments can only go as far as your data collection practices. Gathering information about your users will be one of the major challenges for digital marketers throughout 2023, particularly with the end of third-party cookies.
Omnichannel communication
Email is still one of the most important platforms for digital marketing. But it's most effective when combined with other channels such as SMS, social media, and web push notifications. Restricting your digital presence to just one or two channels will limit your opportunities to interact with leads in different ways.
In contrast to basic multichannel strategies, omnichannel marketing campaigns constantly update and adjust messaging on all platforms in response to each user's activity. Whatever channel they use to engage, they'll be met with personalized content that makes sense in the context of their unique customer journey.
If a user visits your online store but doesn't make a purchase, you could follow up with a Facebook ad that's tailored to the particular products they looked at. Once the order is placed, they might receive a confirmation email with information about their shipment. These are just two illustrations of how cross-channel promotions are often more tailored to the experience of real consumers.
AR/VR
Augmented and virtual reality are two of the most exciting emerging technologies in 2023, with myriad applications for both personal and business settings. While there are still barriers that make it more difficult for marketers to leverage this content in emails, that too is changing as AR and VR become more accessible on different devices and operating systems.
Apple, for example, has integrated support for augmented reality into both iPhones and iPads, enabling users to view AR content directly from the Mail app and other native applications. You could send a basic 2D image in an email that can expand into a 3D AR object when users click or tap on it.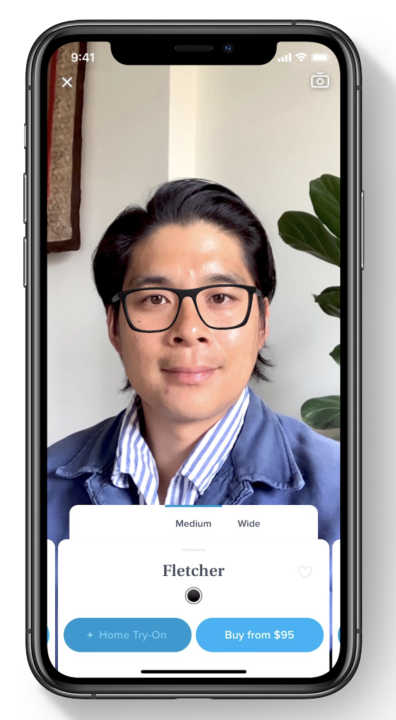 In this example from Warby Parker, users can leverage VR to see what different glasses would look like on their face. While it's not exactly a perfect representation, it goes a long way toward bridging the gap between ecommerce and the traditional in-person buying experience.
Of course, that still leaves out Android users as well as desktop users who may not be able to get the full experience of AR content. With that in mind, you should never send an email that requires readers to use AR.
That's even more important when it comes to virtual reality, which is a relatively niche technology that many of your users won't have access to.
While VR is rapidly growing, it's still being used by less than 20% of the American population.
Interactivity
People are naturally drawn to things that stand out from what they're used to. Interactivity is an easy way to differentiate your emails from the rest of the messages in your subscribers' inboxes. This also opens up a variety of opportunities for interactive content that will engage your readers in different ways.
Surveys, polls, and feedback forms, for example, give users the chance to communicate in the opposite direction and let you know their thoughts. You'll be able to gather important information about your brand while showing your audience that you care about their experience.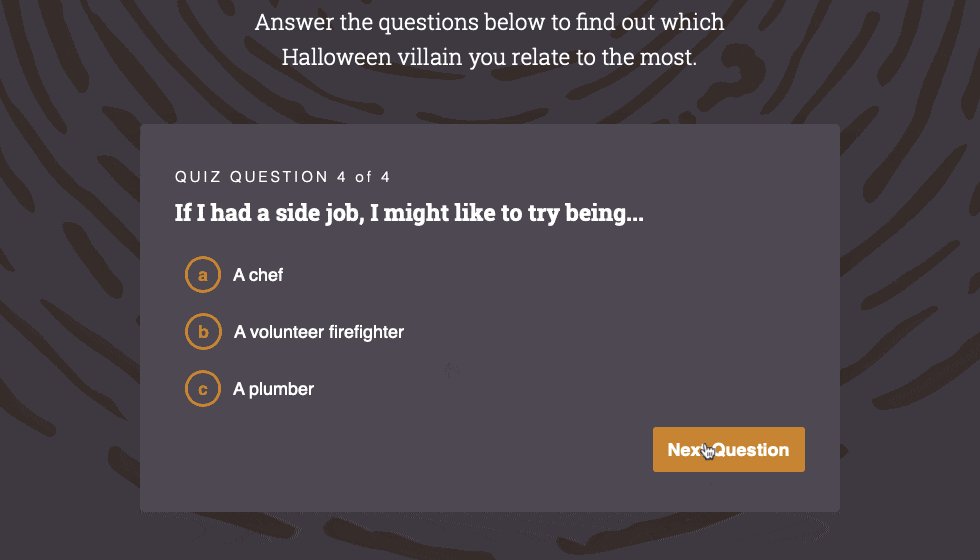 With the right email marketing software, you should even be able to set up multi-question quizzes and surveys for users to fill out from within their email client. The easier you make it to interact with your content, the more likely customers are to engage.
Games are another interactive element that's relatively easy to integrate into a marketing email. Instead of giving every user the same discount, for example, you could let them spin the wheel of fortune for a random gift.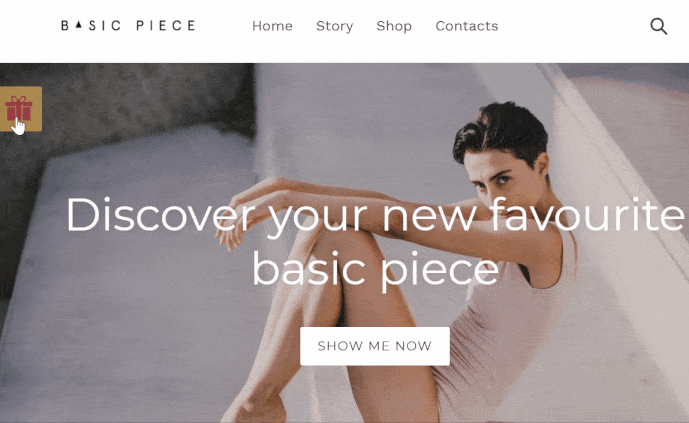 Even if they end up getting the same offer, the prospect of the unknown might be enough to bring in some more users.
Mobile optimization
While mobile devices were more limited ten or even five years ago, contemporary smartphones give users much more functionality and speed. Furthermore, screens have grown significantly larger over the last few years.
With that in mind, it's no surprise that smartphones and tablets are also becoming more relevant to email marketing. In fact, roughly three-quarters of all smartphone owners use their devices to check their inboxes, and more than half of all email opens now come from mobile devices.
On the other hand, the market hasn't yet adjusted to this new reality. While the vast majority of consumers are opening emails on their smartphones, less than 12% of newsletters are fully optimized for those devices.
If your emails aren't already optimized for mobile devices, you're cutting yourself off from a substantial portion of your audience. In 2023, mobile email design should be an equal priority with a desktop rather than an afterthought.
Importance of data privacy
Data privacy has been a key factor for businesses since the early days of the internet, but modern consumers are more concerned with their privacy than ever before.
Constantly changing regulations, including regulatory gaps in different countries and even different states, make it surprisingly complicated for ecommerce vendors to manage sophisticated campaigns while staying in compliance with all local laws.
For example, the loss of third-party cookies is forcing marketers to look for new, innovative ways to track users across channels. We expect businesses to rely on first-party data, contextual advertising, marketing mix modeling, and other alternatives in order to stay competitive in an evolving marketplace.
Adapting to iOs 15 changes is another thing to implement while thinking about email marketing trends.
Conclusion
Email marketing changes dramatically every year due to influence from emerging technologies, evolving regulations, and a variety of other factors. In order to stay ahead of the competition, you'll need to remain at the forefront of the latest email marketing trends and adjust your plans accordingly.
Omnisend provides everything digital marketers need to fully optimize their campaigns and reach their sales goals. Check out our website to get started with a free trial and see what our platform can do for your business.
Get started with Omnisend today & drive sales on autopilot with pre-built automation workflows
Start Free Today
related features
Want more sales?
Omnisend has everything you need to succeed.
Start free now
No Credit Card needed.