Drive sales on autopilot with ecommerce-focused features
See Features
Reading Time:
9
minutes
Many marketers think that just because consumers tend to spend more during the holiday season, their sales will automatically rise. That's not true!
You need to actively promote and market your products and run engaging holiday email campaigns to attract shoppers to your brand.
Even then, you will face tough competition as everyone else will also be running holiday marketing campaigns. As such, you need to stand out from the competition by making your campaigns more lucrative and engaging. So how can you boost your sales during this holiday season?
We're here to help. This post lists 10 effective email marketing tips, along with examples, to get you started. But first, let's understand the importance of holiday email campaigns and when you should start sending them.
Here you go.
What makes holiday email marketing so effective?
According to the October 2023 Consumer Holiday Survey by NRF (National Retail Federation), consumers spend an average of $866 on holiday shopping each year.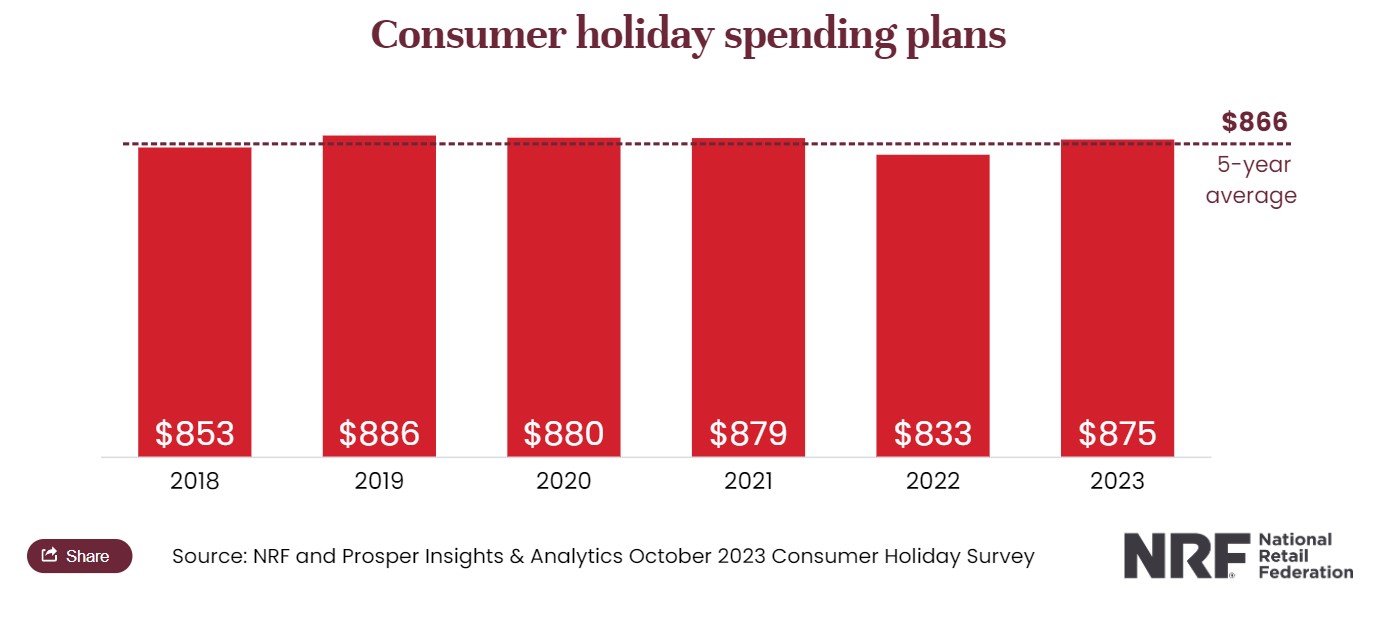 This is a huge opportunity for brands to get a piece of this pie and benefit from the holiday shopping frenzy.
Email marketing is a cost-effective way to reach out to prospects and inform them about your holiday offers and discounts. Strategically-timed emails can create anticipation and build buzz around your holiday sales.
Here are some reasons why holiday email marketing works and why you should invest in it:
Emails can personalized at scale, ensuring higher engagement than other forms of marketing. You can use this to offer customized discounts and offers to different customer segments.
By adding direct links to your website, emails can spur instant purchases from interested prospects.
Emails are a great way to reach shoppers who prefer using mobile devices, as emails are easily accessible through these devices.
But when should you start sending these holiday marketing emails?
Keep reading to find out.
When should I start sending my holiday email campaigns?
According to a survey by NRF, 80% of consumers plan to do their winter (Christmas) holiday shopping before December 2023.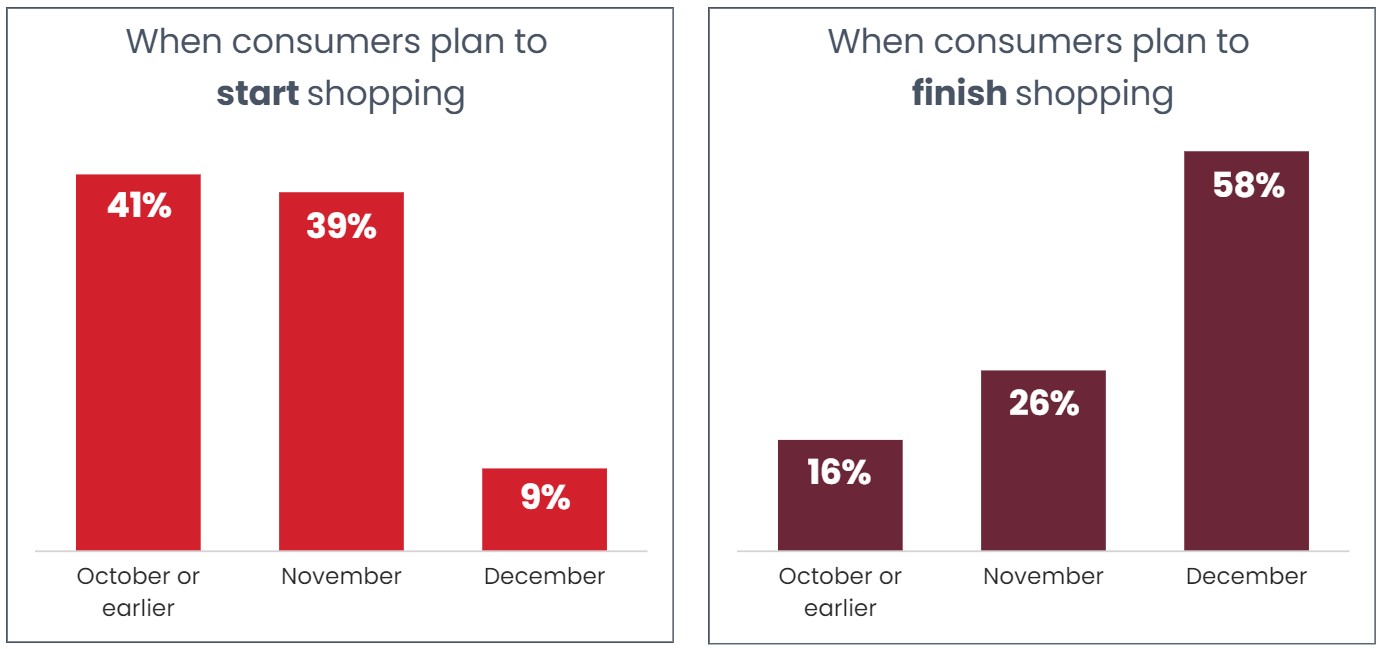 Most consumers start their holiday shopping early to avoid the last-minute stress. Marketers understand this trend and start their marketing campaigns weeks before the actual holiday.
How early you start your holiday email campaigns depends on:
How much time it typically takes your average buyer to make a purchase decision aka your sales cycle length.
Past customer behavior trends for your brand from your previous holiday marketing campaigns.
If you want to play it safe, start two weeks before a holiday and send a sequence of emails, instead of just one.
You can also use our marketing calendar, which marks all important holidays and marketing days in November 2023.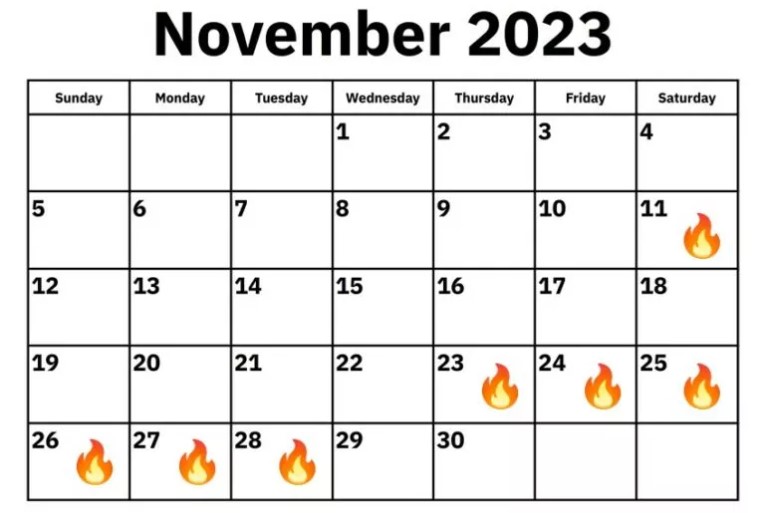 Pro tip: Create your own calendar and email schedule for every major holiday that you want to capitalize on. Create a series of emails for each holiday campaign based on your objectives.
10 proven holiday email marketing tips for 2023
Not all holiday email campaigns are successful, but if you play your cards right, yours can and will be.
Follow these proven tips to run successful holiday email campaigns and get inspired by the examples to spruce up your marketing emails.
1. Segment your holiday email list
Use email list segmentation to target different types of consumers with relevant messaging and tailored offers.
You can segment your subscribers using demographics, buying behavior, past spending trends, brand loyalty, and more.
Here are a few examples of segments you can use for your holiday email strategy.
VIP customers: These are your most loyal customers, usually at the top tier of your loyalty program. Reward them with exclusive discounts that are better than you're offering to the general public.
Gift givers: Check your past data and identify customers who buy a lot during the holiday season but not throughout the year. Then offer gift guides with direct purchase links in your emails to engage with this segment.
Big spenders: These are your repeat customers who consistently buy from your brand and trust you. Promote your big-ticket items with great deals to this segment.
These are just a few examples, and you can create segments based on your customer data and buying patterns.
Here's an example of the kind of exclusive discounts you can offer your VIP customers.
2. Craft captivating subject lines
A subject line can often be the single most important factor in determining whether someone will open your email or not.
Engaging subject lines can boost email open rates and make your holiday email campaigns a success.
Here are a few tips for creating engaging email subject lines:
Personalize your subject lines with the recipient's name, location, etc.
Keep them short and to the point
Make sure they convey what the email is about
Avoid adding too many punctuation marks
Use emojis sparingly
Use A/B testing to learn what works for your audience
Use Omnisend's email subject line generator to create engaging subject lines quickly.
Here's one of the best holiday email marketing examples to inspire you. It has a catchy subject line and personalized gift options.
Subject line: 🎅A certain Mr. Claus gets his gift ideas from us🎁
3. Use email marketing automation tools
Automation should be an integral part of your holiday email marketing strategy if you want to get the best ROI.
Use a good email marketing automation tool like Omnisend to send drip email sequences for your holiday campaigns.
You can precisely schedule your emails to be sent on specific dates and times. Or you can use triggers to send automated emails when a customer performs an action.
Here's an example of an automated email workflow by Omnisend.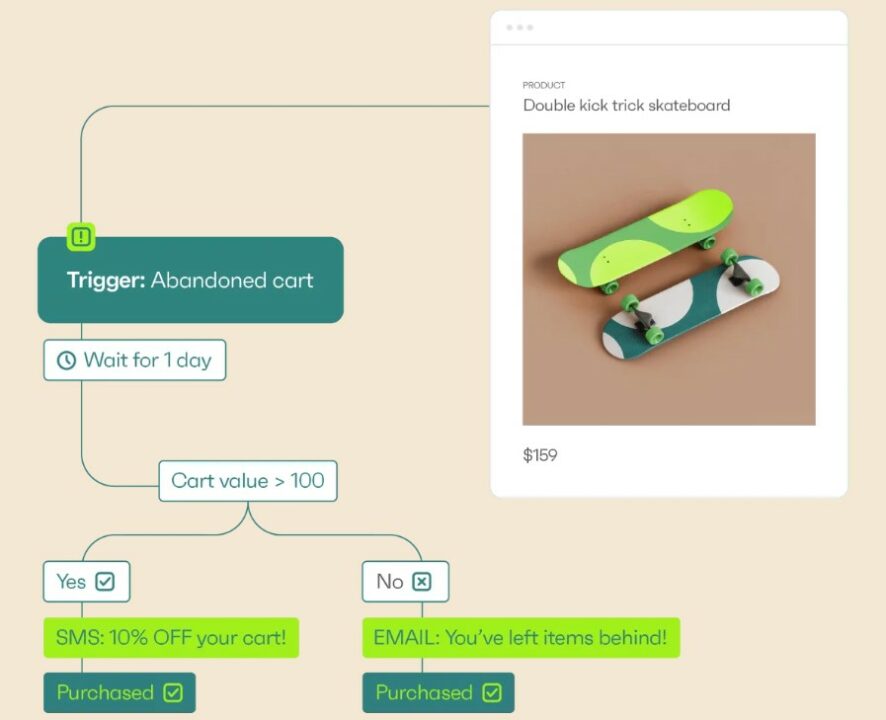 4. Use holiday email designs
Use holiday newsletter templates and email designs that have a festive look and are designed for special occasions.
This will instantly grab your subscribers' attention and engage them, while also saving you time.
Here are some email design tips to create engaging holiday marketing emails:
Use festive colors and visuals to immediately show that it's an occasion-specific email.
Personalize the messaging according to a particular holiday and use puns to make things more interesting.
Use seasonal or holiday-related emojis in subject lines to add a fun element to your holiday emails.
Check out this email by Honey, which is filled with Christmas vibes owing to the red background with snowflakes on it.
5. Offer free shipping
Paying extra for shipping can often cause prospects to abandon their carts and buy from other brands that offer free shipping. That's why, it's a great idea to offer free shipping during your holiday marketing campaigns to drive more purchases.
This is especially effective when you offer free shipping for a limited time to create a sense of urgency. Here's an example.
Combine great subject lines with effective holiday newsletter ideas to drive even more engagement.
Pro tip: You can offer guaranteed delivery before a holiday to make the offer even more lucrative to holiday shoppers. This is especially relevant to people who want to send holiday gifts to their loved ones in a timely manner.
6. Start your holiday email campaigns early
As mentioned earlier, it's a good practice to start your holiday email campaigns well in advance of the actual holiday. The simple reason is that most shoppers don't wait till the last minute to do their holiday shopping.
Another benefit of doing this is tempting the shoppers with early-bird offers before your competitors get to them.
Starting early also gives you the chance to send multiple emails. You can strategically plan a holiday-specific drip email sequence, each with a specific purpose. Here are a few examples of the kind of emails you can send:
An early-bird offer for proactive shoppers
A countdown timer counting down till the holiday sale starts
Offer announcement email for revealing the big deals and offers
An email that shows the urgency of things and the need to take prompt action
A final email to target last-minute shoppers with quick delivery options
This is just one of the many examples of email sequences you can create. The number and type of emails depend on your unique requirements and customer behaviors.
A note of caution though: don't send too many emails or spam your subscribers as that will cause them to spam your emails, which is bad for your business.
Here's one of the best holiday email marketing examples of brands that use this tactic. In this email, Columbia Sportswear offers early bird deals for Black Friday.
Use Omnisend's list of Black Friday email templates to create engaging holiday email campaigns.
Also, don't forget to send post-purchase emails to each customer, thanking them for their purchase. This will help nurture your customer relationships and make them more likely to buy from you the next holiday season.
You can also use unique campaign ideas to boost post-holiday sales via email marketing.
7. Target last-minute shoppers
While it's great to start your campaigns early, you should not ignore the last-minute shoppers.
As such, the competition would be at its highest on the day of or during the days preceding a holiday. That's why, your offers should be lucrative enough to spur instant purchases.
Using countdown timers and time-limited deals is a good way to create a sense of urgency to drive last-minute sales.
What's even more important is offering guaranteed delivery before a particular date, typically the actual holiday. This way, you can target last-minute shoppers who would have otherwise gone to physical stores to buy products before a holiday.
You can also offer same-day and next-day delivery options to sweeten the deal for last-minute shoppers further.
Using these tactics, you can drive online sales via holiday email marketing, even on the last few rush days of the holiday season.
Check out this holiday email by Outsite offering last-minute deals for December, the prime holiday season. It offers deals on stays for last-minute travel planners.
8. Drive urgency
Creating a sense of urgency is a persuasion tactic that you should incorporate into your holiday email marketing strategy.
As holiday marketing campaigns are seasonal, limited-time campaigns, you should capitalize on that. Let your prospective customers know that if they wait too long, they'll miss out on the deals you're offering.
Here are some phrases you can use in your emails to create a sense of urgency:
Order now!
Get it till the stocks last
Limited-time offer
One-day rush
Time is running out
Last day
One day left
Here's an example of an email where the brand has used terms like "the party ends today," "hurry now," and "last chance to get 30% off" to create urgency. The call-to-action "shop now" also adds to that by urging shoppers to take action immediately.
To make your campaigns more effective, combine email marketing with holiday SMS promotions and get quicker results.
9. Use countdown timers
One of the best ways to drive more purchases from your holiday email campaigns is to use countdown timers.
These are great for creating anticipation for your upcoming holiday offers and deals. You can send an email with a timer a few days before you unveil your holiday deals.
This will make people look forward to your upcoming holiday emails and create excitement for the holiday shopping offers.
Another way to use countdown timers is to show the time left before your holiday sale ends, just as Udemy has done in this Cyber Monday email.
10. Make your holiday campaigns mobile-friendly
Many people use their mobile phones to check emails, so it makes sense to cater to them by making your emails mobile-friendly.
The best strategy is to design emails that render well on all devices of varying screen sizes. This can be done using mobile-responsive email designs and templates.
You should also prefer vertical designs and use font sizes that are easy to read on small screens. Lastly, use clear and strategically placed CTA buttons that stand out and are easy to click.
Use these tips to optimize your holiday email templates and reach prospects who mobile devices to check their emails.
Check out this email by Austin Eastciders. It has a scroll-friendly vertical design that is great for people who read emails on their mobile devices.
Wrap up
Holidays are the best times to boost your sales by capturing the attention of holiday shoppers and winning them over with lucrative deals.
Running holiday email campaigns weeks before a holiday can help you attract and convert leads and drive holiday sales.
Use the tips and tricks mentioned above to create the best holiday email campaigns that deliver exceptional results.
Don't forget to use a good email marketing platform like Omnisend that can help you create and run successful automated email campaigns.
Get started with Omnisend today & drive sales on autopilot with pre-built automation workflows
START FREE TODAY
related features
Want more sales?
Omnisend has everything you need to succeed.
Start free now
No Credit Card needed.