Drive sales on autopilot with ecommerce-focused features
See Features
Reading Time:
9
minutes
If ever any industry fully embraced ecommerce, it's fashion. Consumers are just as (and perhaps arguably more so, thanks to COVID-19) comfortable buying new apparel online as they are in-store.
According to Shopify's Fashion Industry Report, the fashion industry will reach a whopping $713 billion by next year. That number is largely influenced by the industry's domineering growth, as indicated by ecommerce fashion industry statistics from Statista. So how can you stay competitive and differentiate your ecommerce fashion brand among a saturated online clothing industry?
Experiment with some of today's fashion ecommerce trends. While we don't advise immediately adopting every craze that emerges from ecommerce fashion news circles, some are based on sustainable marketing strategies that work, and it's well worth the effort to make the most of their popularity. Others aren't merely trends, but new approaches that will endure.
Read on for the biggest fashion ecommerce trends for this year, some of the best fashion ecommerce sites employing them, and a few foundational tips to get you started.
7 Fashion Ecommerce Trends to Consider in 2021
1. Omnichannel Fashion Ecommerce
If the past few years have taught us anything, the omnichannel customer is here to stay. Omnichannel marketing, as opposed to multichannel marketing, places your customer at the heart of your marketing strategy and personalizes their experience. It's the perfect answer for fashion ecommerce merchants aiming to stay relevant.
Omnichannel marketing allows you to gather data from your customers to create an individualized experience, pertinent to their stage of the customer journey. No matter their demographics, how they interact with your campaigns, the way they shop, or their favorite products, omnichannel lets you respond with the perfect message that will resonate best.
Luxury brand Net-a-Porter is one of the best fashion ecommerce sites using an omnichannel strategy. This online fashion retail brand created an application allowing customers to browse products, gather inspiration and share products they love. The company effectively launched its own native ecosystem of Net-a-Porter enthusiasts immersed in a cohesive ecommerce fashion experience from beginning to end.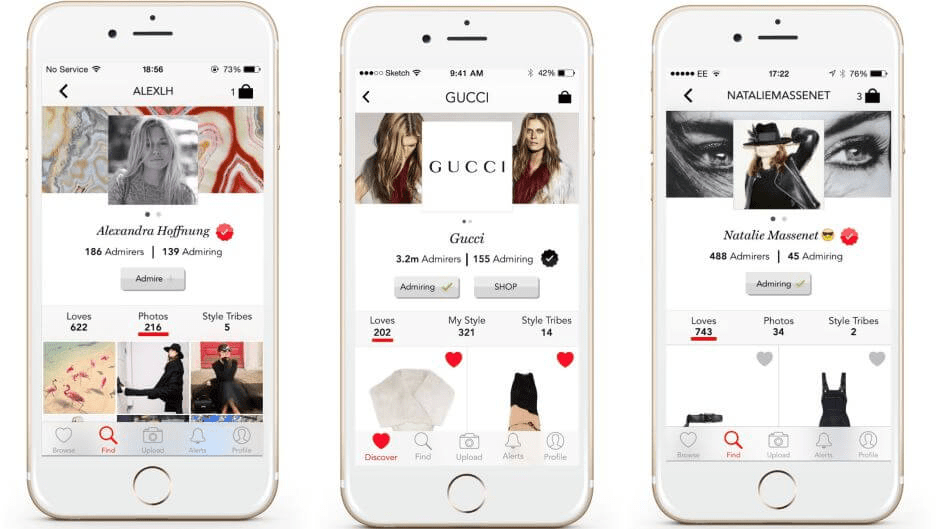 Omnichannel marketing is only a few clicks away! Try Omnisend for free !
START FREE
2. Personalization for Fashion Ecommerce Brands
Hand in hand with omnichannel marketing, personalization will never go out of vogue. A rising trend now for a number of years, fashion ecommerce companies need to meet the demands of customers who want a more personalized experience.
In fact, according to the latest online fashion retail statistics, 51% of U.S. consumers said they were more likely to purchase if content is personalized. What's more, according to another study by Adobe, 49% said they had greater brand loyalty when they interacted with personalized content.
Personalization in fashion ecommerce should span the entire customer experience:
Website: Alter the products you showcase according to your customers' previous visits. Track what interested them in the past so you can recommend products that make the most sense.
Email/Phone Capture: If you include a popup on your site, customize it so that the featured incentive or image pertains to the category your customer is currently browsing.
Automated Workflows: Use the data captured at sign-up and from browsing history to propose personalized recommendations in your emails and SMS messages.
One of the best fashion ecommerce companies implementing this idea is Asos, which personalizes product recommendations across its site and in email marketing messages.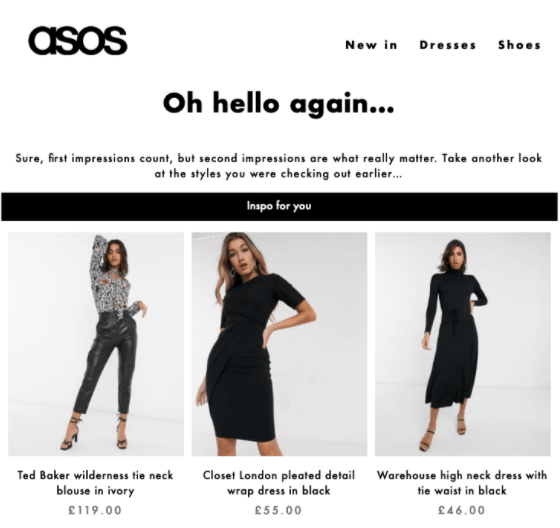 3. Flash Sales and Product Drops for the Online Clothing Industry
Fashion ecommerce brands are no stranger to flash sales and product drops, and for good reason. There is a clear preference for these "exclusive" offers, especially around the holidays. In Q4 2020, we saw more stand-alone promotional campaign sends than ever before. This ecommerce fashion tactic amassed 86% of all revenue generated through email during Q4 2020.
Flash sales are a great way for fashion ecommerce companies to clear out stock from the previous season and make way for the newest product lines. In fact, it's not a bad idea to offer a flash sale as a way of drawing your customers' eyes to newer, full-priced seasonal items currently for sale.
Dixxon Flannel is among the best fashion ecommerce sites nailing this trend. The company built its strategy around exclusive product launches. Once a flash-advertised flannel piece is gone, it's gone forever. Customers are attuned to this sense of urgency; an email teaser is sent to inboxes 12 hours before the new product drop.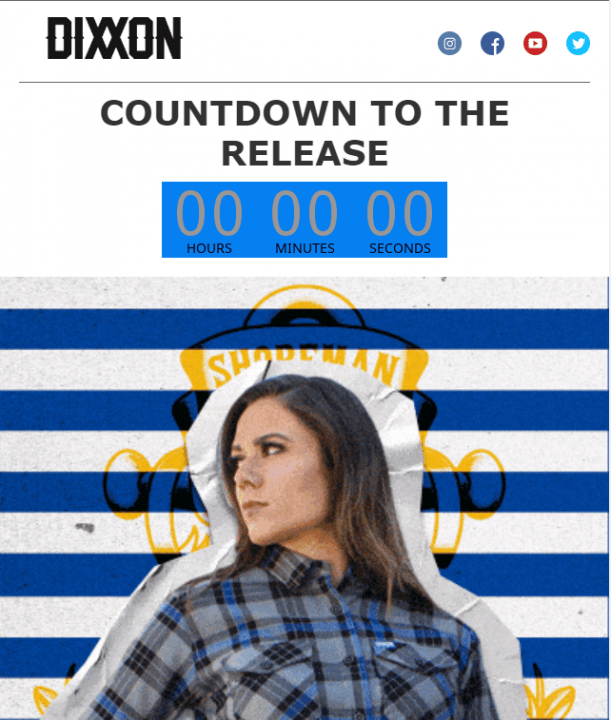 How is this fashion ecommerce trend working out for Dixxon? There are two to three products featured in a product drop every month to keep customers engaged. As of 2019, this drop tactic netted between $10,000 and $20,000 in sales for each product launch.
4. DTC Marketing: The Perfect Marriage Between Fashion and Ecommerce
It's easy to see why the Direct-to-Consumer (DTC) ecommerce fashion trend is hot. During times when more is available digitally than ever before, why not cut out the middle man? More fashion retail companies are moving toward a DTC model to gain greater control over the entire product cycle.
DTC is advantageous to the ecommerce fashion industry. It provides a more hands-on approach to business with greater control. Through this avenue, online fashion merchants have jurisdiction over product quality and pricing from beginning to end.
5. Empowering Fashion Ecommerce with AI & Machine Learning
Artificial intelligence (AI) and machine learning are solidly gaining ground in the fashion ecommerce industry. These advanced technologies can come into play through a few different ways:
Personalization: Product recommendations delivered by machine learning are a staple for online apparel brands looking to deliver personalized content. Harnessing machine learning to collect customer data and react to it is no longer the stuff of science fiction. It's reality.
Segmentation: Combining personalization both on-site and in your marketing messages, machine learning segmentation for fashion brands can help you offer more dynamic recommendations, target messages based on shopping behavior, and provide custom content. In some cases, AI-powered segmentation can even determine your customer lifecycle and help you reach those deemed a churn risk.
Chatbots: 46% of customers prefer live chat to email or phone for support. Using a chatbot to help facilitate your live chat is a great self-service tool: it assists your customers with helping themselves. Whether they need to see a size chart, or are in search of more information on shipping and returns, a chatbot provides instant answers without overloading your support team.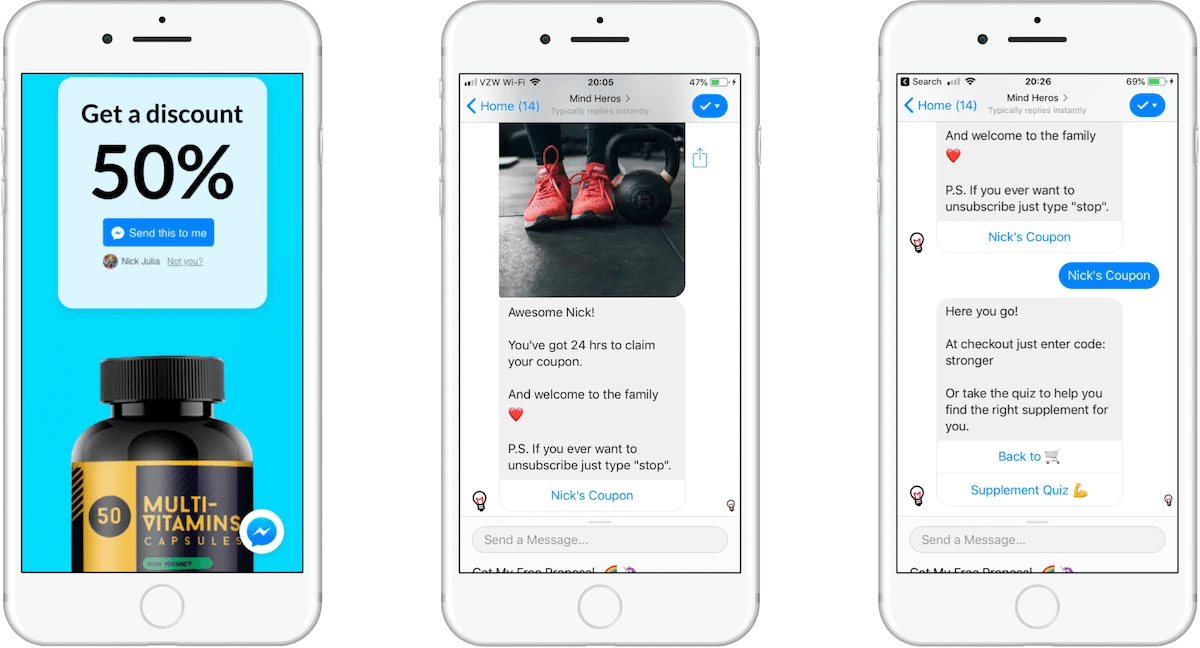 6. Bring the Online Clothing Industry into the Home with Augmented Reality
While virtual reality (VR) has yet to gain traction in the ecommerce industry, augmented reality (AR) is becoming a must-have for the ultimate customer experience. AR application is pretty clear for ecommerce clothing stores: your customers can "try on" clothes without ever leaving their homes.
Some of the best fashion ecommerce sites are using AR to create a unique, interactive experience around their products. Gucci, for example, launched an app where you can get a peek at how sneakers will look on you by pointing your camera at your own feet.
Gucci's new #AR try-on app is pretty cool https://t.co/Qsq4Oybjsf pic.twitter.com/ytXqJdQk4E

— Ricardo ?? (@RicO2O) June 28, 2019
Asos takes AR in a different direction, transforming your living room into a catwalk. Watch models walk in the clothes you choose.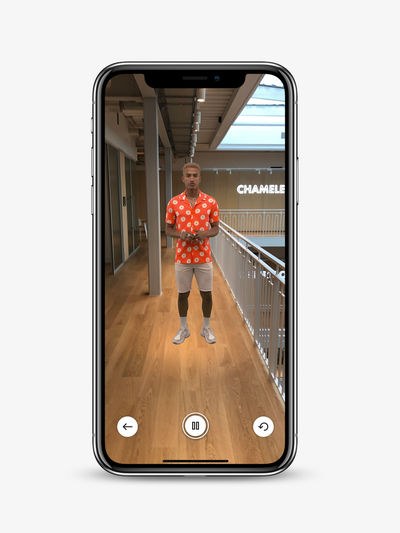 Customers of all industries—fashion ecommerce included—are increasingly opting for a digital experience. Offering the AR try-on is a great way to engage them..
7. Sustainability and Ethical Fashion
Over 1 in 3 consumers thinks about the environmental impact of their fashion purchases, and over 30% believe that it's important to buy clothing made from someone paid a living wage. Consumers want to put their money where their beliefs are, and they aren't shy about it. Transparency in fashion retail is critical for the 2021 consumer.
Best-fashion e-commerce site Yala Designs, for example, boasts its pioneering sustainability model throughout its site.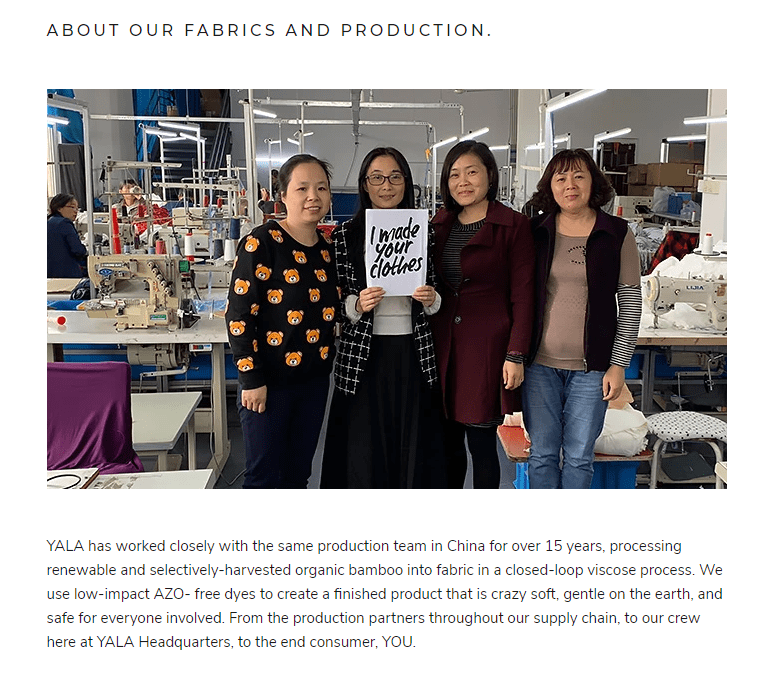 Being environmentally and ethically responsible goes further than just having ethically sourced products. Think about the unboxing experience. Are you using recyclable materials? Are you reducing as much waste as possible?
Your customers are looking at you and sizing up what kind of fashion brand you are. If you can create a sustainable, ethical product, they'll feel better about their purchases with you versus your less-ethical competitors.
Want to superpower your fashion ecommerce store with marketing automation? Try Omnisend free!
START FREE
4 Tips for Implementing Ecommerce Fashion Industry Trends
If you are a fashion ecommerce merchant ready to jump on any one of these trends, a proper foundation is essential to making them happen. The following tips will help you prepare your store.
1. Choose the Best Ecommerce Platform for Online Apparel
Setting yourself up for success begins with selecting the best fashion ecommerce platform for your site. These platforms are a great way to get started in ecommerce without the burden of creating everything from scratch. Each option has its advantages and disadvantages, so it's important to analyze them and choose what's right for your fashion brand.
When you're researching ecommerce platforms, there a few key questions to address:
Do you need hosting? To launch your fashion ecommerce site, you'll need to host it on a server. Can you do this yourself, or will you need hosting options?
How much tech knowledge do you have? Do you need an off-the-shelf program you can operate without customization, or do you prefer more control over your site on the platform?
Do you need a designed theme or can you create your own? If you don't have the resources to design your own look, does the fashion ecommerce platform include great templates that will work for your store?
Will you need third-party apps? From email marketing apps to customer review integrations, you will likely need third-party apps for the optimal experience. Check which integrations your ecommerce platform offers and if those solutions work for your brand.
Can you edit the source code? Even if you don't want to touch the source code right now, it might be a good idea to consider if such functionality will be important in the future.
You will find that not every ecommerce platform makes for an ideal fashion ecommerce platform. The right one serves as a great foundation for enabling fashion ecommerce trends.
2. Use Marketing Automation to Create an Omnichannel Customer Experience
Many of these trends are not possible without a great marketing automation platform. Every fashion ecommerce brand needs critical workflows to welcome new customers, or corral customers back when they've abandoned a browsing session, product, or cart.
Great marketing automation ties into both personalization and omnichannel marketing. You drive sales on autopilot by streamlining marketing tasks. Marketing automation is a major time saver with the capability to provide powerful insights.
Want to know what to look for when choosing a marketing automation platform? Check out our checklist here!
A marketing automation platform is step one. Next comes implementing an omnichannel strategy for your fashion ecommerce business. It means the ability to develop sophisticated email workflows, paired with SMS and push notifications.
According to the 31 million SMS and web push messages we analyzed over 2019 and 2020, these channels are taking off with ecommerce merchants across all industries:
SMS sends rose by 378% YoY and garnered a 102% increase in conversion rates.
Push notifications jumped a whopping 1,098%, with conversion rates reaching an impressive 28.1%.
The data above demonstrates these channels are not only gaining in popularity with ecommerce merchants, but their customers, too. So go where your fashion shoppers are by implementing SMS and push channels.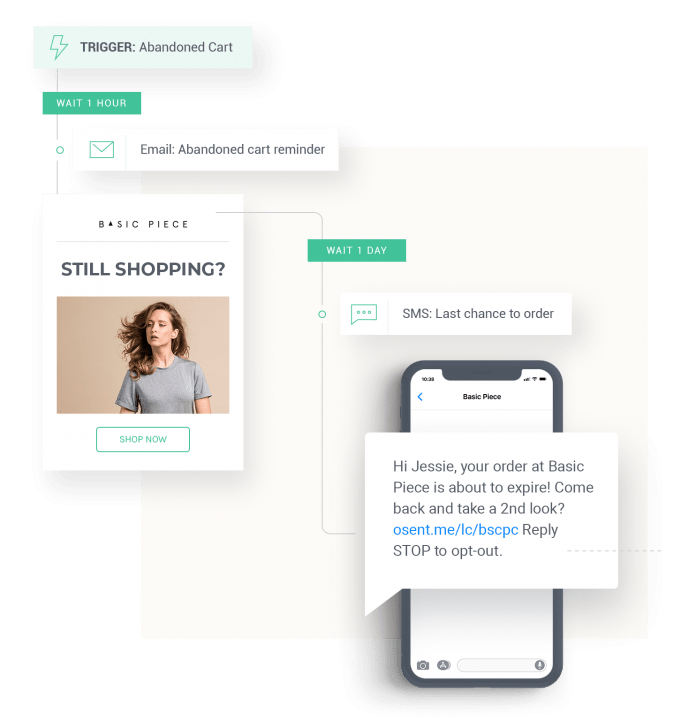 3. Support Your Fashion Ecommerce Strategy with Social Media and Paid Ads
Part of creating the omnichannel experience for your customers means heading to the channels you don't directly control.
Here's an example. Ann abandons a cart containing a fabulous pair of shoes. Instead of letting Ann forget about them, show them to her again through Google and social retargeting ads.
With certain marketing automation platforms, you can sync your email subscribers to Facebook and Google. When a customer like Ann doesn't respond to a cart abandonment campaign, it automatically triggers a retargeting ad. The product appears on the websites the customer frequents most.
4. Fine-Tune the Technical Workings of your Online Apparel Site
Taking advantage of these fashion ecommerce trends depends on a smoothly running website optimized for conversion.
Improve your product descriptions so that your customers are fully informed. A knowledgeable customer converts. Even if you're implementing AR for an enhanced experience, nailing your product description is instrumental for reaching customers who have accessibility needs or have no interest in engaging with AR features. Not to mention, Google loves to crawl and index product descriptions that are clear, robust and contain new content.
Speaking of indexable content for your site, it might be time to update (or create) an About Us page that communicates your brand story. Such an addition is especially beneficial if you lean ethical and sustainable. Tell your customers who you are and what motivates you.
Fine-tuning and regularly updating the technical components—imagery included—of your fashion ecommerce site supports any trend you decide to adopt. And it's more sustainable than relying only on the latest trend.
Take a look at these useful resources:
---
While it's not always a good idea to "jump on the bandwagon," a few of these fashion ecommerce trends have real staying power for the foreseeable future. Start with your solid marketing strategy, and build from there.
Trends come and go. But with a foundation of sustainable strategies in place, you can much easily and smoothly capitalize on their popularity.
Build a foundation ripe for jumping on fashion ecommerce trends: Try Omnisend for free!
START FREE
related features
Want more sales?
Omnisend has everything you need to succeed.
Start free now
No Credit Card needed.