Drive sales on autopilot with ecommerce-focused features
See Features
Reading Time:
6
minutes
The holiday season is just around the corner and marketers are shifting into high gear with their preparations. Whether they're entry-level or a big brand—everyone is eager to get their slice of the holiday shopping pie.
The biggest headache for most merchants is how they can stand out. After all, there is an overwhelming flow of promotional messages that businesses send around this time.
How can they reach their customers and earn their attention? Obviously, there is no single method of success.
In this article, you will find five scenarios for how to catch your customer's eye—even if they missed your first message. These solutions aren't rocket science but are easily implementable enough to skyrocket your sales in this upcoming holiday season.
Start Omnisend for free and supercharge your holiday campaigns!
5 omnichannel marketing ideas for holiday campaigns
1. Approach subscribers that don't engage with your first email campaign
Usually, the click rate for ecommerce is around 12%. However, but during the holiday rush, this can fluctuate wildly.
You'll likely have a lot of subscribers that will somehow miss your email in their inboxes. You can blame it on subscribers being overwhelmed with emails, bad message timing, or the subject line. Ultimately though, that's not so important anymore.
You can give your holiday campaign a second chance by resending it with a new subject line. This can grab the attention of those subscribers that didn't engage with your initial one. The data shows that resending your campaign to non-openers can improve your campaign results significantly.
What can you do next with your promotion? It's simple, you reach out to the audience that hasn't engaged with either of your emails—and you do it via text message.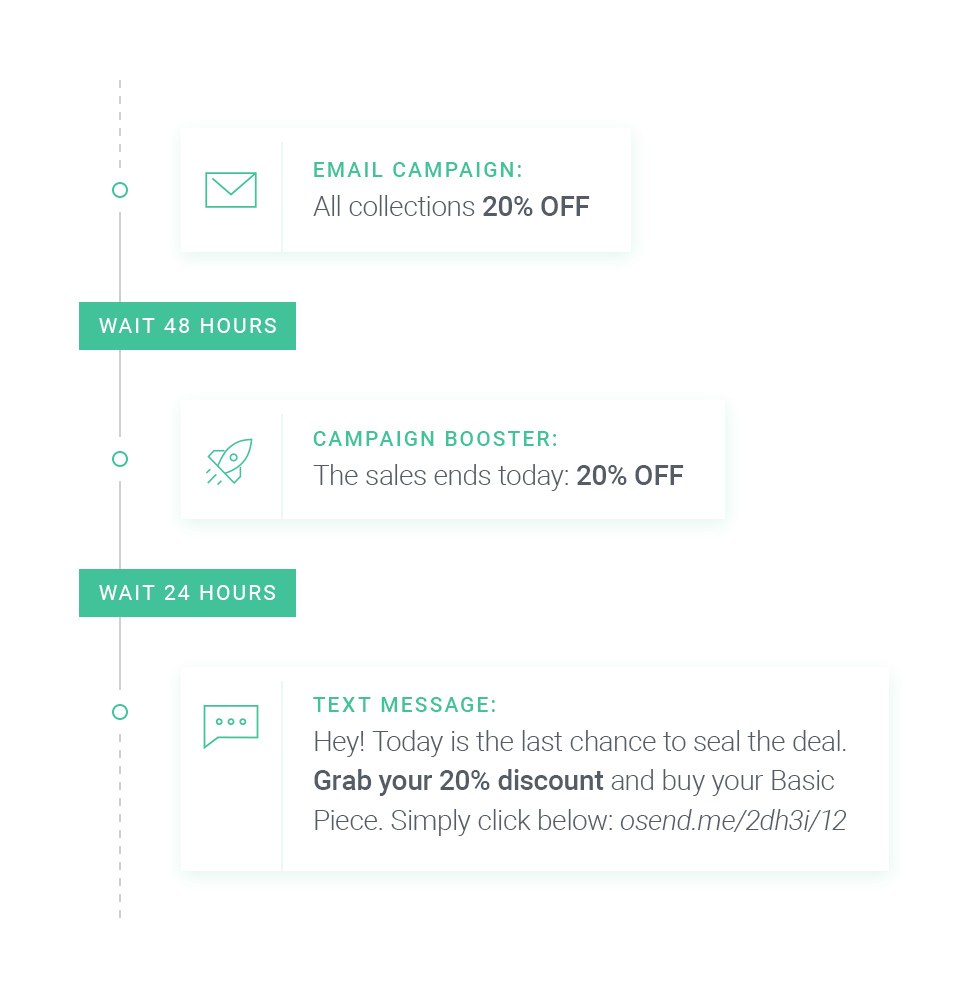 The popularity of successful SMS campaigns is growing significantly. More and more businesses use this channel to reach their audiences. Omnisend customers have previously spoken about yielding more than 2000% ROI from this channel.
Furthermore, this workflow is cost-effective. The vast majority of your audience is reached via email, which is the most affordable of all channels. Invest more into text messages—only to those subscribers that you didn't succeed in reaching via newsletter. What's even better, with Omnisend, you can even send SMS for free.
For this scenario, you will need the following:
The phone numbers of your subscribers. You still have time to update your signup forms and start gathering the data—there are many ways you can do that with your holiday promotions.
An email service provider that would be capable of providing you with an email re-sending and integrated SMS marketing service.
Check our beautiful email newsletter templates for Holiday emails or Christmas newsletters.
2. Win abandoned carts with advanced methods
To win back the customers that abandon your cart, you have to automate this process. You need to launch an automated workflow that will be triggered when someone abandons a cart in your store.
There are many different options for what "players" you will choose for this game.
One of the most effective combinations is an email and a cart abandonment SMS. Let's take a closer look at how those channels would complement each other.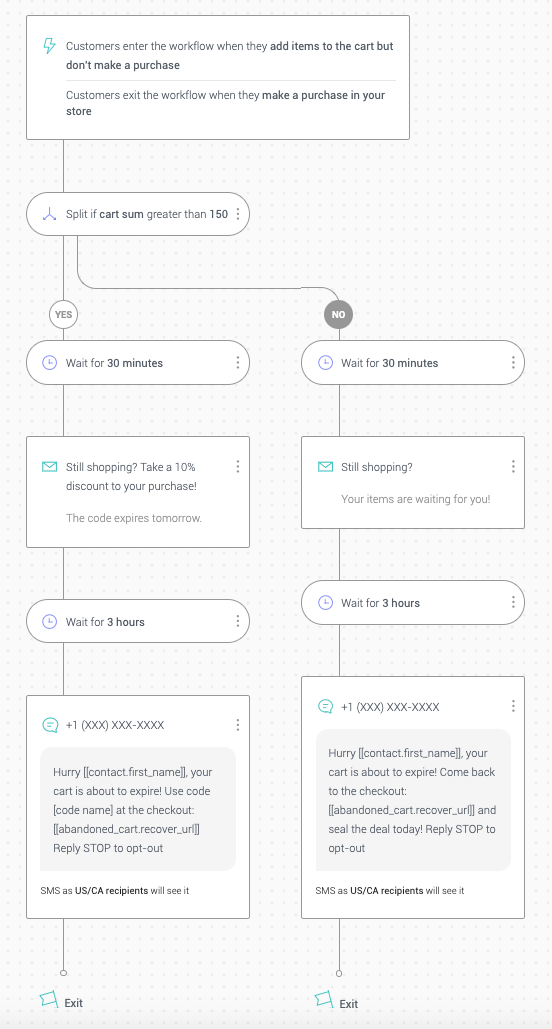 30 minutes after your visitor abandons their cart, send them an email with a reminder about the cart. In the example above, we can see split messages for those who abandon their cart, depending on the cart size. For bigger carts, we offer a discount, and for smaller carts, we send a simple reminder without a discount.
Naturally, you should include all the necessary information. The absence of which could stop people from buying from you. This includes a link to the return policy, shipping rules, and contacts. It's worth considering offering free shipping at this point, if you haven't before.
If the email doesn't work out, send an SMS reminder. Pay attention to the timing. During the holiday period people make decisions faster, so the time gaps between messages should be smaller than usual.
Only if those two channels don't convince your visitors to back and make a purchase, launch Facebook retargeting. This channel is more expensive but helps to stay your brand at the top of your audience's minds.
Start Omnisend for free and supercharge your next holiday email campaign!
3. Win back abandoned carts with basic methods
If you don't feel like combining channels for holiday campaigns yet, you shouldn't miss the opportunity of winning back your carts anyway. Just stick to a simple sequence of three abandoned cart emails.
Sometimes, tools that provide email service have already pre-defined automated workflows with texts in place. This way, you don't have to strategize or write copies yourself. You launch the workflow once and it works for you 24/7.
See the example of a predefined email sequence at Omnisend. Hundreds of customers send this kind of email without any extra adjustments.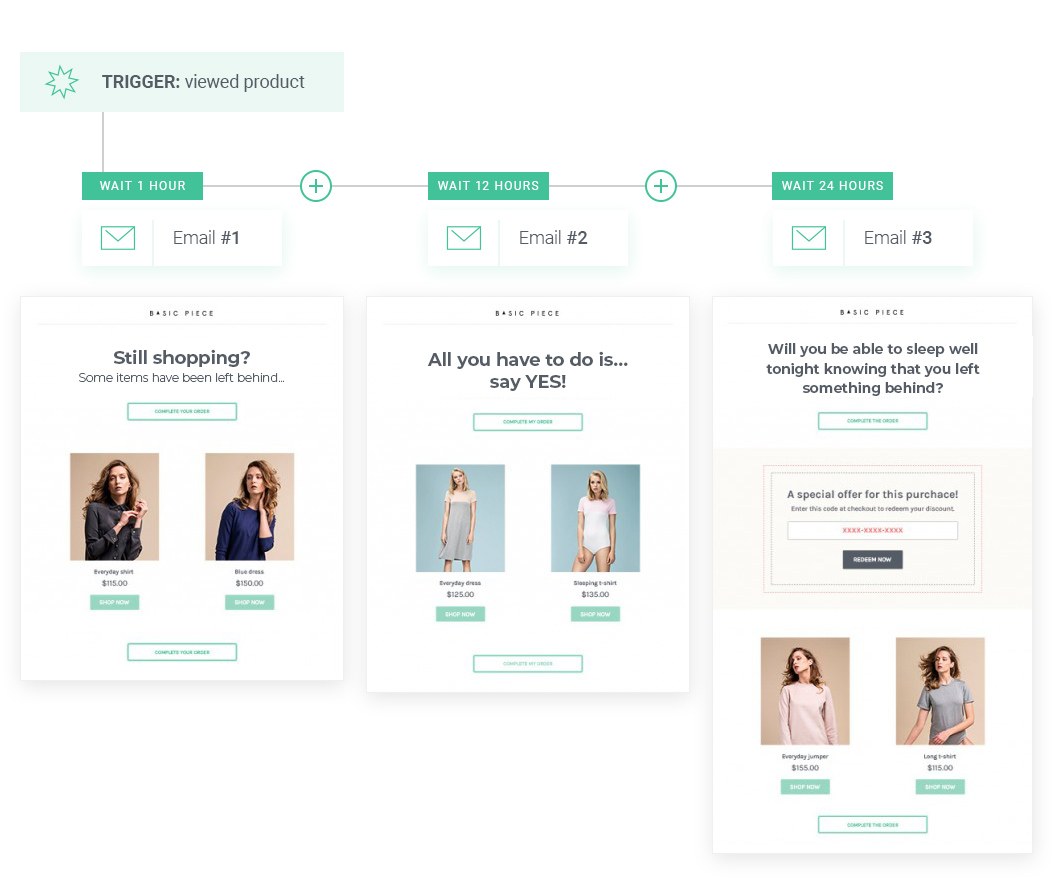 4. Up-sell while confirming shipping
Shipping notifications are critical for every ecommerce store. These come as automatic messages with standard texts that are sent just after the product have been shipped to the buyer.
A shipping confirmation email has a very high open-rate—why not use it for upselling?
Inform your customer about shipping estimations and offer a new deal for the next purchase. This will help you assure returning customers after the holiday season is over.
If you send an email, include essential information. For example, the product purchased and how much they paid for it. If you send a text message, be brief. See the example below: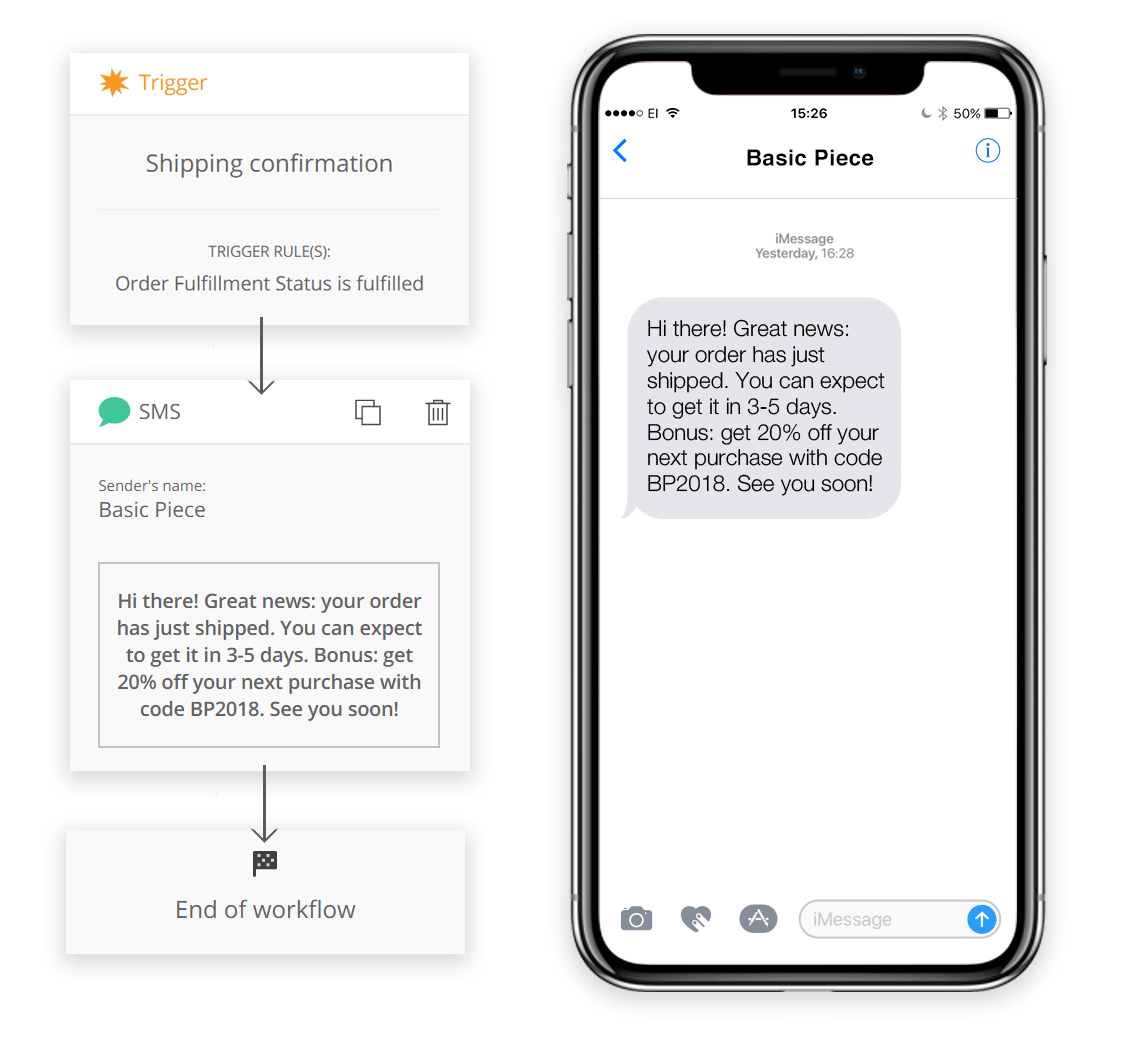 5. Start re-activating your dormant customers
There's no doubt that the value of existing customers is huge. After all, existing customers tend to buy more and spend more.
The problem is that sometimes customers stop buying from you for no reason or for unknown reasons. They become dormant. Every business has such cases. It's hard to measure, but there are guesses that dormant customers take about 30% of the online business database.
The good news is that you can re-activate at least a part of them. Re-establishing relationships with your loyal customers is beneficial—especially before the holidays.
So how can you do this?
Launch an automated customer reactivation campaign workflow. Double-check your average buying cycle and set up messages that will send automatically once your customer becomes inactive.
Usually, for fashion, small electronic devices, books, or household goods, we suggest sending the first message after 30 days of inactivity. Then you can make a sequence of three or even more messages a week after week.
The idea of such messages is to show appreciation to the customer. Bear in mind, that an incentive, in this case, is a must to include in your messages.
The workflow can look something like this: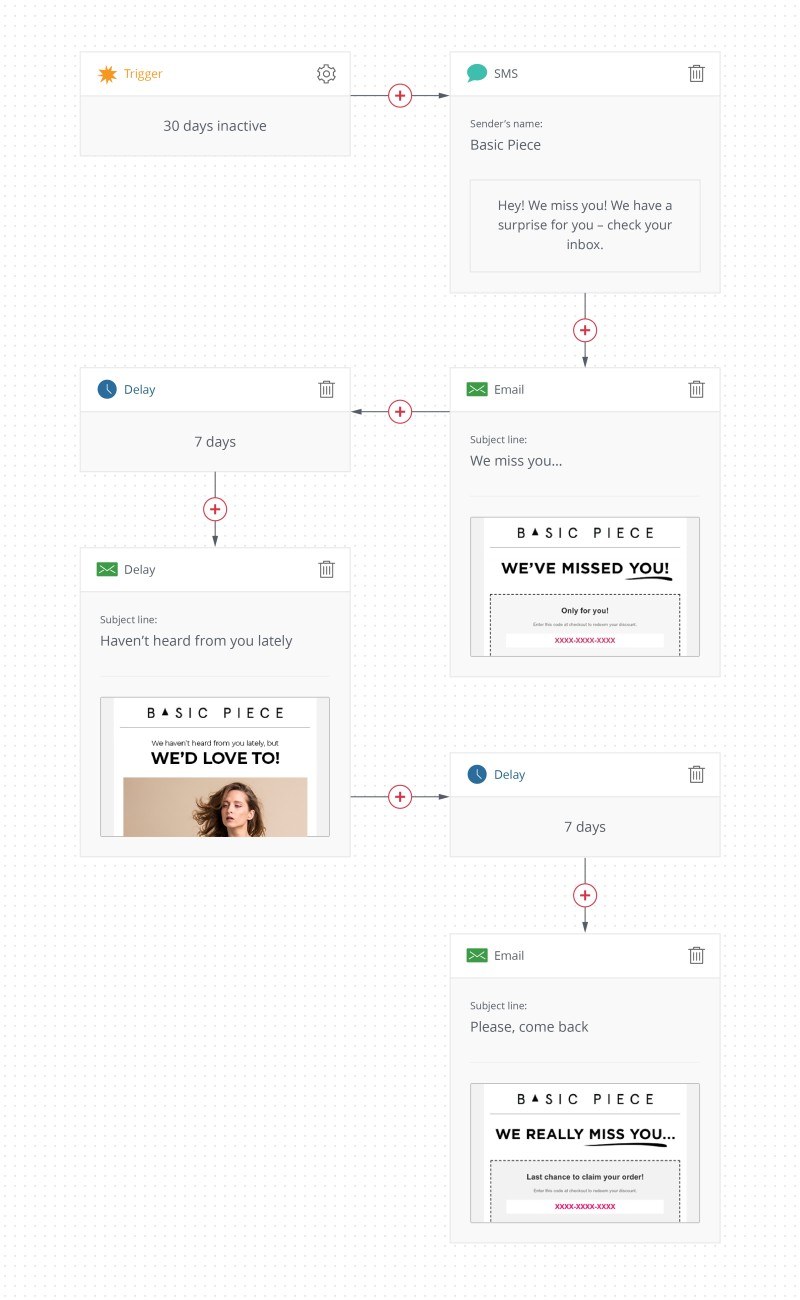 The text message at the beginning of the workflow is critical to grab the customer's attention and to re-establish your connection. If they ignored your emails in their inboxes for a while, reactivation emails without initial momentum won't work as effectively as they could.
You may also add Facebook retargeting to this reactivation campaign. Be visible to customers that already know your brand and trust you, and when they are looking for a place to shop, they will finally land on your site.
Wrap up
These are five ideas for standing out from the holiday sales crowd and reaching customers that are ready to buy.
Not all of them should be implemented at once. Pick one or two, and these small baby-steps will lead you to a great customer experience as well as bigger sales.

Start using Omnisend and supercharge your holiday email campaigns!
Start Free
related features
Want more sales?
Omnisend has everything you need to succeed.
Start free now
No Credit Card needed.