Drive sales on autopilot with ecommerce-focused features
See Features
Reading Time:
5
minutes
Online DTC brands have so much to focus on to adequately prepare for their holiday campaigns. Between planning promos, social media posts, paid search, retargeting strategies, and more, oftentimes some of the most basic things are left untouched—including the holiday email template.
Don't let this happen to you. Optimizing your email template for the holidays can make the difference between a subscriber engaging with you or moving on to the next email. To help you maximize your holiday season, here are three ways to optimize your holiday email template and some examples for inspiration.
1. Show off your value-adds
People choose to shop with a company for a variety of reasons, but during the holiday season, these can either be lost in the noise or shifted to an even playing field with your competitors. While it is essential to focus on your key competitive differentiators year-round, it's imperative to reinforce these in every message during the holiday season.
When it comes to your email template, you'll want to use it to your competitive advantage. First, identify the value-adds that matter to shoppers, such as:
Free shipping/returns
Extended return policies
Price matching
Satisfaction guarantees
Buy online pick up in-store (BOPIS) or curbside pickup
Same-day pickup
Free gift wrapping or another concierge-type service
Once you've identified what you want to promote look for areas in your emails to include these callouts. Consider adding a banner or graphic section to the top or bottom of each email highlighting these benefits. You can build callouts directly into your header, as static text in your navigation bar, and in your preheader text. No matter where you place them, just use them.
Start Omnisend for free and supercharge your next holiday email campaign!
This first example from PACT shows how they include their value-add of free shipping and free returns directly below the header in their email—ensuring anyone who opens the email this value-add.

Eloquii reinforces their value-adds in the recovery section at the bottom of the email. With the use of the word "promise," they reinforce trustworthiness. They continue by focusing on their quality (calling themselves fanatics), reminding consumers to keep checking back (new styles added daily), and on their customer convenience (free exchanges).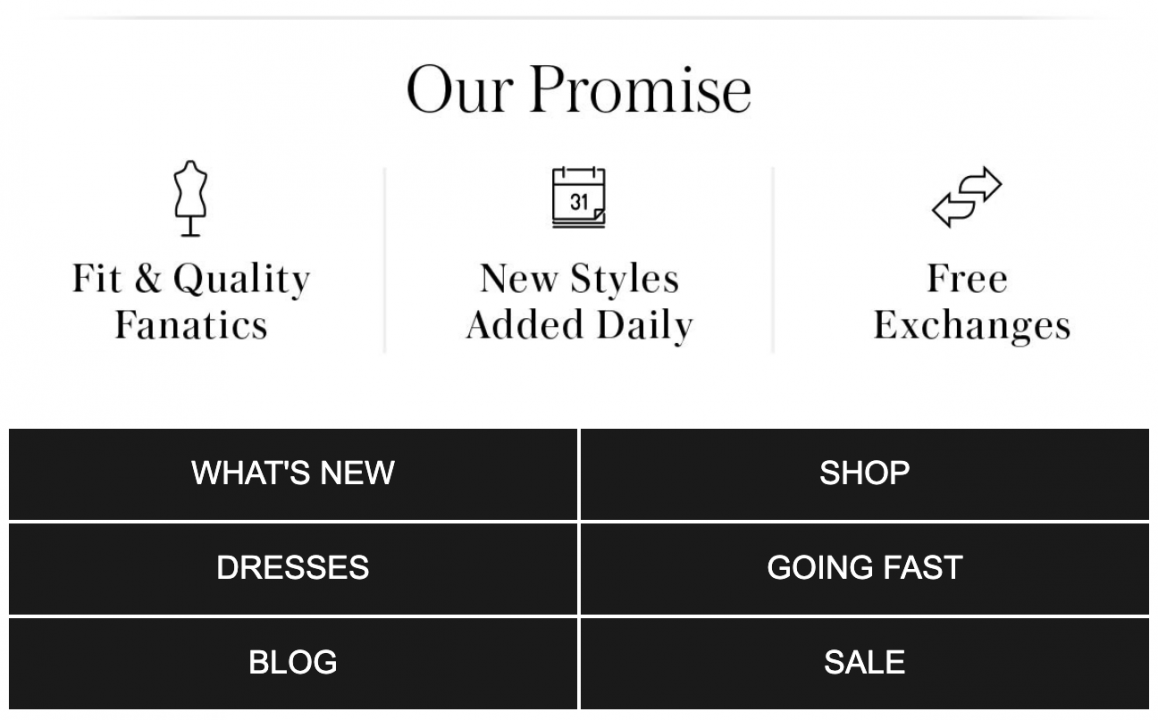 This final example, from Lulus, can also be found at the end of the email and contains two things worth mentioning. First, the shaded box highlights what consumers, especially during the holidays, find valuable—free shipping without delays and returns. Second, they focus on "superior" customer service—something every customer wants. They also provide a chat option, which many consumers are increasingly finding useful when shopping.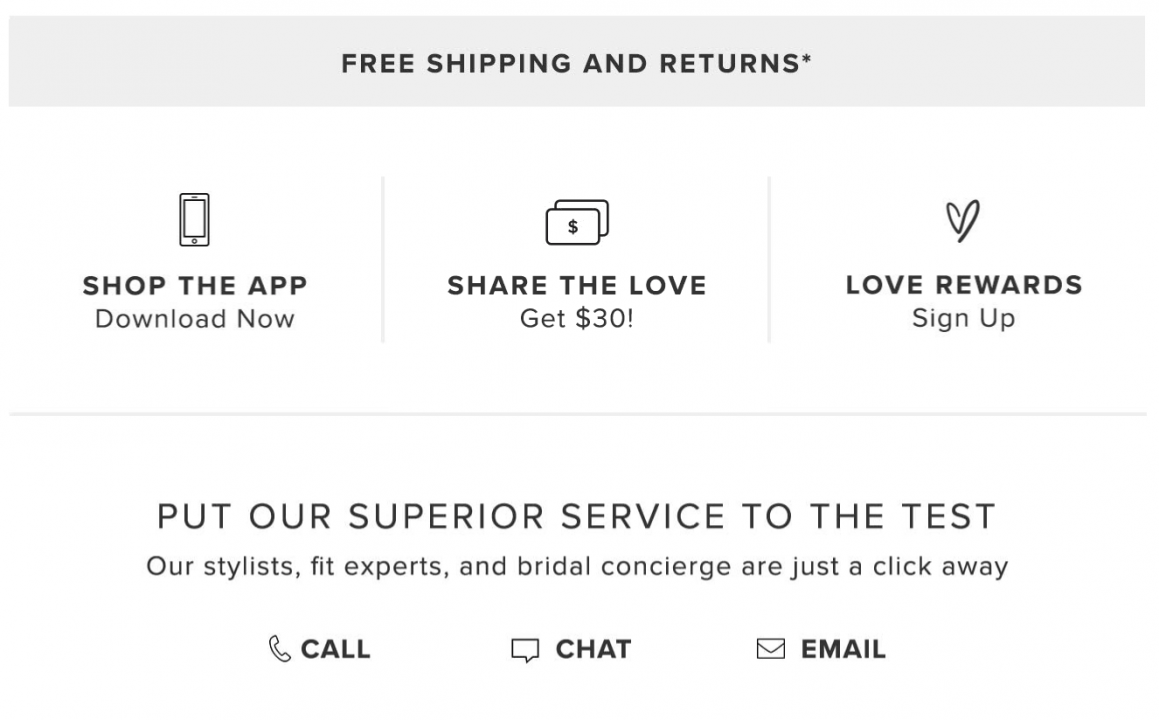 2. Update your navigation bar
Navigation bars highly-clicked inside of emails so be sure to update these for the holiday season. Subscribers often look to these links to help direct their shopping journey. Adding specific links targeted toward gifting can provide them an easy path to start that path to purchase.
Common types of links to include to the navigation bar include:
Holiday gift guides
Gifts for him/her
Stocking stuffers
Gift cards
Gifts by price point (e.g., gifts under $25)
Having enough room in your navigation bar can become an issue. If you don't have enough room to add an additional link consider one of the following options:
Replace the primary navigation bar with a custom holiday-focused one—you can move your regular navigation bar to the recovery section at the bottom of the email
Add a second line to your navigation bar, space permitting
Replace lesser-clicked links with holiday-specific links
To provide some inspiration, here are examples of how other retailers have changed their navigation bars for the holidays. In the Aveda example, you can see they include a stylized "gifts" link, complete with a picture of a present and red font.

Perpetual Kid made a unique navigation bar for the season, highlighting Black Friday sales, stocking stuffers, and a gift guide. This is a great example of focusing on what shoppers want from the season.

3. Include product recommendations to your holiday email templates
Product recommendations can be a great addition to any holiday email, as it not only helps the subscriber identify products of interest, but it also rounds out an email by providing more content in each one. What makes them even better is that by having an ecommerce platform integrated with your email marketing provider inserting these into an email is a snap—which is great for time-pressed marketers.
Product recommendations come in two forms—standard and personalized. Standard recommendations are ones such as "top products," "best sellers," and "top-rated." These can be especially useful as they cast a wider net as far as the types of products they include, and serve as a type of social proof for products.
Personalized recommendations are based more on an individuals' purchase history and other similar shoppers. These can be useful to give a personalized feel to an email that is most likely centered around someone else.
One common question heard during these times is whether including personalized recommendations makes sense due to the gift-buying nature of the season. The answer is yes! As the shopping season has expanded over the years so too has self-gifting. Last year, 78% of consumers planned on purchasing gifts for themselves.
Don't miss this opportunity to easily put more products in front of your customers' eyes. Here's a little inspiration for you. In the first example from OGIO, you can see they not only showcased their All-Elements collection but also included multiple "top-selling" products across multiple categories.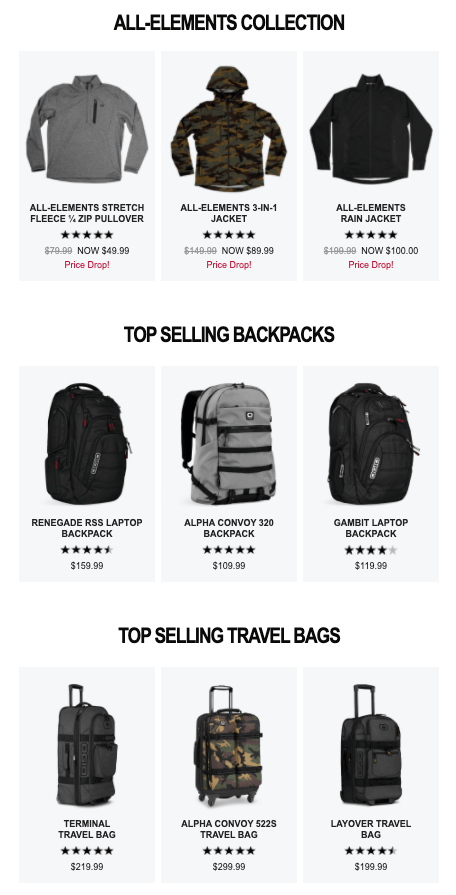 This second example, from The Company Store, uses a more traditional layout for product recommendations by including them at the bottom of the emails. Look at your own products and email design and test what type of format might work best for your brand.
Start Omnisend today and supercharge your next holiday email campaign!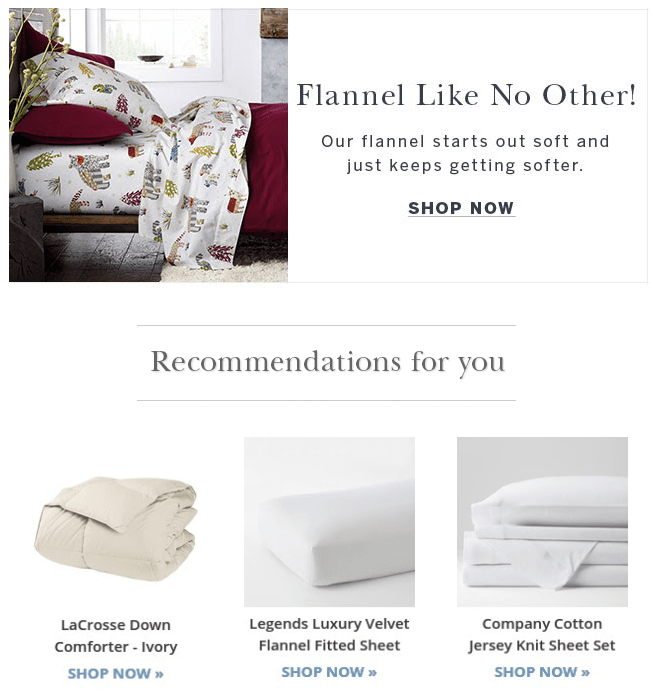 4. Holiday email examples for inspiration
1. SNOWE

2. Bellroy

3. Lego

4. Diesel

5. She Simply Shops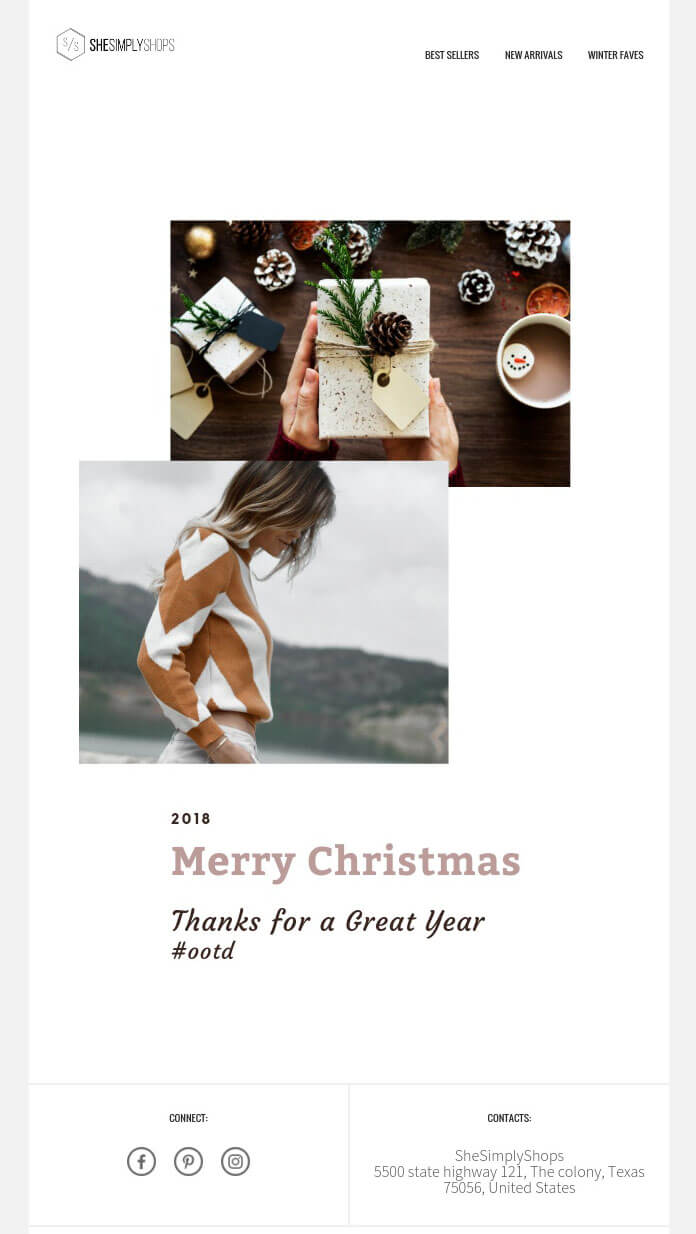 Ready, set, go
When it comes to maximizing your sales this season don't leave any stone unturned. Focus on delivering your email subscribers with messages that are both engaging and useful. By designing a holiday email template that meets their expectations, overcomes conversion obstacles, and showcases competitive differentiators, you'll be one step closer to achieving your holiday email marketing goals.
Start Omnisend using Omnisend today and supercharge your next holiday email campaign!
Start Free Today
related features
Want more sales?
Omnisend has everything you need to succeed.
Start free now
No Credit Card needed.