A lot of marketing specialists, including us, encourage young online businesses to start sending promotional email campaigns to their customers to significantly increase their revenue – and this is true, if the plan of action goes smoothly.
But what if your email marketing results do not reflect the energy and effort invested?
In the recent Omnisend Email Lab, we tried to help our clients with email campaign performance. We worked to improve the open and click rates of their email campaigns, and we are happy that these actions have positive results.
About the Case
Kali Laine was started in January, 2016, by two sisters alongside their mother. The Canada-based company sells custom pillows, duvets, shower curtains, mugs and mobile phone cases. Business owners are taking advantage of multi-channel selling and are showcasing their products on Shopify Store, Etsy, Fancy and EBay platforms.
When applying to Omnisend Email Lab, Kali Laine indicated the low email campaign engagement and asked us to improve their email campaign design.
Analysing this case, we saw that the average open rate of Kali Laine email campaigns were 12% – indeed, this was below the ecommerce average of 18.8%. Using Campaign Booster, Kali Laine owners resent campaigns to non-openers and improved the number of subscribers, seeing the campaigns rise to 15.2% of all subscribers. However, this rate was still below the ecommerce average.
Now, the average click rate of Kali Laine before email lab experiment was 0.52%. The majority of campaigns were resent once again to non-openers and this number increased to 0.64%.
Knowing this data, we made a decision to divide email lab experiment into two parts:
I – work on email list and see if it influences the open rate.
II – work on email design and monitor its impact on click rate of the campaign.
Part I. Email List Health
Our experience shows that most of the time the quality of the email list has the biggest influence on email campaign performance.
Did you know that 17% of Americans change their email addresses every six months? Annually email addresses have been changed by 30% of all subscribers. (Source: Convinceandconvert.com)
This means that about one third of your email list every year should be deleted because your emails do not reach the recipients anymore.
Other benefits of keeping list healthy:
You can see real engagement with your campaign from people who receive your emails.

You save money because you have to pay less for your email service provider.

You reduce the risk of being reported as a spam which could spoil your sender's reputation.
So, in the Kali Laine case, we created a segment of customers who were active during the last four months and sent an email campaign, only, to them.
What were the results?
    

The segment of recently active subscribers of Kali Laine contains only 40% of all subscribers which means that the rest of the emails are either not in use anymore or those people haven't opened any of the Kali Laine emails for more than four months.

    

After sending the email campaign to active subscribers, the open rate increased by 47% and the campaign ended up with 22.4% open rate.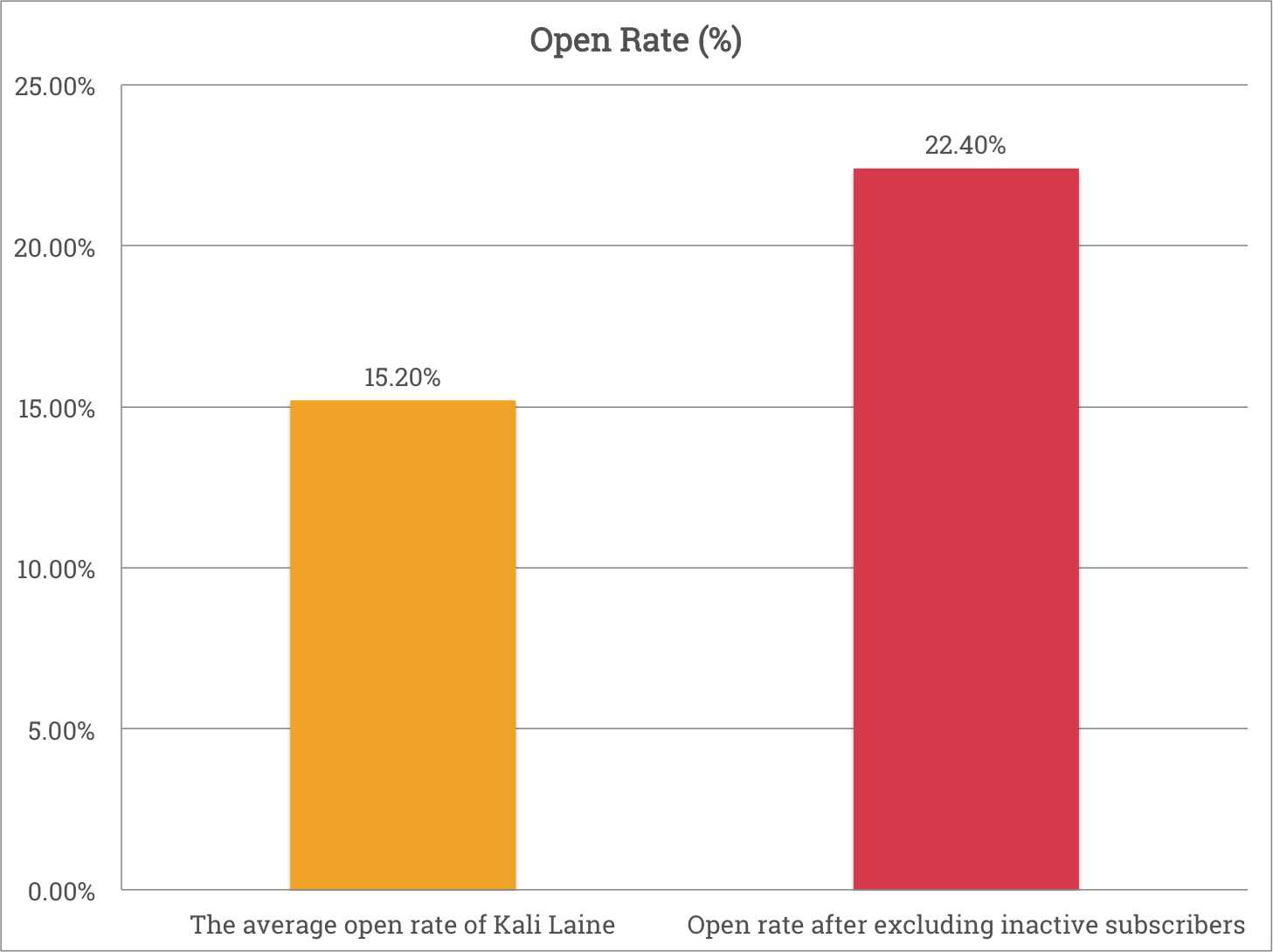 Moreover, the click rate also seems to be much better than before. It increased by 118% and ended up with 1.4% click rate.
So, as the average ecommerce open rate (18.8%) is surpassed, let's move on to improving email design and see what influence it has on Kali Laine email marketing.
Part II. Email Design.
There are no strict rules what your email design should look like. However, there are some good practices and tips on how to make it fall in line with your brand appearance and perform more effectively.
Let's take a look at one of the previous Kali Laine newsletters. In the example below, there is a screenshot from Omnisend Click Map which shows how the clicks distributed among different products and call-to-action buttons.

In this email, we see the hero image with a young beautiful lady and a product listing layout comprising of 15 different products. The product images are very nice and the email itself looks fine. But, there is a "but". Bearing in mind the products' images, titles and the call-to-action buttons, a subscriber is invited to click on 45 different places that are equally important in this email. There is a lack of a bright, stand-out button which would invite the viewer to the store, to take a closer look at the products with bigger images. Also, product descriptions take up too much space.
Omnisend marketing team were allowed to create an email design of whatever we thought was necessary. Thanks to Kali Laine business owners for their trust. So, what we did, with the new email design, was the following:
     

We included a company logo on top of the email, to strongly brand the email.

     

We also used a hero image, with challenging invitation, to buy gifts.

     

We included a coupon code, with a red button, in the middle.

     

As the Kali Laine team like to highlight many different products, we left the same concept but changed the layout. We put different products into the puzzle, but we skipped the descriptions, titles and double prices that confuse as well as the call-to-action buttons to buy the products.

     

At the end of the email, we repeated once again an invitation to the store with the bright call-to-action button "Pick Your Gifts Now".
This is what the new email design looked like:
What were the results?
    

The click rate of this email was 2.2% which is 3.5 times larger than the average and more than twice better than the best ever Kali Laine email campaign.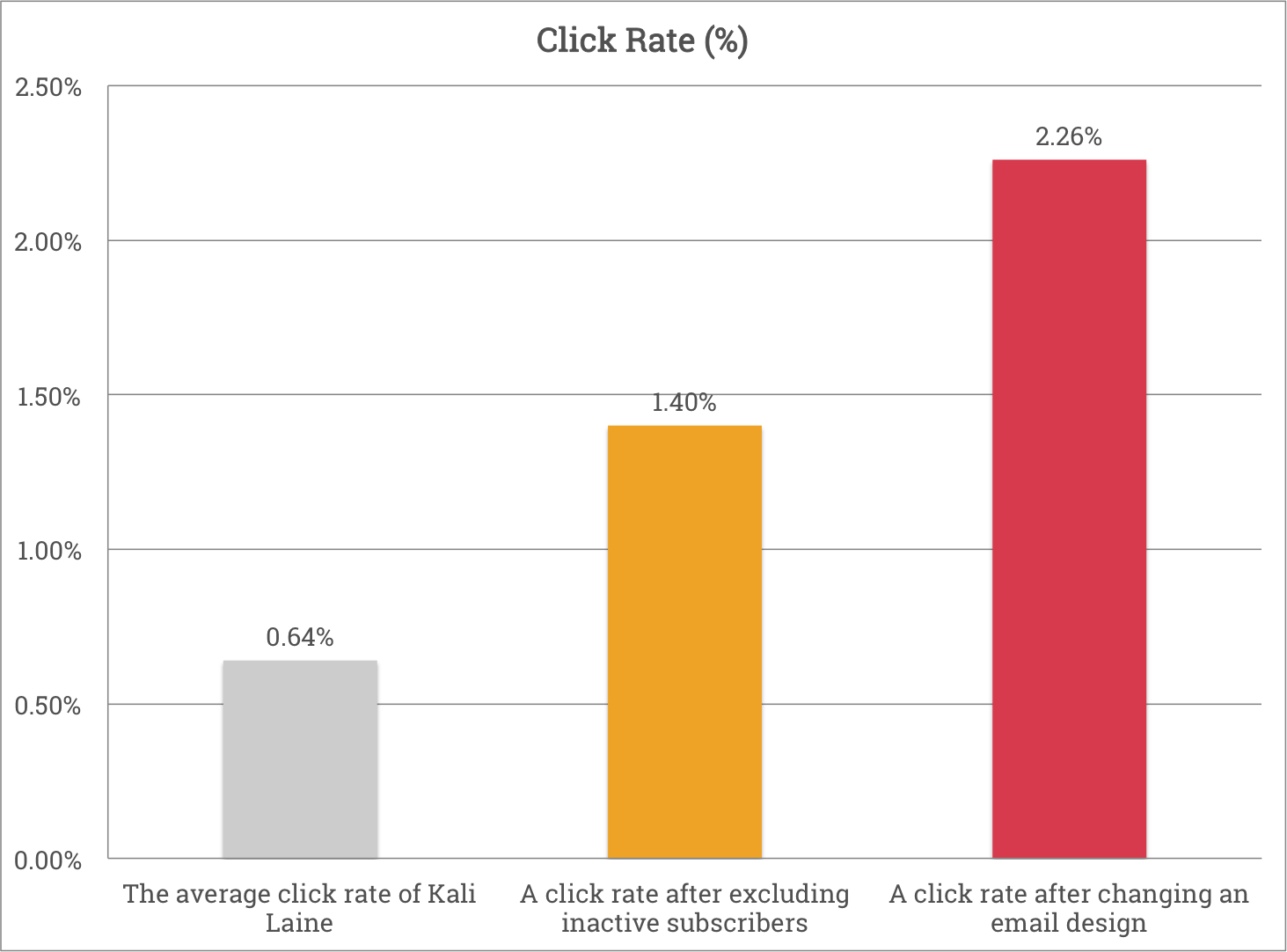 "Shop Now" call-to-action button received 22% of all clicks. "Pick Your Gifts Now" button at the end of the email received 26% of all clicks of the email. The product images and the categories at the bottom of the email share the rest of clicks.
After participating in Omnisend Email Lab, Kali Laine will be able to use the email template for the following campaigns as well as having insight on how to lay out the products and call-to-action buttons which can lead to more subscribers of their website.
Take-aways and Recommendations:
1. A healthy email list is crucial for your email campaign performance. You will be able to see the relevant numbers of your campaign only when you have a contact list with active subscribers. We know that deleting your inactive subscribers is a heart-breaking action. However, you would be better to invest that money into a new means of gathering subscribers instead of paying your email service provider to keep stale contacts in your account.
2. Email design experiment proves several things:
Email design has a strong influence on the click rate.

It's worth trying different layouts for your campaigns. Try a different number of products, with/without descriptions, big/small images, with/without prices, etc.

Call-to-action buttons must stand out from the rest of content in order to be clicked. It must be easy to understand what you want a subscriber to click and do when viewing your email.