Drive sales on autopilot with ecommerce-focused features
See Features
Reading Time:
10
minutes
SMS marketing has a huge reach and stunning engagement results. Although this channel isn't necessarily your "all-in" bet, short text messages are a powerful add-on to your existing marketing strategy.
At Omnisend, we see that SMS is gaining momentum: more and more ecommerce sites are looking for the best SMS marketing software to integrate the short text messages channel into their communication flows. And there are definitely good reasons why.
Apart from the fact that mobile phone penetration is at least 83% in most countries (and up to 94% in advanced economies), the short format of text messages is easy to consume. So, SMS is an effective platform for sending time-sensitive communications. Additionally, it is easy to respond to, so two-way SMS marketing is an excellent way to enhance CRM and boost customer engagement.
If you are reading this article, you probably see the same unexplored SMS marketing opportunities as we do. So let's determine which of the contenders is the best SMS marketing software for your ecommerce site.
1. Omnisend
Best for: ecommerce businesses
Pricing: free, based on plan. On Standard, $0.015/SMS in the US
Top features: segmented SMS/MMS campaigns, bulk SMS blasts, automation including SMS and other channels
G2 rating: 4.6
With Omnisend, you can send promotional SMS campaigns as well as automated workflows with integrated different channels. Omnisend is an email and SMS marketing platform that allows you to mix channels and send your messages through customers' preferred media. In this case, you can boost your overall campaign engagement as well as save on spending per message.
Omnisend works on Shopify, Shopify Plus, BigCommerce, WooCommerce and other ecommerce platforms. Additionally, it has several unique features to support your CRM efforts.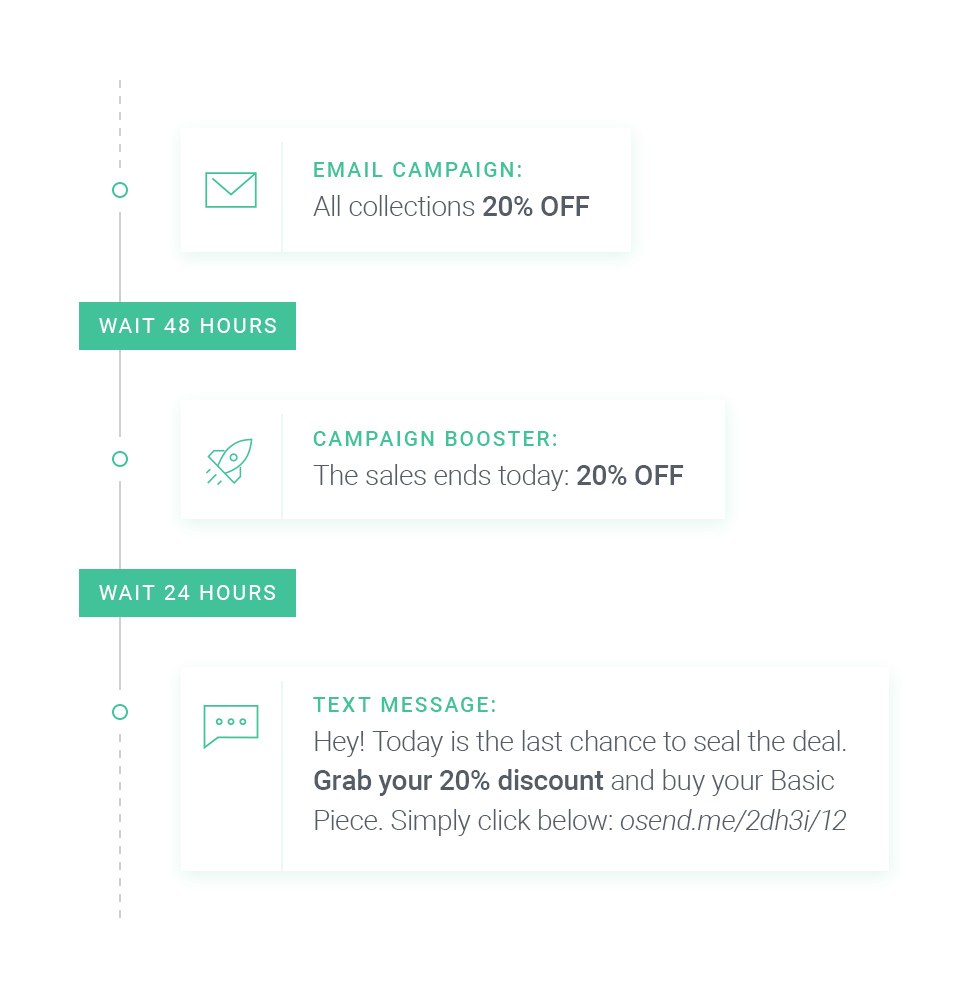 Feature list:
Segmented SMS/MMS campaigns and bulk SMS blasts
Automated workflows via SMS only or with other channels integrated
Advanced segmentation
Personalization
Sign-up forms and landing pages to capture phone numbers
24/7 Support
Pricing: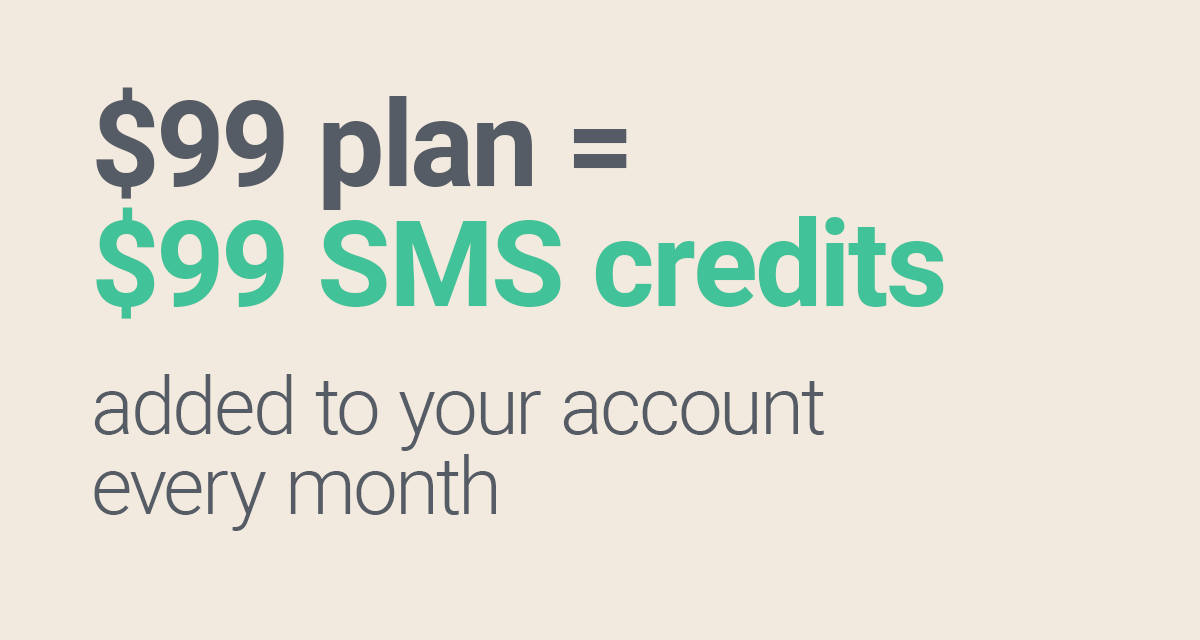 At Omnisend, marketers on any plan can to use our SMS marketing tools. Users on the Free and basic Standard plans have a limit of 60 SMS/month (with the option to top up at any time), while Pro users get free SMS credits equal to the price they pay for the pricing plan.
If they are on Standard plan, the price for SMS goes on top of the pricing plan. A text message costs $0.015/SMS in the U.S. For more details, please follow this link or check our SMS pricing calculator.
Get started with Omnisend today & drive sales on autopilot with pre-built automation workflows
Start Free Today
2. SMSBump by Yotpo
Best for: SMS communication only
Pricing: Free to try. Paid plans start at $19.9 + $0.0149/SMS in the U.S.
Top features: signup keywords and SMS chat
Shopify app store rating: 4.8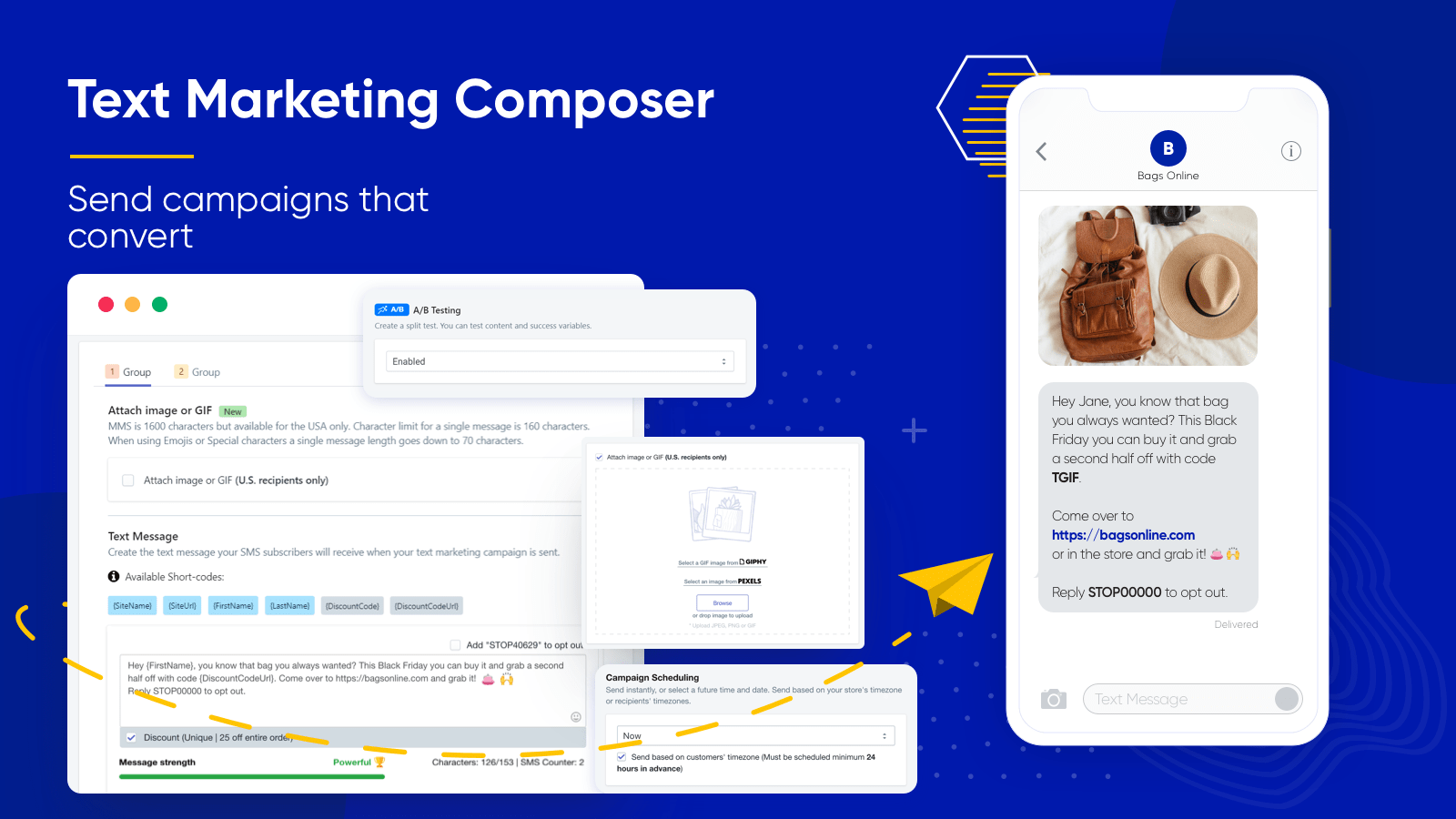 This SMS marketing software is built for SMS communication only. It works as a separate marketing channel. SMSBump is a great alternative to Omnisend if you're not looking for an omnichannel approach and need only text messages.
This is a comprehensive SMS marketing tool that offers many useful features. First of all, with SMS Bump you can send both – SMS and MMS. It is also an automation platform that's capable of sending bulk SMSes, discount codes, A/B testing, etc.
SMS Bump works fine with Shopify, Shopify Plus, BigCommerce, WooCommerce, and other ecommerce platforms.
Feature list:
Signup Keywords
SMS chat
A/B Testing
SMS and MMS
Messaging based on time zones
Pricing:
There's a starting plan to test out that's free. Paid plans start at $19.9 + $0.0149/SMS in the U.S.
3. Postscript SMS & MMS marketing
Best for: small and medium businesses
Pricing: starts at $50 for 1500 credits
Top features: campaigns and segmentations
G2 rating: 4.9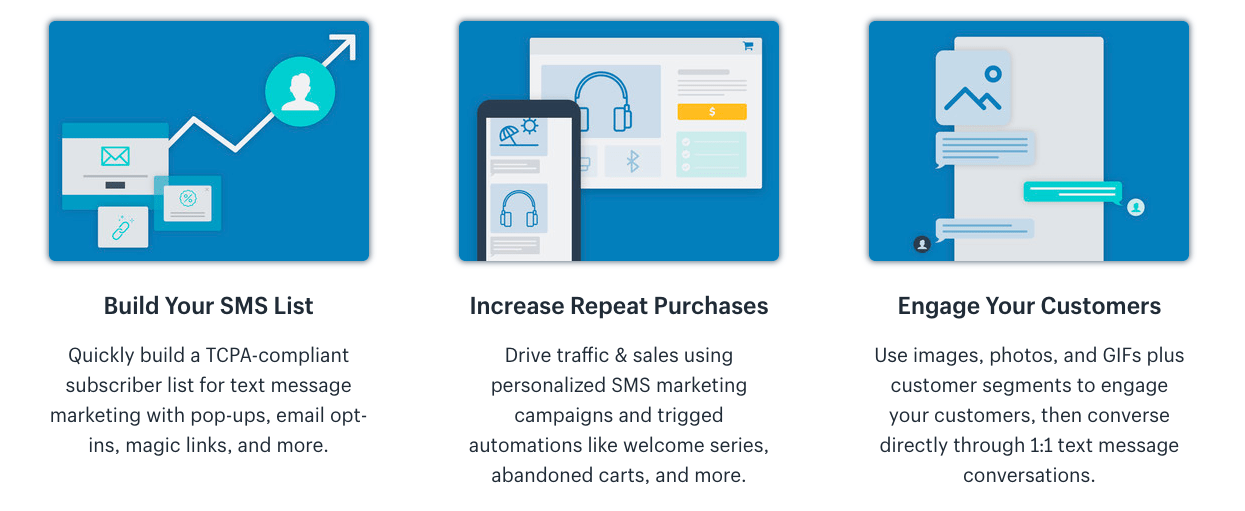 Postscript is sophisticated but easy-to-use SMS marketing software for text message marketing. Its trump card is segmentation, which is extremely useful for CRM. You can easily segment your customers according to their purchases on the Shopify and Shopify Plus platform.
Postscript supports SMS and MMS. Live chat functionality allows you to provide customer support or close sales via text messages. You may even use its live chat software to reply to customers in a timely and efficient manner.
Like all tools on this list, Postscript SMS marketing follows US TCPA regulation, so you will find all the necessary legal statements and agreements already there.
However, if we compare SMSBump vs Postscript, this tool is built only for the Shopify ecosystem. Businesses built on other platforms should look for different solutions.
Features:
SMS campaigns
Segmentation
SMS Campaign Automation
Live Chat
Pricing:
The pricing plan starts at $50. For this price, you get 1500 credits which make your SMS cost you about $0.033. However, not a free SMS marketing tool, Podium is highly affordable and offers budget-friendly plans to meet your unique business needs.
Best for: small and medium businesses
Pricing: 15 days free trial. Pay as you go, based on country and carrier
Top features: text scheduling, text sequences, personalization, text template text reports, text pilot and many other CRM features
G2 rating: 4.6
Salesmate is a CRM and customer journey platform that can help your sales, marketing, and customer service teams automate your entire business process. You can send campaigns, capture leads, nurture them and also deliver exceptional customer service after closing the deal. Salesmate has it all.
Salesmate offers best built-in calling and text messaging feature. That you can use to send personalized bulk messages and generate more MQLs directly from your CRM.
You can also automate your messages with Sequences and personalize them. To build brand credibility, the Text Pilot feature allows you to selects the most relevant local phone number based on your client's location.
Salesmate has all the communication channels covered in a single platform, so that you can reach out to your customers' at the right time using right communication channel and never miss any opportunity again.
Feature list:
Send personalized bulk SMS without any hassle
Use Text sequencing feature to send messages at regular intervals.
With the conversation timeline inside Salesmate, have a clear insight on your past conversations and accordingly draft your messages to close more deals
Use pre-defined SMS templates for specific use-cases and save time
Combine SMS and email marketing using Sequences and Automation Journeys to scale your business
Use the Text Pilot feature to send messages using local numbers based on customer's location
Send offers and promotions to the right customers at right time automatically
Offer special discount to customers' on their special occasions to retain them and turn them into brand promoters
Pricing:
With Salesmate you get pay-as-you-go pricing for sending and receiving text messages. It differs per country and per mobile carrier.
For a US audience, you can expect to pay $0.013 per message, while texting contacts in the UK will cost $0.04 per SMS.
5. EZ Texting
Best for: small, medium, and multinational businesses
Pricing: starts at $49 per month with 12,000 messages per year
Top features: advanced reporting, plus poll and surveys
G2 rating: 4.5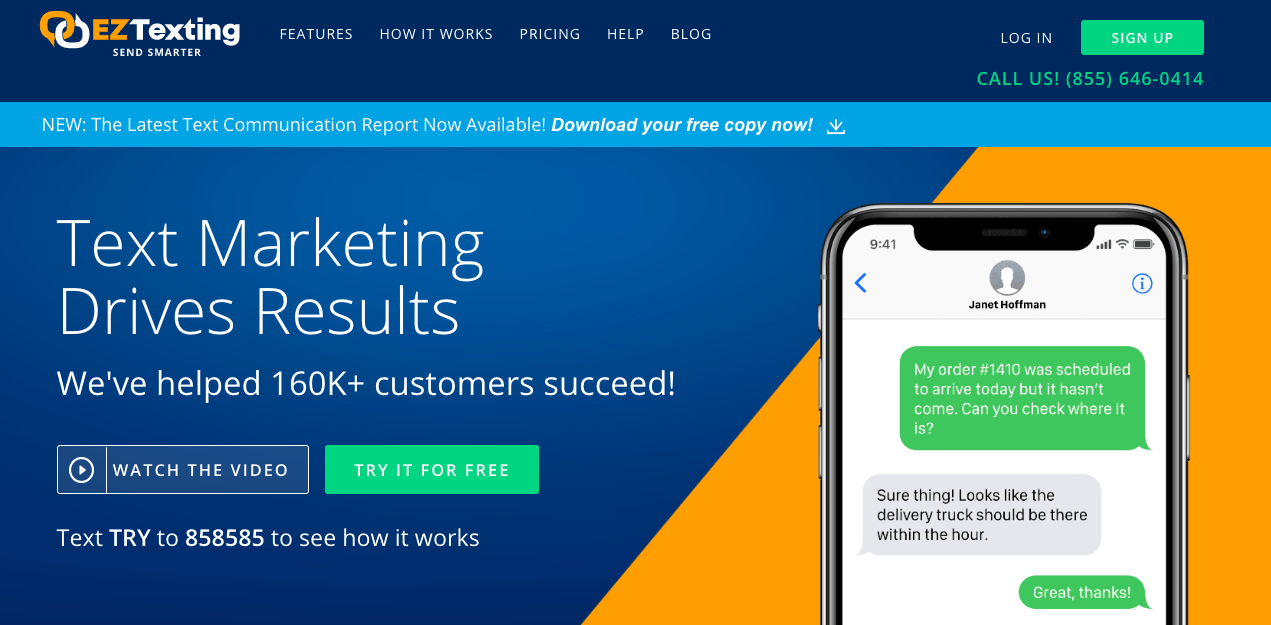 EZ Texting is another alternative to SMS Bump vs Postscript. EZ Texting is the most comprehensive SMS platform on this list. It has a unique offer that includes a suite of SMS marketing tools with polls, surveys, and contests available.
This innovative SMS platform allows small and multinational businesses to engage with their audiences by launching captivating SMS marketing campaigns. It helps you expand your customer base, as well as increase profits.
Segmentation, automation, reporting – all these necessary features are advanced on the EZ Texting platform. However, you still will need to import customer data if you want to approach them via different channels.
Although it's not free SMS marketing software, it's one of the most affordable options. EZ Texting is one of the most commonly used SMS marketing software that has helped thousands of businesses scale up by sending SMS messages to customers.
Features:
SMS and MMS
Keywords
Advanced reporting
Segmentation
Automation
Poll and survey features
Live Chat
Pricing:
You can start using EZ Texting for free to test it out. Pricing plans start at $49/mo for 1000 SMS credits ($0.049/SMS)
6. Twilio
Best for: small and medium businesses
Pricing: pay-as-you-go, based on country and carrier
Top features: automated responses and modular platform
G2 rating: 4.4
Twilio is a powerful cloud communications platform with APIs that enable businesses to integrate various types of messaging into their own applications.
Rather than providing an all-in-one platform, it allows you to choose only the channels that you need and scale up as you go. So, you can start with SMS and then expand to MMS, chat, and WhatsApp when you're ready. It also offers solutions for email, voice calls, and video.
With this SMS marketing tool, businesses can send bulk text messages to an extensive list of contacts. You may even add pictures, additional promotional material and track viewers who click on your links.
The bulk SMS marketing tool facilitates two-way conversations without any roadblocks, whether you're using new numbers or leveraging old ones. In addition, this innovative SMS marketing software provides you with simple, accessible, and intuitive text messaging features.
Features:
Developer-friendly APIs
Modular platform
Pay-as-you-go pricing
Automated responses
Two-way messaging
Message personalization
Pricing:
Twilio offers pay-as-you-go pricing for text message marketing. The pricing, however, is difficult to compare with others as it charges differently per country and sometimes even per mobile carrier.
For a US audience, you can expect to pay $0.0075 per message, while texting contacts in the UK will cost $0.04 per SMS. For larger businesses, it also offers volume and committed-use discounts.
7. Tatango
Best for: enterprises
Pricing: starts at Their Enterprise software starts at $1,000/mo ($0.01/SMS; $0.02/MMS)
Top features: SMS/MMS/RCS messaging and automation
G2 rating: 4.5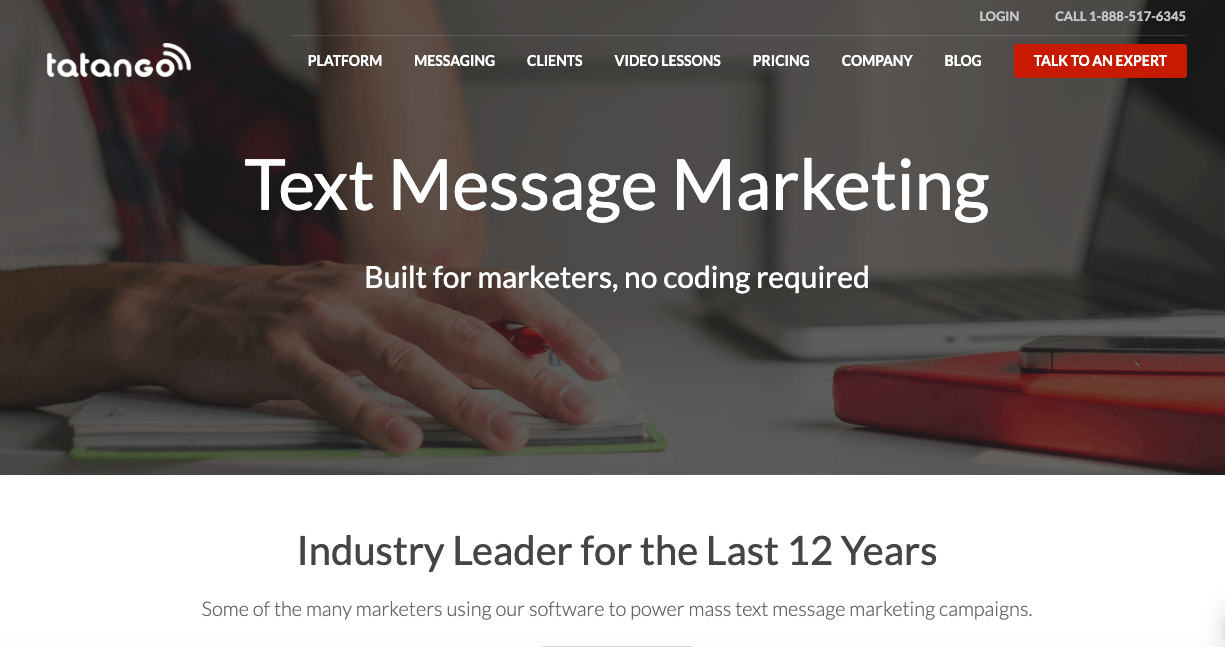 Tatango is well-established, has robust functionality and is mostly used by enterprise companies.
This text marketing service covers SMS, MMS, RCS marketing campaigns, detailed reporting, segmentation, some fancy features such as text-to-win, voting, etc. Even though Tatango is easy to use, customer support is responsive and helps if you need them.
Surprisingly, Tatango doesn't support two-way messaging.
Features:
SMS, MMS, RCS messaging
Automation
Keywords
Mobile coupons
Voting/Polls
Advanced reporting
Pricing:
Their Enterprise software starts at $1,000/mo. ($0.01/SMS; $0.02/MMS)
8. HeyMarket
Best for: small and large businesses
Pricing: starts at $49 per month with 12,000 messages per year
Top features: automated replies and custom fields
G2 rating: 4.7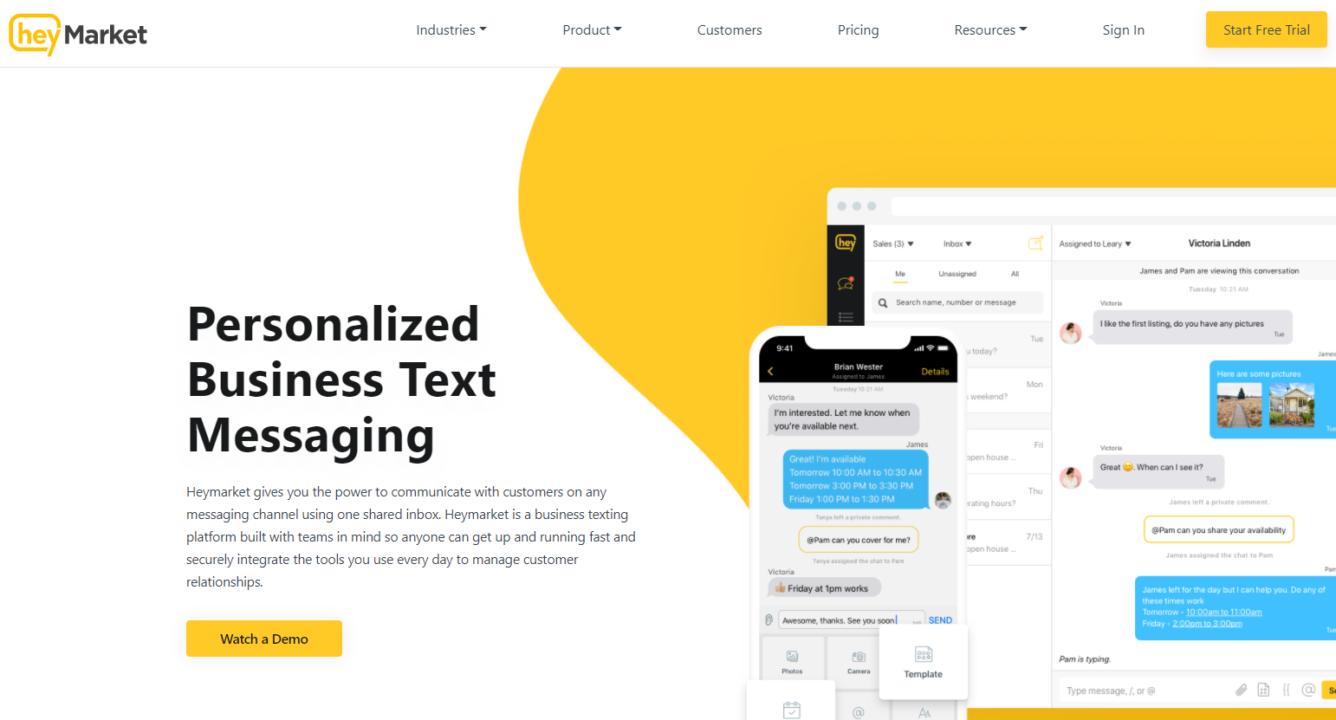 This text marketing software is perfect for businesses looking to leverage SMS applications to boost customer support.
It's no secret: brands are bombarded with similar questions about shipping and delivery services, opening and closing hours, and whether a product is in stock. This revolutionary SMS marketing ecommerce software curates shared inboxes to answer your customers' queries efficiently and on time.
With this email to the SMS platform, support team members can type their messages to provide customers with the best possible solutions. You may select this automated SMS software's messages as well.
In addition to being an excellent customer service application, HeyMarket also specializes in creating attention-grabbing SMS marketing campaigns. It means you can send your viewers drip-feed content, as well as mass texts, to ensure they're up to date with your newest campaigns.
A bonus is that you can easily integrate Heymarket with multiple other marketing and social media applications. It includes Facebook, WhatsApp, Line, and so on to help you expand your customer reach.
Key features:
Allows users to set reminders for messages so that HeyMarket automatically notifies you to follow up on customer support requests
Supports a wide variety of platforms, including Android, iPhone, and Web
Various support options including email, help desk, and chat
You can organize contacts into extensive lists, as well as send targeted messages
Access to a customizable website chat widget to exchange messages from viewers that visit your website
This SMS and email marketing software also allows you to respond to Facebook messages
Pricing:
HeyMarket provides businesses with a wide range of SMS pricing tiers to ensure you can easily find the perfect match. Its pricing structure starts at $49 per month and is ideal for small and medium-sized businesses, and sends up to 12,000 messages annually.
In addition, you can choose between a Plus and Pro package billed $99 per month and $199, respectively. The Plus package allows you to send 30,000 text messages per month, whereas the Pro package lets you send 60,000 text messages.
Unlike most other SMS marketing services, Heymarket also allows you to create a custom plan to meet your business's unique needs. Upon choosing your favorite pricing structure, you can unlock HeyMarket's free trial.
How to choose the best SMS marketing software for your ecommerce business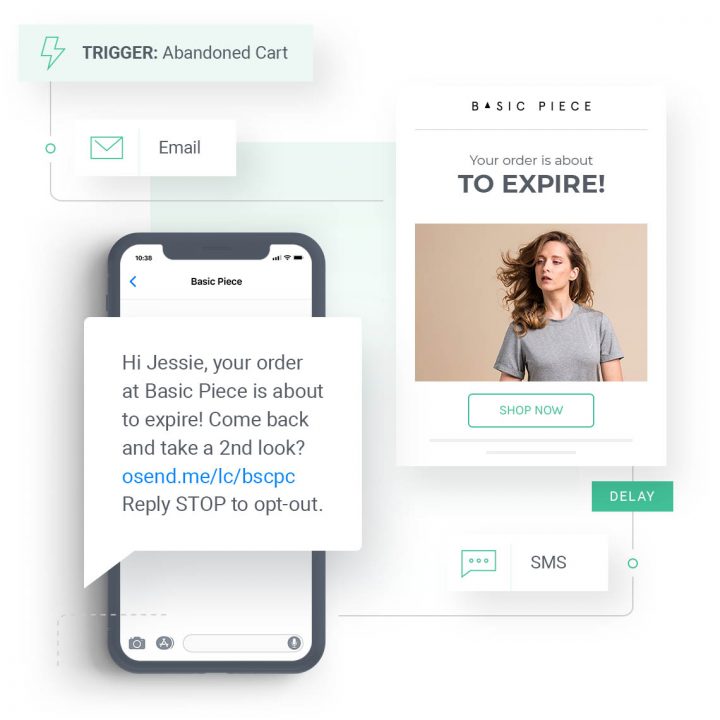 There are plenty of software you can use for text message marketing. On the surface, all SMS marketing services might look the same. However, once you compare features, user interface, and pricing, you'll quickly see that some are better suited for your business than others.
To help you make the best decision, here are a few features to look for when choosing an SMS marketing tool for your ecommerce business:
Ecommerce platform integrations – Not every text marketing service integrates seamlessly with ecommerce platforms like Shopify, WooCommerce, and BigCommerce. Make sure to check if the tool you're considering is compatible with the ecommerce platform you're using.
Channel integration – Text message marketing works best when used as part of an omnichannel campaign. It will definitely be more efficient for you to find a tool on which you can manage campaigns across all your channels.
Automated workflows – Some tools will allow you to set up messages to send automatically when triggered by certain actions or situations (ex., a visitor subscribes through your website or a shopper abandons a cart). Making sure that your text message marketing tool is also an automation platform can help you provide more engaging and more personalized customer experiences.
Detailed personalization – Look for detailed segmentation and precise targeting features, as these are critical to your CRM and your ability to enhance the customer experience through personalization. This leads to better engagement and, ultimately, higher conversions.
List building tools – Several text message marketing platforms will also offer TCPA-compliant list-building tools to integrate into your website and help you collect your visitors' mobile phone numbers. Such tools might include popups, landing pages, and interactive sign-up forms.
Worldwide reach – If your ecommerce business has a global audience, make sure the SMS marketing tool you choose supports text messaging to international contacts.
Competitive pricing – Make it a point to compare not only the cost of plans, but also what you get in exchange. Are you expected to pay per SMS? Or are there packages that will make your campaigns more cost-efficient? Also, determine what additional value you can gain per package.
SMS marketing software: Wrap up
These are some of the best SMS marketing platforms available today. All have a bold presence and positive social proof. So none of them would probably disappoint you.
However, your decision should be made concerning your business scope, goals, and priorities.
If you seek SMS marketing software for standalone text messaging, pick SMS Bump, as it seems to have the most reasonable pricing. But if your company has already reached a sustainable stage, and you are looking for more advanced marketing means, I would advise you to consider omnichannel marketing with Omnisend.
Add SMS to your marketing campaigns and automation workflows with Omnisend
Start Free Today
related features
Want more sales?
Omnisend has everything you need to succeed.
Start free now
No Credit Card needed.