Drive sales on autopilot with ecommerce-focused features
See Features
Reading Time:
11
minutes
What's the first thing you set up when you join a new company? Even before changing your laptop settings to suit your preferences, you'd get your email address up and running.
Email today is crucial to business communication, but it's also one of the most important marketing channels out there for customer communication. The ROI you get from email marketing is unmatchable at nearly 40X.
But before we get into the details of ROI, let's take a look at the cost of email marketing. What contributes to "email marketing cost"? What are some primary and secondary factors to take into consideration here? Should we focus on the cost of service providers, content and design agencies, list quality and verification costs, or something else?
This blog gives a detailed breakdown of email marketing costs, contributing factors, industry averages, and some helpful tips on optimizing your email marketing price.
Looking for an easy-to-use ecommerce email marketing platform? Get started with Omnisend today!
Start Free Today
Elements to consider for email marketing cost
Let's take a look at the costs you should consider when evaluating your email marketing strategy.
The cost of email marketing service providers
The first thing you'll need as an email marketer would be an ESP, or email service provider. ESPs enable brands to store email addresses and send out email marketing communication at scale.
ESPs are sophisticated tools you can leverage to maintain and manage user opt-in lists, segment your users into different groups based on their behavior or responses, create and use pre-built templates, and analyze email campaign performance.
Some ESPs also offer capabilities to create dynamic content, add lead capture forms to your emails, and perform A/B testing of any content inside the email or subject line.
There are many great ESPs out there, and you can pick the best fit for your budget and marketing needs. Here's a quick glance at the elements that contribute to the pricing of an ESP
#1 Number of subscribers
ESPs usually have a multi-tier plan that caters to businesses of different sizes. With Omnisend, for example, if your customer base is small, if you're starting a business, or exploring the platform, your ESP could cost as little as $0.
Take a look at this comparative table that lists the pricing of two popular ESPs.
| | | |
| --- | --- | --- |
| # of contacts | Omnisend | Klaviyo |
| 1-250 | $0 | $0 |
| <500 | $16/month | $20/month |
| <1000 | $20/month | $30/month |
| <55,000 | $330/month | $720/month |
| <150,000 | $1120/month | $1955/month |
#2 Number of emails sent
The cost of an ESP is also based on the number of emails a brand would like to send through the platform. Just like the number of customers, the cost increases as the number of emails sent increases.
If you're just starting out, or if you're looking to send out less than 500 emails each month, you can access platforms such as Omnisend for free.
For brands that send out more than 500 emails each month, here's a quick comparison of how two different ESPs, Omnisend and Constant Contact, are priced based on the number of emails sent:
| | | |
| --- | --- | --- |
| # of emails | Omnisend | Constant Contact |
| <500 | $0 | – |
| <12,000 | $20/month | $9.99/month |
| <60,000 | $ 65/month | $80/month |
| <1,200,000 | $720/month | $300/month |
#3 Features available
While the most important component of an email service provider is to send emails at scale to a large subscriber base, most ESPs today come equipped with more advanced features, such as:
Pre-built automations and workflows
Inbuilt email templates
Popups and signup forms
Email list segmentation
Performance reports
A/B testing, etc.
ESPs such as Omnisend offer these capabilities even in the starter pack, for free. You can access additional features such as SMS/MMS marketing, web push notifications, and advanced reporting capabilities using the Standard or Pro plans.
You can also have access to a dedicated Customer Success Manager for any plans over $400, or opt for 24/7 priority support on the Pro plan (although all plans, including free, have 24/7/365 live chat and email support).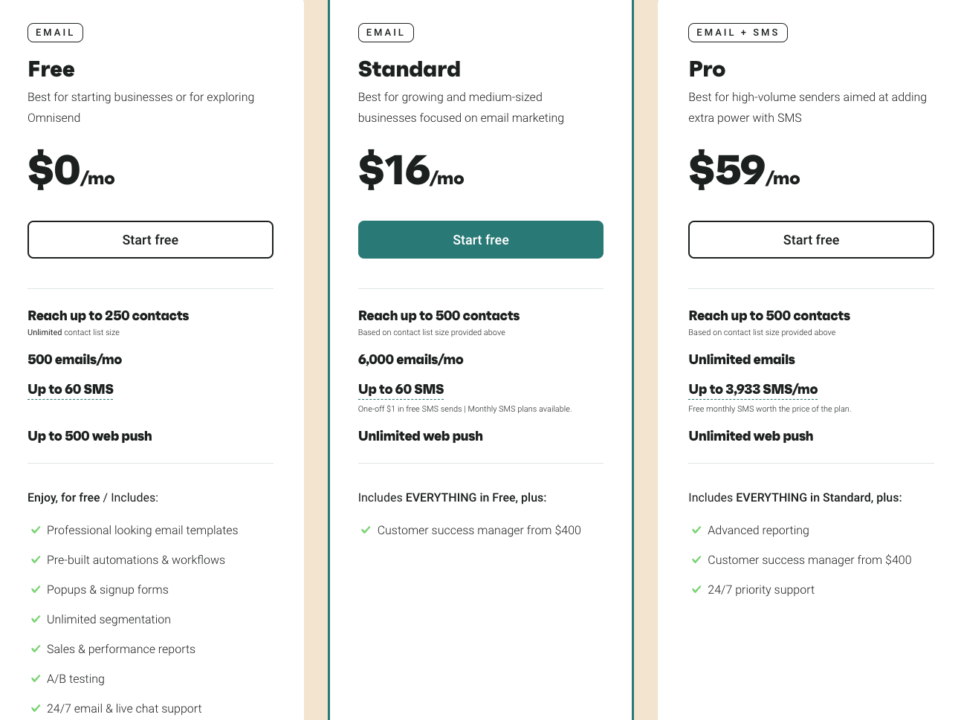 Meanwhile, the tiered pricing plans of an ESP such as Klaviyo offer a built-in CDP, email and chat support, pre-built integrations, automated A/B testing, multi-channel attribution, and more.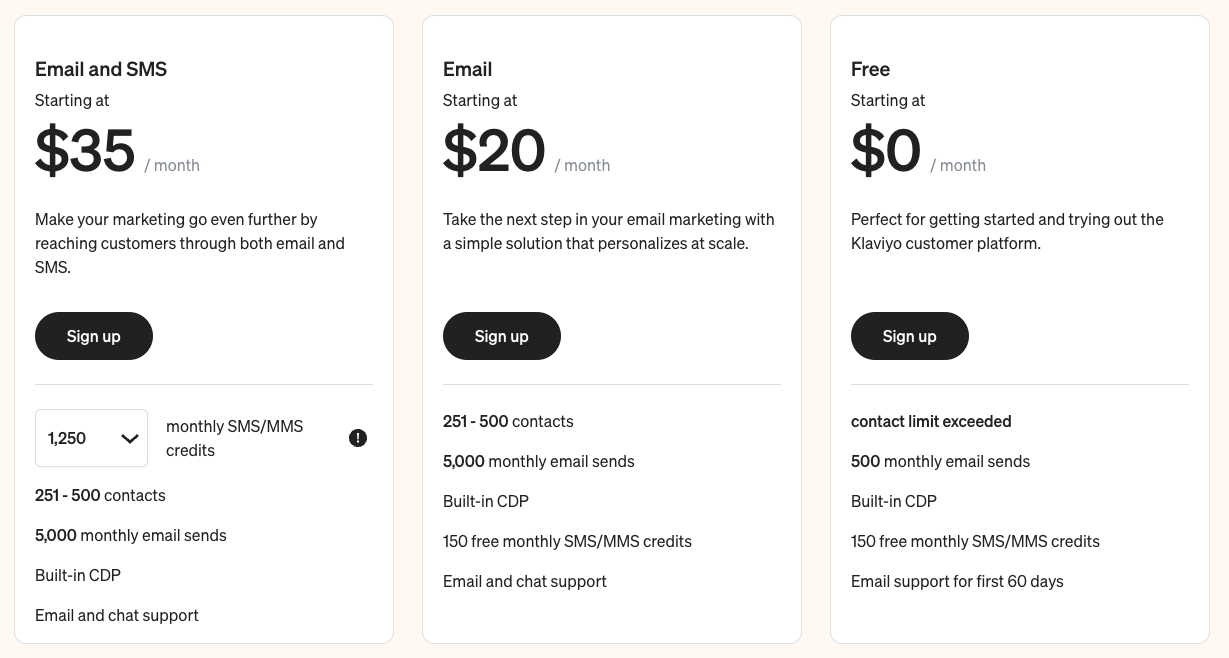 #4 Migration costs
This one is pretty standard for software of any kind. Whenever you need to migrate from one platform to another, there's a small cost involved, apart from the people and skill sets required for the migration.
ESPs operate the same way — some of them add in a migration charge and others offer these services for free. Omnisend, for example, offers free migrations from certain platforms, with dedicated migration tools for switching from Klaviyo or Mailchimp, along with migration support.
While all ESPs may look the same, each one offers a different set of capabilities and pricing tiers. Look for the one that matches your needs best, and try to optimize your pricing plan accordingly.
Some ecommerce brands don't have to deal with this decision, and delegate their email marketing goals to agencies instead. If you're looking to do this, you can choose not to pay an ESP yourself, and ask the agency to do what's best.
In the next section, we'll take a look at the cost of an email marketing agency.
Email marketing costs for agencies
Email marketing agencies take care of the nitty-gritties of professional email marketing, such as privacy issues, permission boundaries, technical glitches, subscription supervision, and more.
A good email marketing agency helps your brand deliver specialized attention to particular customer segments that you may not be able to do yourself. The agency makes it a priority to maintain the authenticity of subscriber lists, prevent IP blacklisting, keep bounce rates low, deliver email campaigns with high ROI, and avoid spam triggers.
For small businesses, this can cost you anywhere between $200 to $900 a month. For mid-sized or larger businesses, the pricing can go up exponentially from $4,000 to $7,500, $12,000, or even $20,000 a month.
This cost is dependent on a number of factors such as company size, email marketing software used, services provided, email designs created, subscriber size, and campaign frequency.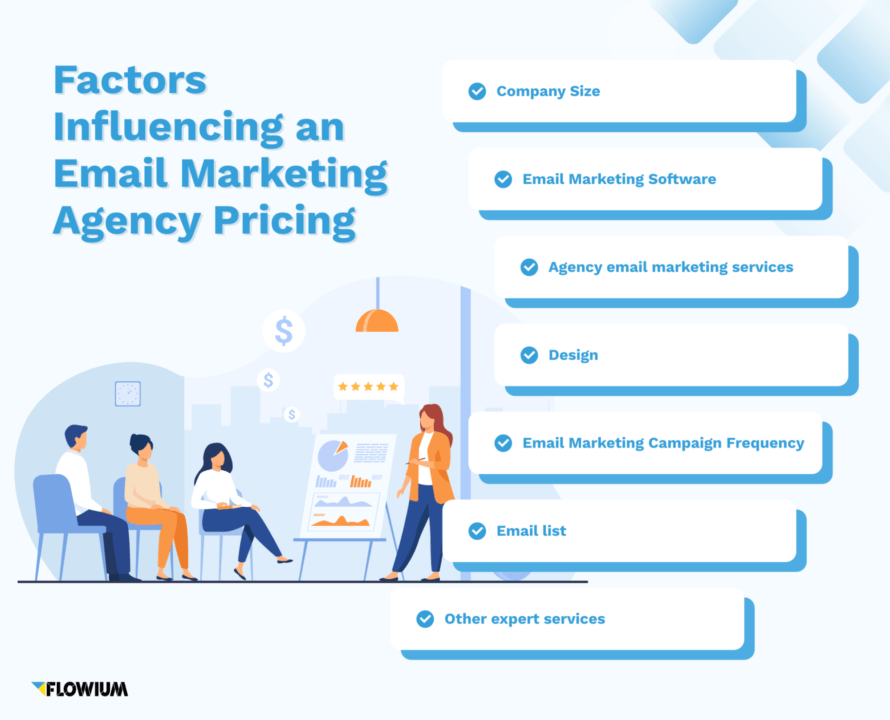 Email marketing price for a campaign
Once your business has identified a good ESP or agency to proceed with, you can get started with the next phase of your email marketing journey — creating your campaigns.
This involves four major steps:
template and design
content creation
list building and verification
launching a campaign
Let's take a look at the cost of each step in detail to understand email marketing campaign costs:
Template creation and design costs
While most ESPs come equipped with built-in templates, a lot of them might not be in line with your brand's design guidelines. These templates can also be complicated to use, and some of them might not display elements in the best manner for your campaign.
When this happens, you can take the help of a freelance designer or design agency to create a new template that is in line with your requirements. The rates for this vary widely across countries and levels of design expertise. But on average, you can expect to be charged anywhere between $30 to $200 per hour.
This won't be an added cost for you if you're using an ESP with good design templates, such as Omnisend, which is known to be one of the best ESPs when it comes to pre-designed templates and ease of use.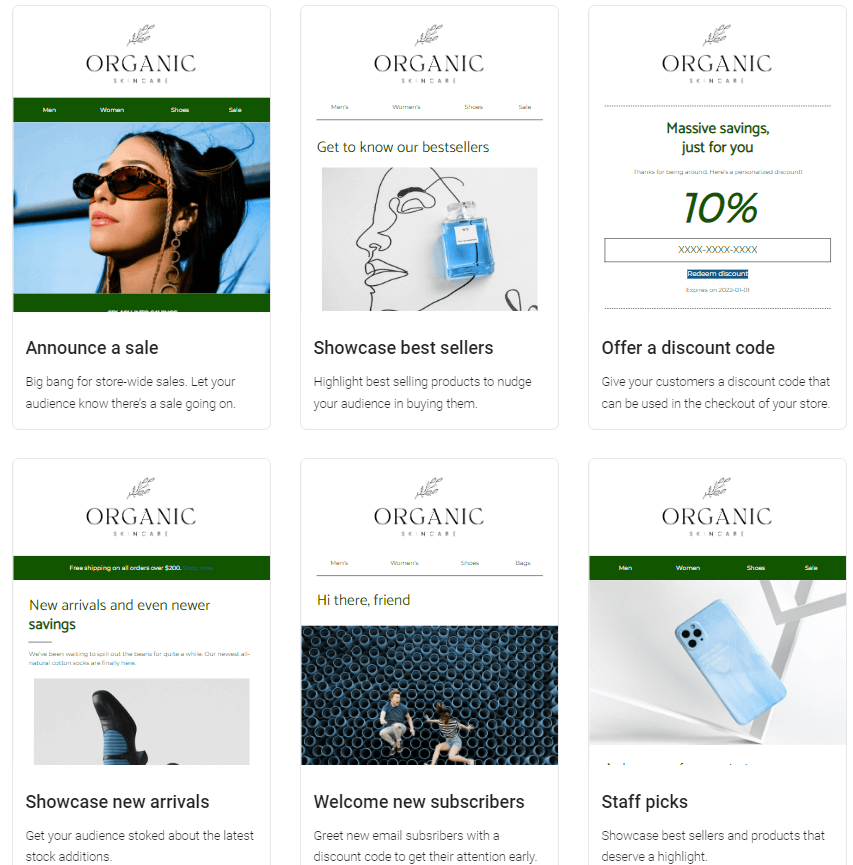 Omnisend's new Email Builder offers multiple mobile-friendly designs with a zero-code builder. You can try out multi-column layouts, experiment with Google fonts, make changes on the go with inline editing, and choose to hide specific content on certain devices.
All your changes are autosaved, so you don't have to worry about making manual backups. Omnisend can also upload branding elements, such as your logo, brand colors, and fonts, from your website, and the email builder will instantly incorporate these into your email templates.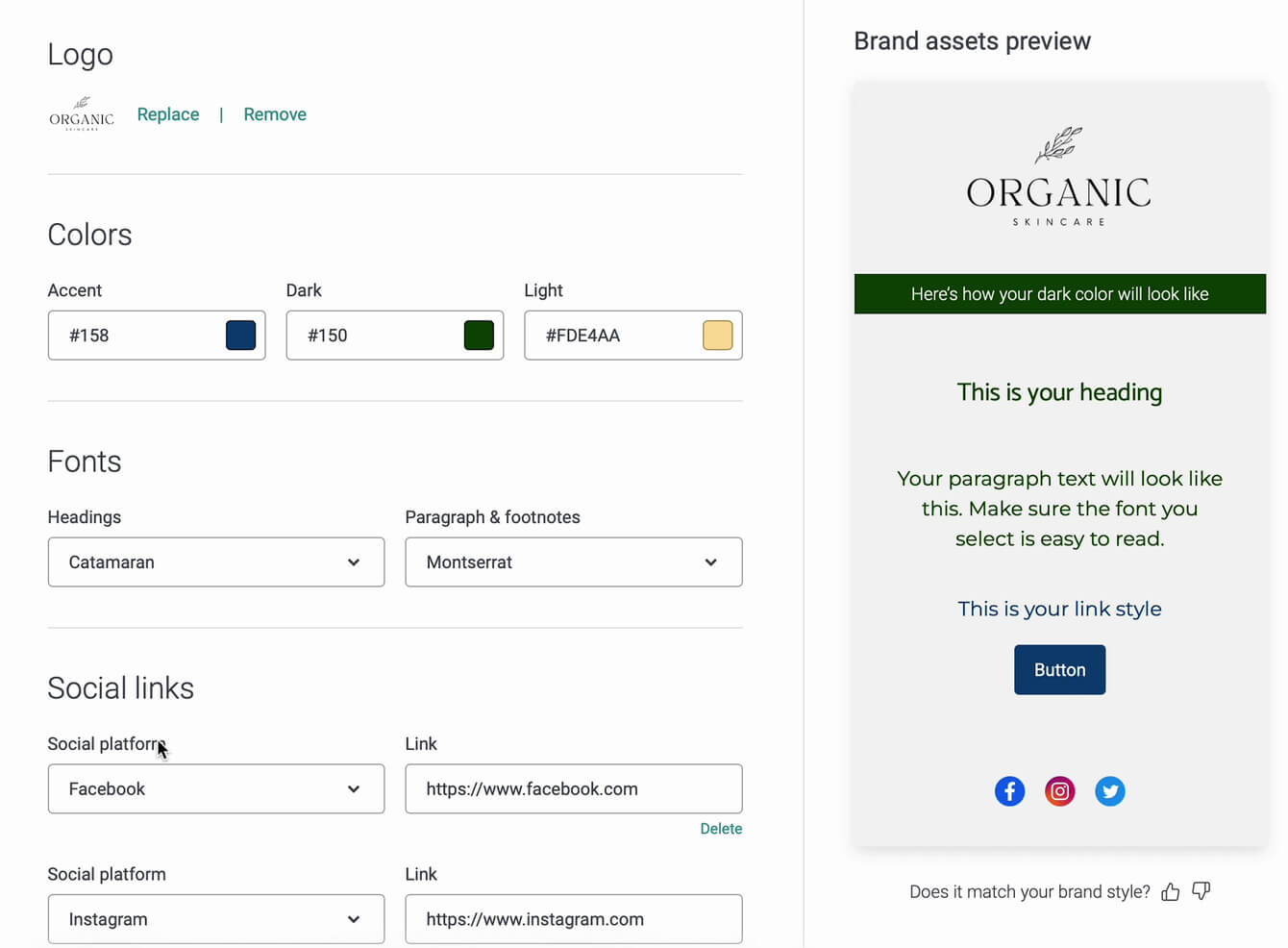 Once you've made the changes of your choice and arranged elements in your preferred format, you can save this custom template and reuse it in future campaigns. You can then add products from your store automatically, without needing to manually import anything or wait for it to load.
There's also the discount codes that are unique to each customer through a simple drag-and-drop builder, cross-sell other products via dynamic product suggestions, and perform advanced A/B testing.
Wondering if Omnisend is the right fit for you? Get started on the free plan
Start Free Today
Email marketing cost for content
Customers get hundreds of emails each week, and you need to make sure that yours stands out from the clutter. Otherwise, all your hard work is going straight to the trash folder.
To do so, you'll need a catchy subject line that lures them into opening the email. Even so, the job isn't done — you'll need to create email content compelling enough that it achieves your desired objective, be it conversion, engagement, retention, or something else.
This is why it's imperative to invest in a good email content writer or copywriter. You can hire one full-time or contract a freelancer.
Email content writers can charge anywhere between $15-$200 per email, depending on their skill sets and level of expertise. You'll need to evaluate your requirements along with their area of expertise and see what works best for your brand.
Email list quality and verification cost
If you're new to email marketing, here's a quick lesson for you: never purchase mailing lists.
When you purchase a mailing list, you email people who might never have heard of your brand. While this seems like a nice idea, it's actually not! When customers encounter strange emails from brands they haven't signed up for or opted in to, they end up deleting these emails, or worse, marking them as spam.
If your emails get marked as spam, your domain and IP reputation take a hit. This means that your emails will increasingly land in the spam folder, rather than in the customer's inbox.
Instead, what you should do is to build an organic, ethical, clean email list. You can leverage a tool like Omnisend, one of the best email list building and managing tools out there. Omnisend enables you to set up different types of popups, signup boxes, landing pages, and a Wheel of Fortune interactive signup form that features a gamified spinning wheel.
Once you've built an email list organically, the next step is email verification. Email verification helps you screen through your emails to identify any possible spam triggers, email address issues, or other discrepancies before they're sent. This way, you can avoid being flagged by ESPs or taking a hit to your domain reputation.
While some ESPs offer list building and email verification in the same platform, others like Omnisend also offer specialized third-party integrations with email list verification experts.
Let's take a quick look at the pricing structure of Mailgun (email verification service):
| | |
| --- | --- |
| Emails/month | Mailgun cost |
| <5,000 | $0 trial for 1 month |
| <50,000 | $35/month |
| <100,000 | $90/month |
| <500,000 | $400/month |
| <1,000,000 | $700/month |
| <2,500,000 | $1250/month |
If your email list has a lot of inactive subscribers, you can use Omnisend's List Cleaning service. While this is a one-time added cost, it helps you save money in the long run, since you'll have a smaller but more active subscriber base.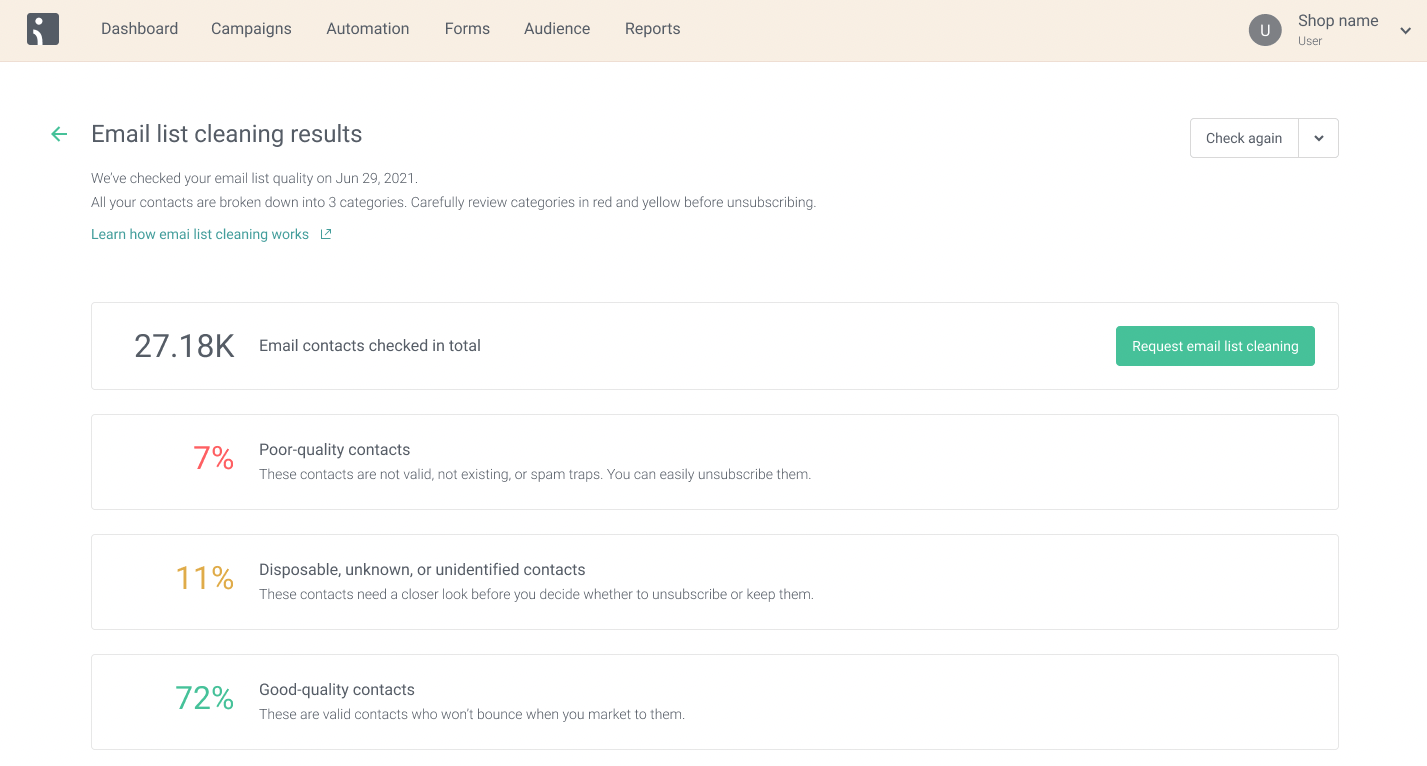 This means that your email sending costs will be lower (since your subscriber base is smaller), and your conversion rates will be higher (since this will be a more engaged and relevant audience).
Running your email campaign
Now that you've understood the cost of an ESP, email marketing agency, copywriters, designers, list building and email verification, the next step is to get your campaign up and running.
Again, you can leverage a tool like Omnisend for this, which makes it super easy to launch any email campaign. Omnisend also provides an easy-to-use segmentation feature, so you can personalize messages based on your customer's shopping behavior.
When you send emails that are tailored to a customer's behavior, you increase your chances of conversion, and consequently, your campaign ROI.
The cost of email marketing vs. other marketing channels
While email marketing may seem costly compared to other marketing channels, the ROI from email is the highest of all, standing at $40 in returns for every $1 spent.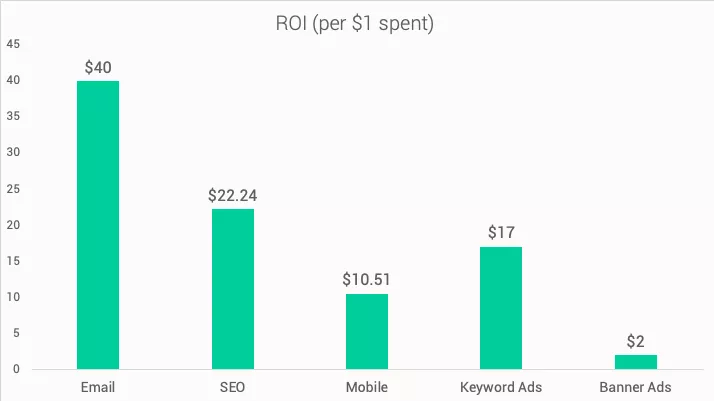 Email ROI is almost double that of the second highest ROI-generating marketing channel, which is SEO marketing. There are also other avenues to consider, such as social media marketing, or influencer marketing.
Social media marketing is a wide net to throw, and it can take a while to build a good social following. It's also tricky to measure attribution with social media marketing.
Another channel most brands leverage is influencer marketing, but this may not be feasible for smaller brands or brands in niche industries. It also takes a lot more effort to reach out to influencers, create a noteworthy campaign, and get it running, than to create an email marketing campaign.
You might be considering affiliate marketing as well, but affiliate marketing doesn't guarantee revenue, and you might even be spending to bring in irrelevant traffic. This is something that email marketing solves, especially if your list is verified and built organically.
Questions to ask while planning your email marketing budget
Alright, you've learnt about the various components of a good email marketing strategy. It's now time to plan your email marketing budget.
Here's a list of questions you need to ask yourself while planning the budget:
#1 What are your marketing goals?
Are you looking to grow your brand, build your subscriber base, run a conversion campaign, or simply engage with your customers so you stay top of mind? Before you plan your campaign and your budget, you need to evaluate the main objective of your campaign and overall marketing strategy, and make decisions in line with your goals.
#2 How much do you want to scale your email marketing strategy?
Think about whether you want to increase your subscriber base by 2x, 5x, 10x, 50x, or not at all. Think about whether you want to increase or decrease the frequency of your emails in the future, and whether you want to start sending out different types of emails (newsletters, product updates or releases, expert insights) or stick to one format.
#3 Is email marketing your main channel for revenue?
Do you have a website where you post your products and enable customers to make a purchase? Or do you have a physical store, or a phone number that customers can call? Do you list your products on your email newsletter, or something else? Calculate the revenue generated from each platform and assess where your email strategy stands on this list.
#4 What is the state of your current sales funnel?
Is your sales funnel evolved or still nascent? How seamlessly does information flow between different steps of your funnel? What happens to a lead that passes through, and do you have mitigation techniques for leads that fall out of the funnel?
#5 Do you have experience with an ESP or is it your first time?
If it is your first time using an ESP, you need to invest in something that's easy to use, has reliable support options, and is affordably priced. Meanwhile, if you're switching from another ESP, you need to consider the added cost of migration services and check if your new ESP offers any attractive migration packages.
#6 What kinds of emails do you send?
Do you send promotional emails to announce new products and incentivize conversions, or transactional emails that inform customers about delivery dates, purchase receipts, etc.? Or do you send informational emails that keep customers engaged, or lead generation emails to bring in newer customers?
Once you've evaluated the answers to all these questions, you should have a fair understanding of your email marketing requirements and the best budget for these activities.
Wrapping up
This article should leave you with a fair understanding of the cost for email marketing.
You might feel like email marketing is a costly activity, but it really pays off!
The ROI of email marketing is unparalleled, and it offers a lot of other benefits, such as a direct channel to your customer's devices, an organic way to grow your user base, an outlet to show your customers you're thinking of them, a channel where you can personalize each detail, and a medium for driving more users to your website.
If you're looking to explore a good email marketing platform for your ecommerce brand, check out Omnisend!
Get started with Omnisend today & drive sales on autopilot with pre-built automation workflows
Start Free Today
related features
Want more sales?
Omnisend has everything you need to succeed.
Start free now
No Credit Card needed.