Marketing automation has allowed many ecommerce marketers to reach their customers quickly and easily. With the right message, it has allowed for good, sustainable growth.
But of all the things that it's allowed marketers to do, there are a few bigger things that marketing automation just can't do: provide a unified customer experience.
In fact, that unified customer experience is what helped Net-A-Porter become one of the biggest luxury online retailers.
Get your free copy of '5 Ecommerce Marketing Automation Case Studies' today.
Problem #1: Your customers are everywhere—but you aren't
While marketing automation can reach customers at the right time with the right message (if you know your customers), it won't allow marketers to reach them in the right place.
And in marketing, the right place is wherever your customers are.
And as you probably know, customers are all over the place.
This isn't a bad thing—it just means that if you want to both reach them and keep their attention (i.e., get your brand on their minds when they're shopping), you'll need to get more channels than just email marketing.
This is a big limitation of generic email marketing tools that can only allow you to reach customers when they check their emails.
But what about on social media, by text message, on their messaging apps, or while they're searching for your products on Google?
Unfortunately, marketing automation can't get you there.
Problem #2: You don't offer a unified experience
You're probably already using a lot of different channels to reach your customers.
But because of those marketing automation limitations I mentioned above, that also means that you're probably using different apps to have a presence on these multiple channels.
This is not only inefficient, but it's also extremely difficult to make your message smooth and seamless across those various tools.
Either that, or you're not offering a smooth experience at all.
For that reason, marketing automation is great and all, but it doesn't hold a candle to omnichannel marketing, which is the tipping point for taking your business from good to great.
Graduate to smarter omnichannel marketing with a free 14-day trial of Omnisend.
Solution: Omnichannel marketing
Omnichannel marketing is a way for you to reach your customers with a unified message through every channel they use.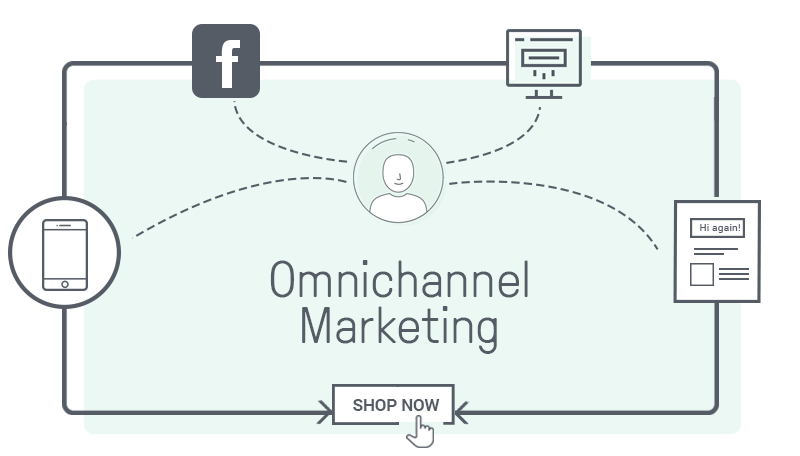 It's not some buzz word or a marketing ploy.
It's much more complex—and more beneficial—than that.
There are three important things you need to know about omnichannel marketing:
#1 It's definitely not multichannel marketing
Before we get into omnichannel marketing, understand that it's not multichannel.
Multichannel is about reaching your customers via different channels.
Omnichannel is about reaching your customers via different channels and ensuring that the customer's experience is unified.
For example, if you use multichannel marketing, you're sending messages via push notification, popups, emails, retargeting ads, etc.
But if the customer responds to one channel, do the other channels automatically change their behavior? While you can do so manually across the multiple channels, it's very laborious, especially when you have a large amount of customers.
So either you have no real unified experience, or you do—but burning up a lot of manual labor to make the experience smooth for your customers.
#2 Omnichannel is focused on a smooth, seamless, integrated user experience
Your customer's experience should instead be: all your channels are integrated using one platform, allowing data to quickly be shared throughout your marketing tool.
So when a user sees an ad, and performs an action, that determines what the next channels will do—what message will be shown via the push notifications, what the popup will be, and even, after ordering, what the SMS/text message will be.
The customer will feel as if he bought something from one store using a team of channels, rather than a bunch of different, separate channels each vying for the users' attention.
#3 Graduate to omnichannel's amazing results
This kind of approach is what separates the new ecommerce marketers from the experienced ones.
A single-channel or multichannel approach is fine when you're just starting out and focused intently on new customer acquisition and making the first few sales.
But, seeing as customer retention, automation, and segmentation are crucial for business sustainability, you'll need to graduate to offering your customers a great experience.
And that starts with omnichannel marketing.
Not only will you see more engagement and happier customers (because you're actually providing them a great experience), but you'll also see much better sales.
In fact, according to Marketing Metrics, existing customers have a 60-70% probability of buying more products and services, compared to just 5-20% for new visitors.
Even better, if you increase customer retention by just 5%, you can expect to increase profits by 25-95%.
Here are some other important numbers you need to know about omnichannel marketing and user experience: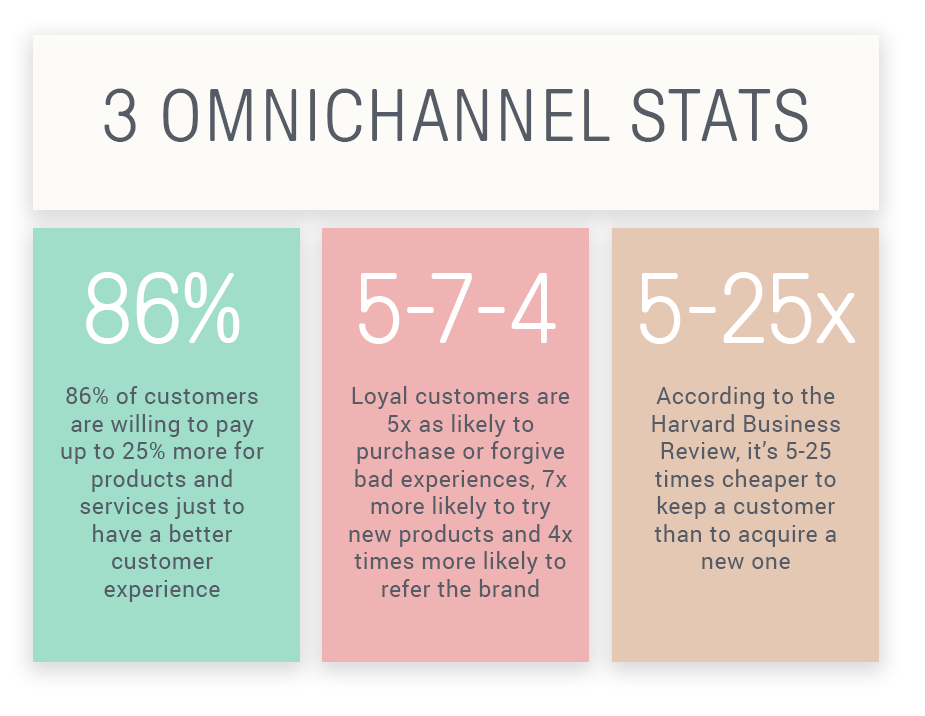 Omnichannel marketing is all about a great user experience as they go down the sales funnel.
Let's look at two great brands that have used omnichannel marketing to give their users a better experience and really increase their sales.
Get your free copy of '5 Ecommerce Marketing Automation Case Studies' today.
Omnichannel Case Study #1: Net-a-Porter
Net-a-Porter is one of the first online-only luxury clothing stores.
When they started out, they had a pretty big challenge: how can they create a luxury brand that is exclusively online?
After all, luxury brands communicate high quality, exclusivity, and unique appeal.
Online brands (especially in the early 2000s when they launched) seemed very far away from those qualities.
Their desired outcome
Net-a-Porter had quite a few important things they wanted to achieve, but for them there were three crucial things that would allow their brand to really be a leading online luxury brand:
to improve sales
to increase brand loyalty
to create lasting customer relationships
The challenges for Net-a-Porter
They identified two important challenges to getting what they wanted.
First of all, there was quite a lot of competition online that wanted to position themselves either as luxury or the best online brand.
Secondly, because of the nature of online shopping, customers tended to bounce around from one brand to another in trying to find the best deal.
Overcoming that was intimately connected with positioning themselves as luxury, which is not based on price, but on quality.
The omnichannel solution
While the usual marketing automation would have worked wonders for email, Net-a-Porter wanted to make sure they achieved their goals efficiently while providing a great customer experience.
That's why they naturally turned to omnichannel marketing.
First, they set up their approach to include three distinct channels:
their mobile app/social network to keep customers inside their ecosystem
email marketing to make sure they follow-up on customer behavior on their store
ad retargeting to catch visitors who abandoned their site before buying
Perhaps the most famous part of their omnichannel marketing strategy is their mobile app/social network called The Net Set.
This allows users to interact with each other and share images with each other.
However, the app also recognizes the products being shared, finds the closest match in Net-a-Porter's inventory, then recommend it to users so they can buy it.
But an overlooked part of their customer experience strategy is their emails, such as the welcome email below.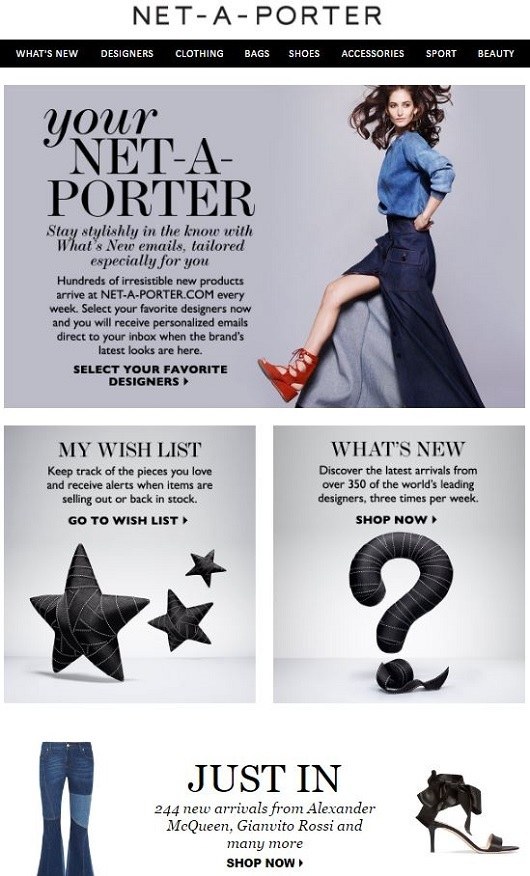 Combined with their mobile app and retargeting ads, they're able to provide users with an always-available experience.
Also, in order to make sure that customers do get an experience on all of their channels, they often send reminder emails or messages in-app to connect on their other channels.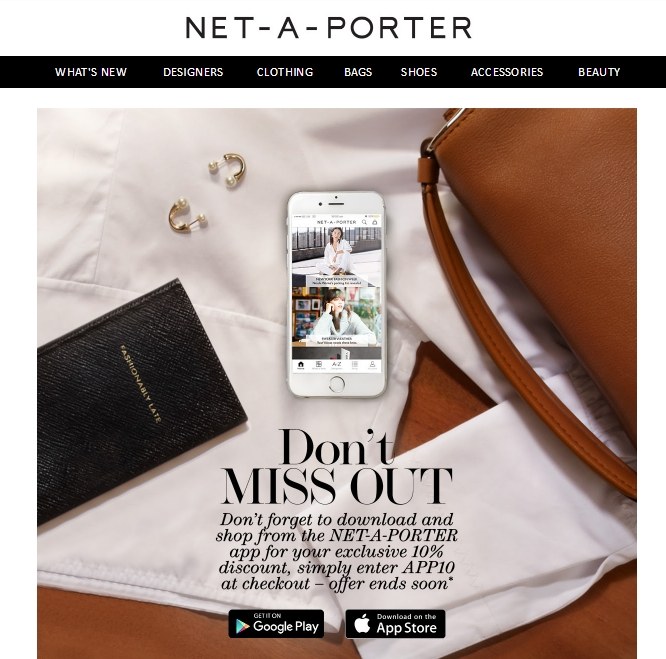 Net-a-Porter's omnichannel results
It's not difficult to see the results of Net-a-Porter's fantastic omnichannel marketing strategy.
(Which, by the way, you can use for your online store with our 14-day free Pro trial.)
In total, as of January this year, Yoox Net-a-Porter had revenues of more than €2.5 billion (more than $3 billion) in 2017 alone, with a 16.9% year-over-year growth.
50% of those sales came from mobile, with the rest comprised of email marketing, retargeting, organic and many other channels.
Order values also increased to €328 (or about $400), which is one of the highest for any online store, beating even the likes of Amazon.
As Net-a-Porter shows, the omnichannel marketing approach really works.
Omnichannel Case Study #2: Mainline Menswear
Opened online in 2004, Mainline Menswear is a British ecommerce business that is focused on the men's fashion niche.
As with all online retailers, Mainline Menswear found it rather difficult to find footing in the ecommerce space and needed to boost their traffic sales.
Their desired outcome
Two of the most important things for Mainline Menswear were intricately connected, uniquely so for ecommerce stores: traffic and sales.
More specifically, they wanted to increase their sales, and one of the best ways to do that is to increase traffic.
Of course, they didn't want to fall into the get-any-traffic trap, where they increase any traffic, just not the ones who actually wanted to buy.
They wanted to increase their sales by increasing the amount of actual shoppers who would be more motivated to buy.
The challenges for Mainline Menswear
Besides the understandable challenge of increasing competition from similar brands around the web, Mainline Menswear also realized they couldn't really reach their customers like they'd want to.
After all, while email marketing boasts some great numbers, it's also true that everyone is using email marketing.
That means all brands are fighting for the same inbox space, and most are losing this battle.
This understanding of their main challenge—not necessarily low traffic or low sales, but high competition in the same marketing channel—led them to understand what their solution should be:
Omnichannel marketing.
The omnichannel solution
Mainline Menswear decided to try to beat their competition by being more creative and resourceful.
Instead of doing a large, expensive campaign that would get their users' attention via inbox, they decided to get their attention by using the thing that nearly all of their ideal audience had:
Their mobile phones.
For their Winter Sales (Boxing Day 2013), Mainline Menswear decided to move beyond the standard marketing automation channel and use a combination of coupons/promotions via SMS, retargeting ads, and cart abandonment emails.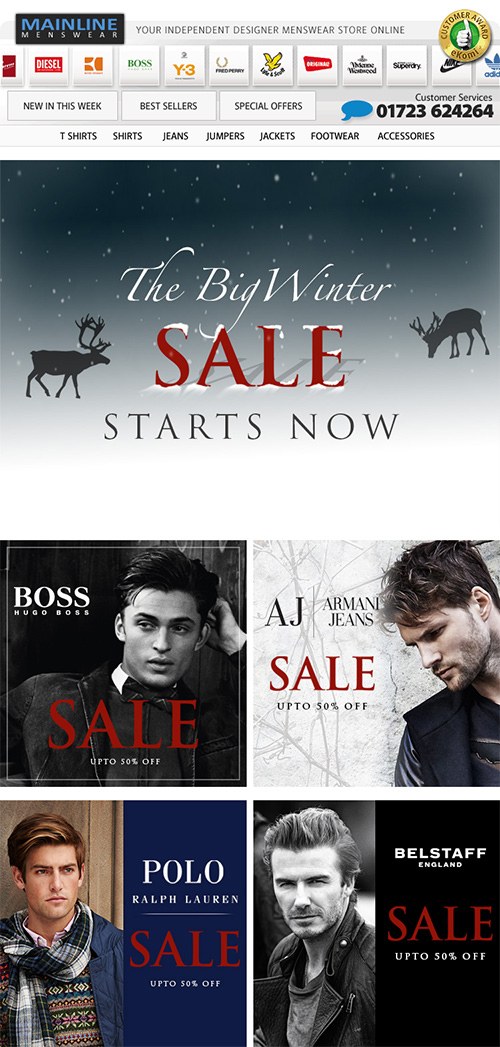 Instead of using just one great channel (email), they decided to stack it up with a few channels.
But they also decided to make it a seamless campaign, so that users would have a great, connected experience on all 3 channels.
Mainline Menswear's omnichannel results
On Boxing Day (December 26) 2013, Mainline Menswear decided to send a sales campaign via SMS, instead of the usual email campaigns they often did.
They began to see results immediately.
For their Winter 2013 Sales campaign, Mainline Menswear saw:
a 45% increase in direct traffic
a 27% rise in overall traffic
an amazing 93% boost in their mobile traffic
Their sales also increased significantly, with their campaign having led to one of the busiest days in Mainline Menswear's entire history.
This because the rise in quality traffic allowed their email marketing and retargeting to kick into high gear.
Not only that, but utilizing the omnichannel approach lowered the average customer acquisition cost, and it's an approach they've utilized repeatedly since.
Why omnichannel is unbeatable
Using omnichannel, you get to provide users, shoppers and customers with a unified experience.
This not only leads to better user engagement, but also (as you can see from the above case studies) better sales and brand awareness.
Omnichannel marketing will allow you to:
Seamlessly integrate different channels
Provide users with a unified experience
More easily control all your channels
Improve your ROI
Increase brand awareness
Build a long-term, sustainable business
In short, omnichannel marketing will allow you to take your online store from a good business to a powerful, sales-driven business that can establish and grow its customer base consistently.
It's the only approach Amazon and other big players use, and it's available for you right now, whenever you're ready.
Get your free copy of '5 Ecommerce Marketing Automation Case Studies' today.