Drive sales on autopilot with ecommerce-focused features
See Features
Reading Time:
10
minutes
Ecommerce continues to increase its share of overall retail sales, and the acceleration in 2020 moved the needle even further, putting projected sales at nearly four trillion. With online shopping quickly becoming the new normal, there has never been a better time to be running an online store.
However, with more potential opportunity comes more competition. That's why it's important to have a coherent, long-term strategy in place to ensure consistent, sustainable growth.
In this article, we'll explore the fundamentals of creating an ecommerce marketing strategy, built on a solid foundation that's made to last. While it might be tempting to immediately make use of the myriad of tools and marketing channels at your disposal, it's vital to first have your foundation established.
How to build an ecommerce marketing strategy
Building an effective marketing strategy for ecommerce is paramount to driving customers to your online store.
Despite that importance, nearly 40% of marketers feel their strategies are ineffective. Unlike a brick-and-mortar store, ecommerce doesn't benefit from a lovely storefront to draw in passerbys. Instead, ecommerce marketers need to be proactive at building their strategies.
Every individual marketing strategy will be different, of course. After all, how many ecommerce stores are exactly alike? Creating the perfect ecommerce marketing strategy means finding what makes the brand unique, and playing to its strengths.
For example, Dixxon Flannel used email marketing to create exclusive new product launches that were integral to their success. Puzzle retailer, JIGGY, opted for in-depth storytelling as a key feature of their marketing strategy. International and established brand, INGLOT Cosmetics Canada decided to opt for an omnichannel in-store/online strategy to foster growth in their shopping ecosystem.
Regardless of the brand, products, or customer base, the perfect ecommerce marketing strategy exists. The key to building it is starting with the foundation and building upwards.
The five fundamentals of ecommerce marketing
When it comes to ecommerce marketing, there are multiple channels that can be used to create a cohesive strategy—but not every channel will be right for every business. It's important to recognize which channels will have the most impact on your bottom line and which ones can be best implemented with the resources at your disposal.
These are the five of the best ecommerce marketing channels you can use to build your online marketing strategy and increase sales.
1. Email marketing
Email marketing has remained the go-to marketing channel over the years, delivering an impressive $40 return for every $1 spent and far outperforming its competitors.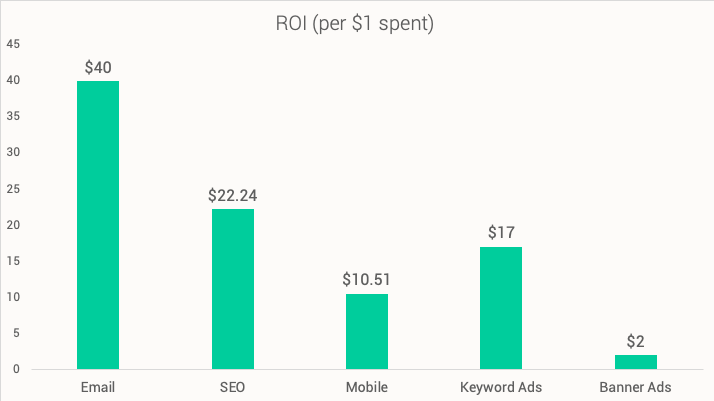 One of the reasons why email remains so effective and popular among retailers and consumers alike is the fact that it's permission-based. With subscribers having made the conscious choice to opt-in to receive promotional messages, they can be sure that they are only getting content that's relevant to them. For ecommerce businesses, this ensures a targeted audience of engaged potential customers who have explicitly expressed interest in hearing more from your brand.
Of course, this means that collecting contacts and building an email list becomes a top priority for email marketers. Unfortunately, this is easier said than done. Growing and maintaining a lucrative email list requires care and attention—you need to attract only the right kind of subscribers, keep the list healthy by regularly cleaning it of disengaged or inactive contacts, and segment it carefully to ensure that your content is highly personalized.
This is where ecommerce marketing automation comes in. Platforms like Omnisend will provide you with dynamic and interactive sign-up forms to boost your subscriptions, as well as all the other tools needed to build and nurture a thriving email list.
Once you've got your list-building efforts in place, you can start automating various email campaigns. With Omnisend, you can automate all your email marketing with easy-to-build workflows that send your campaigns on autopilot—generating sales while you sleep.
Some good examples of automated emails include:
Welcome emails: Emails sent to new subscribers, account holders, or customers. Welcome emails were the most effective in terms of conversions in Q3 2020, registering an impressive 52% conversion rate.
Abandoned Cart emails: Emails sent when a customer adds products to their cart but doesn't complete the purchase. These emails are commonly some of the most powerful automated messages for ecommerce businesses and perform consistently well in terms of click, open, and conversion rate. Black Halo generates 16% of their email revenue from these messages, even though they account for 0.5% of their email sends.
Browse Abandonment emails: These messages are sent when a known email subscriber browses your site but doesn't add anything to their carts. Like cart abandonment emails, these messages are highly personalized and extremely effective, scoring particularly highly in terms of open and conversion rate.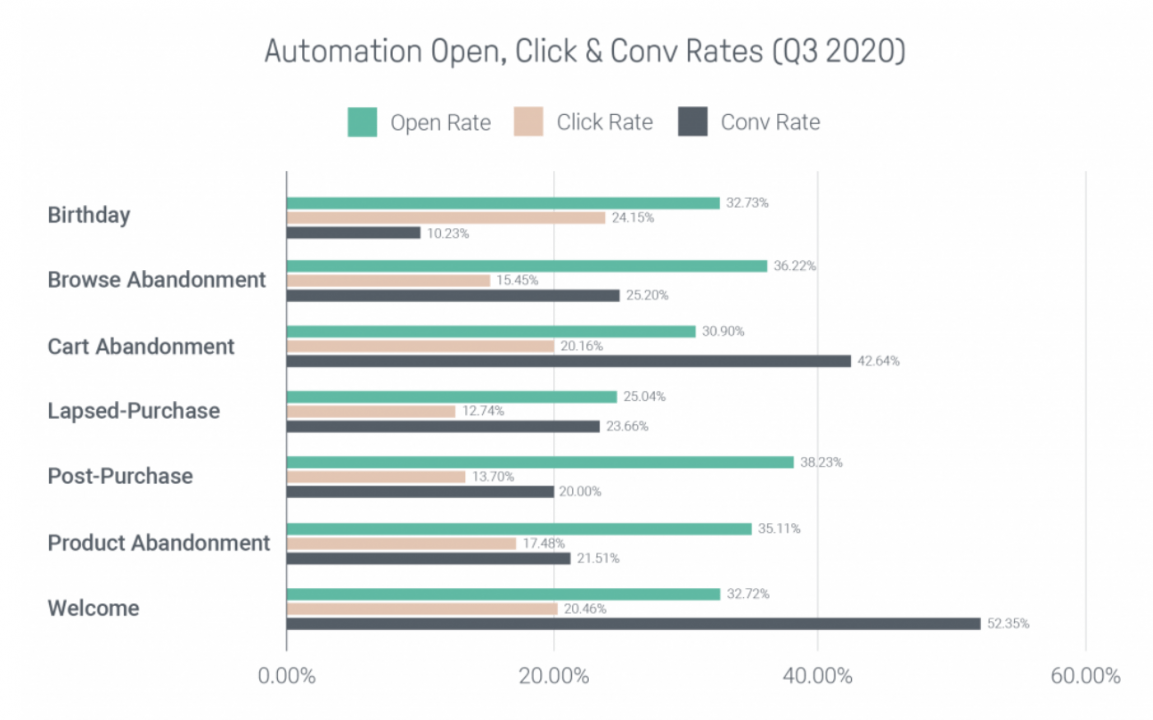 Order/shipping confirmation emails: These transactional emails go out after a customer has completed the purchase to confirm that it was successful, to inform when a product has shipped, and provide tracking information. With naturally high open rates, retailers are beginning to see the potential in these messages for up-selling and to generate repeat purchases. This is reflected in their surprisingly high conversion rates.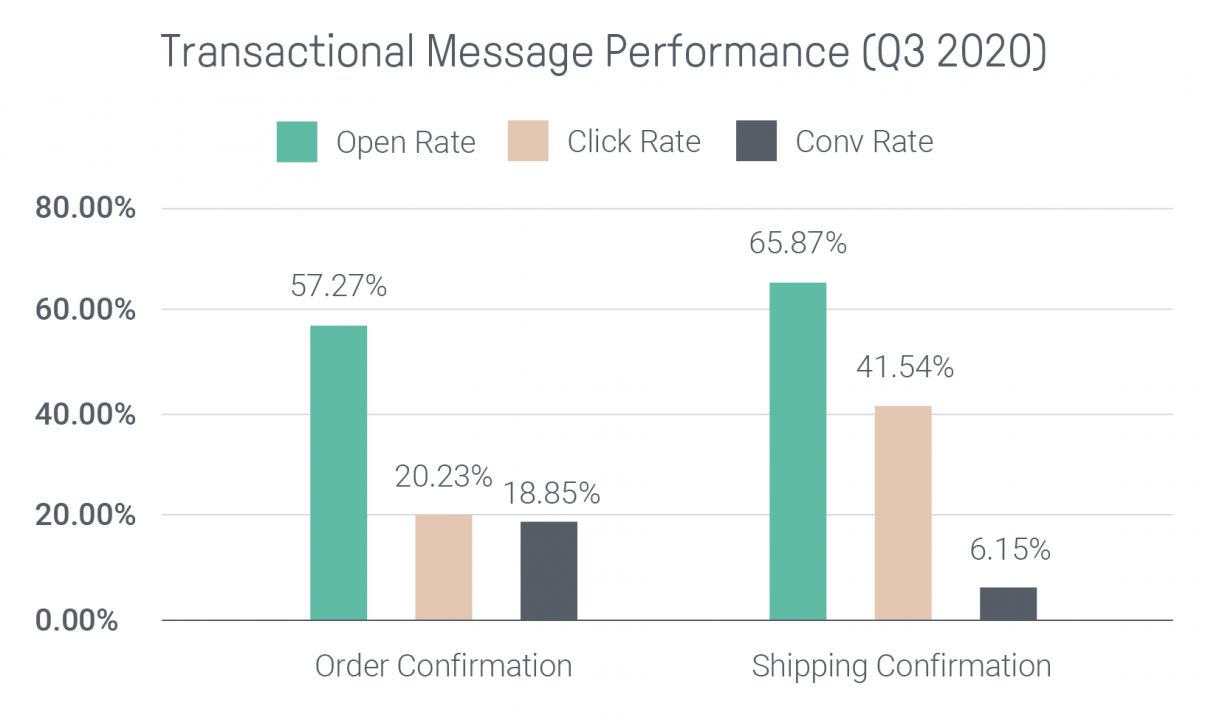 Automated emails are essential for any ecommerce business looking to increase sales—especially those with smaller teams. According to Omnisend research, a staggering 32% of email conversions came from automated messages, despite them making up less than 2% of total email sends. If you're not automating yet, you certainly should be!
2. SMS marketing
SMS is no longer a nice-to-have marketing channel for ecommerce businesses, it's now a must-have. Text messaging is a standard communication channel for people today, and it's immediacy—90% of SMS messages are read within 3 minutes of receipt—likely explains why businesses are increasingly adopting SMS as a marketing channel. In the third quarter of 2020, there were nearly double the number of SMSes sent than in the previous quarter.
As more businesses focus on growing their email database, SMS becomes a great tool for marketers to use to cut through crowded email inboxes, especially during busy periods like the holiday shopping season.
According to Omnisend's Q4 2020 Holiday Stats Report, Black Friday alone accounted for 19% of all November SMS orders, with the Cyber Ten accounting for 72% of all November SMS orders. In fact, SMS accounted for 2.5% of orders placed across all channels on Black Friday, providing valuable added revenue for any retailer.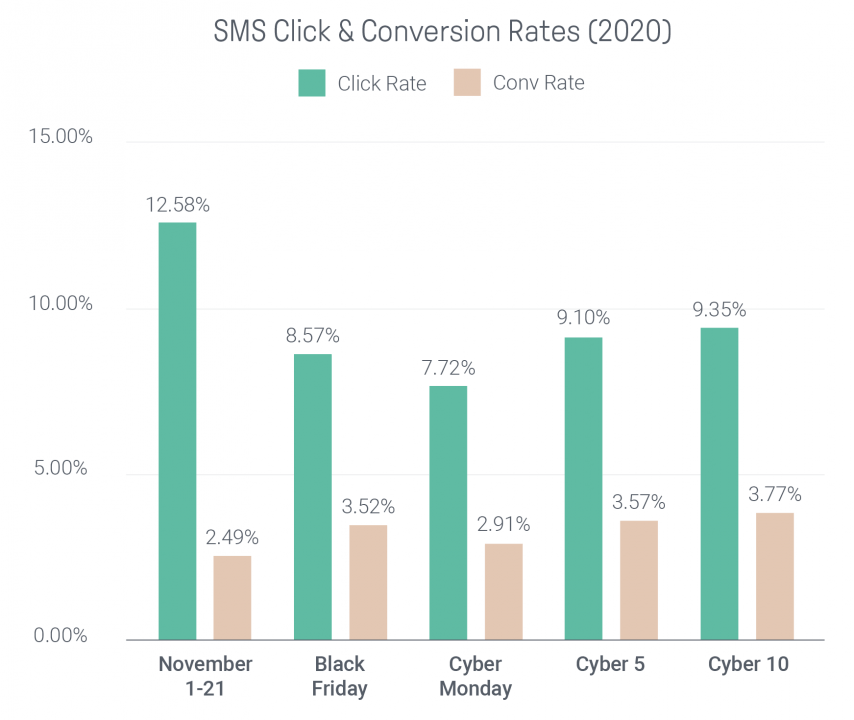 So how do you add SMS into your marketing mix? It's simple. Start collecting mobile phone numbers along with email addresses (you can add an extra field on your sign-up forms), and make sure your email provider offers an SMS marketing service that's seamlessly integrated into your workflows.
SMS can be sent as stand-alone messages or integrated into your automated email marketing workflows. Adding text messages to your automation workflows is an easy way to make SMS as relevant as possible for the recipient. For example, you can create a workflow that automatically sends an SMS to a subscriber that didn't open your emails after a predetermined time—ensuring you are communicating via the channel most relevant to the subscriber.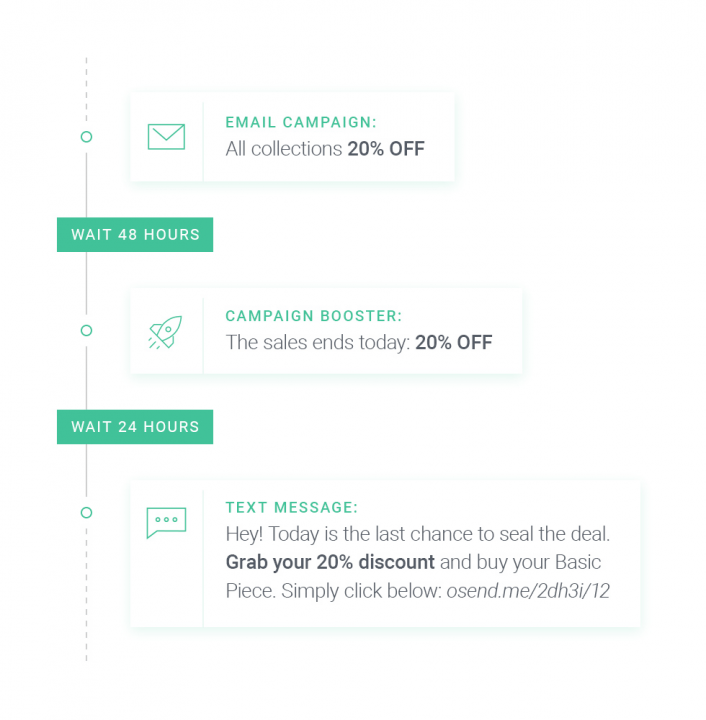 Check out our article for more SMS marketing ideas and best practices.
Harness the immediacy and urgency of SMS marketing. Consumers are responding to this opt-in channel and rewarding retailers that reach out with timely, personalized messaging. With free SMS available at Omnisend, SMS is now a no-brainer for ecommerce businesses everywhere.
3. Ecommerce content marketing
Content marketing is one strategy you can't neglect when you're selling online. Everything that you put on your store is content, from your product description and sales banners to product photos. All of this content can be used, reused, and adapted to send to your customers.
Content acts as support around your brand, and it can take a variety of forms, for example:
Articles
Visuals
Product photos
Product description
Infographics
GIFs
Videos
FAQ pages
So how do you create a content marketing strategy for ecommerce?
Start from your product and the need that you satisfy for your customers and work outwards from there.
Your content always needs to create value for your followers and be linked back to your business in some way. For example, if you're selling women's fashion apparel, you wouldn't write a blog post about going vegan—unless that was part of your brand image.
Think about your ideal customer and their particular needs and interests. If it's coming into winter, you could try creating a 'top ten' list of the warmest on-trend winter coats. This content would be of interest to a customer of women's fashion apparel, and it fulfills a particular need at a particular time. Lists like these are informative, easily consumable, visually attractive, and specific to a certain topic.
For tools to help you with your content marketing, you can consider using CoSchedule.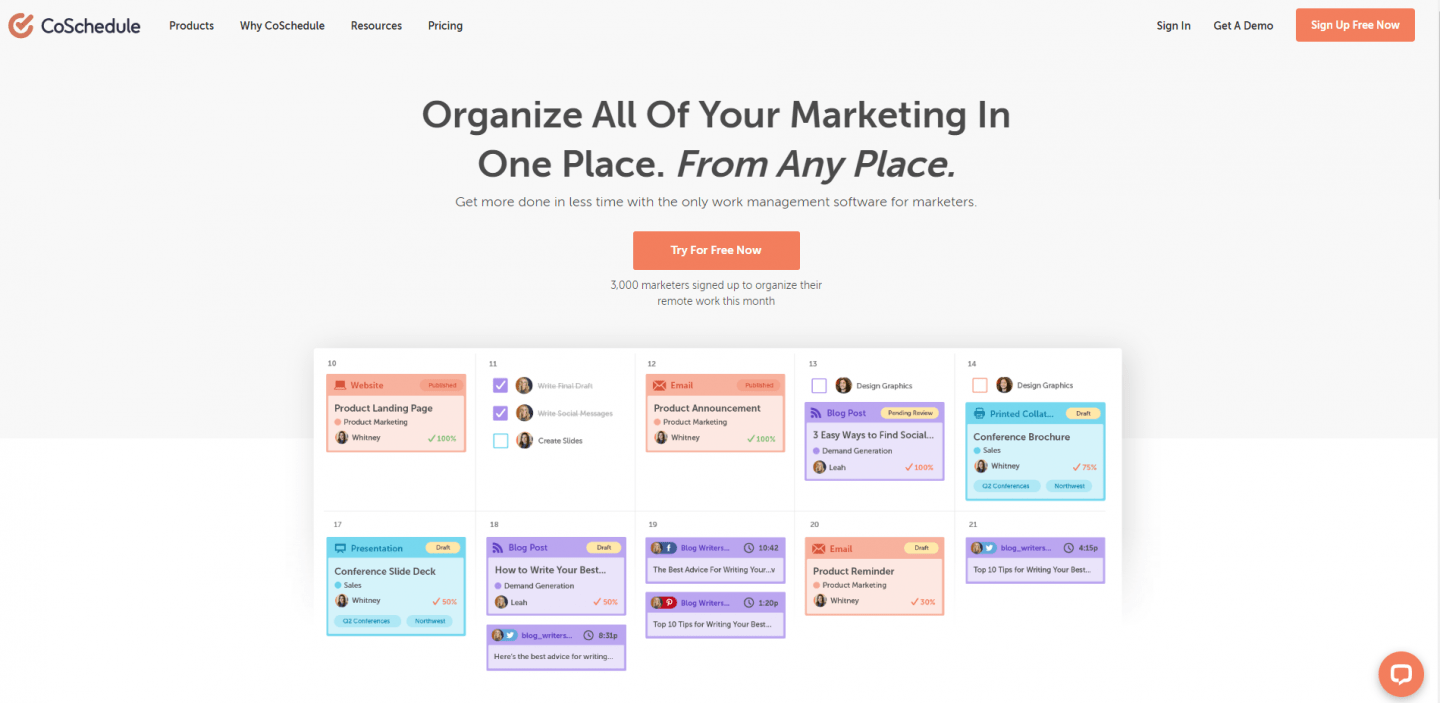 CoSchedule is a content planning tool that allows you to plan tasks across your content team. You can create blog posts directly within the app and test your headlines for clickability.
It integrates with all of the most popular writing tools for bloggers, including WordPress, EverNote, and Google Docs, so you can upload your content directly to CoSchedule for easy collaboration. But the best part about CoSchedule is that you can share to Facebook, Twitter, and LinkedIn, and schedule your posts well in advance.
Their best feature is by far ReQueue, which allows you to reshare your evergreen content, with customization on how often, when, and where those posts go out. It's a lifesaver for those who have a lot of different pieces of content to share!
While creating engaging, highly-relevant content can be time-consuming, and even annoying at times, it's definitely worth the time and effort. After all, I'm sure you know who loves and rewards sites that update regularly with fresh content? That's right, Google.
Continually updating your ecommerce site with new, search-optimized content helps Google to crawl and index your site. If you shoot for the keywords that your customers use when looking for information or products (user intent), it will help your site become more findable—a crucial aspect of ecommerce site marketing.
For more in-depth information about SEO and optimizing ecommerce pages for user intent, you can check out this article. Because while engaging content is good on its own, when used together with a targeted SEO strategy it can enhance your brand, boost your visibility, and bring in even more sales.
4. Referral marketing
Good old fashioned word-of-mouth recommendations are still one of the most potent marketing tools at your disposal. People trust the experiences and advice of their peers, so having your happy customers spread the word about their delight with your brand is pure marketing gold.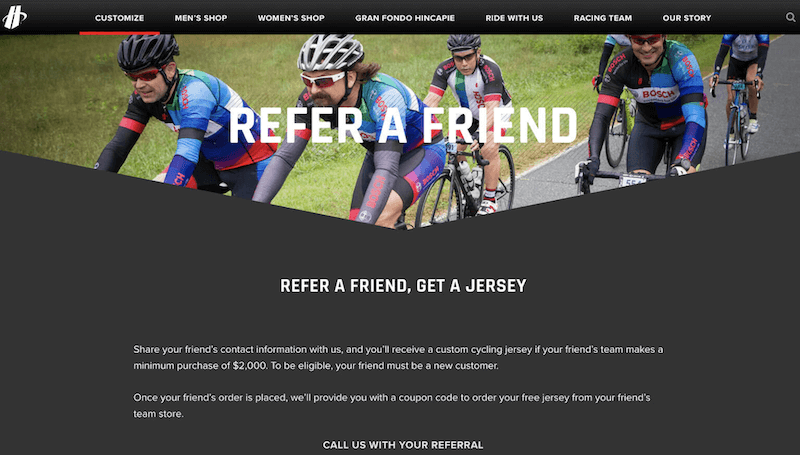 Referral marketing involves actively encouraging customers to share their experiences and refer to their friends and family.
Not only can you use referral marketing to acquire new customers, but you can also use it to retain the happy customers, simply by incentivizing the referral. It can be as easy as offering a discount for your referring customer (or even sweetening the deal with a discount for the referrer and the referee).
Alternatively, if you have a loyalty and rewards program in place, rolling referrals into reward points for your customers can be just as effective.
There are various tools available to help you create and maintain an effective referral program, with ReferralCandy being one of the most complete and specialized for the task.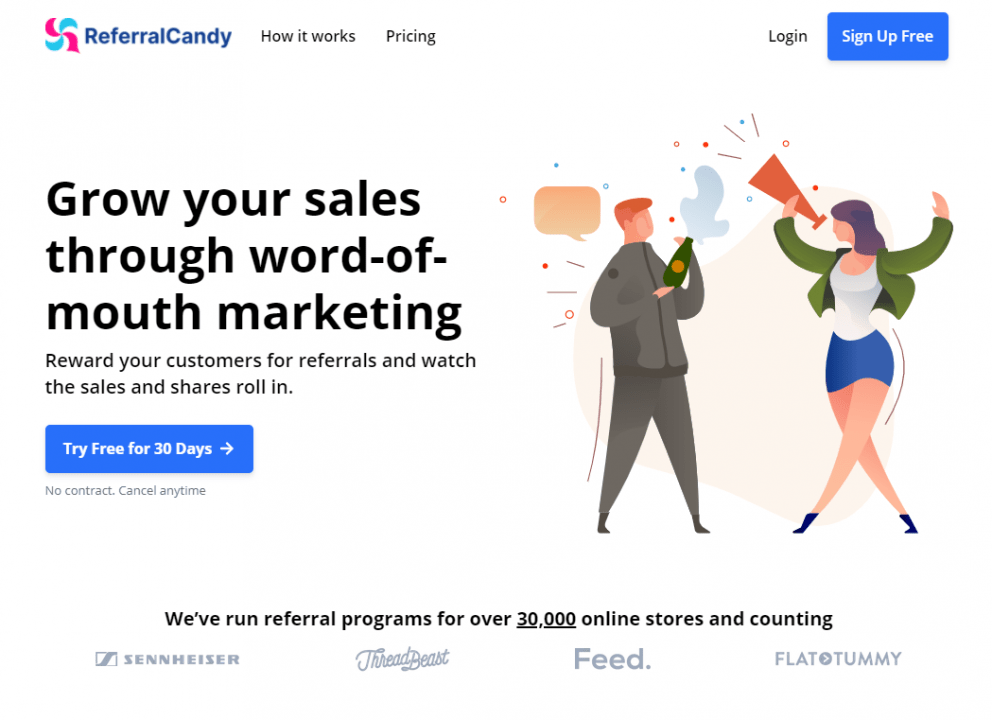 ReferralCandy is a full-suite referral platform built for ecommerce, so it's perfect for boosting your referral strategy. It automates every aspect of your referral program with total customization so you can create it exactly the way you want.
The software connects directly to your ecommerce platform (including native integration with Shopify, BigCommerce, WooCommerce, and more). From there, simply choose the rewards you want to offer. ReferralCandy even provides you with a few ideas to help you get started. They also offer widgets, sign-up forms, and post-purchase pop-ups to encourage referrals.
5. Social media marketing
While email marketing undoubtedly has the most potential and the highest ROI, it simply cannot match the reach of potential virality of social media. With billions of users logged on at any given time, social media giants like Facebook, Instagram, and Pinterest are a fantastic source of potential subscribers and are great mediums for creating awareness and hype around your brand.
Because ecommerce marketing relies heavily on visuals to help entice customers to purchase, it's important to harness the visual nature of social media to your benefit. Create gorgeous product and brand photos to tell your story, grow your following, and pique potential customers' attention.
When social media marketing, there are a few key things to keep in mind:
Maintain a consistent posting schedule: there's no rule for how often or when, but you should maintain consistency.
Keep a general color scheme: when a customer visits your profile there should be a clear look and feel to your different photos.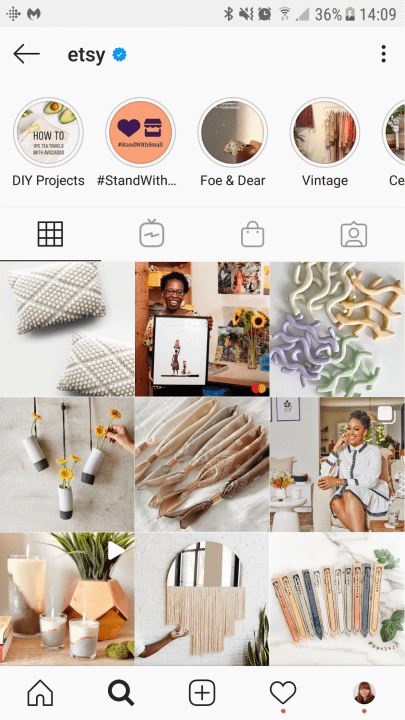 Use relevant hashtags: Platforms like Instagram and Twitter rely on hashtags more than other social networks. Use as many as you like, the more the better.
Put your shop link in your bio: Some social media platforms don't allow you to put links in your actual posts, so put your link in your bio to drive traffic to your store.
Engage with your comments: When customers comment on your posts, interact with them, laugh at their jokes, and do what you can to engage with them.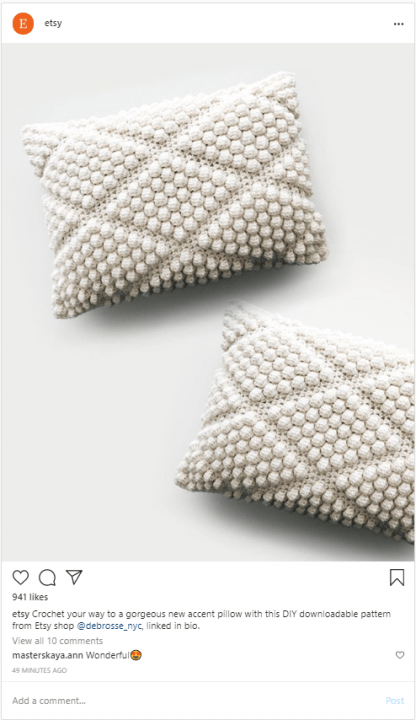 Of course, there are plenty of tools available to help you with your social media strategy. Buffer is an effective, simple social media app that allows you to schedule and automate your social posts.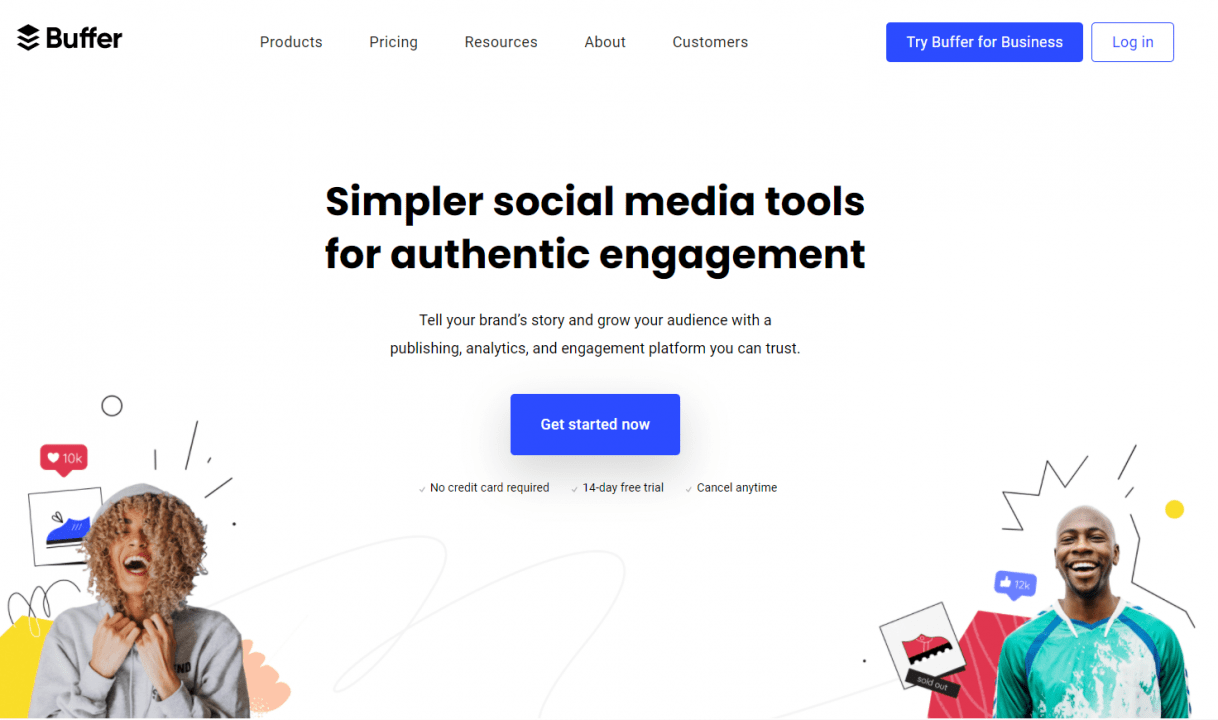 With Buffer, you simply create the post you want, along with your selected image and hashtags, and schedule it to be published at a time of your choosing.
To see which posts are resonating most with your audience, you can accurately measure your performance, create reports, and get insights to grow reach, engagement, and sales. And for anyone that's had to add in 15 hashtags on Instagram via mobile, the intuitive post creator is a godsend.
Buffer is easy to use, visual, and intuitive. While it's not as powerful as CoSchedule's social automation, it's one of the only tools that offers specialization for Instagram users.
Wrap up
While creating a marketing strategy can seem a daunting task, it becomes much easier when broken down into smaller, more manageable pieces. The five fundamental marketing channels covered in this article help you to create a solid, reliable foundation of a successful ecommerce marketing strategy in 2021.
If you're looking for a place to start, look no further than email and SMS marketing. With greater than 30% of email sales coming from automated messages, and SMS conversion rates increasing over 400% year-over-year, these tools have the ability to drive sales while you focus on optimizing the other aspects of your strategy.
Increase sales with Omnisend & access all Omnisend's features for free.
Start Free Today