Drive sales on autopilot with ecommerce-focused features
See Features
Omnichannel Experts: Where Omnichannel Marketing Trends Will Go in 2021
Reading Time:
17
minutes
It might seem that the marketing industry moves faster than the speed of light at times. It's true, one of the biggest challenges in working in digital marketing (or any other tech-orienteda field) is that things change by the hour.
That's why it's critically important to stay up to date on trends in the ecommerce and marketing industry. And one of the best ways to predict where we're going is to look at where we've been.
Today, I've brought in the biggest digital and omnichannel marketing experts who have weighed in on where omnichannel marketing will go next.
Each expert was asked three main questions:
What's the biggest benefit omnichannel marketing can offer online brands?
What omnichannel trend do you find most exciting?
Where do you think omnichannel marketing will go in 2021?
Let's dive into what insights these omnichannel experts have to offer!
Rytis Lauris, CEO & Co-Founder of Omnisend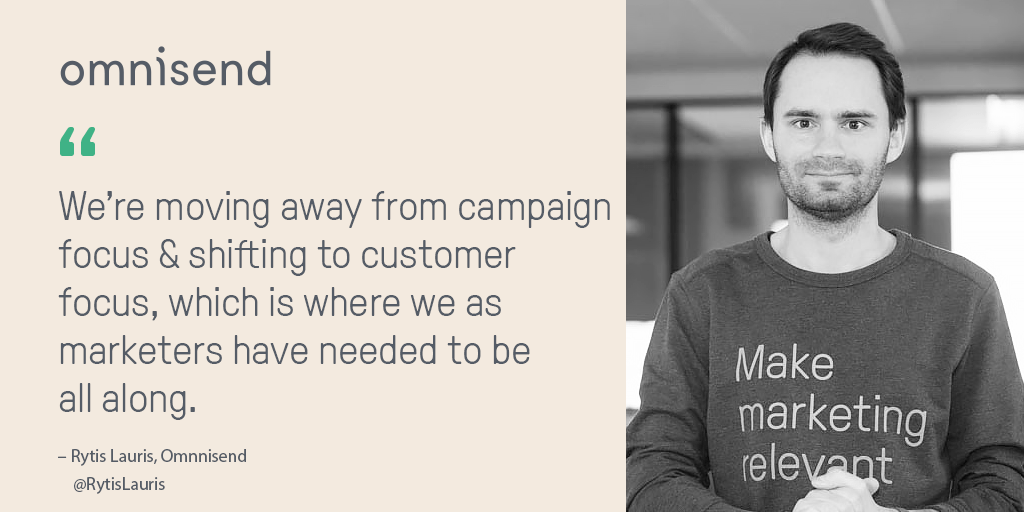 Rytis Lauris is the charismatic CEO and Co-Founder of Omnisend, omnichannel marketing automation platform built for ecommerce. With a mind seemingly crafted for business and an eye to the future, Rytis has gained notoriety within the ecommerce community for his insights on omnichannel and the future of ecommerce.
Rytis is far from working with Omnisend in a silo- he's been featured across the web wherever omnichannel is mentioned. Whether it's in high-profile podcasts, or exclusive interviews, Rytis seems to be omni-present in the omnichannel world.
Today, Rytis has his hands full managing the fastest growing marketing automation platform in the industry, keeping this innovating tool on the absolute cutting edge of what technology can offer in terms of omnichannel marketing.
When we asked Rytis what the biggest benefit omnichannel marketing could offer online brands, he said:
"The absolute biggest benefit that omnichannel marketing can offer is to make marketing relevant not only for brands, but for the customer. There is a level of personalization that can only be achieved by omnichannel marketing, and that's what the customer of 2020 is looking for.

When you provide this relevancy, customers respond better to it, they purchase more, and they come back more often. With results like that, it's a surprise that there are still some brands that focus on the individual channel, in lieu of focusing on the customer.

A lot of people tell me that customers hate ads. That's only half of the story. Customers hate ads that aren't relevant to them. When you offer a message that the customer wants when they want it, they'll be willing to engage with your brand and even give over contact information for the future.

Omnichannel marketing helps brands create the messages that customers want to see, when they want to see them, and on the channels they prefer the most."
When asked about omnichannel trends, Rytis focused on customer centricity:
"
The most exciting trend in omnichannel marketing is the shift in attitude of marketers. We're moving away from campaign focus and shifting to customer focus, which is where we as marketers have needed to be all along. This move from campaign centricity to customer centricity is making how we communicate and connect with the customer the main priority.
We're seeing marketers think about how to communicate with the individual customer at each stage of their customer journey, and thinking about how to send the message that will be most personalized and relevant for that customer."
Finally, Rytis told us where he felt omnichannel marketing was going in 2021:
"
The ecommerce industry is changing and becoming something entirely different. Today, we are talking more about commerce because the lines between digital and brick and mortar are becoming increasingly blurry.
Customers today have more choices than ever, and I see that being even more prominent in the next few years. Omnichannel marketing will provide brands with the ability to offer more choices to the customer, whether it's through the channel they use to engage with the brand, or the way they receive their updates.
Brands will use omnichannel marketing to empower customers with choice, and customers will become more loyal for it."
Sam Hurley, Managing Director & Founder of OPTIM-EYEZ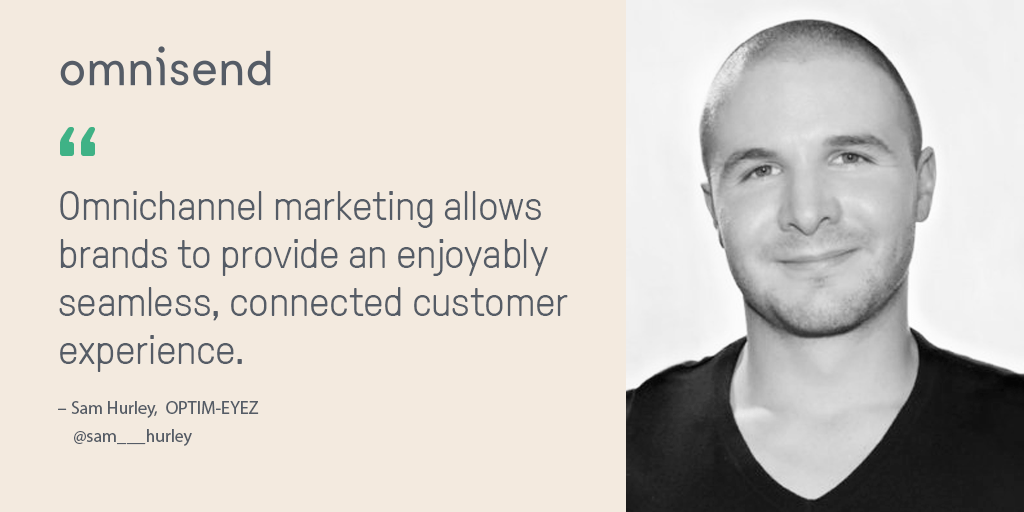 You can't have a list about digital marketing experts without mentioning Sam Hurley. Dubbed the "Nicest person on the internet," his achievements are notable as he climbed the ranks in just 15 months from no one to the biggest digital marketing influencer worldwide.
And he did it all without a website.
Sam's insights can be found in nearly every corner of the digital marketing sphere, as his expertise has been featured on Forbes, Entrepreneur, The Next Web, and many others. This is a person who always has value to add wherever he goes.
Today, Sam runs a personal brand consulting firm called OPTIM-EYEZ, where he offers guest blogging, PR services, mentoring, and a full suite of digital marketing services to help boost your brand.
We asked Sam what omnichannel marketing could offer to online brands:
"
The customer journey is becoming incredibly advanced, often stretching across considerable periods of time…
In addition, more devices and channels are being used than ever before.
Omnichannel Marketing presents the biggest opportunity to brands in this modern era:
An enjoyably seamless, (end-to-end) connected customer experience that positively impacts conversions and brand recall / loyalty.
Not only this, but a deeper 'panoramic' view of customer journeys and behaviors allows a business to truly understand its relationships before, during, and after sales are made…
This coveted view is a natural partner to any omnichannel effort — because you simply can't be successful in this type of marketing without the most insightful analytics and subsequent data.
It's an approach that ultimately separates 'popular brands' from those 'insanely successful' behind the curtains."
When asked where he felt omnichannel marketing was going in 2021, he had this insight:
"
Piecing together (and then continually optimizing) the customer journey jigsaw isn't an easy task.
For this reason, I see more and more vendors entering the market throughout 2021 with packaged solutions that are not only driven by AI, but also available at a more affordable price point.
Smaller businesses need as much help as they can get — semi-automation on this level is exactly what is needed in today's world of increasing customer expectations.
Awareness of 'omnichannel' is still relatively lacking, so I expect to see much more content around this topic in 2021 and the coming years."
Ezra Firestone, CEO of Smart Market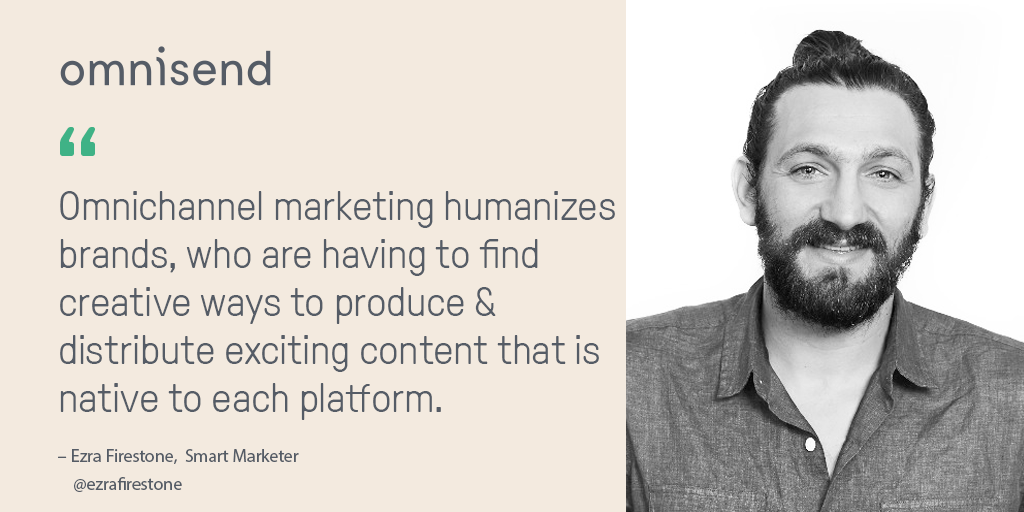 Ezra Firestone is the CEO of Smart Marketer, but his CV counts a myriad of other successful businesses he's pioneered. In 2007, he launched his first ecommerce store and went from that small store to running multiple million-dollar businesses. After launching two successful ecommerce sites, he decided to start yet another business sharing his ecommerce expertise with the world.
And thus, in 2013, Smart Marketer was born. Smart Marketer aims to contribute resources and know-how to the ecommerce community through high-value weekly content: blogs, email courses, and Facebook Live broadcasts. Smart Marketer is a premium ecommerce consulting brand that is dedicated to see their customers succeed in the industry.
With all this expertise, it's only logical that we ask Ezra about his thoughts on the omnichannel phenomenon, and how it will impact ecommerce.
When asked about what benefits omnichannel marketing could bring to ecommerce, Ezra was succinct, and right to the point:
"Omnichannel marketing offers businesses an amazing opportunity to have multiple touch points with their audience so when they're ready to buy the already have built a connection with your brand."
His favorite omnichannel trend happening right now:
"The Omnichannel trend I find most exciting is the humanization of brands. All brands whether big or small are having to engage with their customers where they are. So this means they have to find creative ways to produce and distribute exciting content that is native to each platform. So their Facebook ads have to tell stories, and engage, their YouTube videos have to be about what their customers care about, and so on. It's no longer feasible to just say buy this product."
The human touch is certainly an area where Ezra is a personal expert. Much of his content around Smart Marketer is focused on how to balance the entrepreneur drive with real life (without the burn out).
When asked about the future, Ezra has a positive outlook for ecommerce brands:
"I think Omnichannel marketing will continue to evolve into 2021 and become the way every business has to conduct their marketing campaigns. Engaging with their potential customers in a way that creates brand advocates is what we're already seeing, and it's only going to continue in 2021."
Chloë Thomas, Founder of eCommerce MasterPlan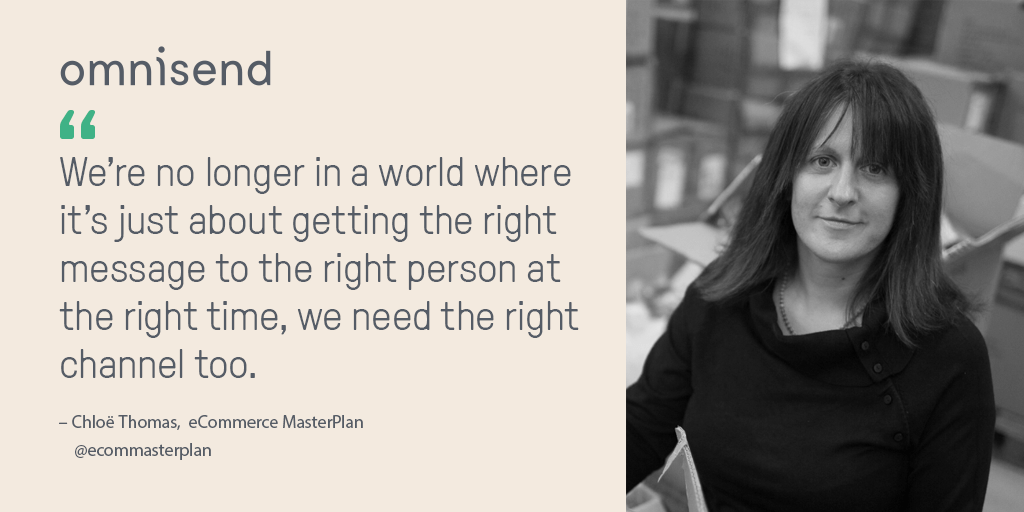 Chloë is the mastermind behind eCommerce MasterPlan, ecommerce community and knowledge hub where online merchants can go for advice and insight from experts spanning across the globe.
Launched in 2012, eCommerce MasterPlan seeks to arm online merchants with the tools they need to succeed, no matter their niche or target audience. Offering books, coaching, events, podcasts, and a plethora of other valuable resources, Chloë is a veritable expert in this booming industry.
Chloë gave us interesting insight into what brands can achieve with omnichannel marketing:
"
Omnichannel marketing gives retailers the ability to create greater engagement with their customers. We're no longer in a world where it's just about right message to the right person at the right time – it's now also crucial to get that message to the right person at the right time via the right CHANNEL.
That means getting messaging consistent across channels, and building an understanding of how your customers are using each channel in their relationship with your business. It's a lot of work to do that successfully, but as competition levels increase it's ever more important to not just have customers who like you, but have customers who are fully engaged with your business."
Her favorite omnichannel marketing trend:
"The syncing of advertising audiences with the marketing database is really exciting. Not only does it get rid of the pain of manually trying to keep those lists up to date, and the GDPR nightmare of downloading and uploading csv files of customer data… it also opens up some exciting ways to further optimise advertising spends."
Where Chloë thinks omnichannel marketing is going in 2021:
"We'll see ever more retailers migrating to the technology solutions that make it easy to do omnichannel marketing. Which means we'll have a lot more omnichannel marketing going on, done by more people in more sectors of the industry.That's a great thing – because it means there'll more case studies, examples, and tried and tested tactics for everyone else to learn from and use to improve their marketing."
Branden Moskwa, Founder of Nadimo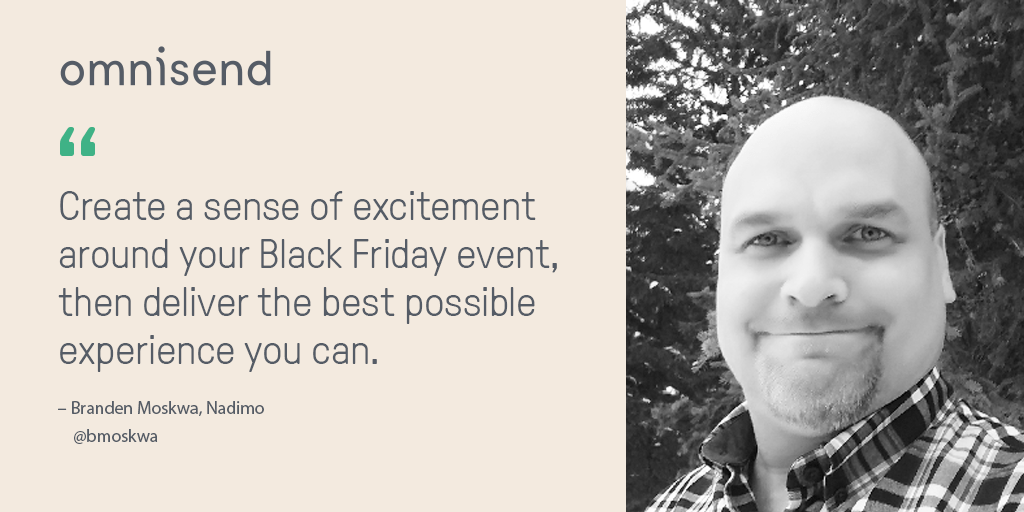 When I need an expert about anything related to ecommerce, Branden Moskwa is typically my go-to guy. Ever on the pulse of the latest thing to hit the ecommerce industry, Branden has dedicated his career to improving the industry as a whole.
This is the primary reason he founded Nadimo in 2014, helping entrepreneurs sell better by optimizing their ecommerce stores from A to Z. His specialty? Bringing in real innovation into the mix, whether he's consulting, interviewing, or writing. You can always expect Branden to know about the next big thing before it becomes a thing.
According to Oracle, Branden is a Top Player, to IBM, he's one of the Brightest Minds of ecommerce, to SAP he's one of 14 of the world's leading IoT and consumer product industry experts. To us? A top ecommerce expert worthy to be followed closely for great insight into everything business and ecommerce.
As Branden always has a great vision of marketing, we asked him what benefits omnichannel marketing could bring ecommerce companies:
"
In the world of retail and digital commerce you often run into the phrase Omnichannel and it can mean so many different things to so many different people all depending on the 'silo' in which you operate, which is exactly what omnichannel is going to destroy, siloed business.
It will create a more translucent and harmonious culture, one that can only be achieved in the digital age in which we live with the technologies we in tech continue to create."
When we asked him what was exciting about omnichannel marketing, he couldn't tell us enough:
"
Omnichannel fulfilment, buy online and picking up in store, pickup in store get home and be presented with an offer via facebook for a matching hat to the amazing shirt you just picked up.
You order that and it arrives in the mail with an in store coupon being emailed to you confirming you received your order. So being the shopaholic, you are now coming to expect that I take that email in store and buy a new blazer (Ah who am I kidding, I bought a t-shirt but did get some really cool socks! Aren't they awesome?
But I only bought them because when I was in the store I got a really awesome SMS message from Sales Rep Darla, who thought I would like them and was willing to give me a BOGO deal on them, so yes I bought two pairs! Nice, huh?
Anyhow, I honestly digress a lot from the point of the question but I wanted to set the tone for what true omnichannel means to me, it's not just about the marketing, but also the fulfilment and even more importantly, an experience. One in which every aspect of the business is meshed into the messaging I am getting, all tied to different methods, not the typical email drips or just Facebook retargeting, but a full omnichannel experience.
SMS, FB Messenger, and any other channel a customer might use: this is not limited when you think of what IoT can bring to the game, as with the example of me getting a message when I was in the store.
The thing is we are connected today more than ever before, and not using just an email, but SMS, push notifications, and more. Where I get excited about the possibilities of omnichannel is when I think about connecting not only a person to the message, but through the channel that the customer likes best or happens to use the most often. For example I could be walking by your store and not had a thought of stopping in, until I get a push notification that reminds me its my wife's birthday is coming soon and they have an amazing deal for me on something she would love! The possibilities with omnichannel are endless."
For Branden, the future of omnichannel marketing only goes up from here:
"
You may note that I talk about deals! This may not be the messaging for everyone. So if you take what each of these channels are capable of, couple that with other amazing forms of data that are at the ready, then use this in your omnichannel and IoT marketing messages in an ultra personalized way.
You are able to personalize the persona, in essence getting rid of persona's in place of the person! That is the power of omnichannel marketing and the future we will see in 2021.
With all that data, you can begin to strip out the marketing persona and begin focusing in on the person, and that's what I think the future of omnichannel marketing is."
Mollie Woolnough-Rai, Content Marketing Executive for LoyaltyLion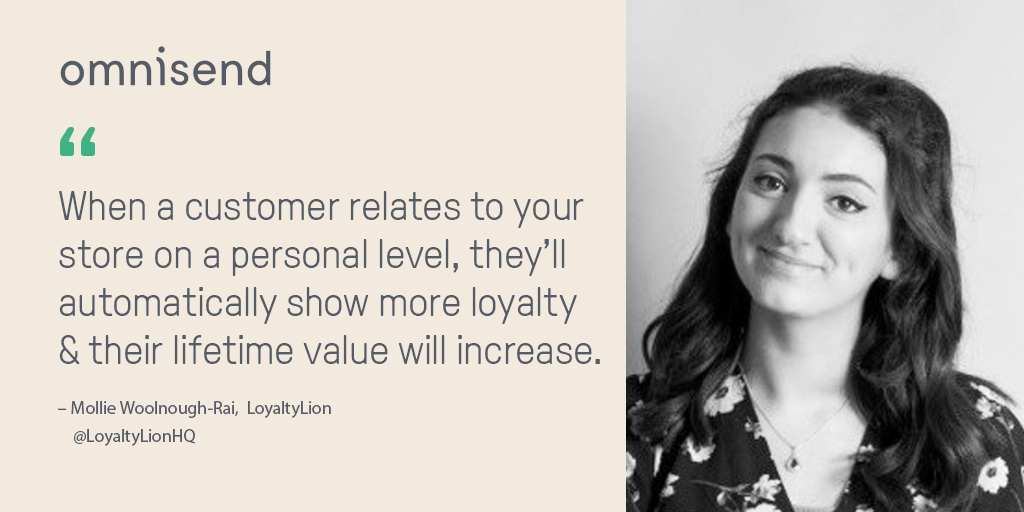 If there's any one expert on this list who is completely customer-centric, it's Mollie Woolnough-Rai of LoyaltyLion. Mollie is also quite the expert on everything marketing, having devoted her career to both B2C and B2B ecommerce marketing across content strategy, digital marketing, and PR niches.
Currently the Content Marketing Executive at LoyaltyLion, she dedicates her marketing knowledge to teaching online merchants how to create long-lasting relationships with their customers.
As omnichannel marketing is customer centricity, we wanted her take on what omnichannel marketing has to offer the ecommerce industry:
"
To secure customer loyalty and build long-lasting relationships, brands need to pay attention to every interaction a customer could have with their store – no matter what stage they are in the customer lifecycle.
Omnichannel marketing gives teams the tools they need to communicate the same messaging and values across all channels. This includes their store's loyalty page, product recommendations, help desk solution and every point of communication in between. This attention to detail creates a coherent experience new and existing customers will appreciate.
This helps you cement bonds with your customers and, over time, build long-lasting relationships. When a customer relates to your store on a personal level, they'll automatically show loyalty to your store and their lifetime value will increase."
When we asked her which omnichannel trend was the most exciting, she had this to say:
"
What we find most exciting about omnichannel marketing is that it enables tools and technologies to work together seamlessly so you can deliver the best customer experience – regardless of the size of your store.
Omnichannel marketing makes it easy to get your tools to talk to one another so you can create a single customer view and deliver coherent experiences. For example, you could increase the power of your loyalty program by making sure it works alongside your ESP, help desk solution, product recommendations and all the other tools your use to elevate your store.
This gives everyone the opportunity to differentiate themselves on the customer experience, rather than getting caught in a race to the bottom on price and logistics."
The customer-focused view is a unique one for the omnichannel industry, so when asked where omnichannel marketing would go in 2021, Mollie said:
"
We think omnichannel will become about more than just delivering consistent experiences both online and offline. Instead, it will transform into an opportunity to create and nurture brand-to-customer relationships.
To succeed, retailers will need to make sure every channel is being used to deliver a truly personalised experience unique to each customer. They will also have to think about how they can use it to demonstrate shared and aligned values.
By using loyalty segments and insights to react to individual scenarios, customers will feel like you care about them on a personal level, rather than feeling like just another number.
Pinpoint your most loyal customers and show them that you value their custom by inviting them to invite-only product launches. Or, identify your at-risk customers and draw them back with loyalty emails that show them that they have points waiting to be claimed. You could even identify those who are in need of winning back and pique their interest with a one-off double points weekend exclusively for members of your loyalty program.
You'll want to focus on using your channels to effectively connect with customers in a way that builds long-lasting relationships, instead of just encouraging a one-time conversion."
Raúl Galera, Partner Manager for ReferralCandy & CandyBar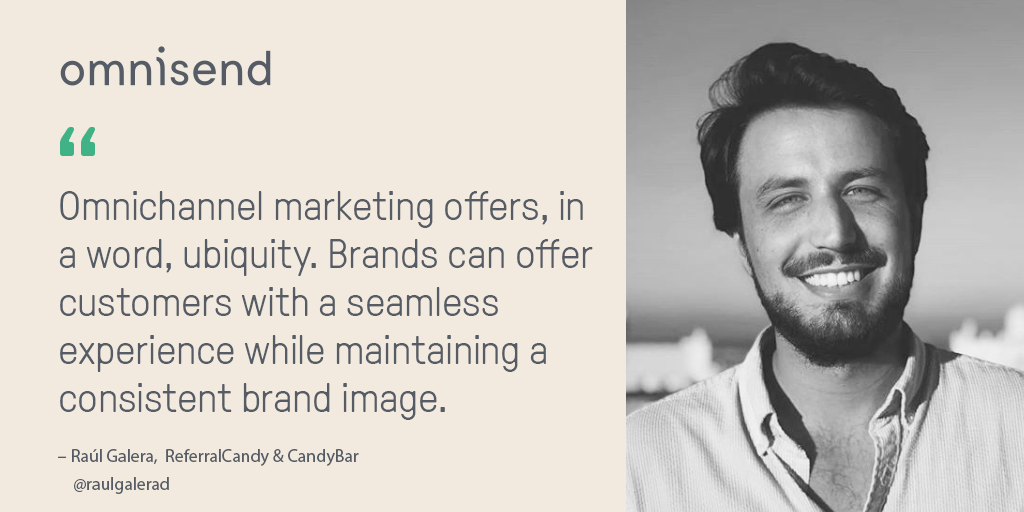 When it comes to ecommerce referrals and customer loyalty, Raúl Galera is your resident expert. Partner Manager for ReferralCandy and their loyalty software for brick and mortar stores CandyBar, Raúl has a career-long focus on the latest technological innovations in the ecommerce world.
Today at ReferralCandy, Raúl helps ecommerce brands capitalize on the most powerful form of marketing: word-of-mouth marketing.
By powering ecommerce referrals, Raúl helps brands focus on not only their own customer experience, but also extending that experience to their friends and families, ultimately lowering customer acquisition costs for ecommerce brands across the globe.
With such expertise in customer experience, we thought Raúl would be a perfect expert to lend us insight on the biggest benefits omnichannel marketing had to offer:
"
In one word: Ubiquity. Nowadays, brands can sell their products in their brick and mortar store, online store, through Amazon, or even Pinterest's Buyable Pins. Omnichannel marketing allows them to provide potential customers with a seamless purchasing experience while maintaining a consistent brand image across multiple channels.
"
When asked about his most exciting omnichannel trend, Raúl said this:
"
Considering the pace at which omnichannel technology is developing, I feel like this answer could get out of date very quickly. However, I am definitely excited about seeing how brands come up with smart ways to increase their customer engagement in both the online and offline worlds.
Last year I had the chance to talk to some of our customers (online brands) and it was interesting to see how many brands operating in different industries had one thing in common: they were all building an active community of users around them who acted as brand advocates, boosting their word of mouth marketing through both online and offline channels."
According to Raúl, the future of omnichannel marketing will depend on the brands that adopt it:
"
I think the main marketing challenge yet to be solved in an omnichannel approach is being able to provide a consistent brand voice and image across multiple channels. With marketplaces like Amazon and Alibaba becoming more and more powerful, marketers will need to come up with new ways to make sure their products are not being lost in a sea of similar options. It will almost be survival of the fittest for many brands.
The question is: How will your customers tell their friends about your product? Will they be able to pitch your brand effectively, or will they talk about you as something they got on Amazon?"
Mike Glover, Content Editor for Veeqo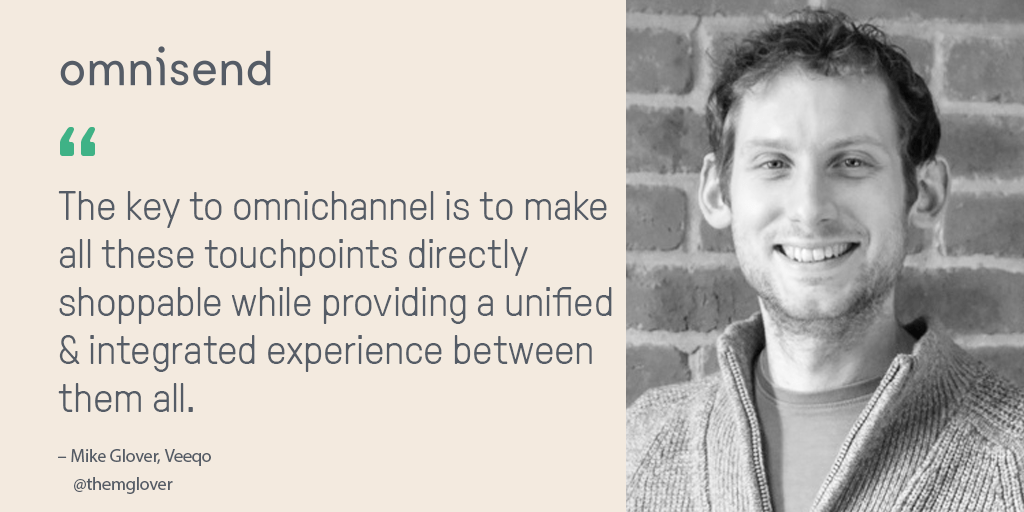 Mike Glover has had an interesting career, dedicated to improving the fitness of his customers, and then of their businesses. Today, Mike is a marketing expert focused on content creation for multichannel inventory management software Veeqo.
At Veeqo, he educates omnichannel retailers on managing their orders, shipping, and inventory stock across every channel they sell from. Whether a merchant is selling on Amazon, their own native store, or any other platform, their inventory will be updated in real time across those channels.
Mike is an expert in omnichannel customer experience in working with Veeqo- and knowing the logistics end of it gives him a unique perspective into what omnichannel marketing can bring to ecommerce.
"
The biggest benefit omnichannel marketing can offer online brands all comes down to how accessible they become to customers. The modern consumer wants to engage with a brand via whatever medium is most convenient to them at that particular moment in time – whether it's a smartphone app on the train to work, desktop site at the office, in-store on their lunch or while scrolling social in the evening.
If a business can implement a solid omnichannel strategy to put themselves in as many of these places as possible then they start to engage customers from a multitude of angles – and will see sales increase as a result. The key is to make all these touchpoints directly shoppable while providing a unified and integrated experience between them all."
When we asked Mike which omnichannel trend was the most exciting for him, he leaned in on social commerce:
"
Social commerce is a strong part of most brands' omnichannel strategy at the moment. And this is an area that particularly excites me. It's incredible to look at what's possible with social media selling and advertising nowadays (particularly Facebook, Instagram and Pinterest).
These platforms are effectively starting to become 'social marketplaces' with billions of daily active users. Ecommerce brands can use quality content to grow an audience, then make sales directly in the platform. Meaning no linking off to product pages and websites.
For me, Amazon is where people will continue to go for 'necessity products' – when someone knows exactly what they want and just wants to search for it. But social will be the marketplace where people will go to browse and make impulse purchases."
Where Mike says omnichannel marketing will go in 2021:
"
Beyond the next few months and into 2021, I definitely see the bond between online and offline commerce becoming a lot stronger. Many brands will have an offline presence through either standalone stores or pop up shops, but the connections between these and their online operations tend to be weak.
A simple example would be capturing attention online and possibly driving people to making in-store purchases. But also associating any in-store purchases with an online account that can then be used to market to that person even more online – personalised retargeting and email follow-ups, for example.
These are just examples. But, in general, I see retail brands bridging the online to offline gap a lot better."
Linda Bustos, Founder of Edgacent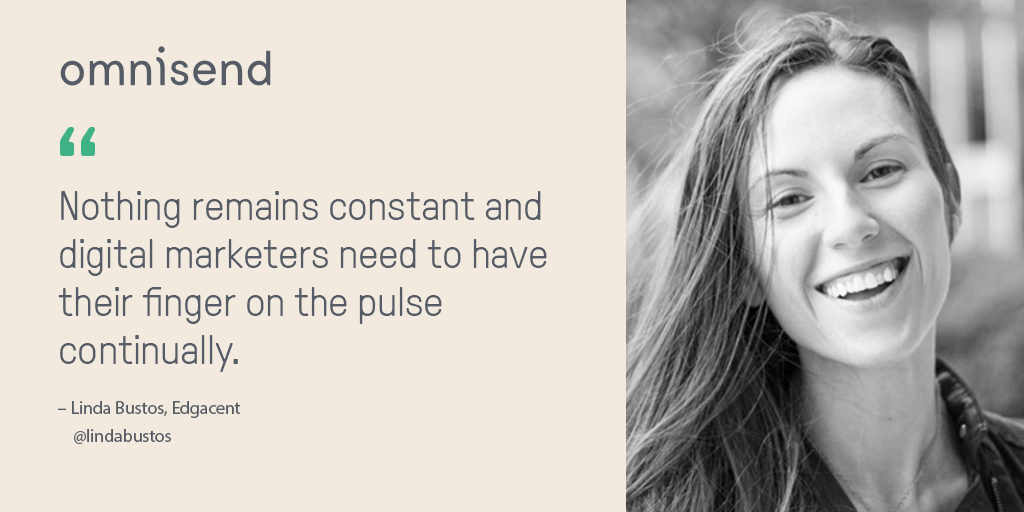 It's hard to find great thought leadership on the ecommerce industry without Linda Bustos coming up. A true ecommerce influencer, she is published as a key reference throughout the top players of the online selling world.
Former editor-in-chief at GetElastic, and former Director of Merchant Strategy at several other high-profile organizations, Linda has dedicated her career to helping online merchants optimize their strategies for better sales.
In 2015, Linda decided to strike out on her own, founding Edgacent, an ecommerce consulting agency helping online sellers optimize their sites and strategies for their particular niches. From product positioning to UX optimization, Linda and Edgacent are able to help any growing online store thrive.
Given her expertise in a variety of ecommerce sectors, we wanted to know what she thought omnichannel marketing could bring to the table for ecommerce merchants:
"
Customer acquisition through digital channels is competitive and expensive online – as ad and social platforms become saturated with advertisers, costs go up and clicks go down – nothing remains constant and digital marketers need to have their finger on the pulse continually.
When "omnichannel" means a diversified strategy that includes paid and "earned" engagement across different platforms and touchpoints, it's the best hedge against diminishing returns. (Be sure to incorporate an obsessive tracking and ROI system and audit your agency's campaigns if you outsource)."
When we asked Linda what omnichannel marketing trend excited her the most, she had this to say:
"Pop-up shops and other temporary, physical experiences. It gives digital native brands the opportunity to engage fans (and win new ones) without large capital investments, and creates urgency and excitement when done right. Let's not forget that 90% of shopping still takes place offline – but that doesn't have to mean mall or high street."
Where Linda sees omnichannel marketing going in 2021:
"
Brands, retailers and digital platforms all want to capture the customer in a "mobile moment," but there's still friction in the checkout process.
Voice, one-tap checkout and seamless payments are the next frontier, however only the most innovative sellers (with nimble IT and sufficient budgets) will adopt by 2021."
—
The ecommerce industry is one of the most unique industries that exist today. With the variety of niches, there is enough room for an incredible amount of players both large and small.
But with that variety, competition is fierce, and it's easy to want to jump on the next biggest thing. However, omnichannel marketing is far from a passing fad, it's the future of how we'll shop, and the present of what customers are looking for today.
With these exclusive omnichannel marketing tips from the biggest experts in the industry, you'll be sure to be on the right track for 2021.

Want even more expert tips? Check out our other expert roundups:
related features
Want more sales?
Omnisend has everything you need to succeed.
Start free now
No Credit Card needed.