Drive sales on autopilot with ecommerce-focused features
See Features
Reading Time:
24
minutes
If you want to learn how to do email marketing right, you need to ask the right people.
That's why we reached out to 32 email marketing experts to get their best lessons for email marketing success. This includes some industry best practices that can help you create your own effective email marketing strategy. This can include a variety of methods such as automation, segmentation, timing, email newsletter content, and much more.
Some of these tips will also cover a recommended email marketing service to use for your email campaign.
But before we get into these expert tips, here's a quick summary of how you can do email marketing (the right way).
How to do email marketing
Here's a quick summary of what these email marketing experts recommend ecommerce businesses or marketers do in
Focus on growing your list
Send emails consistently, but without burning your list
Use attractive subject lines
Don't forget the preheader (preview) text
Create mobile-friendly emails
Use text or HTML in your emails, depending on your subscribers
Add alt-text to your images
Use just one main CTA, so your readers know what to do next
Don't hide the unsubscribe link
Put your emails on autopilot by using marketing automation tools, crucial for a high-converting email marketing strategy
Segment your lists so you can give the right message to the right people
Clean up your list regularly
Send emails to current and past customers
Check out the best email marketing tips from these 32 experts below.
---
Mike Kamo, CEO & Co-founder at Hello Bar and Neil Patel Digital
---
While it's incredibly important to send out consistent and relevant emails to your audience, you must also constantly work to grow your audience.
Targeted email marketing campaigns can certainly boost your sales, but ultimately, adding more emails to your list is going to be the backbone behind your company's growth.
One of the best tips I have for growing your email list is to never leave anything on the table.
If someone visits your site, you ought to capitalize on that opportunity–make it a meaningful interaction. A meaningful interaction doesn't necessarily mean making the sale right off the bat.
In fact, that's pretty rare.
For my team at Hello Bar, a meaningful interaction can mean a few things. But the main achievement that we strive for is capturing that visitor's email address. But capturing emails can be tricky.
My best tip for collecting emails and growing your email list is to put forth a lead magnet.
This can be an ebook, a discount code, a podcast download, or any sort of premium content that a site visitor might be interested in. Simply place this on your site and request an email in exchange–there you go, a lead magnet.
---
Levi Olmstead, Community Manager at G2 Crowd
---
I think one of the worst (and most common) mistakes in email marketing is over sending and burning up email lists.
Those who signed up to an email list may be a customer or someone who signed up to your site through a CTA.
They're people who want to be emailed by you for important messages or new content. However, they don't want to be spammed everyday.
Email marketers should really build out a cadence for how often they're reaching out to their list to not burn out their contacts and create a subscriber journey that is mutually beneficial to the subscriber and brand. Also, email content should be relevant to your promise, and this is one of the most important email marketing tips.
Pro tip: According to Omnisend research, the best time to send emails is either 4pm or 11pm on a Thursday for weekly or regular campaigns. Get more information on the perfect email timing here.
---

Joel Debus, Email Marketing Specialist at Fit Small Business
fitsmallbusiness.com | @FitSmallBiz
---
Some email marketing tips to remember is to keep the list hygienic and use alt-text in images.
Consistently doing some spring-cleaning of your contacts who haven't opened and/or clicked in 2-3 months is very important to improve your deliverability.
If an email service provider catches wind that your emails are being neglected, more and more may end up in the spam folder. Running re-engagement email marketing campaigns and consistently removing those who are un-engaged goes a long way.
As far as images, a vast amount of people actually do not automatically see images right when they open your email.
To prevent your email from being overlooked, consider using descriptive alt-text in your images. When doing so, you alert the subscriber to the fact that there is an image they are missing, and there's a higher chance they'll adjust to be able to view it.
---

Jon Nastor, Founder of Hack the Entrepreneur
hacktheentrepreneur.com | @jonnastor
---
Trying to Avoid Unsubscribes
This is a big mental hurdle for many people. You've taken the step of putting yourself out there. You've written from the heart. Each person on your list, especially when you're building traction, is precious to you.
And when they hit that unsubscribe link, it can be hard not to take it personally. Did I say something wrong? Do I suck at this? Do you HATE me?!
Think of building your email list like dating. You meet someone, you get a sense of each other's needs – and sometimes you're not a match.
But eventually, you will find a match. You'll attract the right people, and along the way, you'll learn to be better at relationships. Not everyone is for you, and you're not for everyone.
Interests change – so do people – and it's likely that on a long enough timeline 80% of the people who join your list will leave. But 20% of them will never leave you, even when they're long past needing what you have to offer.
Welcome the unsubscribers and stop thinking of them as lost customers or missed opportunities. Instead, think of the subscribers that stick around and what you can do to make their lives better.
---
Brandon Chopp, Digital Manager for iHeartRaves and INTO THE AM
---
One of the biggest email marketing mistakes is lack of consistency. When you're setting up email marketing campaigns, make sure you create a schedule and stick to it.
One goal of email marketing is to keep your brand in front of your customers by emailing regularly.
If you fail to do this on a consistent basis, customers may forget about your business or even that they subscribed to your emails.
In the unfortunate event that this happens, it can lead to your customers unsubscribing or even marking your emails as spam.
Get your free copy of '5 Ecommerce Marketing Automation Case Studies' today.
---
Sarah Hancock, Marketing Manager at Best Company
bestcompany.com | @sar_hancock
---
If you want to learn how to do email marketing the right way:
#1 Don't make it all about your
Emails should deliver something of value to the recipient. When you send an email that's super sales-y or focused only on you and your product, you aren't providing value to your subscribers.
Shift the attention off of you and instead try to be genuinely helpful and make every single email something that your readers want to read and share.
#2 Optimize for mobile
The majority of people read emails on a mobile device, so if you're failing to optimize your emails for a phone or tablet, your conversion rates are going to tank.
Before you start sending out emails, test them on mobile apps to ensure they are coming across the way you'd like them to.
#3 Don't ignore data and behavior
Email marketing campaigns should be sent as a direct result of data and behavior.
If you're not analyzing the behavior you're seeing and the data you're getting back to try and achieve better results, you're missing out on huge opportunities.
Email marketers who want to be successful should be utilizing data and behavior to segment subscribers, customize emails, and send well-targeted emails.
Pro tip: Segmentation allows you to supertarget your subscribers and give them the perfect content they want based on shared characteristics. Get more information on how to set up segmentation for better sales and personalization.
---
Scott Flear, CEO of RugbyWarfare.com
---
The biggest mistake people do is that they assume everyone will open their 10-sequence automation and save their best content/offers/messaging for further down the line.
They won't see it! Make sure you make the most of the first 3 emails with high open rates.
The best tip in making sure your automates perform better is to ensure that the first 3 emails of your automation have all your best content/advice/offers.
The first email always has the highest open rate then it drastically reduces as you get deeper into the automation sequence.
---

Syed Irfan Ajmal, Growth Marketing Manager at Ridester
---
I have grown Ridester to 650,000 visitors/month, and this won't have been possible if I was making the following email marketing mistake mentioned below.
Would you ever barge inside the house of a new neighbor and spend 3 hours there?
If not then, why would you send a long rant to an email subscriber who recently subscribed to your newsletter or who doesn't know much about you?
So don't send a long email. There's no need to copy-paste your recent blog post inside the email body.
Treat your email communication like a 'knock on the door' when just starting a relationship with a subscriber.
Something brief like:
"Hey, what's up. Want to see this blog post I wrote about ABC? YOu will learn XYZ from it. Here is the link: Okay bye."
Your next email may be:
"Hey did you check the article I told you about? Let me know what you think. By the way, we are working on a cool feature for our app that you use which will save you at least xx% time each month. But I will tell you about it next time. Take care!"
---
Ahmed Khalifa, Founder & Director of Khalifa Media
iamahmedkhalifa.com | @IamAhmedKhalifa
---
It is very tempting to hide your "unsubscribe" button if you want to limit the number of unsubscribers to your email list.
Or you are probably tempted to justify why you have not included it in the footer of your newsletter.
Or worse, you are making your subscribers jump through various hoops to unsubscribe, like the weak attempt of asking them to "please contact us to unsubscribe".
But if you do any of them, you will actually make things worse for your business and your email list.
Not only will your subscribers be disgruntled and deter anyone from joining your list, but you will also force them to mark you as spam.
And the more people mark you as spam, it will increase the likelihood of your future newsletters to be sent straight to spam because of your reputation, which email host/providers will be able to pick up.
And nobody will hesitate to mark you as spam if you make it difficult for them to unsubscribe: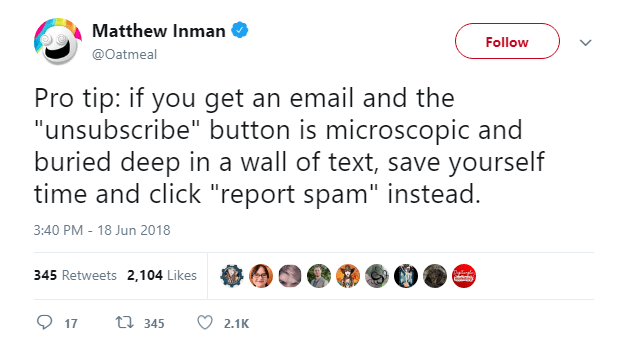 ---
Srajan Mishra, CEO of TSI International – tsiapparel.com
---
How to do email marketing? Just avoid these common email marketing mistakes:
#1 Not having a clear CTA button.
While designing a campaign, it has to be clear what action you want your readers/customers to take. The button needs to be easily accessible and should have the appropriate words on them.
Optionally, 1-2 variant words of the same "action" can be used.
#2 Too much information is a bad thing.
Design needs to be clutter free and should not have too many images and text so as to overwhelm the reader.
Again, the goal has to be clear and only relevant information needs to be conveyed to maximize results.
#3 Email should be formatted keeping mobile users in mind.
This one seems obvious but is often overlooked. Always, test emails for a mobile device before sending.
If its not legible on mobile, it will just go to waste.
---
Jessica Thiele, Marketing Manager at VL OMNI
---
Understand your goals and email marketing strategy when creating a marketing automation campaign.
Don't just rely on the tools (or "recipes" for common automations) many platforms come with exclusively—create an automation that is meaningful to your audience and your business.
This takes planning and forethought; we regularly hold several meetings on strategy before sketching out the automation either by hand or in a flowcharting tool as part of our planning process before we touch the automation tool in our chosen platform.
And if you're looking for a new platform, make full use of any free trials.
If you need more time to experiment before you're comfortable with your decision, reach out to the platform providers—many will extend your free trial without issue.
Pro tip: Omnisend's powerful ecommerce marketing automation has a 14-day free trial—and we're always open to requests. Get more information on graduating to smarter marketing.
---
---
#1 Segment your list based on interests, purchasing behavior and other factors relevant to your business.
If you run an online bookstore for example, segment your list up by customers who primarily purchase business books, mystery novels, romance novels, etc. Then target your drip campaigns specifically to those groups with relevant content and a subject line that tells the recipient this email is for them.
No matter how evergreen your content may seem, avoid sending the same message to your entire list!
#2 Scrub your list to get rid of old emails and those that don't convert regularly.
You can do this using tools in your email marketing software or using services like Unbounce.
#3 If you send a regular newsletter or new products email to your list, keep the design consistent!
Your open rates will skyrocket if your readers can count on being able to find what they are interested in right when they open your message.
---
Rachel Andrea Go, Content Strategist
rachelandreago.com | rachelgo
---
Here are some ways to do email marketing right:
#1 Make sure you get all the details.
If you'll be contacting your list often, try to at least capture your recipients' first name, so you can include it in your greeting line.
#2 Don't ask for too much info.
This clashes with my point above, but when you capture emails, don't make it too hard to sign up for your list.
You'll need a good understanding of your audience to know how much is "too much," but if you send out a general interest newsletter, asking for details like "how many people do you manage" could prove too high a barrier.
---
Cory Smith, VP of Email at Metric Digital
---
If someone asked me how to do email marketing right, I'd tell them:
#1 Timing isn't everything, it's the only thing.
Usually when I start a program with a client, we send the initial email a couple hours after customers abandon, then we might run some tests over the course of a couple of weeks to determine if that timing is right.
One thing I typically advise against is sending the email too soon after abandonment—some technology allows to send an email immediately.
I've found that this can be too aggressive with users. Plus, some people might be sensitive to the idea that sending an email immediately after abandonment might be a little creepy.
#2 Diversify and monetize.
Marketers lose sight that they need to give customers value in their messaging. That might mean, "we sell more colors of this thing than anyone else," or "our prices are better than anyone else's," or "our products are delivered by trained puppies."
Each communication should provide value to the customer. If the reason you're sending an email is "I think I can sell more stuff with this," you're doing it wrong.
The reason should be, "I think our customers will learn X from this email that will make them want to purchase more."
#3 Forget about cart abandonment, focus on browse abandonment.
Send a user an email based on the product they viewed, even if the user didn't add the product to cart.
This will open up a new segment of high intent website visitors to push over the edge into conversion.
Pro tip: Browse abandonment emails allow you to get more of the true abandons than the traditional cart abandonment workflow, meaning more sales at the end of the day. Get more information on how to set up and use abandonment emails.
But be a bit gentler about the messaging in these emails, which ,again, might be good to test.
You don't want to be too "big brothery," so it may be the case that you might not want to include the shopped item as the primary CTA in the email.
You can include it at the bottom as a secondary part of the message.
---

Uwe Weinkauf, CEO of MW2 Consulting
mw2consulting.com | uweweinkauf
---
A common and costly mistake email automation campaigns have suffered is the inappropriate setup of triggers.
Nothing is more embarrassing then the wrong set of people getting an email that was not intended for them.
A mistake that has happened to many and can set back all your nurturing efforts back months or years.
Fortunately, this mistake can easily be avoided by testing all your triggers. We're all human and the best way to avoid a mistake is to double check things.
---
Nate Masterson, Marketing Manager for Maple Holistics
mapleholistics.com | mapleholistics
---
My top email marketing mistakes to avoid if you want to do email marketing:
#1 Getting lazy
Marketing triggers get cross-wired, resulting in targeting the wrong audience; emails that are personalized have been known to either not be flagged with the correct name, or mistakenly shown the coding
#2 Loss of focus
Emails should be focused on building client relationships. Automated marketing can come off as cold and product heavy instead of service and relationship oriented.
#3 Over-flooding
Subscribers will mark as spam or unsubscribe if they feel inundated with impersonal marketing. It's about finding the balance of leaving them wanting more, yet being available.
Pro tip: Some online store send emails twice a month, while others send them up to 5 times a week. Find out which frequency is the best for your store based on Omnisend research.
#4 Ignoring customer behavior
Email marketing should reflect the behavior of the subscriber. A subscriber who is not active should not be receiving the same information as a subscriber that is a regular user.
Your focus should be building and maintaining relationships.
---
Mikko Tamminen, CEO & Founder of Taskeater.com
---
By avoiding these email marketing mistakes you can do email marketing the right way:
#1 Not applying outbound techniques to inbound marketing and nurture.
Email automation can and should be leveraged in combination with content and marketing efforts, especially for startups with less resources, and there are some fantastic ways to do this.
#2 Not separating the research and outreach roles.
In a sales team that would be lead generator and salesperson, however, the same split should apply to marketers reaching out to influencers and searching for backlinks. Research and outreach should be split for total efficiency.
#3 Not staying on top of new technology.
There will never be a point where you are up to date with the automation technology available.
We work with a wide range of providers, suiting each client to the right technology for their processes, so make it our business to stay up to date.
Pro tip: Email marketing is advancing steadily towards omnichannel marketing automation.
---
Natalie Bidnick Andreas, Digital Strategy Consultant
---
Too much automation is a strategic marketers worst nightmare. Recipients should never feel regret for giving their email address.
Instead, strategists should fold in a layer of personal connection: have a sales associate reach out directly with a customized message or follow the recipient on social media.
Also, any email campaign that tries to say too much isn't strategic. I recommend my clients try and fit no more than 200 words into an email blast.
Keep it short, brief, and make your end user crave even more content, thus sending them to your website.
---
Zondra Wilson, Blu Skin Care, LLLC
bluskincare.info | bluskincare
---
Marketing automation is not a set-it-and-forget-it solution.
Marketing automation is just like any other tool that you use in business – the more you put into it, the more you get out of it.
The solution is to set aside time where you can analyze and optimize your campaigns.
So, instead of setting them up and forgetting about them, you should constantly look under the hood and make tweaks and adjustments.
Pro tip: Marketing automation isn't about canned responses. It's about sending the right message at the right time so you can build strong relationships. Find out how to use ecommerce marketing automation the right way.
---
Lacey Woltz, Digital Marketing Specialist at Blue Compass
---
I've seen a few common email marketing mistakes:
#1 Not having the appropriate subject line
The subject line is the most important part of any email. You want these to be engaging, informative and most of all, accurate. Having an overhyped subject line or one that is misleading can be detrimental to your email marketing campaign.
For example, if your subject line reads, "Amazing New Marketing Tips", but it's an old blog post that was sent out to your subscribers months earlier, readers will lose their trust in you and most likely unsubscribe.
Maintaining the integrity of your brand is important.
#2 Sending to the wrong target audience
A fast way to lose email subscribers is to send out a generic message to all of your customers at once.
Separating your email list by demographic, geographic and psychographic segmentation allows you to personalize your messages, thus creating a one-on-one relationship with your subscribers.
Learn as much as you can about your customers through behavior metrics and other data points like location demographics and buying behaviors.
People will appreciate the attention to detail regarding their unique needs.
#3 Sending Without Testing
An untested email campaign is a missed opportunity. We encourage A/B testing as much as possible to learn what types of messaging, graphics, etc. perform best.
You should also send a test email to yourself and/or other colleagues to check for typos, broken links or other grammatical errors.
Nothing says unprofessional like an email littered with errors — something that affects even the best email marketing experts.
Most newsletter platforms also offer device and platform testing so you can see how your message works in different email services (like Gmail vs. Outlook), browsers and Internet service providers.
---
Cristian Rennella, CEO & CoFounder of oMelhorTrato.com
omelhortrato.com | elmejortrato.com
---
8 months ago our automated marketing campaign conversions began to fall to a point where we seriously discussed the option to stop using them.
Our email marketing campaign consisted of a series of 1 email per week for a period of 3 months that helped us to educate potential new customers in order to close the sale in our last email.
Before putting an end to this strategy of sending automated emails, we thought that an intelligent thing could be to add at the end of each email a small link to a form where you could leave a small comment or suggestion as feedback to our campaign.
It was there that we began to receive more than 100 comments per week with suggestions and constructive criticism in order to improve.
And it is from this experience that today we realized one of the biggest and most common mistakes we make in marketing automation: NOT inviting our potential customers to leave us their feedback at every step of the process.
And that is where the key is to be able to improve. It was thanks to this that our automated email marketing campaign continues today and is even one of the largest sources of new customers for the company.
---
Rebekah Hadman, Social Media & Content Manager at Bright Design (UK) Ltd
brightdesign.co.uk | @BrightDesignUK
---
It's all too easy to fall into the email 'spam trap' – so many people spend loads of time planning and building a quality email, only to see a poor open rate and then give up.
But so often this is simply due to the fact that it's fallen into junk or spam folders, so your subscribers probably didn't even know they received it!
There's a few things you can do to make sure your emails go straight into inboxes: avoid 'spammy' sounding subject lines, use more copy than visuals in your email body, and make sure your unsubscribe button is working and easy to find.
Secondly, lots of businesses make it far too difficult to reply to marketing emails, and miss so many opportunities because of it!
Audiences prefer personable brands that they can engage with, and if your content is engaging enough, why wouldn't they want to reach out and comment, request a quote or ask for more information?
Avoid using 'do not reply' emails, include a clearly visible reply button and make sure the inbox that the replies are sent to is monitored.
---
Ben Taylor, Founder of HomeWorkingClub.com
homeworkingclub.com | @homeworkingclub
---
One of the biggest mistakes you can make with email marketing is to send out communications that deviate significantly from those your subscribers expect.
It's a legal requirement to only send out what people have signed up to, especially since the launch of the GDPR. But it's not only about that; If readers have signed up to newsletters and all they see is offers and promotions, they'll quickly feel alienated and reach for the unsubscribe button.
The publicity around GDPR seems to have made people much more inclined to swiftly unsubscribe to communications that they don't benefit from. Companies who ignore this reality do so at their peril.
Pro tip: The GDPR shouldn't be taken lightly, as you're most likely affected by it (yes, even if you're outside Europe). We go over the most important parts to make sure you're GDPR-ready (including a free downloadable GDPR checklist).
In a way, this is a good thing, because it means marketers have to up their games and ensure they send out emails that genuinely appeal to customers, making them feel they want to remain on the list.
---
Jacob Dayan, Esq., CEO and Co-founder of Community Tax & Finance Pal
communitytax.com financepal.com | @communitytaxllc
---
Common email marketing mistakes are:
#1 Forgetting about the preheader text
Oftentimes marketers focus heavily on the subject lines of an email – it is an essential element of your click through rate, so this focus is warranted.
However, what many marketers forget is that most email clients show a preview of the email next to the subject lines, the preheader.
Depending on which email platform you use (such as Omnisend), you can update the preheader text with about 100 characters. If you choose not to update it, the email platform will typically display the first part of the email.
Not updating the preheader text is a huge missed opportunity.
#2 Including too many call-to-actions
Including multiple call-to-actions (CTAs) is ok. Tthe issue arises when there are so many CTAs that the user doesn't know what to do.
Another potential issue is that the user never makes it past the first CTA and therefore misses out on taking the action that was actually appropriate for them.
If there is one specific action you would like the user to take, don't give the user any other options.
Get your free copy of '5 Ecommerce Marketing Automation Case Studies' today.
---
Alexandra Cote, Digital Marketing at Paymo
---
Perhaps the biggest problem is the inability to send content people actually want to read. Often, automated emails and their sequence is very impersonal. The content you create and share through your emails should always be fully researched based on your existing audience and future trends.
Email marketing automation shouldn't be all about creating as much content as possible and sending it randomly to a list of people who might not have anything in common with it.
It's really about creating well-crafted, personalized messages that can truly spark interaction and positive responses.
Not everyone hates emails.
But people do hate useless, non-creative messaging that provides no value.
So before you start your email marketing campaigns, craft your content strategy carefully. Think about the needs of your readers, create personas, and, most importantly, come up with something unique.
---
Crystal McFerran, VP Marketing at Velo IT Group – velomethod.com
---
Never buy an email list.
Email marketing is a critical piece of a well-rounded marketing strategy, but buying a list can cause your business far more harm than good. Whether you're launching a new business or steadily growing an existing one, finding a shortcut to success sounds appealing.
However, there are a number of reasons buying a list is a bad idea.
For one, reputable marketing automation and email marketing vendors won't let you send emails to lists you've bought. If you purchase a list, there is no way to determine where those email addresses originated, how often those email addresses have been emailed, or whether the list has been scrubbed for hard bounces to avoid being flagged as a spammer.
Doing so risks not only your email deliverability, but also the reputation of your company and your IP address.
If a list is for sale, it means that the email addresses on it have already been demolished by all the other companies who purchased that list and emailed the people on it.
Any email addresses that once had value have since been spammed relentlessly. If you force your email content on people prematurely, even if you're certain they're a great fit for your business, you risk preemptively losing their trust and future business.
What should you do instead? Build a legitimate opt-in email list.
Pro tip: There are many ways to build an email list: creating a lead magnet, using interactive popups, adding discount incentives, etc. Find out which ways are the best for your business.
---
Greg Corey, Founder and Principal at Porchlightatl.com
---
These are our top commonly seen mistakes and how to correct them.
Mistake: Talking AT your reader. Want to see your "unsubscribe" or "unopened" rate skyrocket? Use aggressive marketing tactics that make your reader feel uncomfortable.
How To Do It Right: Focus your content on the reader's needs or provide a solution to their problem. Make it about them, but in a relatable way, not a 'get away from me' way. When you can provide your reader with something that helps them or answers a question for them, they are much more likely to continue opening your emails in the future.
Mistake: Only building an HTML version of your email. Not all email programs are equipped to render HTML – for those with this email service, they won't be able to read your email at all. How frustrating is that? Don't annoy your readers with emails that they can't access.
How To Do It Right: Build an HTML version AND a text version. This way, if your reader gets an email to their Apple watch, or if it goes to spam (which doesn't always download images), or if they have one of those email programs that can't receive fancy formatted emails, they will still be able to get the information you want them to have.
Mistake: Believing your email list is one-size-fits-all. Regardless of your industry or service, you are never really targeting one specific person. You wouldn't be successful if you only had one client. So, don't create one email and send it to everyone on your list – you can't meet everyone's needs with one email.
How To Do It Right: craft multiple emails specifically targeting certain groups and then segment your list accordingly. This way, you are getting the right information to the right people.
---
Keith Reinhardt, Marketing Manager at FreshAddress, LLC
freshaddress.com | keith-reinhardt
---
Poor list management is one of the fastest ways to derail your email marketing program.
Whether you realize it or not, there's a price tag attached to every email address in your database. How well you manage the quality of these addresses will make or break your email marketing efforts.
Why? Because sending to undeliverable, unengaged, and problematic addresses opens the door to major problems:
Burning Money: You'll waste budget dollars acquiring and e-mailing contacts that will never engage with your brand.
Poor Deliverability: Sending to bad email addresses hinders your ability to reach the inbox. Enough said?
Low Customer Satisfaction: Poor deliverability means you can't reach customers with crucial information. When they don't receive e-receipts, loyalty rewards, discounts, etc., it usually doesn't end well.
Data Breach Liability: Keeping old, useless email addresses around exposes you to unnecessary risk in the case of a data breach.
Blocking & Blacklisting: Nobody is immune from spam traps. Good email addresses turn bad and typos are common during data entry. Remember, it only takes one spamtrap hit to bring your email program to a screeching halt.
Here's how to avoid these problems:
Don't buy lists or scrape email addresses.
Screen every email address before it enters your database.
Optimize your forms to reduce human error.
Monitor your database to prevent any unwanted surprises.
Find a trusted partner to help guide your through the process.
---
Shannon Howard, Senior Digital Marketing Strategist at Overit Media
---
Here are the most common email marketing mistakes I see:
#1 Sending at the wrong time
It's not that there's one best overall send time (although I'm a huge fan of 6am EST – it's always worked well for me!), but you have to consider your audience.
Are they students? Teachers? Executives? Parents? What's their schedule like? You're trying to get your email into their inbox at a time they're likely to look at it and when you'll be at the top of their inbox.
#2 Being creepy
If your email says, "I saw you downloaded our guide yesterday", you're moving into voyeur territory.
And while the market really wants your marketing to target them on a VERY specific and personal level, they also don't want to feel like Big Brother is watching.
Here are the most common email marketing mistakes I see:
Not updating your email automation. This happens with email nurture, too. We set it and forget it, but really we should be tweaking things and testing to see if we can increase performance.
Not including sales actions. Sometimes we forget that marketing and sales should be working hand in hand.
It's not just about providing the right content to the right audience at the right time, but also about moving them down your funnel and alerting sales when there's a hot prospect.
Not getting more information. Depending on your top of the funnel form, you're probably not collecting much more than a name, email, and maybe a company name or other identifier (depending on your industry).
---
Jacquelyn Cyr, MBA, Chief Builder @ JC+CO growth accelerants
---
Here's how to do email marketing:
Add some personalization: There's no doubt about it: personalization works, even if it's ultra-basic. Even something as simple as including the contact's first name in your subject lines has been demonstrated to increase click-through rates by 2.5x.
Your dream situation involves deeply understanding your contacts through continued data collection—which enables you to go deeply personalized and relevant – but the basics still work to optimize along the way.
Limit your graphics: While designing your emails to be visually appealing is most certainly important from a brand perspective, relying almost entirely on images to get across what could be said in text-based segments is a notable miss on the part of many founders and marketers.
Images create bulk in your emails, and can also require a user to agree to download—adding yet another a barrier to their likelihood to read what you're trying to say.
---
Brin Chartier, Director of Marketing at LearnLux
---
If you want to do email marketing right, you need to avoid the birthday email beatdown.
If birthday emails aren't part of your email marketing, you're seriously missing out. Birthday emails have a 481% higher transaction rate than promotional emails, generate 324% more revenue and score 179% higher unique click rates, too.
But, if you're just sending 1 email on their special day, your message could easily get lost in all of the other "special" offers they're receiving.
Instead, test sending an email on the start of their birthday month, a few days before, or even as a belated "day after" offer to keep the celebration going.
Your message will be more likely to stand out from the crowd, and encourage your recipient to take the action you're looking for.
Pro tip: Don't underestimate the power of the birthday email: it has a 45% open rate, 12% click rate and 3% conversion rate on average. Find out how you can start using birthday emails in your email marketing strategy.
---
Nicole Pereira, Founder and Hubspot Consultant
chiefmartechofficer.com | nicolepereira
---
Learning how to do email marketing means avoiding these common email marketing mistakes:
#1 Failing to reach your customer in a strategic way.
The beauty of marketing automation is that it allows you to set triggers to capture the buyer at various stages of their journey. Don't fail to take advantage of this! A lot of marketers put emphasis on the buyer's awareness stage but the job is not done unless you effectively pull them down the sales funnel.
What good is generating leads if they don't convert into customers?
Before even implementing a sequence, take a step back and look from a strategic perspective. What do you want to accomplish, what is the buyers segment and what kind of emails need to be sent based on the where your buyer is in their journey?
#2 Failing to test your sequence.
It's easy to get complacent once you get the hang of setting up sequences, but remember the process is not done until you test it.
Once that submit button is pushed, an error may go unnoticed and by that time, its too late.
Before submitting any sequence, I've made it a habit to fully test it for any unintended errors and to ask others around me to test it as well, an extra set of eyes really helps. Don't just set it and forget it!
Which of these innovative marketing tips have you used? Know of any other great, effective marketing tips from email marketing experts? Make sure to get in touch with us!
related features
Want more sales?
Omnisend has everything you need to succeed.
Start free now
No Credit Card needed.