Drive sales on autopilot with ecommerce-focused features
See Features
Unleash More with Free SMS: Our New Offer for (Real) Omnichannel Marketers
Reading Time:
5
minutes
Ever since we added SMS to Omnisend in 2018, we've seen growing interest in this channel. More and more brands are turning to text messaging to engage their shoppers in a more personal way.
Watching this channel emerge, we could also see that the most successful marketers using it were the ones who found a way to combine SMS with their existing email strategies, where the two channels complement each other. In fact, according to recent data we've analyzed, automations involving SMS with email were 47.7% more likely to convert.
Today, we're sticking to the innovative spirit with an offer unique to the ecommerce industry.
We've decided to enable our customers to scale their combined email and SMS strategies to drive even more incremental value through them. Starting today, marketers on Pro & Enterprise plans will enjoy free SMS credits equal to the price they pay for those plans.
We believe doing this will increase the value you get from Omnisend, as you're now able to combine email with SMS to drive higher engagement and sales- all at no extra cost.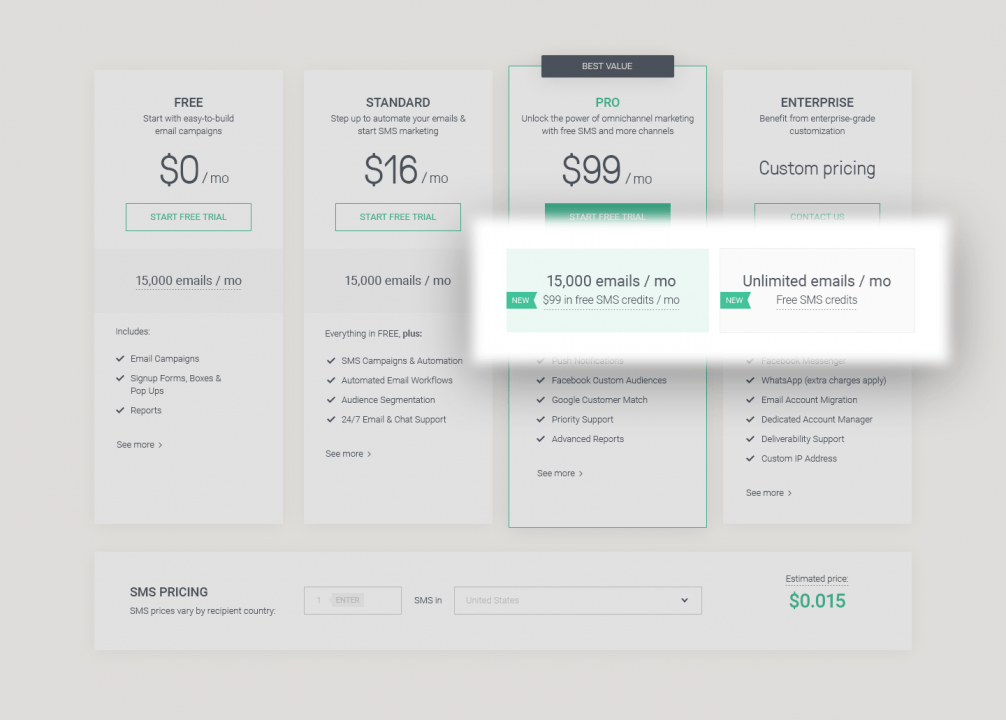 Earn more value by combining SMS with email at no extra cost
With the release of our 2020 Omnichannel Marketing Statistics report, we now have hard data that backs up the trend we've been seeing since early 2018.
We found that more of our merchants were combining SMS with email than ever before, and they were being rewarded for it. In fact, omnichannel workflows involving SMS were 47.7% more likely to end in conversion in 2019.
With that in mind, we wanted to give you the opportunity to test adding SMS to more of your marketing automation workflows and to constantly try new ones. Benefit from more incremental value by combining SMS with email without having to pay for the additional texts.
Higher ROI from using Omnisend
As a customer-centric platform, we want to help you drive better ROI from Omnisend. Not only do we want to make SMS more cost-efficient for you, but we also want to make sure you're increasing your sales by integrating this channel into your automation workflows.
Over 2019, we saw that the average ROI for SMS campaigns is over 2700% with some marketers climbing to 3300%. Since you can test out SMS with email at no extra charge, there's no risk and all reward.
Except now, you get all the return, without the investment.
Gain a competitive edge
With free SMS credits, you can explore this trending channel and stay at the forefront of the ecommerce trends without hurting your budget.
Test more automation workflows with SMS, experiment with SMS campaigns targeting or try out new channel combinations by mixing SMS with email, push and other channels. In other words, become a real expert of using SMS to drive the best results to your business without the hurdle that each new use case costs you extra.
At Omnisend, we can't wait to see what you come up with now that SMS has been unlocked as a free channel to build deeper, and we hope, meaningful connections with your customers.
How Does It Work?
When we say that SMS will be free, we mean it. What you pay for your base Pro or Enterprise Omnisend plan is how many free SMS credits you'll get in your account.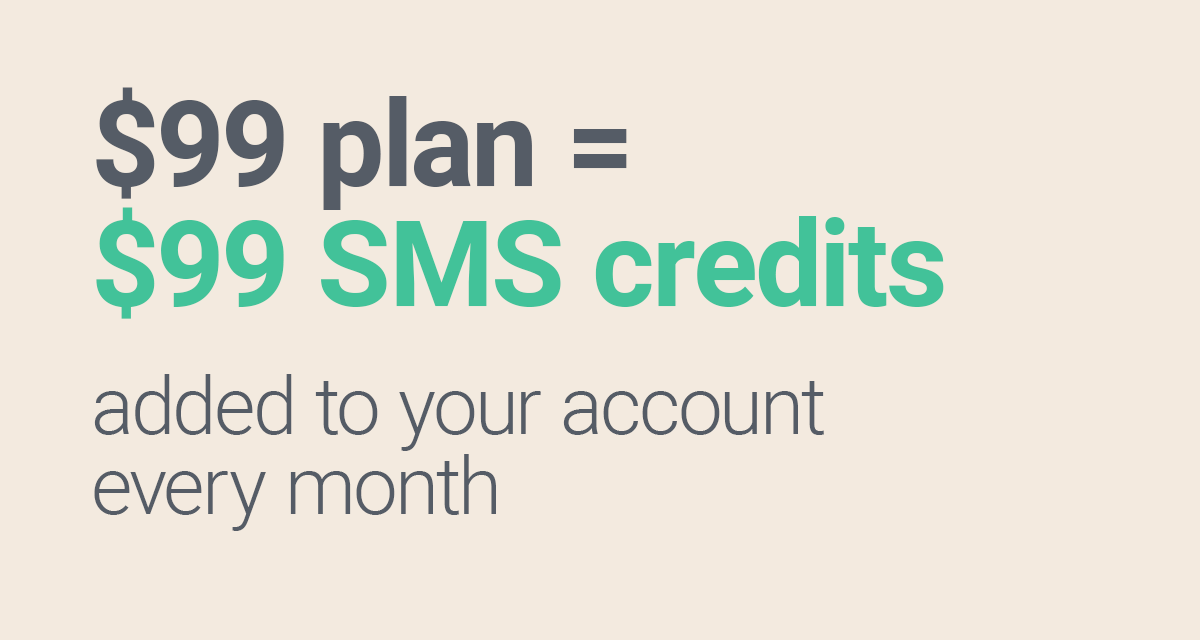 For example, if you pay $99 for a Pro Plan, you would get $99 worth of SMS credits free every month. This equals to 6,600 free SMS messages in the US with our competitive US text price of $0.015. Of course, you can use the credits to reach your customers outside of the US: Omnisend supports all recipient countries and provides you with global audience reach. SMS prices vary depending on the recipient country though, and you can always check these differences in your account or on our pricing page.
This means that if you were looking for a good opportunity to test out adding SMS to your email strategy, there's never been a better time.
Getting the Most Out of Free SMS Credits
There are several ways you can integrate SMS into your current email automations to begin taking advantage of this offer. This combination works well when you have an offer that requires urgency and immediateness. This is a great way to build a closer, more personal relationship with your customer.
Cart Abandonment Automation
In your cart abandonment workflows, you can add in SMS to reach your customers more urgently than email. If you offer an incentive to come back and complete the purchase, this is a great way to make sure that offer gets seen. This works particularly well when combined with email as you can follow up with an email showing the product the customer left behind, which is effective for cart abandonment.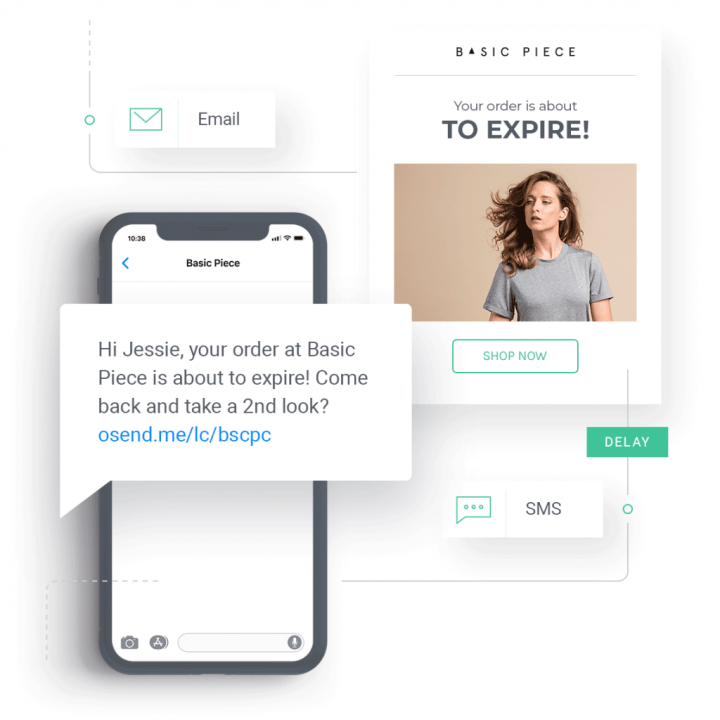 Birthday/Anniversary Automations
Want to send something sweet to your customer for their birthday or first purchase anniversary? Use SMS with email to hit a one-two punch that gets checked immediately. You can always reverse it by sending the email first, and then using SMS as an urgent reminder towards the end of the promotional period.
Welcome Automations
If you capture the phone numbers of your customers, you can begin using SMS right out of the gate. Try sending the incentive discount or free shipping code via SMS for quicker engagement, and then follow up with email to remind them to use the code.
There are a ton of other potential ways to boost your automation workflows with SMS marketing. As long as you use it when you need proximity to your customers, and when you have urgent offers/information, you'll begin to see results.
—
As pioneers of the omnichannel marketing industry, we believe that this offer will benefit you in several ways. From creating a closer relationship with your customers, to increasing the high ROI you already enjoy from email campaigns, the only direction to go with SMS marketing is up.
The benefits of adding SMS to your email marketing strategy are clear, and with free SMS credits, now nothing is holding you back from unleashing more from your Omnisend account.
Start using Omnisend for free and discover ready-made Omnisend newsletter templates for your email campaigns.
Start Free Today
related features
Want more sales?
Omnisend has everything you need to succeed.
Start free now
No Credit Card needed.