Drive sales on autopilot with ecommerce-focused features
See Features
Reading Time:
5
minutes
Omnisend's mission has always been focused on one thing: putting our customers at the heart of everything we do.
(By the way, this is why we're not only customer-centric, but also customer-funded: we don't want any outside interests that could sway us from focusing squarely on our customers.)
To aid with that, we are constantly asking our customers and improving our features based on their feedback. And that's why we're so excited to present our brand new Email Builder that will change the way you create on-brand emails that sell.
Watch the video summary below of all the things you can do with our new Email Builder:
Our new Email Builder gives ecommerce merchants the freedom to create the content they want, and save their time while doing it.
Brand new Email Builder features
Let's go step-by-step through the new Email Builder so you can see how easy it is to create the emails you want.
Library of ready-made & mobile first templates
When creating your email, you'll see a huge library of ready-made and mobile first templates that make it even easier to get started and saves you time.
If you don't feel like making your email from scratch, you don't have to. Just choose one of the following:
Weekly newsletter
Introduce a new product
New arrivals
Coming soon
Welcome new subscribers
…And much more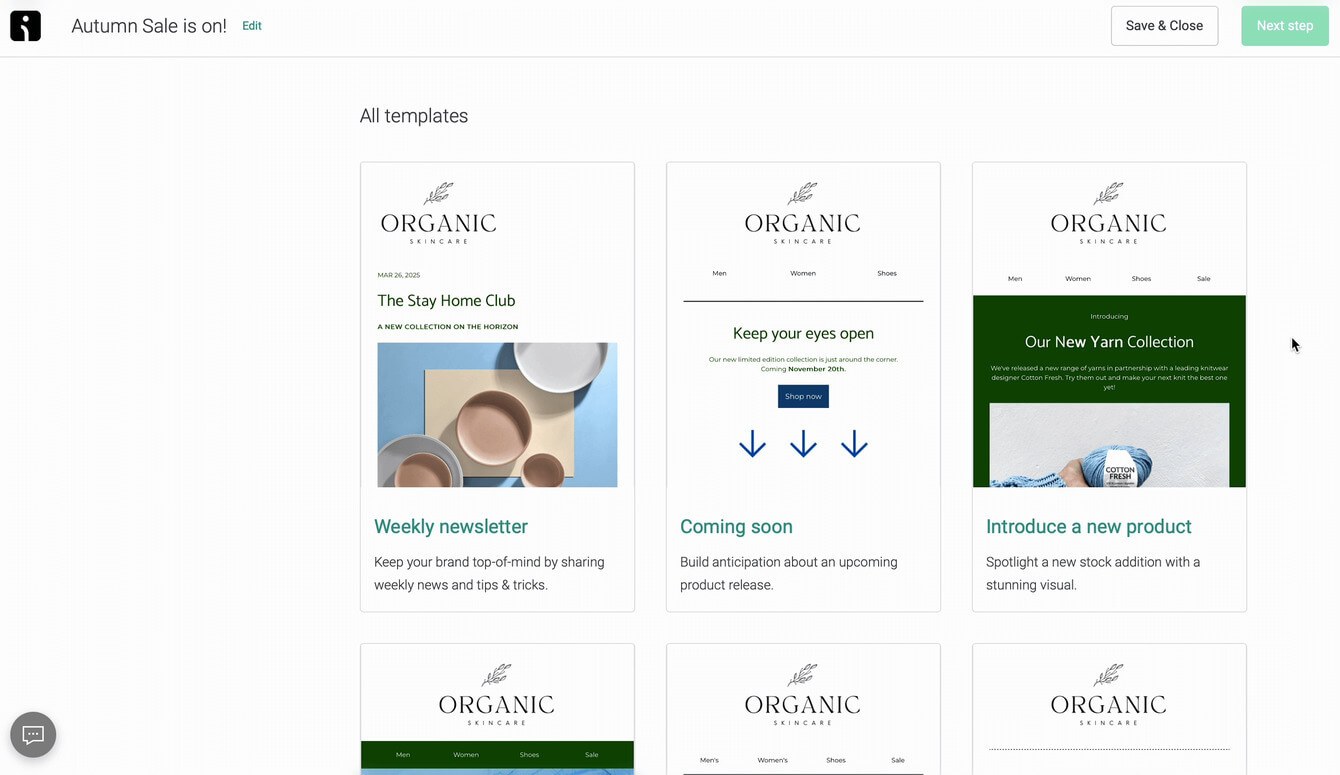 Automatic Brand Assets
If you want to spice up your emails a little, we've added a Brand Assets feature for you! Even better, this happens automatically when you connect your store with Omnisend.
We extract your brand's info from your website and apply it to your email templates. But, if you need to change something, you can easily go to your store settings and customize your brand assets — change your logo, brand colors, fonts, or social links.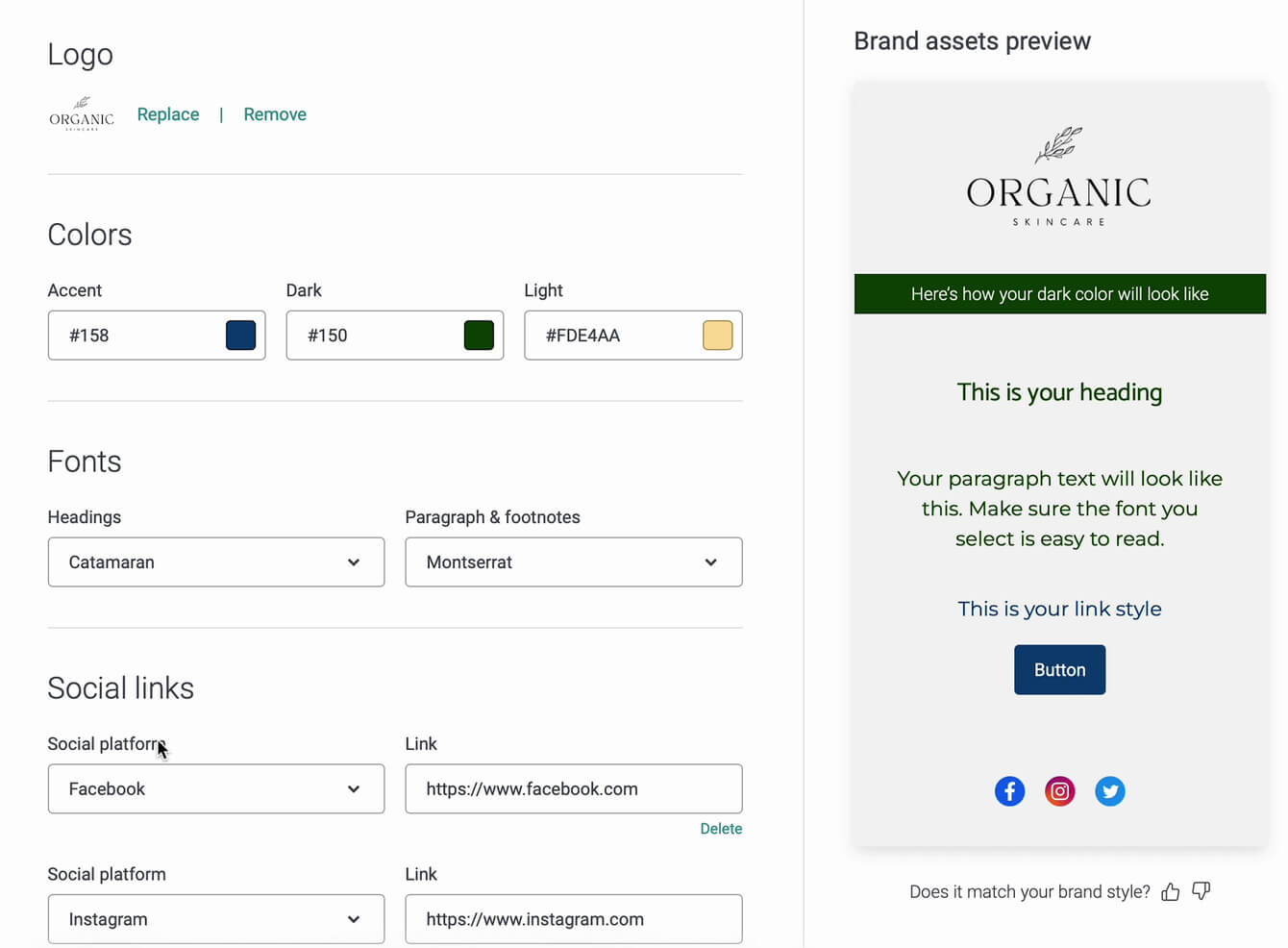 Stress-free editing
No need to stress anymore when you're creating your emails.
If you made a change that you later realized you don't like, you can now easily undo your changes and go back. Or redo it again.
We also added the ability to save whatever item or section you want so you don't have to create the whole email from scratch. Even better, we've now introduced Autosave so you won't lose your progress if your browser accidentally closes or your computer shuts down.
A/B testing
If you can't decide which product, discount offer, or even button color would convert better, or if you just want to experiment, you can create two different emails and test it out.
Not just the subject line — you can now test the entire email content and sender's name. The winning version will automatically be sent to the remainder of your contact list.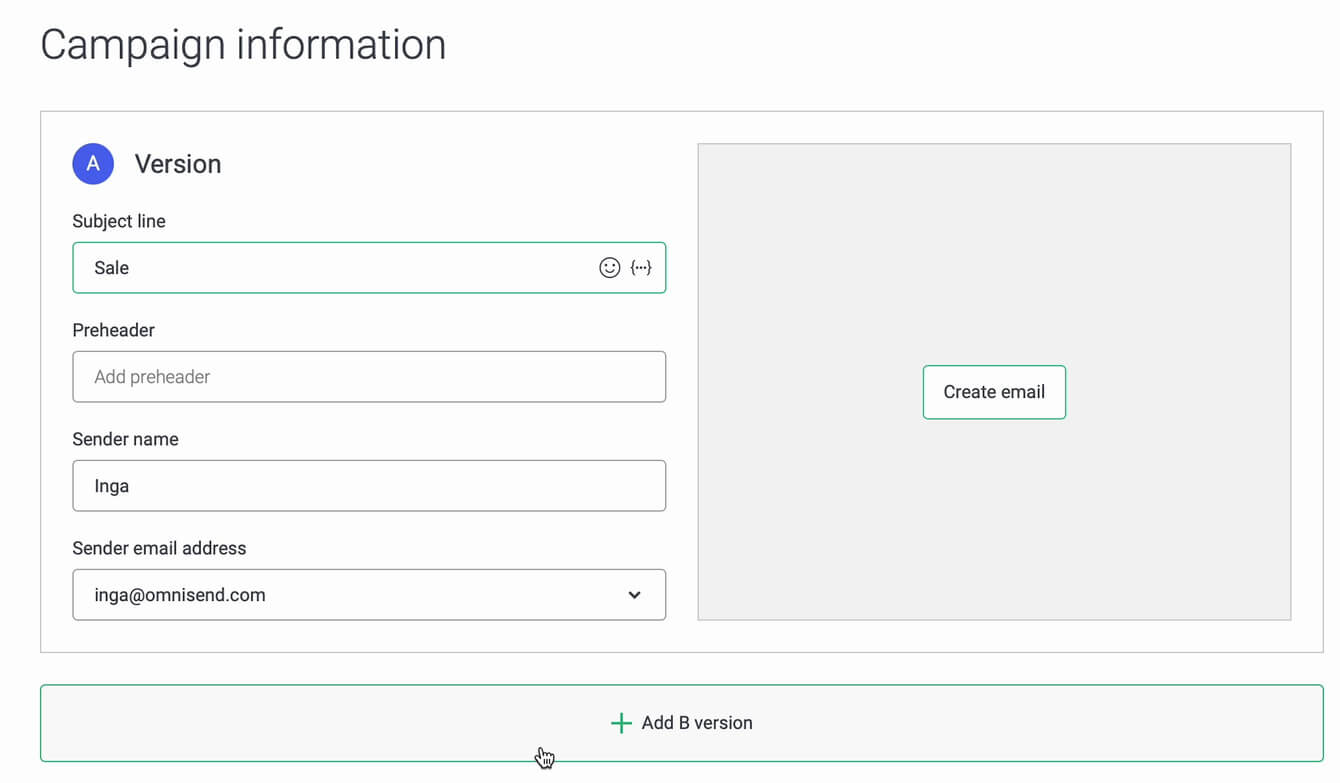 Our ecommerce-focused features
Helping our customers build better emails that sell means that we have to put ecommerce-focused features first.
Product Listing
We're especially excited about our Product Listing feature that lets you add products directly from your store with no limits on how many products can be added to one listing.
This makes it so much easier to include products into your newsletter without having to save and upload images, add text, product descriptions, and so on.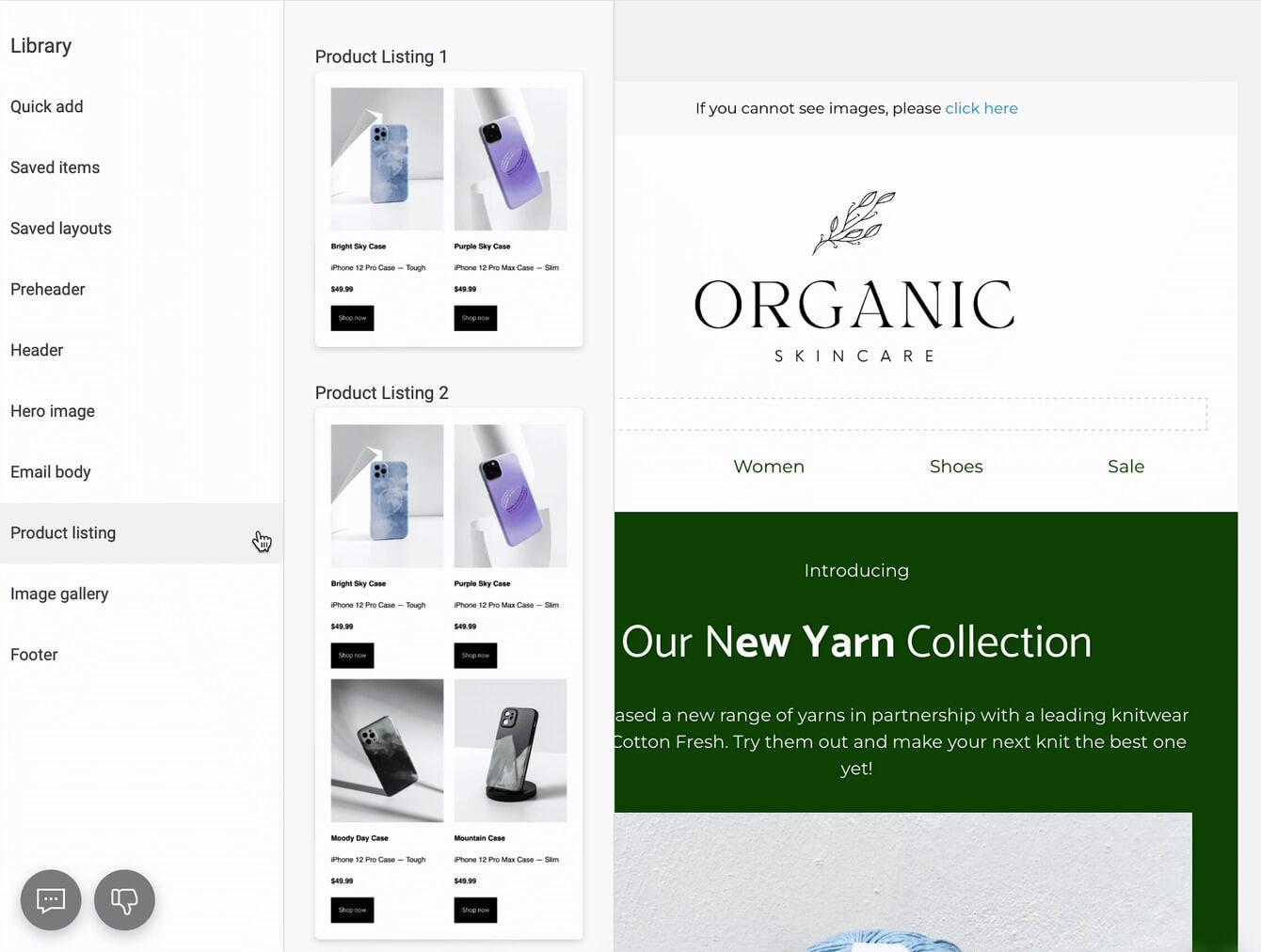 Discount block
Next, our discount block helps you set up the unique discount codes that work for Shopify, BigCommerce and Woocommerce. You can easily put a discount block into your email. Adjust the settings within the Email Builder, and it automatically generates a unique code when you send an email — no extra steps required.
Product Recommender
Also, our Product Recommender helps you choose products to automatically recommend. All you need to do is insert the recommender into your email and adjust the settings. Choose how many products you want to include, and what kind.
For example, you can choose the Best Sellers option, and it will automatically upload products that are selling the most in your store.
Building an email from scratch (faster)
A lot of the time, brands want to create their emails from scratch so that they can finalize every single detail. With our updated drag-and-drop builder, this is now easier than ever.
In the "Quick Add" section, you'll find all the items you can add to the email if you want to build it from scratch. But in the menu on the left side there are other sections that are literally parts of the email.
Simply drag and drop what you need: the preheader, header, product with image, discount, sale template, newsletter and so on. These all come with suggested text and images that you can easily adapt.
Multicolumn layouts
Multicolumn layouts bring much more flexibility. By adding a multicolumn layout you can rearrange any item you'd like and have how many items you want.
You have total freedom to decide how your email will look.
Easier video and images
We've also made adding and customizing your images and video when creating your emails.
You can use our updated image gallery to rearrange groups of pictures any way you want, and even edit those once you've a particular image grouping.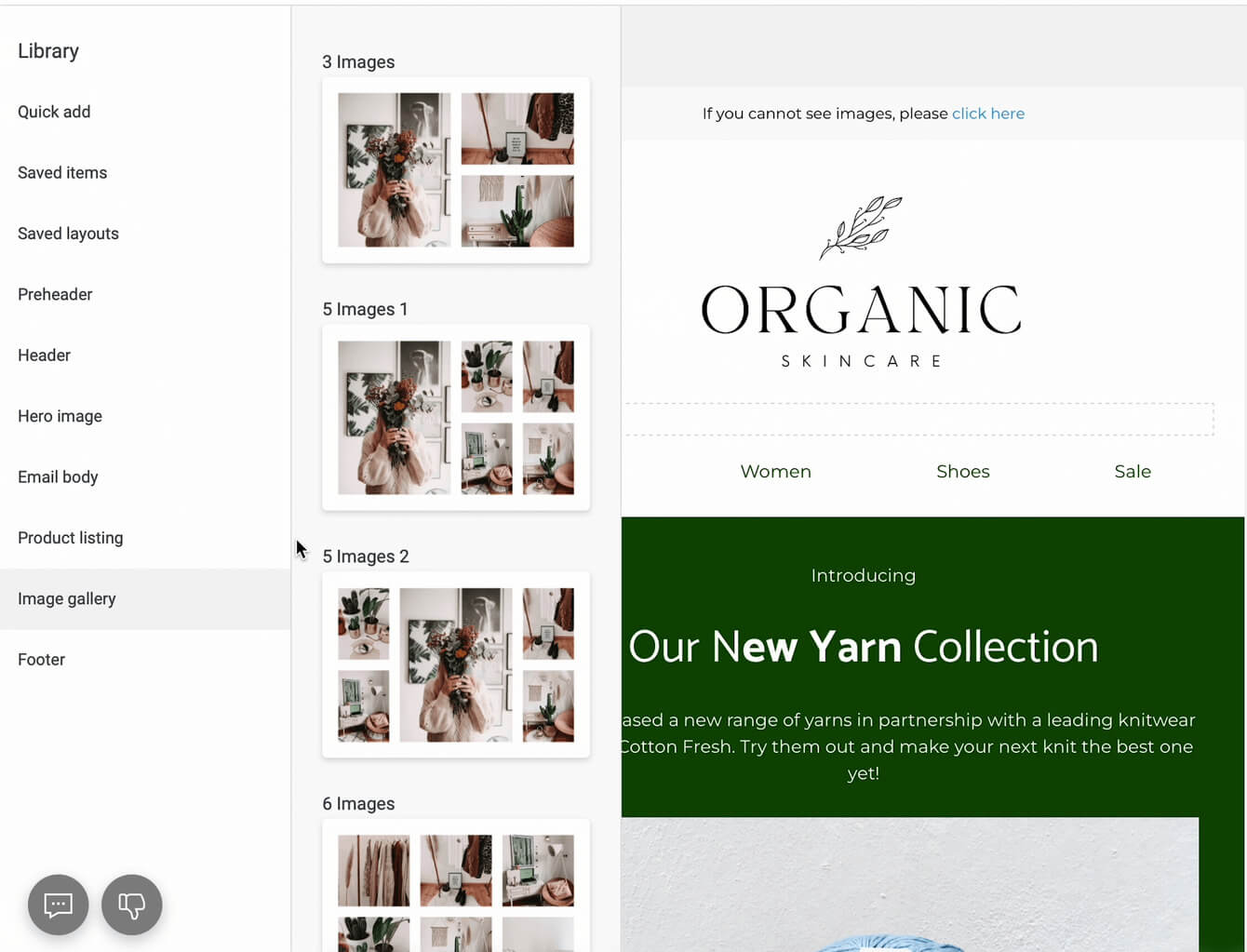 Adding images or video to your email is now easy. If you need to edit an image just click on the image editor and make whatever changes. If you want to change the image size, simply drag the corner of the image within the Email Builder.
To add a video, drag and drop it into the email and insert a video link. The new Email Builder will automatically convert it to a thumbnail image and, if you've added a YouTube link, will even generate a GIF cover image.
Edit text and buttons faster
When adding text, you can edit whatever you want — even changing a single word in the entire sentence. Just highlight it and apply the changes.
The same goes for buttons. Just go to the button settings where you can change the font, size, shape, text style, color, border and padding.
Make it mobile-only, or don't — your choice
Being mobile-friendly is not an option anymore—and it hasn't been for a long time. That's why our new Email Builder gives you more options to create emails specifically for mobile, desktop, or both.
You now have the option to decide to hide or show any block you want. That way, you can create different versions of the same email for your mobile or desktop audience, offering you much more flexibility.
There's so much more to come
We're so excited to be bringing you these new features. But there's something important to remember: this is only the beginning.
We will continue to update our new Email Builder and get crucial feedback from our customers on how to improve it so that they can create better emails that sell.
If you're on Omnisend, and you haven't tried the new Email Builder yet — the best time is now. Explore Omnisend to see how much more freedom you have to create better experiences for your customers.
And if you haven't joined us here at Omnisend yet, you can easily create a free account with Omnisend. You'll get access to all of our features so you can see how we can help your business grow.
related features
Want more sales?
Omnisend has everything you need to succeed.
Start free now
No Credit Card needed.