Drive sales on autopilot with ecommerce-focused features
See Features
Omnisend's new Segmentation lets you talk to customers like never before
Reading Time:
4
minutes
Segmentation separates the best campaigns from the rest.
Tailored messages means you can be more relevant, so it's no wonder that segmented email marketing campaigns have an open rate 23% higher than emails blasted to an entire list. Plus, if you recommend items based on past purchases, customers are 2.6x more likely to buy.
Although most email marketing platforms allow segmentation, there are usually limitations on what type of segments could be created or how many could be created.
Until now…
New Segmentation features
Omnisend is a customer-funded platform. We don't have investors or shareholders to answer to. Instead, we answer to our customers.
We've been gathering feedback about what our customers enjoy or would like to see improved, and working hard to implement new features.
Those features are now live, and our updated Segmentation packs a big punch. In fact, it offers the most flexible segment builder in the ecommerce industry! Your campaigns will never be the same again.
Watch this short video summary to discover the power and flexibility of our new Segmentation:
Let's take a look at some of the specific features in more detail:
Endless segment rules
The most flexible segment builder in the ecommerce industry truly gives you the freedom to design, explore, and create.
You now have the ability to create extremely granular, laser-focused segments based on almost anything you can think of. Instead of only considering whether a visitor purchased an item, now your segments can include:
People who did purchase Item A, but did not purchase item B
Customers who bought from a particular product range, but inside or outside of a selected date range
Quantity of items purchased
Has or has not purchased upsell or cross-sell products
With 500 data points now supported, the sky's the limit for your segments. Here are some more ideas to inspire you:
Engagement with promotions
Purchase behavior (including spend value and whether or not they used a discount code)
Site activity
Personal attributes (name, gender, location, or custom properties)
Risk of unsubscribing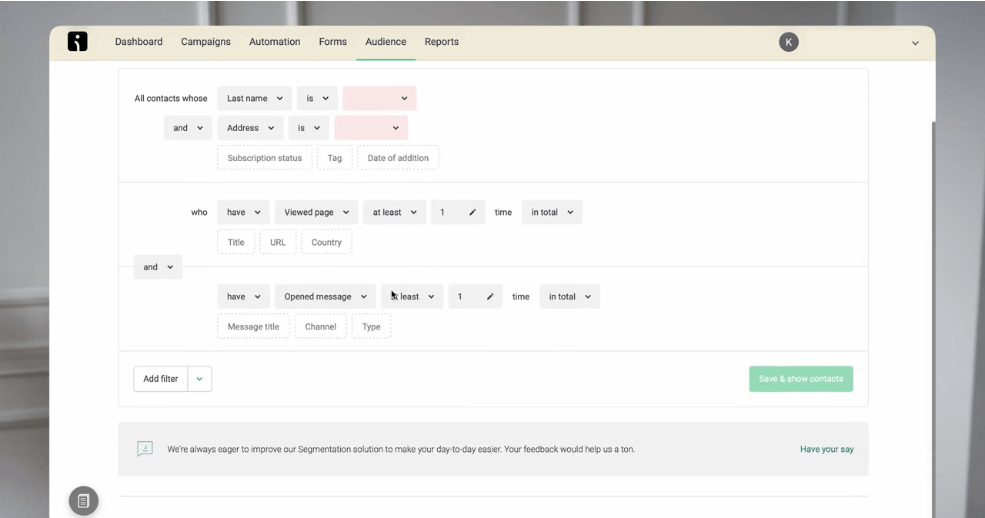 Unlimited segments
We haven't just given you all this power at your fingertips, we're also not limiting how you use it. You can create as many segments as you want, meaning every single person in your contact list can receive a hyper-personalized message.
Segment Builder Helper
Our customers have made it clear that speed is essential. It's important that building campaigns and segments doesn't require a lot of time, which is why we've also included a Segment Builder Helper. This tool provides suggestions for your segments, to help you personalize your customer journeys in the quickest way possible.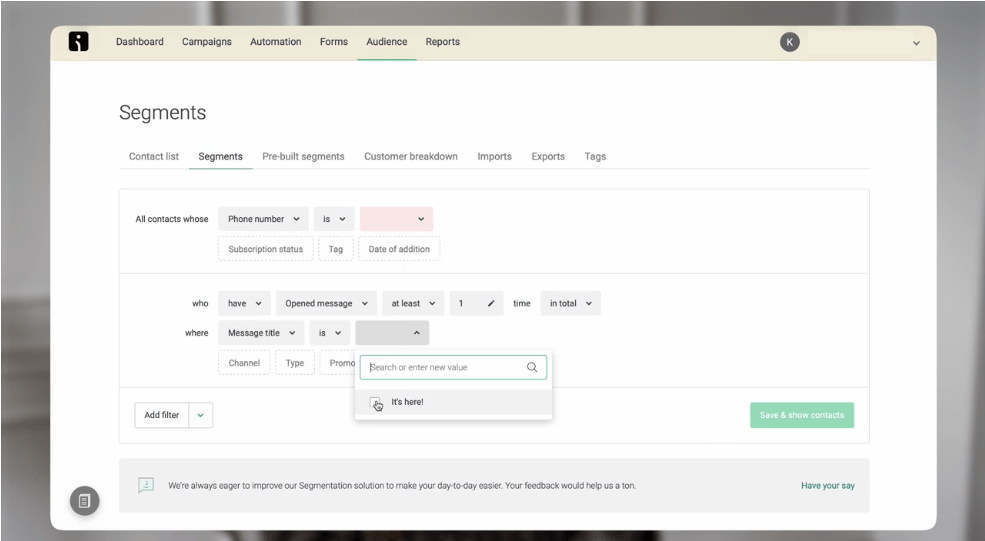 Duplicate segments
With the option to build an unlimited number of segments, each with advanced rules, you may decide to create different variations. Rather than make each one from scratch and lose time adding each new rule, you can simply duplicate an existing segment and tweak it how you want.
Pre-built segment library
We understand that it can be overwhelming to be able to create almost any segment you can imagine, with zero limits on how many you can build.
That's why we've also rolled out a segment library. Just like our libraries for email and form templates, you can now browse through our extensive library of pre-built segments.
Best of all, each one can be customized however you want—so if you're short of time or stuck for ideas, simply pick a pre-built segment and then edit it to fit your needs.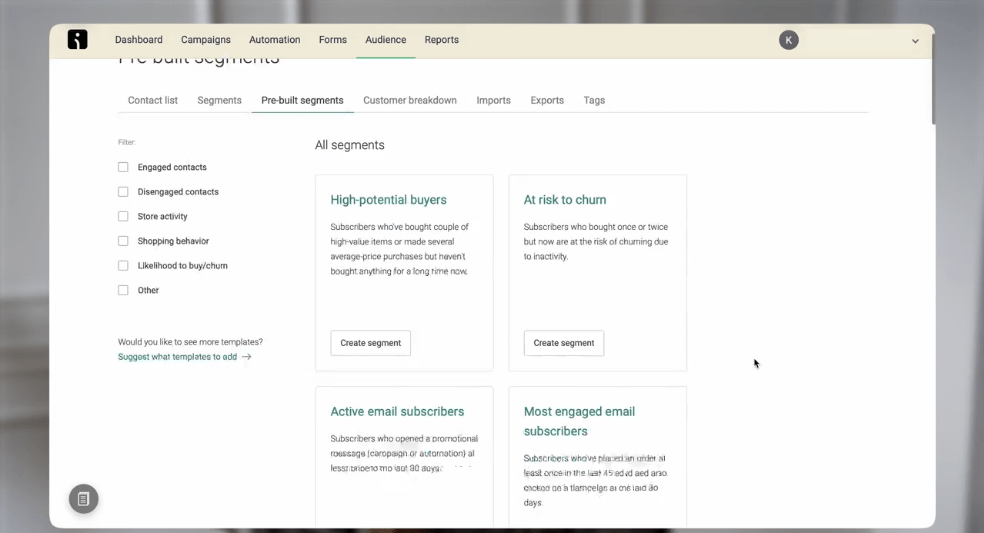 Easily add data points
In addition to data that can be automatically pulled, such as behavior and demographics, it's now possible to copy and paste additional data.
If you've got lists of ZIP codes, phone numbers or other custom information, it's easier and faster than ever before to upload it. Simply copy up to 100 data points from your spreadsheet and paste them into Omnisend.
There's so much more to come
The most flexible segment builder in ecommerce can revolutionize your campaigns, driving higher engagement and revenue. The creative opportunity will allow you to talk to specific contacts in ways that weren't previously possible.
We're proud of these new features and can't wait to see how you use them. But it's also exciting to remember that this is just the beginning.
Gathering customer feedback isn't a one-time event. It's something we do continuously, so Segmentation will receive updated that make it even better.
If you're an Omnisend customer and haven't yet tried the new Segmentation, dive in now. Either start from scratch and unleash your creativity, or use the Segment Builder Helper or segment library for a quick start.
If you're not one of our customers yet, you can create a free account with Omnisend and get instant access to Segmentation and more features to help your business grow.
related features
Want more sales?
Omnisend has everything you need to succeed.
Start free now
No Credit Card needed.