Drive sales on autopilot with ecommerce-focused features
See Features
Reading Time:
2
minutes
We're excited to announce that we've got a brand new integration with ViralSweep, a viral marketing platform.
The ViralSweep integration will help Omnisend merchants find more ways to promote their campaigns to increase engagements even further and boost their sales.
How the ViralSweep integration helps Omnisend merchants
ViralSweep is an easy tool that can help you grow your email list through sweepstakes, contests, email forms and more. These are great ways to also increase the engagement with your visitors, subscribers and customers, which will help lead to greater sales.
With the ViralSweep integration, you can now run your promotional campaigns with ViralSweep and have the subscriber information automatically sent to our platform.
Without the integration, it would be a lot of hard work to manually export each and every campaign between the platforms.
How to use Omnisend's automation workflows with ViralSweep
One of the coolest aspects of ViralSweep's many features is the ability to host sweepstakes to help increase engagement and build up your email list.
First of all, you can set up these contests on your favorite social media platform to get your fans engaged.
Then, using our automation workflows, you can set up a welcome email specifically for those users who signed up via your ViralSweep sweepstakes.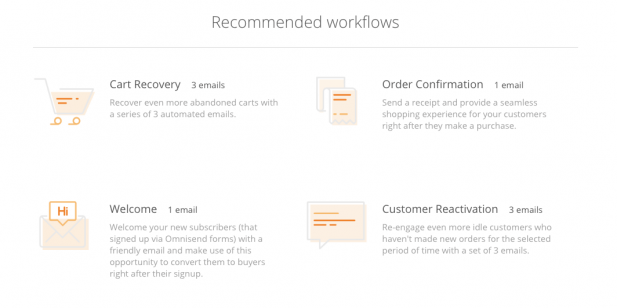 That way, you can send them a specific message to thank them for their participation in your promotions and an appealing offer or discount just for them.
Besides welcome emails, you can set up other workflows using the subscriber list acquired through ViralSweep.
For more information on the ViralSweep integration, you can head over to their Omnisend documentation page.
related features
Want more sales?
Omnisend has everything you need to succeed.
Start free now
No Credit Card needed.