Drive sales on autopilot with ecommerce-focused features
See Features
Product Recommender Is Now Live: 3 Persuasive Ways to Offer Relevant Products
Reading Time:
4
minutes
After launching our Automation update last month, Omnisend is happy to introduce one of the most anticipated and requested features to our email marketing platform:
We call it the Product Recommender.
We received a sizeable amount of requests asking for the option to send out product recommendations automatically.
Up to this point, Omnisend users had to pick individual products and repeat the process for each and every campaign or automation flow.
Sounds a bit tedious, right?
The question our Product team had was not whether the feature was necessary, but rather how it should pull recommended products from your online store. In order to find out, we analyzed our biggest clients' purchase patterns from Shopify.
While our study showed quite a low confidence level in terms of predicting recommendations based on historic purchase behavior, we came up with a bit simpler, yet more accurate technique of suggesting relevant products.
Eventually, Product Recommender was designed to allow our users to automatically import their top selling or newest products into their campaign and automation emails.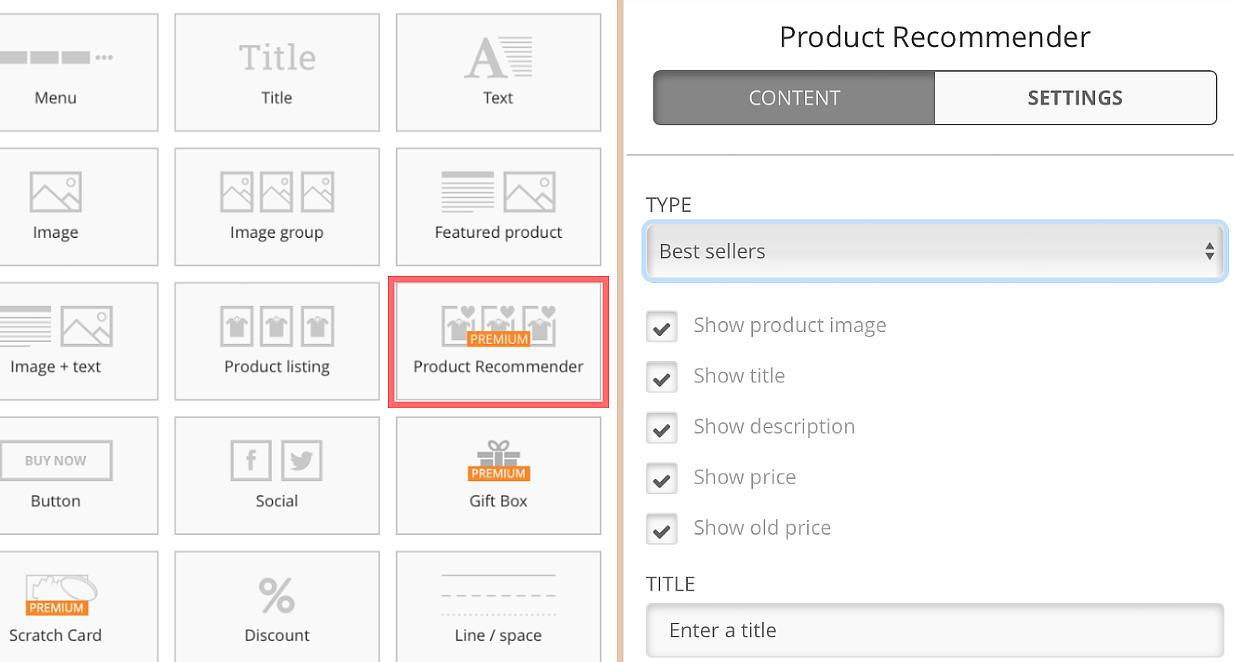 The feature is available for all Omnisend users with a Standard or Pro plan and Shopify integration.
As always, more nitty-gritty details about the Product Recommender can be found in our Knowledge Base.
Besides improving Omnisend's platform functionality, we're always keen to share actionable advice.
We hand picked 3 ready-to-use ideas for how you can benefit from Product Recommender and create a superior shopping experience for your customers.
Welcome your customers with the products you're proud of
The Welcome email workflow is an essential element for establishing rapport with new subscribers and introducing your brand. Yet, with our new product recommendations, our users are able to not only tell, but also emphasize what makes the brand stand out.
Your top selling products define your brand and you shouldn't hesitate to display the products that make your business successful.
Displaying your best sellers will do you a favor and act as a social proof, which in turn supports your marketing message.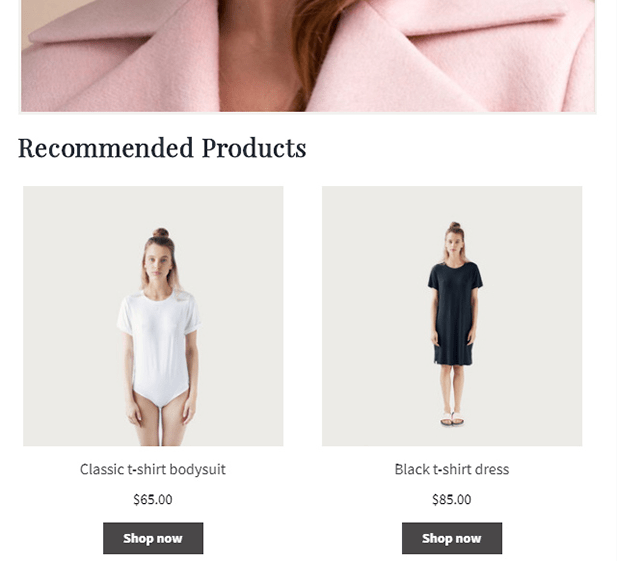 Encourage repeat purchases
Product recommendations are a particularly powerful tactic if your store is offering high demand goods that are purchased on a regular basis. Coffee, vitamins, cosmetics, and edible goods are some great examples.
Due to the cyclical nature, these products run out frequently and are consumed within predictable intervals.
The tactic will also work for merchandise bought less regularly, although the trick here is to figure out historic repurchase patterns.
The smart thing to do in this instance is to set up automated Customer Reactivation workflows with a friendly invitation (or two) to reorder.
Make your best guess and send one email just before the product runs out and a follow-up email after the product is expected to be consumed. Your customers will appreciate this reminder and help your brand to stay on top of their mind too.
Lastly, another suitable place for Product Recommender is the Order Follow-up workflow.
If you're already asking your customers whether they're satisfied with their last purchase, you could also enrich your emails with a new arrivals section.
This is a great way to trigger interest without sounding intrusive.
Complement your promotional campaigns with visual cues
Along with Product Recommender, it's now possible to create more coherent experiences for sales promotions.
We suggest you complement your discount offers with closely placed product recommendations.
Our platform has several discount offer formats (Discount, Scratch Card and Gift Box) and all off them work well with the Product Recommender. Just pick what works best for your business.
This combo will give your shoppers a visual cue and a hint of where the discount is applicable.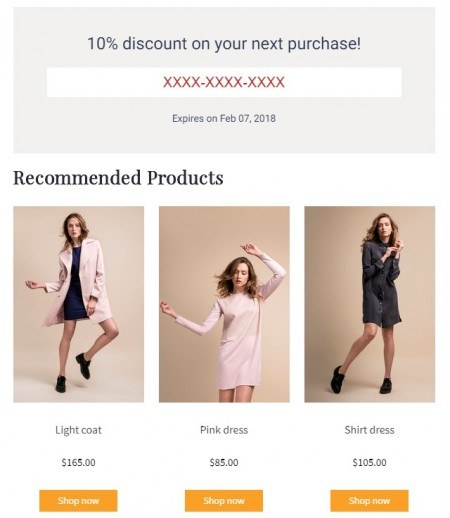 For shoppers, this works as a "shortcut" to reach the products faster, while helping you shorten your customer journey at the same time.
On the other hand, there is a good chance that a portion of your shoppers are interested in recently added inventory. Stores that are adding a new range of products frequently or selling trendy items should seize this opportunity and be proactive.
Got fresh inventory? Consider delivering campaigns that include your newest products.
This tactic will help you to reach potential buyers instantly and, more importantly, eliminate the situation where your shoppers discover new products by accident or a couple of days later.
In the meantime, we'd love to hear from you. Have you started using our brand new Product Recommender yet? Got any great tips or feedback? Let us know in the comments below!
Get started with Omnisend today & drive sales on autopilot with pre-built automation workflows
Start Free Today
related features
Want more sales?
Omnisend has everything you need to succeed.
Start free now
No Credit Card needed.