Drive sales on autopilot with ecommerce-focused features
See Features
Reading Time:
10
minutes
Looking for examples of push notifications?
You've landed in the right place.
Push notifications have become one of the most important marketing channels to focus on in 2023 and beyond.
When used correctly, push notifications can help marketers increase brand awareness, drive traffic to their website or app, and boost sales.
According to a 2021 benchmark report, push notifications have a high opt-in rate across sectors ranging from 45% to 85%.
Omnisend's email, SMS, and push marketing stats & trends report shows push messages have an impressive 53.6% view rate and 30.3% conversion rate.
Other studies show the ROI of push notifications marketing can be as high as 3500%.
In this article, we'll look at 16 of the best examples of push notifications and how you can use them to get more conversions.
These push notification examples include:
Transactional push notifications: These push notifications are sent to users in response to an action they have taken. They are used to confirm a transaction, such as a purchase, or to provide information such as shipping update or flight delay.
Promotional push notifications: You can send push notifications to promote a product or service. They can be used to offer discounts or to highlight new products or features.
Engagement push notifications: Engagement push notifications are sent to encourage users to interact with an app or website.
Abandoned cart reminders, loyalty program updates, and reminders of upcoming events are some push notification examples in this category.
Behavioral push notifications: By using segmentation, you can use behavioral push notifications to personalize an experience, such as showing content relevant to the user's interests, or run re-engagement campaigns.
Let's get started with the best examples of push notifications. But first, a quick recap on how to set up push notifications on Omnisend.
How to set up push notifications with Omnisend
Setting up push notifications on Omnisend is quick and easy. Be sure your website has a SSL certificate before getting started.
Omnisend's push notification features are compatible with Google Chrome, Mozilla Firefox, and Opera browsers.
Now, the steps.
Step 1: Create an account on Omnisend.
Step 2: To connect your app to Omnisend's platform, click on your brand name in the top right corner and open the Apps tab.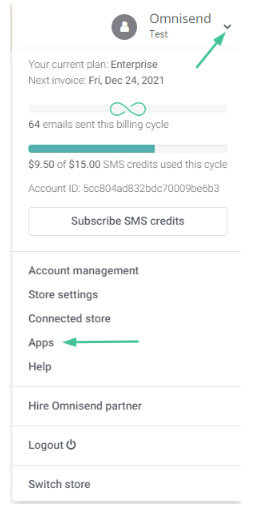 Step 3: Go to the Push Notifications app and click the 'Connect now' button.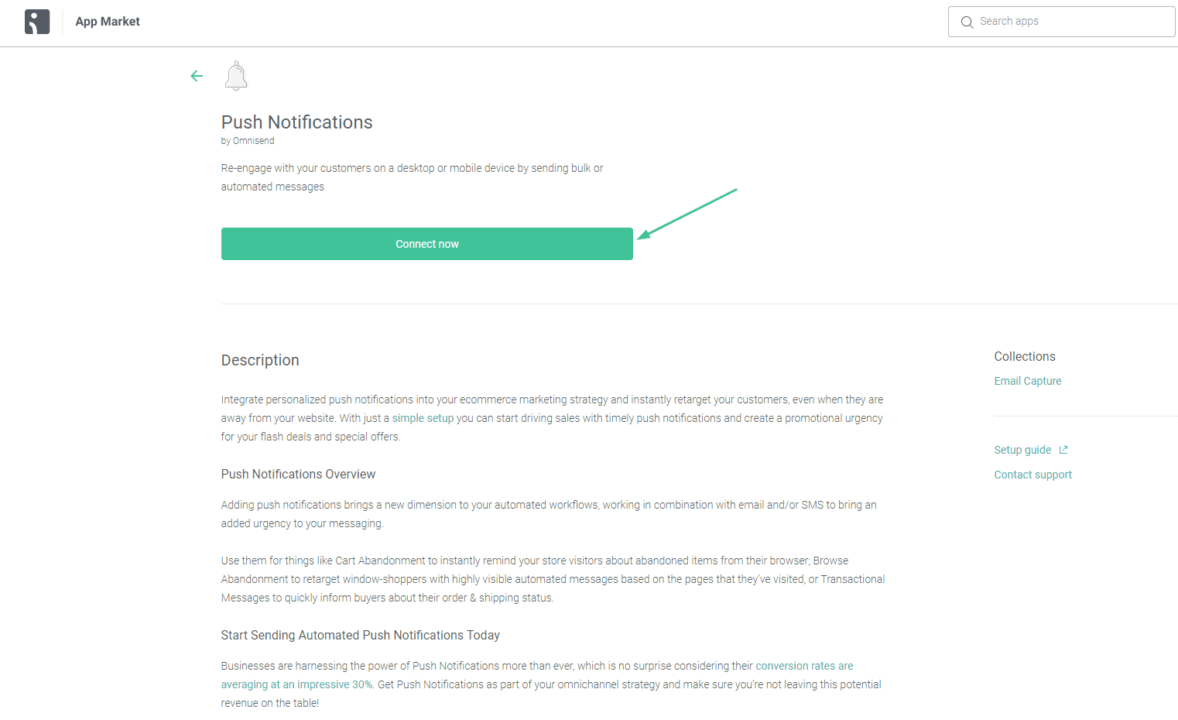 Step 4: Customize your campaign by going to 'Push notifications campaign.' Use the editor to edit your campaign's title, text, logo, and image.

You can add icons or images to campaign and automate push notifications on Windows and Android.
To add an image (or icon) for campaigns:
Click on 'Select Icon Image'
Select from 'Computer' or 'Use Image from URL'
Open to see the selected image in your push notification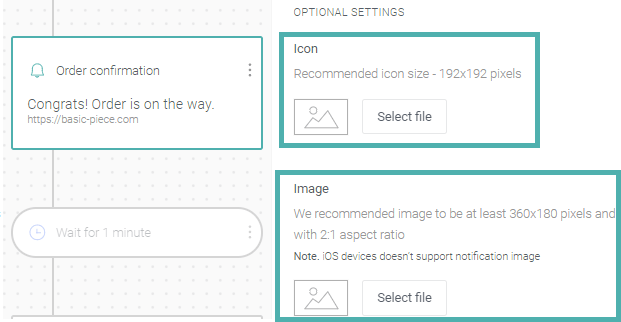 Preview the push notification before hitting 'Send.'
When you integrate push notifications on your ecommerce site, an opt-in box appears when a prospect/customer lands on your site. If they choose to opt in and allow push notifications, they'll get added to your subscriber list to receive them.
Now, it's time to focus on push notification ideas. Go ahead and explore the 16 best examples of push notifications we've listed below.
Best examples of push notifications
Here are a few inspiring examples of push notifications that can help you create an effective push marketing strategy.
1. H&M for retargeting customers
One prime example of push notifications to re-target customers and cross-sell/upsell based on their purchase history comes from H&M.
In this promotional and behavioral push notification example, the brand's mobile app recommends cute boots to complete the look. This is also another example of how automation can work based on specific triggers.
H&M's app automatically recommends, through push notifications, products that complement an item the customer has bought.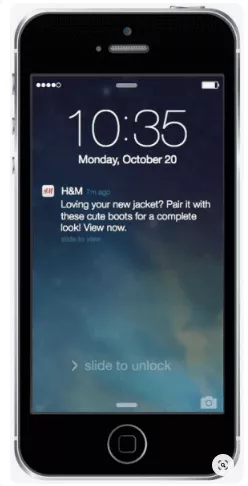 2. SuperJeweler for cart abandonment
Here's one of the best examples of push notifications that serve as cart abandonment reminders.
This is an engagement push notification from SuperJeweler to remind the user that they have not completed the purchase. Notice how SJ uses images of the products to entice the user to take the desired action: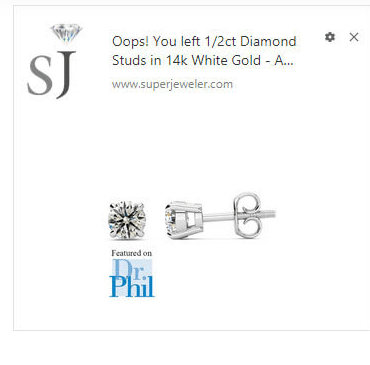 3. AskLaila for browse abandonment
Users sometimes browse the product categories and products on your site and leave without taking the next step.
Here's another engagement push notification example from AskLaila, a marketplace and local information service provider, which acts as a browse abandonment reminder.
Like this web push notification example, you can create automated flows to ensure an automatic push notification is sent based on your users' browsing history.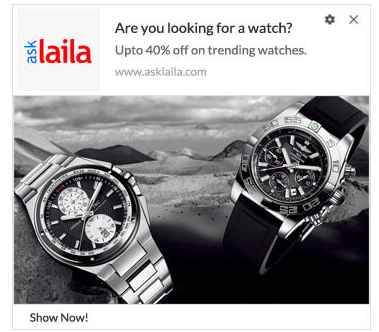 4. Omnisend to promote dresses
Omnisend makes it easy to send push notifications to your users, and gives you the ability to customize the message and target the notification to specific users.
It allows you to easily send push notifications to your customers, either through your app or through the website, and they can be a one-time or recurring message.
With Omnisend's segmentation feature, you can divide your customers into different groups, so that you can send tailored messages to specific groups of customers.
Apart from an easy-to-use editor to customize your push notifications, Omnisend offers A/B testing and marketing analytics. You can also combine push notifications with emails and other channels to maximize leads and conversions.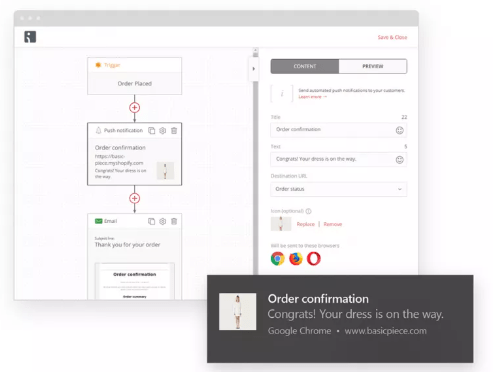 Reternity, a luxury streetwear brand, is optimizing results by combining push notifications with email and SMS marketing. After setting up push notifications on Omnisend, the brand witnessed an impressive open rate of 76%, which has encouraged them to further expand their investment in push notification marketing.
5. Level Money for behavioral triggers
This is one of the best examples of push notifications based on behavioral triggers.
Level Money, a budgeting app, sends push notifications to help its users stay on top of their finances.
The cheerful tone used in these notifications helps the brand forge a stronger bond with their users by congratulating them and creating a sense of achievement.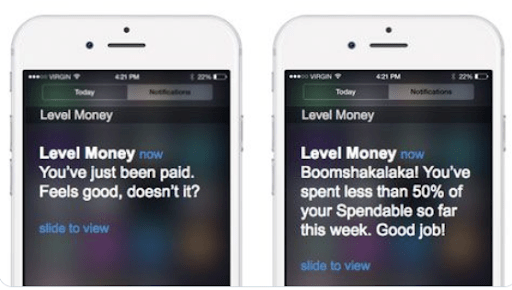 6. Netflix for driving engagement
In this push notification example, Netflix sends a simple poll to get feedback from its subscribers on the content ("Flavorful Origins") they are watching currently.
The USP of this push notification is the minimalistic design—just two CTA buttons that streamline decision making: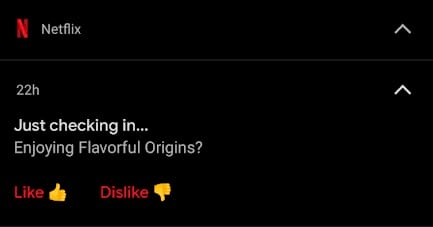 7. Jet for cart abandonment
Users sometimes just add products to their cart but forget to complete the purchase. All they need is a friendly nudge.
As one of the best examples of push notifications, Jet's message uses lighthearted wording to recognize that the user might have just forgotten to complete the purchase.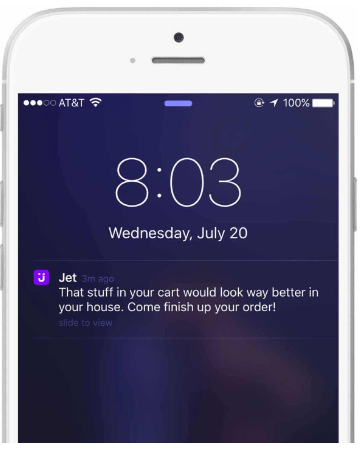 Go through our blog on cart abandonment solutions to find more ways of boosting your ecommerce revenue.
8. Nike for driving engagement
Behavior-based notifications can be used in many ways. You can use them to showcase relevant promotions based on the visitor's browsing history or congratulate them when they achieve key milestones.
Nike is one of the best examples of push notifications that provide key insights to encourage users to achieve their fitness goals.
The purpose is to offer greater value by offering insights, tips, and best practices relevant to the product/industry:

9. BeautyMnl for triggering FOMO
Sparking FOMO (fear of missing out) in your promotional push notifications is a great way to motivate people to take the desired action.
By showing customers that they will miss out on a great deal if they do not purchase before a defined time, promotional push notifications help drive user action.
This is exactly what this push notification example from BeautyMnl does. It was sent at 11.05 a.m. to remind users that just a few hours are left to get 91% off.
The headline (Goodbye, 5.5 Super Sale) and the question 'are you really gonna pass on this?' reinforce the FOMO.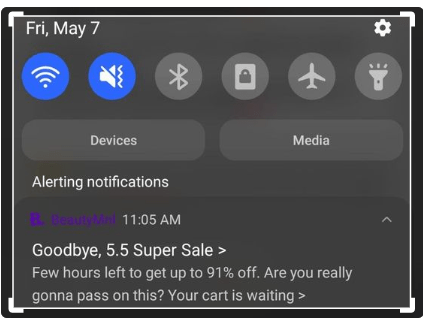 10. Five-O Depot for quirky copy
Consumers don't want to be bombarded with formulaic messages that feel like they are coming from a robot. Nor do they get inspired by yet another boring 'buy now' or 'shop now' CTA.
To make your push notifications stand out from the rest, there's nothing like humor and wit.
Funny or quirky copy and a conversational tone can help you instantly build a rapport with your prospects and encourage them to make a purchase. Five-O-Depot's message is one of the best examples of zany and effective promotional push notifications.
The copy represents the brand voice, which is informal and aligned with its target users.
The other elements that make this push notification example stand out are the reference to the day of the week, an incentive (save $25), and the use of capital letters (NOW) to create a sense of urgency: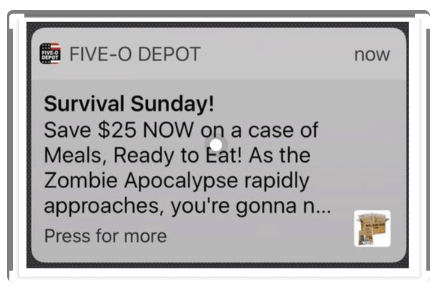 11. MoneyStream for use of emojis
Next in our list of the best examples of push notifications is this one from MoneyStream, a news aggregator that delivers personalized content.
One of the plus points in this push notification example is the use of emojis, which are a great way to add personality to your push notifications and make them more engaging.
A study found that CTR (click-through-rate) for push notifications can go up by 124% when emojis are used.
What makes this promotional push notification stand out is that there is no hardsell or any pushy CTAs. Instead, with a funny take on the awkward interactions many have with the delivery person, it draws attention to the article on self-driving cars.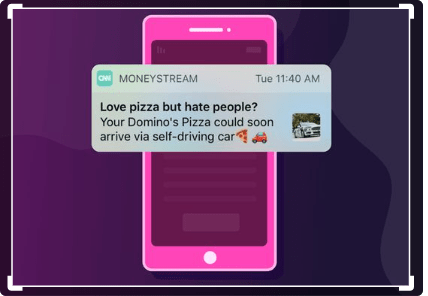 12. Fly Delta for transactional push notifications
One of the most important reasons to use transactional push notifications is to send timely, relevant updates.
Many businesses use push notifications to give users real-time updates on the status of their order, including dispatch and delivery timings.
These updates offer a lot of value as users expect instant updates after they place orders, or check their baggage when flying.
Here's one of the examples of push notifications from Fly Delta that provides real-time visibility into the journey of checked baggage.
Being transactional in nature, the messages are straightforward and to the point: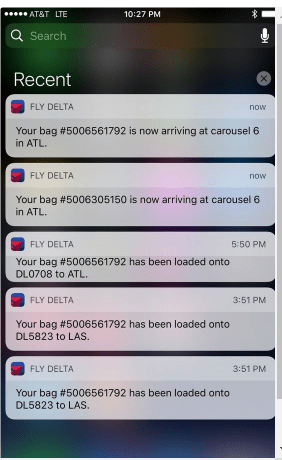 13. Lyft for promotional notifications
When it comes to promotional push notifications, a little flattery can go a long way in pleasing your customers and gently nudging them to take the desired action.
Many brands intelligently target users by telling them exactly what they want to hear. This can mean portraying your customers as 'experts' in the field, pampering or empowering them, and boosting their self-esteem with the right words.
Here's one such push notification example from Lyft, a popular ride-sharing service. Sent at the end of the day, it uses smart wording to suggest that the user deserves the treat of a shuttle ride after accomplishing a lot at work. It's targeted toward office workers: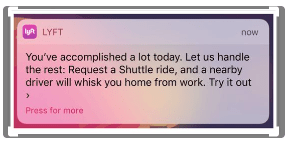 14. Maya for using wit
In this push notification example, Maya, a digital payments and financial services company, uses both wit ("Un-bill-ievable") and brevity to convey the benefits of using the app.
Of course, users know exactly what they are getting and what they need to do to get the cashback: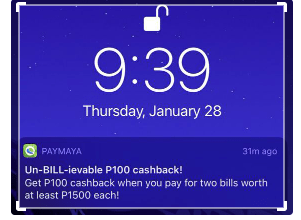 15. Starbucks for geofencing
A trending way to send promotional push notifications is to use geofencing. This is a location-based technology that allows brands to mark a virtual fence around their brick-and-mortar store or other locations of interest.
Every time a prospect enters this fence, promotional push notifications, such as this one from Starbucks, are automatically sent.
Like other examples of push notifications, Starbucks uses personalization ("your favorite drink: Vanilla Latte!") and a relevant offer to entice customers. Including the first name of the user is another effective way to connect and re-engage customers.
And, to enjoy their favorite drink, all they have to do is visit the Starbucks outlet at Oxford St.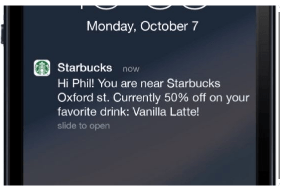 16. PLNDR for hyper-personalization
To boost engagement and sales, your promotional push notifications have to be hyper-personalized.
PLNDR's messages are one of the best examples of push notifications that are tailored to each user. After determining what products the users are interested in on their site, PLNDR pushes specific deals.
Of course, as you can see in this push notification example, it entices users who have abandoned carts with juicy offers (40% off plus free shipping):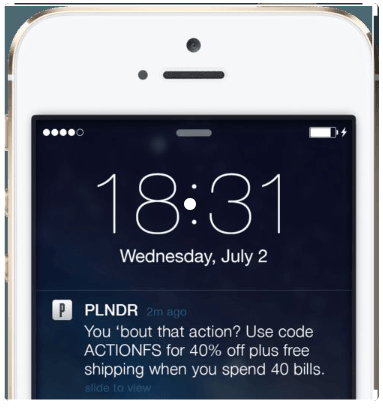 Ready to get started with push notifications?
As you know by now, push notification marketing is a great way to increase conversions and engagement.
We hope these 16 examples of push notifications have helped you come up with your own ideas on how you can create successful notifications that will drive more conversions and keep customers coming back for more.
Keep the message short and to the point. Use audience segmentation tools to personalize your messages and make them more relevant. Incorporate images, rich media formats, and videos to make your messages more interactive.
Get creative with your headlines and copy and put some thought into making it catchy and interesting.
Don't forget to use timing and location-based triggers to send timely messages. Finally, use A/B testing to optimize your message delivery and engagement.
The key to getting your notifications right is the software you use. Join Omnisend and get started with a free account that offers 500 push notification credits.
related features
Want more sales?
Omnisend has everything you need to succeed.
Start free now
No Credit Card needed.