Drive sales on autopilot with ecommerce-focused features
See Features
"You're already subscribed": why you need to differentiate your sign-up success messages between new and existing subscribers
Reading Time:
4
minutes
Everybody knows that sign-up forms are one of the most important tools for building your email list, but there's one pitfall to look out for.
How many times have you visited a website, entered your details into the pop-up box, then waited patiently for the discount code to hit your inbox—only for it to not arrive?
Eventually you realize you're already a subscriber and that's why the email hasn't shown up. But why didn't they tell you this when you tried to sign up again?
Now think about your own site: are visitors experiencing this same frustration if they complete a sign-up form but they're already on your email list? If they are, it could be souring your brand reputation with them.
Fortunately, it's an easy fix. A simple message can inform them that they're already on your list, manage expectations, and even be an opportunity to re-engage them with your products.
If you're an Omnisend customer, you already have the ability to do this, as our Form Builder can provide you with a simple, no-code solution to differentiate your sign-up success messages between new and existing subscribers. Your subscribers will no longer wait around or check spam folders for an email that isn't arriving.
However, you may have found that it's not easy to create success messages on platforms such as Shopify or BigCommerce without applying code or a workaround that's embedded into your website. So, we've done the hard work for you with our simple 1-click integration, so you can create smooth customer experiences.
Let's walk you through how to set up your success messages and maximize these opportunities while you have the attention of your subscribers—both existing and new.
Creating a success message for your Forms
Omnisend's Form Builder supports showing a message to new subscribers as well as existing ones, and this article will walk you through how to do both.
Let's start with existing subscribers:
Existing subscribers
If you've never tried to subscribe to a list you're already on, you may be wondering what the purpose of this is. "Wouldn't they already know they're subscribed?" you may be asking.
There are two main reasons why somebody might try to join a list they're already on:
1. You're running a promotion that they want to be part of
2. They've forgotten they're subscribed
In the first scenario, you could include in the messaging that the offer is only for new subscribers—or, if it's not, ensure you communicate the promotion with your lists.
In the second scenario, this might be an indication that you're not engaging with your subscribers regularly enough, or your branding isn't being reinforced enough. Make sure you're sending regular messages (without spamming your audience) and check out Omnisend's Brand Assets feature—it automatically adds your branding to emails for you.
Regardless of the reason, we want to make sure they know they're subscribed. Trying to subscribe again is also a great sign that they're still interested in your brand, and an opportunity to suggest they keep an eye on their inbox for future emails from you.
To set the "already subscribed" message, open Form Builder and create a new form or edit an existing one.
At the bottom of the menu, click on the Success tab and then click Subscribed: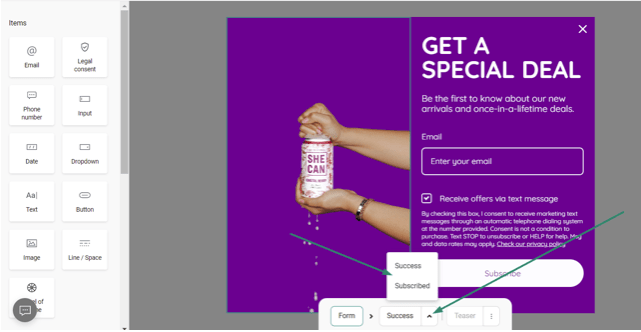 By default, you'll see "You are already subscribed" here, but you can customize it to whatever you'd prefer it to say. You can also include a discount here too, so existing subscribers can still get it.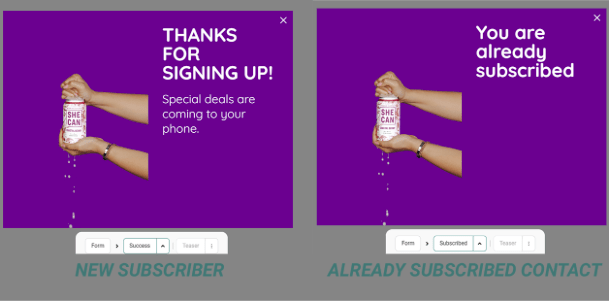 New subscribers
Setting a message for new subscribers is a similar process. Create a new form or edit an existing one, then at the bottom of the menu you should see Success. This is the message people will see when they've subscribed.
Forms are fully customizable, so they can say whatever you'd like them to say and take the appearance of your brand.
For a demonstration of setting these messages and customizing your forms, watch this short video:
If you're using our classic Form Builder, make sure to migrate to our new Form Builder to access all the features—it's a quick and easy process, and you won't lose any of your forms.
Maximizing your opportunities with existing subscribers
If your existing subscribers want to sign-up again, this is a great sign! It means they're still interested in you, your products, your offers, and want to get the best deal.
Don't waste this opportunity—not only are they likely to purchase, but it's more cost-effective to keep a customer than to acquire new ones. So instead of simply reminding them they're already subscribed, use the message on the form to encourage them to take a desired action instead of letting their attention go elsewhere.
Here are some ideas:
Include a simple "thank you" to show your appreciation for their ongoing support
Add a "Shop Now" button that returns them to your website
Add a discount code, as this is what they're hoping for
Redirect them to a landing page with special offers, events or sales
Ask for feedback or a review
Promote your social media channels
Get to know them more by asking for further details, so their next email campaign can be even more personalized
Reconfirmation – stay compliant and relevant to your audiences by asking them to reconfirm their email or SMS preferences
Wrap up
Sign-up forms are usually built with new subscribers in mind. This is understandable, but including existing subscribers is an easy way to create a positive, personalized customer experience too.
A little housekeeping on your forms to create separate messages for new subscribers and existing subscribers takes just a few minutes with Omnisend.
Head over to the Form Builder now to create or update your forms—it could help to re-engage parts of your list and drive additional sales.
related features
Want more sales?
Omnisend has everything you need to succeed.
Start free now
No Credit Card needed.