Drive sales on autopilot with ecommerce-focused features
See Features
How to Create an Unforgettable Unboxing Experience that Creates Brand Loyalty
Reading Time:
10
minutes
When was the last time you opened a package from a brand and thought to yourself, "Wow!"?
For those of us who have had an exceptional unboxing experience, it's truly unforgettable. Whether the experience reinforced the sense of luxe, reacquainted you with whimsy, or delighted you enough to break the humdrum of opening typical Amazon cardboard, the unboxing experience can keep your product in your customer's mind long after they've tossed the box.
In this piece, we're going to go over the importance of the customer unboxing experience, how to create one for your store, and how to use it to continue your customer experience long after the purchase is made.
What is an Unboxing Experience?
The unboxing experience is the full act of your customers opening and taking products out of the box. While that may be an everyday experience for most of us, occasionally, an unboxing experience can present that 'wow' factor that makes us want to love a brand and order more.
The customer experience doesn't end when your customer gets their confirmation email, or even their last shipping notification—it starts. With a great unboxing experience, you can continue that experience while they're opening and exploring the contents of their highly-anticipated package.
Want to send fabulous confirmation and shipping updates without even thinking about it? Try Omnisend free for 14 days!
START YOUR FREE TRIAL
Why Unboxing is Important for Ecommerce Brands
We already know that attractive packaging stimulates the parts of the brain responsible for reward-seeking, making opening an aesthetically appealing box all the more enticing and memorable. You want your unboxing experience to be memorable as it's a continuation of your brand storytelling. It can be an impactful way to make a first impression for your new customers, and to maintain a standard of quality for your existing customers.
Not only that, a well-designed unboxing experience increases the perceived value of your products, regardless of their price. If you've ever ordered something that came in amazing packaging, you've automatically thought of the product as higher-quality.
With all the buzz around amazing unboxing experiences, creating one for your brand could also lead to some well-deserved organic user-generated content (UGC) that you can then promote, repurpose, and include in future marketing campaigns. Customers even actively seek out amazing unboxing experiences—but don't take my word for it, search through the 1.9 million posts on Instagram with the hashtag #unboxing.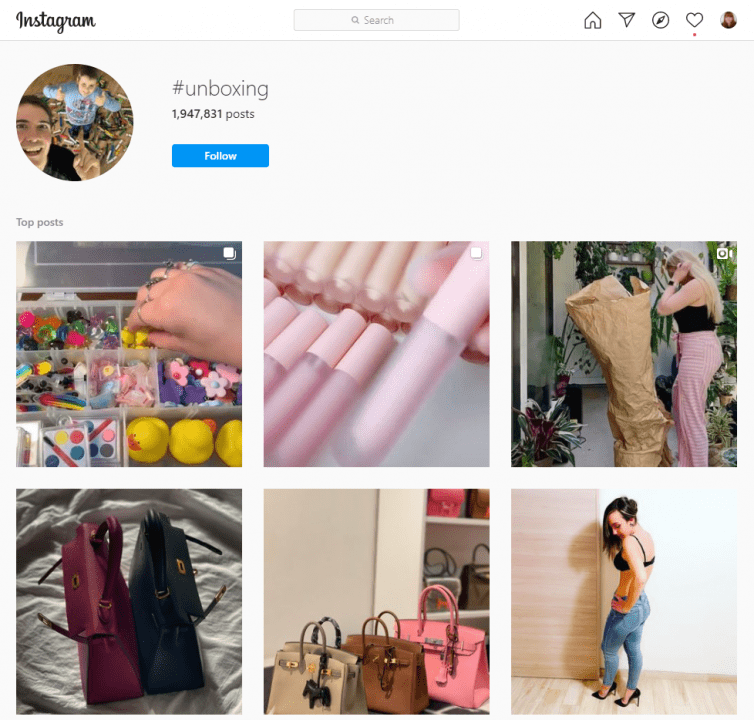 In fact, a few years ago, unboxing videos became a huge trend across YouTube and social media. Ever seen the movie "Love Actually?" Imagine watching it 20 million times. According to YouTube data from 2017, the amount of time users spent watching unboxing videos on their phones is the equivalent of doing just that.
You want to control the narrative around your brand from the initial discovery of your products and store to the moment the customer opens the box. The benefits around creating an incredible unboxing experience are clear: you can provoke an emotional reaction in association with your brand. You want that to be a powerfully positive reaction.
These actions indicate that the unboxing experience matters to consumers. Now, imagine what tossing your products into generic cardboard boxes with little care or attention says about your brand?
The benefits around creating an incredible unboxing experience are clear: you can provoke a positive emotional reaction in association with your brand, create UGC and social proof that influences new customers, and continue the customer experience beyond the point others (i.e. your competitors) end theirs.
Talk about increasing the perception of your brand.
4 Ideas to Create the Best Unboxing Experience for Your Brand
So, how can you create an unboxing experience your customers won't forget? While well-thought-out branding and packaging matters, it goes beyond that. Here are some ideas to help you get started.
1. Start with your brand in mind
Create a cohesive experience between shopping at your store and opening their order with branded boxes. Having custom branded boxes is a great way to give your customers more information about your brand, your products, and to complete brand storytelling through the moment they see your box.
Think about how it looks left on their doorstep. If you work with sensitive or commonly-gifted products, consider subtlety—it's important to value discretion if your product line demands it. For these cases, symbolism may work better than explicitly stating the brand name.
Staying on the topic of symbolism, remember that your packaging reflects your values. Sustainable packaging complements a sustainable brand with sustainable products.

Finally, think about how easy it is to open the box. No one wants to grab the scissors and cut through miles of scotch tape to get to their long-awaited products. You want your customers to be able to get into the parcel without destroying it (or your product) in the process.
Help your unboxing experience tell your brand story through marketing automation. Try Omnisend free for 14 days!
START YOUR FREE TRIAL
2. Unique packaging materials to both secure your product & wow your customers
The box is where you start, but its contents are just as important. Think about your packing materials:
Will my product arrive undamaged?
There's nothing worse than opening a box and seeing that what you've ordered has been just thrown in with little regard to its value. Show your customer that your product means just as much to you as it does to them, and use your packing materials to ensure it'll arrive in one piece.
Are my packing materials attractive?
Beyond making sure that there's not too much movement in the box during shipping, your packing materials are there to also present and frame your product. When your customer opens the box, are they going to like what they see inside? Will generic cardboard and bubble wrap work, or will you opt for something a bit more interesting? The filling also serves to make the box feel fuller when your customer opens it, giving them the impression that they've received more.
Are my packing materials recyclable?
It's a pain to have to deal with a waterfall of packing peanuts when opening a box—even worse when it's a blizzard of tiny bits of styrofoam. This is why it's important to think about what happens after the unboxing experience: no one wants that feeling of "Ugh, I need to get the vacuum" or "I have to keep this away from my kids/pets" associated with their brand.
As consumers get more environmentally conscious, they'll be less likely to accept hard styrofoam and plastic waste with their products. Opt instead for recyclable materials that won't be harmful to the environment or any other small companions your customers might have in their households.
Is it easy to dispose of my packing materials?
IKEA revolutionized the market with their flat-pack furniture, but something people often don't talk about is the way their packing materials are crushable and fold away neatly to make them as small as possible. For anyone who's ever built a piece of IKEA furniture in a small apartment (IKEA's target market, for example), this is an underrated feature that makes the unboxing experience that much more pleasant.
Packaging that's beautiful and functional is great, but we all have to get rid of it at some point. Can your package materials break down and recycle easily? Or will your customer have to jam hard styrofoam pieces into a trash bag and hope for the best?
3. Personalization, and the little things
Personalization goes further than your emails. You can customize the experience your customers have down to the moment they open the box. Think about the little things your customers might appreciate.
How can you make your customer's day—maybe with some freebies or samples of other products? The golden rule with free products or little gifts is that they need to make sense for your brand. Try to coordinate any free samples you give with items they've purchased. For example, if you have a customer purchasing a certain color of foundation makeup, include a primer that goes with that color. Chances are, you might get a purchase of the full-sized version later on.
Even something as simple as a hand-written thank you goes a long way in making your customer feel appreciated. For example, there's a company I purchase from every month. In my box, I get a hand-written thank you note, a few magnets, and a piece of candy. True, I have more magnets than I know what to do with, but these little things make me want to come back to this company again and again. Not only that, it reinforces the human connection: a human being looked at and checked my order before packaging it and sending it off to me. This is a powerful reminder to your customer that there are people behind your brand.
Personalize the entire customer journey without lifting a finger: try Omnisend free for 14 days!
START YOUR FREE TRIAL
4. Use email teasers to get your customers excited
As an ecommerce merchant who has just made a sale, you have a powerful tool at your disposal: your transactional messages.
With the highest open and click rates on average, your order and shipping confirmation emails are the most likely to get in front of your customers' eyes. Therefore, they present a unique opportunity for you to cross-sell products while your customers are excited about receiving the ones they just purchased.
In the same vein, if you have an amazing unboxing experience, it's time to get your customers even more excited. If you've included a hashtag or a call for your customers to post their unboxing experience on social media, you've probably got some of that organic UGC waiting in the wings. Add those posts into your emails and include your hashtag alongside them to let your customers know what they should expect, and get them extra excited about their anticipated unboxing experience.
Likewise, you can include these kinds of posts into your browse, product, and cart abandonment emails to help your customers over the finish line. Seeing the way other customers have experienced your products is a powerful form of social proof. Seeing others with a beautiful unboxing experience can be just the thing that helps convert customers that are otherwise on the fence.
4 Unboxing Experience Examples for Inspiration
Creating a unique unboxing experience doesn't have to be time-consuming or expensive. You just have to show your customers you care about their experience past the point of when they pay for your products.
Here are a few examples of ecommerce brands that provide their customers an above and beyond unboxing experience.
1. To'ak Chocolate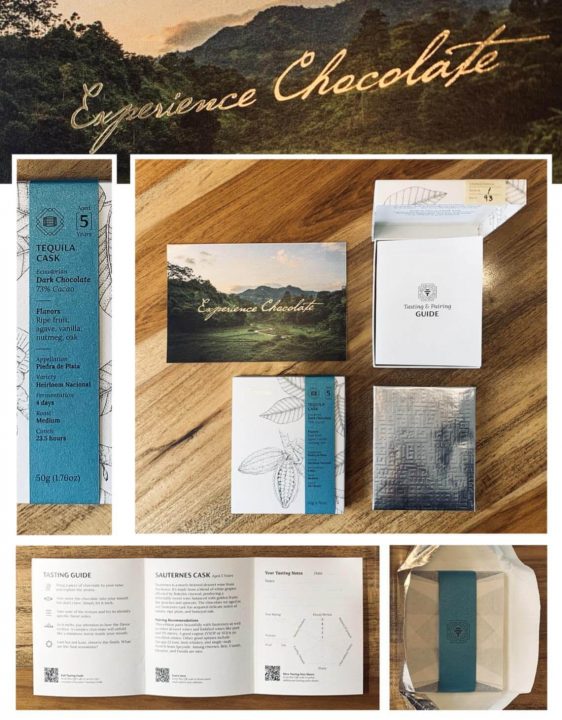 To'ak offers high-quality, luxury chocolate sourced directly from Ecuador, where they control both the harvesting and aging of the cacao, making each year of chocolate production unique and luxurious.
With To'ak's unboxing experience, you get the impression that it's VIP treatment. Opening the box includes delicately wrapped parcels of chocolate with a postcard displaying a gorgeous Central American landscape. Each package within is also delicately wrapped with cacao-bean-themed wrapping paper, giving way to gorgeous packaging for the individual chocolates.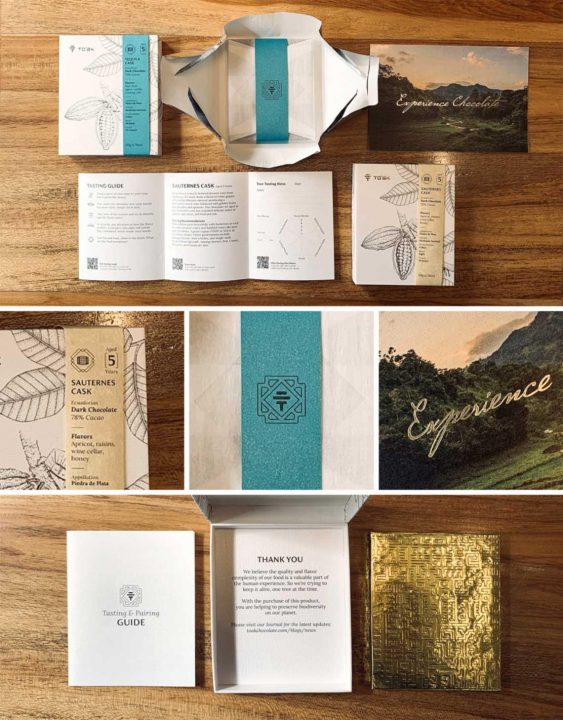 To'ak uses their packaging to include a taste-pairing guide, like you would do with wine or whiskey, to help guide their customers through a tasting experience. Through this, To'ak guides their customers through a journey from the moment they discover the brand to the very moment of consumption of their product.
Hear more about how To'ak works to create a personal connection with their customer.
2. Notebook Therapy
Notebook Therapy offers minimalist, adorable Japanese notebooks and home stationery, from high-quality bullet journals to pens and office organization. For those who like to use notebooks for all kinds of relaxing journaling, Notebook Therapy offers several beautiful designs.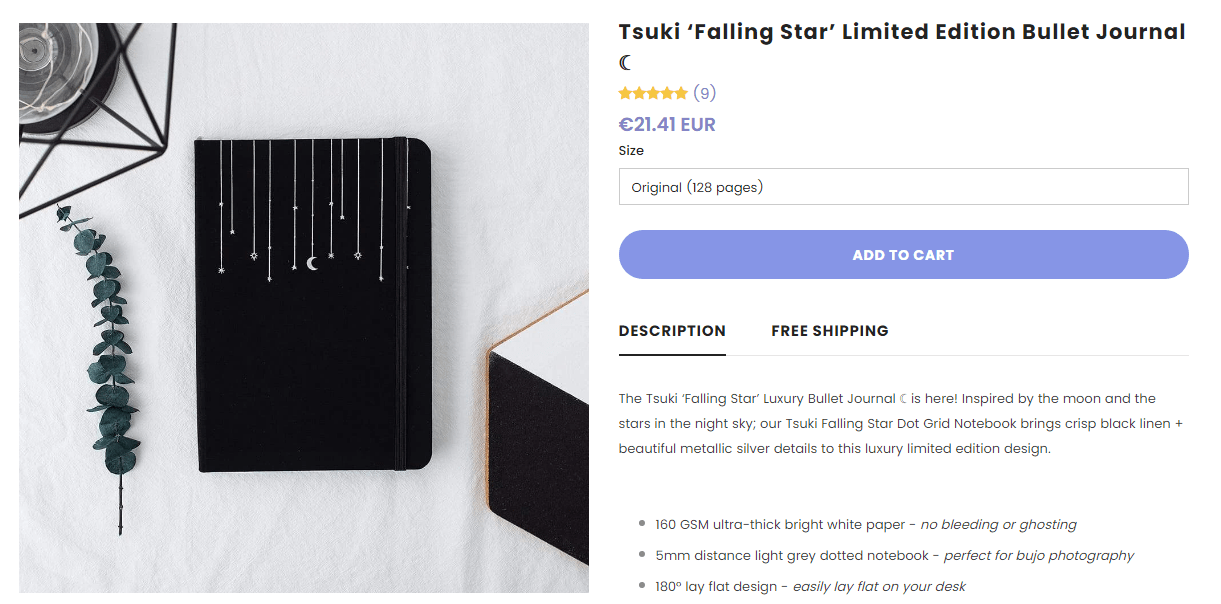 Unboxing a notebook from Notebook Therapy is a relaxing experience in itself. The box is made up of heavier cardboard inlaid with gold ink, reinforcing the notion of quality before you even open it. Inside, maintaining the minimalist design, is simple soft tissue paper meant to keep the product free of dust and present the notebook once opened.
Notebook Therapy maintains its calming branding on the product's box, including a small gold flower-shaped paperclip as a freebie with the notebook. This freebie, as mentioned, is a useful delight to someone purchasing your product as it adds value to the customer's overall experience.
3. Emma and Ashe
Emma and Ashe is an Etsy store that sells apparel for new moms and their newborns. From minimalist design to a focus on the comfort and ease-of-use moms need, their products make great baby shower gifts.
Emma and Ashe are a great example that you don't need to be a large store to create a great unboxing experience. While their products are shipped in an eco- and budget-friendly, pink bubble envelope, they maintain their girlish whimsy with soft tissue paper and some delicate twine to make the package look like an unwrappable gift.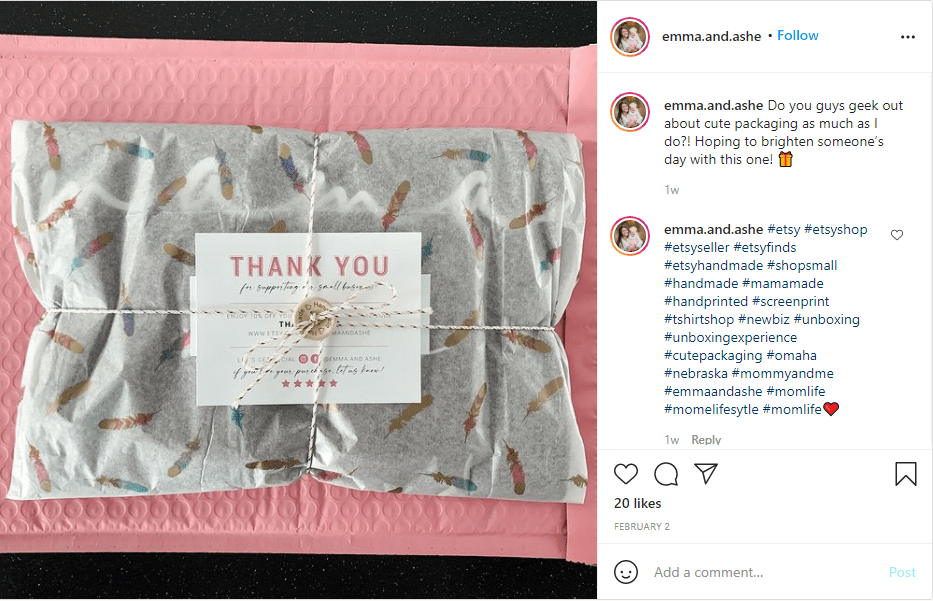 What's interesting about this package that the owner of Emma and Ashe made is that she can't wait to make someone's day with the cute packaging. That simple attention to detail is something that will stick out among a sea of dull cardboard packaging in a customer's mind. As long as your intent to "wow" is there, a great unboxing experience is possible regardless of the size of your store.
#4. ModKat
ModKat is a company that offers modern, sleek litter boxes for cat owners that want a better, functional litter box that doesn't look like a litter box. True, a litter box might be an eye-sore in a home that's otherwise well-designed, but for those who love their furry friends, it's a necessary evil.
While litter boxes aren't the most glamorous product, ModKat makes them attractive. Also, they go out of their way to respond to a cat-owner's needs with their unboxing experience. Here's how: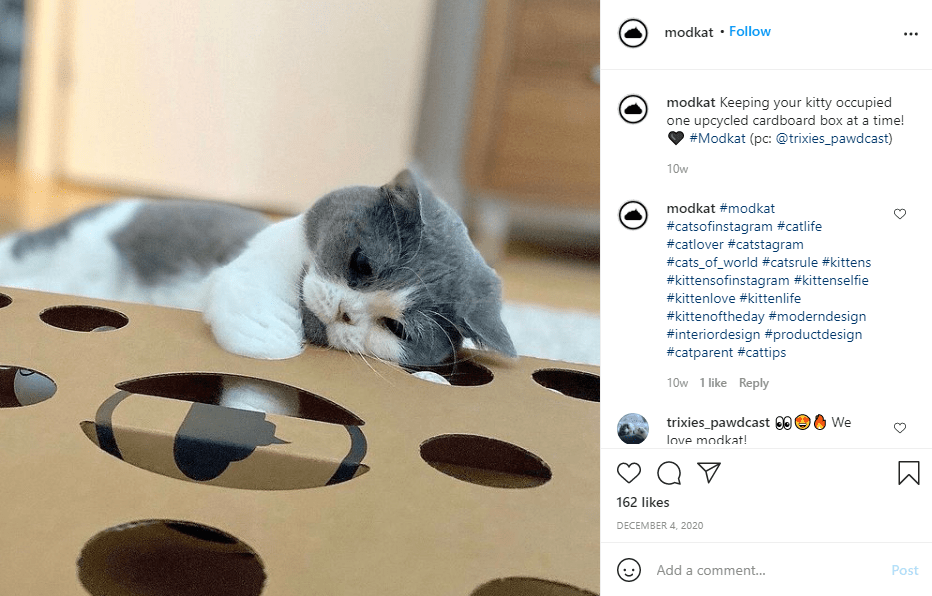 In each ModKat litter box purchase, there's a box holding the accessories. Inside, there's a tiny ping pong ball included. The box itself has perforated holes all over it, meaning you're a few seconds away from an impromptu cat toy that will keep your cat entertained (read: distracted) while you set up the new litter box.
This shows that ModKat actually knows cats and cat-owners well enough to understand that opening any new package is going to be a process. Cat-owners will be grateful for the welcome respite from their personal package-inspection brigade while they get the new box in place.
This simple attention to detail shows ModKat's customers that they care enough about their experience with their product to include a small free item that makes their lives just a little easier.
Unwrapping It All
There are several ways to show your customers you care with your unboxing experience. Whether you focus on creating a luxe experience, use your packaging to remind your customers of when they were kids, or to tell your customers more about your brand story, your unboxing experience is what transfers that customer experience from the digital space to the tangible space.
It doesn't take a lot to create a great, shareworthy unboxing experience. By putting just a bit of thought into how your customer feels when opening their package, you can create an unrivaled unboxing experience that will make you stand out from the crowd.
Ready to get serious about perfecting your customer journey? Try Omnisend free for 14 days!
START YOUR FREE TRIAL
related features
Want more sales?
Omnisend has everything you need to succeed.
Start free now
No Credit Card needed.