Drive sales on autopilot with ecommerce-focused features
See Features
Reading Time:
7
minutes
These days, powerful marketing automation is common practice for ecommerce stores. In fact, a whopping 75% of companies have at least one marketing automation tool at their disposal. But despite this, many aren't making the most out of their automation solution(s).
Interestingly, 16% of marketers admit that creating quality automations is their biggest challenge. It's no secret that seamless WooCommerce marketing automation can drastically improve your ROI.
So, in this article, we'll discuss fast and easy tactics you can start implementing today to help achieve precisely that, including one of the best WooCommerce plugins to use.
1. Use multiple channels for your marketing automations: email, SMS, and push notifications
An impressive 72% of consumers prefer interacting with brands through multiple channels before making a purchase. As such, if you're not already using WooCommerce marketing automation to facilitate omnichannel marketing, you need to start now — it's a game-changer.
Here's why:
When consumers can contact and engage with you through various channels, you increase brand awareness and further your reach.
Omnichannel communication empowers you to connect with customers in ways (and times) that are more likely to prompt engagement.
The purchase rate for omnichannel campaigns is a whopping 287% higher than single-channel campaigns.
So, how can you use WooCommerce marketing automation to make this happen?
When you integrate the Omnisend plugin with your WooCommerce store, you can start harnessing the power of omnichannel marketing and communication. You can use the plugin to create and launch automated email, SMS, web push notifications, and retargeting campaigns on social media platforms.
With just a few clicks, you can decide which channels you use to interact with your audience. But, best of all, you can modify your approach depending on which platform you're using to engage your following — which works wonders for boosting conversions.
You'll also be amazed at the impact this has on your customer retention rates. Companies that offer an effective omnichannel marketing strategy can retain as many as 89% of their customers!
Boost your WooCommerce store's revenue by up to 85% using our email marketing plugin.
LEARN THE SECRET NOW
Here's a quick example of how one brand puts Omnisend's omnichannel marketing into practice:
INGLOT Cosmetics is a world-renowned cosmetics brand with products in over 800 retail locations globally. Having outgrown Mailchimp, they needed a marketing platform that would deliver value to their large and diverse markets, integrating with their POS data to grow ecommerce sales.
By utilizing an omnichannel marketing strategy (Email, SMS, Push) they saw enormous lifts in revenue compared to their previous platform: their SMS with email cart abandonment messages now earn a combined 2,130% lift in revenue per message compared to their promotional emails, while the abandoned push messages earn a monstrous 4,798% lift in revenue per message. For the entire series, conversion rates experience a 117% increase over email-only promotions.
INGLOT praised Omnisend's fully integrated nature:
It was a huge asset to have a platform that has as many tools as possible. If possible, we do prefer to stay on one platform and work with one database that's connected to our store resources, instead of having multiple platforms and syncing one to another.

Marcin Bielen, President of INGLOT Cosmetics Canada
2. Use pre-built workflows to quickly create automations
Two of the most common pre-built workflows in WooCommerce marketing automation are:
… And with good reason: they're two of the most effective ways to boost sales and engage customers with your brand.
Why? Because you're communicating with customers during the most crucial points of their buying journey — the beginning and the end.
Let's take abandoned cart emails, for example. Forty-one different studies found that 70% of carts are abandoned. Recovering even a small percentage of these lost sales can significantly increase revenue. With 30% open rates and 25% conversion rates, cart abandonment messages are too important to ignore. Automating an email and SMS series of messages can bring them back to complete the purchase—making a massive difference to your bottom line.
Omnisend makes creating automated workflows easy. Here you can find a lot of pre-built workflows that you can enable without much editing. If you want custom workflows, you can use its drag-and-drop composer and email templates to design a custom workflow within minutes. The Omnisend plugin's advanced capabilities enable you to send follow-up messages at the times when customers are most likely to engage with you.
Check out the image below as a good example of one of Omnisend's automation workflows: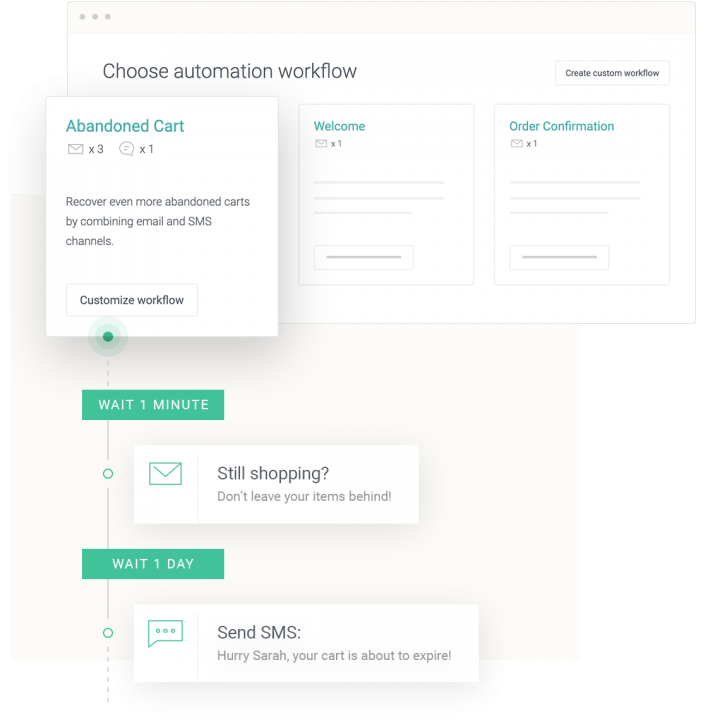 3. Use WooCommerce marketing automation to tailor your messaging
The way you interact with different customers will vary. The messaging you use to communicate with a first-time customer would be different from a die-hard fan. Tailoring your content to meet your audience's needs is all about providing the right information to the right customer at the right time — in a way that appeals to them. There's no doubt that this is the winning formula for strengthening customer relationships.
The bottom line is that personalization is key. But, don't take our word for it; here are a few stats that illustrate what we're saying:
Omnisend makes harnessing WooCommerce marketing automation to tailor your messaging easy — most notably, to segment your customers based on their behavior and craft special offers on specific products.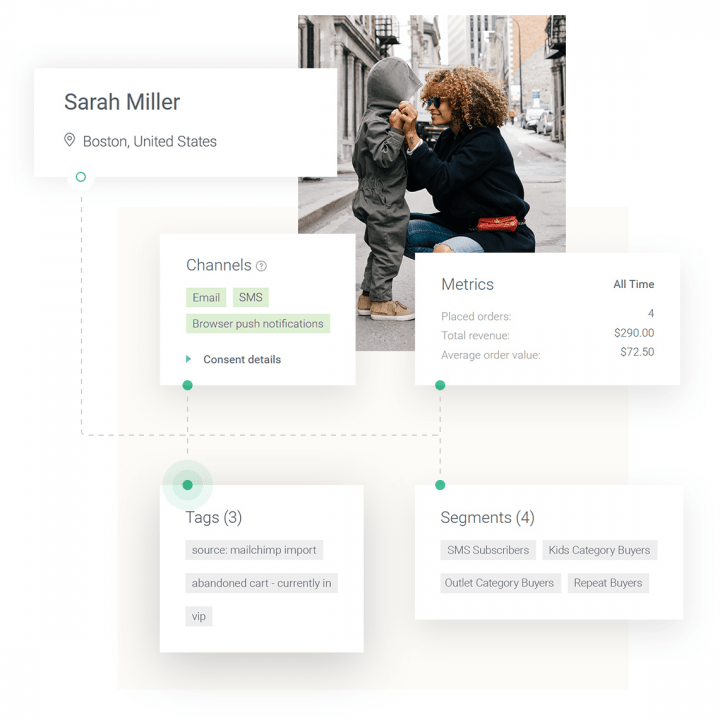 Here are a few examples of how you could modify your messaging to engage with different kinds of customers:
A new email subscriber: If someone's engaging with your brand for the first time, send them an automated welcome and thank you email. Perhaps you could even offer them a first-time-buyer discount to get the ball rolling.
A recent customer: Cross-sell customers by sending an automated email with product recommendations based on their previous purchase(s). This tactic can also work for upsells, creating an effortless way of boosting each customer's average order value.
Inactive customers: If one of your customers hasn't purchased anything after a pre-set period, you could send a 'we miss you' email with a discount to entice them to come back.
4. Couple WooCommerce marketing automations with your existing customer data
WooCommerce marketing automation, at its core, should be customer-centric. This means gathering customer information, data, and feedback and using this as the basis for any improvements you make to the buying experience.
Your customer experience should be seamless and straightforward — leaving shoppers with a smile on their faces.
If you've been a WooCommerce store owner for a while, there's a good chance you've already integrated your website with a variety of marketing solutions:
Loyalty and reward programs
Help desks
Customer review platforms
Shipment tracking services
… Just to name a few.
You'll probably find that the majority of integrations you're already using provide a wealth of customer data. With this info in hand, you're better positioned to segment your audience based on their consumer experiences, behavior, interests, etc. When you know who your consumers are and what they want, you can then tailor more meaningful messages to your audience (as discussed above).
To give you a better idea of the kind of data we're talking about, here's some of what your integrations might be able to offer:
Helpdesk platforms can inform you about dissatisfied customers and bring your attention to any common complaints. You can use this info to tighten your products/services, customer service, and address these issues in your marketing materials.
Review platforms highlight which customers value your products and brand the most and why.
Loyalty and reward programs make it easy to track how often customers shop with you. With information like this, you can reward your loyal customers (or VIPs) and try to coax less-engaged customers into interacting with your brand.
Let's take Omnisend's integration with Gorgias (an online helpdesk), for example. You can set tags in Gorgias to better segment your audience inside of Omnisend, enabling you to send more relevant and engaging content to your audience.

5. Start A/B testing with a WooCommerce marketing automation
One of the worst mistakes marketers make when it comes to marketing automation is assuming the workflow they initially designed is perfect from day one. The truth is, any automation can and should be improved. This is where A/B testing comes in.
It's imperative that ecommerce store owners split test different marketing channels, email content, and subject lines. It's the only way to empirically evaluate what it is about your workflows that generates the best results. Without this kind of insight, you can't really know what works on your customers, leaving you unable to optimize your marketing strategies to reap the most rewards.
How do you start A/B testing?
In short, plan your email strategy and list the email elements that impact your conversion rate, like subject line, email creative, call to action, your value-prop, etc. Then, create an alternate version of the message and run them simultaneously — having changed just one of the elements.
Then, you can observe the results and see which version drew in more conversions. This takes time but could offer a much greater ROI.
Here's an example:
Version A of an abandoned cart email might read, "Amazing new discounts at Basic Piece."
Version B might say, "Take 25% off our new collection."
After one week of sending out these messages to customers, you can compare the results.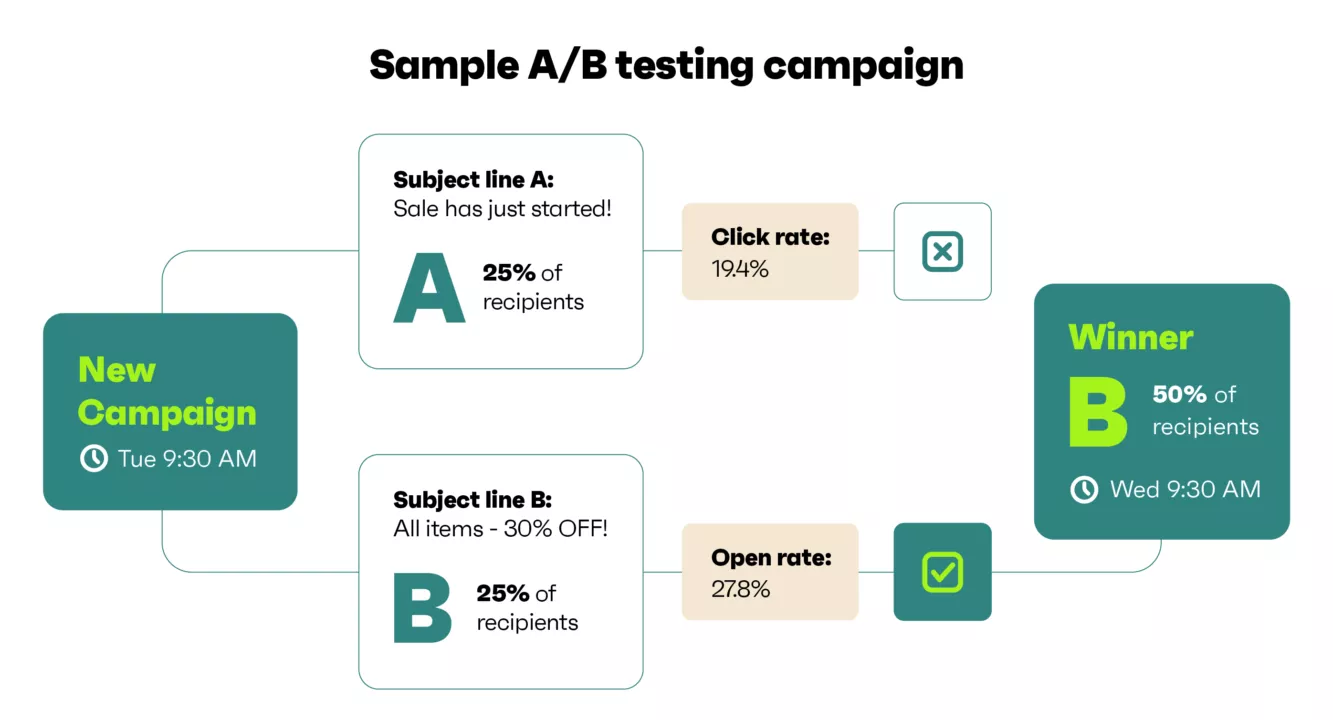 Omnisend allows you to A/B test your WooCommerce marketing automation workflows and run reports to dig deeper into your split test right from within the automation editor.
Start using these tactics to make the most out of your WooCommerce marketing automations
A high-quality WooCommerce marketing automation add-on will boast powerful features to help you create engaging workflows and increase sales.
Most notably, it'll enable you to:
Tailor your messaging to suit different sectors of your audience
Segment your subscribers
Utilize customer-centric data
A/B test your automated messages
Using Omnisend in conjunction with WordPress and WooCommerce, you can quickly implement all the tactics above for your online store.
related features
Want more sales?
Omnisend has everything you need to succeed.
Start free now
No Credit Card needed.