Drive sales on autopilot with ecommerce-focused features
See Features
Reading Time:
7
minutes
Contrary to popular belief, email marketing is much more than just the 'old, reliable' method to communicate with customers. In fact, it's one of the most effective ways to reach your audience and drive sales, all without emptying your pockets.
You might think that great email marketing comes with a hefty price tag, but we're here to bust that myth wide open. And let's not even get started on the increasingly expensive (and decreasingly ROI-friendly) pay-per-click advertising.
It's high time you found the best WooCommerce email marketing plugin for your business. One that delivers real results and doesn't leave you hanging when you need support.
That's why today, we'll look at the 9 best email marketing plugins you can find on WooCommerce, including their main features, pricing, and everything you need to know to make a decision.
#1 Omnisend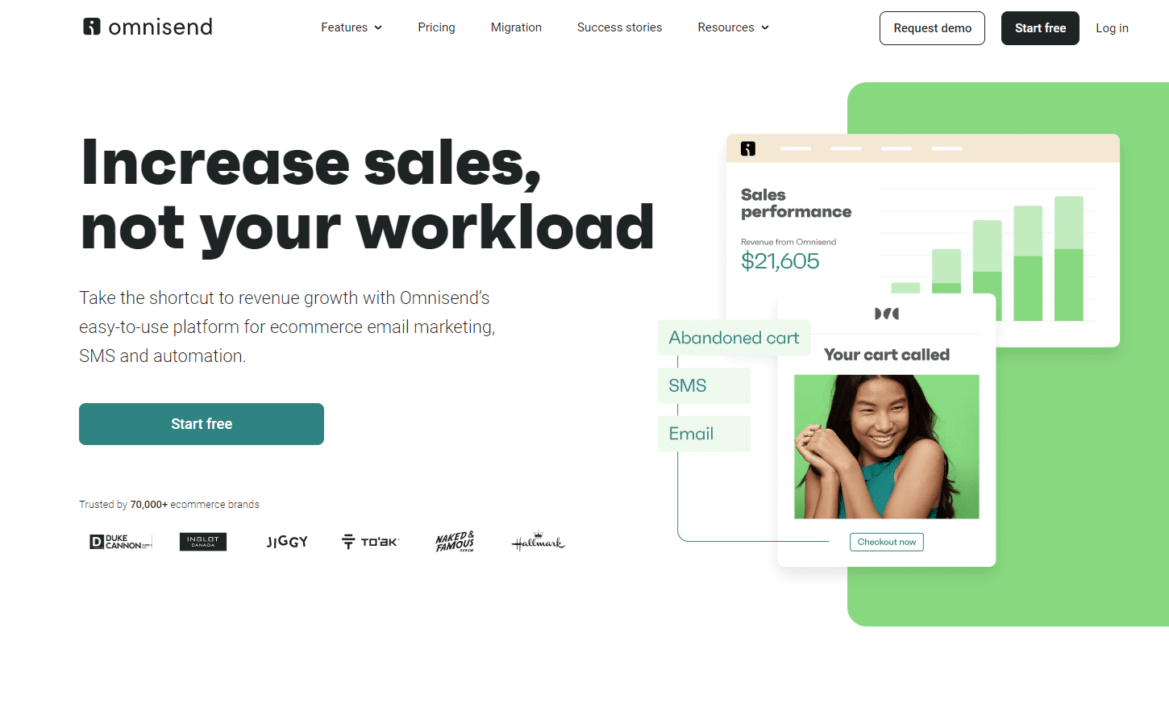 One of the top WooCommerce email marketing plugins is Omnisend, an ecommerce-specific platform that helps merchants send relevant messages via email, SMS and push notifications.
Building emails, popups and SMS messages with Omnisend is pretty easy, and it has intuitive builders and pre-built templates to help you get started faster. However, perhaps the best—and most profitable—feature is the automation workflow.
This also comes with pre-built templates, and the workflow lets you set up some trigger rules which will automatically send messages to your customers. So if a customer abandoned their cart, or signed up for your newsletter, they'll get your messages automatically.
Even better, Omnisend has a direct, one-click integration for WooCommerce stores, meaning you can get it started on your store in no time. (And, it's all for free.)
Key features:
Pricing:
Omnisend proves that you don't have to pay a fortune for a top email marketing platform.
Let's start with the incredibly generous free plan that lets you test out all of the features on the platform. This includes automation, segmentation, the library of pre-built templates and signup forms, reporting, and so much more. You can send up to 500 emails per month, with a max of 250 contacts. You'll even get free SMS credits to play around with.
When it comes to paid plans, Omnisend doesn't disappoint, either. Premium plans start from $16/month, and you'll get access to unlimited push notifications, and higher limits, plus a dedicated Customer Success Manager for as low as $400 a month. In fact, at scale, Omnisend can cost up to 40% less than comparable email marketing platforms.
Find out more about Omnisend pricing here.
Boost your WooCommerce store's revenue by up to 85% using our email marketing plugin.
LEARN THE SECRET NOW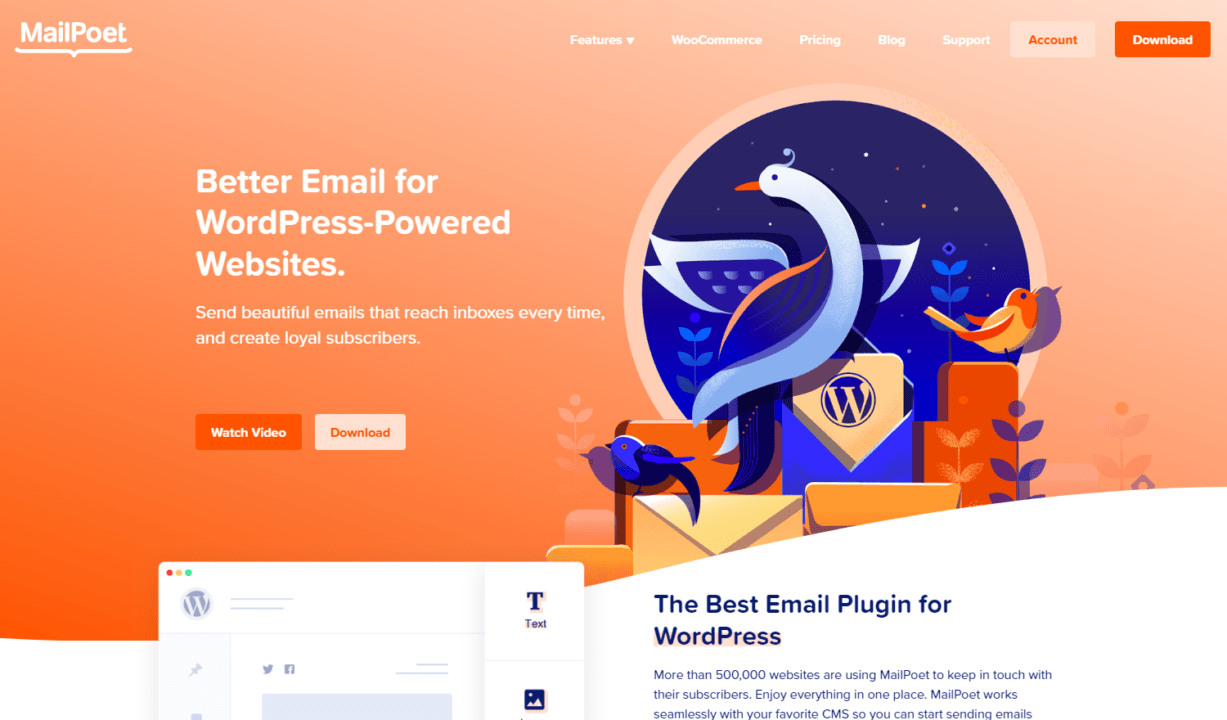 Mailpoet is another popular WooCommerce email marketing extension. The app makes it easy to set up automated emails so that you can recover abandoned carts, build lasting customer relationships, and more.
You can also use its easy-to-use email editor to send newsletters and promotional email campaigns to your subscribers.
However, depending on the plan you choose, you may have to supply your own host in order to send messages.
Key features:
Email newsletters
Welcome and abandoned cart email automation
WordPress email templates
Signup forms
Segmentation
Pricing:
MailPoet has a generous free plan that allows you to send to up to 1,000 subscribers. But you'll have to set up your own sending service (or rely on your host) to send emails. Paid plans start from $8/month.
Take a look at the best Mailpoet alternatives.
Privy is a WooCommerce email marketing plugin that is best suited for beginning or smaller ecommerce stores. They have a good amount of email templates and signup forms, and now also allows for SMS or text message marketing.
Privy also offers basic email automation, including welcome, order follow-up, abandoned cart emails, and more..
Key features:
Unlimited email sends on paid plans
Unlimited popups for all plans
Free shipping bar notifications
A/B testing for multiple email campaigns
Audience segmentation and targeting rules
Basic email automation workflows
Pricing:
Privy has a free plan for up to 100 billable contacts per month. It provides unlimited popups and free shipping bar displays. However, it doesn't provide any automation on the free plan. Paid plans start from $15/month and allow for more email marketing features.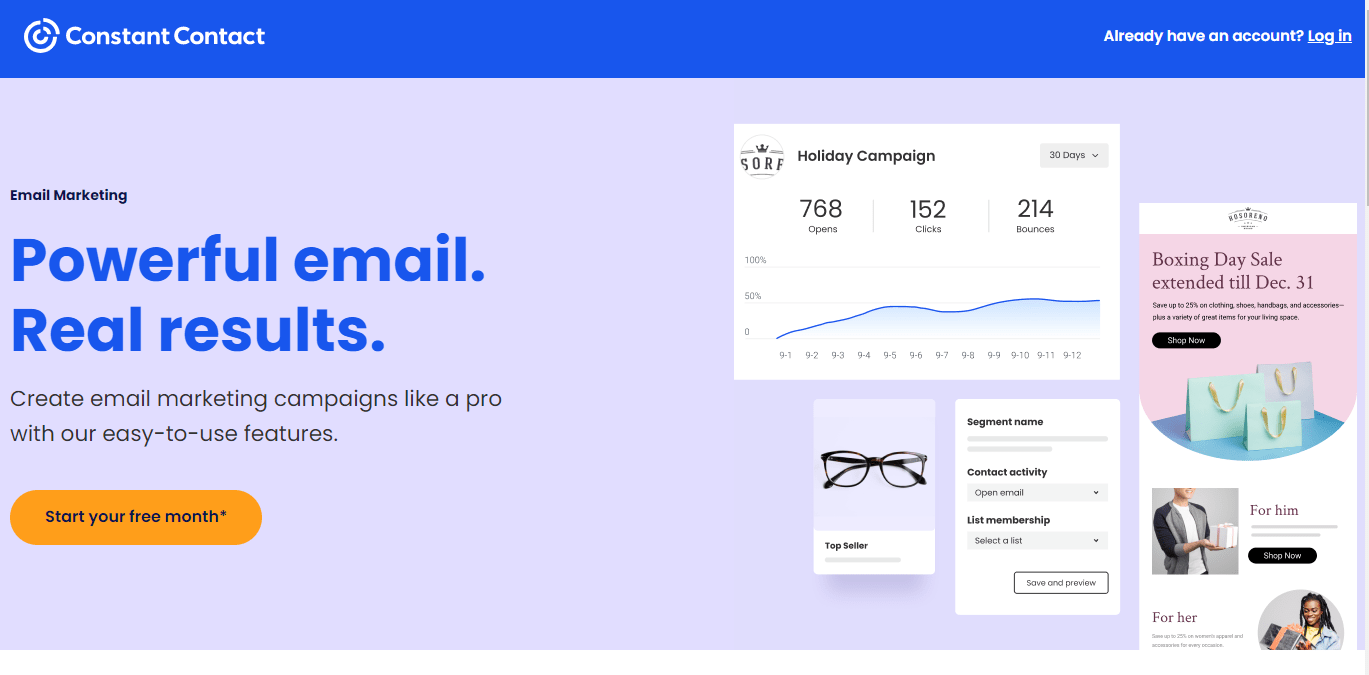 Constant Contact is one of the older email marketing platforms in the industry. In the many decades it's been around, it's evolved to include most of the tools needed by ecommerce merchants to engage customers across multiple channels.
This WooCommerce email marketing plugin provides a host of other good features, including the WooCommerce email automation that merchants are requiring. Beyond that, it also offers segmentation, reporting, and other email marketing essentials.
Key features:
Marketing automation features based on user behavior
Hundreds of professionally-designed email templates
Reporting to help you understand your contacts
Signup forms and landing pages
Surveys, polls and event RSVP
Pricing:
Unfortunately, Constant Contact doesn't offer a free plan. They do allow for a free trial, however. They have two paid plans, with Core starting at $9.99/month and Plus from $45/month. Core offers reporting, email marketing, list growth tools, and contact management. However, you won't get any automation, Google ads integration, SMS signup, etc., unless you switch to Plus.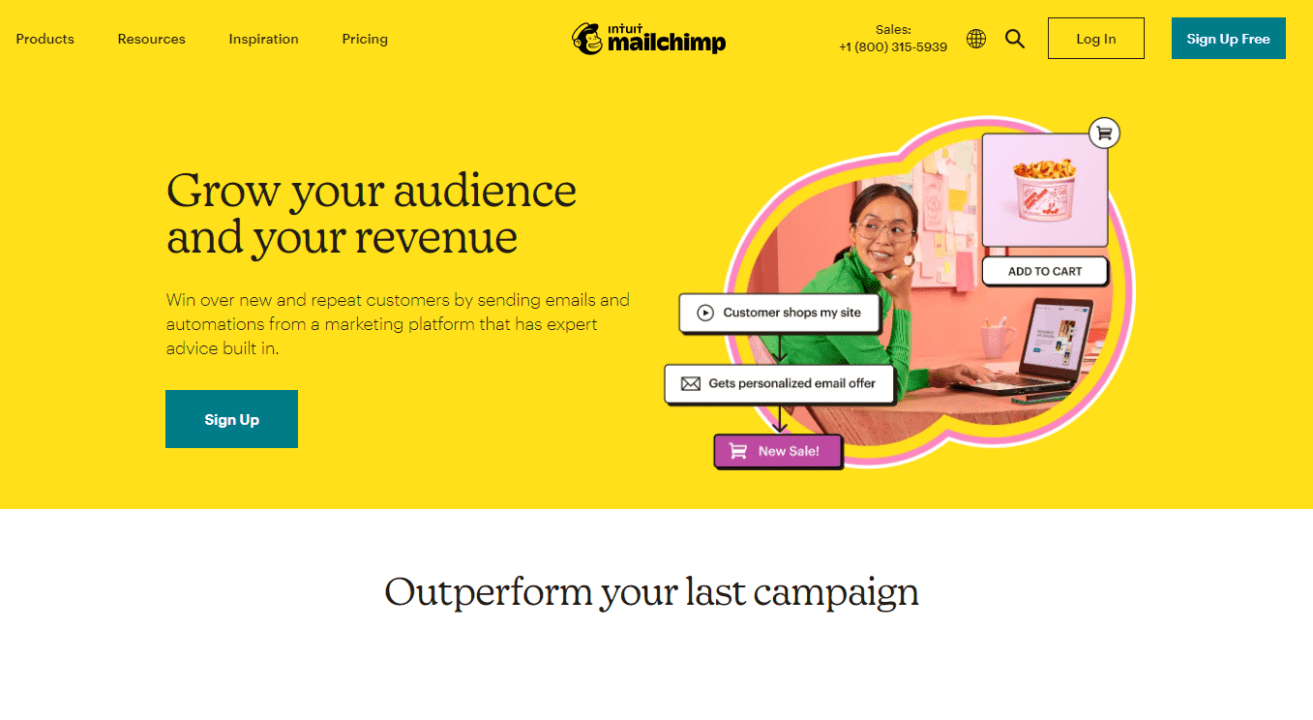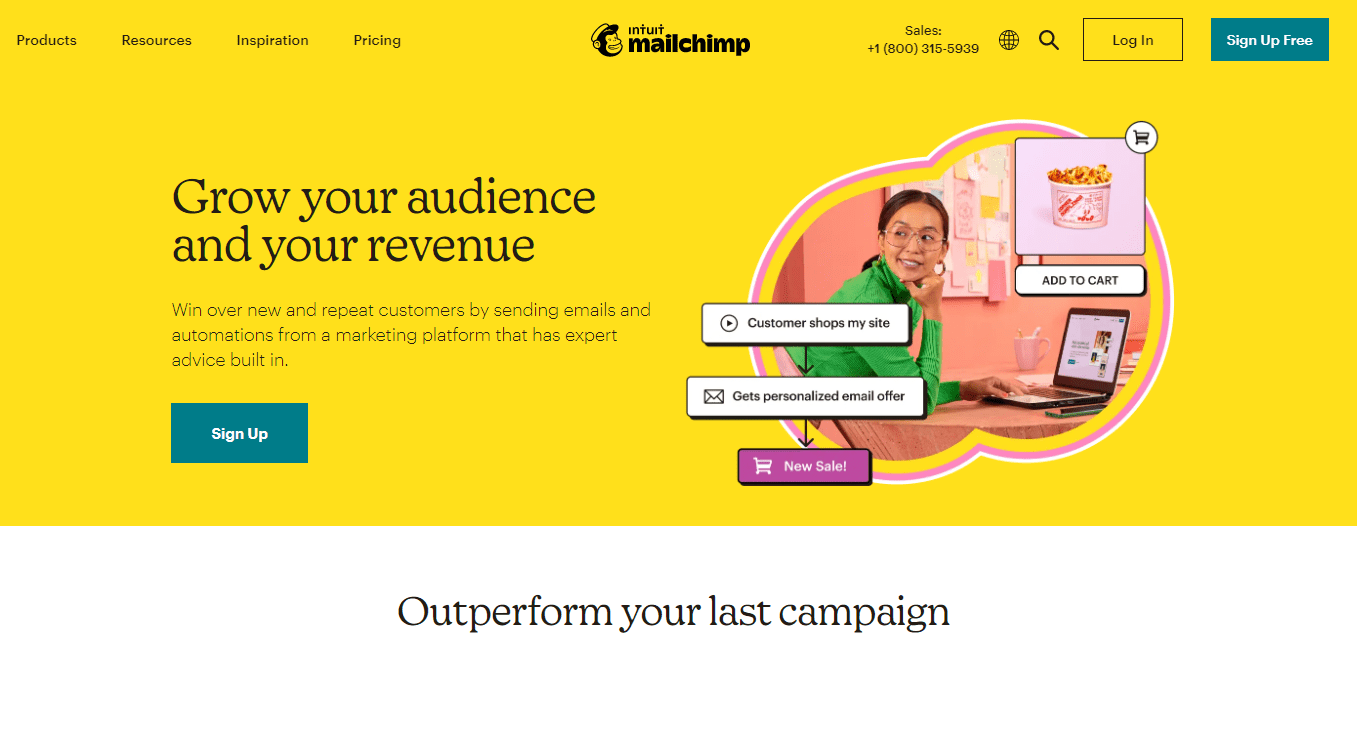 Mailchimp is one of the most popular general email marketing tools on the market. This WooCommerce emails plugin is not specifically dedicated to ecommerce though, allowing bloggers, influencers, and others to use its email extension.
They offer a good range of email marketing and automation that ecommerce merchants can find useful. This includes abandoned cart workflows, cross-selling, upselling and much more. And of course, its UI is pretty intuitive, making it one of the easiest WooCommerce email marketing tools to use.
Generate up to $6.30 per emailwith our WooCommerce email marketing plugin
LET'S GO!
Key features:
An easy-to-use interface perfect for novices and smaller ecommerce stores
Loads of ecommerce integrations
Multi-step journeys for omnichannel selling
Good amount of support for beginners
Wide variety of pre-built templates
Pricing:
Mailchimp offers a free plan that has unfortunately quite limited features. However, it does allow a maximum of 2,000 subscribers, so that provides some balance. It currently has three other paid plans, and they start from $11/month for more features like A/B testing, send time optimization, and more.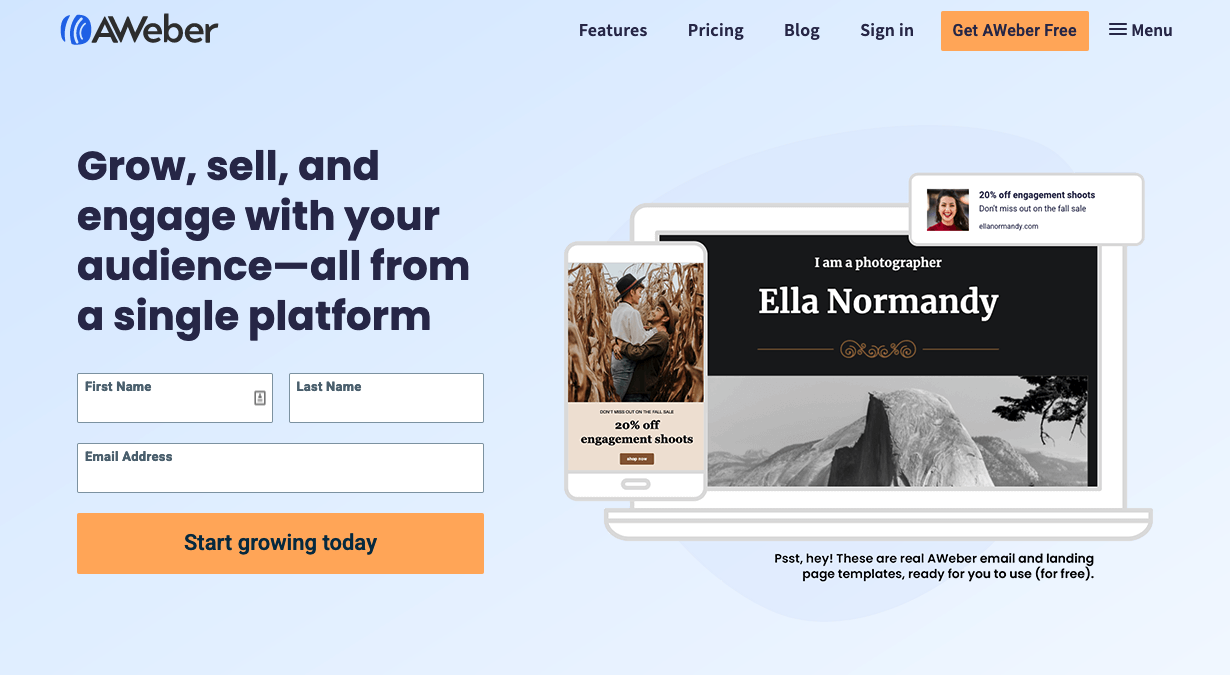 Aweber provides WooCommerce automated emails and other email marketing features reliably for its ecommerce merchants. One of its strongest selling points is its extensive library of pre-made email templates.
Aweber also offers the usual—but very important—standard features, such as audience segmentation, email testing, and automation workflows.
Key features:
700+ pre-made email templates to choose from
An easy-to-use email designer to quickly create emails
Flexible segmentation to help target customers based on behavior or location
Automation workflows to schedule your campaigns ahead of time
Pricing:
Aweber's pricing is pretty straightforward. It has a free plan for up to 500 email subscribers that comes with landing pages, email templates, push notifications, and more. Its Pro plan starts from $16/month and offers automation, reporting, split testing and more.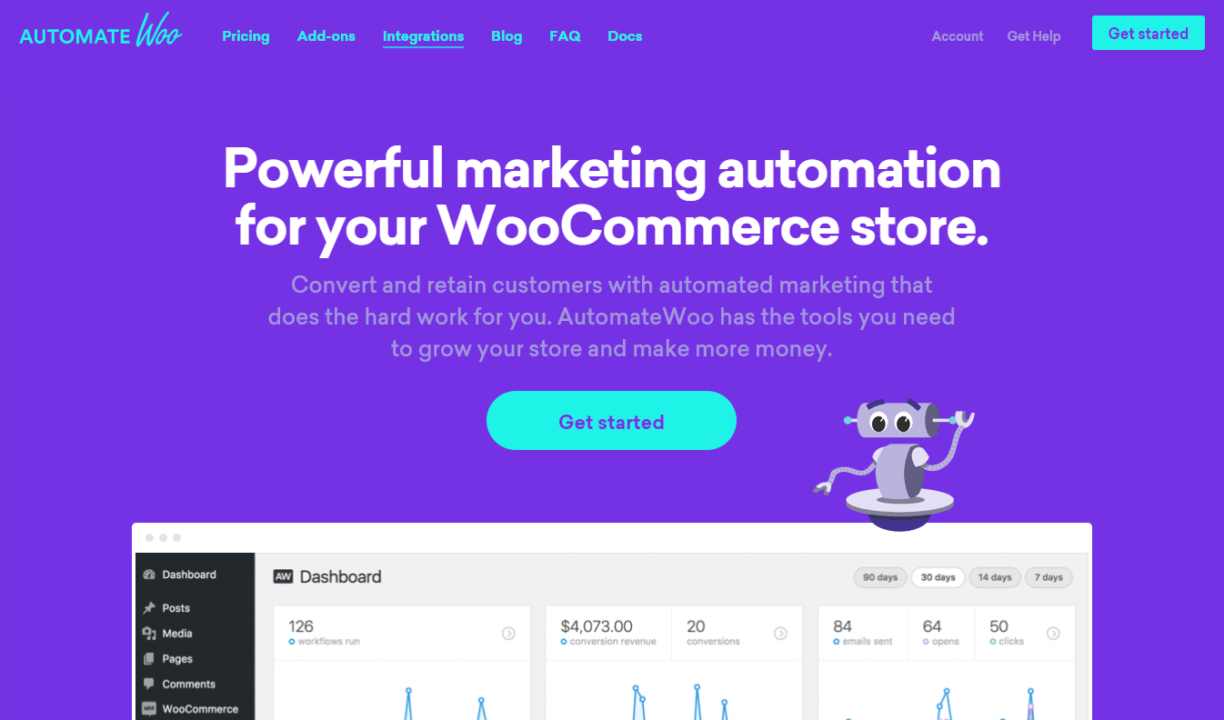 AutomateWoo is a standout WooCommerce emails plugin that allows ecommerce businesses on WordPress to convert and retain customers with automated marketing tools. They have a good variety of pre-built templates to make it easier to get started with email marketing.
They also offer good automation workflows, like abandoned cart, product reviews, suggestions/upsells, and more.
Key features:
A good variety of important automation workflows
Strong segmentation and personalization features
SMS notifications to reach more customers where they are
Strong customer loyalty tools
Pricing:
Unlike the other WooCommerce email marketing plugins on this list, AutomateWoo doesn't have a free plan, or even a free trial. What it does have, though, is a yearly offering for only $99/month, making it one of the cheapest paid options here.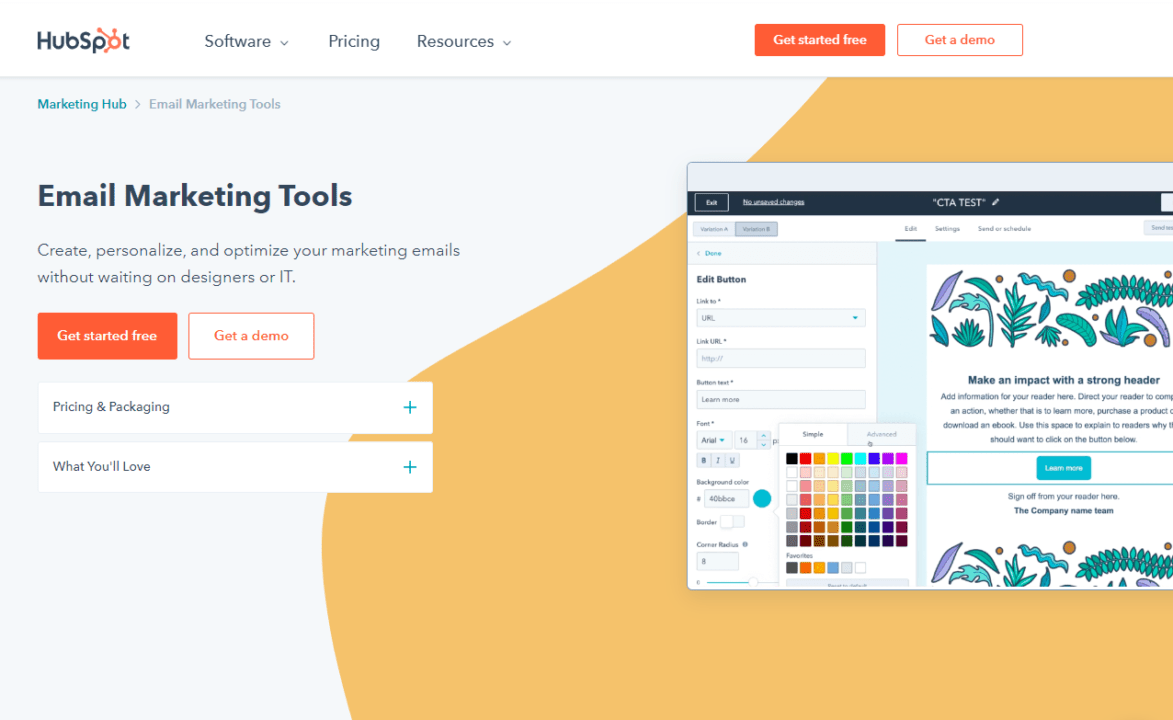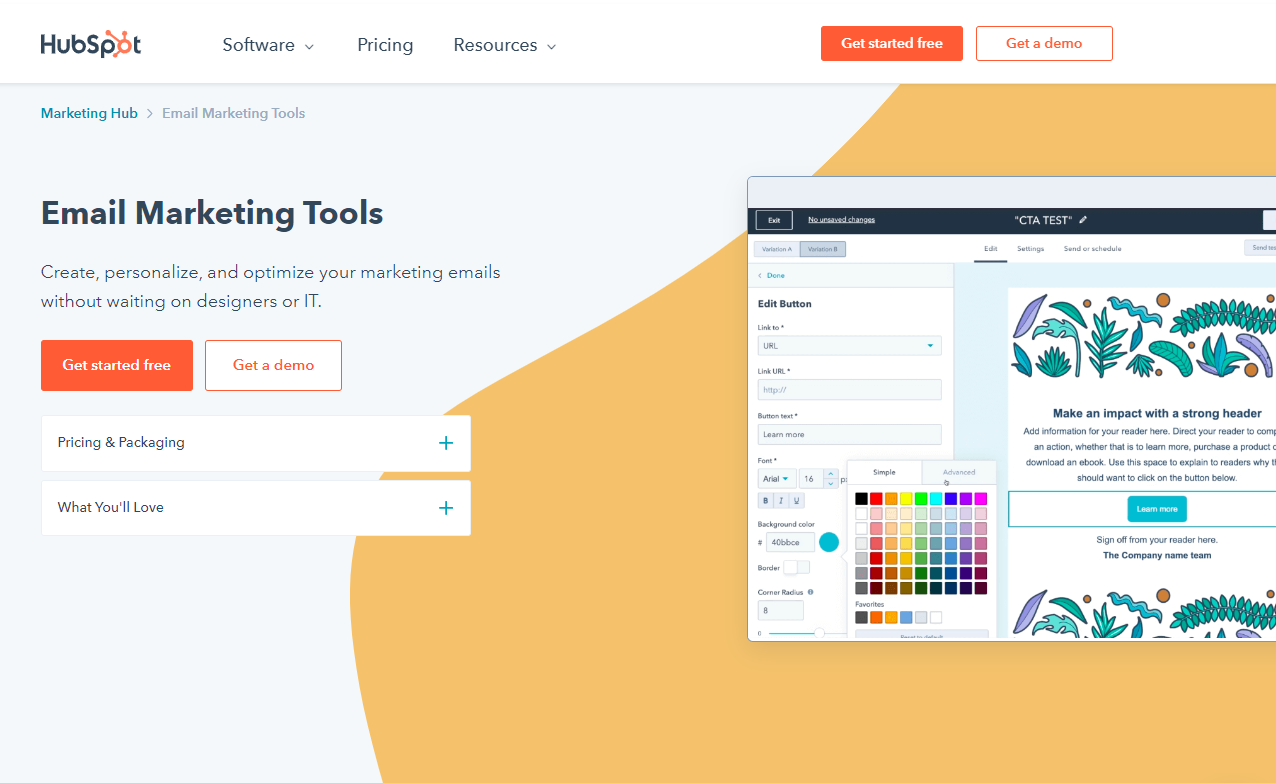 Hubspot is a swiss army knife of sales and marketing, offering many different tools. This includes a great CRM solution that can be used by bigger ecommerce businesses ready to move on to the next level of their marketing.
Because of its wide offerings, Hubspot allows ecommerce merchants to do project management, contract tracking, lead management, plus of course email marketing and free live chat.
Key features:
Landing page editor
A/B testing and analytics
Signup forms and popups
Basic email segmentation
Integration with CRM, chat, and chatbots
Pricing:
Hubspot is free to use by itself, for up to 2,000 emails/mo. This WooCommerce email marketing tool only charges for premium features, and that's mostly because the solution is part of a larger marketing platform. The Starter CRM (the cheapest marketing plan) starts at $50/mo for 1,000 contacts.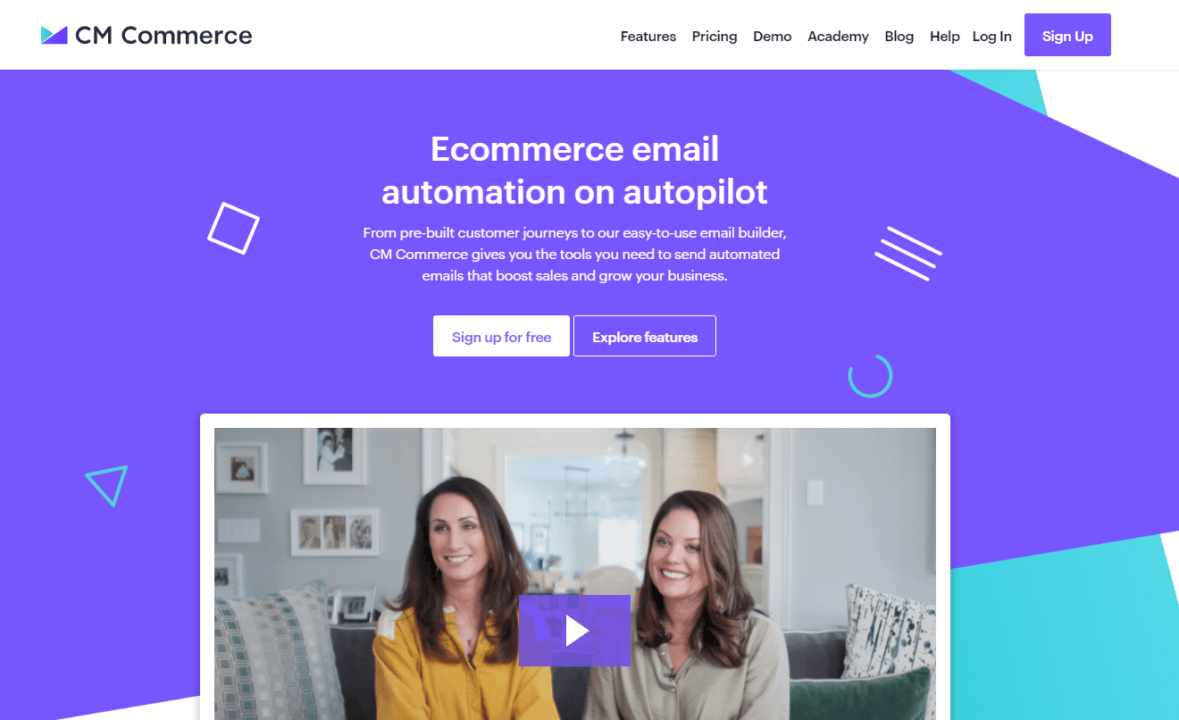 CM Commerce is an offering from Campaign Monitor. However, the product at its core used to be called Receiptful, then Conversio. As the name suggests, it's a conversion-focused WooCommerce email automation tool that can help ecommerce stores convert more of their customers.
It offers pre-built journeys, a drag-and-drop builder, review collections, popups and more.
Key features:
automated emails including not just abandoned cart, but also follow-up, receipts and newsletters
upsell and cross-sell features
product reviews and feedback
Pricing:
Unfortunately, CM Commerce doesn't offer any free plan, although all plans start with a free trial. Their paid plans start from $9/month, allowing up to 5,000 emails to 500 people. The basic plan, Starter, allows for most features, but if you want browse abandonment, customer feedback surveys, Facebook audience sync and more, you'll need to upgrade to higher plans.
Final thoughts
As always, determining what's best for your store may not be what's best for others, so it's important to play the field a bit.
Many of these WooCommerce email automation tools have free plans that will allow you to "try before you buy." Omnisend leads the pack since it makes all of its features available for free plan users. Even better, its one-click direct WooCommerce integration means you can start testing it almost immediately, with no commitment.
Generate up to $6.30 per email with our WooCommerce email marketing plugin
LET'S GO!
related features
Want more sales?
Omnisend has everything you need to succeed.
Start free now
No Credit Card needed.