Drive sales on autopilot with ecommerce-focused features
See Features
Reading Time:
8
minutes
The biggest sales of the year are often newsworthy, with both customers and merchants alike marking their calendars with big sales events.
Every year, bigger and bolder promotions, like Black Friday, Cyber Monday, and December sales take place. Each one orbits an occasion or time of year, providing the perfect storm of discounts, deals, and offers.
However, that doesn't always mean an increase in sales—some merchants may dread these sales events.
A lot of blood, sweat, and tears can go into planning around big sales. For many stores, their entire business can rely on these sales to make it through the year, which makes handling them incredibly stressful.
For those businesses, success is not an option. Whether it's a small promotion or a huge sales event, powerful automation tools make competing with larger stores much more feasible.
Stores embracing product analysis and harnessing SMS marketing can also weather these storms and ride them out triumphantly.
However, even these stores might still need help. That's why we'll examine and explore the biggest sales of the year—and how to compete, survive, and thrive with them.
How to compete with big sales
Most months have their own unique mega sales. From Black Friday in the US to Boxing Day in the UK, you'll find some reason or another to throw a sale. Even smaller sales, like Easter-orientated sales, still take a huge part of a month's marketing pie.
So, what can smaller businesses or ecommerce stores do? Ultimately, the answer is simple—optimize your workflows and rely on your niche.
This is good advice for any time of the year in the world of ecommerce. However, let's examine when each niche works best throughout the year.
Month by month, let's explore the untapped potential for specific industries, stores, or even products alone.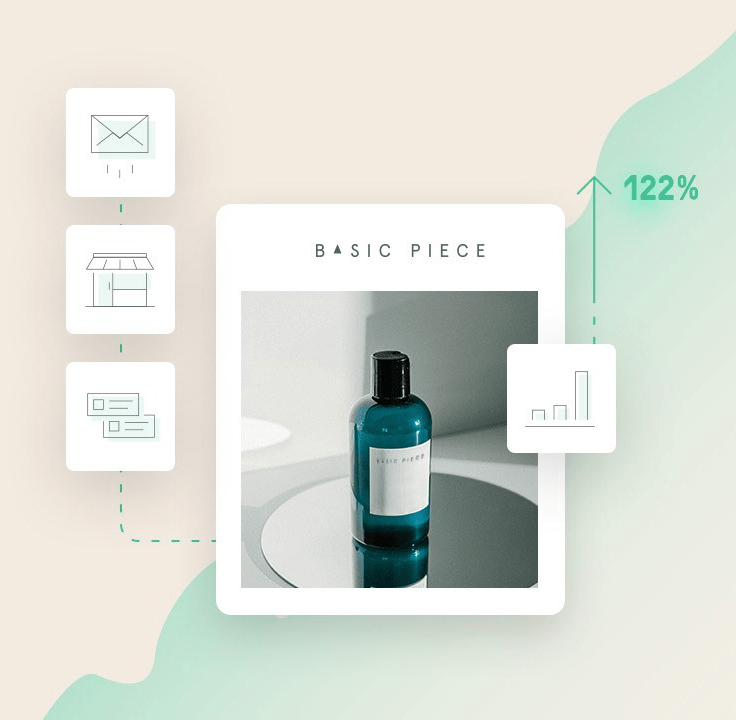 The biggest sales niches to embrace throughout the year
Customer behavior waxes and wanes. No one can completely predict what people will want or when, but overall, wise merchants can often make educated guesses.
Year to year, sales and growth rates can change for different businesses and industries. However, month by month, they can also fluctuate wildly.
You're not expected to jump on each niche as the year goes by. However, the following can serve as an easy way to focus on sales—if they fall into your niche's wheelhouse, of course.
January
Cleaning: Spring Cleaning will soon be on people's minds—if it isn't already. Capitalize on the need to clean up after an indulgent Christmas or messy New Year's Eve party. These occasions are commonplace, so setting a campaign around the need for post-party clean-ups should resonate with many.

Home: Similar to cleaning a home, many will look to pursue a 'new year, new me' mindset and shake things up. This opens the door to customers looking for the likes of new bedding and sheets.

Offer discounts or promotions around making small changes to a home that add up to a refreshing new look for the new year.

Exercise: It's a little cliche, but half of New Year's resolutions center on more exercise and healthier lifestyles. This makes January the best opportunity to promote fitness equipment, gym clothing, anything that relates to exercise.

Knowing that this is a cliche can help your campaign. It's likely that you'll find messaging that hits home with virtually half of any audience you reach out to.
February
Jewelry & gifts: With Valentine's Day dominating February, customers will start looking for romantic gifts. This includes jewelry, flowers, chocolates, and so on. However, there's also plenty of chances for plenty of these gifts to apply in a non-romantic manner.

Campaigns can be built around trying to avoid events that are as emotionally charged as Valentine's Day, yet still include the same products. Shifting the focus to friendship and family might open up more sales to potential buyers.

Winter items: With Winter winding down, demand for winter-based products will naturally wind down.

However, some customers may be acutely aware of this, and thus be looking for good offers, deals, and discounts. These can help move any of the supply that lingers in warehouses from the colder months.
March
Stationary/Software: With taxes due in April, many customers will be engaging in a mad dash to get their taxes in order. Specialist niches, like accounting software, will find it easy to promote their products.

However, the same applies to software that helps with time management and organization. There are also the 'old souls' who prefer pen & paper too. This means that stationery stores will also have plenty of opportunities for sales events.

Outdoor leisure: Spring brings better weather than winter, which naturally conjures thoughts of the summer. With summer in mind, many will start to long for bright days, outdoor activities, and many, many BBQs.

Capitalize on the optimism for events around the corner by starting sales for items like this. The likes of grilling equipment and outdoor sports gear will pick up a lot of interest during summer, so offer customers an early chance at great deals.
April
Travel: Travel will soon be at the forefront of customers' minds. This covers teachers primed for when school's out, travelers geared up for summer, and everything in between.

Home & higher education: Around April, the next generation of college students will begin looking towards dorm life and higher education. This means that everything about college life is fair game for promotions.

This ranges from the likes of laptops and hand-vacuum cleaners to kitchen essentials and bedding. Channel it towards being prepared or being excited and the promotions create themselves.
May
Mattresses: With new models arriving, start the push to get rid of stock. However, there are many different angles to appeal to customers.

Special mattresses that are cooling for sleepers work for the upcoming warmer months. Memory foam mattresses can gear towards those with back problems. Combining the stock and the different uses opens plenty of doors for different campaigns.

Kitchen appliances: As the Wedding season begins stirring, the ideal wedding gifts of kitchen appliances will become more and more appealing to customers. This alone is a good angle for promotions, but it also works well with spring.

New seasons, fresh beginnings—all excellent excuses to revitalize a kitchen with coffee machines and the likes.
June
Entertainment: Summer blockbusters may not be as common anymore, but the middle of the year is still synonymous with entertainment. This applies to all types of entertainment and can cater to both worlds.

For example, for indoor entertainment, run a sale on movies and video games. Or with outdoor entertainment, provide promotions on sporting equipment and garden toys.

Clothing: Both light fitting, gym gear, and even lingerie are often part of large sales around June. With people moving their workouts more indoors to escape the summer heat, workout gear can enjoy a healthy boost in sales.

Avoiding big sales can be helpful, but as aforementioned, working alongside them has its benefits. That's why lingerie can enjoy healthy sales, thanks to Victoria's Secret's semi-annual sales.
July
4th of July: In America, July is all about independence. There are very few niches that this can't apply to, so take the opportunity to kick off a patriotic promotion. As long as it's red, white, and blue, you can promote sporting goods, food & drink, and clothing.

Back to School: Usually, sales and promotions offer lower prices for school-based products closer to the beginning of the school year. However, some might be thinking of school equipment, like stationary and even laptops, early.

Cater to these and help avoid a big rush by promoting back to school early.
August
Personal electronics: Small, personal electronics like game consoles are usually the most desired products in Black Friday Sales. This means that niches that offer electronics like this, ebooks, and hair-based products know that there's an audience eagerly awaiting sales.

Strike before the big names and offer promotions months in advance to scoop up these customers.

Swimsuits & outdoor products: With summer winding down, so too will general interest in outdoor exclusive products like swimsuits. Make an event of the summer ending by promoting these products, angling to capture the end of the season.

Alternatively, offer these products as super early options for next year's summer.
September
Large appliances: September often sees new models of large appliances, making it the perfect opportunity to sell older stock. Running sales that center on older models helps achieve two goals.

First, they remove older stock that's not as desirable as new models. Second, they offer a contrast to highlight the new models. Consider running a promotion in order to capitalize on both of these.

Wine & spirits: The upcoming month of October is generally considered the fall wine harvest season. This means that many stores will aim to clear their inventory.

By promoting wines earlier, you can make an event around this harvest season. Naturally, this opens the door for generally selling spirits too.
October
Candy & treats: For some, October isn't so much as a month as it is a collection of days leading up to Halloween. This ranges from audiences both old and young, so preparing for the occasion means that many niches will have potential sales events.

All ages appreciate Halloween for the candy & treats. However, even food & drinks stores that aren't targeting trick-or-treaters can happily promote around this occasion.

Toys: Halloween may be just around the corner, but the next block over is Christmas' turf. This means that parents will undoubtedly be thinking of what to stuff in stockings and put under the tree.

Promotions that reward early thinking like this can easily appeal to customers. Drive home the message of avoiding the crowds and getting Christmas sorted sooner.
November & December:
Everything: It's difficult for any niche to truly claim November or December because holiday promotions let anything enjoy better sales.

However, you should always have a battle plan in mind and be fully prepared for the holiday season—no matter what your niche.
Hopefully, you've now got some new ideas for marketing with your niche throughout the year. Perhaps you've thought of ways to adapt your marketing towards the strengths of other niches. But these aren't the only ways to think outside the box.
Other ways to compete with sales events
Let's climb out of that pesky figurative box and explore some other ways to compete with huge sales.
Who said Christmas can't happen in July?
Never be afraid to get creative with your marketing. Emulate some of the biggest sales of the year, use the same techniques—but apply them to a different month.
Are your fall sales falling short of expectations? Pivot to the winter ones! Naturally, we're not expecting you to match the success of December sales.
However, it's hard to deny the novelty of an idea like this—and it doesn't need to apply to just Christmas.
You don't have to embrace the absurd though. Sometimes, the thought of a store trying to use
Halloween-themed campaigns in January might just be plain confusing. You have to consider your brand voice, your audience, and your products, after all.
However, this doesn't mean you can't adapt the lessons learned or the techniques from festive sales.
For example, if you opt to use a gift box-style email for Christmas campaigns, because Christmas and presents sync so well. But there's no reason you can't drop the Christmas theme and just use the gift boxes for standard campaigns.
Apply them to all of your campaigns and experiment with what made special, big sales and promotions so successful. See if they'll work without the holiday or event they're based on.
If you can't beat them, join them
Imitation isn't just the highest form of flattery—it's also incredibly effective when it comes to marketing.
This is why so many stores are starting to embrace big sales as their own. Black Friday started in a similar way. Now, Amazon's Prime Day is becoming a universal say for sales.
After all, even industry juggernauts like Walmart are adopting Prime Day.
You don't need to just embrace what titans of the industry are doing—you can look at what others in your own industry are doing. This way, you can directly act as competitors and offer customers an alternative.
Better yet, an alternative you can improve.
The same can also be said of the complete opposite—avoid these big events. This way, you can offer your customers an alternative before or after the promotion.
For example, before Prime Day your messaging can rely on 'beating the crowds'. On the other hand, after Prime Day, your messaging can reach out to those that 'lost out on the savings'.
Wrap up
There's a lot to learn from the year's biggest sales. Some are large enough to latch onto, others leave enough room for others to create their own sales.
Whether you can work with or around these sales, you should certainly not be afraid of them.
Engaging in promotions provides many benefits, more so than just more sales. However, it can be difficult to make the most out of these sales events—or even navigate the necessities of them.
This is where Omnisend steps in. By offering robust marketing automation, omnichannel marketing, and many other features, Omnisend can help you handle every issue you may encounter during these massive sales.
Get started with Omnisend today & drive sales on autopilot with pre-built automation workflows
Start Free Today
related features
Want more sales?
Omnisend has everything you need to succeed.
Start free now
No Credit Card needed.