The Highest Converting Subject Lines For Black Friday Campaigns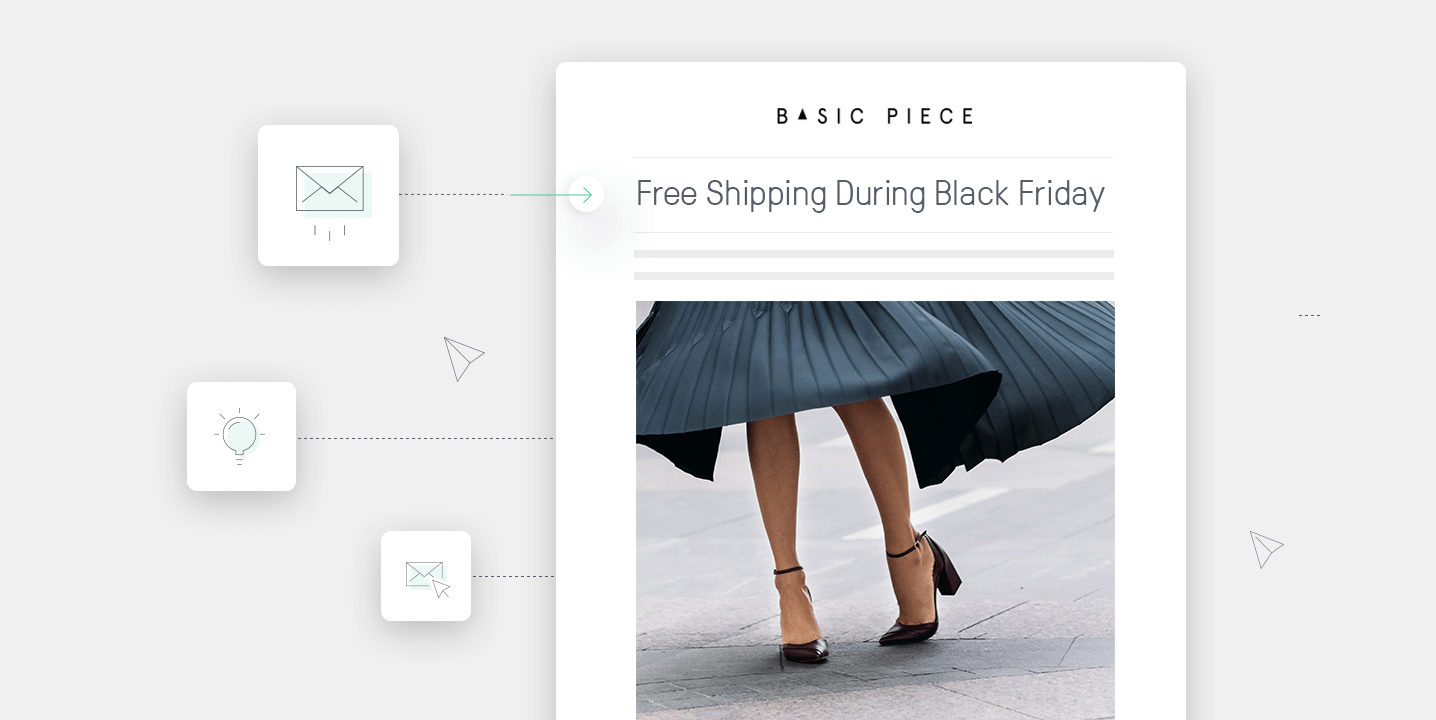 Reading Time:
6
minutes
The biggest shopping period of the year is fast approaching and you must have a good strategy in place for your Black Friday campaigns.
For high open and conversion rates, you need appealing subject lines. We looked through our customer data from last year to see which subject lines worked the best so you can use the same tips for your Black Friday campaigns.
But remember: you'll need to have the proper strategies to use these tactics. Read up on the proven techniques to use to create the best email subject lines.
We've already gone over some great tips on achieving success in Black Friday email campaigns and useful facts about Cyber Monday.
This time, we'll concentrate on the subject lines for the Black Friday campaigns: How you can stand out in customer inboxes, what worked last year and how to avoid going straight to the dreaded SPAM folder.
Whether the subject line is good or bad defines the open rate metric. According to recent Omnisend research, the average open rate in ecommerce is 18%.
However, several factors can impact campaign results significantly:
If your customers are aware of your emails and they are waiting for offers, you can expect better BFCM results. Your campaign results most probably will be better than the average rates mentioned below.
However, because of the flood of emails in their inboxes, the competition to capture your customer's attention will also increase dramatically. So don't be surprised if your open rates are a bit lower.
If you send emails to your customers only once per year – during BFCM weekend, the results tend to be lower than the average rates mentioned in the following paragraphs.
Click here to get your FREE copy of '515 High Converting Subject Lines for Any Campaign'
Insights into the subject lines of Black Friday campaigns from 2018
We analyzed more than 700 of our biggest clients and their campaigns over the period from Black Friday until Cyber Monday in 2018. From November 22 (the Thanksgiving day) until November 26, the average open rate of all emails was 12.2% and the click rate was 2.1%.
Digging deeper, I looked at the subject lines from a semiotic perspective (which analyzes the words used in these Black Friday campaigns). I counted the following 11 most popular words that merchants used and how they correlated with open and click rates:
The sign "%"
"Black Friday"
"OFF"
"Sale"
"Cyber Monday"
"Now"
"Free"
"Deals"
"Save"
"Free shipping"
"Get"
The most often discounts are "25% off" (1,5%), 30% off (1,1%), 50% off (0,6%).
The most popular terms
Of the 1,738 subject lines analyzed, the most common words or phrases were the percentage "%" (39,7%), "Black Friday" (33.8%), "OFF" (31.3%), "Sale" (18.8%), "Cyber Monday" (14,7%), and "Now" (8.2%).
Comparing with the last year, the percentage sign "%" won the first place and left the "Black Friday" behind.
Also, the "Cyber Monday" has become twice as popular as the previous year. Its frequency jumped from 7,8% to 14,7%. The rest positions remain quite the same.
However, "Cyber Monday" still concedes the first places to more popular words.
One probable reason for this is that many online shops will refer to the entire weekend (including Cyber Monday) as the Black Friday weekend.
We can see this in a quick look at Google Trends. Although the trend for the search term "Cyber Monday" has increased in the last few years, it is dwarfed by the popularity of the search term "Black Friday."

Open and click rates
Now, let's look at how they correlate with each other.
In the chart above, you can see that the term "Black Friday" and "%" were used most often, referring to discounts on those critical sales days.
Obviously, since consumers are waiting for mega sales on the BFCM weekend, it's only logical that merchants are giving them exactly what they want. That being said, it's also probable that most retailers are going to be using the same few terms to get their subscribers to open their emails.
We want to find out which terms will give you the best chance of getting great open and click rates.
So let's see what those metrics are compared to the terms that we're analyzing in these Black Friday campaigns.
As you can see, the top 5 terms with the highest open and click rates are:
"Deals": 13.6% open rate and 2.1% click rate
"Black Friday": 13% open rate and 2.5% click rate
"Sale": 12.8% open rate and 2.4% click rate
"Free": 12.2% open rate and 2% click rate
"Cyber Monday": 12% open rate and 2% click rate
You should always take these numbers with a grain of salt. Since a smaller number of subject lines contained the terms like "free" or "deals" and the significance of the open and click rates should be adjusted accordingly.
There are a few important takeaways we can gather from this data:
"Free" still works! While we've heard good and bad things about using the word "free" in email subject lines, it still holds power. Specifically, because subscribers are expecting great deals—and the greatest deal is a free deal—it would make sense that especially during the BFCM weekend, they'd be eager to click on those offers. However, the same grain of salt applies here: a very small percentage (7.6%) of the emails we analyzed here used the word "free."
When it comes to a significant number, we highly recommend you use the term "Black Friday" in your subject lines. After all, this data is not for exclusive terms, and it's best to use a combination of terms to get the best chances, something related to "Black Friday Sales" or "Sales this Black Friday."
"Off" and "%" also had good metrics and number of emails sent, and you can use those in combination with other terms here.
Remember, you should always set and meet your customers' expectations. For your Black Friday campaigns, people expect the most fantastic deals for the BFCM weekend.
Therefore, don't disappoint. They expect the terms "Black Friday," "Sale," "Off" and probably a % in there somewhere.
Give them what they want, and they'll open your emails. That's a rule we can probably use for all email campaigns, not just your Black Friday campaigns.
For that reason, you probably shouldn't introduce full-priced, new collections for this holiday shopping season because, really, who wants to pay full price when everything else is discounted? However, if you're going to offer discounts on those items, go ahead.
The best performing subject lines
The following examples are the best performing subject lines we saw for the BFCM weekend last year. All of these Black Friday campaigns were sent to at least 5,000 subscribers.
Note: for privacy, I've replaced the store name in the subject lines with "[store]"
#1 Subject line: Get our amazing deals now! – 25% OFF
Product: Apparel/Fashion
Open rate: 44.01%
#2 Subject line: 📣 Target Hot Black Friday Deals & Mor
Product: Deals online
Open rate: 36.05%
#3 Subject line: Get In Tune with Black Friday Deals
Product: Deals online
Open rate: 35.77%
#4 Subject line: 50% OFF ENTIRE STORE. BLACK FRIDAY SALE.
Product: Electronics
Open rate: 33.51%
#5 Subject line: It's Cyber Monday! Get a free Premium Travel Case
Product: Electronics
Open rate: 32.24%
#6 Subject line: GET READY FOR THE BIGGEST SALE [store] EVER HAD IN THE HISTORY
Product: Pet Fashion
Open rate: 27.03%
#7 Subject line: BLACK FRIDAY SALE – Buy one get 30% off your second pair!
Product: Shoe shop
Open rate: 26.47%
#8 Subject line: Black Friday Sale Starts NOW Get 25% Off Storewide!
Product: Fashion
Open rate: 22.09%
#9 Subject line: 👌 Buy two pounds of Biltong and get Droewors FREE
Product: Food
Open rate: 21.99%
#10 Subject line: TAKE 20% OFF PLANTS BLACK FRIDAY [store]
Product: Plants
Open rate: 21.74%
From these examples, some things to remember when writing your subject line:
None of our top subject lines have personalization (the customer's name). So it apparently isn't a necessity.
Seven merchants used the term "Black Friday" in their Black Friday campaigns. Words like "sale," "%," "off" are often used as well.
Most of the email subject lines were quite short and to the point, but one (#6) had a massive subject line. We recommend you don't go that route for your Black Friday campaigns, although it won't necessarily kill your open rates.
Although all caps are usually looked down upon, they seemed to have worked here.
Other important things to remember:
Try to be funny. Unexpected alliteration and puns make people smile and open your emails.
Don't use excessive exclamation signs (!!!!). It increases the possibility that your emails will end up in spam.
Try to include a call-to-action phrase. Sometimes it motivates people to not just open but also click through.