Meaningful Stats and How-to's For Cyber Monday Emails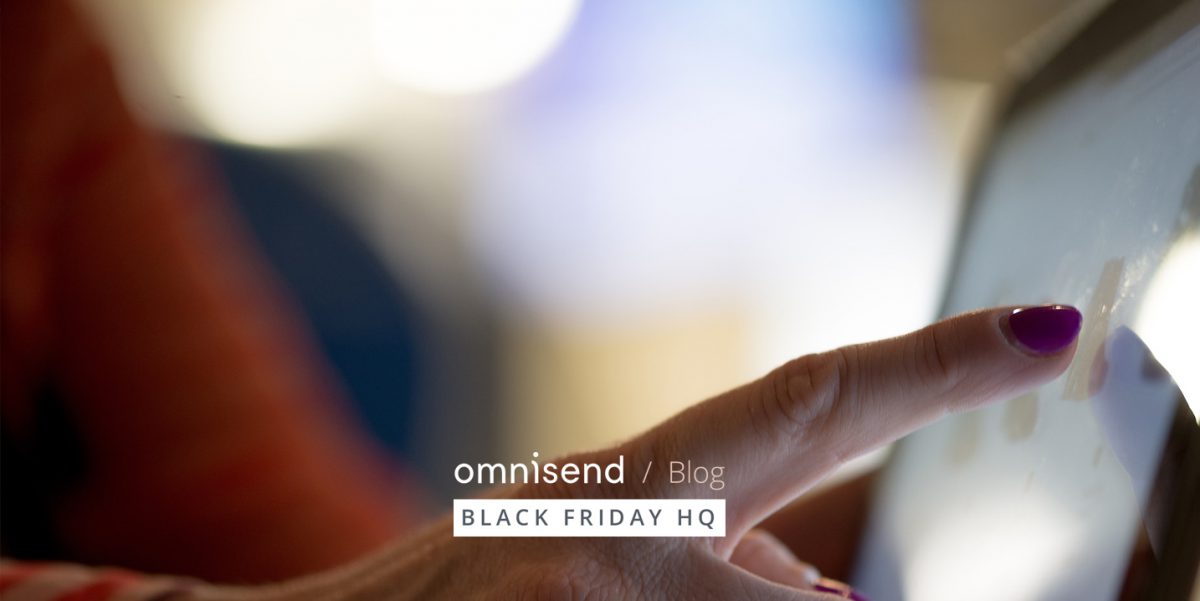 Reading Time:
4
minutes
Every year more and more people a Black Friday rush in the shopping malls exchange into calm and cosy shopping online sitting on the sofa or on the way home browsing on the phone. For e-commerce vendors, the more customers do that – the better.
Last year ecommerce revenue was up to 15.4% on Cyber Monday compared to the previous Cyber Monday, making it the biggest day in US online shopping history.
The following stats talk for themselves. So let's see what we can take home and apply for this year's Cyber Monday campaigns.
The email marketing channel is an achiever – Custora says that email marketing generated 23.1% of online orders overall the Black Friday and Cyber Monday weekend. Meanwhile, free search – 19.4%, and paid search – 17%.
[bctt tweet="The achiever #emailmarketing – generated 23.1% of online orders on #BlackFriday & #CyberMonday"]
30.3% of online orders for Black Friday happened on a mobile device. For Cyber Monday, mobile accounted for 21.9% of online orders, and 26.4% over entire sales weekend.
[bctt tweet="21.9% of online orders for #CyberMonday happened on a mobile device."]
A major part of your customers took an advantage of Black Friday and Cyber Monday by sending email campaigns to their subscribers. I have analyzed 200 biggest our clients and their campaigns over the period from Black Friday until the Cyber Monday in 2014. Here are the results.
During the period from Thursday, November 27 until Monday, December 1, the open rate of all sent emails was 21.70%, the click rate – 5.34%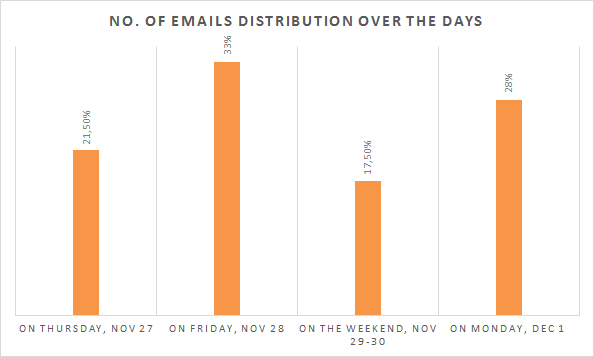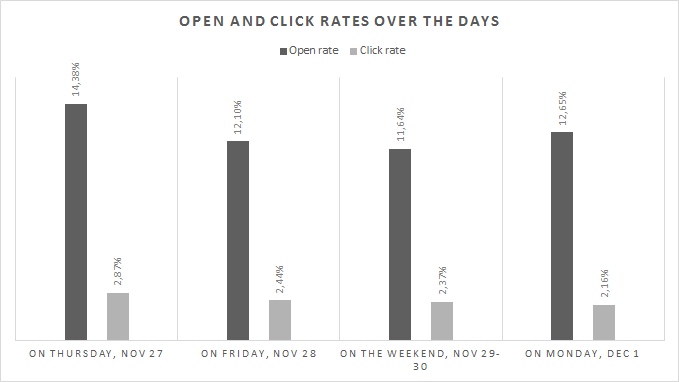 More insights about Black Friday and Cyber Monday performance you can find here: Best performing subject lines for Black Friday campaign
8 tips on how not to fail during the Cyber Monday sale:
Let your email campaign be related to Cyber Monday which is on November 30 this year. On that day customers expect the sales, discounts and good offers. Don't let them down.

Respect your customers. The deals should be worth their time. Do you remember the Amazon Prime Day Fail? The world was laughing at them. You probably don't want to repeat it.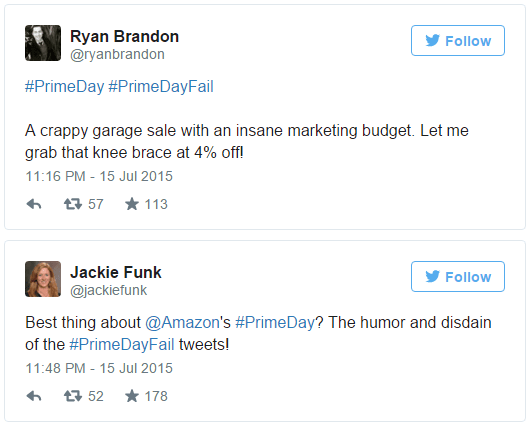 Think about the timing. Previous years, the shopping peak was from 12-1 p.m. EST. There will be lots of Cyber Monday deals to compete with, so you should consider: either to be a bit earlier or get there right at the peak.

Think about the entire campaign – a series of emails. Lay out them in the timeline. They can start on the Black Friday and end up on Cyber Monday or even last longer. Recent years Cyber Monday is metamorphosing into "Cyber Week."
"Deals have been released a day early on what's been called "Cyber Sunday" and have increasingly been extended into "Cyber Tuesday." More than that, the percentage of retailers sending email to their subscribers during the three days following Cyber Monday are almost exactly equal to the three days preceding Black Friday. So there's nice symmetry going into and out of the critical Black Friday-Cyber Monday weekend."
Comments on the new "Cyber Week" term Chad White, the research director at Litmus and the Author of the book Email Marketing Rules
If a series of Cyber Monday emails seems to take too much time for you, consider using Campaign Booster. After 48 hours, this tool with no extra efforts resends the email with a different subject line to the non-openers.

The stats above proves the importance of mobile-friendly emails. I know, I know, now everyone is talking about the mobile. But I'm still receiving so many non-responsive emails that I feel the responsibility to remind you about it. 

For running the successful business, you should value every customer's touch to your brand. Since they have opened your email, invite them to be friends on social media, to follow you. You will have more channels to reach them. Have you heard about "Buy" buttons on Pinterest, Twitter, Facebook? The evolution of social media networks creates direct selling channel to your customers. So don't miss the opportunity to put the big social buttons to our Cyber Monday emails.

Think about the email structure. Is it better to lay out the items or showcase the deal? Both work.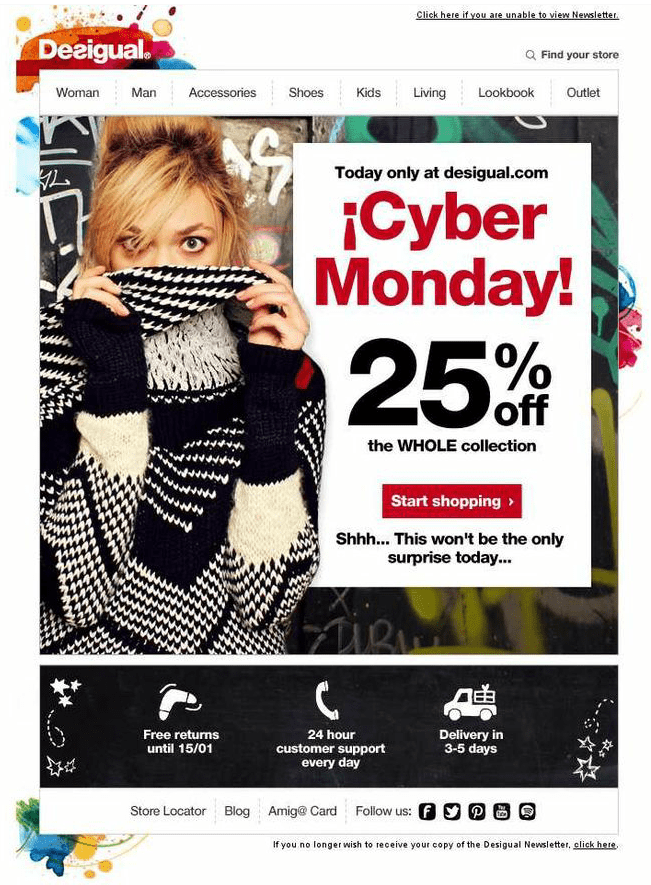 The online store Boss Sports Nutrition does the product listing. Please click on the image to see it bigger.

Meanwhile, Desigual showcases the deal, that also seems reasonable.
More tips and ideas how to get ready for Black Friday email campaigns, including list building, retaining customers, etc.
The buzz of coming sales has started already. Are you in?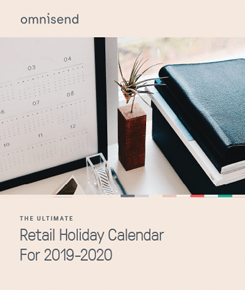 Download The Ultimate Retail Holiday Calendar for 2019-2020!
Don't miss the opportunity to get in touch with your customers.
Click here