Black Friday and Cyber Monday are drawing closer, falling on November 23 and November 26 this year.
If you want to boost your sales, you need to take the Black Friday shopping weekend very seriously and start working on your Black Friday email marketing campaigns.

Why Black Friday email marketing is important
Last year, Black Friday was even bigger than 2016's Black Friday in terms of customers and sales.
In fact, according to the National Retail Foundation, 154.4 million people shopped over the Thanksgiving Weekend, which covers Thanksgiving, Black Friday and the weekend.
For comparison, the NRF reports that 151 million shopped for Black Friday in 2015, an increase of 3 million people.
Get your free copy of 120+ Email Marketing Resources
When you add the number of shoppers from Cyber Monday (122 million), that's a total of 273 million shoppers for the 5-day period from Thanksgiving Thursday through Cyber Monday.
In total, shoppers spent a whopping $12.8 billion online for the Thanksgiving through Cyber Monday shopping period.
According to Adobe Digital Insights, that's a 21.6% increase, year over year, for Black Friday online sales and a 12.1% year over year increase for Cyber Monday online sales.
Black Friday 2018 is expected to exceed even those numbers. If you want to have a great sales year, you need to make sure you've got the best Black Friday email marketing ideas.
Find out how Omnisend's powerful and easy-to-use email marketing can help you sell more. Connect your store today to get your 14-day free Premium trial.
Here are the 7 important steps you need to follow.
1. Boost your subscriber list
We've written before not only why it's important for you to build up your email list, but also 6 proven ways you can build an email list today.
This is especially true in the holiday season, as the Black Friday – Cyber Monday weekend is the biggest shopping weekend of the year.
Even more, the customers who've already bought from you will be more likely to buy again, so having an email list becomes much more important.
If you want to boost your subscriber list, you should try to improve the urgency and offerings for your products. This should be done before your Black Friday Cyber Monday discounts and offerings.
You should also change the copy on your signup forms in order to emphasize the holiday season offerings.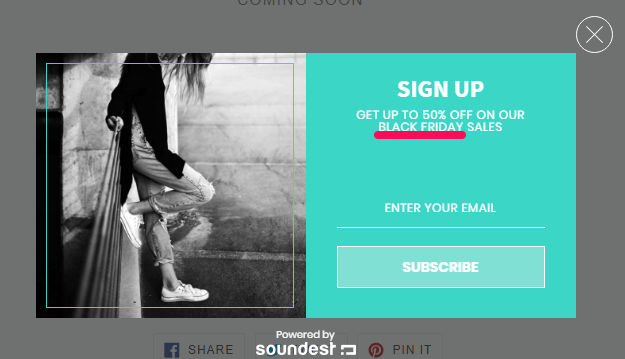 Place a banner at the top of your homepage or on your most popular pages showing off your promotions. You should also note that some of your special deals will only be available to subscribers.
You can also create a special landing page to grab visitors' emails from, for example, your advertising campaigns. That way, you don't have to adapt your entire shop.
Just create a landing page that will direct your visitors towards the desired actions.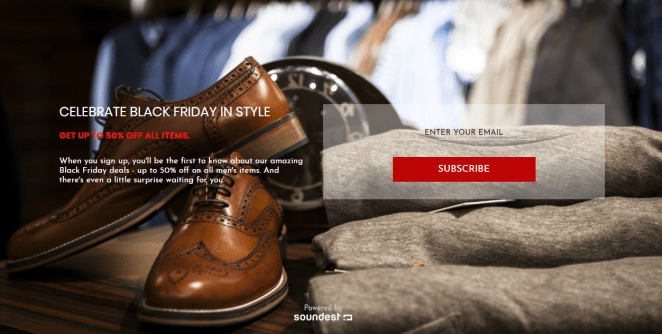 Lastly, if you haven't already done so, you should invest in advertising campaigns. The most popular may be Facebook Ads, which will help you.
This will make you competitive and help you to stand out, especially if you start your promotions earlier.
2. Start sales before Black Friday – Cyber Monday weekend
In order to get noticed by your subscribers and visitors, you shouldn't promote your Black Friday/Cyber Monday sales on Black Friday or even Thanksgiving.
Instead, you should start promoting your sales well before then. This is because people are more primed to begin their holiday purchases well before Thanksgiving, as Adobe Digital Insights measures the holiday season beginning from November 1.
Beyond that, by Thanksgiving and Black Friday, your customers' email inboxes will be flooded with promotional emails, and yours will be lost in the mad rush.
One great thing to day is to start sales on the week of Black Friday, or even the Friday before that.
3. A/B test your subject lines
Getting your open rates up can be a complicated question. It could be a combination of time of day, day of week, weather, political event or many other things.
There are many things that can motivate your subscribers to open your emails, including certain email marketing psychology tips.
However, one of the biggest things affecting your open rates can be your subject lines. Normally, you have to decide, based on your intuition or your experience with your email list, which subject lines lead to better open rates.
However, there are also many aspects to consider, such as whether you should use the word 'free' in your emails, or if it's better to just say 'discount' or 'sale' or explicitly state what the discount will be '20%'.
Because of the mad dash revolving around the Black Friday Cyber Monday shopping weekend, you don't really have much time to test different versions.
That's why you should do A/B testing on your email subject lines. A/B testing allows you to enter two different versions of the subject line and see which one performs better.
In Omnisend, version A will go to 25% of your recipients, version B to another 25%, and the winning subject line will go to the remaining 50%.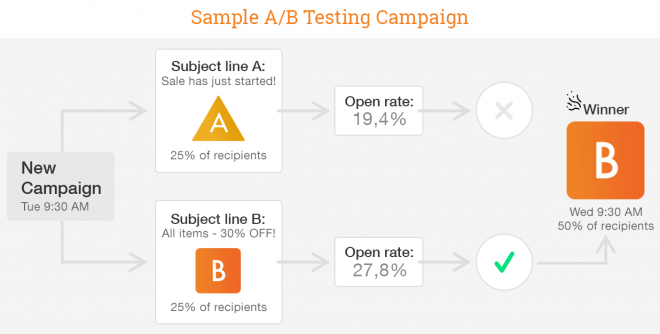 4. Create urgency in your Black Friday email campaigns
It's also important for you to create a sense of urgency in your Black Friday marketing campaigns.
For example, you can introduce a timer or scarcity so that your users understand that there is a limit to the great deals you'll be offering.
Omnisend's builder allows you to add custom HTML code to your campaigns, including adding a nice timer.

When the visitor clicks through to your site or landing page, you should continue with the timer or urgency theme.
For example, you can set your email and page timers to expire on Cyber Monday at 11:59pm to have them in sync.
By using scarcity, you can show how much is left of a certain product, with notifications of others looking at or purchasing those same items.
Booking.com does this very well.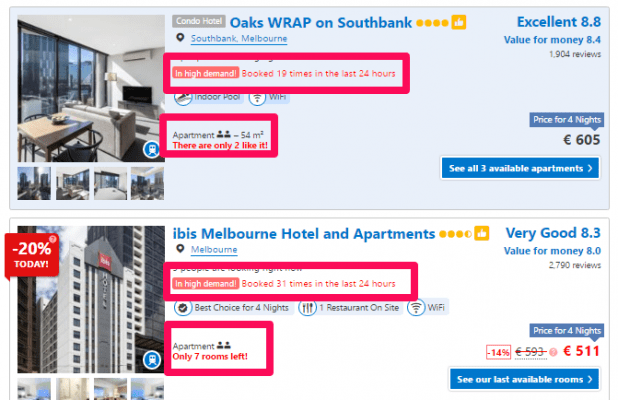 5. Send cart recovery email series
Last year, Omnisend analyzed data from 15,000 brands and discovered that sending a series of 3 cart recovery emails resulted in 131% more orders compared to only sending one cart recovery email.
This can be very simple: customers normally need a few more reminders than just a one-off email. Their inboxes are filled with lots of new emails every day, and even if they intended to finish their purchase, it may have gotten lost.
Sell more today with Omnisend's powerful and easy-to-use email marketing. Connect your store today to get your 14-day free Premium trial.
Sending a series of cart recovery emails can help keep your products on their minds.
In Omnisend's cart recovery workflow, the first email is automatically sent one hour after the customer abandons their cart. The second is sent 12 hours after abandonment if no purchase was made, and the last email is sent 24 hours after abandonment.
Instead of the normal 12% percent from other cart recovery programs, this automation workflow reaches up to 20% cart recovery conversions.
6. Give something extra to your loyal customers
It's important that you also provide extra incentives for your current customers and subscribers to remain loyal to your brand.
For your subscribers, you can offer a few good things that your normal website visitors wouldn't get. This can include early-bird offers, discounted items, free shipping, or any combination of those things.
For your loyal customers (that you can identify and segment), you can offer something even better.
For them, you should offer some really great incentives. After all, you're not focusing here on only the short-term Black Friday Cyber Monday shopping period, but you're also looking to build up your brand, your customer's loyalty, and extend each customer's lifetime value.
Your loyal customers should receive exclusive deals, such as a free gift after a certain amount ordered, or free shipping for all orders, or even a buy-one-get-one half off, free, or something similar.
7. Extend your deals past Cyber Monday
Lastly, it's probably a good idea for you to extend your deals a little bit past Cyber Monday.
You don't have to be too crazy and extend it all the way to Christmas. No, just extend it for one or two days.
Here, the marketing of your extension is important. You still want to maintain the scarcity and exclusivity of your promotions.
Therefore, you can try to extend it with similar language as Julep uses: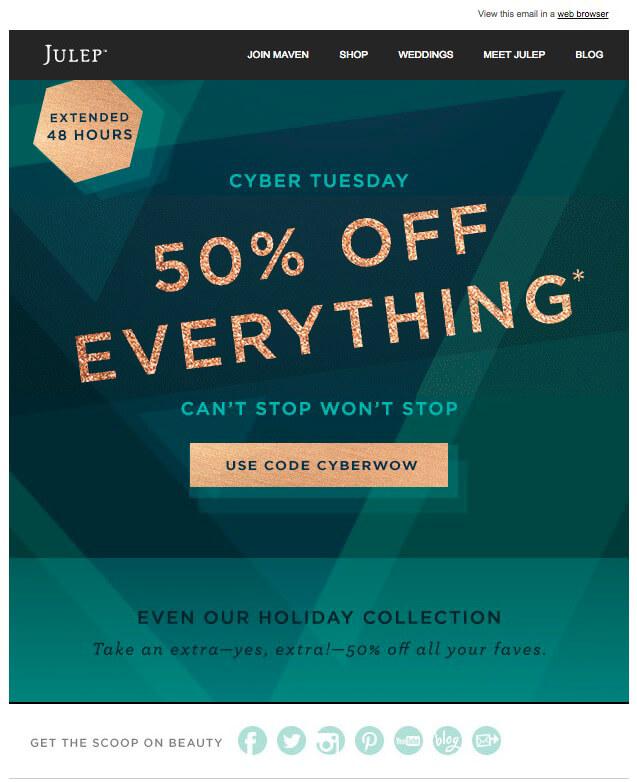 First off, their subject line is straightforward and eye-catching:
EXTENDED! 50%. Off. Everything.
Secondly, their sale is extended only for 48 hours, which still maintains that sense of urgency.
Therefore, those customers who missed your sales for one reason or another can still buy from you at your special prices.
This also means it's easier for your emails to get noticed, as most of the mad-dash last-minute emails are sent on Cyber Monday. By Tuesday morning, everything should be quieter in their inboxes, and you'll be noticed more.
Skyrocket your sales with your Black Friday email campaigns
If you want to increase your sales, it goes without saying that you need to double down on your email marketing. If you don't have an email marketing strategy yet, or haven't invested in email marketing at all, you still have time to fix that.
You won't believe how much money you're leaving on the table by ignoring email marketing ($40 ROI for each $1 spent). Read our full email marketing guide on how (and why) you can get started with it today.
While Black Friday is more than a month away, now is the best time to start planning for it. After that, implement your strategies and get your piece of the Black Friday – Cyber Monday pie.
Related posts
For more Black Friday email marketing tips and statistics, check out the following:
Do you have any other Black Friday email strategies? Let us know in the comments below.
Get a personal 1-on-1 demo (that will superpower your next campaign)!