Drive sales on autopilot with ecommerce-focused features
See Features
Reading Time:
8
minutes
Churn—it's an ugly word for an ugly phenomenon in the ecommerce world. Churn signifies the percentage of customers that cease engaging with you within a specific timeframe. This can range from no longer buying your products to no longer using your services.
Any merchant seeking a sustainable, reliable business that's viable in the long term should be aiming to reduce churn as much as possible. One of the best ways to do this is by increasing customer retention rates.
In this article, we're going to discuss the best ways to identify customers that are an immediate ecommerce churn risk. Using churn management strategies you'll be able to quickly prioritize your marketing efforts toward these high-risk customers.
These strategies include understanding lifecycle stages, effective segmentation & marketing automation, along with retention report analysis. With them, you can preemptively stop churn in its tracks.
Why It's Important to Build a Steady Customer Base and Decrease Churn
Customer acquisition has been all the rage in ecommerce for years. This involves spending valuable time and resources on things like ads, social media strategies, and SEO to attract new customers to your business. This, in turn, maximizes the number of visitors that come to your store.
That's all well and good in the short term—a steady flow of new customers is vital to a new and growing business. However, without a customer retention strategy in place, it will become unsustainable in the long term.
These retention strategies should specifically be designed to ensure that a reasonable percentage of them stay with you. It's hardly a secret that it's considerably more cost-effective to keep existing customers than constantly acquiring new ones.
Returning customers already know and trust your brand, bringing more value in terms of purchase volume and frequency. Better yet, they're more likely to refer their friends and family.
The fewer customers that you allow to slip through the cracks and churn, the healthier and more sustainable your business will be.
Identifying Ecommerce Churn-Risk Customers With Customer Lifecycle Stages
Subscription management services know exactly when customers churn by the status of their monthly payments. However, ecommerce stores can never really know if a customer has stopped buying their products. It's harder to identify when customers are considered to have churned.
The answer is not simple—a customer might simply not need your product or services for a prolonged period of time. Therefore, it's better to view your customers in terms of a scale of where they currently stand in terms of their customer journey.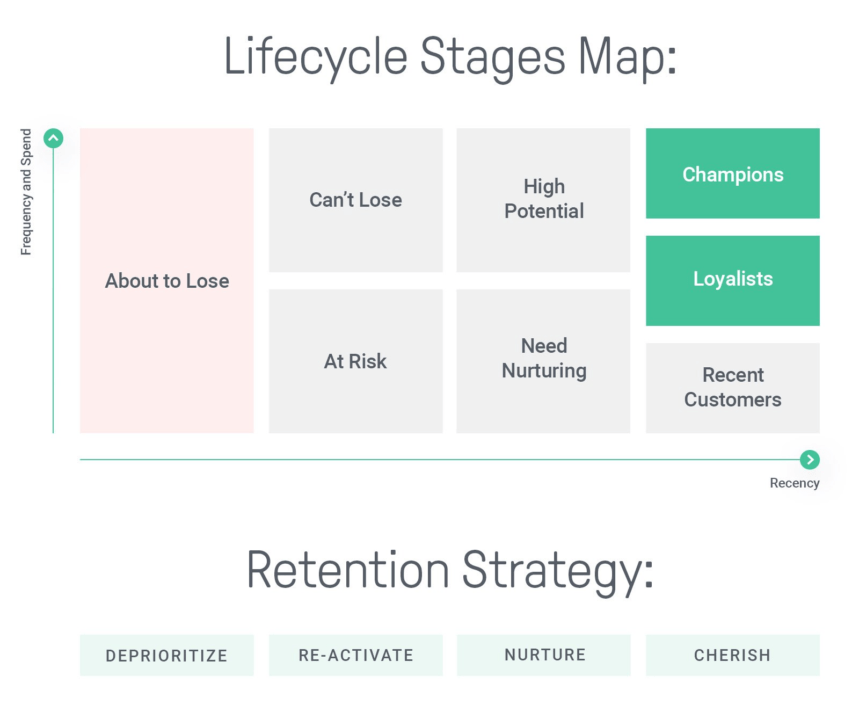 This is where customer lifecycle stages come in. They are useful for prioritizing your communications toward the customers that need them most.
It works by analyzing every interaction throughout the customer journey and separating them into the stage where they currently stand. This allows you to create a strategy that targets each customer with timely and relevant messaging.
Let's look at the four lifecycles stages and their respective strategies:
Lead
These potential customers might have visited your store, clicked on one of your social media ads, or subscribed to your email list. This stage requires a 'nurturing strategy', which aims to keep your brand fresh in the mind.
Nurture strategies make use of informative content and personalized product recommendations. These are based on what the customer has previously shown an interest in.
Active Customers
These are your regular customers and those who have most recently made a purchase. This stage requires a 'cherish strategy', which means following up with a positive post-purchase experience. This includes offering rewards to your most valuable customers to make them feel special.
You can also use the opportunity to ask for reviews, upsell with similar product recommendations, and so on. This is your chance to show your loyal champions that you value their business, and turn one-off buyers into long-term customers.
Inactive Customers
These are customers who have purchased from you before, but not recently. The time frame depends on your expectations and product. However, a good average is usually somewhere between 30-90 days since the last purchase.
This stage requires a 'reactivate strategy' to let these customers know that they are genuinely missed. You can offer incentives, send a personal letter from the founder, demonstrate the value of your products, and more.
Lapsed Customers
These are customers who haven't made a purchase for more than 90 days. These customers often merit a 'deprioritize strategy', as many of them are likely to be too 'cold' to justify spending a lot of time and resources on.
While you'll likely gain more by focusing your energies on the other three lifecycle stages, it's important to place some effort into reactivating these customers.
Use Segmentation to Build a Separate Strategy for Churning Customers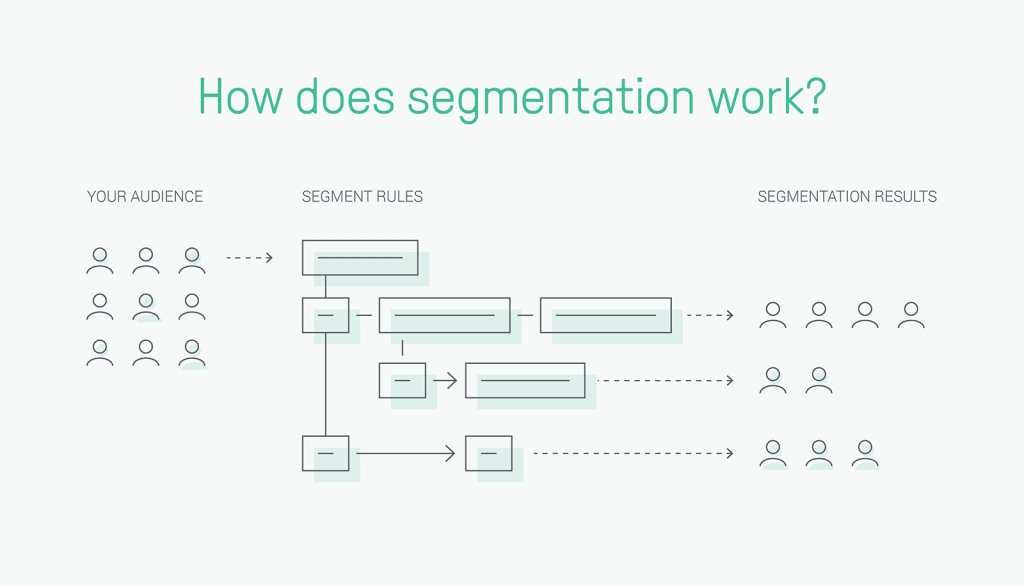 Once you've identified which customers need your immediate attention, it's time to target them with personalized and relevant messaging.
You can do this by creating specific customer segments for churn-risk customers and sending campaigns that actually matter to them. With segmentation, you can split your customers into smaller categories.
Segment them using common factors such as what items they're buying, their average order value, and their purchase recency.
For example, you can simply set a segmentation rule for customers who have purchased before but haven't done so for at least 60 days. These are customers that you might consider inactive and who need to be reactivated before they fall out of your orbit altogether.
Now you can create a reactivation campaign just for these specific customers. You can offer discounts, free shipping, or other incentives to tempt them back into the fold.
Your campaign should be genuine and personal. Emphasize how much you appreciated their previous purchase and that they are truly missed.
Segmentation is an essential tool for increasing personalization in your marketing. It helps avoid the kind of dull, generic advertising that's become an instant turn-off for most shoppers.
Target your churning customers with exactly the kind of content and deals that they need to renew their interest—then watch your customer turnover rates fall.
Keep Customers Engaged With Marketing Automation
Happy, engaged customers are much less likely to churn. With this in mind, it's important that you're able to provide a consistent, personalized customer experience.
The best way to do this is with marketing automation. This works by sending relevant messages over multiple channels when certain pre-set triggers are activated.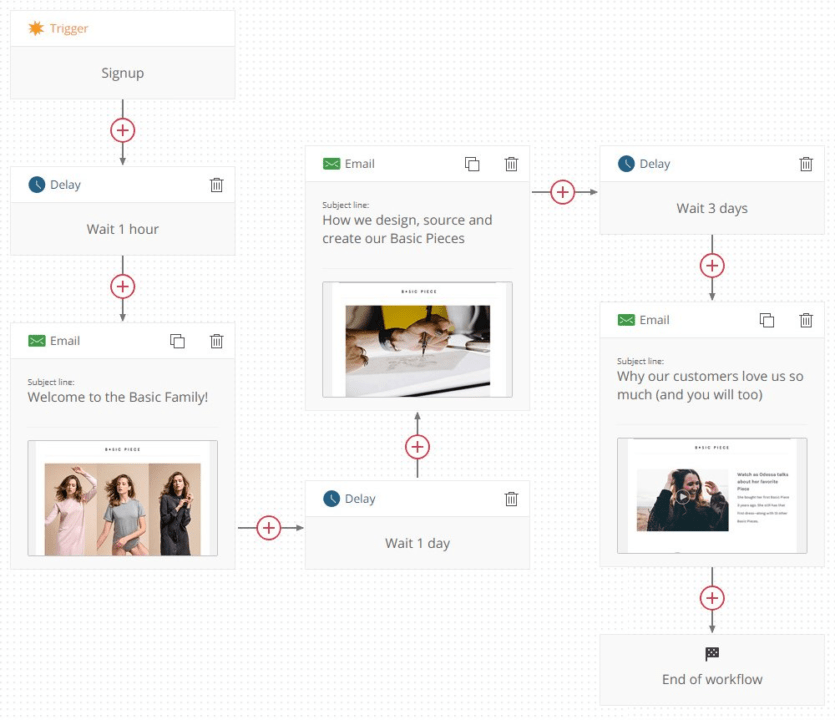 Omnichannel marketing uses marketing channels such as email, SMS, push messages, and social media retargeting to create a unified, immersive customer experience.
For example, a customer abandons their shopping cart and receives an instant, friendly reminder via push message. This is then followed by retargeting ads on their social media. Finally, an SMS containing a generous discount code arrives to seal the deal.
All of this is done automatically via an easy-to-build workflow. This allows you to increase your reach, customer engagement, and ultimately, your ROI.
Use Birthday Messages
A small but personal gesture like a birthday message is a nice way to show your customers that you care and to treat them on their special day. Offer a special birthday discount and a personal note to congratulate them. Not only will you boost your sales, but you'll potentially turn a casual subscriber into a loyal customer.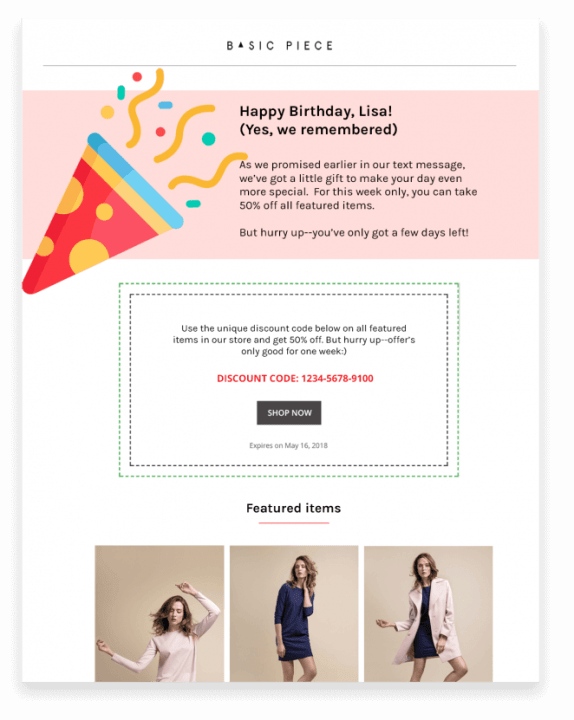 It's easy to further personalize your marketing automation with features like conditional content. This allows you to show certain elements of your automated emails only to a specific audience.
You can also include personalized product recommendations, which use customer browsing data to show hyper-relevant products. You can show deals and use automation splits, which tailor your offers and incentives to different personalized messaging paths within a single workflow.
Automated emails drove 29% of all email marketing orders from less than 2% of all email sends in 2021. Thanks to this, it's clear that consumers are responding positively to marketing automation.
Use it to keep your brand at the top of your customer's minds—you're more likely to see your customer churn rate drop as a result.
Try Win-Back Emails
No matter how hard you try, some customers will inevitably 'churn.' In this case, you can try to bring at least a percentage of these back into the fold with win-back emails.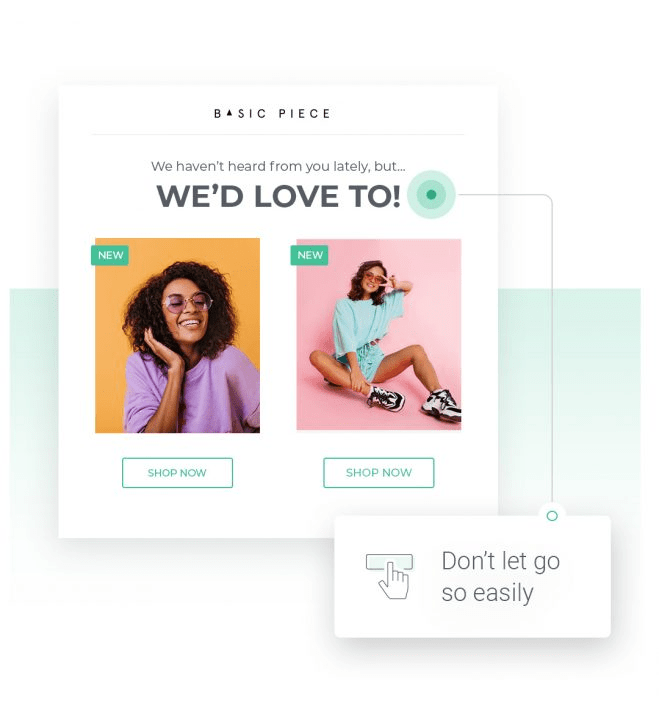 Your win-back campaign is best sent in a series of three messages. These can include other channels like SMS, especially as they add a sense of urgency.
It's likely that lapsed subscribers are used to ignoring your promotional emails. By using a time-sensitive discount sent by SMS, you can cut through the issues of an overflowing inbox and more reliably get your messages in front of lapsed subscribers.
This is backed up by data that shows that text messages are read, on average, within 90 seconds of being received. This makes them more likely to be seen and engaged with by lapsed subscribers, right off the bat.
Use your win-back messages to remind subscribers why they signed up to your list in the first place. Remind them about your brand and values, highlighting any exciting news and updates that they may have missed in the last few months. Read here to find out more about creating winning win-back messages.
If you're not seeing results after these last-ditch attempts at winning back lapsed customers, it's best to cut your losses and unsubscribe them. Healthy list cleaning is vital. Keeping inactive customers on your list can affect your data analysis as well as your deliverability.
In this case, let them know that they'll be unsubscribed. This last message provides their last chance to engage with you. Give them a week or two to respond, if they don't then cut the cord and remove them from your lists.
Closely Monitor Your Churn Rate and Retention Performance
You can't improve what you don't measure. You have to keep a close eye on your churn rate to learn exactly what effect your strategies are having.
A data-driven customer retention strategy is best achieved with careful analysis of retention reports. These offer actionable insights on how to keep hold of your customers and re-engage those who haven't been around for a while.

Regularly check the following metrics to understand your churn rates and the value of your returning customers:
Returning Customer Rate: This is the percentage of customers who came back to your business after making their first purchase. This important metric highlights how well your customer retention strategies are working—or whether they still need some work.
AOV of Returning Customers: This gives you the average order value of each returning customer. This way, you know exactly how much they're spending in your store on each purchase. Here you'll learn the true value of keeping your customers happy and coming back for more.
Total Revenue From Returning Customers: This metric highlights the total share of revenue that you receive from repeat customers. You'll learn exactly how much your loyal customer base is contributing to your business.
First-Time/Returning Customer Split: Here you'll learn who is bringing in the most value to your business—first-time or returning customers. If the balance isn't right and one area is lagging, this knowledge will tell where you should be prioritizing your retention strategies.
Industry Benchmarks: Built-in industry benchmark reports help you to measure your performance against similar businesses in your industry. Knowing where you stand against your competition puts your results into their proper perspective and gives you a clear idea of the areas that you can improve on.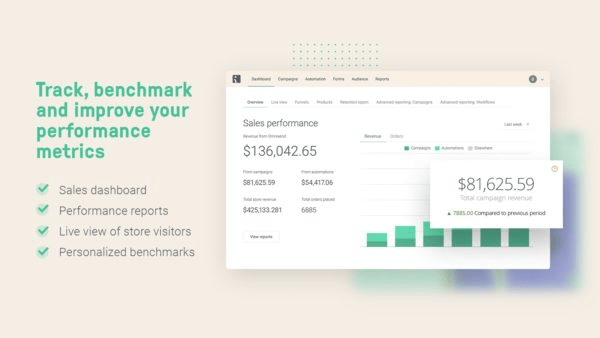 Wrap Up
Catching churn-risk customers before they leave your business for good is an effective and cost-efficient way of boosting your customer retention. As a result, your overall revenue will naturally increase too.
Your marketing automation platform should allow you to categorize your customers. This should include basing them depending on where they are in the customer lifecycle and segmenting them for personalized, automated messaging. Ideally, it should also provide detailed reporting so you can measure and adjust your strategies accordingly.
If you are doing all of this and still finding your churn rates to be a little high, you can always try win-back email campaigns as a last resort.
You can easily identify and prevent churning customers with Omnisend. Get started for free today and reap the benefits of increased customer retention.
related features
Want more sales?
Omnisend has everything you need to succeed.
Start free now
No Credit Card needed.