Drive sales on autopilot with ecommerce-focused features
See Features
Electronics email marketing: Real-life examples and best practices
Reading Time:
7
minutes
Your 7-year-old headphones just gave up on you, and you're in desperate need of a new pair. You can't work from home without new music keeping you focused, and the closest store is hours away.
If you're like five in ten U.S. consumers, though, you're searching for information online. Nearly one-third of consumer electronics are bought online — and for good reasons. Consumers can view the best deals, scour reviews from other buyers, and get quick delivery straight to their doorstep.
Of course, with other brands like Walmart, Amazon, and Newegg competing for the same attention, an email must hit all the right marks to catch your prospect's attention. Here are ten electronics email examples to get your creative juices flowing.
10 best electronics email examples to spark your creativity
#1 Samsung: Go all out with the product announcement

More than 25% of total revenue and profits across industries come from the launch of new products. A product announcement is the perfect opportunity to share all the best features of your latest release.
Samsung made a splash with their announcement of the new Galaxy S22 Ultra. Bold statements like "Epic at every angle," This is Galaxy as you've never seen before," and "Our fastest chip ever" build excitement while images of the device entice prospects to click.
Samsung also offers a freebie on Galaxy Buds Pro and a Microsoft 365 subscription, instilling FoMo and sparking interest. The promotion box is in red, increasing impulse purchase chances.
#2 Bose: Offer a flash sale

Flash sales — a sale that lasts a few hours or days – are perfect to drive urgency, scarcity, and FOMO among prospects. Flash sale emails increase transaction rates for 67% of businesses and increase click-to-open rates for 74% of businesses. When not overdone and used at the right moment, flash sales are a great way to boost conversion rates.
Bose illustrates this perfectly with their flash sale email for the QuietComfort 45 headphones. The email features a $50 discount in bold and large font, highlighting scarcity. Bose also mentions that a deal expires in 24 hours, making it even more attractive. Promote the flash sale in the subject line like Bose did to increase open rates.
#3 Target: Group multiple discounts together

Many electronic stores sell other items alongside electronics, such as home and kitchen appliances. While electronics might be the biggest sellers, stores can showcase various products in one email to create an enticing offer.
Target does this with its weekly electronic deals email. While subscribers open the emails for the electronics deals, they're also made aware of other discounts in the store.
Target groups multiple products and discounts together, such as furniture, lawn and garden, and sun care. Free gift cards of different values with purchases, such as a free $40 gift card on the Cuisinart Air Fryer Toaster Oven, create an exciting and attractive offer.
#4 Apple: Make the features talk
Sometimes, you don't need to build too much hype. If your product speaks for itself, simply share the best features and let your prospects decide whether they want to buy it.
Apple can pull this off with its iPad launch email. As the most valuable brand in the world, it has the brand recognition to back it up. Apple uses a sleek design and simple language to convey the features of its latest release. No bold claims, no sweeping statements —- just simple facts.
It ends the email with exclusive benefits buyers can get when they purchase directly with Apple —- trade-in, daily cash back with Apple Card, and free engravingengravement.
#5 Dyson: Draw cart abandoners back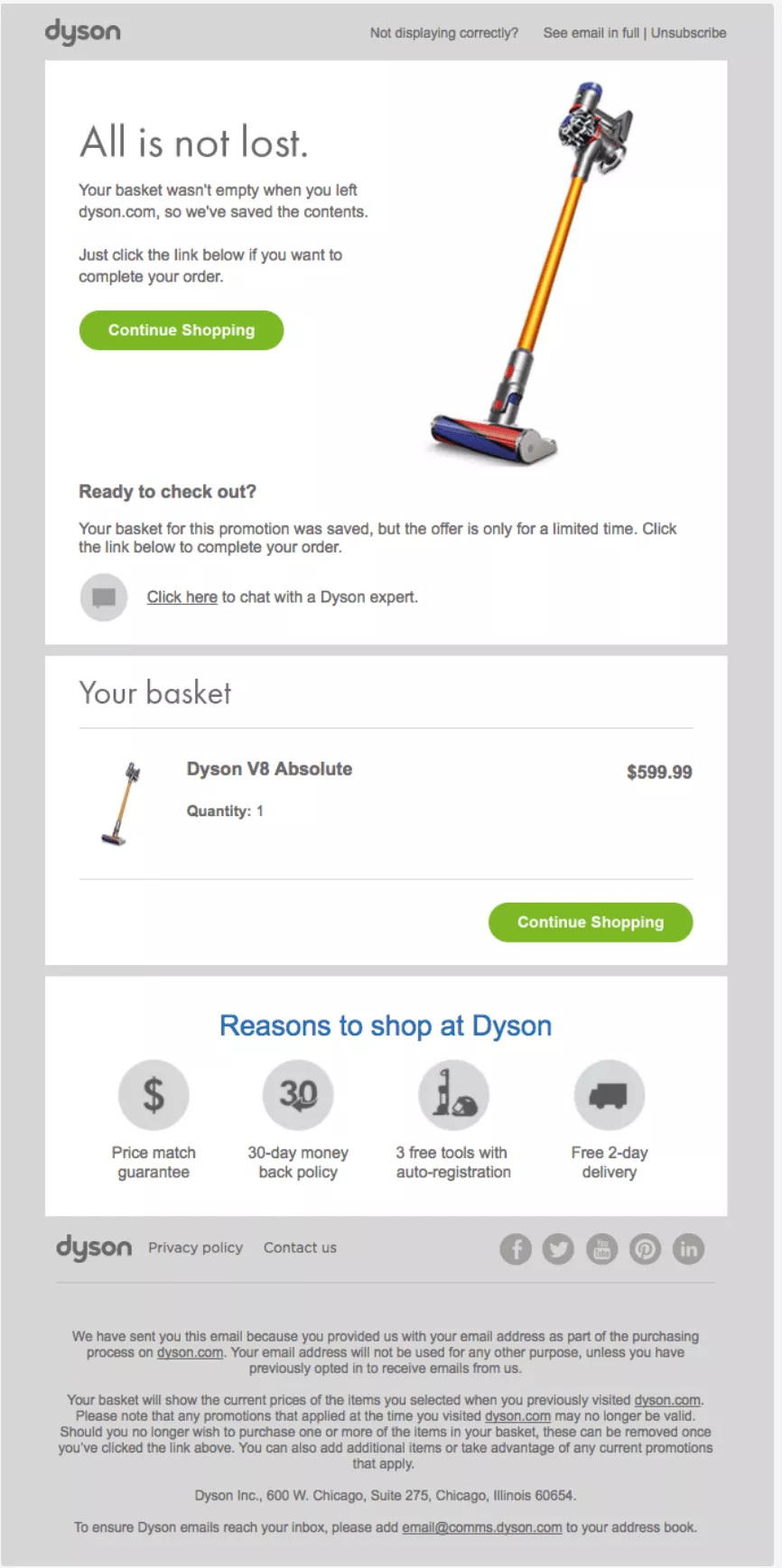 The average cart abandonment rate in ecommerce is 70% which, honestly, is a missed opportunity.
Most of the time, people don't abandon carts because they don't want to buy, but because they maybe don't have their card, they're comparing prices with other stores, or they want someone else's opinion. That doesn't mean you should leave money on the table, though. 40% of people who clicked on an abandoned cart email in the first half of 2021, completed their order.
Dyson keeps it simple in its cart abandonment email. The email features the product image for customers to remember what they wanted and the promotion, making it more enticing.
Dyson also highlights the benefits of shopping with them directly, such as free 2-day delivery, a price match guarantee, and a 30-day money policy. This email has everything you need to draw potential buyers back to their carts —- a trust-building message, an image of the product, and special offers.
#6 Fitbit: Use New Year's resolutions to your advantage

New Year's is an excellent time to build anticipation and trigger new sales. People are looking to start fresh and accomplish goals, so they're more likely to purchase products that can help them reach those goals.
In a study of 1,005 US adults, 39% cited improved fitness as a top New Year's resolution. Fitbit leverages this to its advantage in its New Year's email.
It promotes new accessories for the smartwatch and discounts on the smart scale and water bottle, which are perfect products to help people reach their fitness goals. It's an excellent way to tap into the wave of enthusiasm and optimism that comes with the start of a new year.
#7 Shark: Offer exclusive access to sales

The modern consumer doesn't just want to purchase and forget —- they want to be part of a community. Making consumers feel special and offering exclusive access to sales is an excellent way to build customer loyalty and retention.
Shark promotes an exclusive Friends and Family Sale in its email. Customers can use a promo code to get a certain percentage off their purchases. "For the perfect circle of friends & family" drives home the point that this sale is only for select people —- making recipients feel like they're part of an exclusive group. This sale also encourages subscribers to stay on the email list so they don't miss any exclusive offers.
The email breaks down the different categories with discounts, product images, and titles. Shark helps customers understand which products they can purchase
#8 Moment: Don't miss Black Friday

Black Friday is the busiest shopping day of the year, and electronics purchases alone were up by 19% in 2022 compared to sales in 2021. Consumers always hold out for deals on this day, and Moment takes advantage of this in its email.
The email provides early access to Black Friday deals from Fujifilm. "This doesn't happen often. For a limited time…" and "now's the time for the plunge" create urgency and remind customers that this won't last forever.
Moment also includes images of cameras with how much customers will save and a list of benefits such as free shipping, hassle-free returns, and 24/7 service. Free returns, in particular, boost conversions on high-ticket items by 17% because consumers feel more confident in their purchases and are more likely to complete them.
#9 Nura: Answer customer questions

Answering burning customer questions eliminates doubts and builds trust, which leads to more conversions.
Nura answers common questions about NuraNow, a monthly subscription that gives subscribers access to a product, exclusive discounts and offers, and giveaways. By eliminating doubt at the start, customers won't need to chase after someone to answer their questions or Google the product.
The email also introduces new products and includes multiple CTAs that direct subscribers to the NuraNow page.
#10 Unique Photo: Create anticipation in cart abandonment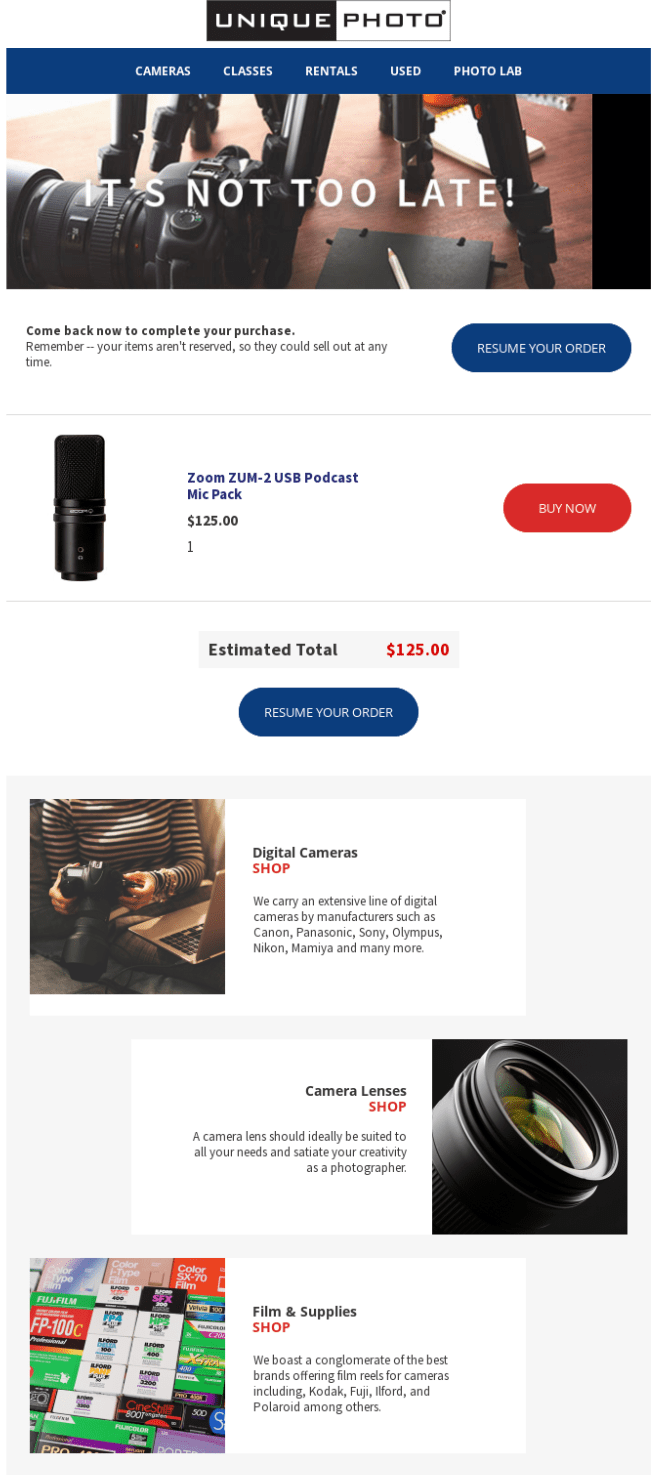 Urgency often motivates shoppers to complete their purchases, especially in the case of abandoned carts. The language and tone of the message are key in this type of email — you need to create anticipation that encourages customers to buy yet still be polite.
Unique Photo's abandoned cart email does an excellent job of striking this balance. It starts off with "It's not too late!" which is polite and encouraging.
The email also reminds customers that this item isn't reserved for them — it's available to everyone. This creates a sense of urgency, which leads customers to complete their purchase before someone else takes the item.
Finally, Unique Photo includes multiple product images and links to the cart page so customers can easily finish their purchase.
Create a spark in your emails
These electronics email examples show how to use different techniques, from discounts and freebies to creating anticipation to spark conversions and boost sales. The key is to get creative, have fun, and use the right language to ensure your emails stand out. With a little bit of trial and error, you can find the perfect combination that resonates with your subscribers.
If you don't know where to start, Omnisend has plenty of templates and resources to help you create engaging emails that drive conversions. Register for free today and start growing your business with email.
related features
Want more sales?
Omnisend has everything you need to succeed.
Start free now
No Credit Card needed.