Drive sales on autopilot with ecommerce-focused features
See Features
Reading Time:
12
minutes
Email marketing is a powerful tool that will help you generate sales and conversions for your business. However, it's not enough to simply send email blasts to everyone on your email list.
Your email list is at the heart of your email marketing efforts and keeping it organized and up-to-date is key to your success:.
This article explores the best practices for effective email list management, including tips on how to:
Keep your email list clean
Engage your subscribers
Drive more revenue from your email campaigns
We will also share the best software you can use to manage your email list effectively.
What is email list management?
Email list management is the process of organizing and maintaining your emailing list to support your email marketing efforts. It involves collecting email addresses from relevant leads, adding them to your email list, and ensuring the list is accurate and up-to-date.
Regularly cleaning and managing the contacts in your email list is crucial to the success of your email marketing efforts. This is because it will help you send more targeted emails and build strong relationships with your subscribers, which is crucial if you want to drive more conversions with your email campaigns. It also helps increase your email deliverability.
Why is it important to manage your email list?
Email list management is an impressive strategy that will improve your email marketing campaigns and puts you ahead of other businesses in your niche.
This is because by cleaning up your list, you will remain with fewer, quality subscribers who care about your business and engage with your content.
Other benefits of email list management include:
It will help you understand your audience, including the key subscribers who bring significant value to your business
It delivers more accurate subscriber data to help you send personalized emails that generate more revenue for your business
Cleaning your email list improves your inbox placement rate by removing unwanted email addresses like spam traps and fake email addresses
It lowers your email marketing costs since email providers charge based on your contact list
Email list management best practices
Here's how you manage your email list like a pro:
1. Make sure you get real emails
The first thing you need to do to keep your email list clean is to set up your opt-in forms properly to catch people who are entering fake emails to get into your email list.
Instead of a single opt-in process, use the double opt-in method shown below and ask subscribers to confirm their email addresses when signing up.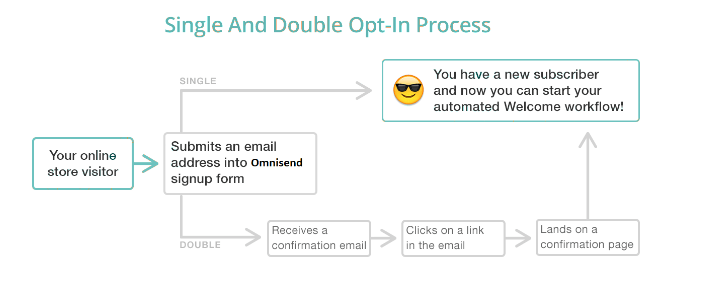 Baking Steel uses the double opt-in method to verify new contacts and catch fake emails. As you can see in the image below, new subscribers are asked to confirm their subscription before they are added to the brand's email list.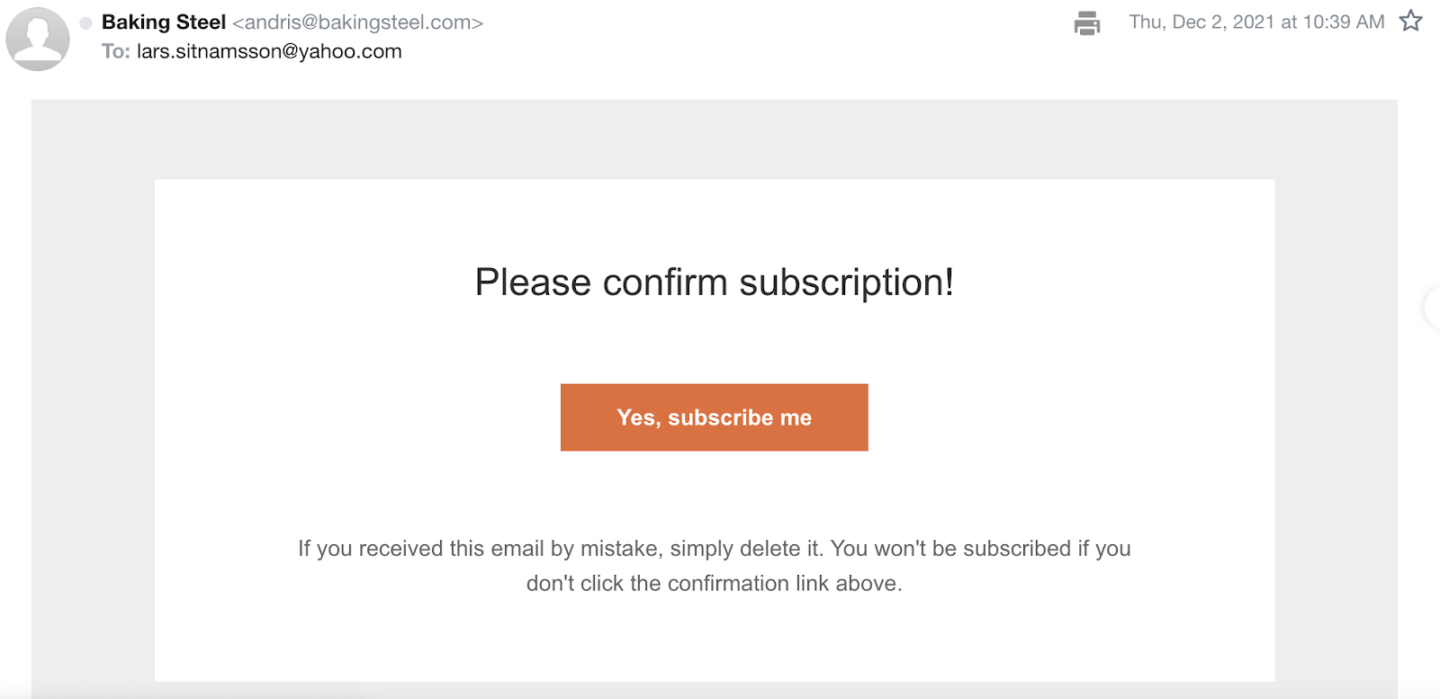 The double opt-in verification method ensures only quality email addresses get to your email list. This will improve your sender reputation since the emails you send will land in genuine inboxes that are interested in your content.
Double opt-in also reduces the chances of spammers getting into your email list and harming your reputation with email providers.
Need more information on double opt-in? Check out this article to learn how to set it up and benefit from it.
2. Welcome your new subscribers
When a subscriber opts into your email list, send them a personalized email to welcome them to your brand. The purpose of the welcome email is to let subscribers know they are on your email list and it gives them an idea of the type of content they will receive.
Baking Steel, for example, sends its new subscribers an email to welcome them onboard. The email highlights some of the things a user can accomplish with their products. It also contains useful links that subscribers can use to start exploring the brand.

Welcome emails are great for email list management because they help you start a relationship with each new subscriber on the right foot.
Revenue earned from welcome emails is also high, with Baking Steel earning between $10 – $15 per email through the welcome series. Additionally, welcome emails have a high engagement rate and can positively influence your sender reputation among email service providers like Yahoo! and Gmail.
Related: Baking Steel after Mailchimp: Complete reporting, 1-to-1 support, and increased sales
3. Let subscribers choose content preferences
One of the reasons users unsubscribe from email lists is that they receive too many promotional emails that are not relevant to them. By allowing users to choose the type of content they want to receive while filling your signup forms can greatly improve email open and engagement rates.
Fashion Nova asks its subscribers to choose the type of content and offers they want delivered to their inboxes when signing up for their newsletter. Users can choose from the five options provided and the fashion brand will use this selection to deliver relevant content to the subscribers.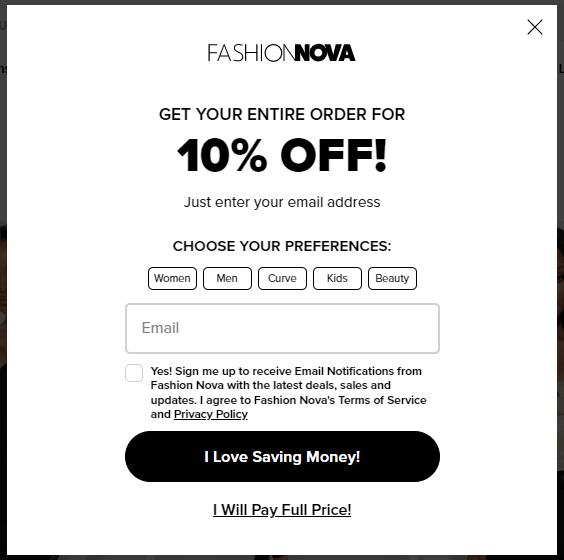 Allowing your subscribers to select the type of content they want to receive is a great way to keep your email audience engaged and subscribed. This not only boosts your engagement rates but also helps to reduce the likelihood of your emails being marked as spam.
The relevancy of emails can also translate to greater conversion rates from your email campaign.
As such, most of your emails will get to the final user without bouncing, helping you maximize the potential of your email marketing campaigns.
4. Segment your audience
Another email list management best practice revolves around segmentation. You can segment your email list based on user interests, so you can deliver personalized content that matches your reader's preferences.
It's important to recognize that your readers have different needs and interests, and sending them the same content can quickly lead to disengagement.
Additionally, your subscribers are at various stages of the buyer's journey, each requiring different types of content and offers to help them progress down the sales funnel.
With segmentation, you'll be able to create emails that are targeted to each subscriber's interests and position in the customer journey. The segmentation also means your email list will be divided into numerous mini-lists, making it more structured.
"I wanted a solution that allowed me to set up more automation because I am very busy. I convinced our leadership that we needed a new system—one that would let me employ more automations and segment our list based on what they'd previously purchased…"

Allison Caufield Senior Marketing Manager, FiGPiN
5. Assign contact tags
While segmentation allows you to group your subscribers based on their interests, sometimes you need to refine your targeting further to reach your users more effectively. Contact tags allow you to add an extra layer of personalization in your email list to create variations within your segments as you can see in the image below.
Contact tags are usually created for specific events performed in an email campaign, such as downloading an ebook or attending a webinar. For example, if you want to send emails to your contacts to promote new software, you may segment them based on the size of their business, such as small, medium, and enterprises.
Each segment will receive personalized emails based on their needs. However, you still want to send different emails within those groups based on how they interact with your content.
To achieve this, you can create contact tags and assign them to users who have performed certain actions within those segments, such as downloading content. This can further improve your email list management.
6. Clean your email list regularly
List hygiene is the foundation of email list management. Regular email list cleaning allows you to get rid of unresponsive subscribers and focus on those who religiously engage with your content and drive positive outcomes for your business.
Needless to say, it's one of the best practices for email list management.
Removing unengaged subscribers sounds like a drastic move, especially for small and mid-sized businesses that need to make every lead count.
However, unresponsive email recipients lower your deliverability rate, which can harm your sender reputation and see your emails moved to the spam folder.
Brian Dean of Backlinko had more than 78,000 email subscribers but his email open rate was a paltry 15.5% because many of the subscribers didn't bother to open the emails he sent. The poor email open rates lowered his sender reputation and his email blasts were sent to the spam folder instead of the client's inboxes.
To remedy the situation, he cleaned his email list, removed 28,018 subscribers who hadn't opened or clicked an email in the last 4 months, and his open rate increased by 36%.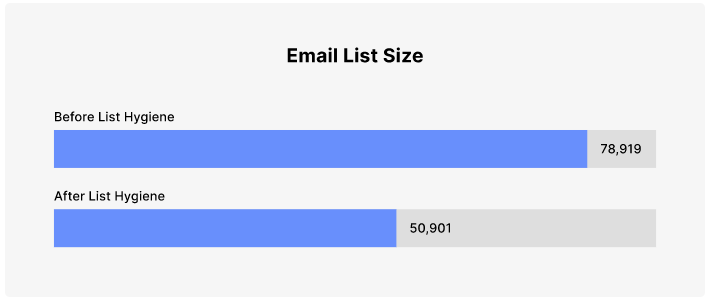 7. Remove inactive subscribers
Another email list management best practice is to get rid of inactive subscribers who don't interact with your emails. The user may have changed jobs and no longer uses the work email address that you have on your list.
It could also be that the subscriber entered an incorrect email address and the contact made it to your email list because you don't use the double opt-in process. When you send your email blasts, your bounce rate will be high because of such invalid contacts.
This, in turn, will adversely affect your email deliverability rate. Email providers like Gmail and Yahoo! monitor domains with a high bounce rate and blacklist repeat offenders.
To prevent this from happening, scrub your email list regularly and remove the invalid email addresses on your contact list. You can filter them by checking for email bounces.
Omnisend makes it easy to segment inactive users and delete them from your email list. From your dashboard, you will be able to identify subscribers who have not engaged with your content for some time. You can then remove them from your list.
8. Add locations to contacts
Another email list management practice you can implement to improve open rates and engagement is adding locations to your email contacts. By doing so, you can translate your messages to the user's preferred language, schedule emails to be sent at appropriate times, and send greetings during national holidays.
This form of personalization will make your recipients look forward to your emails, leading to improved email deliverability rate.
Omnisend allows you to collect the location of your email subscribers and use that for communication targeting.
This will make your email communication highly relevant to your users, resulting in more email opens and clicks. You can even segment your contacts and send targeted communication to users in a certain region like in the image below.

9. Use A/B testing
It's not always obvious which content is good for your subscribers. That's why you need to A/B test your email campaigns to discover the content your subscribers actually like. A/B testing eliminates guesswork from your email campaigns and allows you to statistically prove which variation of your email will perform best.
For example, you can split-test two subject lines – one with an emoji and one without – to determine which one to use for your email campaigns. The variant that delivers the best performance is then used for the rest of the campaign. It'd ideally drive better results, making it one of the best practices for email list management.
The example below shows an A/B test for the email subject line. Both subject lines A and B were shown to 25% of the email recipients. After some time, subject lines A and B had open rates of 19.4% and 27.8% respectively. The winning variant is then sent to the rest of the subscribers.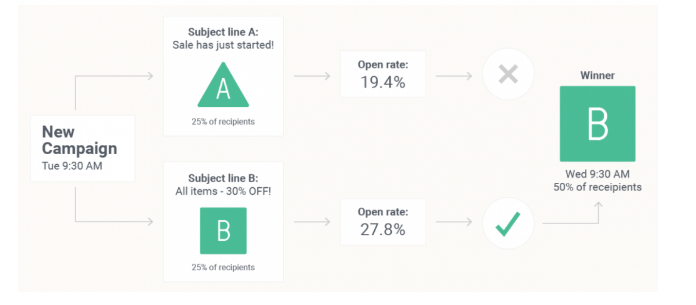 10. Make unsubscribing easy
Email recipients unsubscribe from email lists for various reasons, such as:
The content is not relevant and they are not getting what they signed up for
They are receiving too many emails from the sender
Your emails look spammy and they don't want to risk their online safety
Just as you made the signup process easy for your audience, the unsubscribe process should also be stress-free. It's also one of the email list management best practices as it ensures that those who don't want to hear from you have the option to exit your list.
While no one wants to lose subscribers, the last thing you want is to have subscribers who are no longer interested in your content.
Such subscribers will not open your emails when they land in their inboxes. They will also send them to the spam box to avoid interacting with your content. These actions hurt your email deliverability rate and could see your IP address blacklisted by email providers.
For this reason, add an unsubscribe button in your emails to make it easy for recipients to opt out of your mailing list like in the image below. With uninterested users out of the way, you can concentrate on delivering relevant content to the subscribers who are happy to hear from you.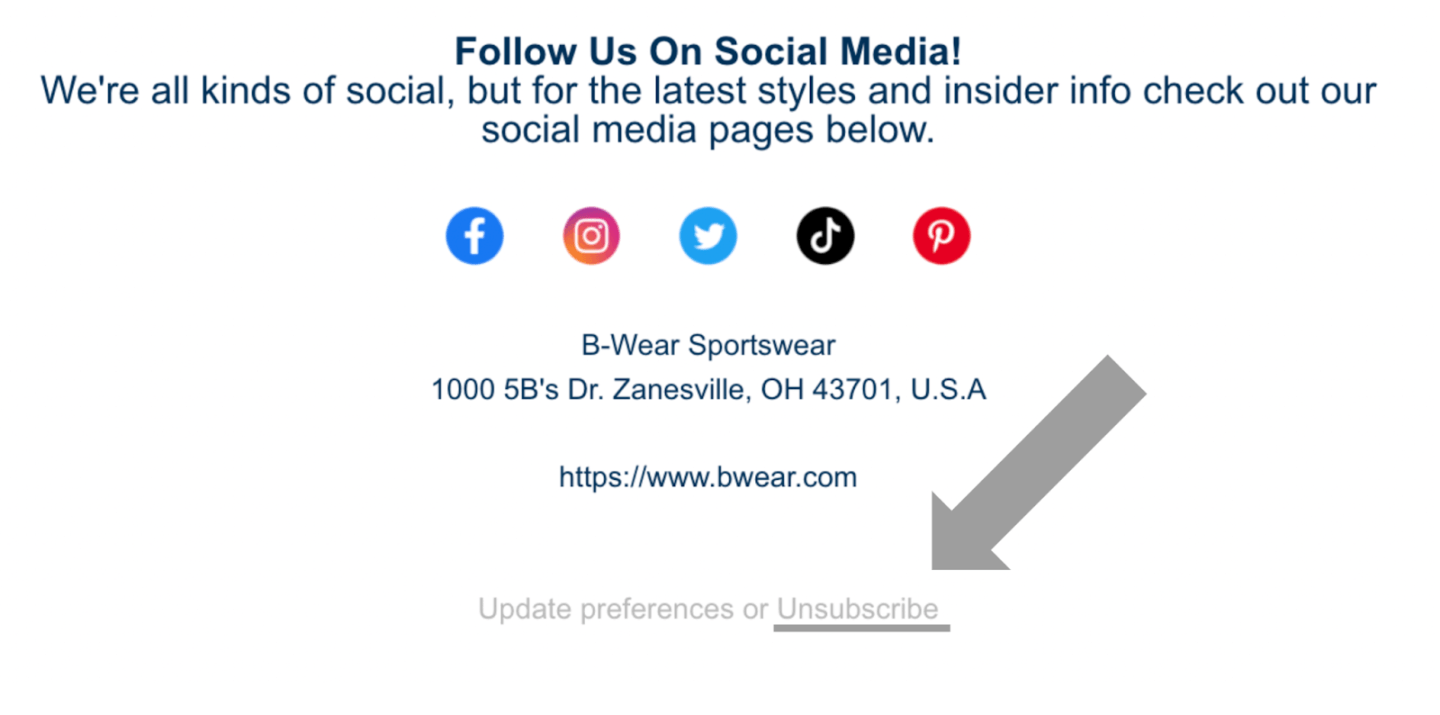 Related: Why Email Marketers Should Embrace, Not Fear, the Unsubscribe
Software for managing email lists
1. Omnisend — easy-to-use platform for ecommerce email marketing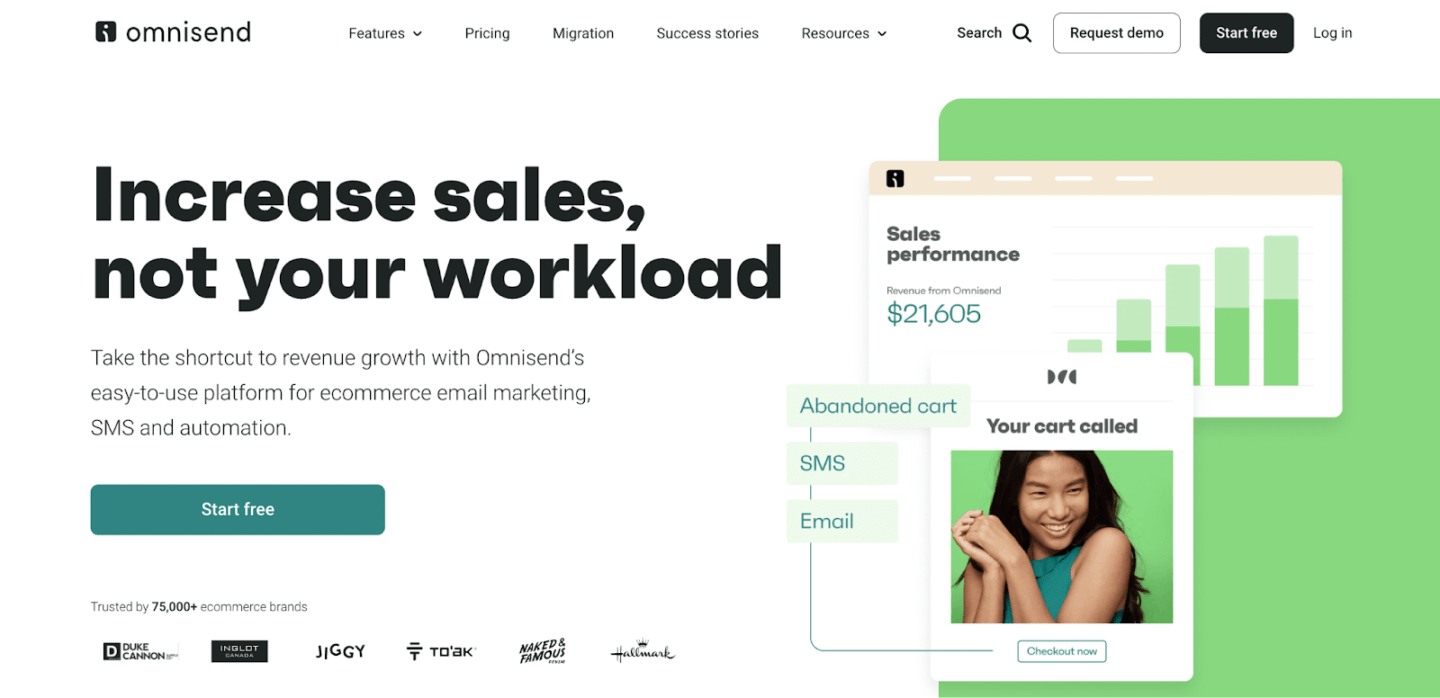 Omnisend is a powerful email marketing platform that helps ecommerce businesses manage their mailing lists effectively. Due to the ease of managing email lists, it's simpler to keep your subscribers engaged and interested in your content.
One of Omnisend's key features is its advanced email list management system, which allows users to segment their email lists, rid them of inactive subscribers, and reach their audience with personalized messages.
Additionally, Omnisend has excellent deliverability rates, which help ensure that emails land in subscribers' inboxes rather than their spam folders. This means that businesses using Omnisend can communicate with their subscribers more effectively and avoid the risk of having their emails marked as spam.
Omnisend is fully compliant with all data laws like GDPR and CAN-SPAM to guarantee the safety of user data. Overall, this software is an excellent choice for businesses looking for a robust email marketing platform that can help them manage their email lists effectively and improve the performance of their email marketing campaigns.
Advantages
Collect email addresses using sign-up forms and landing pages
Segmentation and personalization
Email list clean-up and maintenance features
Subscriber behavior tracking
Cost
Free for up to 500 emails/month. Paid plans start from $16/month.
Related: How Island Olive Oil uses lifecycle stages and automation to deliver the boutique touch
2. Mailchimp – full-service email marketing hub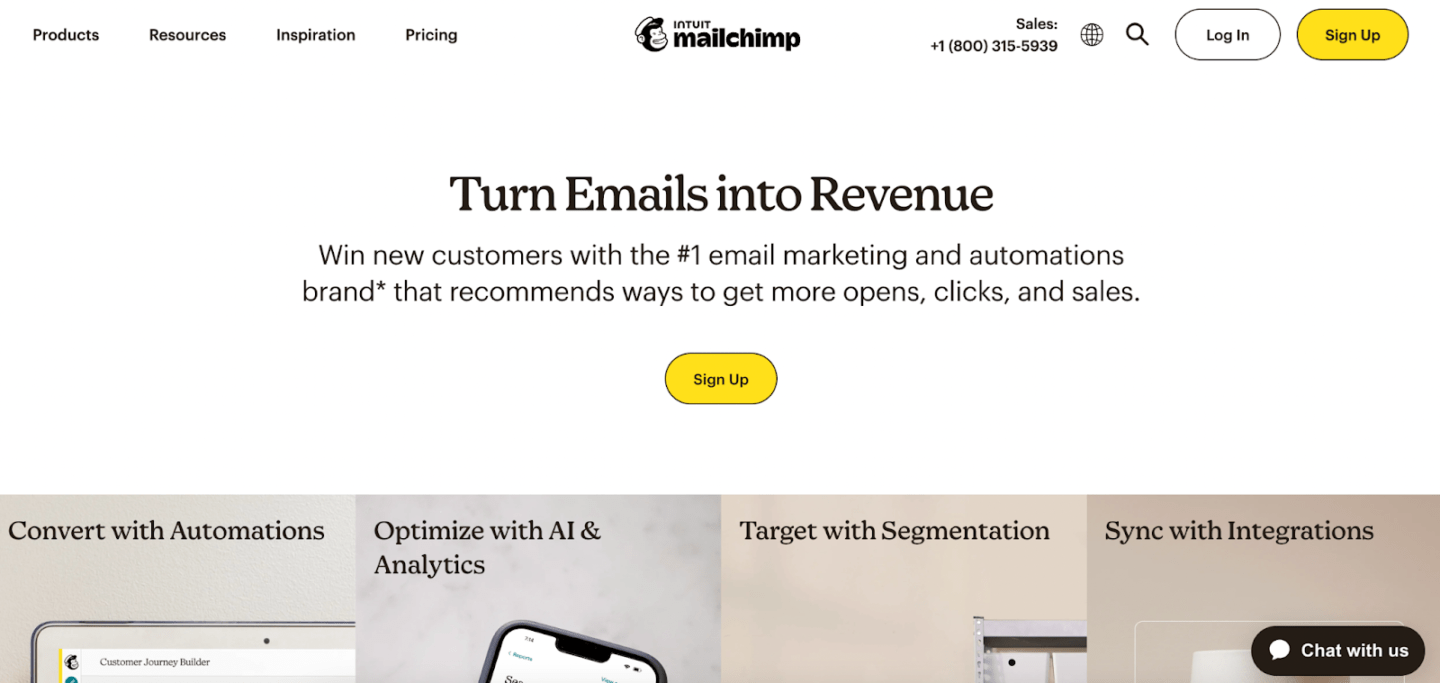 Mailchimp is a popular email marketing service that provides a range of features to help marketers manage their email lists with ease.
One of its key advantages is advanced email list management capabilities, which allow users to organize their emailing lists and easily remove inactive subscribers. This feature helps brands retain their most engaged users, thus improving the performance of their email marketing campaigns.
Mailchimp also has a high deliverability rate which helps ensure emails are delivered to clients' inboxes instead of being sent to the spam folder.
This improves the effectiveness of email marketing campaigns and helps brands achieve their marketing goals quickly. However, it's worth mentioning that Mailchimp can be pricey, so many of its users switch to Mailchimp alternatives.
Features
Good email deliverability rates
Advanced segmentation capabilities to help you group subscribers and send them personalized content
Easy-to-use platform for managing email lists and removing inactive users
GDPR and CAN-SPAM compliant
Automated email campaigns
Cost
Free plan for those who want to try it out. Premium plans start from $350/month.
3. Zapier – connect your apps, automate workflows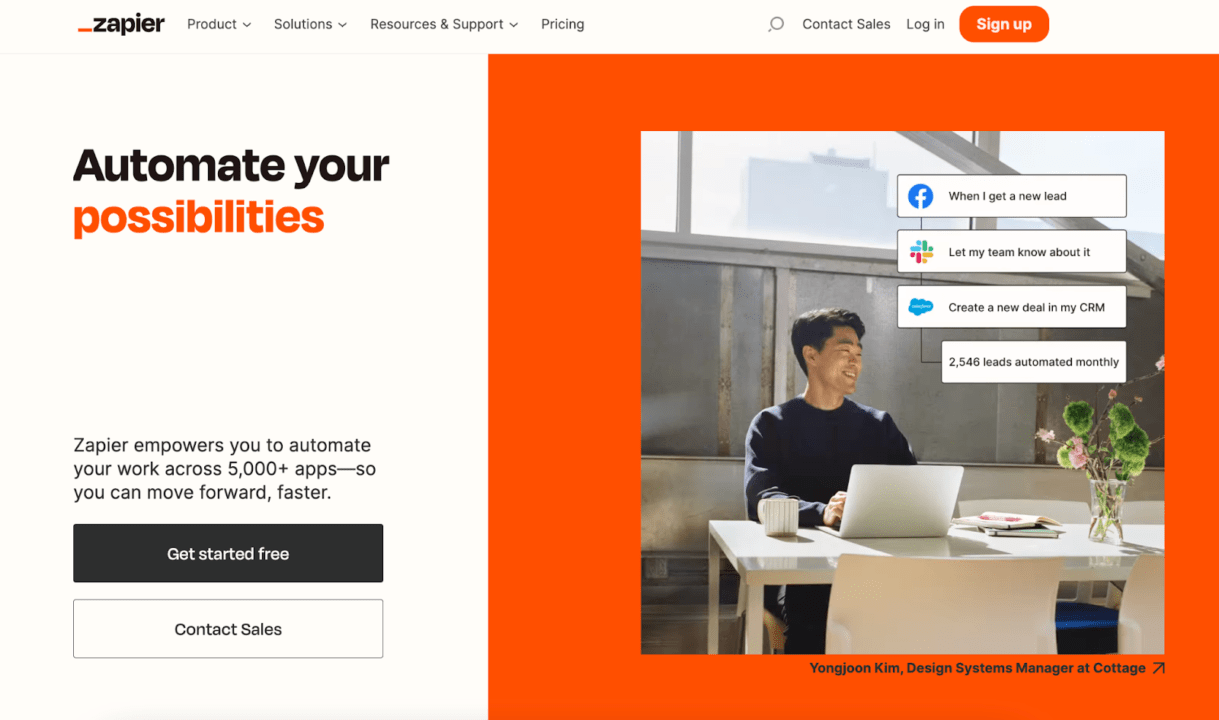 Zapier is a powerful automation tool that connects with email marketing platforms and other apps like CRMs and social media tools to help users automate and streamline their email campaigns.
As a result, you'll be able to update your email list with data from your CRM and social media. This can help ensure your email list is always updated.
Omnisend integrates with Zapier, allowing those who choose Omnisend to update their email list data by leveraging data from other tools.
Features
Seamless integration with email marketing platforms
Automates email list management tasks like updating subscriber information
Eliminates manual data entry by connecting your email marketing platform with your CRM and other tools
Supports conditional workflows
Helps users streamline their email campaigns through A/B testing
Cost
Free plan for up to 100 tasks. Paid plans start at $19.99/month.
4. HubSpot – email marketing + CRM in one app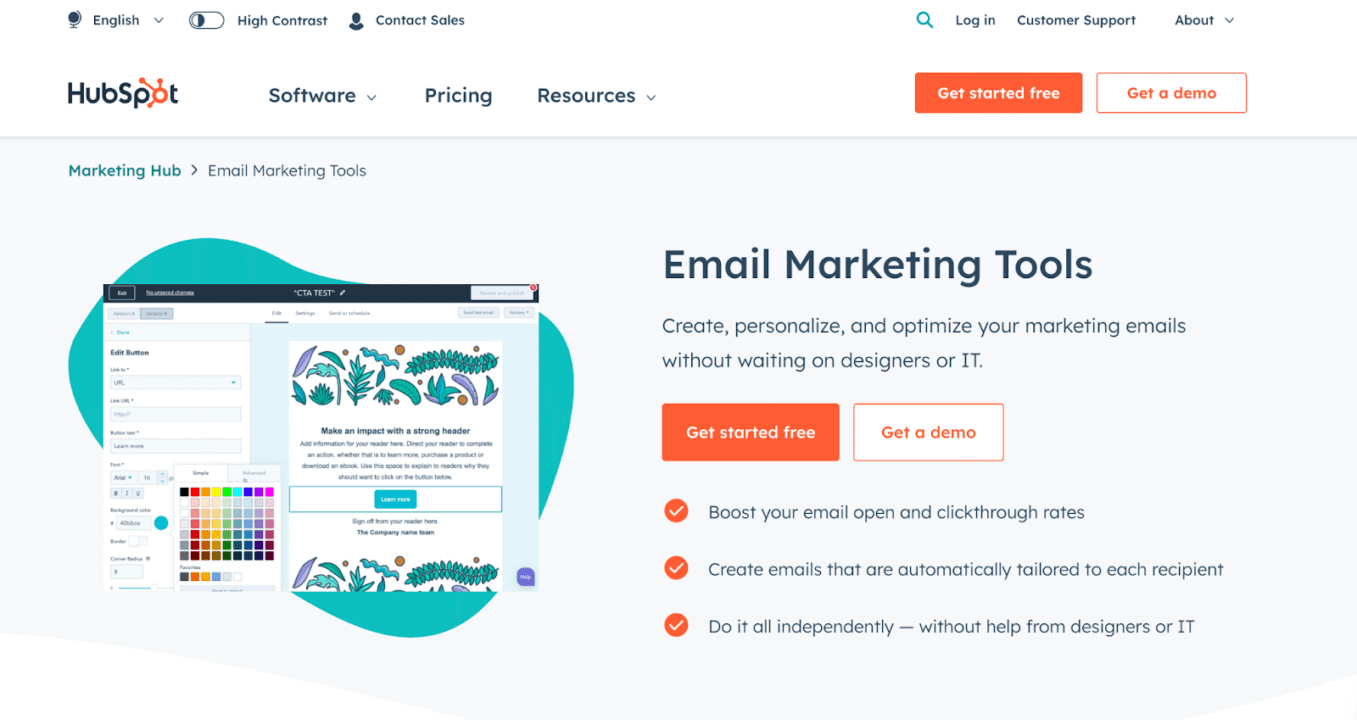 HubSpot is an all-in-one marketing tool with advanced email list management capabilities. The app allows you to segment your email contacts, send personalized emails, and track your campaign with analytics to gauge performance.
It also allows users to maintain a clean email list by automatically removing bounced and invalid emails. Finally, it offers advanced automation features to allow you to send emails based on specific actions.
Features
Integration with other apps for effective list management
Simple list cleaning
GDPR and CAN-SPAM compliant
Supports contact list segmentation
Effective content personalization
Cost
Paid plans start at $800/month.
5. ActiveCampaign – email automation platform for large businesses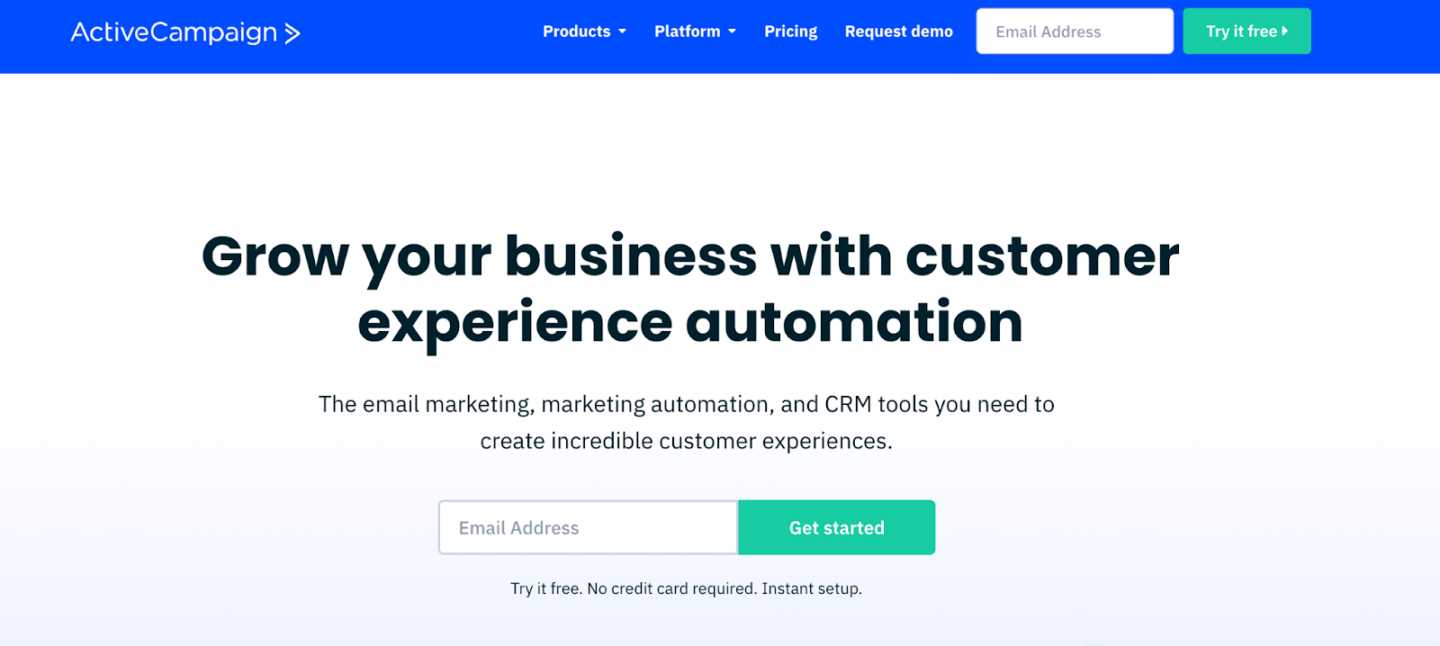 ActiveCampaign is a robust email automation platform that helps users manage their emailing lists with ease. It comes with advanced features, such as list segmentation, automation, and advanced reporting that allow users to run targeted campaigns.
The platform also integrates with a wide range of tools to help improve your email marketing campaigns. In addition, ActiveCampaign is compliant with all data regulations to guarantee the safety of user data.
Features
Effective segmentation and management of email lists
Automated workflows and email campaigns
High deliverability rate
Integrates with other marketing tools
Advanced personalization
Costs
Paid plans start from $29/month.
Email list management: Summary
Email list management is crucial if you want to succeed with email marketing. By cleaning your mailing list regularly and removing the contacts that no longer interact with your emails, you can concentrate on delivering relevant content to your active users and improve your email marketing ROI.
To effectively manage your email lists, you require the right tool to sort and organize everything. Omnisend comes with advanced features to help you segment your users and identify those that bring value to your business.
Easily manage your email list thanks to powerful features, all from one app
Start Free Today
related features
Want more sales?
Omnisend has everything you need to succeed.
Start free now
No Credit Card needed.