Drive sales on autopilot with ecommerce-focused features
See Features
Reading Time:
4
minutes
Mother's Day is one of the most special events on the calendar—a dedicated day to collectively show the important women in our lives what they mean to us, and to treat them to a day of extra consideration.
It's also a significant occasion for ecommerce brands, representing a major shopping event: Mother's Day spending increased from $15.7million in 2007 to a planned $31.7million in 2022.
In the UK, ecommerce retailers saw a 54% year-on-year increase from 2021 to 2022, as well as a 32% increase in traffic over the same period.
This means you should give it particular thought, taking the time to prepare your email campaigns ahead of time.
By also incorporating Mother's Day-themed popups, you'll be able to grow your list with people who are actively looking to spend money for the occasion.
Why you should use Mother's Day popups
Popups continue to be an effective way to grow your email list, with a 4.22% conversion rate.
The more relevant you make your popups, the more likely it is that they'll perform well—growing your email list even faster.
With people starting to think about Mother's Day in the weeks ahead of its arrival, updating your popups to display relevant messaging and offers is a great way to capture their attention.
To make this process quicker, Omnisend has pre-built Mother's Day popups in its template library, such as the following: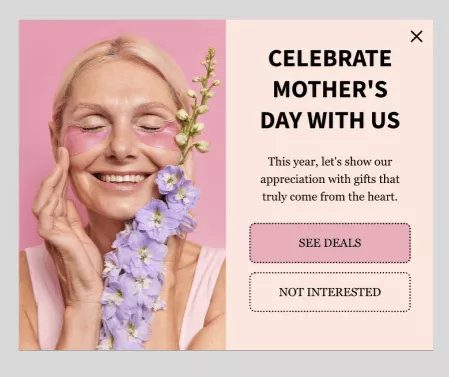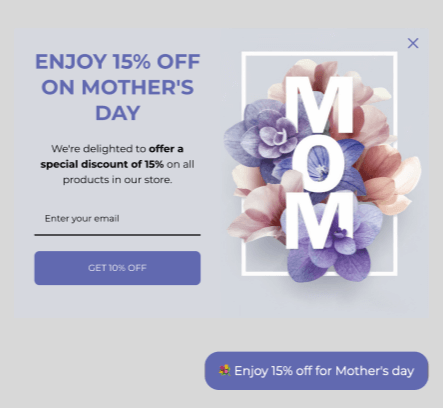 These are available to all customers, even on the free plan. Simply log into your account to access them.
How to build popups in Omnisend
Log into your Omnisend account and click Forms in the menu, and then click the button to create a form. This will take you to our extensive template library.
On this page, you'll be able to filter the templates by theme, goal, and type. We're going to choose Popup: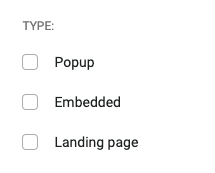 Then you'll see all the templates for popups: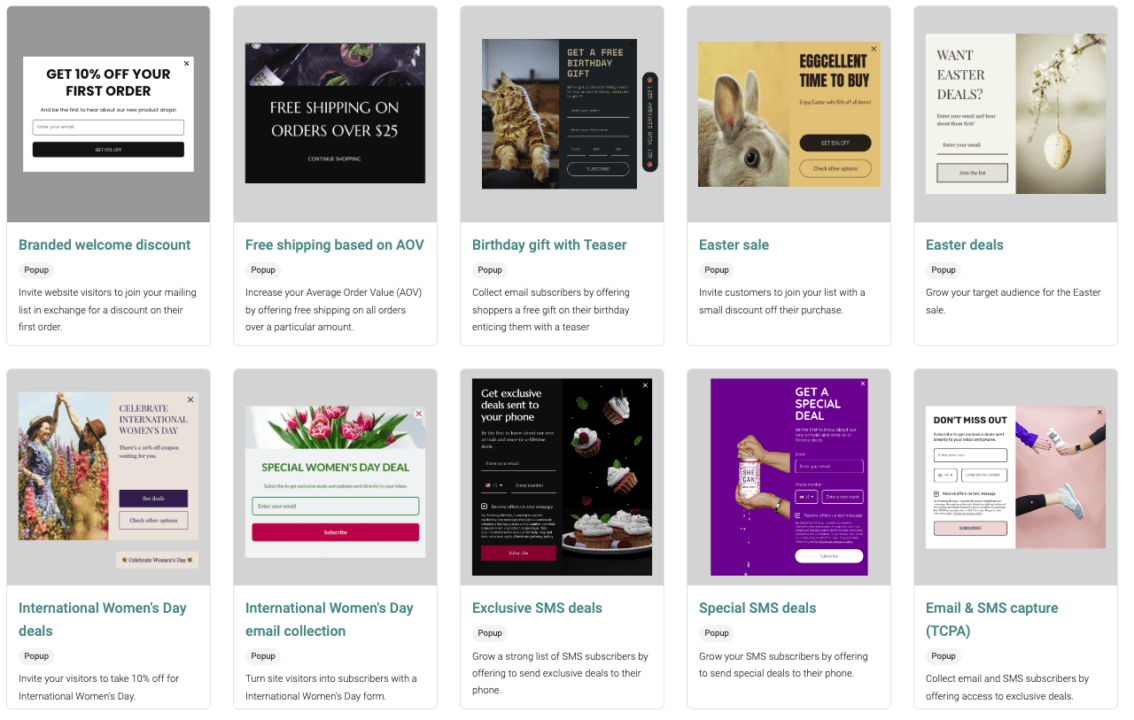 Choose your favorite and you'll be taken to the Form Builder, where you can customize everything including your font, colors, imagery, offer, CTA, and the success message your visitors will see. Once you're done, save the form and it's ready to publish on your site.
For a full demonstration of creating signup forms, check out our walkthrough video:
Best practices for your Mother's Day popups
While you can simply select a form template, change a few details and hit publish, if you want to get the absolute best performance from your popups then we recommend taking a few extra steps:
1. Have a clear CTA
Your website visitors are probably in a hurry, so any popup needs to grab their attention and not demand too much time. A clear CTA will tell them exactly why they should give you their email address—and also helps to ensure your list remains high quality.
A list with relevant, engaged contacts will help your sender reputation and be more likely to yield impressive email engagement stats. After all, these new subscribers are going to receive emails promoting Mother's Day gifts, so you don't want people joining your list if they have no intention of buying anything for this occasion.
2. Ask for a phone number
SMS is one of the cheapest forms of marketing and is also incredibly effective. Win-win!
How effective? Almost 100 million text messages were sent in 2022, leading to an SMS-driven increase in orders of 23.8%.
Omnisend's popup forms have a phone number field and an opt-in box for SMS marketing. Just add this field when setting up your forms and you'll be able to send messages to your contacts, including automated SMS.
3. Set up an exit popup
How many times have you landed on a website, immediately seen a large popup which you close, and then don't see another way to subscribe?
This happens a lot, and it's costing you a lot of missed contacts.
The remedy is simple: an exit-intent popup.
Your visitor can browse around your site and, through cursor tracking, a popup appears when it seems they're about to leave your site. Because your visitors have had a good chance to look around your store and see what you have, it's no surprise that exit-intent popups are very effective—converting at 8%, more than four-times higher than immediate popups.
Here are 30 ideas to get your creativity flowing.
4. Automate a welcome email
The minutes after somebody joins your email list is a golden window. They're waiting to hear from you: around 80% of people expect a welcome email. If you don't send one, you increase the odds that they'll quickly forget all about you, leading to lower engagement rates.
You could sit at your computer and manually email every new subscriber as they join, but it's not the best use of your time. Instead, automate an email (or a series of emails) to get sent to your subscribers immediately. This not only lets you get on with other tasks but it also ensures a consistent signup process.
Read more:
10 best welcome email examples 2023 [+Templates & tips]
Speaking of emails, if you're promoting Mother's Day offers on your popups, your subscribers will expect to see Mother's Day emails. If you're looking for inspiration for these emails, look no further—we've got great examples from Omnisend customers right here.
Check our beautiful and professionally designed newsletter templates for Mother's Day.
Wrap up
Mother's Day is an excellent opportunity to reach more people and grow your email list.
Use Omnisend's ready-made popup templates to get started and follow the suggestions to make your strategy even more effective. Welcome new subscribers with a relevant email, such as a discount code, and you'll have a new audience of people ready and waiting to buy something from you for the special women in their life.
related features
Want more sales?
Omnisend has everything you need to succeed.
Start free now
No Credit Card needed.