Drive sales on autopilot with ecommerce-focused features
See Features
Reading Time:
6
minutes
Mother's Day is celebrated on different days in many countries: The earliest Mother's Day celebration is in Norway, on the second Sunday of February, while the latest falls on December 22 in Indonesia.
However, most countries around the world, including the US, celebrate Mother's Day on the second Sunday of May. This year, that's on May 14.
Mother's Day is all about showing the mother in your life — whether that's your mother, grandmother, or someone's mother — that you love and appreciate them. Therefore, it's a great way to promote your products that you think will bring joy to mothers all around the world.
However, one important thing to note:
Some customers may not find the same joy in Mother's Day — for many reasons — and it's a good idea to send holiday opt-out emails to your subscribers to understand if they want to receive those messages.
In this article, we'll look at some great examples of Mother's Day emails, plus some campaign ideas you can use to sell your products and services.
Get 170+ Mother's Day subject line ideas here.
Did you know you can create and send Mother's Day emails in minutes?
Start Free Today
Campaign ideas for Mother's Day emails
Mother's Day offers great flexibility in the types of campaigns you can run.
Here are some promotion ideas that can be sent via email or SMS:
Exclusive discounts: Send an email or SMS offering an exclusive discount code for Mother's Day purchases. This is a great way to incentivize customers to shop with you and make a purchase.
Personalized recommendations: Use past purchase data to recommend products that the customer may be interested in based on their previous purchases or browsing history. For example, if a customer has previously purchased jewelry from your store, you could recommend similar items that would make great Mother's Day gifts.
Limited-time offers: Create a sense of urgency by offering a limited-time promotion that expires before Mother's Day. This can encourage customers to make a purchase before it's too late.
Gift guides: Send a curated selection of products with a "Mother's Day Gift Guide" email or SMS. Include products at different price points to appeal to a wider audience.
Free shipping: Offer free shipping for Mother's Day purchases. This can be a great incentive for customers who are hesitant to make a purchase due to high shipping costs.
Loyalty rewards: Offer loyalty rewards to customers who make a Mother's Day purchase. For example, you could offer a coupon code for a future purchase or reward points that can be redeemed for discounts.
Contests: Host a contest via email or SMS for a chance to win a Mother's Day prize package. Encourage customers to share the promotion on social media for an extra entry.
Remember to keep your email and SMS promotions short and sweet, with clear calls to action and eye-catching graphics or images.
Mother's Day email templates
Many email marketing providers, like Omnisend, can help you build your Mother's Day email campaigns in no time.
They do this with email templates: easy-to-customize templates that already have default images, text, and styling.
All you have to do is change the text and add your own product details.
Here are some of Omnisend's Mother's Day email templates you can launch in just a few minutes: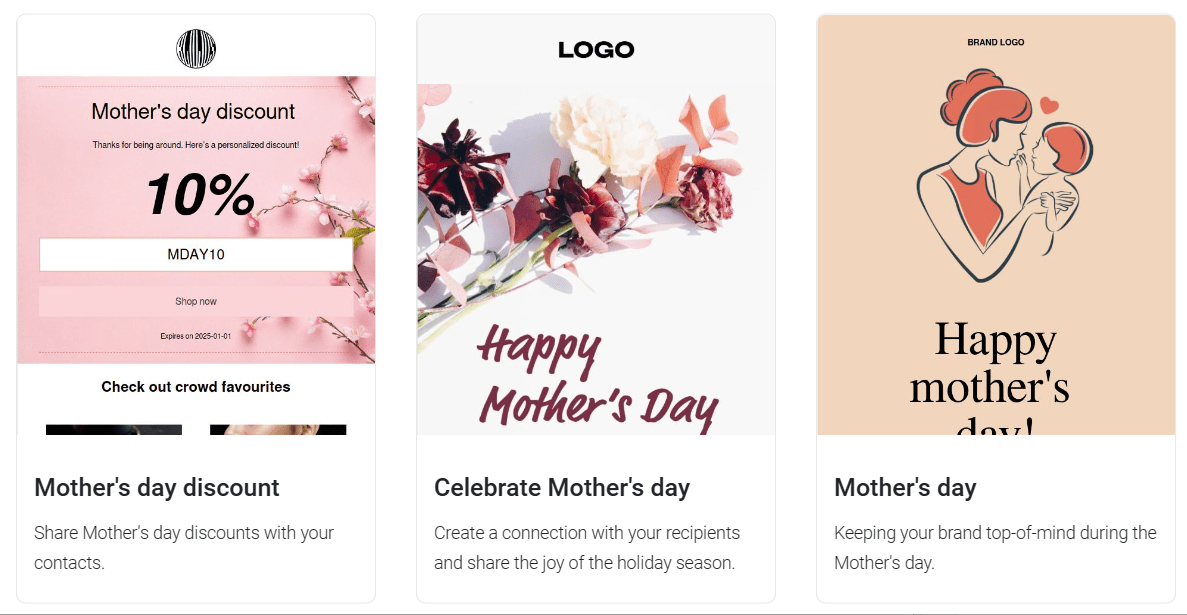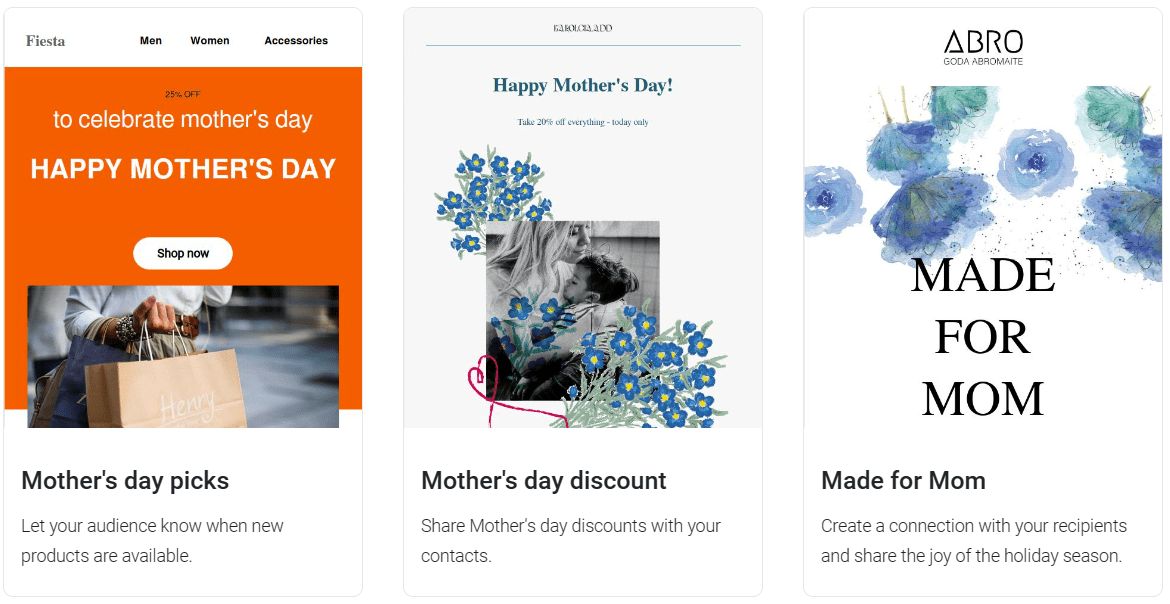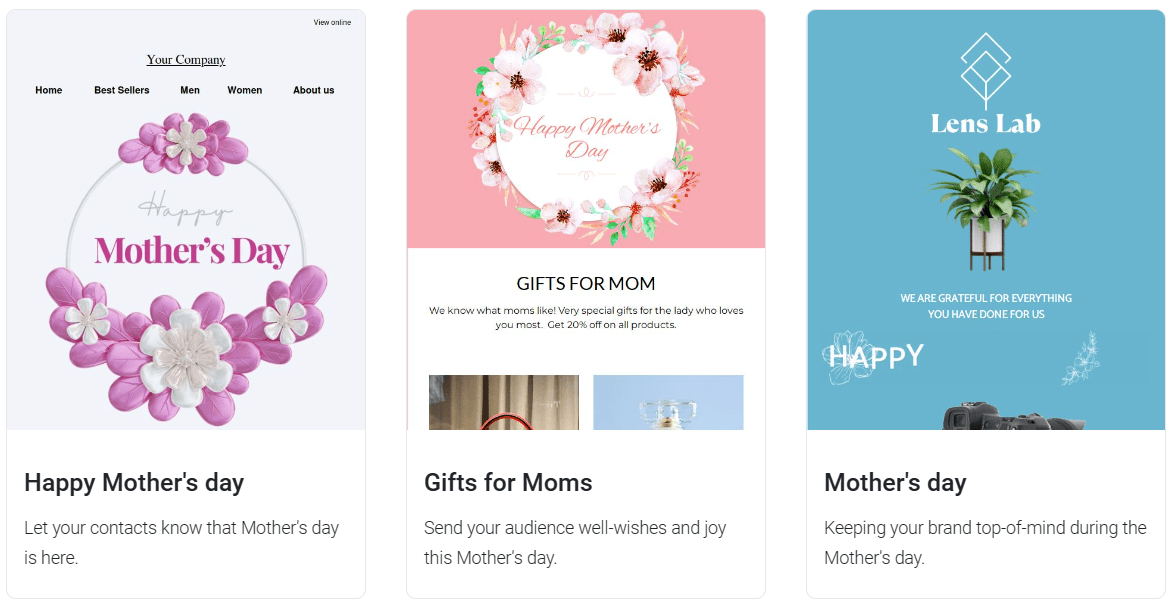 Combined with Omnisend's easy drag-and-drop email builder, you can choose your favorite template and easily adapt it for your campaigns.
Start using Omnisend's Mother's Day email templates and send your campaigns in minutes
Start Free Today
8 best Mother's Day email examples
Let's look at some of the best Mother's Day emails that we've seen here at Omnisend. You can use these to inspire your upcoming campaigns.
#1 Hallmark: 30% OFF for everyone you're celebrating this Mother's Day 🌸

The first example comes from Hallmark — and they would probably know a thing or two about making Mother's Day memorable.
What we really love here is that they're showcasing their different cards that would be perfect for the mothers in their customers' lives. But what takes it to the next level is that they've got a special card for people who may be struggling this Mother's Day.
#2 Don't Buy Her Flowers: Our Mother's Day Gift Guide is now ready 🎁

This gift guide is a masterclass in how you should approach holidays where the subscribers may not know exactly what to buy. Not only is there a gift guide resource to help customers decide, but also ready-made gift boxes.
#3 Smartwatch for Less: Mother's Day Sale 💝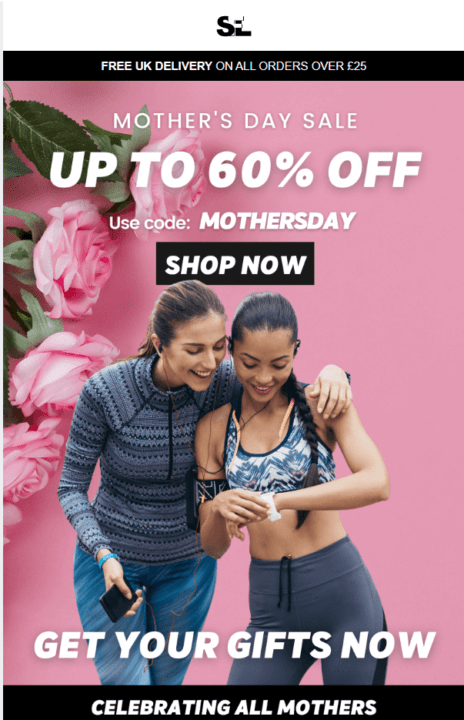 Sometimes, less is more. Here, Smartwatch for Less simply shows off women enjoying their smartwatches, with a simple offer for sitewide sales up to 60% off.
Simple and effective.
#4 Hari and the Gang: Happy Mother's Day! 🌸

This is a great example of a Mother's Day email that isn't overtly about selling products. Instead, it's offering ideas for things to do for mothers (and role mothers) in subscribers' lives, including brunch dates, visits to the art gallery, and more.
The CTA logically leads to gift cards that would go well with these Mother's Day day out ideas.
#5 Beehive Cheese: Your Mom deserves the best

Love the puns here!
Beyond that, like other Mother's Day email examples here, the emails are straightforward and concise, focusing instead on gift-giving guides, gift cards, and resources to help make this day extra special for mothers.
#6 Charlested: Mother's Day Gifting Made Easy…

The minimalist style really works here, since Charlested focuses on beautiful spring-themed colors. Beyond that, it's great that they've considered different gifts for different types of mothers: cooks, florists, gardeners, and more.
#7 Rachel Jackson: MOTHER'S DAY HEROES ❤

This is a great example of a photo-led Mother's Day email. Rachel Jackson here lets their jewelry shine, offering different uses for their different lines.
What's also great is what they include at the bottom — trust signals for worldwide delivery, and other services such as replating and engraving.
#8 Ocushield®: Get 20% off this Mother's Day 💙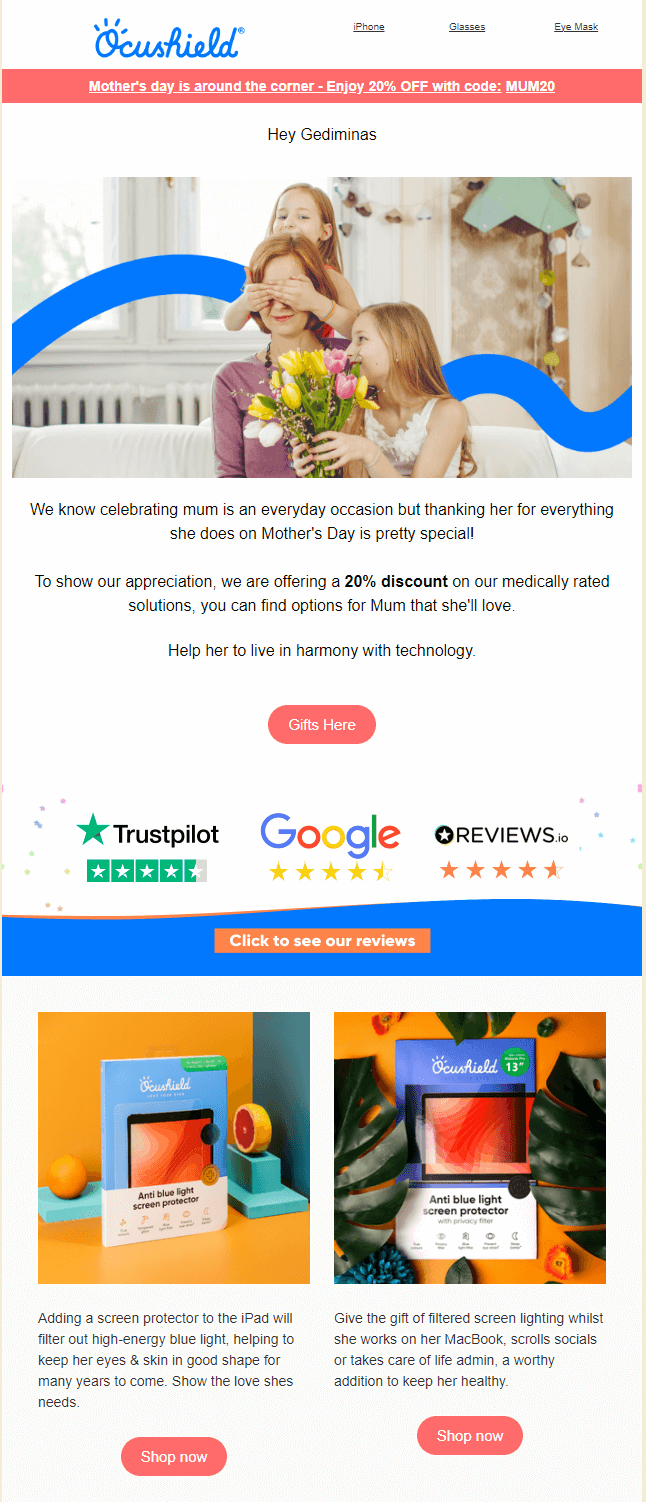 Lastly, we've got a tech-related product that's great for any mother that uses a screen of some kind. They lead with a great mom-related image, nice trust signals from Trustpilot and Google, and of course their products.
Again, simple and straightforward.
Segmenting for Mother's Day
Mother's Day is the perfect time to try out segmentation and see which ones work best for you. According to Omnisend research, segmentation helps to:
earn 62% higher order rates
52% more click-throughs
110% more opens
Segmenting your emails enables you to send targeted messages to specific groups of people, increasing the chances of them engaging with your content.
Here are some segments you could use:
gender
location (city, country or region)
age group
interests (e.g., fitness, travel, cooking)
purchase history
type of relationship (e.g., mother, grandmother, aunt)
Use these segments to tailor your messaging and offers to each audience, making them feel more valued and understood.
Wrap up
To have a successful Mother's Day campaign, keep in mind these key tips:
Use a responsive and mobile-friendly email template
Personalize your emails to make them more effective
Segment your audience into relevant groups
Offer a variety of content, including promotional offers and inspirational stories
Maintain your brand identity while celebrating moms and mother figures
Get a kick start on your Mother's Day email campaigns with Omnisend's ready-made email and popup templates.
Set up and send your Mother's Day email campaigns in minutes with Omnisend
Start Free Today
related features
Want more sales?
Omnisend has everything you need to succeed.
Start free now
No Credit Card needed.