Mailchimp Pricing Increase 2019: What does it mean for your email marketing strategy?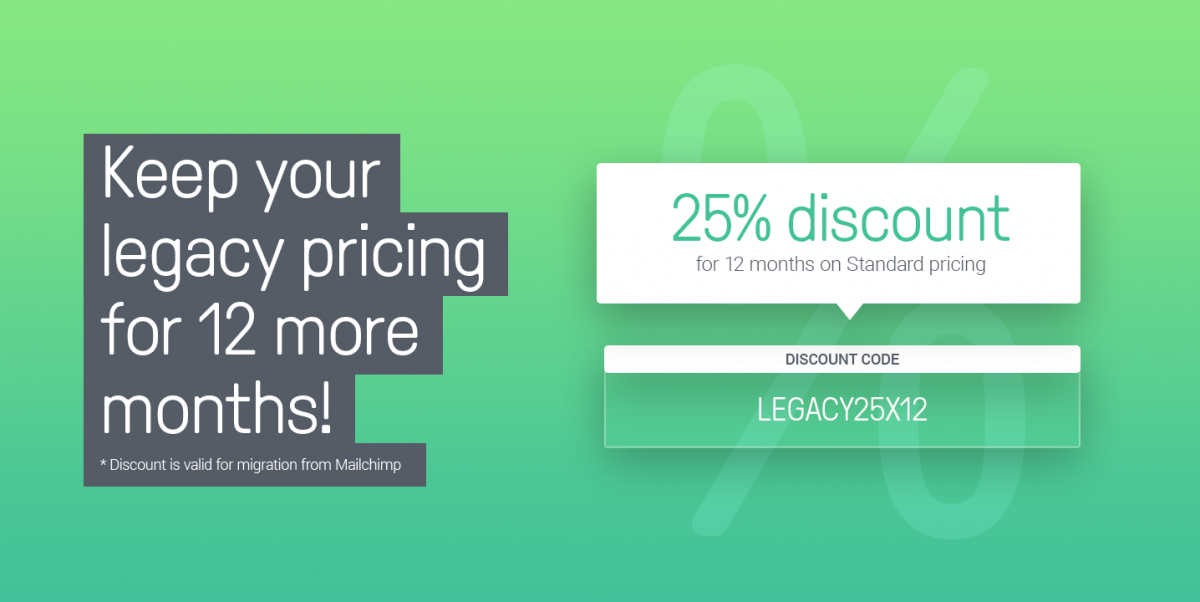 Reading Time:
7
minutes
In May of 2019, Mailchimp launched a huge announcement that they were pivoting from an email marketing platform to an "all-in-one marketing automation platform."
While those in the digital marketing sphere saw this coming a mile away, given their recent rupture with top ecommerce platform, Shopify. However, this news left many Mailchimp customers wondering what concrete changes were coming to the platform, and how it would affect them.
They didn't have to wait long: on May 15th, Mailchimp released an email updating standard Terms of Use and pricing changes effective immediately. For many marketers using the platform, their pricing plans would change dramatically, either immediately or further down the line.
On top of that, Mailchimp stated these changes would not affect those who were already on "legacy paid plans," those who already had a paid plan before the initial price increase rolled out.
However, this Wednesday, Mailchimp announced that it would be raising prices for legacy paid plans anyway, causing a ripple of discordance across the email marketing industry.
Today, I'm going to go over the changes in Mailchimp's pricing, how it affects your business, and give you options on what to do next.
What Changes Can You Expect In Mailchimp's Pricing?
On May 15th, Mailchimp sent out an email informing customers of the changes coming to their pricing plans, among other aspects of their accounts: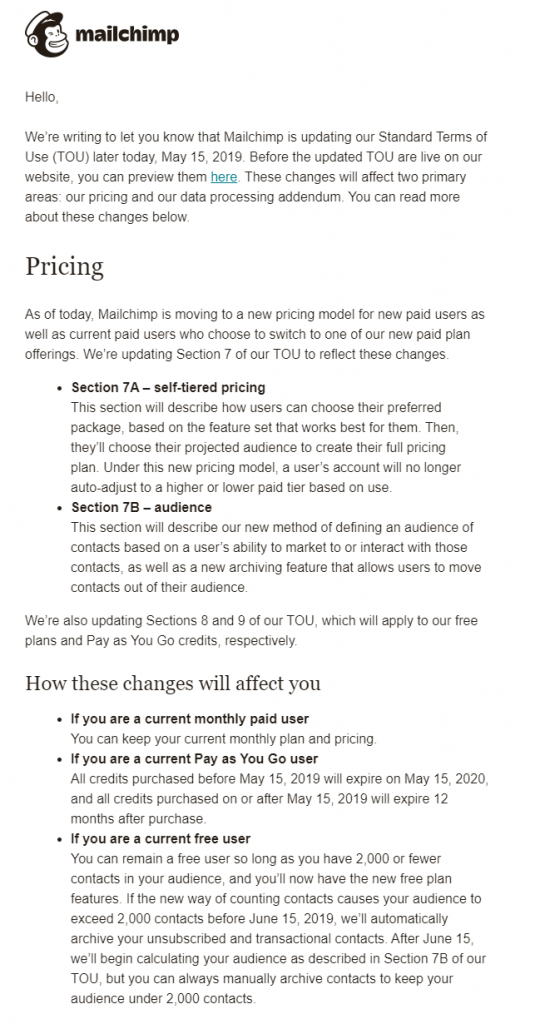 There are a few different aspects to unpack here, we'll go through them all so you know what to expect.
#1. The Change in the Definition of Audience Radically Affects How Much You Pay
As Mailchimp moves from email marketing to an all-in-one marketing automation platform, the definition of the audience has drastically changed.
Now, Mailchimp describes your audience as any type of contact in your list, stating in TOU section 7B: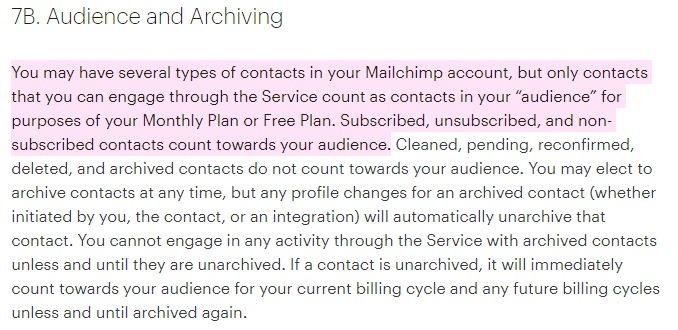 This means that yes, you will pay for contacts that have unsubscribed from contact with you, unless you archive them yourself. Should those contacts, for any reason, become unarchived again, they will count towards your billing cycle.
This means that you'll need to regularly clean, delete, or archive any unsubscribed contacts from your list quite regularly to avoid getting charged for contacts you don't even have the right to message.
#2. You Might End Up Paying More on a Lower-Tiered Plan for Fewer Features
Found in section 7A of Mailchimp's updated TOU, your account will not automatically upgrade to a higher tiered account, even if that tier is less expensive than your current contact count with the lower tier.
What does that mean exactly?
Under any plan, you have both a contact and an email sending limit. If you go over either those limits, your plan updates with $9.99 per month in additional charges per additional 500 contacts, which gives you an extra 5000 email sends.
If you're particularly great at getting more sign ups (or if you forget to scrub your unsubscribed contacts) you could end up paying more in additional charges than you do for your base plan, with fewer features than the next plan offers for the same amount of money.
Instead of automatically updating your account with the additional features you deserve from paying for a higher number of contacts, you'll have to spend the same amount for fewer, basic features.
This means you'll need to keep a close eye on your account's pricing and Mailchimp's pricing tiers to make sure you don't end up overspending for less.
#3. Previously Untouched Legacy Pricing Plans Are Increasing In October Anyway
When Mailchimp initially made this announcement, legacy pricing plans, or those who had paid plans before May 15th, 2019, were to remain unaffected by these new pricing changes.
Mailchimp introduced a Legacy Pricing Plan that allowed users to maintain the pricing plan they've had for years without having to succumb to the new pricing changes.
However, the caveat is that new email marketing features wouldn't roll out to those on legacy pricing plans.
Despite explicitly promising that this would not happen, this week legacy plan users received emails stating that Mailchimp is changing their pricing from anywhere from 15% to 20%.
Even customers who were grandfathered in with their old pricing method are having their prices raised anyway.
Where Can You Go from Here?
Some of these changes are going to make Mailchimp an impossible option for many ecommerce marketers. While in some respect, we all expect pricing increases from time to time to account for new features and inflation, sometimes our businesses can't keep up with the Mailchimp pricing increase.
At the end of the day, you've got to make the best decision for the health of your business.
Luckily, you're not out of options. A great Mailchimp alternative exists that doesn't have these problems in billing, and you'll still keep an easy to use platform.
Omnisend is already an all-in-one marketing automation platform, empowering ecommerce marketers with email marketing at its very core, while adding new omnichannel features everyday. Our pricing scales based on your contacts, so it's something you're already familiar with.
Thousands of former Mailchimp customers have already made the switch, and are happy with what Omnisend has to offer. After all, thousands of 5-star reviews across Shopify, G2Crowd, and Capterra don't lie.
Here's how Omnisend responds to each problem caused by Mailchimp's pricing changes:
#1. Omnisend doesn't count unsubscribed contacts in your list
If a customer is unsubscribed from your Omnisend account, we consider that this is a person you cannot contact under Omnisend TOU. Someone who doesn't expressly opt in to contact from you will not be contacted as per our Anti-Spam Policy.
If contacting a person who has unsubscribed from your list is against our TOU, why would we charge you for a contact you literally can't message?
That just wouldn't make sense.
As long as a contact is unsubscribed from you, and they're not receiving automated messages from you, they're not counted in your billing cycle.
#2. Omnisend Pricing Scales Based on Your Number of Contacts
Omnisend's free plan doesn't have a limit to the number of contacts you can have, rather a limit on sending only 15,000 emails per month.
What's more, our Standard Plan includes the great automation features you need for a great email marketing strategy, our billing automatically upgrades to the tier you need if you do go past your limit. You know what you'll pay from the door based on how many subscribers you have.
With Omnisend, you'll never have to keep a close eye on your plan to see if you're overpaying for fewer features.
Starting from March 4, 2020, Omnisend offers free SMS credits for Pro and Enterprise plan users.
While certain things, like ad credits do cost more, that is controlled by ad platform operators. Omnisend won't tack on extra charges to your plan.
We like to keep it simple- and you're used to being charged based on your number of contacts. That's how we do things.
#3. Omnisend's Improvements Are for Everyone
At Omnisend, we do what we say we're going to do. After the Mailchimp-Shopify split, we put together a full action plan on what features we'd release by the time Mailchimp became incompatible with Shopify.
We made a promise to our brand new customers coming in from Mailchimp, and we kept that promise.
We are dedicated to each and every customer that chooses our platform. We showed that dedication to brand new customers, and we couldn't imagine promising something to long-time customers and not delivering on that promise.
We're always working to improve Omnisend, and more often than not, those improvements are felt throughout the platform. We add extra features consistently, and those features impact the plans that they make sense in.
The way Omnisend operates is pretty simple:
If you need basic email marketing, and you're just starting out, the Free plan is for you.
If you need marketing automation, segmentation, and more personalization, the Standard plan is going to be your jam.
If you need to unify your channels under one roof and create an omnichannel strategy, the Pro plan is the one.
If you need truly customized privacy access, user management, and dedicated support, you'll want the Enterprise plan.
For example, if we add extra channels, we apply those to the Pro and Enterprise plan. If we improve segmentation, that affects Standard through Enterprise. If we make improvements to email marketing, that's felt across the platform.
We don't punish legacy Omnisend users by limiting their features, or hitting them with price increases when we said we wouldn't, and we don't force them to upgrade to keep the features they've loved for years.
Big Takeaways
At the end of the day, Omnisend customers already benefit by Omnisend already being an all-in-one marketing automation platform. We've been offering omnichannel features for years, and our marketers benefit from them every day.
If you stuck it out with Mailchimp through the Shopify Break up, and you've decided to say "not today" to these new pricing changes, we're here to help.
For those coming from Mailchimp, we're offering 25% off Omnisend plans each month for a whole year. This means you'll be able to keep your Mailchimp legacy pricing, or potentially pay even less for the next 12 months.
So you can join the thousands of happy former-Mailchimp customers at Omnisend, and see how much you save with us.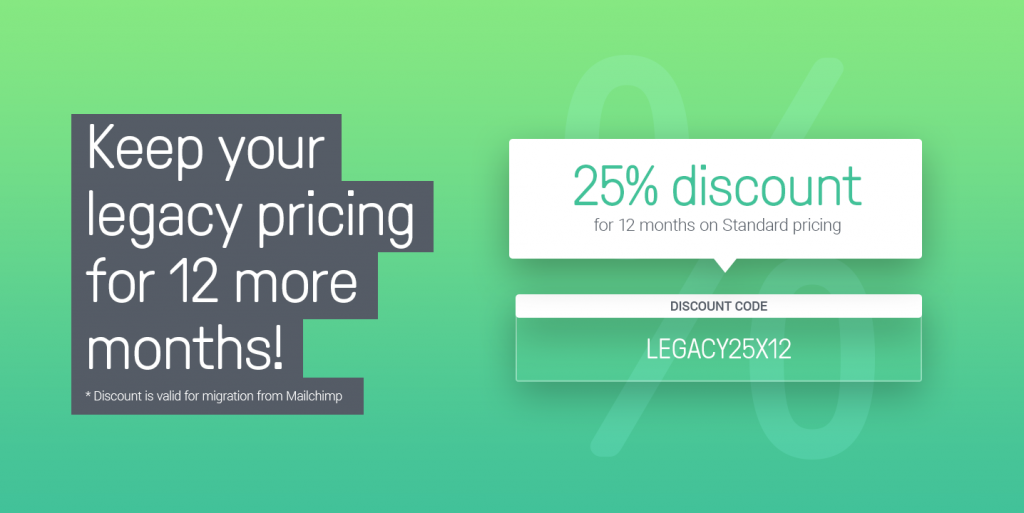 Want to see how Omnisend measures up to Mailchimp? Check out Omnisend vs Mailchimp: A Feature for Feature Comparison and Email Marketing Comparison: Omnisend vs. Drip vs. Mailchimp