Drive sales on autopilot with ecommerce-focused features
See Features
Reading Time:
6
minutes
Mailchimp recently announced that it will be increasing its prices again. This time by 11% on average. This follows on from the news in November 2021 that Mailchimp was to be acquired by global technology platform Intuit, something that may have had an impact on this decision.
This isn't the first time that Mailchimp has surprised its users with sudden price increases. In May 2019, Mailchimp made a huge announcement—they were pivoting from an email marketing platform to an "all-in-one marketing automation platform." They released an email with updated Terms of Use and pricing changes that were effective immediately. For most marketers using the platform, pricing plans would change dramatically.
On top of that, Mailchimp stated these changes would not affect "Legacy Paid Plans." These were users who were on a paid plan before the price increases rolled out. However, Mailchimp soon raised prices for Legacy Paid Plans anyway, causing a ripple of discordance across the email marketing industry.
Today, we're going to go over the latest changes in Mailchimp's pricing. We'll learn how they might affect your business and give you some solid options on what to do next.
2023 changes to their Free plan
In February 2023 (just like clockwork), Mailchimp came out with another pricing change. This one fortunately wasn't too drastic of a change for their paying customers.
However, it impacts their Free users:
Beginning March 2023, Free users will have their contact limit reduced to 500, and their send limit capped at 1,000 emails.
What changes can you expect in Mailchimp's pricing?
Mailchimp sent out an email informing customers of changes to their pricing plans: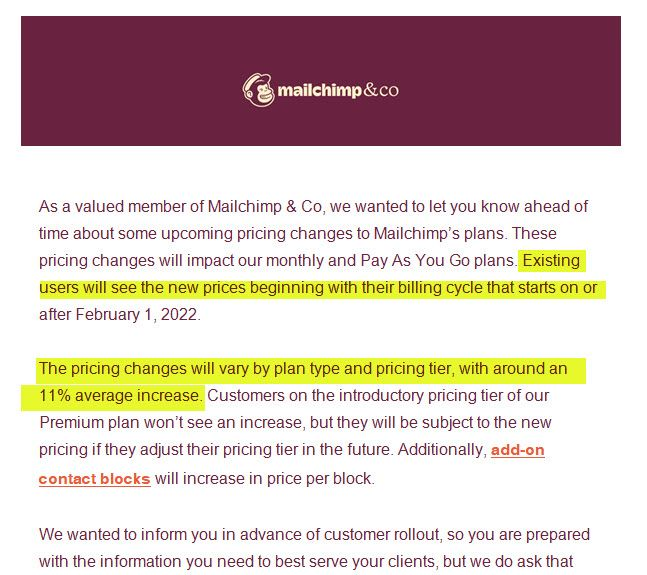 As you can see, the pricing increases are effective February 1st, 2022, giving users very little time to figure out the impact on their business model and adapt accordingly.
If you're a long-term Mailchimp user who was using the service before the pricing structure changes of 2019, you're probably still on a Legacy Plan. Legacy Plans are governed by different payment terms to more recent subscribers. So you might be wondering, do these new prices increases affect me too?
2022 price increases compared to Mailchimp legacy pricing
According to the email, only customers on the introductory tier of Mailchimp's Premium Plan will avoid an increase in prices. Sadly, this means that Legacy Plan users will be affected. There are currently 3 Mailchimp legacy plans available:
Mailchimp Legacy Monthly plan: This plan charges once per month and is based on subscriber numbers or send volume. Prices increase as your subscriber numbers rise, up to 52,000. Users with more than 52,000 subscribed contacts are considered high-volume senders and face extra charges.
Mailchimp Legacy Pay As You Go plan: This is a flexible plan that's best for infrequent senders. It includes the same paid features as the Monthly plan and offers buyable email credits to cover your particular sending needs.
Mailchimp Legacy Free plan: This is a free plan that allows you to send 12,000 total emails per month and have up to 2,000 total subscribers. Adding certain features, like new audiences, is limited.
With add-on contact blocks also set to increase in price, Legacy Pay As You Go users are likely to be affected the most. How much are Mailchimp credits going to increase in price? If your business is growing rapidly, these extra Mailchimp costs will soon add up.
It remains to be seen exactly how pricing for each individual Legacy Plan will be affected. Users found out on their billing cycle that began February 1st, 2022.
Where can you go from here?
Some of these changes are going to make Mailchimp an impossible option for many ecommerce marketers. Sure, pricing increases are expected from time to time to account for new features and inflation. However, it might be difficult for some businesses to keep up with these Mailchimp pricing increases.
At the end of the day, you've got to make the best decision for the health of your business.
Luckily, there are a few options available. A great Mailchimp alternative exists that doesn't have these problems in billing, and you'll still have access to an intuitive and revenue-driving platform.
Omnisend has been an all-in-one marketing automation platform since day one. We empower small and medium-sized ecommerce businesses with email marketing at our very core. We're also adding new omnichannel features every day. Our pricing scales are based on your contacts and sending requirements, so that's something you're already familiar with.
Thousands of former Mailchimp customers have already made the switch and are happy with what Omnisend has to offer. After all, thousands of 5-star reviews across Shopify, G2Crowd, and Capterra can't be wrong!
Here's how Omnisend responds to the problems caused by Mailchimp's frequent pricing changes:
Omnisend doesn't count unsubscribed contacts in your list
One of the most controversial issues in the 2019 Mailchimp price increase regarded the types of contacts that you can be charged for. Mailchimp counts not only contacts that are subscribed to your list but also unsubscribed and non-subscribed contacts. That means that you're still paying for contacts that no longer receive your emails unless you take the time to archive them manually.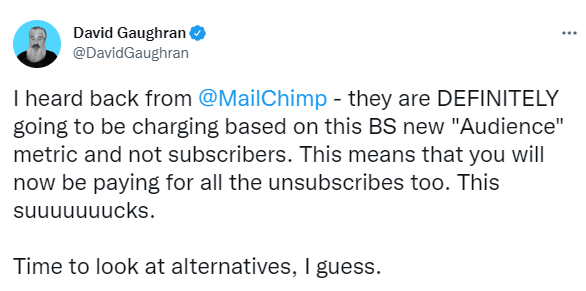 If a customer is unsubscribed from your Omnisend account, we consider that this is a person you cannot contact. Someone who doesn't expressly opt in to contact you will not be contacted as per our Anti-Spam Policy.
If contacting a person who has unsubscribed from your list is against our TOU, why would we charge you for a contact you literally can't message?
That just wouldn't make sense.
As long as a contact is unsubscribed from you, and they're not receiving automated messages from you, they're not counted in your billing cycle.
Omnisend pricing scales up as you grow
Omnisend's growth-focused free plan gives access to all of our features, from email marketing to the most advanced personalized automations.
That way you can start small (reach up to 250 contacts without paying a cent) and harness the full power of Omnisend to grow your business rapidly. As you add more contacts and require more emails per month, the prices scale up accordingly. Here's are the prices and the Standard and Pro plans for 1000 contacts, for example: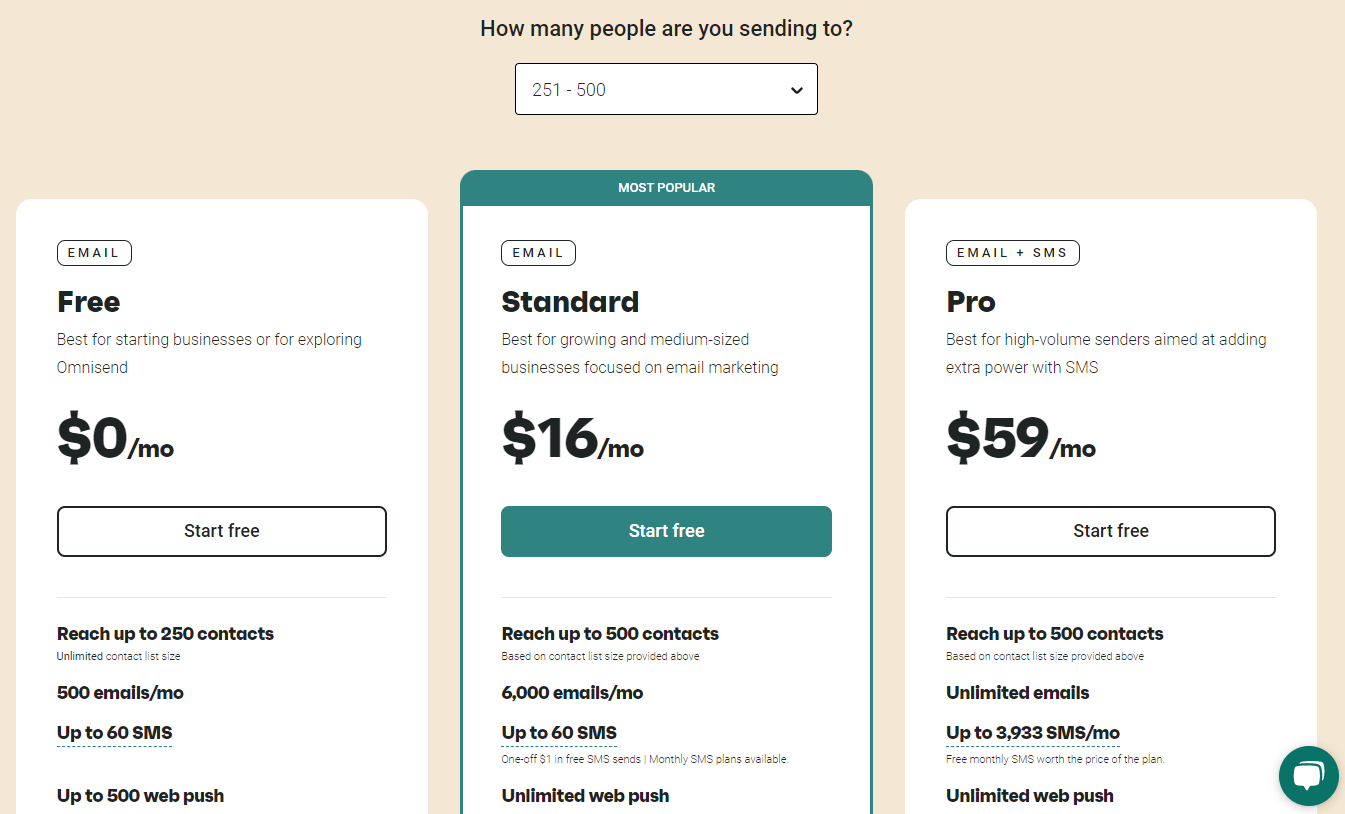 We like to keep it simple at Omnisend. You're used to being charged based on your number of contacts, that's how we do things here too.
Omnisend's improvements are for everyone
At Omnisend, we do what we say we're going to do. After the Mailchimp-Shopify split in 2019, we put together a full action plan on what features we'd release by the time Mailchimp became incompatible with Shopify.
We're dedicated to each and every customer that chooses our platform. We show that dedication to brand new customers, and we couldn't imagine promising something to long-time customers and not delivering on that promise.
We're always working to improve Omnisend, and those improvements are felt throughout the platform. We add extra features consistently and make them immediately available for all of our users.
For example, when we add advanced segmentation features such as Customer Lifecycle Stages, they benefit everyone. Businesses with thousands of contacts can use it to identify and cherish their best customers, while those who are just starting out can use it for free to prevent churn and encourage repeat purchases.
We don't punish legacy Omnisend users by limiting features or hitting them with price increases when we said we wouldn't. And we certainly don't force customers to upgrade to keep the features they've loved for years.
Main takeaways
At the end of the day, Omnisend customers already benefit from Omnisend being an all-in-one marketing automation platform from the start. We've been offering omnichannel features for years, and our marketers benefit from them every day.
Join the thousands of happy former Mailchimp customers at Omnisend, and see how much you save with us!
Want to see how Omnisend measures up to Mailchimp? Check out Omnisend vs Mailchimp: A Feature for Feature Comparison and Email Marketing Comparison: Omnisend vs. Drip vs. Mailchimp.
Drive sales on autopilot with pre-built automation workflows at Omnisend!
Start free today
related features
Want more sales?
Omnisend has everything you need to succeed.
Start free now
No Credit Card needed.