Drive sales on autopilot with ecommerce-focused features
See Features
9 tips on product listing optimization: How to make your goods findable and buyable
Reading Time:
6
minutes
Customers can't buy what they can't find. No matter whether you're building an Amazon product listing or one on Google marketplace, Etsy, your ecommerce store, or elsewhere, your product pages have to be both optimized for search results and compelling for buyers.
The following tips cover product listing page optimization best practices and fundamentals necessary for an irresistible product showcase. Keep on reading and learn more about increasing your sales on various marketplaces.
9 tips on product listing optimization
1. Pick the best marketplaces for your business
Hundreds of thousands of ecommerce businesses sell on Amazon, but this doesn't necessarily mean that you should be there too. Although this ecommerce giant provides vast opportunities for businesses, their seller fees are on the higher-end for marketplaces and the competition on this marketplace is ferocious.
At Omnisend, we value Amazon, but we also suggest that ecommerce businesses explore broader selling opportunities. There are many niche marketplaces like Etsy, Uncommon Goods, NewEgg, Bonanza, etc. that are less focused on discounting, less competitive, and have a more seller-friendly policy. Selling on these kinds of marketplaces can help you reach your customers and not sacrifice as much on your margins.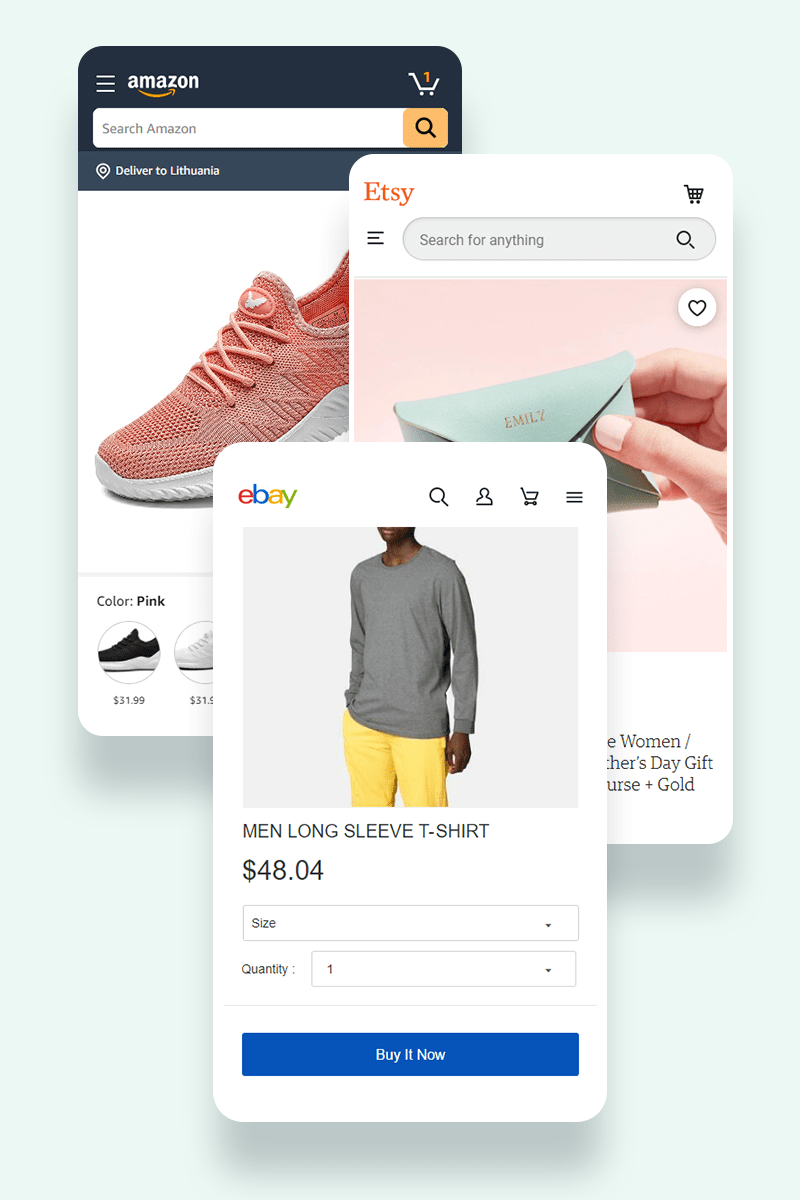 2. Adjust your product listing according to the marketplace
Once you decide on the marketplaces where you want to showcase your products, you should start treating them as your own website, where you introduce your brand and products the exact way you want. However, it's not a one-size-fits-all approach. Every marketplace is different and may require adjusted information for product listings. Pay attention to each marketplace's requirements.
Depending on your business size and number of products, this task might require a lot of manpower. If you aim at selling dozens of products on multiple marketplaces, you should consider using a management platform that can help you manage the workload. But this is unnecessary for ecommerce beginners and DTC brands that are going to the market with several starting products.
3. Experiment on product titles, optimize for specific search
No matter which marketplace you're in, your product titles should be very descriptive. People don't always read the product details: they see the product title first and decide whether to take action.
Another important aspect is search optimization in the marketplace. Be it Amazon, Google, or Etsy, every platform has its own SEO and ranking principles. So your task is to pay attention to what works best, identify keywords, and adjust product titles according to your findings.
Sometimes, short and clear titles perform best. Other times, long and keyword-stuffed titles work better. That's why creating a title is more of an art than a science, and you have to experiment and test how much you can reduce from the title without reducing your sales.
The main things to mention in the title are the following (you can experiment with which one goes first):
Brand name
The product model
Other helpful information, like size, color, etc.
Remember, the characters for your title will be limited (e.g., 200 on Amazon), so use them wisely. Also, bear in mind mobile users and how the title renders on a smaller mobile display.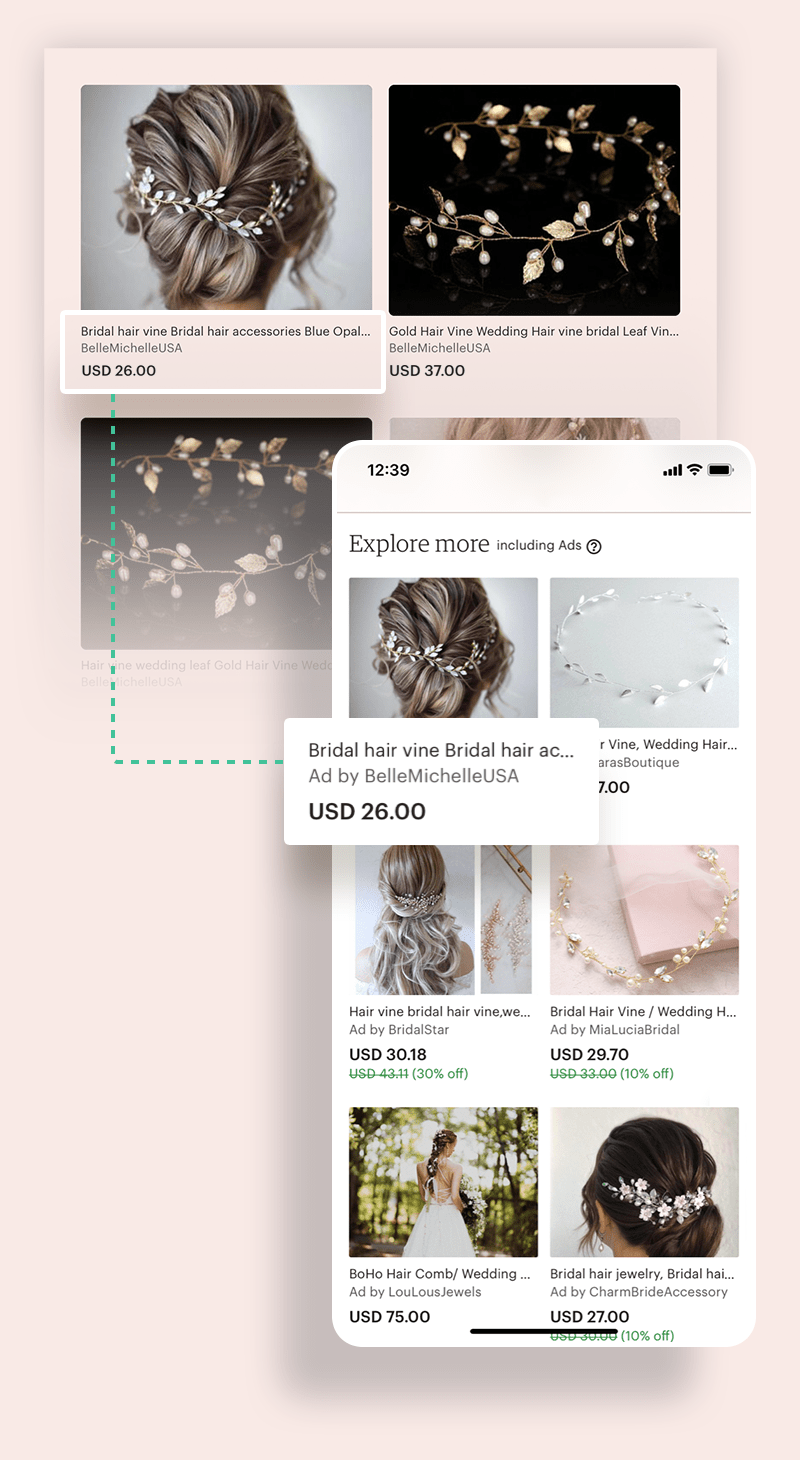 4. Focus on the right things in your product descriptions
Firstly, be sure that you provide value statements in your product descriptions so the buyers can find a match with what they're looking for.
Secondly, you need to make that description complete—this is your sales approach to the buyer. If the customer has any questions about the product, they should find all the answers in the description, not elsewhere.
Finally, if the marketplace allows you to provide both bullet points and a paragraph description, use both opportunities to present your product. Make sure to include its best use cases and important keywords so the product is more discoverable on the marketplace's search.
5. Use high-quality photos and rich media
All marketplaces limit the number of images you can use to introduce your products, so use as many images as you can, including high-quality product images, lifestyle images, and use-case images. Make sure that your best photo is your main image and secondary images show all aspects of your product.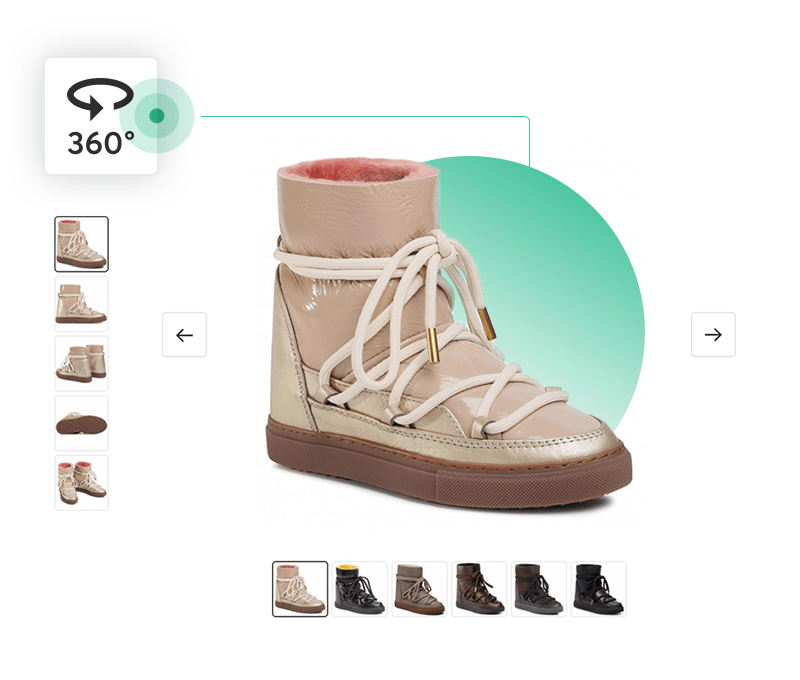 If the marketplace allows you to use rich media, definitely do that. Things like 360° photography and short videos reinforce your brand value and help customers make decisions by showing exactly how a product is used.
If you don't have a budget for professional videos, consider producing ones with the resources you have—a home-made video might create value that you couldn't even imagine.
6. Include shipping into the product price by bundling your products and diversifying shipping carriers
Ideally, the shipping price should be included in the product price to create the illusion of free shipping. That's a standard in today's market. In the Amazon world, 2-day free shipping is a de facto and that's what everyone expects. However, if you can't get good prices from manufacturers and your margin is small, it might be impossible to offer this. In this case, try to bundle your products together with accessories.
When you bundle your products, you spread your margin and have a larger percentage to play with. For example, if you sell coffee, offer some filters, distilled water, or other accessories that might be necessary for coffee lovers. The shipping will cost the same, but your profit is bigger.
Another way to save on shipping is to diversify your shipping carriers. Understanding how different shipping services work allows you to take advantage of each and reduce shipping costs. For example, for small paper parcels that fit into the mailbox, use one carrier. For larger parcels, use another. Some carriers may be cheaper shipping in-state but charge extra for out-of-state shipping. Explore each component of your shipping services and you will likely find ways to save on shipping costs.
7. Never underestimate the power of (bad) product reviews
We all know how important product reviews are for merchants. We all strive for 5-star reviews, but bad reviews happen as well. This isn't as bad as you may think. A variety of reviews shows that they are organic, not fake. It's ok that your products sometimes get four-, three-, and even one-star reviews. The only thing that can become a disaster from bad reviews is ignoring them. You should reply to any bad reviews and avoid leaving buyers with their concerns unaddressed.
If you have a long list of products and several marketplaces, consider starting to use tools that can help you to monitor and manage all the reviews online.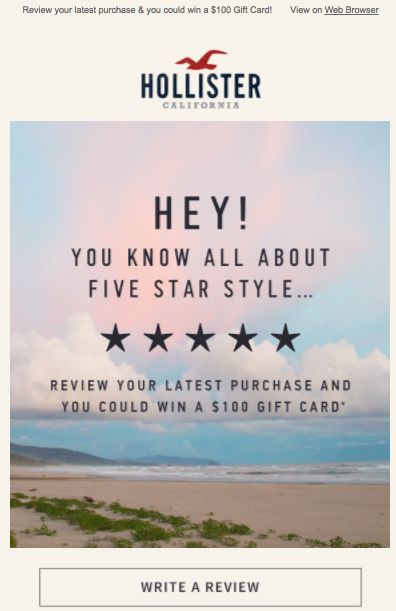 8. Employ User-Generated Content
User-generated content is gold. If customers make unboxing or use-case videos with your products, add them to your product listings. Let others tell their real stories and show the benefits of your products.
If nobody's done such a video yet, you can initiate and encourage your buyers to do so in your purchase follow-up emails. Find out how to automate this process and make it work for you here.
9. Sell only high-demand products on the marketplace
Space on the virtual shelves is valuable, so you don't want items sitting around collecting dust. Pay attention to product lifecycles and their seasonality and display only high-demand products.
This way, you'll save on placeholders on the marketplace as well as in fulfillment centers, and those that have little chance of being sold won't cost you a penny.
Products listing optimization: The main takeaways
It's smart to avoid putting all your eggs into one basket instead of trying different sales channels for your products. The main takeaways are:
Pick marketplaces that best resonate with your business idea and that you can afford at your current business stage.
Don't employ the "one-thing-fits-all" model. Once you expand to a new marketplace, explore what works specifically on that marketplace.
Use as many visuals as is allowed by the marketplace.
Experimenting with product titles and descriptions is an ongoing process. Never stop doing that.
Find ways to offer free shipping, maximize margins, and reduce your shipping costs.
Get started with Omnisend today & drive sales on autopilot with pre-built automation workflows
Start Free Today
related features
Want more sales?
Omnisend has everything you need to succeed.
Start free now
No Credit Card needed.