Drive sales on autopilot with ecommerce-focused features
See Features
Reading Time:
6
minutes
The demand for online purchasing is showing no sign of slowing down and the number of platforms designed to assist users in setting up an ecommerce store is increasing rapidly.
This makes efficiency more important than ever. Dedicated ecommerce platforms like Shopify can help merchants manage more effectively. The standard Shopify platform is a versatile solution for merchants. This is true whether they have smaller online sales channels or a handful of locations.
But what about larger enterprise users whose needs extend beyond the services that Shopify provides? Or merchants that also have a strong physical 'brick-and-mortar' presence?
Ecommerce merchants that manage an extensive network of locations and may need more tools. Their complicated transactions might require more than what the regular Shopify platform offers. Shopify Plus has been developed to address the needs of these larger users.
Shopify Plus has been developed for ecommerce stores that operate at higher levels of complexity. It features tools designed to integrate, automate, and streamline ecommerce processes and transactions—all while managing ongoing business growth.
Let's explore some of the benefits of Shopify Plus for enterprise users and when you should consider upgrading to it from your base Shopify plan.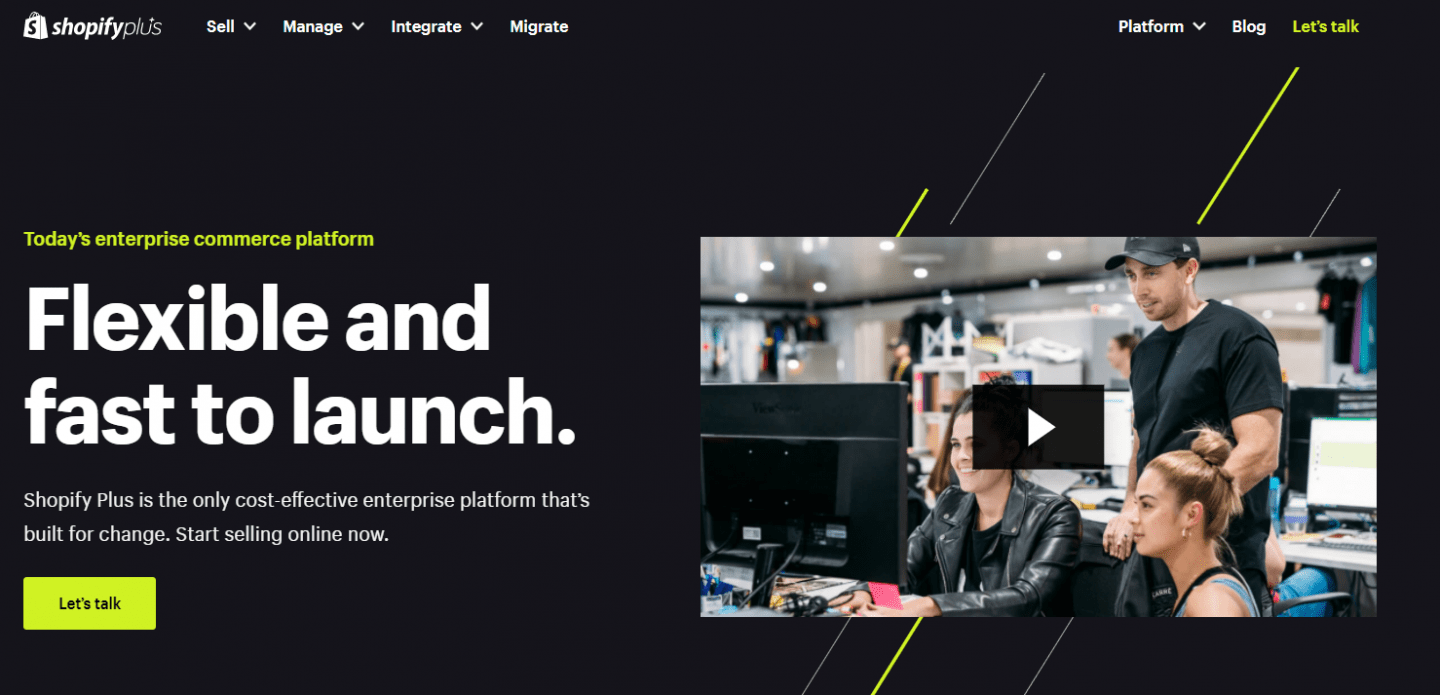 What is Shopify Plus?
The expanded ecommerce functionality isn't Shopify Plus' sole benefit. Upgrading provides a robust omnichannel shopping experience with integration and cross-platform abilities. These span desktop, mobile, and third-party applications.
The Shopify Plus upgrade provides the power to scale operations quickly on a global level. This is invaluable when expanding operations into different countries. It also helps when integrating with existing ERP and CRM systems for agile inventory and customer management.
It also features further enhancements to the user experience. These include a seamless interchange between in-store points of sale and online storefronts. Shopping carts can be customized to offer a completely personalized user checkout experience.
Using 'Shopify Flow', merchants can replace manual processes into time-saving automated tasks. This system is exclusive to Shopify Plus, and is used to manage multiple complex workflows. Alerts can be set and messages sent automatically across external project management tools. These tools include the likes of Slack, Trello, and Asana.
Better yet, customer interactions are easily manageable. Shopify Plus features automated processes that can handle and respond to customers. It can handle negative reviews and even improve customer management functions. Merchants can generate automated email communications to enhance buyer experience. They can send everything from pricing alerts to special deals.
Shopify also provides Shopify Plus certified apps that are of high quality and well-trusted. For example, there are email services like Omnisend. Omnisend provides a wealth of integrated engagement tools. These include SMS messages, retargeting, and push notifications to provide 360-degree user-centered communications.
Try using Omnisend for free today!
When should you change your Shopify plan?
If you are a rapidly growing ecommerce business then you may have considered switching from Shopify to Shopify Plus. While a Shopify Plus plan offers a wide range of tools and automation possibilities, you may be unsure that it will really benefit your ecommerce store.
How much does Shopify Plus cost?
Merchants will likely consider the price first when thinking about switching to Shopify Plus, and it's true—the price might be a barrier when deciding to switch. Shopify as an ecommerce platform offers plans that begin at $29 per month and rise to $299 per month for the 'Advanced Plan.'
On the other hand, with Shopify Plus, the minimum you can expect to pay is $2000. After a store's turnover exceeds $800,000 annually, Shopify Plus converts to a revenue-based fee of 0.25% of monthly turnover.
In addition to the monthly cost associated with upgrading to Shopify Plus, there are also fees charged for items such as:
Maintenance
Credit Card Processing
Applications
Generally speaking, an ecommerce storefront will need to achieve high annual revenue to merit Shopify Plus. For the best return on investment, merchants will need to see revenue hit the $1 million mark or more. Most of the Shopify Plus costs are non-negotiable. However, depending on the sales volumes being processed, some merchants may find they can negotiate on credit card processing fees.
App fees will vary depending on the app and the function it provides. Many apps are Shopify Plus certified, assuring merchants that they play nicely with Shopify's many facets. Although the cost of Shopify Plus is designed for larger players in the ecommerce arena, its suite of available tools surpasses those of other platforms. This is especially true for ecommerce stores concerned with expansion across countries and borders.
These merchants will benefit from the region-specific Shopify Plus features, such as multi-currency transactions.
Benefits of upgrading to Shopify Plus
The features of Shopify Plus are designed to benefit larger ecommerce stores. It provides many benefits for these merchants, supporting ongoing expansion and scalability.
Let's look at some of the other Shopify Plus benefits a merchant can expect:
International and multi-currency capability.
Cross-device functionality, including 3rd party apps, mobile, and desktop.
Automation of workflow processes.
Personalized checkout.
In-depth analytics, including transactional and customer analytics.
Access to Script Editor. You can write your own scripts and run custom code.
Easy management of customer interactions, pricing, and promotions.
Cross-channel selling on platforms like eBay or Etsy.
24-hour support.
Shopify Plus also provides a higher level of support and training materials. They're often considered greater than similar ecommerce platforms. Shopify Plus Experts supply end-to-end support and the Shopify Plus Academy features an extensive library. It's complete with training videos and workshops that can be accessed at any time. They're exceptionally useful for merchants that need answers to questions and support during their ecommerce journey.
One of the biggest Shopify Plus benefits is the ability to scale and expand. It greatly helps merchants that are growing quickly or moving across regions. Shopify Plus promises to handle even erratic traffic volumes, such as traffic around the Christmas period or Black Friday sales.
How to migrate and upgrade to Shopify Plus
Making the transition to Shopify Plus can seem like a daunting task. Many platforms can take as much as 18 months to migrate an existing ecommerce operation. However, Shopify promises completion in 90 days or less. Shopify is so confident in the platform that migration is offered to qualified merchants as a free service.
Ecommerce store owners can transition their store comfortably with no loss of business. The transition can occur while testing, setting up security, and hosting costs are taken care of. Migration services are provided free of charge with a Shopify Plus upgrade. Yet it's worth noting that monthly fees of $2000 or 0.25% of monthly transactions still apply.
A dedicated Launch Engineer helps the process. This means merchants can build and scale their ecommerce solutions correctly to prevent time-consuming and costly future rebuilds.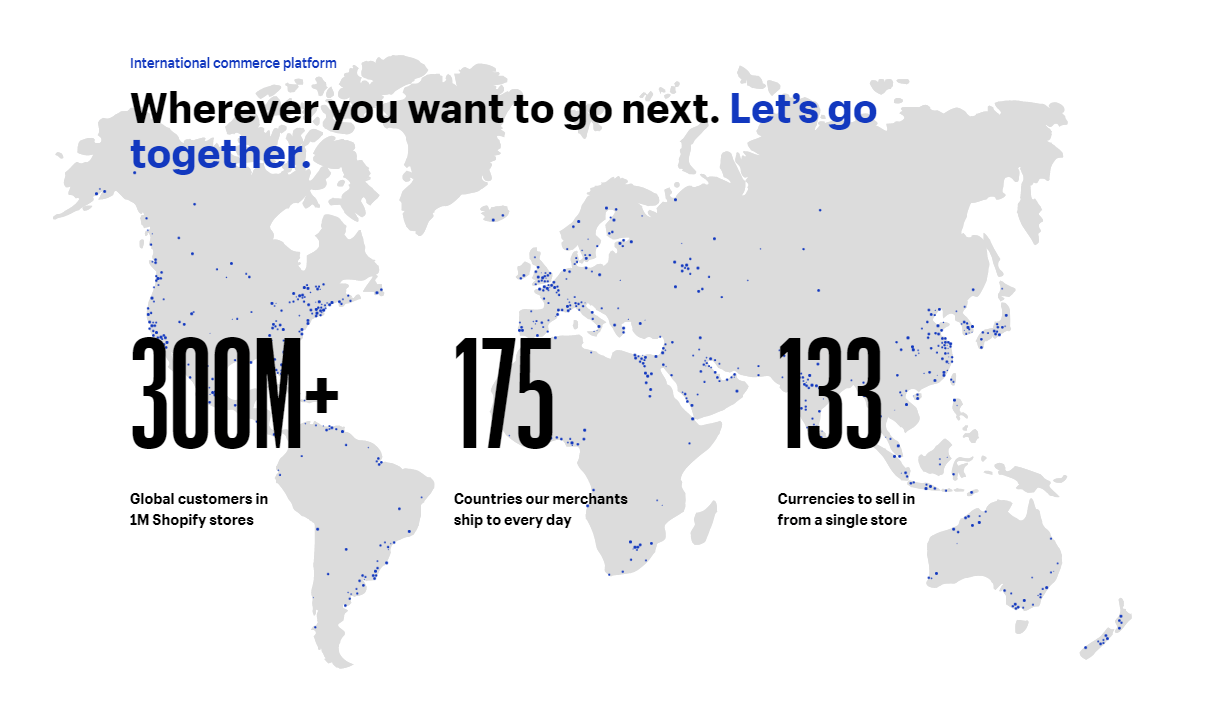 The Shopify team provides the convenience of built-in hosting and added security features. They also handle any important patches and upgrades. Still, small changes and customizations can be performed by business owners or their teams. This helps to save time & money while eliminating the need for expensive outsourcing.
Data migration tools mean that information is easily transferred across to the new Shopify Plus platform. Order processing, sales data, inventory and product information can be easily shared and transitioned. This occurs without inciting the risk of losing any important historical and analytical data. This also includes data like ongoing transactional, customer behavior, store performance, and sales data.
The analytics provided from Shopify Plus can help make data-driven decisions. These often impact the operational performance and future growth of ecommerce stores. Also, analytics can be connected to dashboards like Google Analytics or similar data reporting tools. This makes tracking conversions, cart abandonment and viewing specific behavioral details simple.
Wrap up
Enterprise platforms like Shopify Plus save large brands from finding their own solution for expansion and multi-regional storefronts. These usually include costly solutions like employing a team or outsourcing ecommerce store building to expensive website architects.
Even at $2000 a month, Shopify Plus provides a relatively cost-effective option when compared to other ecommerce solutions. Shopify Plus offers many noteworthy features and integrations, offering merchants a fully functional suite of ecommerce tools that are hard for individual design solutions to compete with.
More importantly, merchants looking at migrating to Shopify Plus will need an equally powerful platform. Omnisend seamlessly integrates with Shopify Plus, making use of its advanced features while providing many of its own.
Get started with Omnisend today & drive sales on autopilot with pre-built automation workflows
Start Free Today
related features
Want more sales?
Omnisend has everything you need to succeed.
Start free now
No Credit Card needed.